Chic Tea Party Bridal Shower
A fun Chic Tea Party Bridal Shower is the perfect way to celebrate an upcoming wedding!
This Chic Tea Party Bridal Shower was the ultimate in DIY fun with Amanda McQuade Photography capturing every small detail of this bride-to-be's special day! Nothing could be better than a Bridal Shower Tea Party Theme right by the lake. What a special occasion to celebrate at home with all of the close friends and family of the special lady.
And a great way to add even more fun to a bridal tea party? Make it an all-out big hat party, as well! We just love the idea of having everyone wear incredible hats with an elegant twist to celebrate this special day.
Bridal shower tea party ideas are so much fun to see and this particular celebration knocked it out of the park! Especially since so much of the bridal shower was planned by friends and family, at the lakeside home of a close family member.
Pink, mint and white with gorgeous gold accents were the main hues found in this Chic Tea Party Bridal Shower color palette. And because of the elegant outdoor location, plenty of natural light was able to be spread throughout the home and outdoor area. Everything was just gorgeous!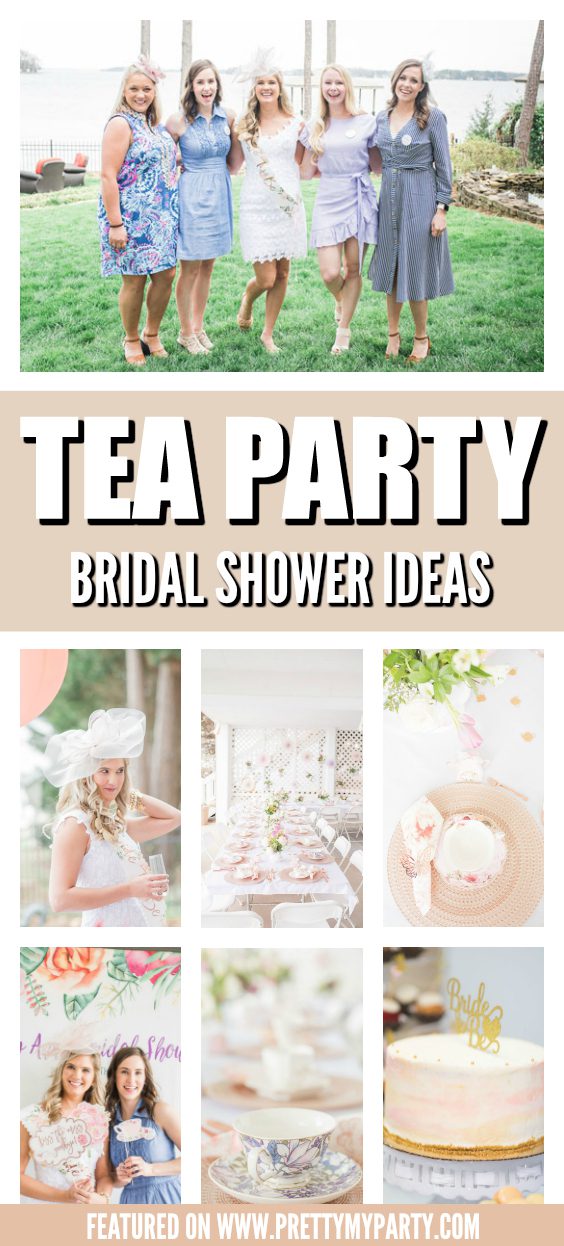 Chic Tea Party Bridal Shower Ideas
Elegant printables found throughout the event, including an outdoor welcome sign
Gorgeous pink, white and gold backdrop for food table
Incredible florals found on the luncheon tables for centerpieces
Fun hats for everyone to wear with semi-formal attire
Elegant tea cups and formal decor on the guest tables
Outdoor venue on a pristine lake
Fun bridal shower games, including "Bridal JeoparTEA"
Social media hashtags for guests to include with uploaded pictures
Wonderful party supplies and decorations used on guest table place settings
Mimosa bar with fun menu additions
Finger food menu, including sandwich and wrap options
Simple, yet gorgeous cake, with gold Bride-to-Be cake topper
Delicious small desserts, including cookies and cakes
Fun photo booth area for everyone to enjoy
Tea pot party favors on guest place settings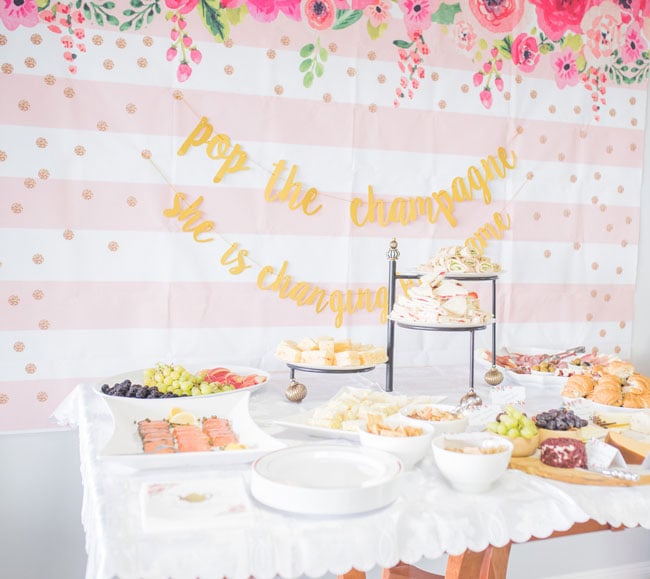 Chic Tea Party Bridal Shower Supplies and Decorations:
See more tea party and bridal shower ideas here: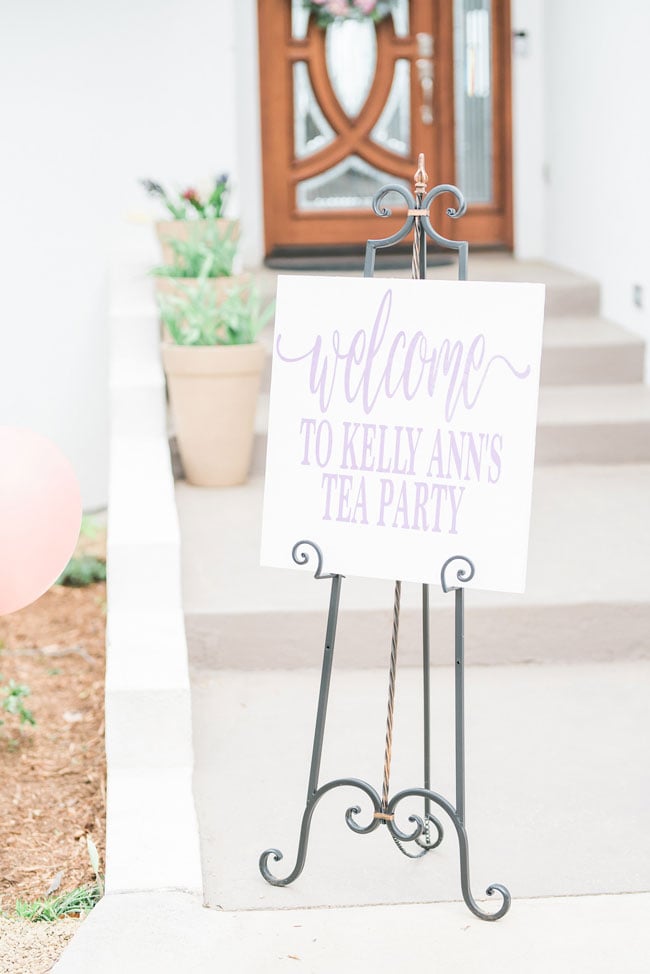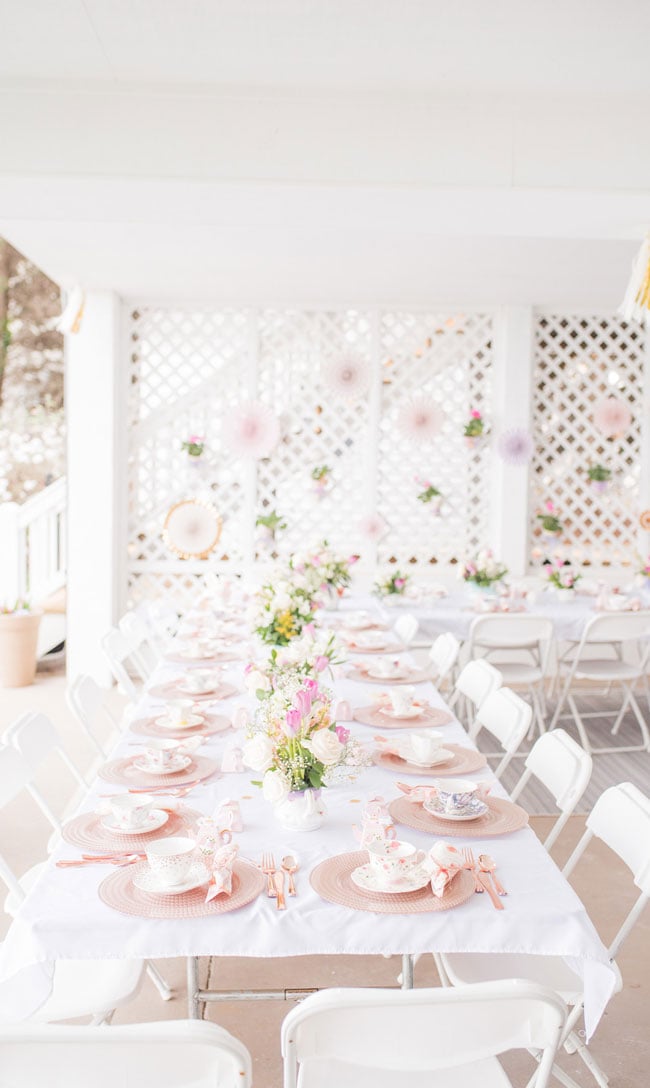 This Bridal Shower Tea Party Theme was absolutely stunning and there are way too many wonderful details to choose just one favorite part! However, we certainly are always on-board with a fun Champagne mimosa station, especially for an elegant bridal tea party shower! And what about the fun "Bridal Jeopar-TEA" game that everyone was able to enjoy?!?! What a fun and unique game idea that fit in with the theme perfectly!
We also just love the gorgeous tea cups and accessories that were found on the guest tables. Everything was beautiful! What a fun way to get together and celebrate such a special milestone. We love it!
How about you? What are your favorite details? Let us know in the comments below!
For more ideas, follow us on Instagram @prettymyparty and Pinterest and join us in our private Facebook group.
Party Vendors