Flower Themed Bridal Shower Brunch
A Flower Themed Bridal Shower Brunch is the perfect way to celebrate the blushing bride!
What better way to get into the wedding spirit than by taking a peek at this Flower Themed Bridal Shower Brunch! It is the epitome of a classic and elegant bridal shower theme, that hints at the romance and beauty of the extraordinary couple! It's beautiful!
Floral Bridal Shower Ideas
Amazing Pink Paper Flower Arch
Gorgeous Flower Arrangements and Centerpieces
Cute Macaroon Favors
Amazing Venue Overlooking the Ocean
Beautiful White and Pink Drip Cake Topped With Flowers and Macaroons
A Mimosa Bar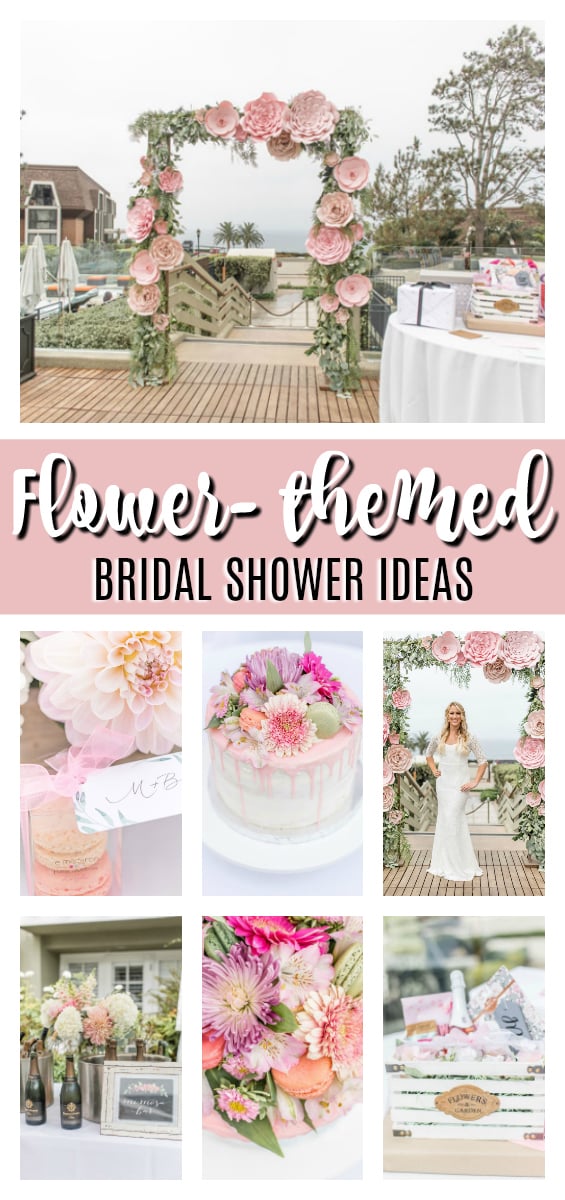 Flower Themed Bridal Shower Decorations:
See more bridal shower ideas here: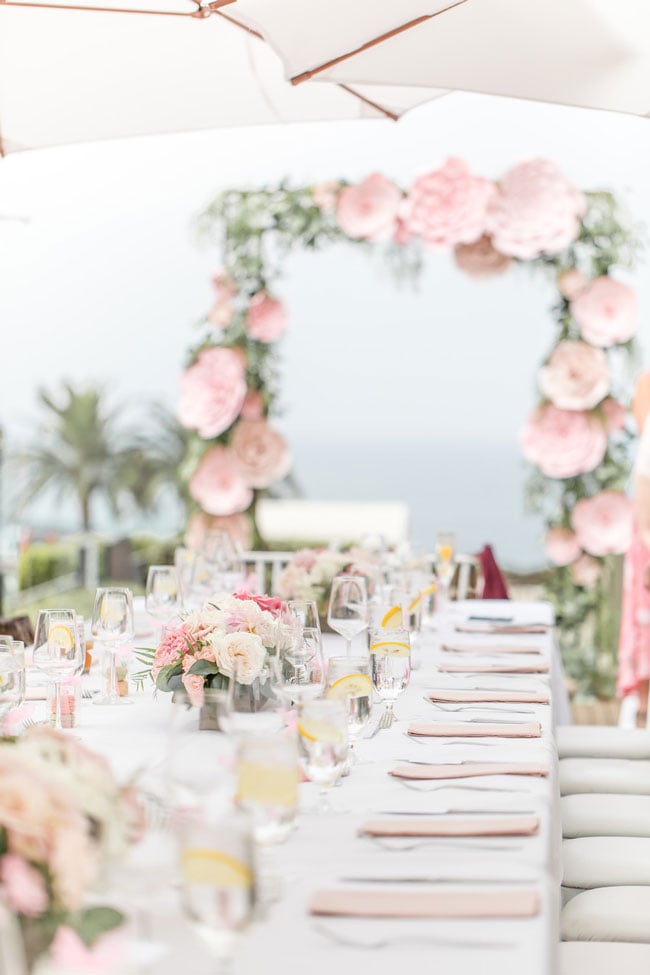 It was a Saturday morning and there was a slight overcast by the ocean. This outdoor affair wasn't affected, though, because it turned out to be perfect weather for this bride-to-be's bridal shower at the L'Auberge Del Mar. What a gorgeous atmosphere to celebrate a gorgeous bride-to-be.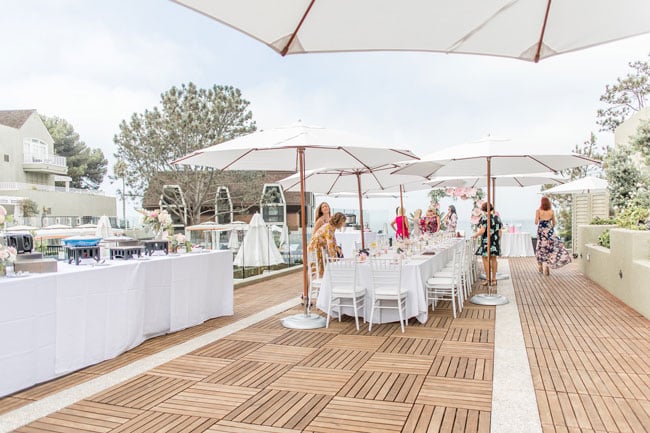 The L'Auberge is such a beautiful hotel with an amazing view of the ocean. The bridal shower was set up outside on the patio, around the pool, with a breathtaking ocean view! The Flower Themed Bridal Shower Brunch was all put together by a family friend and the entire set-up was absolutely stunning!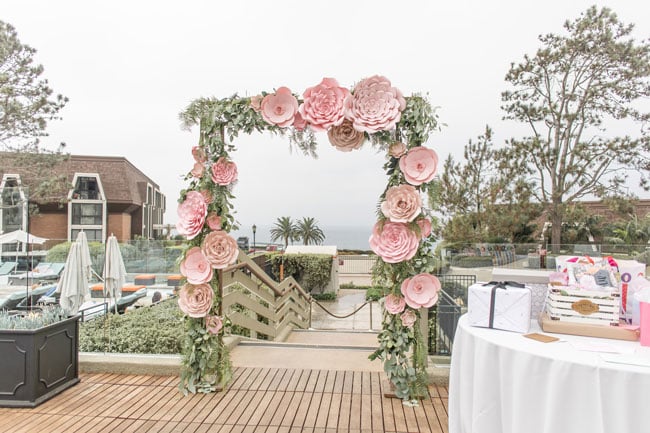 Every detail was planned out perfectly, with gorgeous floral arrangements found all around the Floral Bridal Shower. There was even a gorgeous flower arch made from real and paper flowers and greenery, that was absolutely stunning for pictures!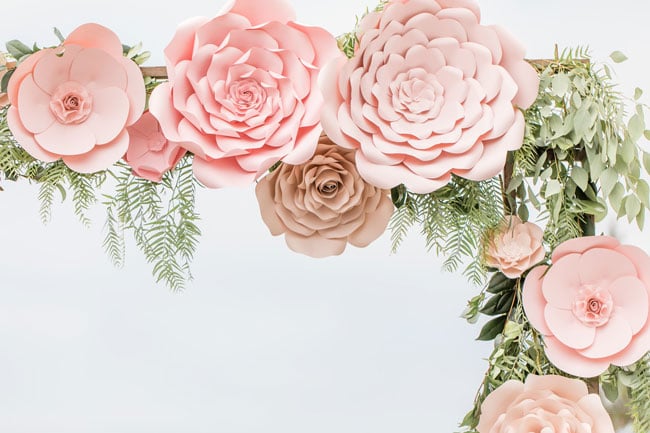 Just look at those gorgeous details that served as an incredible backdrop. It was absolutely breathtaking and couldn't have been any better. All of the guests were amazed at the beautiful flowers that were found all around the Flower Themed Bridal Shower Brunch.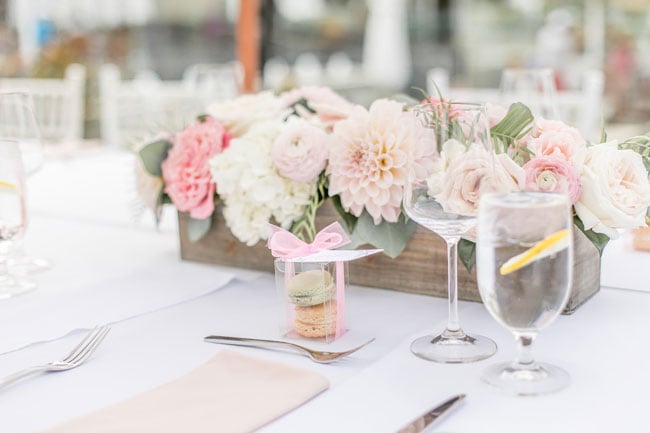 The floral arrangements found on all of the guest tables were wonderful additions to this bridal shower theme. The blush and pink color scheme were the perfect shades to use against the blue skies and white tablecloths. What an elegant Floral Bridal Shower!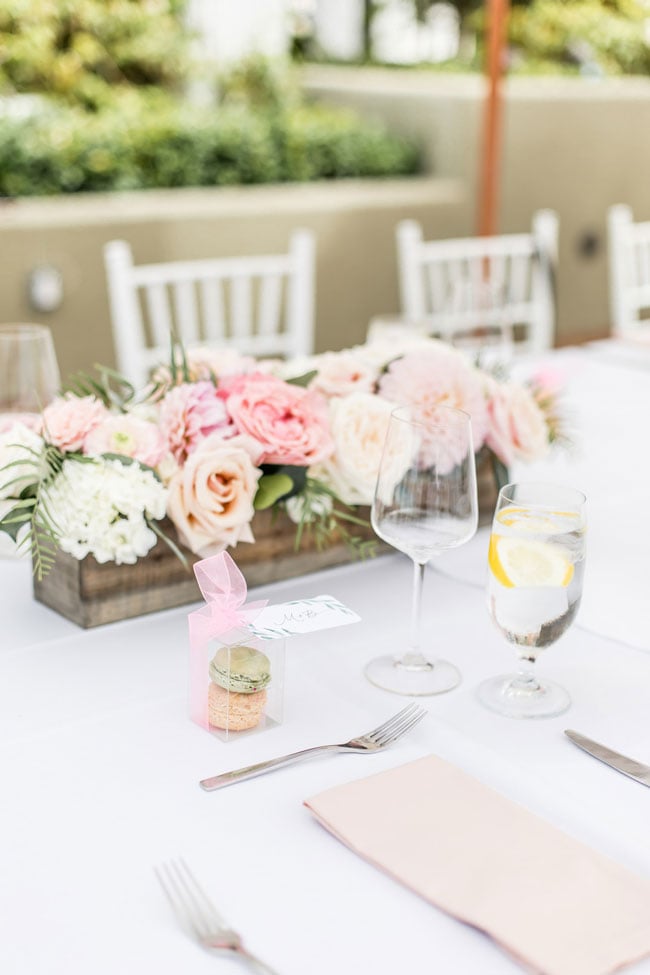 The ivory and pink color scheme that was incorporated into this Flower Themed Bridal Shower Brunch complemented this blushing bride perfectly. All of it looked like it was set from a dream and the gorgeous floral arrangements that were used as centerpieces were astonishing.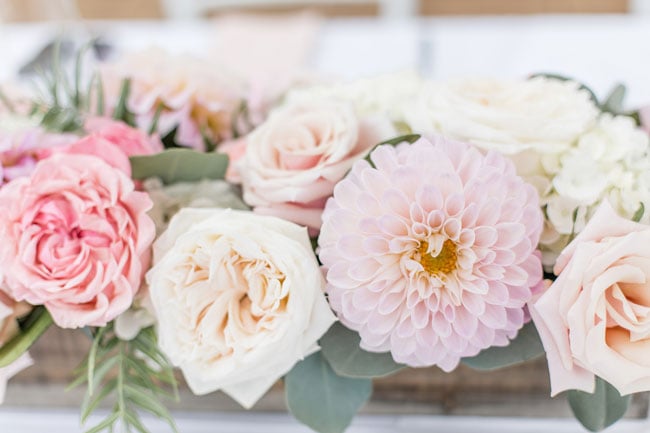 The wonderful smell of fresh flowers was all around the Flower Themed Bridal Shower Brunch. What a wonderful way to spend a fun and chic afternoon. We also love how the rustic boxes were used as flower holders for many of the arrangements. They complemented each other perfectly.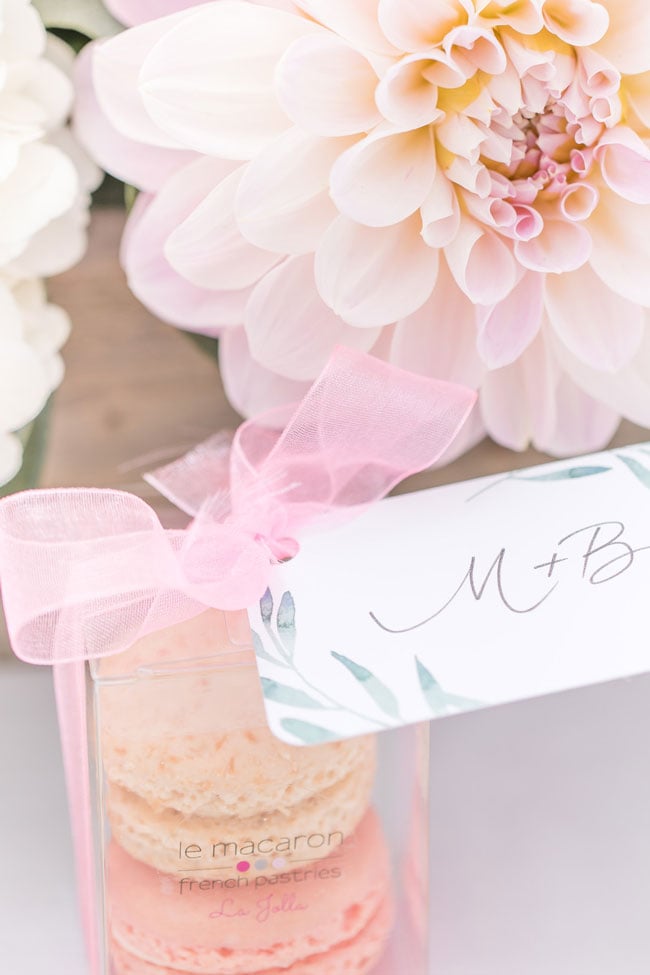 Gorgeous macaroon boxes were placed at everyone's place setting for them to enjoy at the Flower Themed Bridal Shower Brunch, or to take home to savor later. What gorgeous packaging to send everyone home with, along with personalized tags to celebrate the engaged couple's nuptials.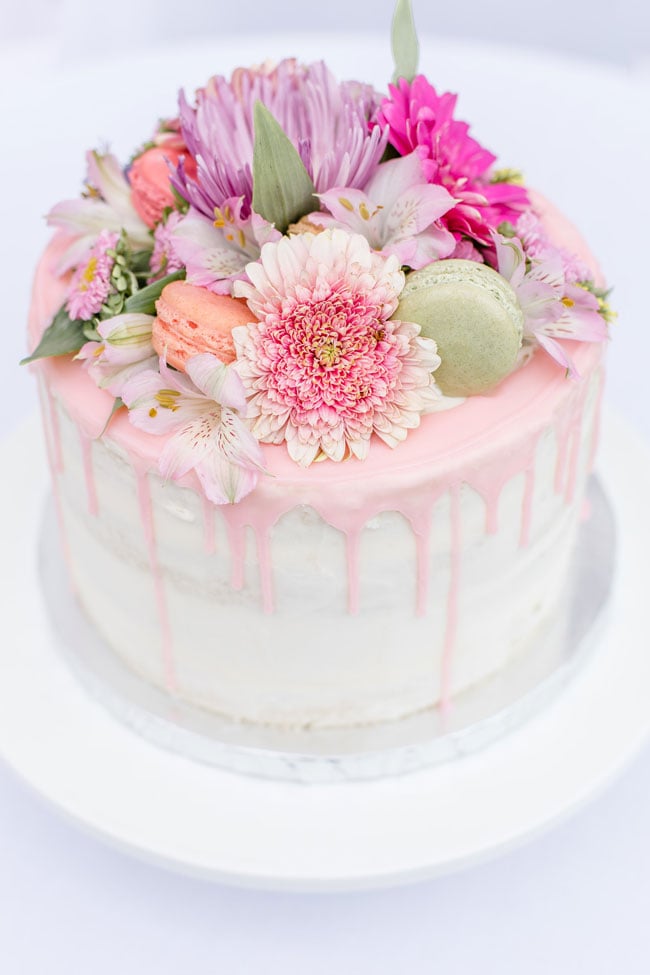 To make the menu even better, the cake was made by the bride's future sister-in-law. This was no simple homemade cake! Not only was the cake stunning, but it was also delicious! What an incredible creation that was the perfect bridal shower cake for this floral bridal shower theme!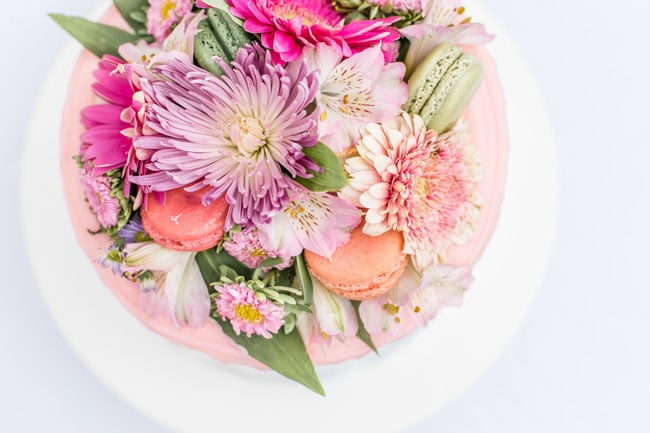 How amazing is this bridal shower cake with amazing flowers used as the cake topper?! Macaroons were also strategically placed along the cake, that was finished off with some lovely greenery. What an elegant bridal shower cake that fit into the theme beautifully.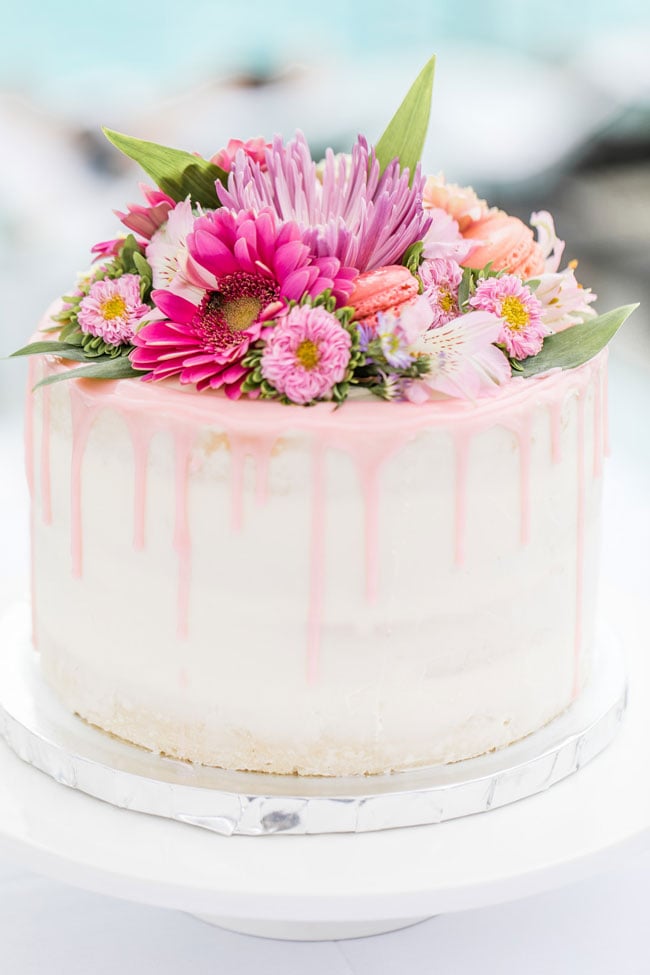 We love how the pink frosting was dripped down the side of the white cream cake. It helped to set off the color scheme even more and also let the gorgeous floral arrangements that were used as a cake topper to really be set off with the bright pink and purple colors. What a chic bridal shower cake!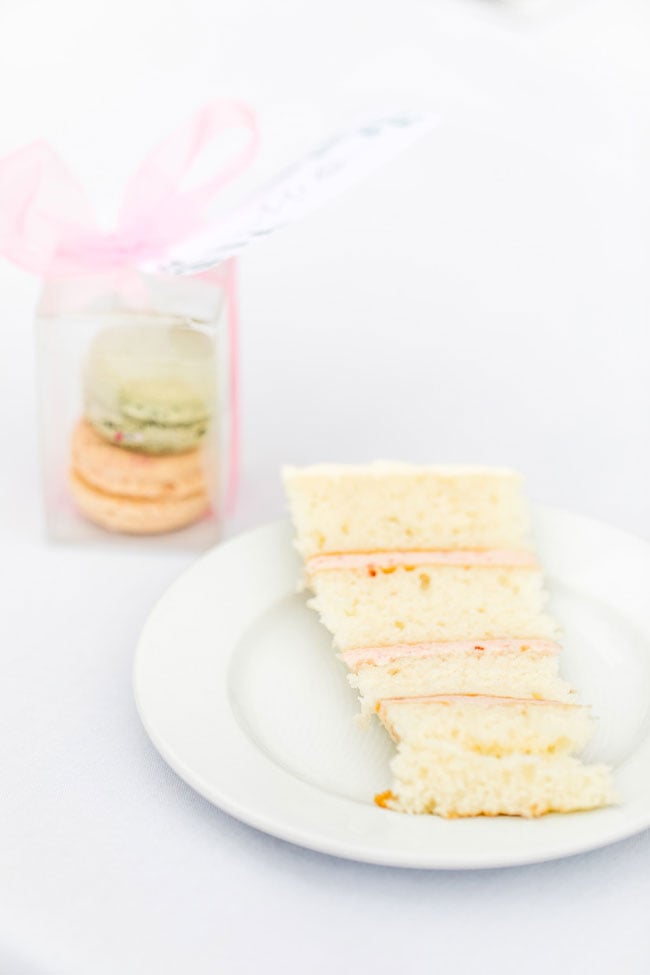 All of the guests couldn't wait to get their hands on their own piece of the gorgeous bridal shower cake. It was almost too beautiful to cut open. Once the slices were prepared for the guests and everyone saw the frosting-filled cake, though, they couldn't wait to get to taste these little slices of heaven themselves!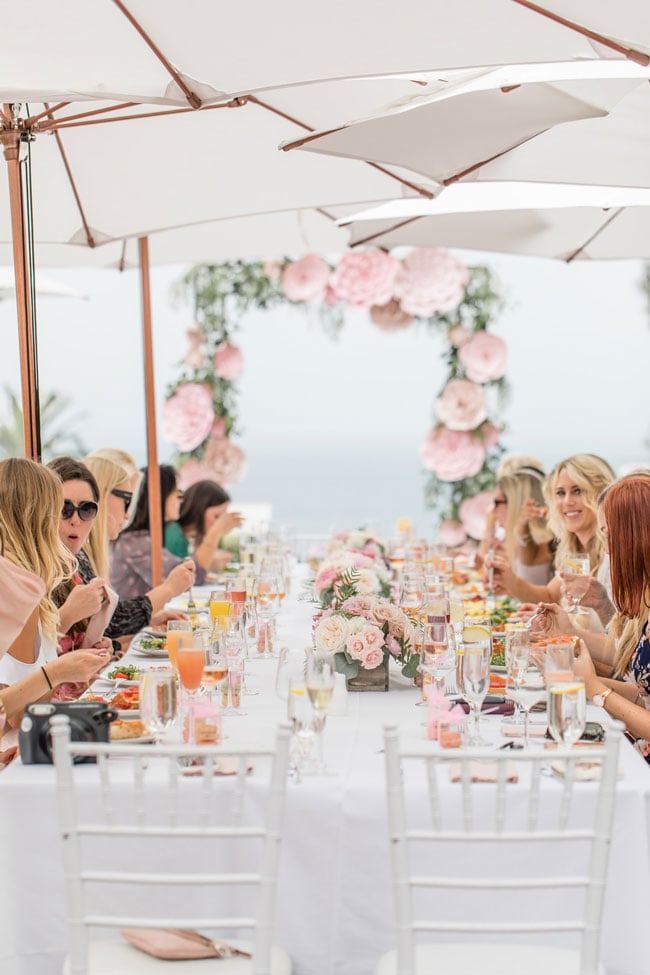 The bride-to-be was surrounded by her family and close friends. We love how intimate this bridal shower appears, as it made for the perfect fun and relaxing morning. Everything was so sweet and when the brunch was finished, the bride-to-be's mother made a toast which made many of the guests tear up.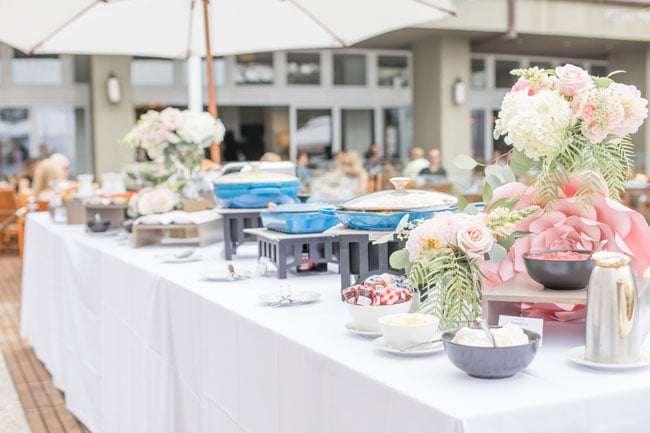 A brunch was included, which had the most delicious choices on the menu. There was a variety of food, from waffles and bacon to fruits and salads. Can you just imagine how deliciously perfect everything was?!? We love the fresh and crisp set-up of the brunch, as well. What a lovely table!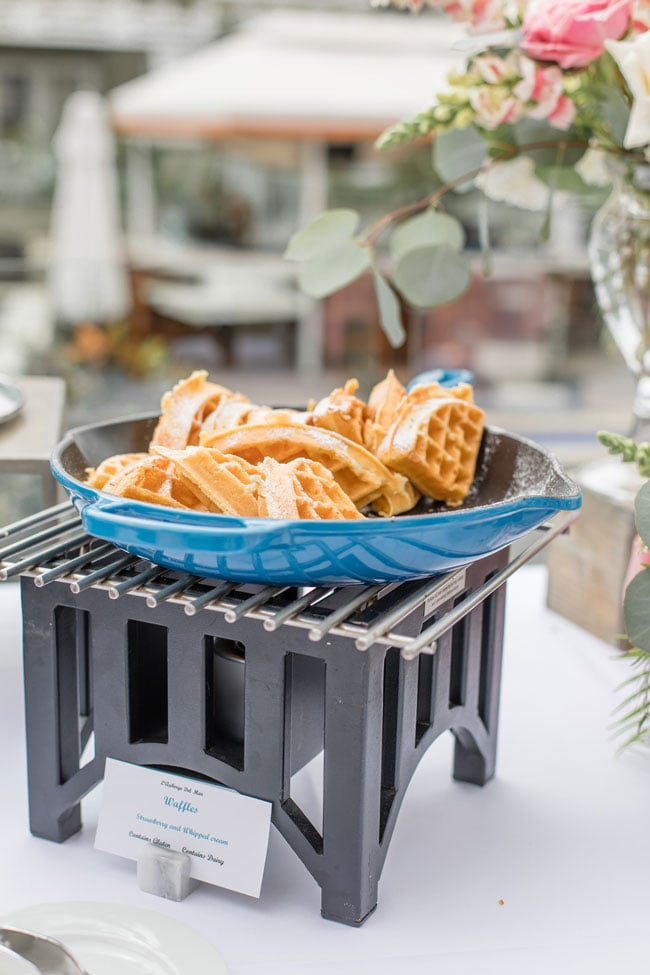 Everyone enjoyed fresh waffles served with strawberries and whipped cream on the side. A lovely addition to any bridal shower brunch feast!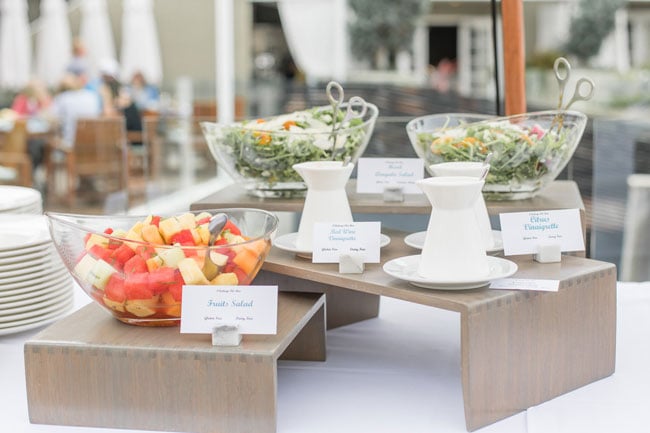 Different salads of fruit and other types were made available to all of the ladies, with some healthy options that everyone loved. The Flower Themed Bridal Shower Brunch was perfectly set up with wonderful food options.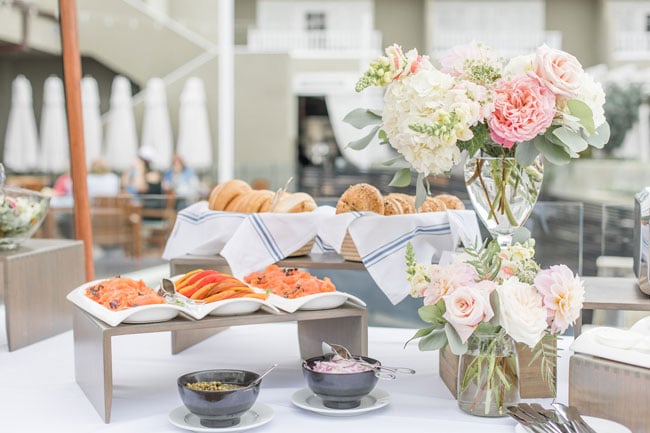 Even a bagel bar was included for everyone to pick their different toppings.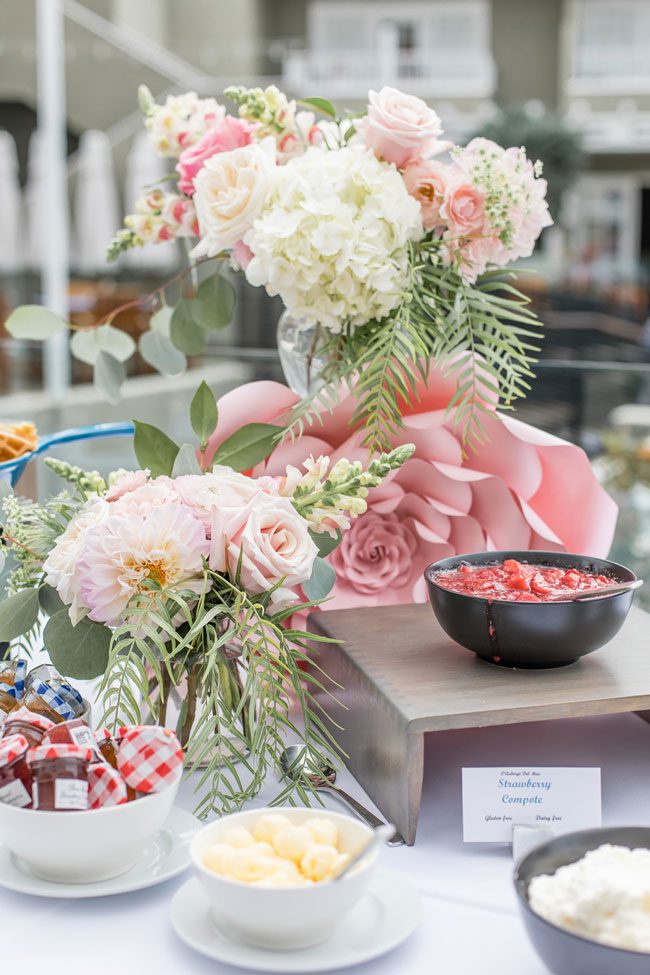 Different condiments were made available for all of the food options that were found on the breakfast bar, which everyone loved. Who doesn't love some gorgeous fresh strawberries to add to their brunch plate?!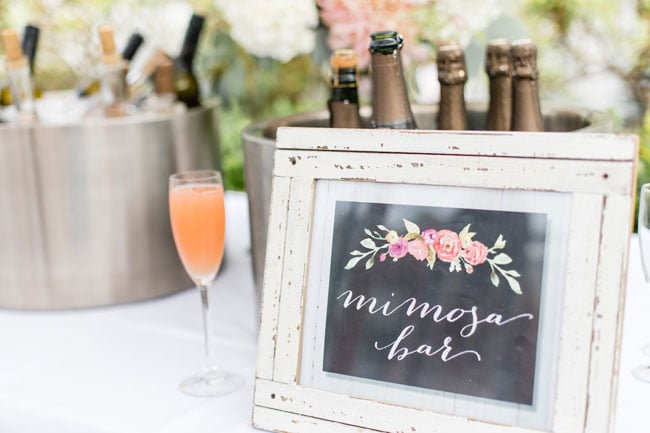 The Flower Themed Bridal Shower Brunch even included the mandatory Mimosa Bar, which was a favorite of many of the guests. We love the great vintage sign that was created, with a crisp white frame and flowers even printed out on the signage found at the shower, as well!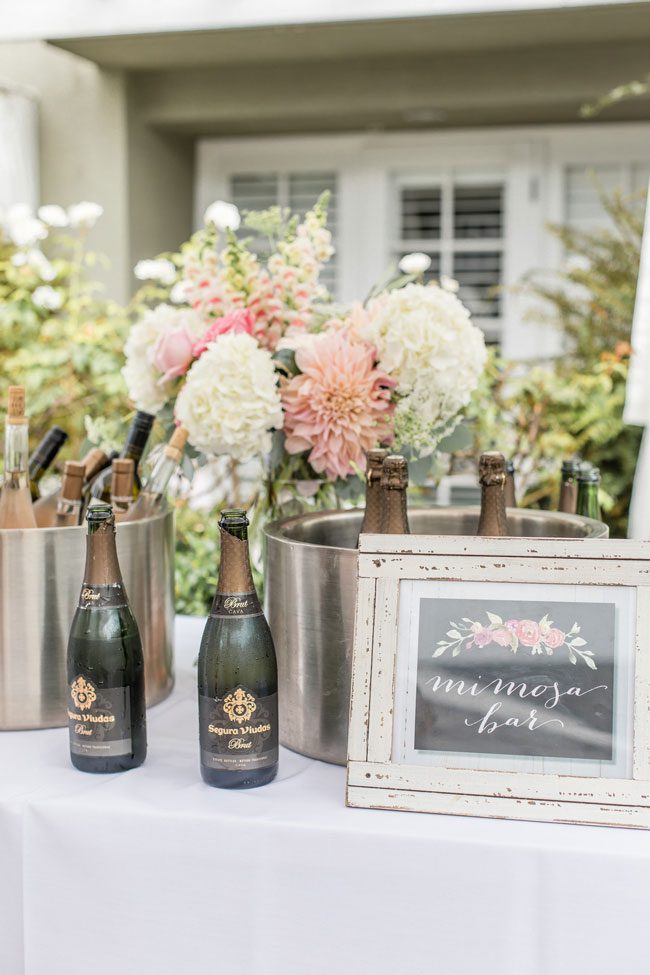 Everyone was able to pick their champagne that was being chilled on ice at the Mimosa Bar station. What a wonderful item to add to a brunch!
Flowers were found all over the Mimosa Bar tables, which made everything appear so chic and elegant.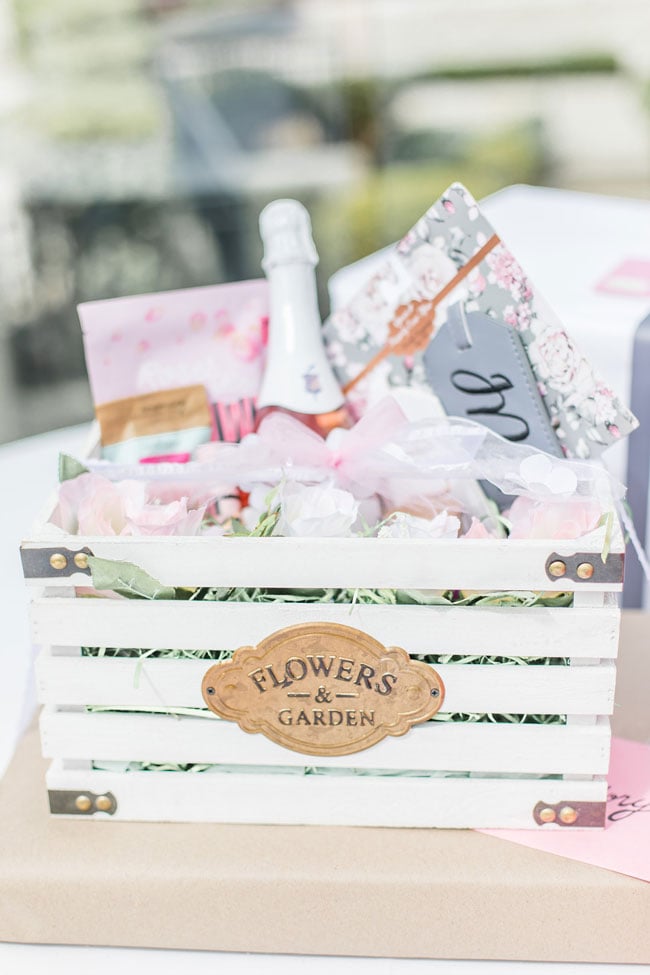 Fun garden boxes were created, that included some of the favorite items from the bridal shower. Bubbly, florals and other fun additions were carefully packaged into a white crate which looked beautiful at the event.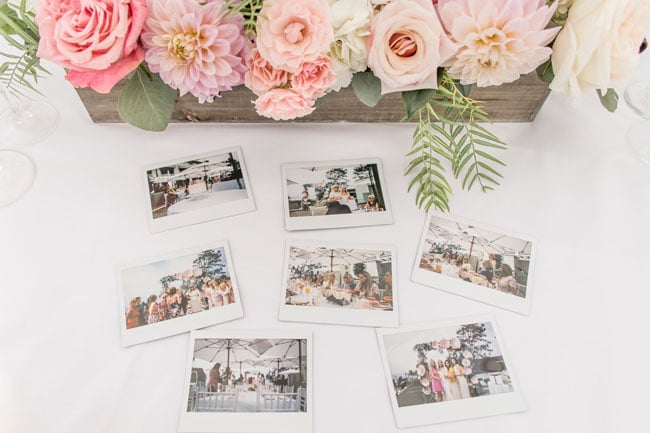 Polaroids were used during the Flower Themed Bridal Shower Brunch, which we just love! What a great way to get some instant pictures of all of the wonderful times that everyone was sharing. It's also a great way to give the bride-to-be some items to take home with her to remember her special day. What a great idea!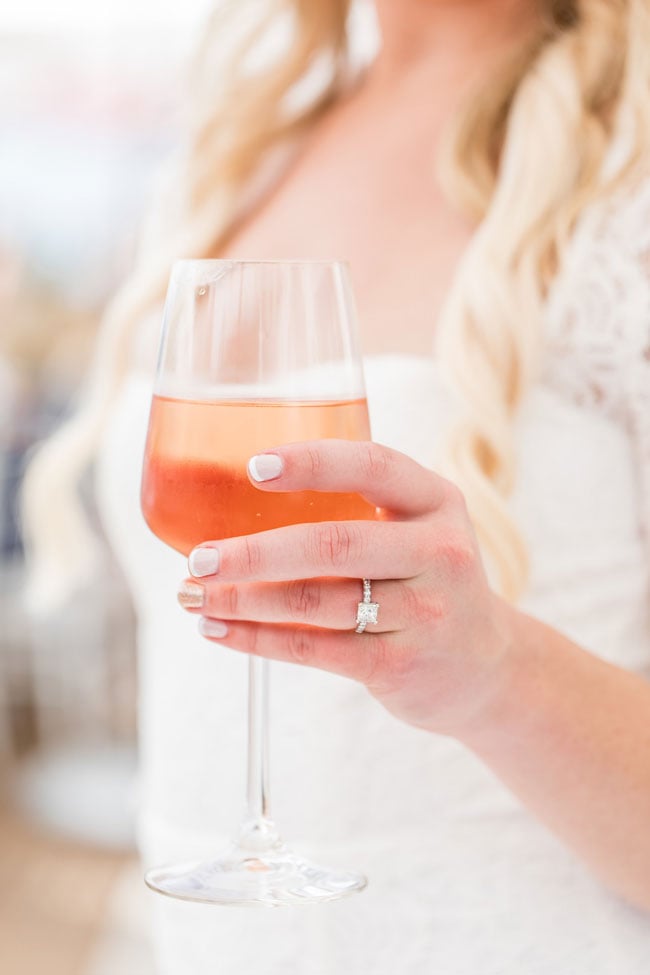 The Natural Light of the Floral Bridal Shower was absolutely gorgeous. It made everything even more beautiful, including the bride-to-be's engagement ring!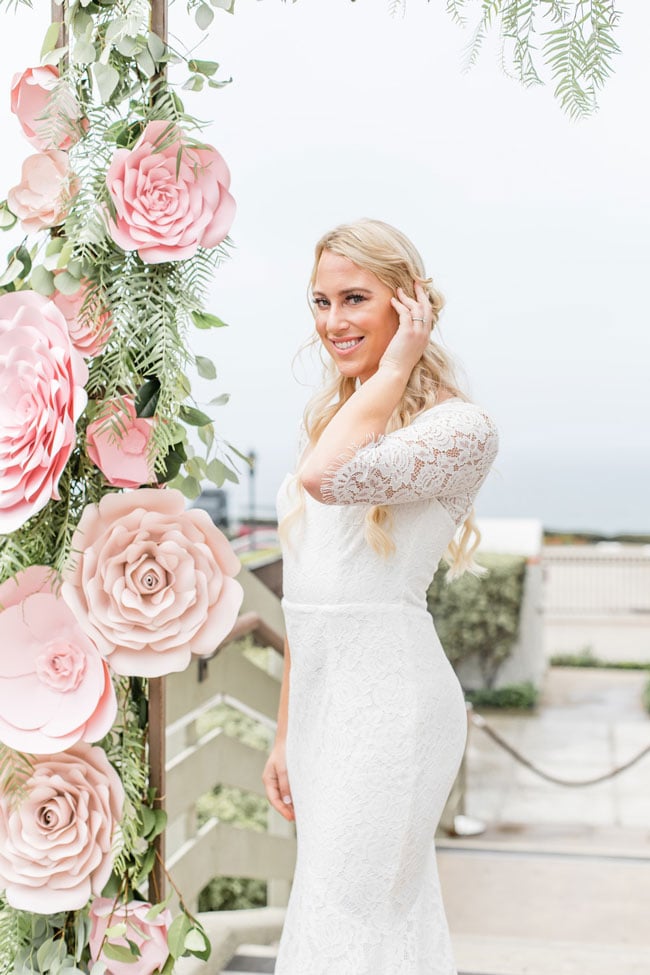 The bride-to-be was wearing a beautiful, long white dress for her special day. To look at her that morning, it was as if her friends and family were looking at her on her wedding day, she was that stunning! What a great sneak peek for the big wedding day!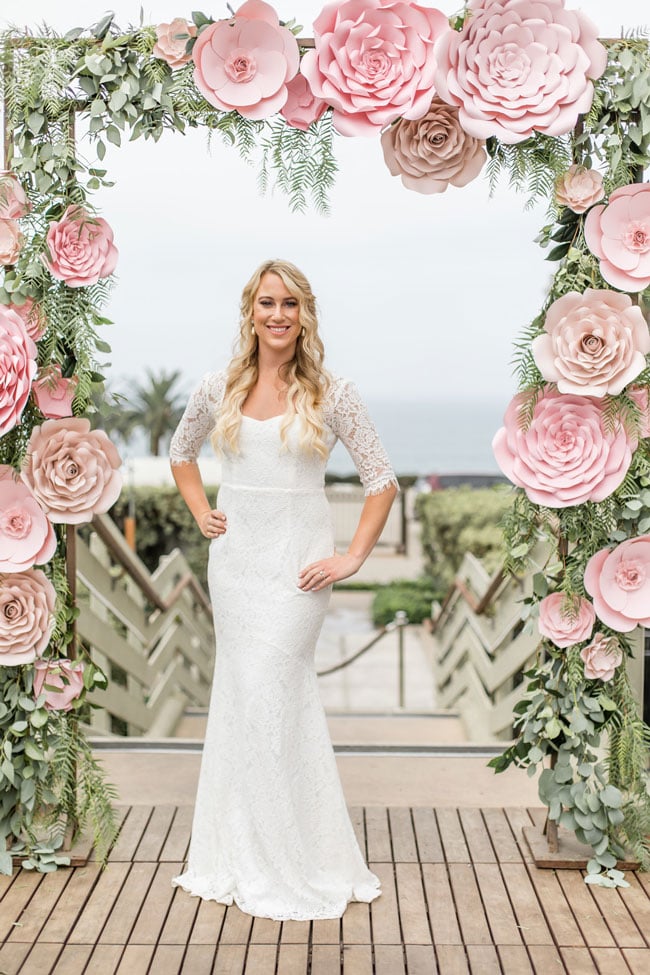 The floral arch really was the most elegant backdrop that was used for pictures during the Flower Themed Bridal Shower Brunch. What a wonderful addition that was created for this special day with loved ones.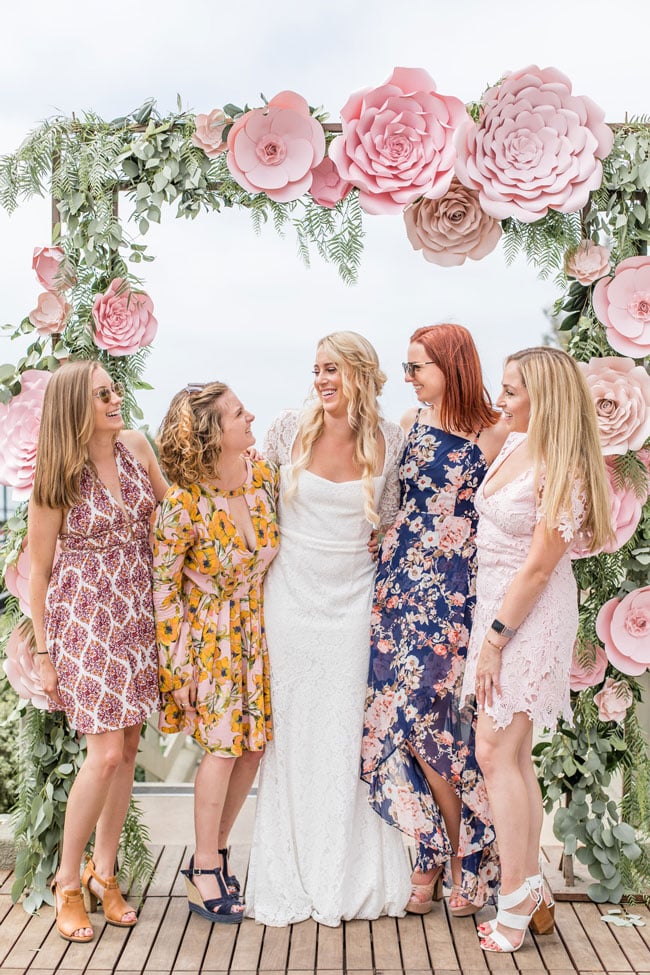 Being gathered along with everyone there made it easy to see just how loved this sweet bride-to-be is and how happy everyone is for her! What a picture-perfect celebration that anyone would love to have as their own floral bridal shower theme. Congrats!
What's your favorite details in this Flower Themed Bridal Shower Brunch? Let us know in the comments below.
For more ideas, follow us on Instagram @prettymyparty and Pinterest and join us in our private Facebook group.
Vendors & Credits
Reception Venue: L'Auberge Del Mar
Photography: Camila Margotta Photography