Modern Flower Themed Bridal Shower
If you're planning a floral themed bridal shower for a lucky bride-to-be, take a look at some amazing inspiration from this beautiful Flower Themed Bridal Shower!
Rifle Paper Co. (RPC) is one of my favorite companies ever! I love the fun and whimsical, yet elegant and luxury feeling of the brand. When I search RPC inspired parties online, I've only ever seen one for a baby shower, so I wanted to do something bridal-specific. Although we didn't do a bridal shoot (who knows, maybe we'll do that in the future), I wanted to do a bridal shower party because we wanted to incorporate gift paper from Rifle Paper Co. The wrapping paper used to wrap the bridesmaid gifts was our inspiration and color palette for the rest of the shoot – mint green & soft pink.
It was also very important to me to have a bridal party present for this styled shoot because I wanted it to be ethnically diverse. One thing I don't see very often when looking through wedding magazines is a diversity of women who interact with each other or look like they are friends. I wanted to do something different (which is why we chose a bridal shower instead of just a bridal shoot).
Melissa from Yes Dear Cakes did an incredible job sculpting RPC inspired gum paste flowers for the cake. She also created cookies with each of the bridesmaids' names on it. She made the donuts and cupcakes all within our theme as well.
Chantel from The Paper Shoppe created the paper flower hoops at the dessert table as well as the jelly bean boxes used as favors.
Emma Fretz designed our stationary. She did a beautiful job incorporating the whimsical style of RPC into an invitation & map for the venue, E.V.O Kitchen. The map in particular showcased other significant areas of Cambridge, ON.
Denise from Pineapple Pottery created custom jewelry dishes and necklaces to echo the Rifle Paper Co. theme. She provided the earrings as well but kept those simple and sweet. The goal was to give each girl her own uniquely styled necklace and jewelry dish as a bridesmaid gift to represent their individuality (also the reason we had each girl wear a different colored skirt).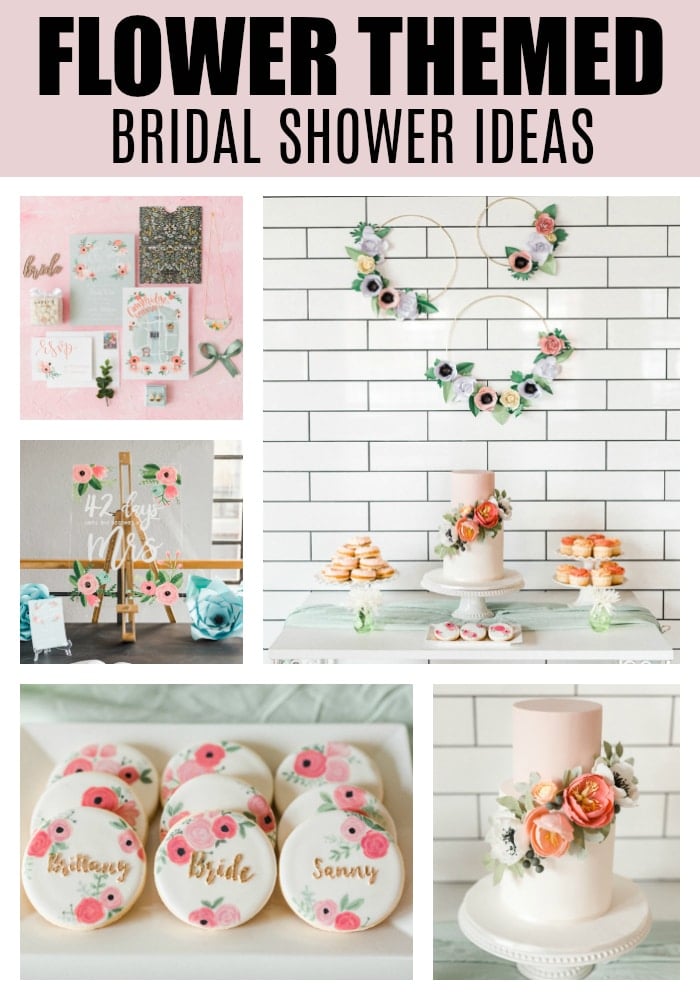 Flower Themed Bridal Shower Decorations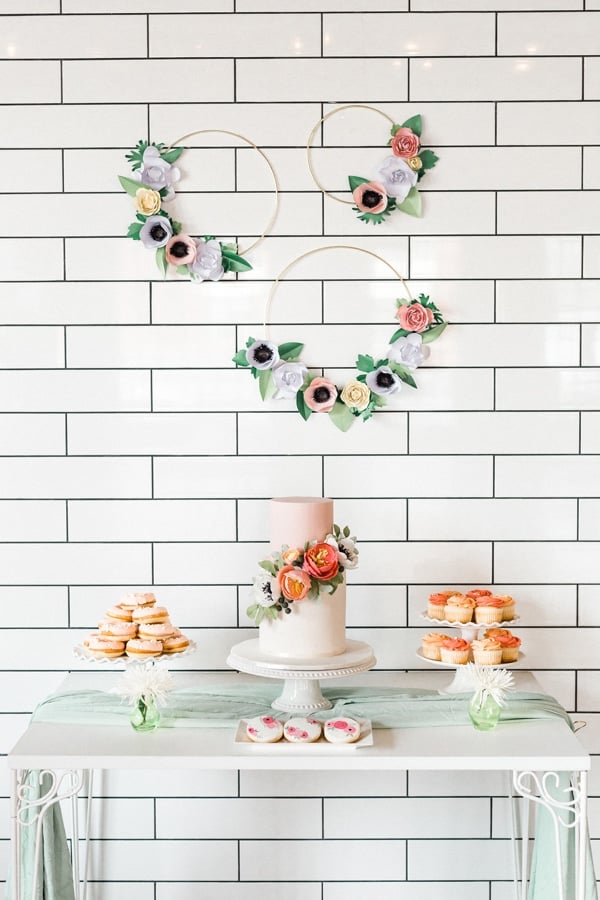 Spring is in the air! If you're planning a spring bridal shower, a flower theme is totally the way to go. We love the soft, feminine inspiration from this flower themed bridal shower shoot captured by Ariana del Mundo Photography. With the help of a group of talented vendors, this flower bridal shower theme came together seamlessly.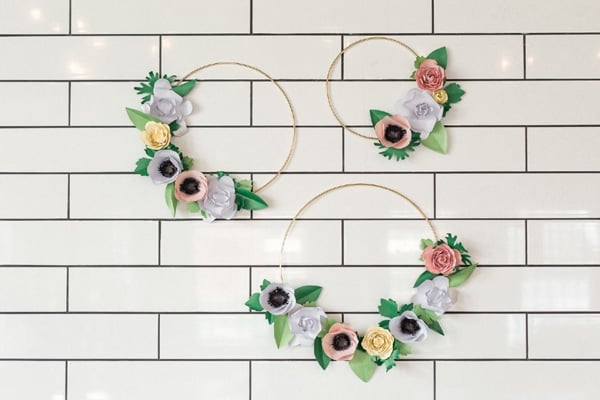 We love the simple, yet delicate hoop wreath decorations behind the cake table. Paper flowers adorned the hula hoop wreaths, which made for the perfect bridal shower decorations for the space.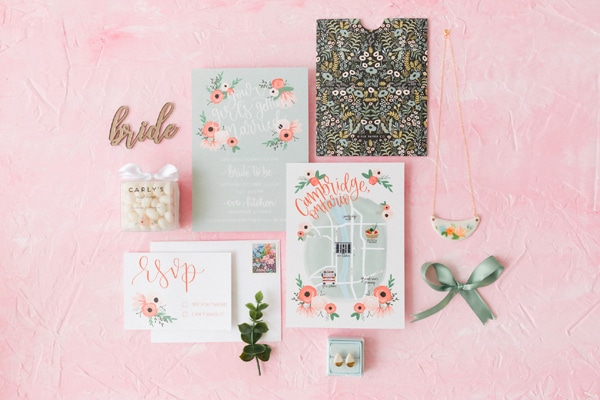 The mint green and soft pink stationary set the tone for the floral themed bridal shower, which included the invitation, map, RSVP card and envelope.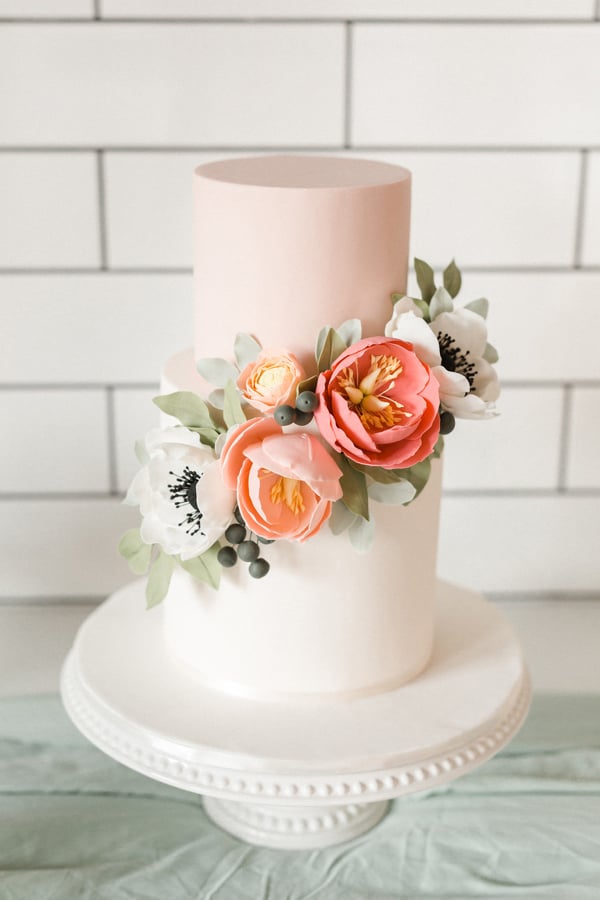 Yes Dear Cakes did an amazing job on the light pink and white flower themed bridal shower cake. Look at those amazing sugar flowers! The cake goes with the theme perfectly and really represents the florals on the stationary. What a fantastic job on the cake detailing.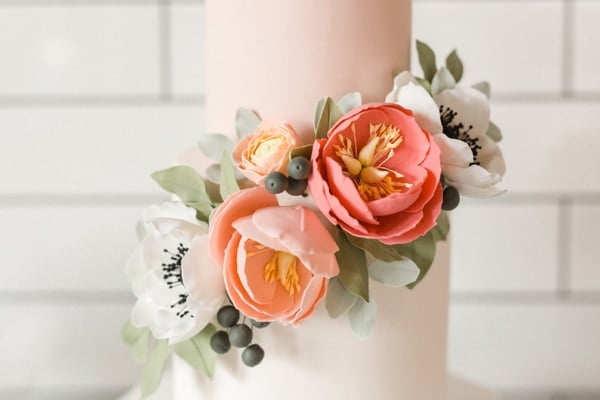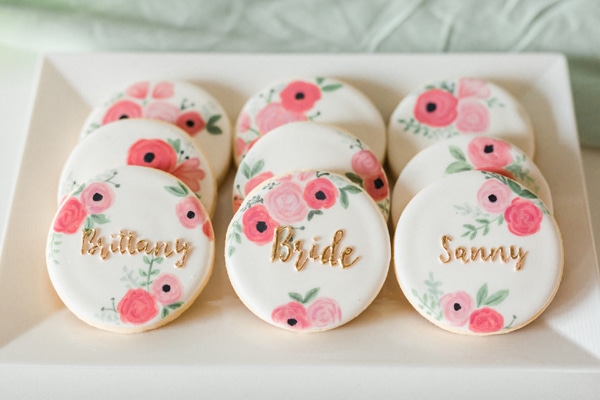 The flower themed cookies featured the bridesmaid's names and also fit with the floral bridal shower theme perfectly. What a great bridal shower favor idea too!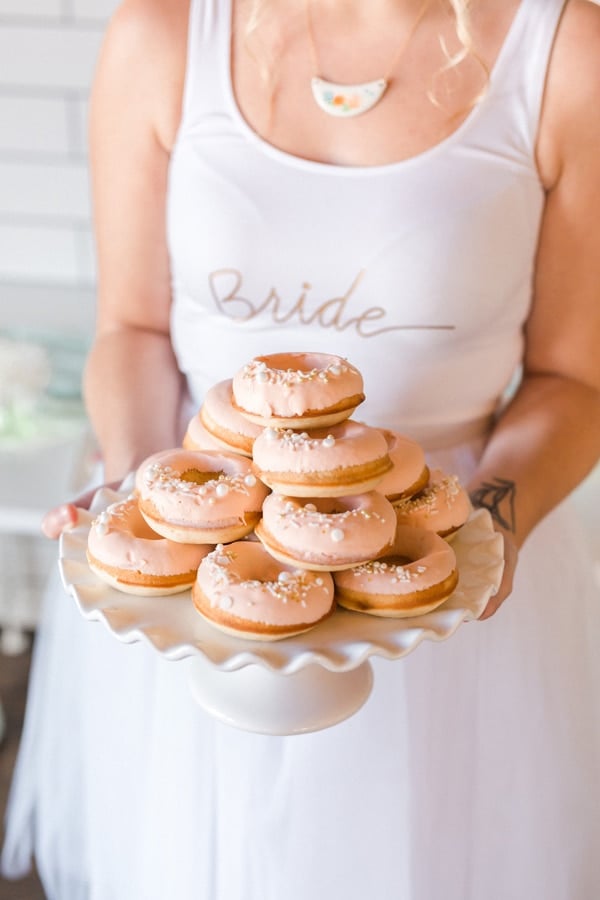 In addition to the gorgeous floral cake, light pink desserts were also on hand to satisfy everyone's sweet tooth, including cupcakes and donuts. YUM!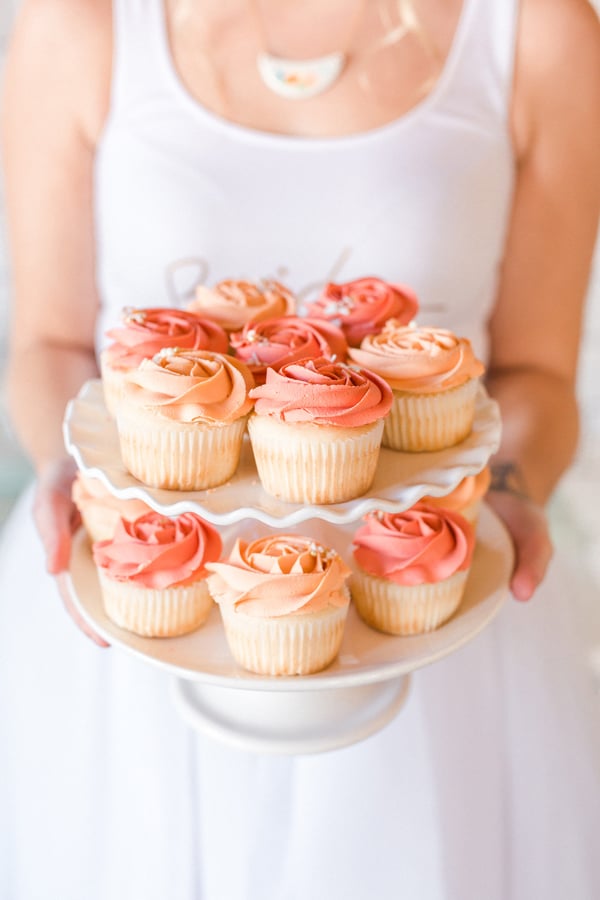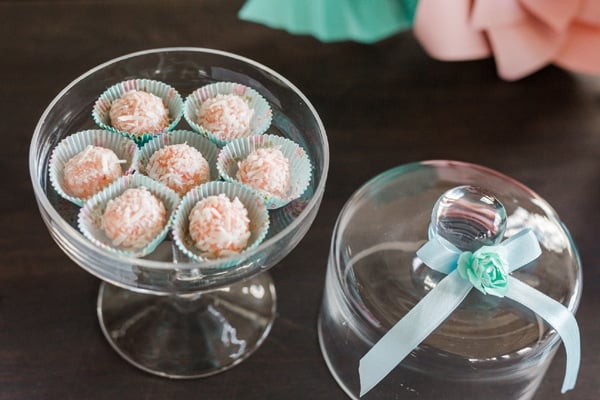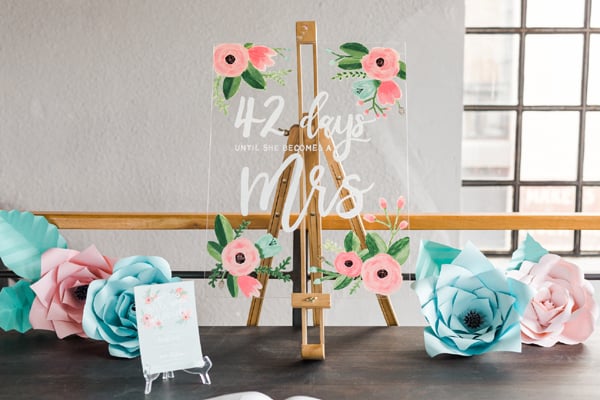 We absolutely adore this bridal shower countdown to Mrs. sign, which features pretty flowers that match the bridal shower theme. Paper flowers were also on the table as the perfect decor elements.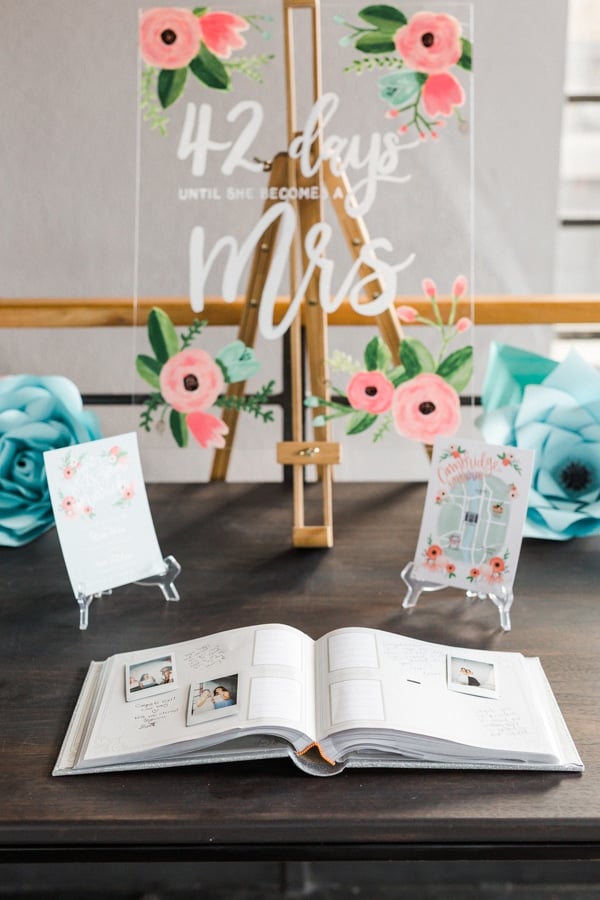 A guestbook was also on hand for the girls to write a sweet note to the bride – a cherished keepsake that she can keep forever. We just love this sweet bridal shower idea.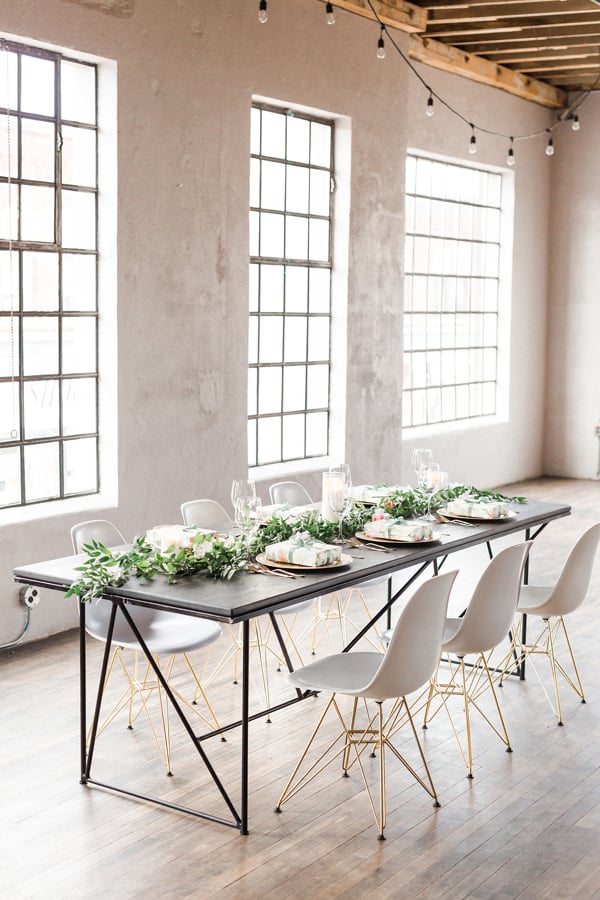 We love the clean look and minimal design of the bridal shower table, which featured greenery as the table centerpiece.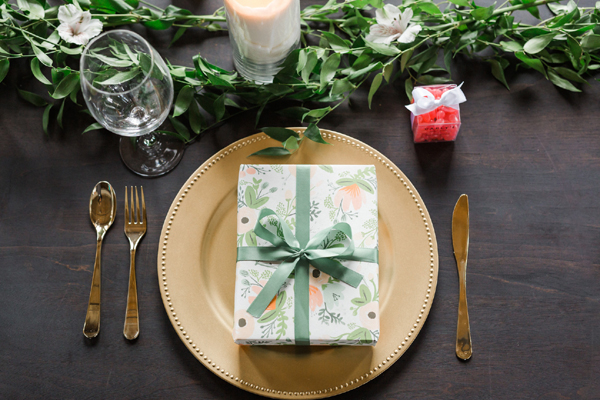 Each place setting featured a bridesmaid gift and bridal shower favor. The gold chargers and gold silverware also looked amazing with the greenery on the table.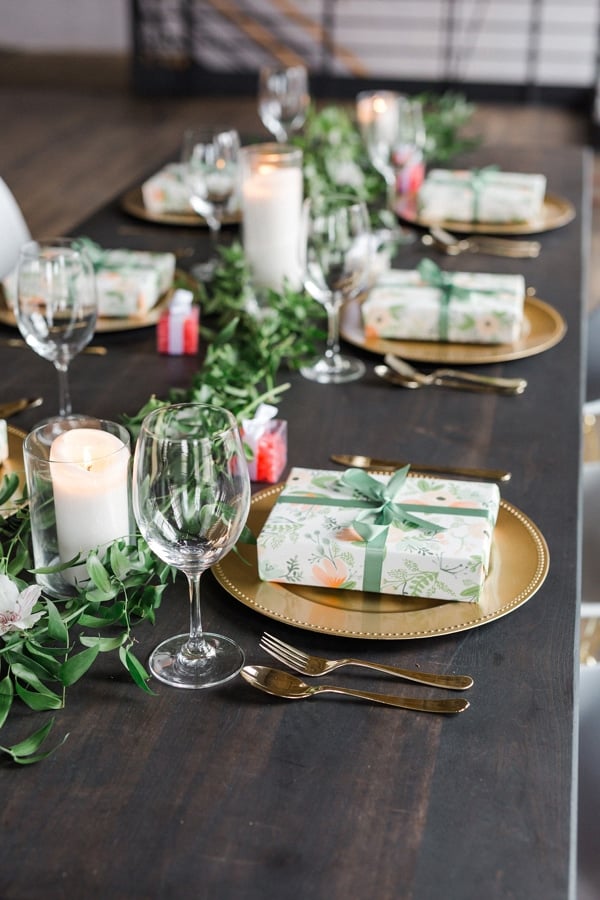 If you're planning a private bridesmaids brunch for your bridal party, this bridal shower shoot is also great inspiration for you. Can we talk about the adorable bridesmaid and bride outfits?!?!
The bride and her bridesmaids each wore a white tank top with gold lettering – BRIDE for the bride and BRIDESMAID for the bridal party. They each paired the tank tops with adorable matching colored skirts. We absolutely love this idea for a bridal shower or bridesmaids brunch!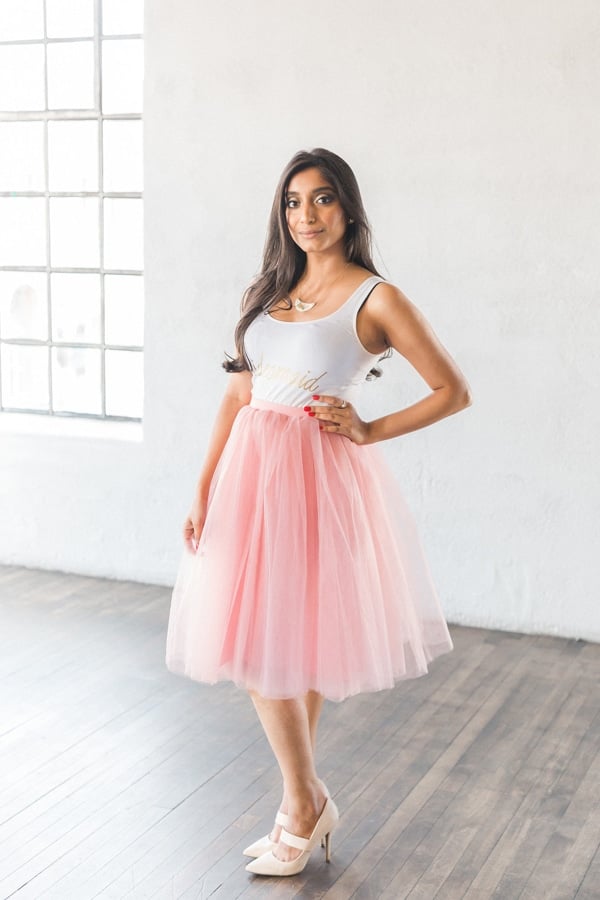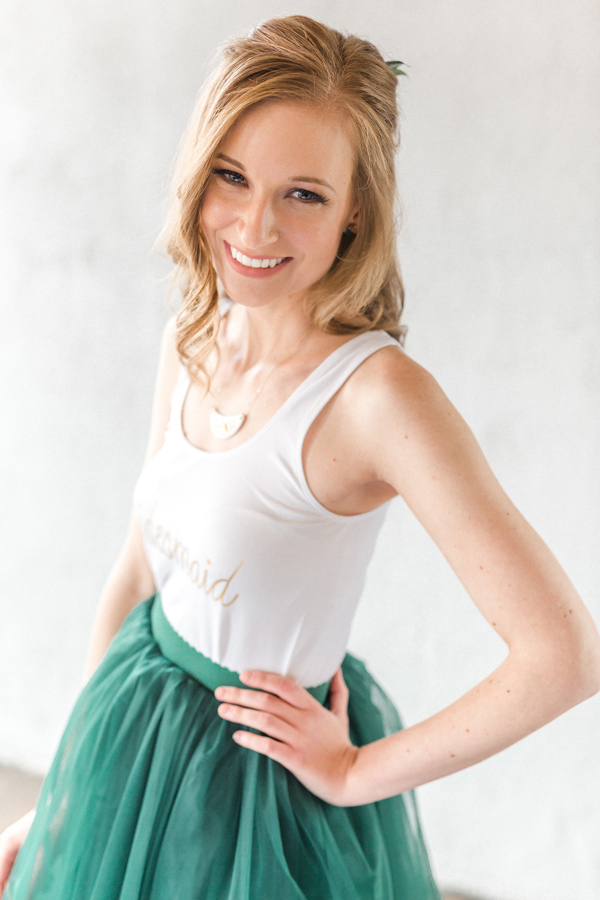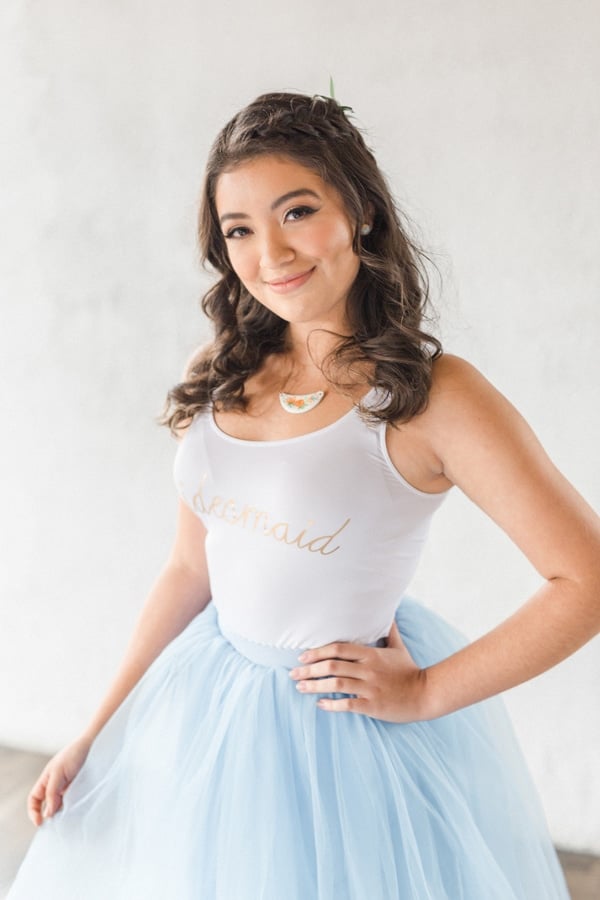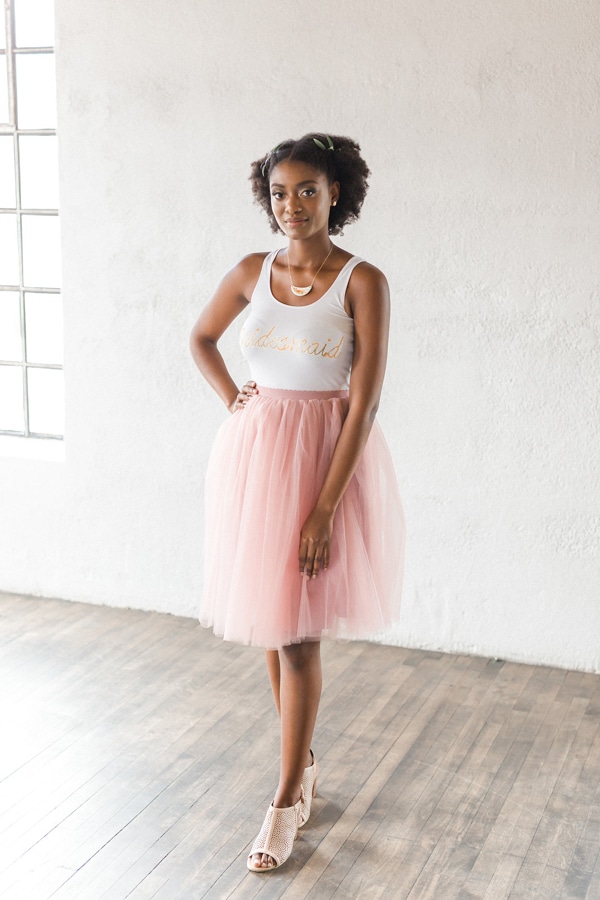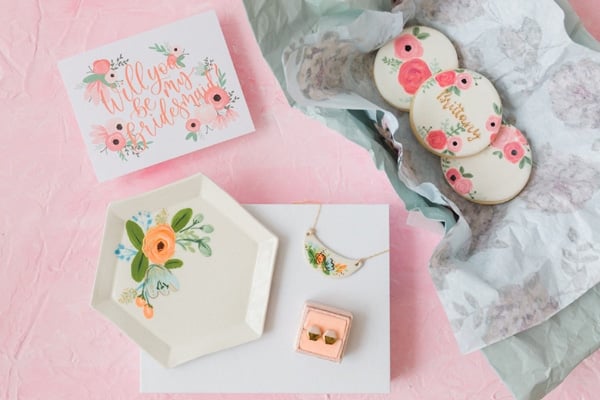 Each bridesmaid was gifted with some flower themed bridal shower gifts, including a gorgeous flower necklace, jewelry plate and earrings from Pineapple Pottery. This is also a great idea if you're looking for fun gifts to ask your bridesmaids that big question – Will You Be My Bridesmaid?!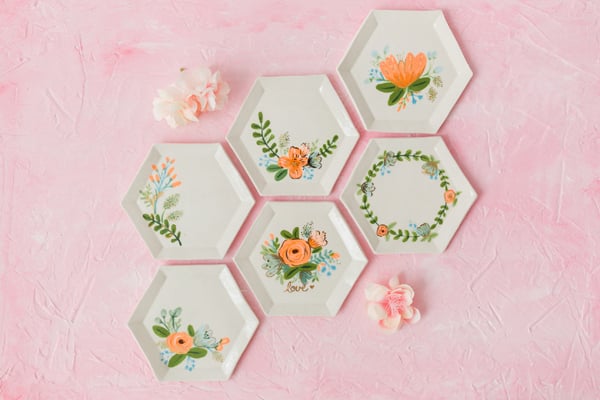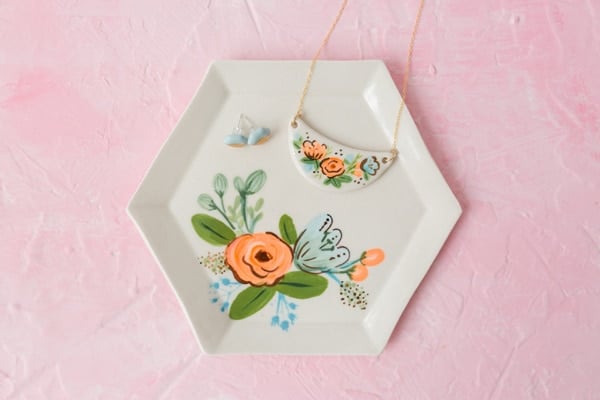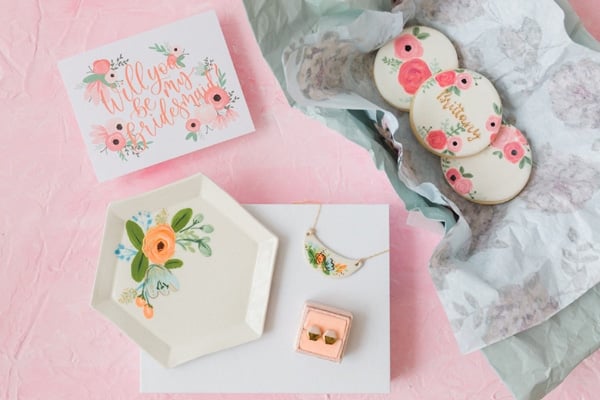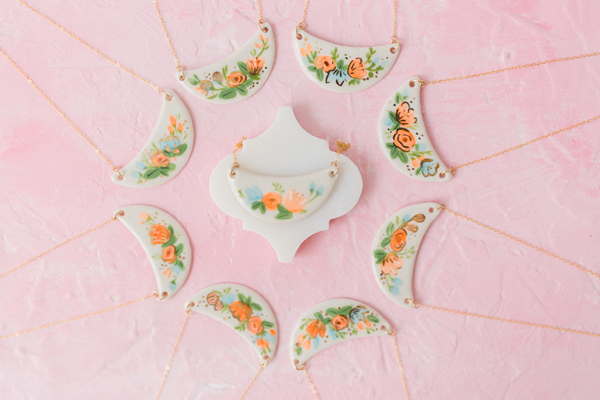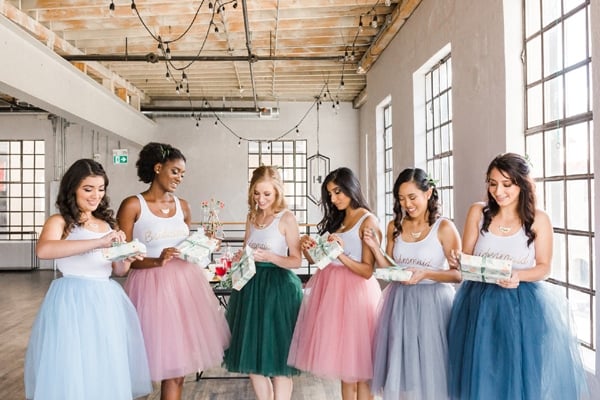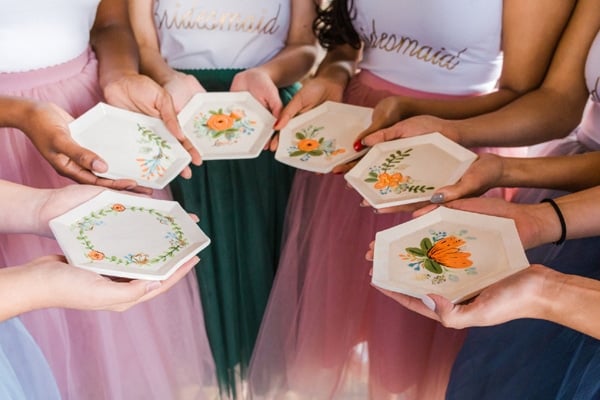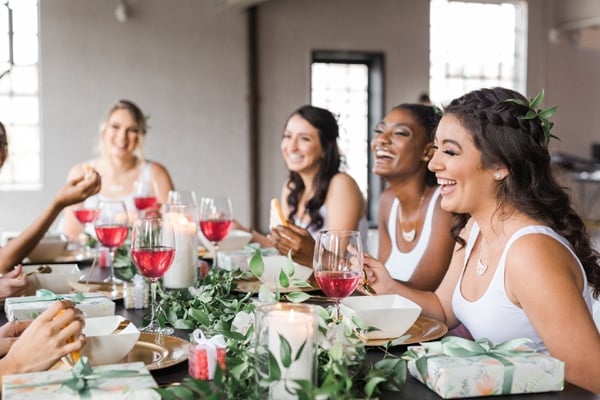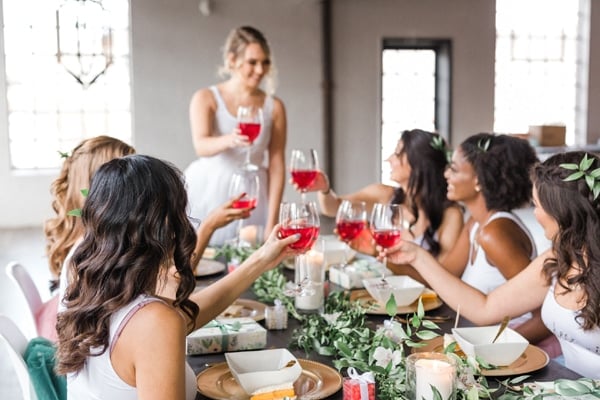 We can't think of a better way to celebrate a bridal shower or bridesmaids brunch than with a gorgeous and modern flower bridal shower theme like this one. We love that they took inspiration from Rifle Paper Co. and a gorgeous floral design. What's your favorite details in this Flower Themed Bridal Shower? Let us know in the comments below.
Vendors & Credits
Other: Ferro Studios
Restaurant: E.V.O Kitchen
Jewelry: Pineapple Pottery
Makeup Artist: Faces by Nadeen
Invitation Designer: Emma Fretz
Specialty Foods: The Candy Girl
Paper Props: The Paper Shoppe
Hair Stylist: Sara's Chair
DIY or Handmade Goods Designer: Tayne and Ashley Illustration and Design
Cake Designer: Yes Dear Cakes
Event Planner: Maguire Events & Co
Photographer: Ariana del Mundo Photography
For more party ideas, follow us on Instagram @prettymyparty and Pinterest and join us in our private Facebook group.