Chic Floral Themed Bridal Shower Brunch
There's nothing better than celebrating the bride-to-be than with a Chic Floral Themed Bridal Shower Brunch!
Getting married is one of the most important times of a young woman's life, and this Chic Floral Themed Bridal Shower Brunch was the perfect way to celebrate with loved ones! From the big gorgeous blooms to the beautiful color palette, this bridal shower was absolute perfection from beginning to end.

Check out these bridal shower ideas:
Shop these Chic Floral Themed Bridal Shower Brunch Ideas: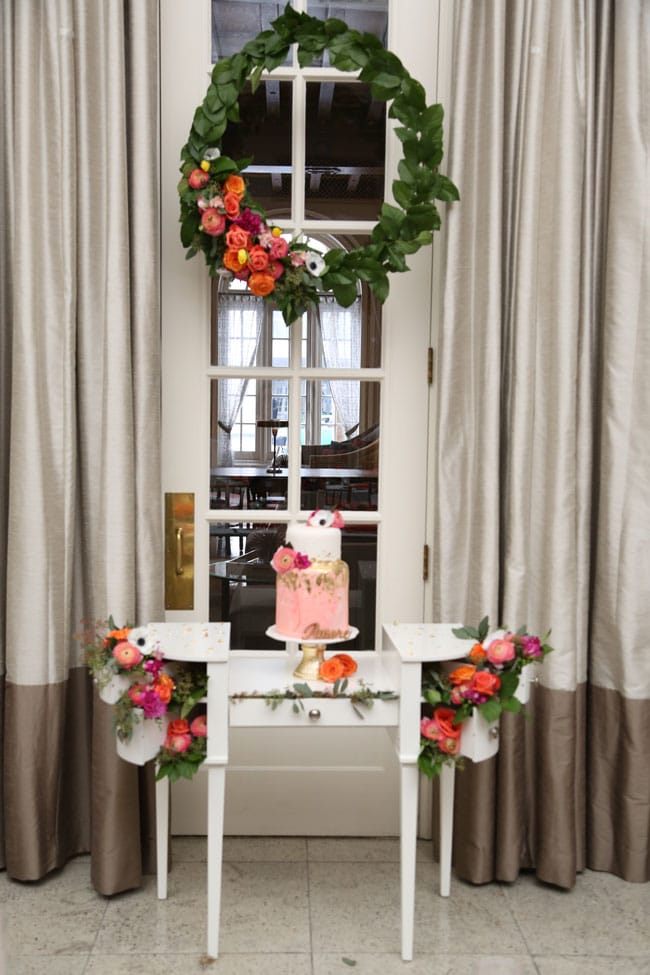 Bambina Bakes created the amazing bridal shower cake for this elegant and unforgettable get-together, and also happened to be sisters of the bride-to-be! Who better to throw the most perfect bridal shower for this bride?!
We love the attention to detail that this Chic Floral Themed Bridal Shower Brunch cake had! The greenery and blooms around the cake complimented everything perfectly. The little gold flecks added to the cake were a great addition, as well!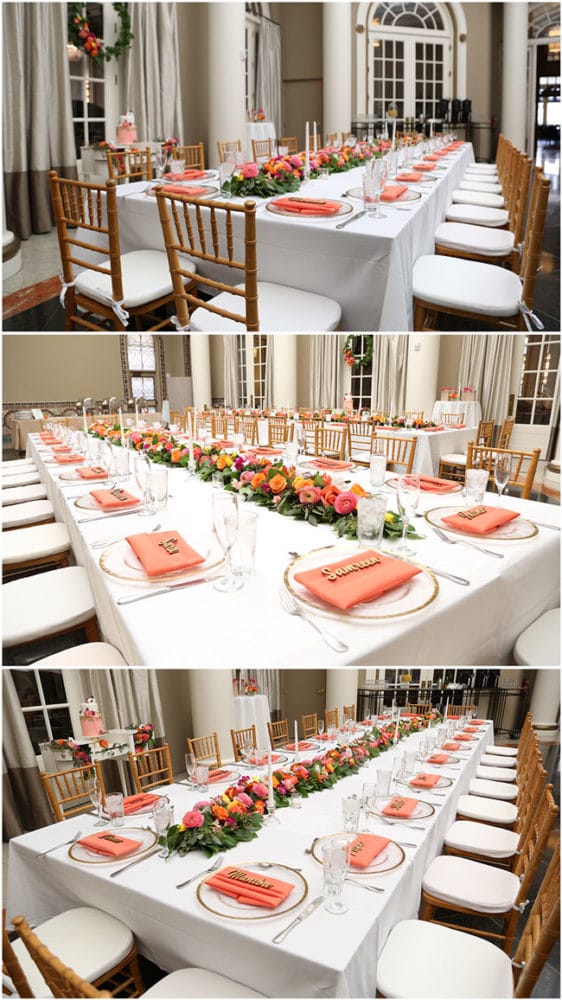 After looking high and low for the perfect venue, The Westin San Jose was chosen. The natural light was perfect for an afternoon brunch and provided the blank canvas for gorgeous flowers and decorations to be used! What a gorgeous bridal shower table setting idea! We just love the long banquet tables for a bridal shower.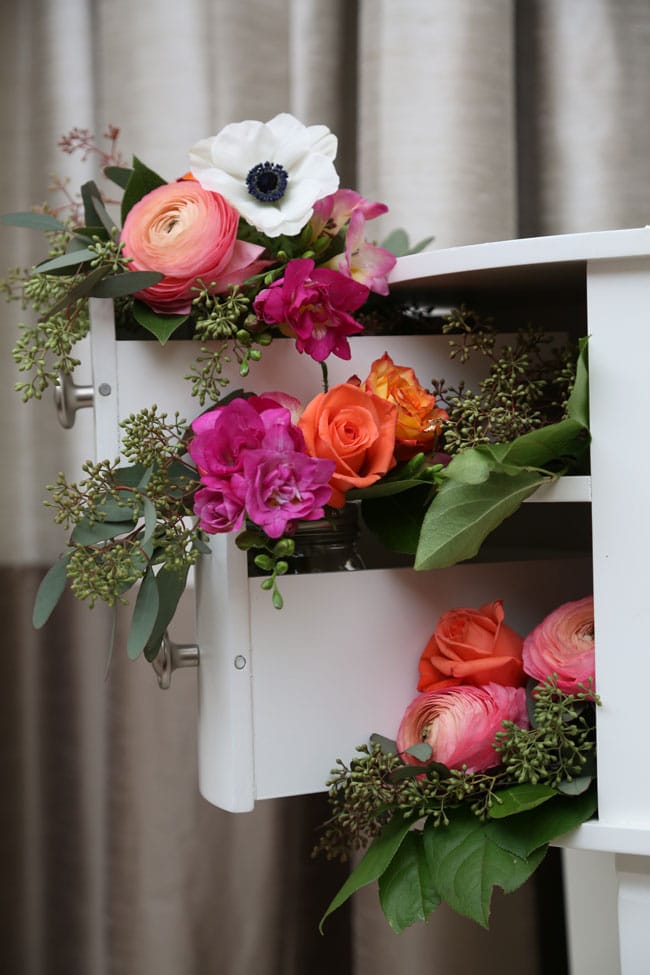 As luck would have it, the bride-to-be also had a wonderful friend who was a florist! Therefore, Baynisa Blooms took the lead on the amazing flowers found throughout the event. Just look at those bright and beautiful blooms for a special wedding shower!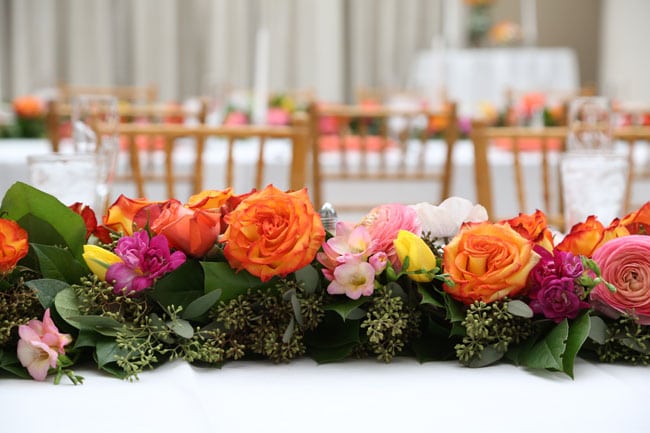 Baynisa Blooms created beautiful runners, a floral hoop and the perfect final touches throughout the room. It was absolutely breathtaking! What a great addition to a special brunch.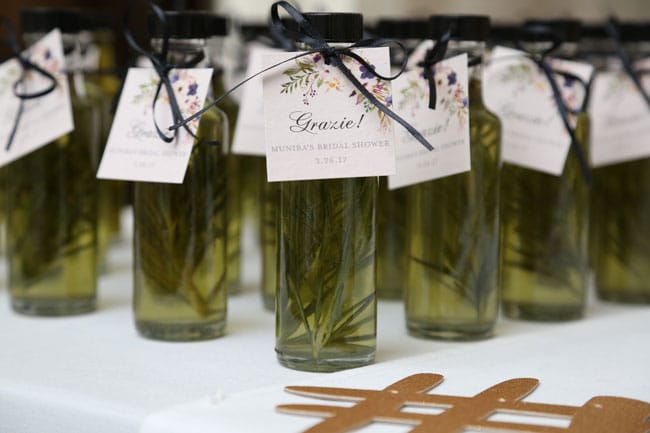 We absolutely love the creative olive oil bridal shower favors that were given out at this brunch! The bride-to-be's sisters made them and the tags used for all of the guests were from Wedding Paper Divas. What a cute and unique gift or bridal shower favor.
Personalized wooden names made all of the guests at this bridal shower brunch feel welcomed and appreciated. It also allowed them to take another special keepsake home to remember this special event! What a sweet way to honor all of the loved ones at the bridal shower!
Soon, it was time to dig into this fabulous feast! We just love the idea of incorporating a brunch into a bridal shower theme. What a great way to bring friends and family together, while keeping it low-key and special! The bridal shower brunch menu was a hit too! Who wouldn't want an omelette station at their brunch … yum!
Bridal shower printables found around the event were elegant and sophisticated, while also incorporating the floral aspect into them. We love how large they are. What a great keepsake to have in the future, as well!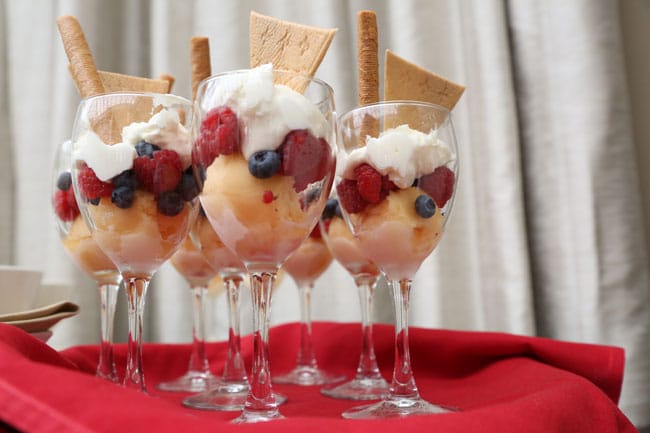 Incorporating fun and healthy desserts were a great end to this bridal shower brunch! Parfaits with fresh fruit and whipped cream also are a great option for a bridal shower brunch.
Soon, it was time to toast this new bride-to-be on her upcoming adventures and wish her the best. Everything about this Chic Floral Themed Bridal Shower Brunch was elegant and sophisticated. What a great way to kick off the wedding season in a woman's life!
What's your favorite detail in this Chic Floral Themed Bridal Shower Brunch? Let us know in the comments below.
For more bridal shower and party ideas, follow us on Instagram @prettymyparty and Pinterest and join us in our private Facebook group.
Vendors & Credits