Awesome Jurassic World Birthday Party
This Jurassic World Birthday Party is one for the ages and any little paleontologist would absolutely love walking into this cool party!
Just imagine the dramatic entrance into this Awesome Jurassic World Birthday Party from Glam Spot Events for all of the party guests! What little birthday party guests wouldn't absolutely be thrilled to walk into a birthday party with dinosaur eggs, life-sized dinosaur statues and the best birthday cake ever! What a thrill with all of the larger than life props and decorations.
See more Dinosaur Party Ideas here: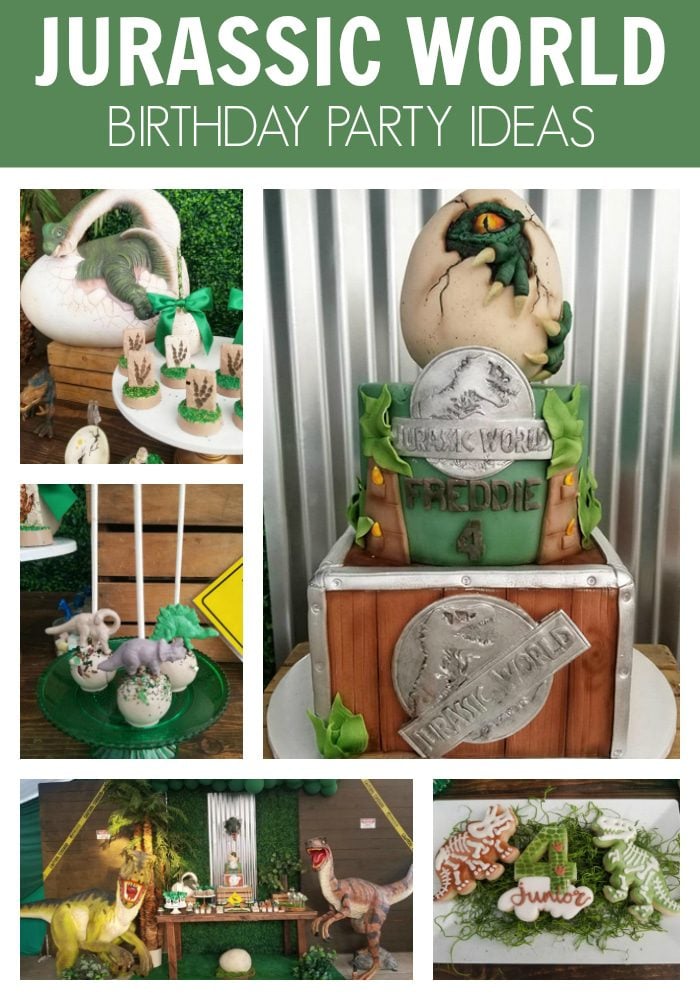 Jurassic World Party Supplies and Decorations: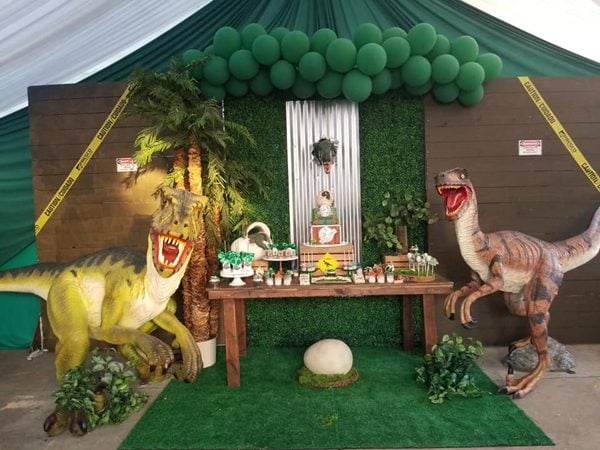 Whoa! These life-sized dinosaur statues from LM Treasures are absolutely out of this world! If you're going to have a Jurassic World Birthday Party, you definitely have to include these beauties in your display! What a lucky little birthday boy to walk in to find these amazing Jurassic World birthday decorations spread throughout the event.
What's even better? That entire dessert tablescape! With a single dinosaur egg waiting below the table, we can only imagine what type of fun was waiting for the rest of the Jurassic World Birthday Party! We just love the backdrop, as well, with a dinosaur working hard to escape from behind the backdrop. Watch out!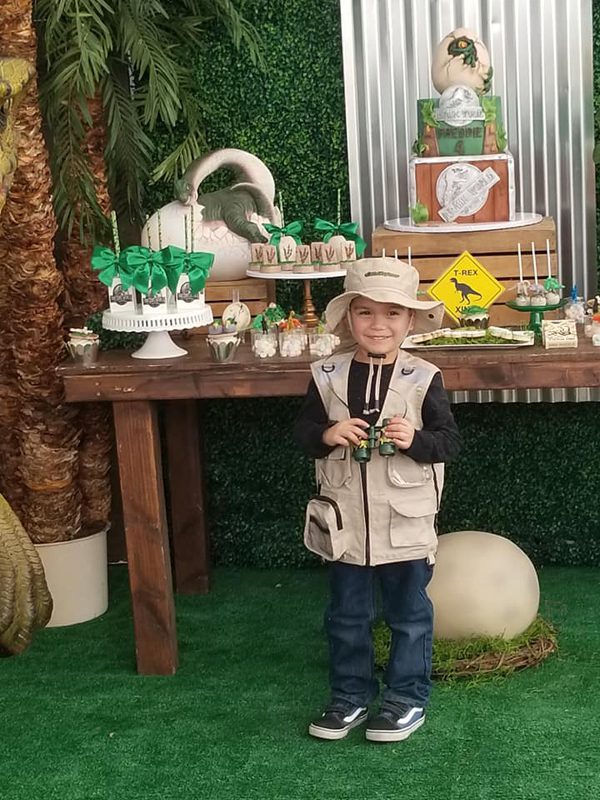 This birthday boy looks absolutely thrilled to be next to all of the fun dinosaur props that were provided. Look at all of those amazing Jurassic World Birthday desserts that were waiting for everyone to dig into! From cake pops to dinosaur cookies, to an absolutely amazing birthday cake, nothing was forgotten at this amazing Jurassic World Birthday Party!
One would think he would be a little intimidated with these amazing dinosaur props that were found around the Jurassic World Birthday Party, but that definitely wasn't the case. He couldn't get enough and we're sure he was sad to leave when the day came to an end. If we were him, we'd want to take those amazing dinosaurs home with us and set them up in our bedroom to "stand watch" every single night!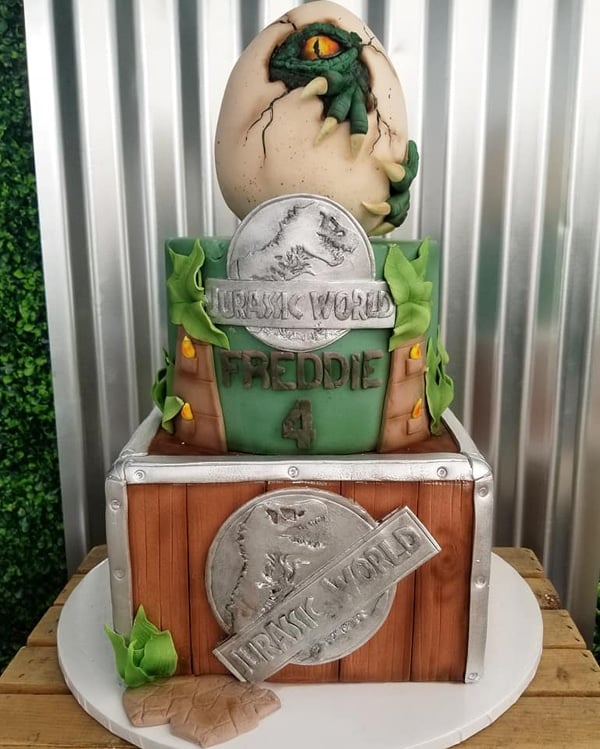 This absolutely incredible Jurassic World Birthday Cake from @paty_palomera was amazing and was the perfect centerpiece for this big birthday celebration. Just look at the details that were incorporated into this birthday cake! This 4-year-old has no idea how incredible lucky he is to have the best Jurassic World Birthday Cake ever! The entire party was enthralled with the cake and everyone had to get pictures of it before it was time to dig in!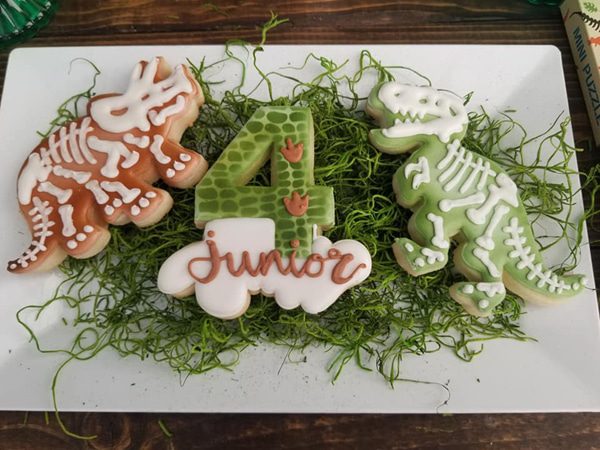 Sweets by Gigi and Sugar Studio 31 provided some amazing desserts for the Jurassic World Birthday Party! How amazing are these dinosaur skeleton cookies?! We also love the way that the stylist presented the cookies on the green moss. It makes it all very Jurassic looking with a perfect vibe of archaic dinosaur fun! How cute are the little skeletons that were drawn onto the dinosaur cookies, as well?! We just love them!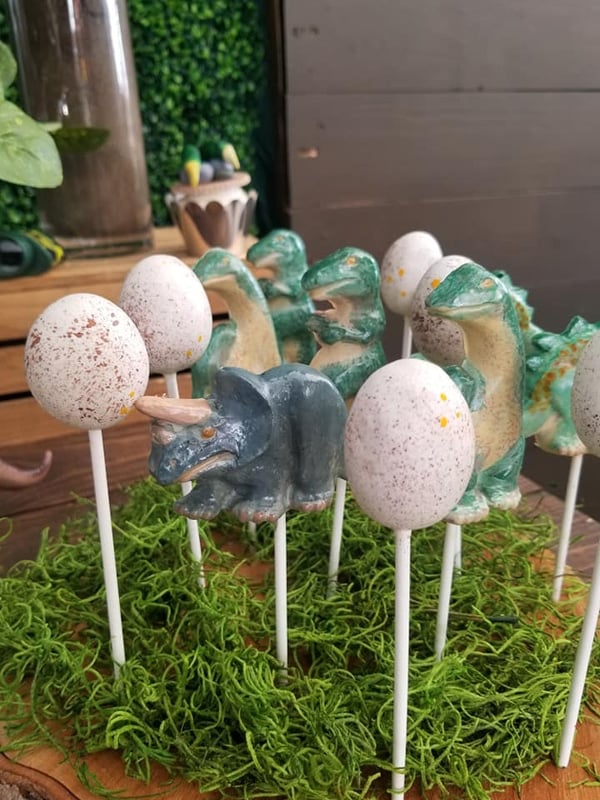 A couple different variations of Jurassic World Cake Pops were made available for the birthday celebrations. Our favorites may be these great dinosaur eggs that were found on top of a cake pop stick. How unique and we just love them! Those dinosaurs that were found throughout the eggs are pretty impressive, too. This is such a fun birthday party theme!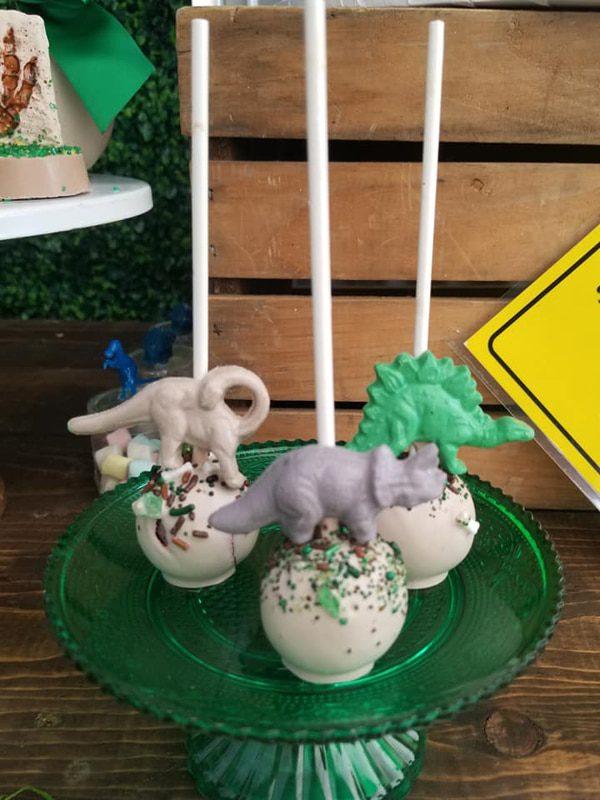 More traditional cake pops were found around the Jurassic World Birthday Party, as well. Decorated with dinosaurs, as well as sprinkles and vanilla frosting make them the perfect addition to the Jurassic World Dessert Table! All of the desserts for the birthday celebration were totally on-point and nothing was missing from this impressive dessert display!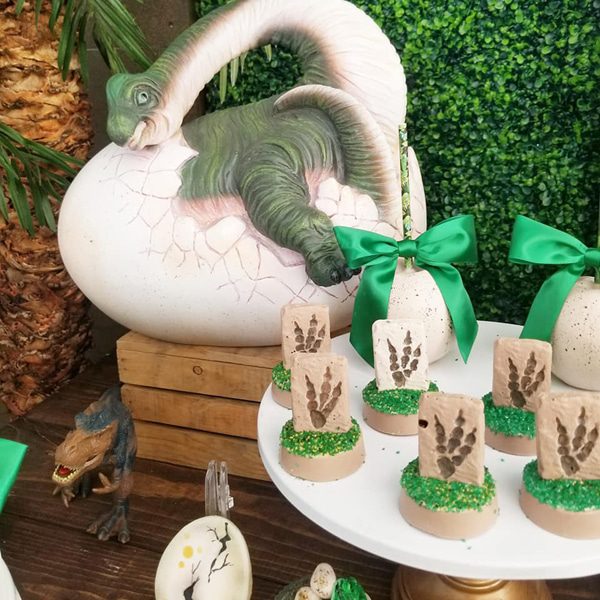 Watch out, because dinosaurs were found everywhere on the Jurassic World Dessert Table to make sure everyone was having the time of their lives! We love the dinosaur print desserts, but we just can't get over how fun and realistic all of the dinosaur statues were on the table! This dinosaur doesn't look too happy, but we know it adds to the overall fun of the Jurassic World Birthday Party.
The thrill of seeing all of these dinosaur relics and props must have been the absolute best for kids and adults alike. This Jurassic World birthday party made sure to bring the 'wow' factor for everyone!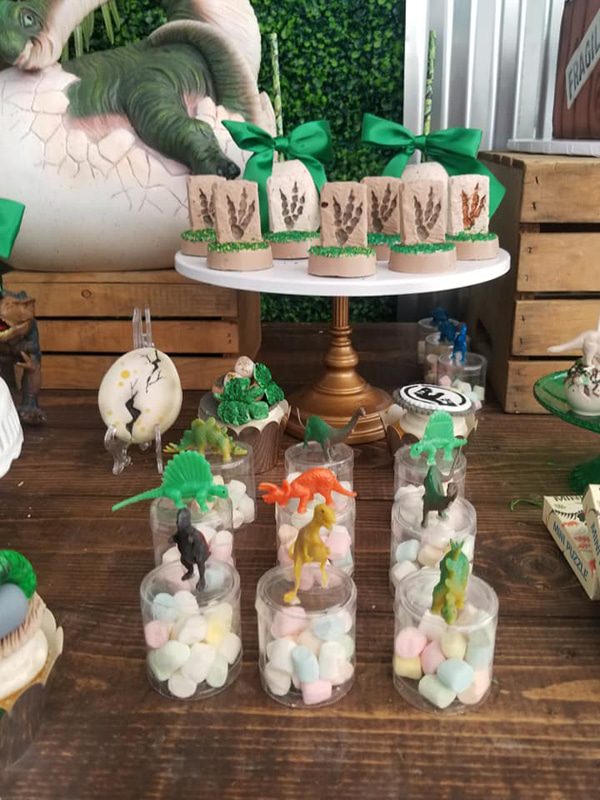 Little candy jars were available for all of the Jurassic World Birthday Party guests to take home, all with their own different dinosaur displayed on the lid! Who wouldn't love to take these little babies home. We love that they can be used to store all of a little one's treasures once the candy is gone. Anything that can be reused at home for something different is always a win in our book!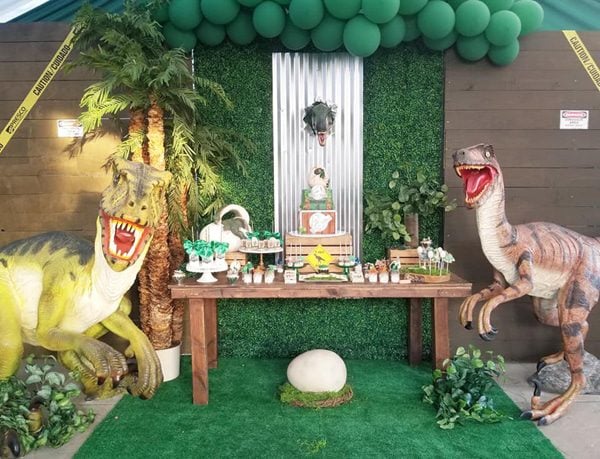 Overall, this Jurassic World Birthday Party was one screaming good time! The backdrop and color scheme are absolutely perfect, with caution tape and jungle trees and leaves making the theme turn out in the best way possible. These little party guests were never going to want to leave with all of the fun that they were about to have!
From the design and style, to the cake and desserts, everything was planned to absolute perfection. The kids even got to enjoy face painting and a fun photo booth to always remember the fun they had the Jurassic World Birthday Party. Who could ask for more than that?
For more party ideas, follow us on Instagram @prettymyparty and Pinterest and join us in our private Facebook group.
Party Vendors
Design, Style, Décor and Rentals: Glam Spot Events
Videography: 7labrada7
Cake: paty_palomera
Food: Ray's Lets Taco Bout It
Entertainment: Jurassic Parties
Face Painting: Suzys Art
Photo Booth: Notorious Jax Photo Booth
Desserts: Sweets by Gigi and Sugar Studio 31
Props: LM Treasures