15 Awesome Teen Titans Go Birthday Party Ideas
If your child is asking for a Teen Titans Go Party for their birthday this year, you have to check out these 15 Awesome Teen Titans Go Birthday Party Ideas!
These 15 Awesome Teen Titans Go Birthday Party Ideas are going to make your little party animal go bananas when they see it! If you're little one loves Teen Titan as much as my son does, than you are definitely going to be parent-of-the-year for creating this amazing Teen Titans Birthday Party. From the cool party decorations to the awesome Teen Titans Cake (and don't forget the perfect Teen Titans Go Pinata), we have all of your inspiration right here to get your party started!
Teen Titans Go Party Supplies and Decorations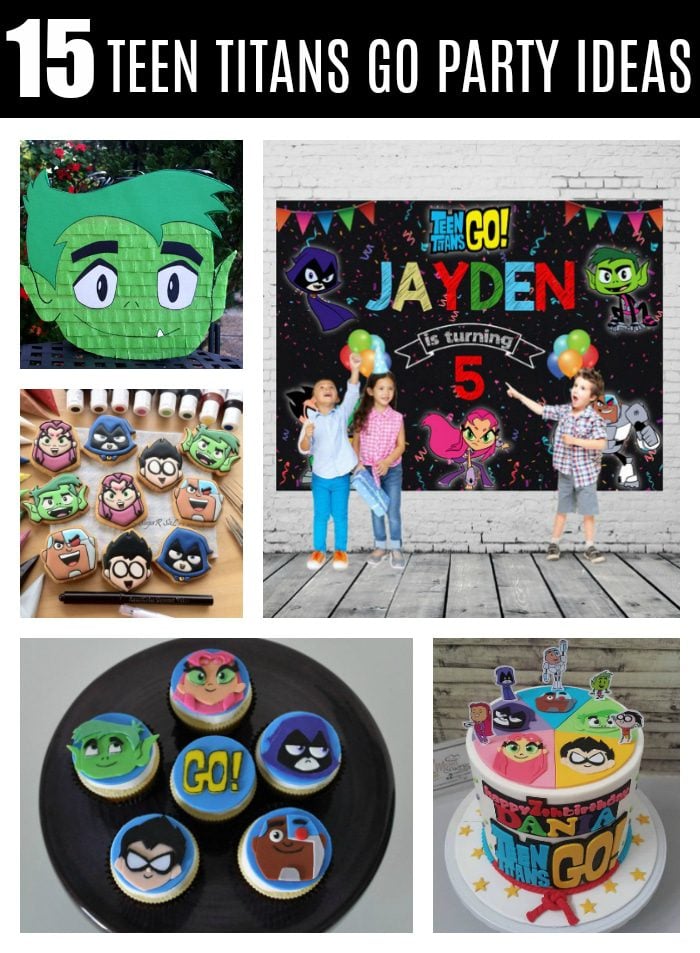 If there is anything that we know all about, it's a Teen Titans Go Party! It seems to be on a constant loop in our home and it gets to be time when we know the TV just has to be turned off for everyone's sanity! That being said, it's quite clear that there are a lot of kids who go ga-ga over a Teen Titans Themed Party. And with these amazing ideas, who can blame them?!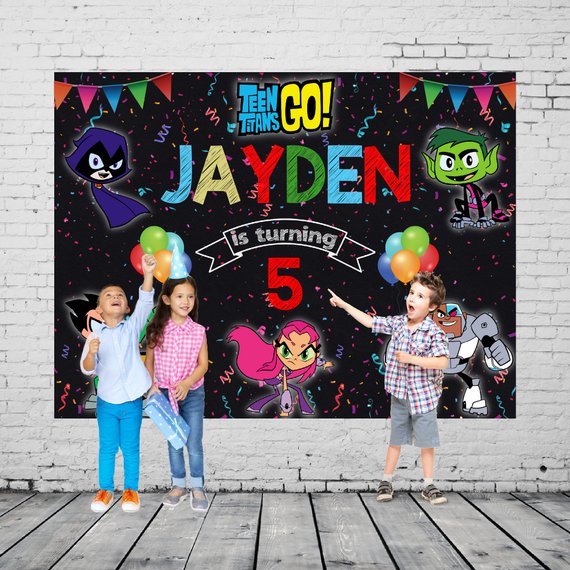 Any good Teen Titans Go Birthday Party has to have an amazing Teen Titans Go Party Banner and this one will definitely do the trick! We love how it can get personalized for your little birthday child and everyone is going to love posing in front of it for pictures! Fun!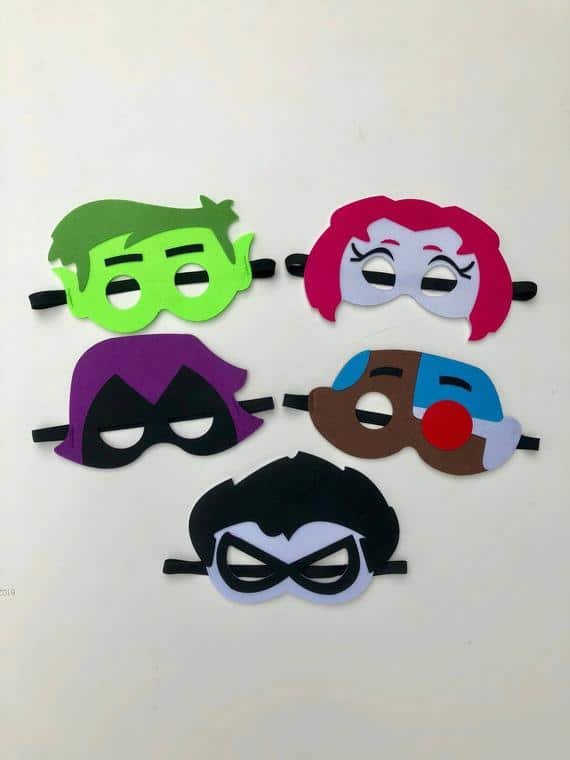 These amazing Teen Titans Go Party Masks will get everyone in the party mood for the big event! What a great thing to hand out to all of the party guests as they enter, or even to include in a Teen Titans Go Party Favors bag!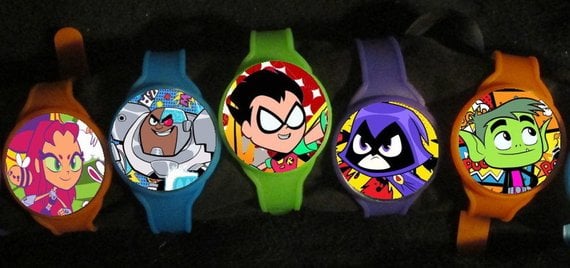 Speaking of party favors, these fun Teen Titans Go Watch Party Favors would make all of your Teen Titans Birthday Party guests excited to dig into their goodie bags! Everyone has a favorite character, so pass them out and watch your party guests go crazy!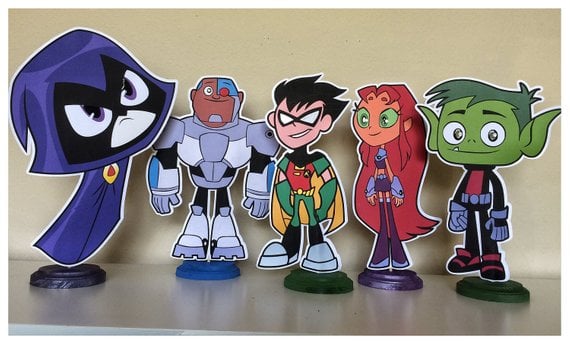 Teen Titans Party Decorations are a really fun thing to pull together and these Teen Titans Go Table Centerpieces are perfect to add to every table! These are also a great way to let kids know what table they are going to sit at, by telling them which character to look for. Two birds, one stone!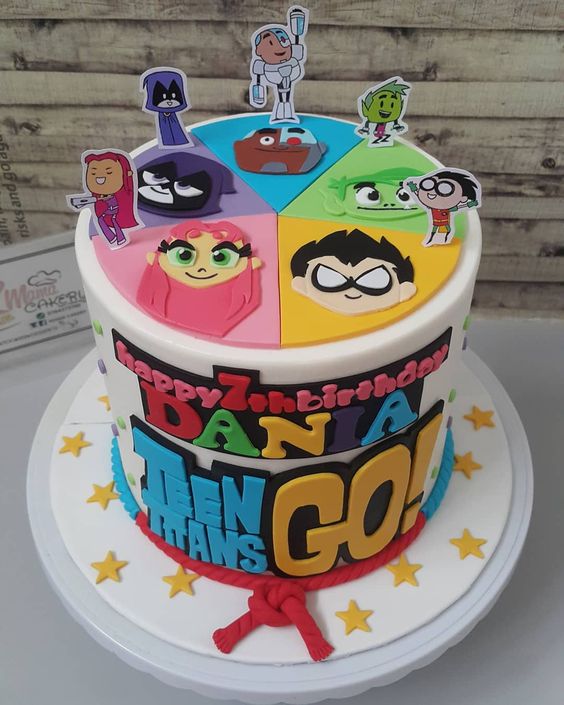 OMG, this Teen Titans Go Birthday Cake is everything! We love the personalization and the great words that surround this great cake! And we love how everyone gets fair billing at the top of the cake with an even section for each character. Not to mention the great color scheme of this Teen Titans Cake!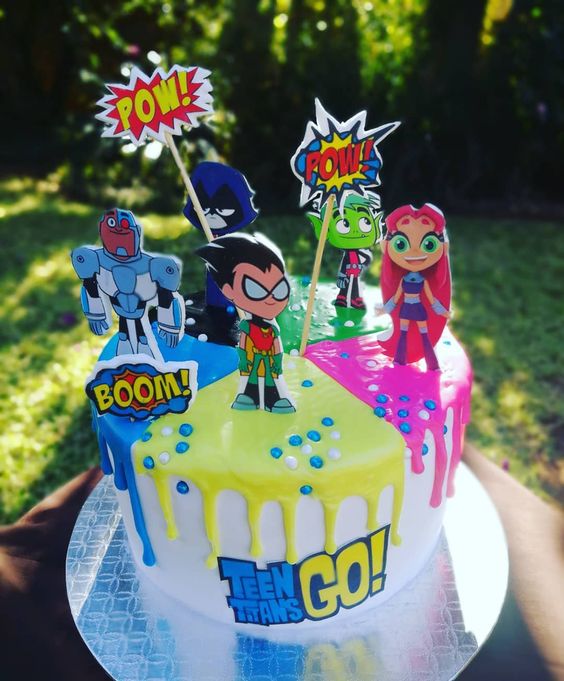 Another great idea for a Teen Titans Go Cake can be found here, where the characters all come to life! We love the superhero words that can be seen coming out of the cake, too, for power and fighting the bad guys all around the world!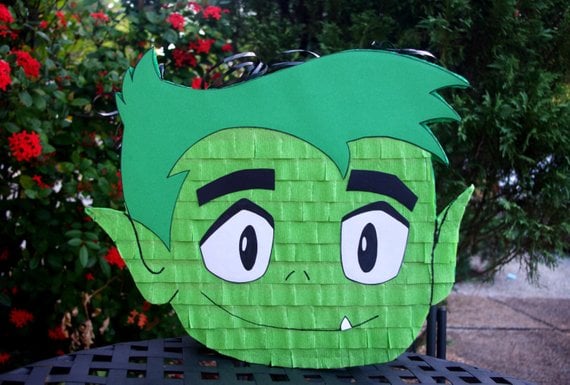 This Beast Boy Pinata is going to get all of the Teen Titans Birthday party guests revved up! Who doesn't like to try their hand at a piñata and hope that they are the lucky one to get that baby to break open? This is a great activity to add to the event and will keep the kids occupied for awhile!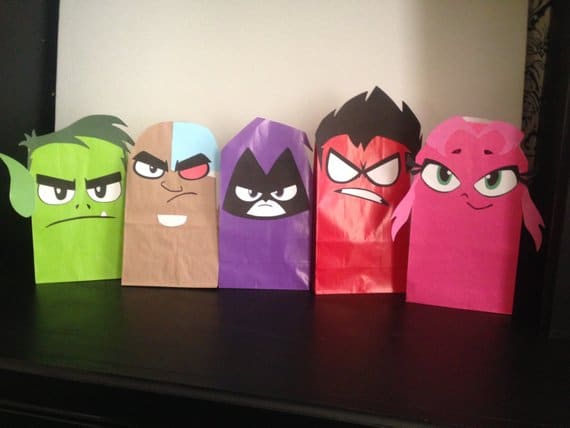 These Teen Titans Go Favor Bags are so much fun! We love how all of the bags are personalized as everyone's favorite Teen Titans Go characters. Who wouldn't love to grab one of these on their way out of the big party? These are some amazing Teen Titans Go Birthday Party Ideas!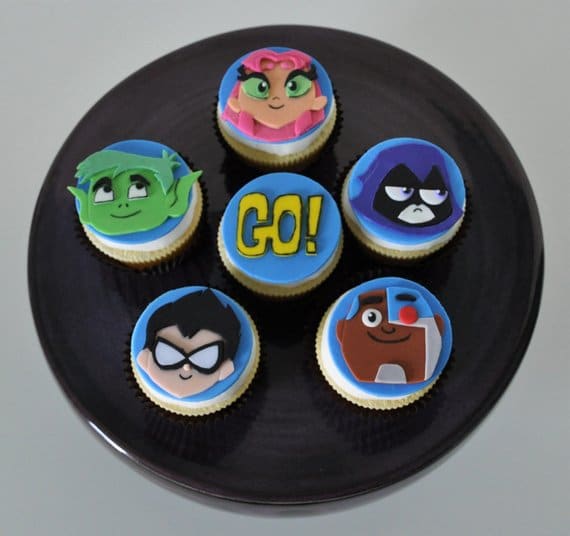 Ahhh… cupcakes! Teen Titans Go Cupcake Toppers are a great way to make your cupcakes look FAN-tastic! You can add them to a cupcake all on your own, but everyone will think you slaved in your kitchen for hours. Perfect!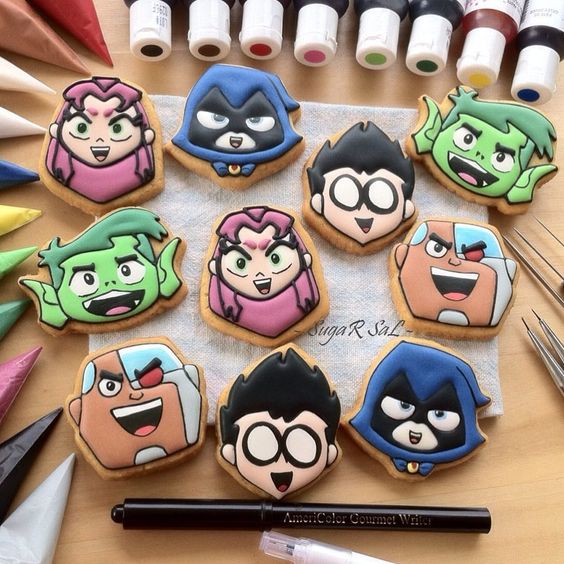 No Teen Titans Go Birthday party would be complete without some Teen Titans Go Cookies. And these definitely don't disappoint! No detail was forgotten and they are absolutely gorgeous! We may just want to sit and admire these all morning before the party starts and they quickly disappear!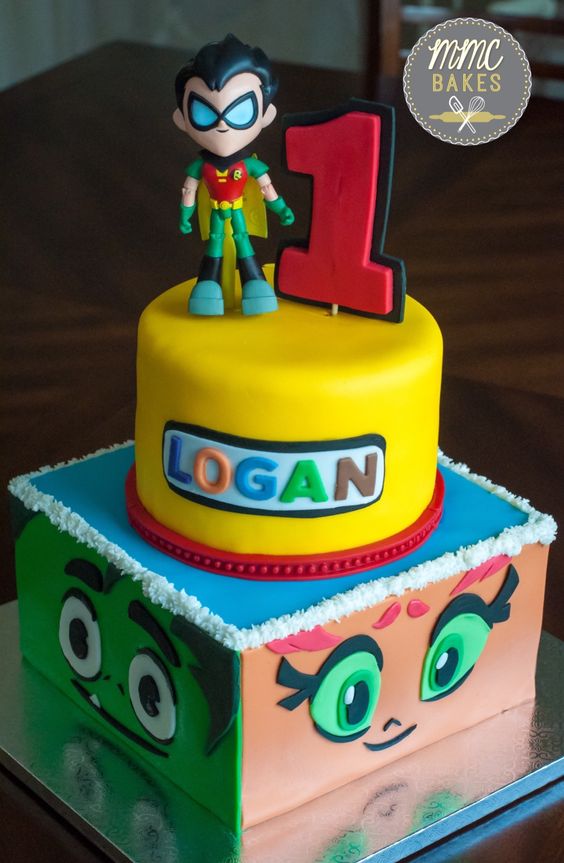 As if all of the other Teen Titans birthday cakes were dreamy enough, then we get presented with this perfect Teen Titans Go Birthday Cake! This layered sugary dream cake will make your little birthday child's head spin when they see it on their cake table!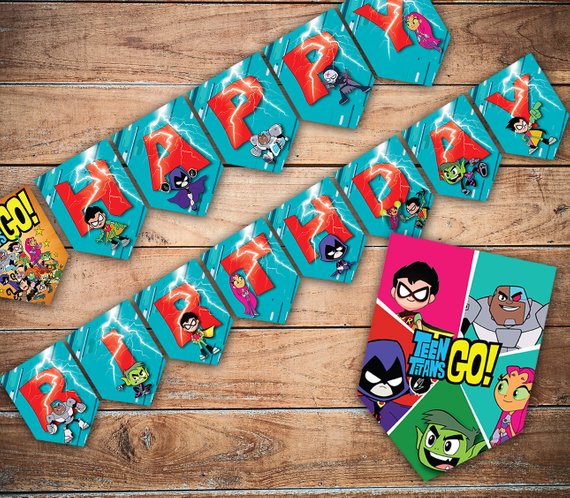 Who doesn't love a great Teen Titans Go Happy Birthday Banner that would be the perfect addition to the other Teen Titans Party Supplies you have? This is a great way to add a little pop to your dessert table, or can be a great addition to the entrance of your birthday party.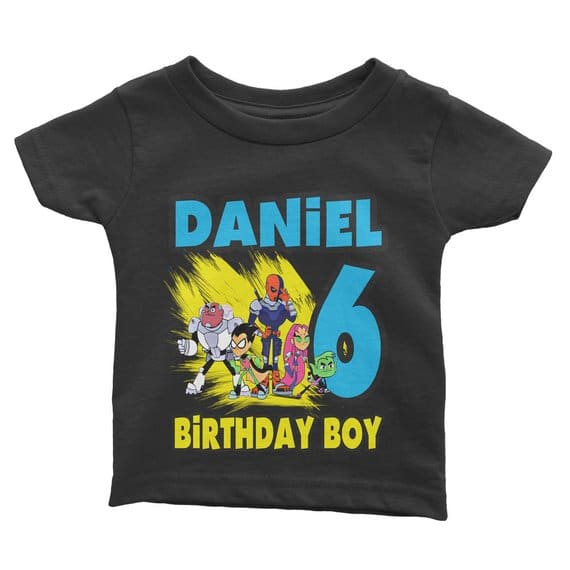 Every little birthday boy needs his own special Teen Titans Go Birthday Shirt! While this specific one is for a Teen Titans birthday boy, there are plenty of ideas for the Teen Titans birthday girl in your life, too. Everyone will be happy!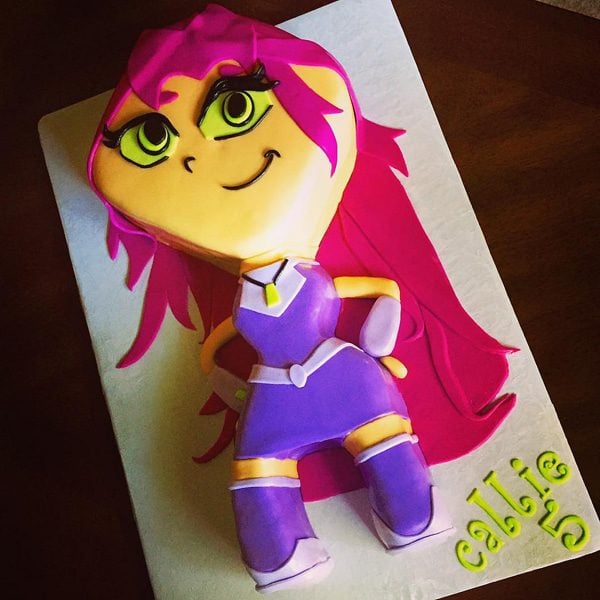 Starfire knows how to kick some butt and she's definitely someone you want on your side. If your little Teen Titans lover counts her as their favorite, than this Starfire Cake is sure to be a winner. What amazing detail!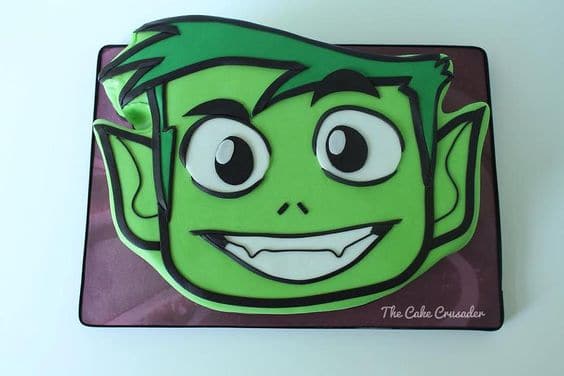 If your little Teen Titans Birthday boy is a big fan of the Beast, then this Beast Boy Cake is going to go right to the top of your must-have list! It's almost too perfect to cut into, but we're sure that won't stop all of the party guests!
And just like that, all of these amazing Teen Titans Go Birthday Party Ideas are going to help you create the most amazing birthday party for your Teen Titans lover! They are going to just love it and this theme is so much fun to work with.
Which leads us to our next question … what are your favorite Teen Titans Go Party Ideas? Let us know in the comments below!
For more party ideas, follow us on Instagram @prettymyparty and Pinterest and join us in our private Facebook group.