16 Cool Superman Party Ideas
If your child is asking for a Superman party, check out these incredible Superman Party Ideas for the ultimate superhero birthday bash!
Every child has to have a superhero birthday party at least once during their childhood and these 16 Cool Superman Party Ideas will make sure it's the best one possible! Who doesn't love Superman, with all of his special powers and kryptonite abilities? Your little one may just think that THEY are Superman by the time the big event is over!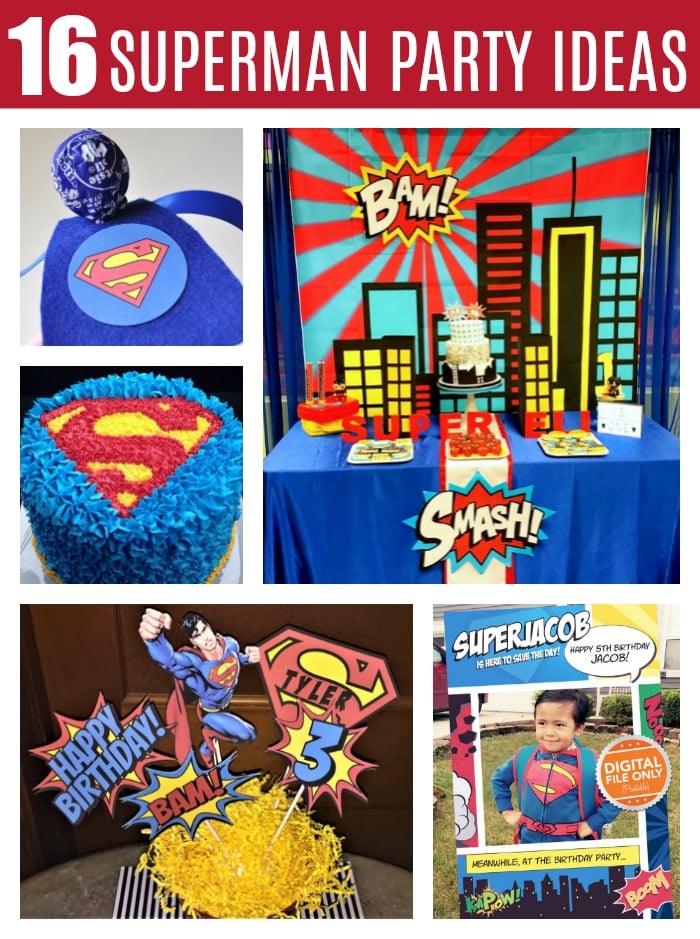 Just look at all of these incredible Superman Party Ideas. When it comes to any kind of Superman Party Supply you could think of, this will have you covered from cake ideas, to an entire dessert table that will knock everyone's socks off.
Superman Party Supplies and Decorations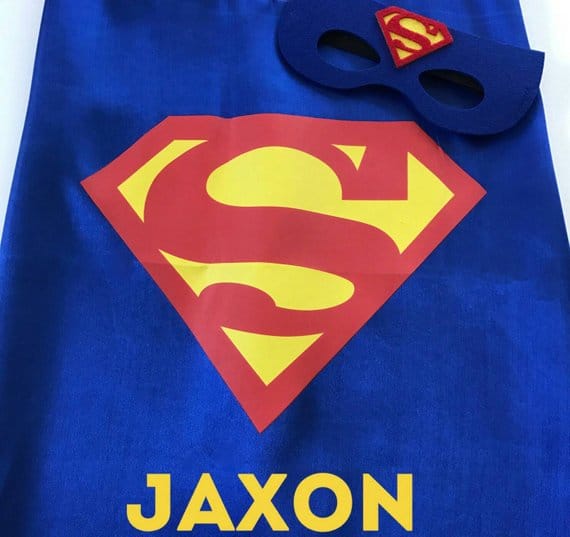 Superman Party Idea #1: Every birthday kid is going to be excited to wear their own Personalized Superman Cape for their big birthday celebration! This Superman Theme Party idea even comes with a mask to finish off the total look! You may even want to have all of the party guests have their own superman cape. There isn't anything better than a lot of little kids running around in capes of their favorite superhero! They can double as party favors too, so it's a win-win!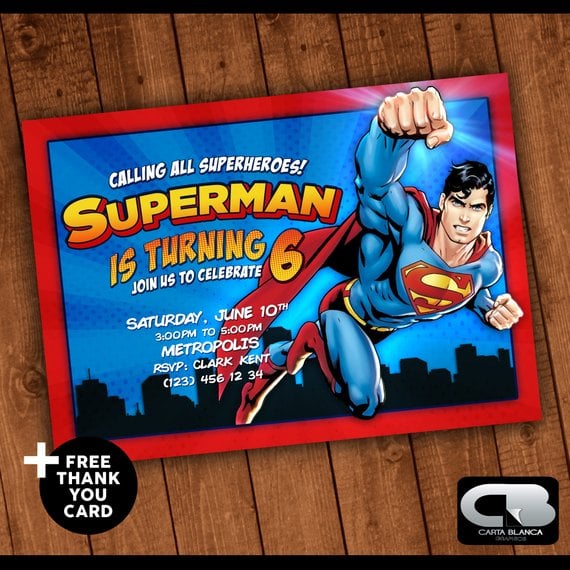 Superman Party Idea #2: We all know that a birthday party has the stage set with the party invitation and this Superman Birthday Party Invitation doesn't disappoint! This inspiration even has a great thank you card that can be used, as well, to make things even easier for the busy parent when all of the cake and decorations have been cleaned up.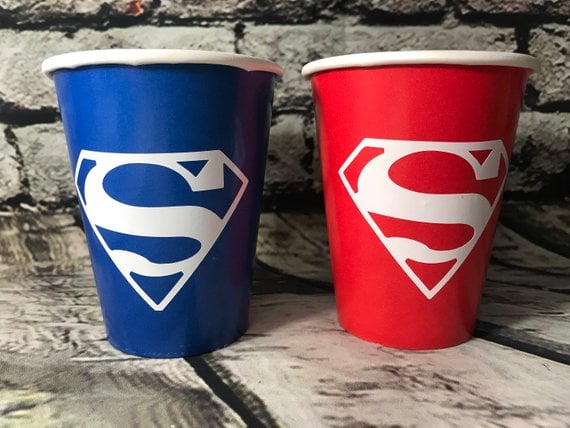 Superman Party Idea #3: Superman Party Cups are a must at any themed party for a big-time superhero! It's super easy to write all of the party guests' names on the cup, as well, so you make sure you don't go through a million cups for a handful of littles. Because we know how often that happens!
Superman Party Idea #4: Here is another fancy Superman Party Backdrop that we totally fell in love with. Who doesn't love superman birthday party inspiration like this?! We love that it's something so easy to order, print off at your favorite print shop and voila, you're set!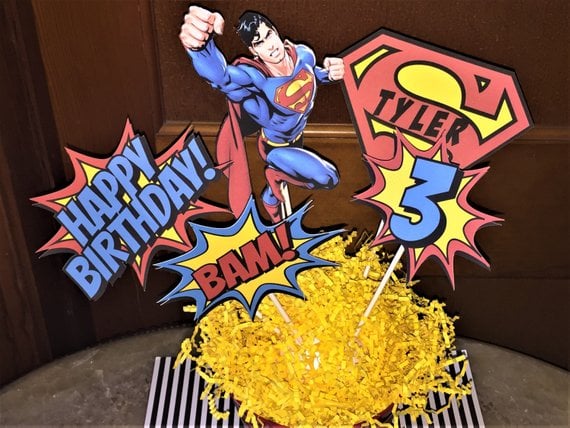 Superman Party Idea #5: This great Superman Table Centerpiece is sure to make a Happy Birthday Bam statement at every table it is found at! Add in the personalized touches that can be found, like in the above inspirational photo, and you'll be set!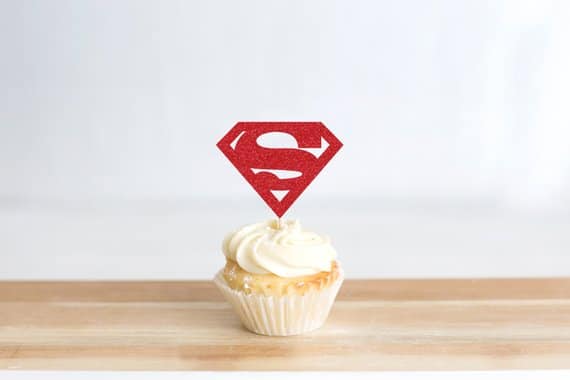 Superman Party Idea #6: These adorable Superman Cupcake Toppers are totally simple, yet extremely classy! You have to make a statement on Superman's behalf and these toppers will do the trick. Cupcake toppers make life so much easier once you have cupcakes finished up!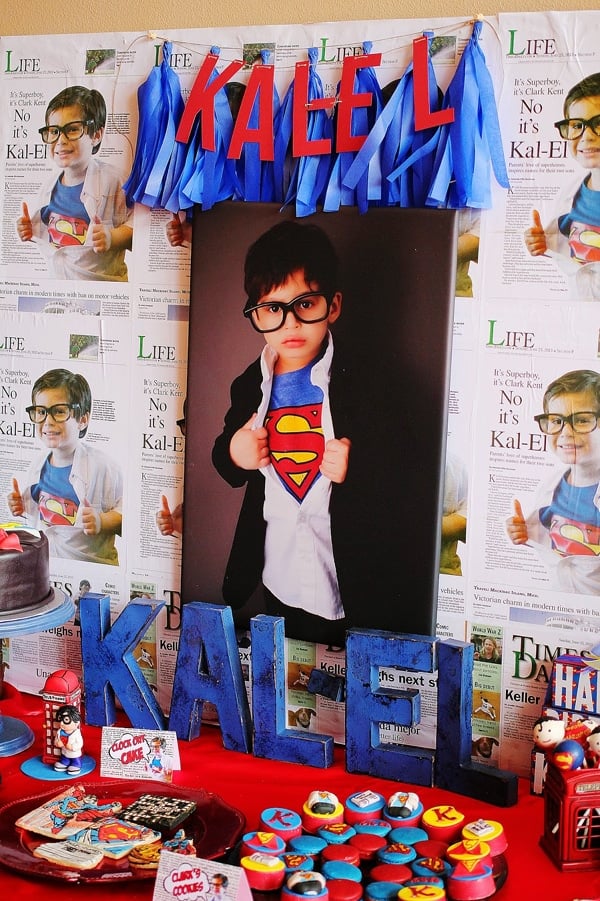 Superman Party Idea #7: This Superman Party Dessert Table can be found at one classy Superman Birthday Party affair! Look at those cute pictures that you can use as inspiration for your own Superman Birthday Party theme! You are going to have one cool birthday kid with all of the special birthday love they are going to get with this fun backdrop.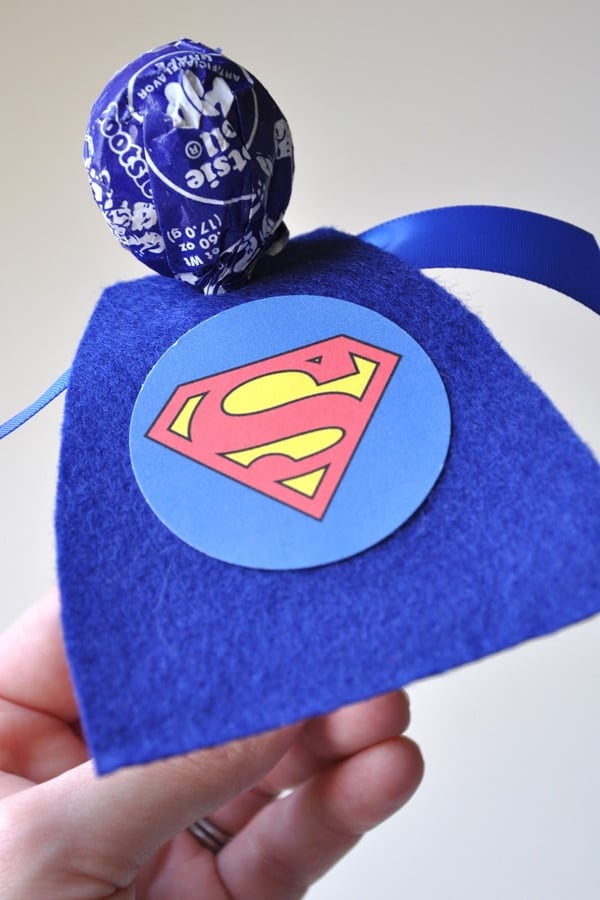 Superman Party Idea #8: These Superman Lollipop Party Favors are going to be a big hit in every birthday guests' party favor bag! We love to find great DIY projects that will make the party budget-friendly, but will make your birthday child squeal with delight. This is going to be a big win in the parent book!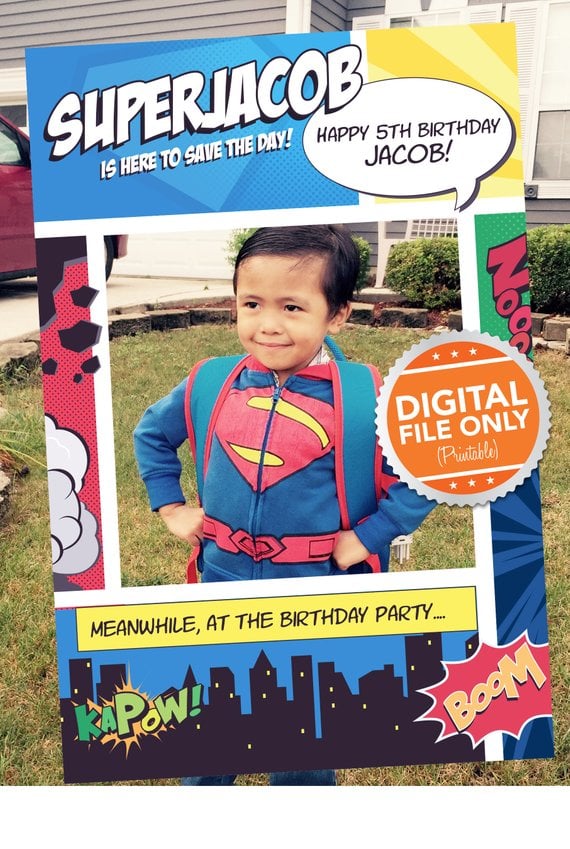 Superman Party Idea #9: Every child celebrating their big birthday is going to absolutely love this fun Superman Photo Booth Frame! They will get to celebrate their big day with all of their friends and you'll get to take great pictures that they will look back on fondly forever! What a great addition to this Superman Theme Party!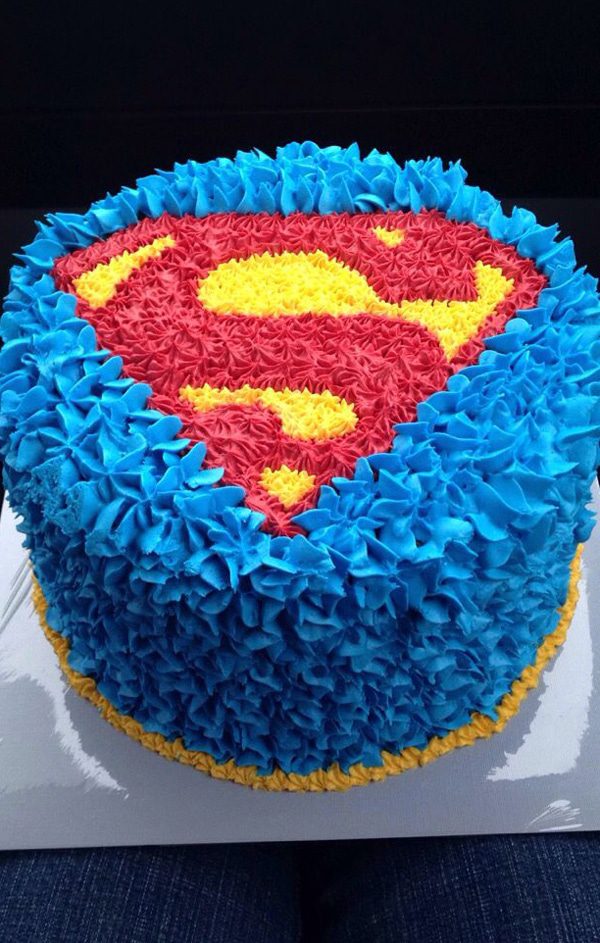 Superman Party Idea #10: How fun is this Superman Birthday Cake?! We love the different frosting technique that was used in order to make this Superman Birthday Party extra special! But no cake is finished without that great Superman logo, and this one definitely doesn't disappoint!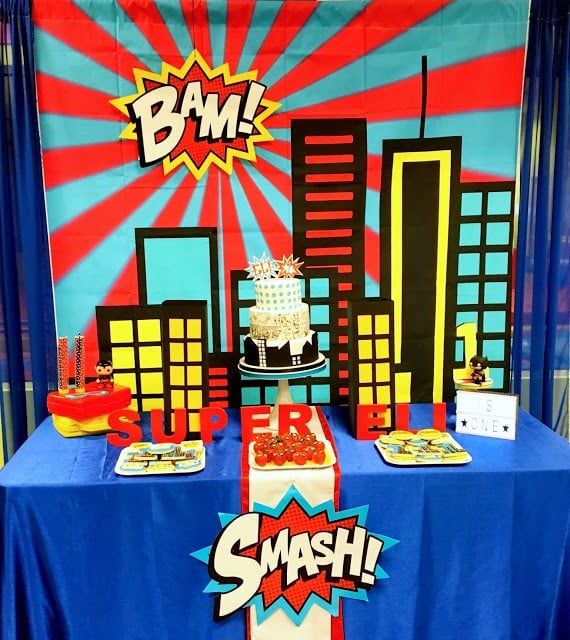 Superman Party Idea #11: Is there any possible Superman Dessert Table and Backdrop that you would want to use besides this one? It has everything you could possibly need and has the best backdrop ever! Superman has to keep all of those big city buildings safe, which makes this the perfect set-up for any Superman birthday party ever!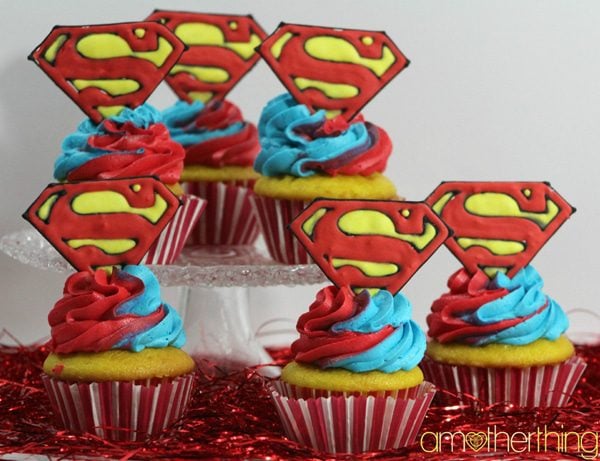 Superman Party Idea #12: For real … how amazing are these Superman Cupcakes?! They are just so much fun and are so unique with the Superman logo cupcake topper! We just love them!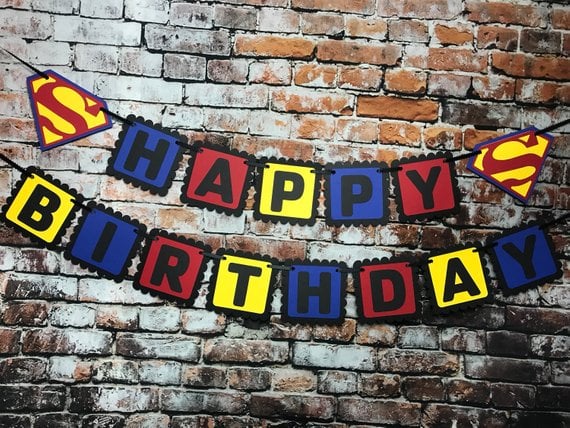 Superman Party Idea #13: A great Superman Birthday Banner is a must-have for any Superman Birthday Party! Whether you add it to the dessert table, or hang it up at the entrance of the event, it's sure to be a show-stopper! We just love the bright colors with the fun font. Gorgeous!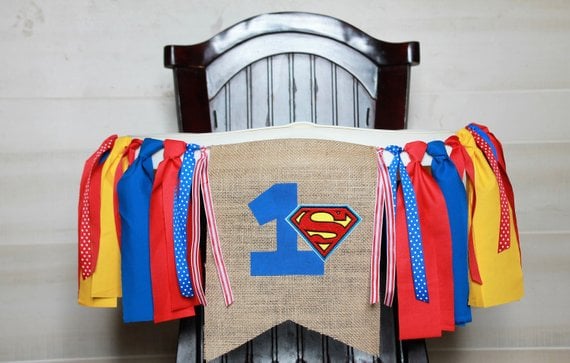 Superman Party Idea #14: Have a 1-year-old who is going to have their big first birthday party? Than you HAVE to have a Superman High Chair Banner to add to your little one's high chair! It will be the perfect addition for all of the big and important pictures that you'll be taking, not to mention an easy decoration that will go great with all of the other incredible decor at the party. Bring on the smash cake fun!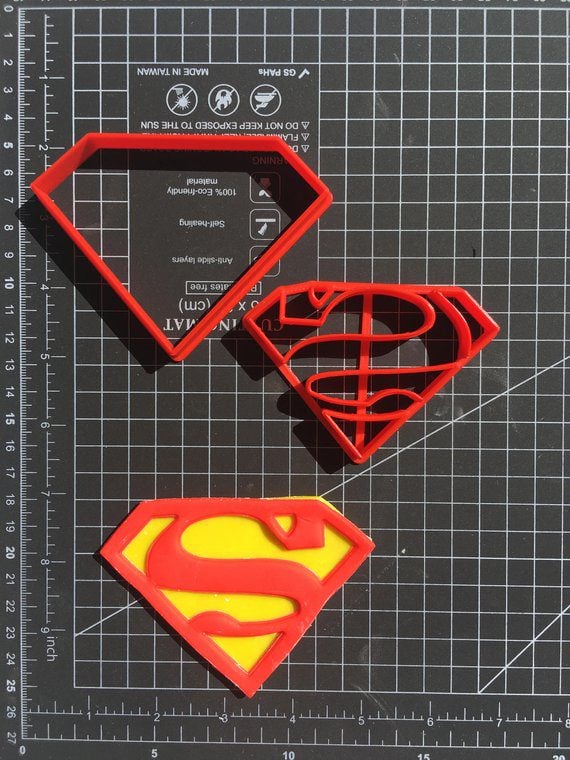 Superman Party Idea #15: This great Superman Cookie Cutter will let you make the best DIY Superman cookies around! What a great way to add to the dessert table without breaking the bank. It doesn't get much easier than this when you can use a cookie cutter to guide you through your cookie project. You got this!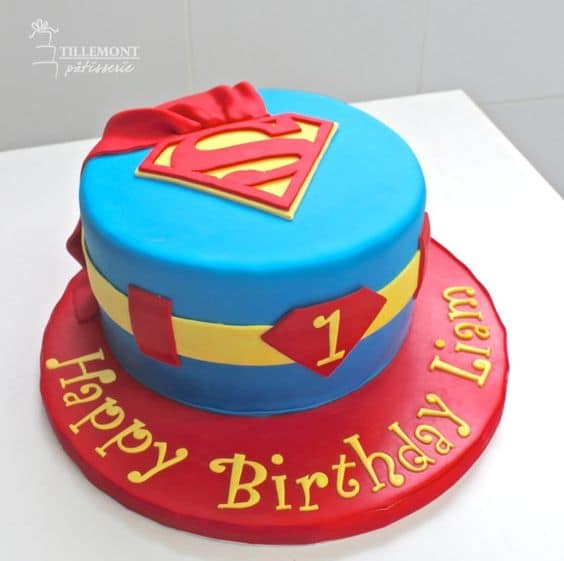 Superman Party Idea #16: This amazing, yet simple Superman Cake will have all of the kids thinking they found some magic powers after their last bite! The bright and vibrant colors will make any space appealing and it's a great cake to personalize. We just love it!
What are your favorite Superman Party Ideas that you have seen? We'd love to hear all about them in the comments below!
For more party ideas, follow us on Instagram @prettymyparty and Pinterest and join us in our private Facebook group.