Classic Superhero Birthday Party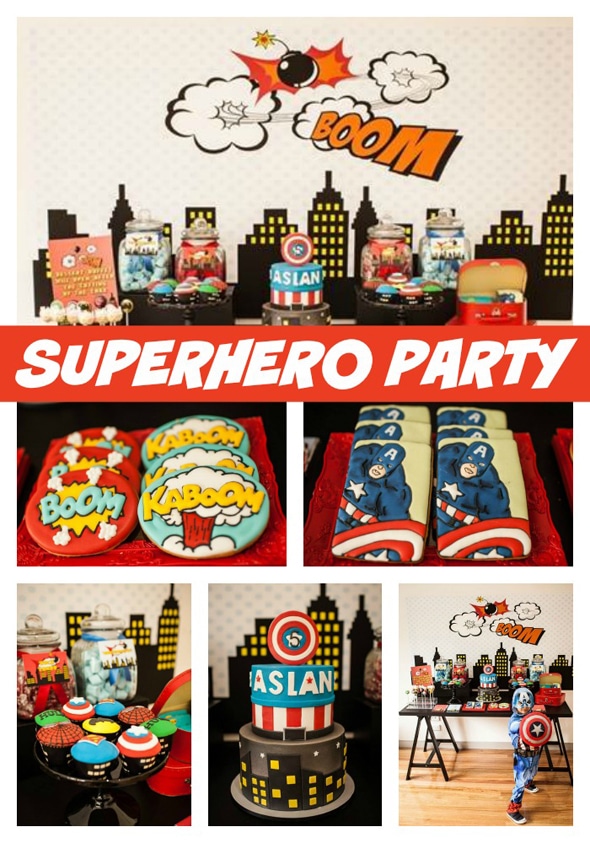 When Oh Feri – Party and Event Styling was approached to style a memorable 5th birthday party for one memorable little prince, it wasn't hard to pin point the perfect theme for this avid Captain America Fan. Very quickly, the Classic Superhero Birthday Party was born!
The exquisite array of character desserts totally dressed up the dessert table and completely complimented the custom printables designed by MillyBoo Designs. Look how beautifully everything looks. WOW!
Anyone who is lucky enough to work with some of the best dessert makers in the industry would understand the vision for this event. Check out this amazing cake, provided by Finesse Cakes by Ingrid. That was definitely made for a Superhero!
It was all about creating the perfect dessert selection, while paying particular attention to the details and designs of each and every cupcake, cake pop, and iced biscuit. Mission Accomplished, Batman! These desserts are over-the-top spectacular and everything looked wonderful!
Jars were filled with candy and the printables that adorned the jars were so perfect! And check out those cupcakes and cookies! Oh man… Not Guilty Cakes and Cookies provided the adorable cake pops and Dessert Menu, Please (I just love that name!) supplied the cookies.
This stylist also knew that if they wanted to create the perfect Superhero Party, the theme would have to be implemented into all areas of the event. From the invitation stage, to the dessert table, to the beverage station installation, the event was FLAWLESS! And this beverage station was like no other!
Look at this gorgeous invitation! MillyBoo Designs really outdid themselves!
The drink station set up for the party was absolutely amazing! Everything had super cute labels wrapped around the bottles and the background set up for the drink station screamed superhero! What an amazing set-up!
Everyone, especially the birthday boy, was absolutely thrilled with the end result of this amazing event. Hopefully you enjoy viewing the photos and going gaga over all of these wonderful details as much as Oh Feri – Party and Event Styling enjoyed styling this event!
Credits & Resources
Shop our favorite Superhero Party Decor and Gifts:
Sign up for a 30-day free trial of Amazon Prime and get free 2-day shipping on your Classic Superhero birthday party products!