Vintage Detective Birthday Party
This party was packed with great clues and games for any little birthday detective that is hot on your trail to plan the perfect birthday celebration! Anders Ruff truly outdid themselves with this AMAZING Vintage Detective Birthday Party that is perfect for older kids or younger children, boys or girls! They've got you covered with taking out all of the guesswork for planning this detailed detective bash for the little spy in your life! Just check out their Detective Party shop HERE! I'm telling you, they are hot on the trail of all of us Mommy's who could use an extra hand in finding the PERFECT details to accompany our birthday parties!
First off, Michelle Kujawski Photography captured absolutely every sweet detail of this birthday celebration and it all just knocks our socks off!
Anders Ruff Custom Designs set the tone for this party with the adorable vintage style invitations with matching to and from labels. They were just amazing!
Guests were welcomed into the party with the spectacular Detective Headquarters table where they found their training kits and I.D. badges. Things only got more exciting from there! Check out that awesome big poster that was used for the background!
Detective kits included Invisible Ink Pens, Handcuffs, Magnifying Glasses, Mustaches, Mini Composition Books, I.D. Badges, and Black Glasses. These boys were set for a day of adventure and crime-solving!
The goal was for the dessert table to have the feel of a Detective's Office. Mission accomplished! Look at these exquisite details! The desserts and treats were displayed perfectly. I love the height that was created with the metal boxes on the table! And how about that awesome backdrop with the bulletin board?!?! The pictures and the yarn truly make it feel like a real office setting!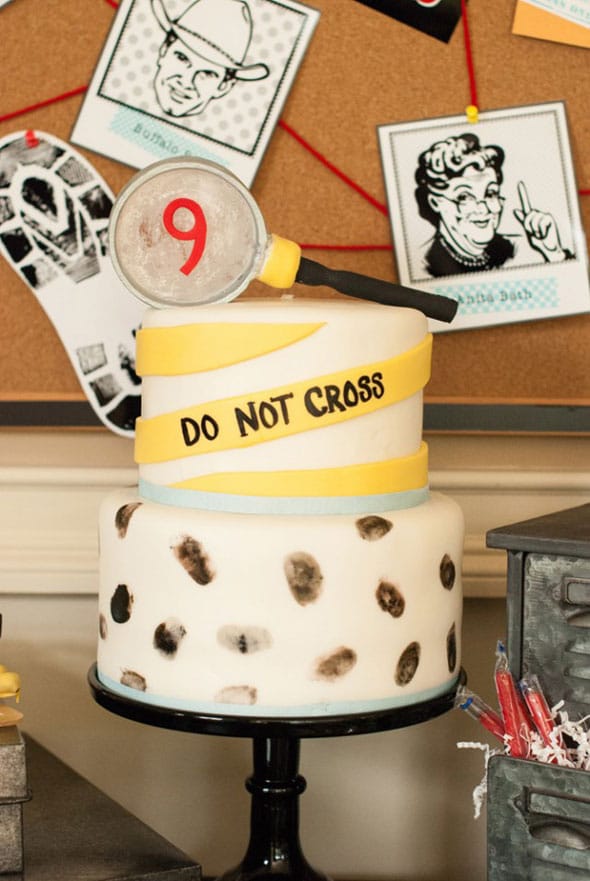 And this cake?!?! It'z My Party Cakery created a masterpiece with their gorgeous fingerprinted cake!
Many of the customized cookies were created by Whip It Good Cookies, but there were a few that were homemade creations!
Drinks included hot chocolate, which was served in coffee mugs with a matching printable party logo on them, along with a wooden drink stirrer with a party flag. Perfection! And seriously… how cute did these little detectives look in their custom t-shirts, made by GreatStitch?!?! Along with their hats, pipes, and black-rimmed glasses, I don't think they could have looked anymore adorable!
The crime scene banner that was created over the kids table was such a perfect addition to the party! It looked like a little Detective Headquarters, and they even had doughnuts to munch on, as well! All of the vintage props, like the camera and typewriter really helped make the theme come alive. How cool!
The kids' place settings were one of the favorite parts. From the sweet plates that looked like they had little fingerprints on them, to the classic envelopes that were decorated for the theme to hold the utensils, there really was nothing missing! And how about that spectacular newspaper print wrapping paper that was used for the table runner? Perfect!
Via Blossom provided the cutest plastic water bottles that fit with the theme perfectly. With the great bottle wrap that was used and the white and yellow straws that were also provided, it was a good day to be a detective!
The activities provided for the kids during this party were truly out of the park! First they headed to the Detective Fingerprinting Station, where they got to make sure they were going to be legit!
Next, it was time to head into Detective Training. Important stuff! They got to partake in several activities to get them ready to handle a real criminal case – "The Case of the Stolen Party Favors!"
Detective Training involved developing the following skills: Recollection (Memory Training), Accuracy (Target Training), Speed (Pass the TNT), Intelligence (Code Breaking), and Intuition (Blind Targeting through pinning the magnifying glass on the detective). The kids had a BLAST!
Once they worked their way through Detective Training, it was on to solving their first case. The Criminal Case Solving Activity Set, available in the Anders Ruff Shop, was used and included all of the activities that the kids had to complete in order to solve the crime!
The kids needed to eliminate innocent suspects from the lineup, and what better way than through these super fun activities?! Check out this amazing Criminal Investigation Lineup wall! After each activity, the detective who answered the clue correctly got to mark "innocent" onto the wall lineup poster! How fun!
Once they figured out who was guilty, they were led to where their Stolen Party Favors were! The bags were created through a printable iron design to put onto the cotton bags provided by Nashville Wraps and included tons of treats! There were also combination safes full of fake money that were given away that the boys loved! And how great that they now would have some place safe to store their money and treats in!
Finally, it was time for a little photo booth fun! The kids loved acting silly and getting their photos taken in front of the Mug Shot Photo Booth Backdrop, found in the Anders Ruff Shop. What great keepsakes to always remember this amazing Detective Party!
Some of the favorite details from this party included the Detective Training Camp stations that were set up, the Criminal Cases that the boys had to solve, the Mug Shot Photo Booth, and of course, that AHHHH-MAZING dessert table! Any little guy or girl would absolutely be thrilled to have all of their friends attend a wonderful birthday celebration like this! Anders Ruff Custom Designs truly outdid themselves and with everything so easily located in the Anders Ruff Shop, you'll be able to plan your own Vintage Detective Birthday Party in no time! Phew! What a party!
Credits & Resources
Shop our favorite Detective Party Decor and Gifts:
Sign up for a 30-day free trial of Amazon Prime and get free 2-day shipping on your Vintage Detective birthday party products!