Mistletoe and Margaritas Holiday Party
This sassy Mistletoe and Margaritas Holiday Party is the perfect Christmas-Themed girls night!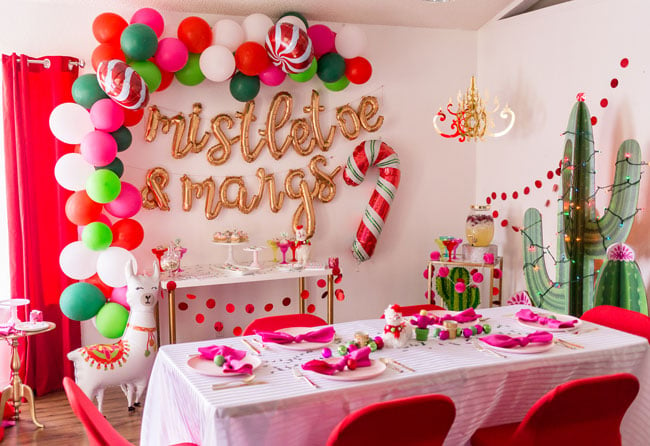 What do you think of when you think of margaritas? A fiesta, right? We do! So that was the take on this fun party when it came to the decor. Styling was created by Five Whimsy Lane, who did a phenomenal job and incorporated lots of fiesta-themed elements with a Christmas twist!
Who wouldn't want to trim a cactus Christmas tree for the holidays? What a great Christmas holiday party that is a great way to get all of your girlfriends together to unwind from all of the holiday craziness.
The amazing balloon arch, with the great color scheme, really made the dessert table pop. With the gold accents added in, it really brought in a touch of class and beauty that all of your friends will love!
What goes best with mistletoe and margaritas? Fa la la la llamas of course! How cute are these little guys that were used to brighten up the Mistletoe and Margs Party at the main dessert table. Llamas were also found as centerpieces on the dinner table and Santa flew in on a pet llama to hand out the gifts!
Everything was styled perfectly and we love how the simple white tables were covered with fun cactus confetti. This Mistletoe and Margs Themed Party used party supplies to the fullest in every single corner!
This party's Christmas tree was a collection of three cardboard cacti, which were decorated with multi-colored lights and a few ornaments. The great garland that was used behind the Christmas tree was simple, yet the perfect addition to set things off as well. What other kind of tree could you possibly have at a Mistletoe and Margaritas Holiday Party?!?! It's perfect!
All of the party supplies were the perfect addition to this celebration, even the plates! Everyone knew they were going to enjoy themselves and get some great food when they picked up their plates to head to the buffet!
Pink bow napkins and gold silverware were also mixed in, which were the perfect complement to the fun colors of the margarita glasses. Everything tied together beautifully.
We don't know about you, but we're pretty excited about these paper plates that were created special for this fun Mistletoe and Margaritas Holiday Party. Who wants to worry about a ton of clean-up for a fun girls night out, when the holidays are around the corner? We all know how much clean up the holidays entail, so any time paper plates can be used and make a beautiful impact on the event, we're all in!
The tables were set a little bit more casually, with a cute llama centerpiece and a runner made of Christmas ornaments. We think it's perfect for this type of celebration and it looks marvelous!
Some peppermint and candy cane balloons that were used in the balloon arch brought in the holiday aspect around the main dessert table. We just love those peppermint balloons! So fun!
We're not sure which looks better, the cookies or the cupcakes! Everything was placed perfectly and the llama cookies are almost too gorgeous to eat up. They were works of art!
Cupcakes were displayed in colorful margarita glasses and topped with cactus meringue cookies. In addition, they were adorned with Christmas lights, which was perfect for this holiday party! We're not sure if we're more tempted by these amazing desserts or the margaritas that we're sure taste delicious in those amazing glasses!
Custom Fa La La La La candy bar wrappers were wrapped around chocolate bars for everyone to grab. What a great thing to take home and show off to everyone around you. We just love good party favors and these definitely are fun!
More of the cactus meringue cookies were available individually. What amazing cookie creations!
A few custom cookies were made to match the theme, as well, and it all came together perfectly. Sugar cookies around the holidays?! Yes, please! Especially when they are as gorgeous as these custom creations!
Cute Hershey chocolate stickers were adhered to the bottom of a bowl of Hershey kisses, which everyone loved.
All of the desserts on this perfectly curated dessert table looked absolutely delish! It was amazing there was more food to be eaten, but everyone was ready to dig into the food for this Mexican themed holiday fiesta!
We're not sure if we could be so dainty holding this glass of yumminess! We may devour the cupcake and cookie all at once!
Chips and guacamole were served up by being displayed in a margarita glass. So fun and a great way to bring in more of the party supplies in unique ways.
For food, the Mistletoe and Margaritas Holiday Party went with Mexican appetizers like taquitos, mini tacos and jalapeno poppers. What a perfect combination and a fun one for all of the girls to enjoy together.
Of course a Mistletoe and Margs Party would be serving up tacos! They look delicious and it's such a fun theme to kick back and enjoy less formal food before all of the big holiday get-togethers. This is such a fun holiday girls night idea!
Look at how easy those paper plates will be to clean up after when this fun holiday party is over! That's what we love!
Cranberry margaritas were the cocktails of choice during this Mistletoe and Margaritas Holiday Party. We sure would love to get our hands on this margarita recipe, because it looks amazing! Tequila and llamas? Sounds like a great party to us!
More of the fun and colorful margarita glasses were available for everyone to fill up at the margarita drink station.
It would also be fun to have everyone bring some holiday cocktail recipes to swap at the girls night. Who isn't looking for fun new drink recipes to create during all of the holiday get-togethers?!
This cocktail party deserves a big round of applause, with many toasts to cheer for during the course of the night.
These ladies look like they had such a good time sipping their margaritas, tossing some confetti and exchanging a few gifts. We are thinking this just might be a new holiday tradition that you and all of your friends would love! Merry Cactmus!!!
What's your favorite details in this Mistletoe and Margaritas Holiday Party? Let us know in the comments below!