This Bubbly Twin Baby Shower is double the fun that was a dream come true!
This fun Bubbly Twin Baby Shower was hosted for this incredible mom-to-be who was expecting twins: a boy and a girl! We love the springtime feel with natural light cascading through the windows of this private residence. This twins baby shower was just as sweet as the momma-to-be.
With twin swan cakes from Cakes by Frosted, an acrylic donut wall and amazing balloon arches filling the celebration, it was sure to be a hit.
Just look at the amazing balloon arch that was created with ivory, white and tangerine colors! But one wasn't enough, because another whimsical pink balloon arch was created with giant paper flowers and a white background that was used as a photo backdrop.
And no great Bubbly Twin Baby Shower is complete without a perfect Mom-osa station for everyone to grab a cocktail at! Different juices were available to make sure that everyone would have what they needed, along with some non-alcoholic sparkling wine!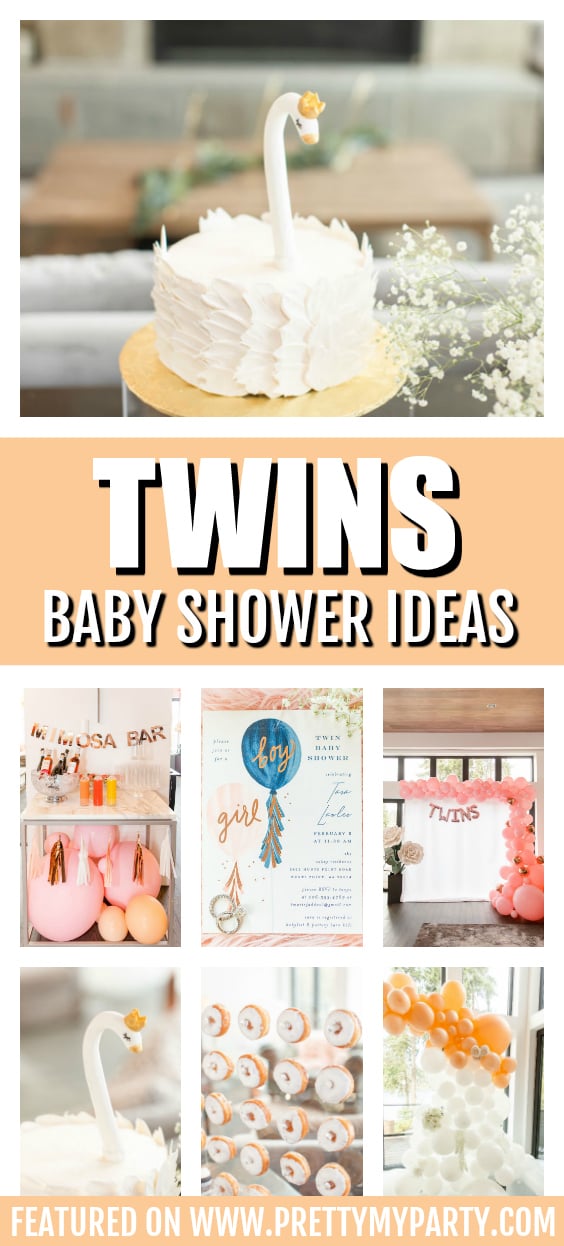 Bubbly Twin Baby Shower Ideas
Boy and girl twin baby shower with overall ivory and white color scheme
Fun Mom-osa Bar with various juices and champagnes, along with non-alcoholic options
Amazing twin swan cakes to celebrate not one, but two bubbly babies
Cute pink and blue spring baby shower invitations to celebrate upcoming arrival
Incredible balloon arch that doubles as a fantastic decoration, where gifts were collected and opened
A second balloon arch that doubled as a photo backdrop, where guests were able to take photos with the hashtag #twins for social media
Oversized unique paper flowers that were used as decorations around the event
Fun food ideas with an an acrylic donut wall and delicious desserts and sweet treats for guests to nibble on
Beautiful, yet understated, flower arrangements that served as centerpieces on tables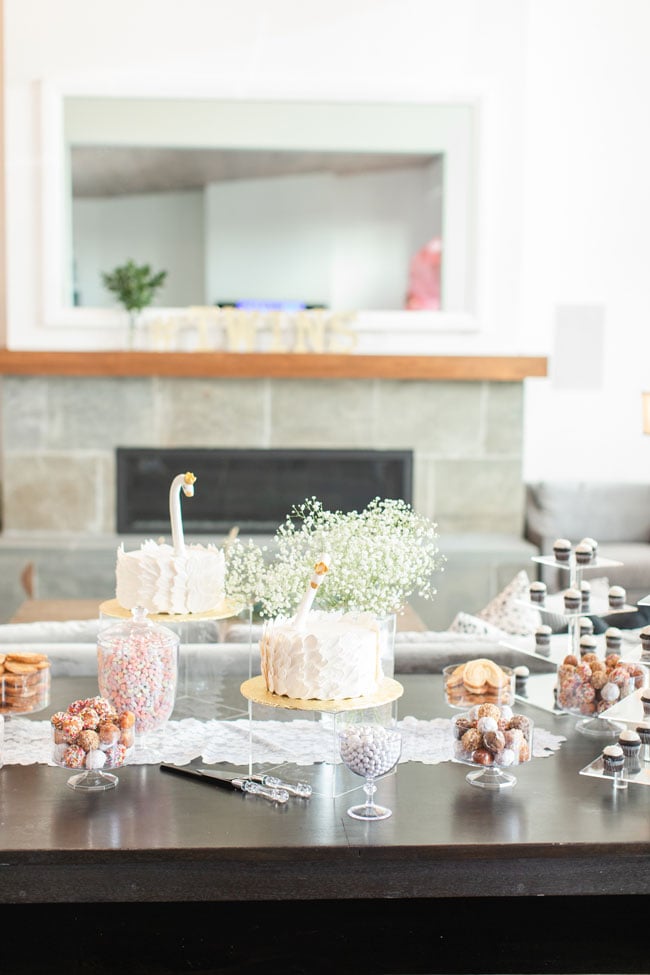 Bubbly Twin Baby Shower Supplies and Decorations: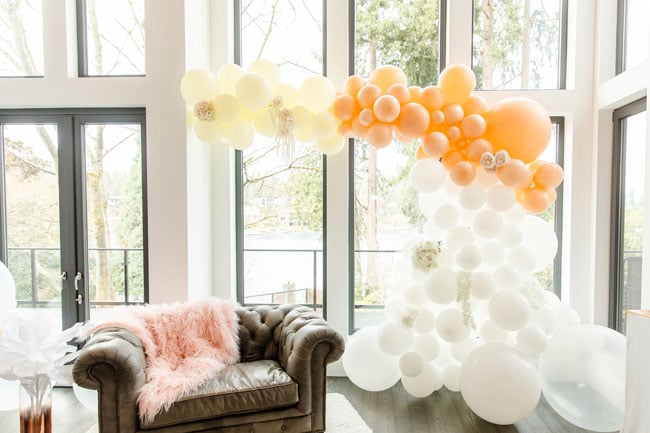 SEE MORE BABY SHOWER IDEAS HERE:
While everything about this sweet Bubbly Twin Baby Shower is exquisite, especially that glowing mom-to-be, we definitely have a soft spot for amazing balloon arches! Isn't it fitting that there isn't one, but TWO fun balloon arches found at this pretty baby shower?! Something about the varied size and colors of balloon arches make them such a fun and unique party decor item that we just can't get enough of them. They really make any room come alive!
We also love a good Mom-osa bar! Who doesn't giggle over that play on words? All baby showers have that special little quality about them where everything is extra adorable and everyone is fawning all over those last month belly rubs. But with twins?! That is even more exciting! We love the fun idea to have not just one, but two cakes, as well! What a fun and memorable day for everyone.
What are your favorite details from this amazing Bubbly Twin Baby Shower? Let us know in the comments below!
For more baby shower ideas, follow us on Instagram @prettymyparty and Pinterest and join us in our private Facebook group.
Party Vendors