Hot Air Balloon Baby Shower
Who doesn't love a sweet Hot Air Balloon Baby Shower?! Let this amazing celebration take you up, up and away!
The baby shower was a vision with clouds, balloons and of course, extreme happiness! This is also a great idea for a gender neutral theme, if the parents-to-be in your circle aren't looking to find out the baby's gender before the birth!
Even better? These decorations will fit in perfectly if you are looking to incorporate the theme of your nursery into your shower, as well!
Hot Air Balloon Baby Shower Supplies and Decorations
This mom-to-be visualized her little baby soaring into the future and creating their own adventure in the world. What better vision than a hot air balloon baby shower to incorporate that dream?!
Through beautiful glass French doors, guests walked into the rustic bar that had specialty cocktails to honor the event. But the main scene took place when they rounded the corner to see the magic of this whimsical baby shower! Everyone couldn't help but gasp when they walked into the room.
The colorful linens were all various colors from the gorgeous invitations and livened up the room to dazzle everyone's eyes. We just love how all of the colors came together, especially with the dramatic hot air balloons that served as centerpieces of the tables.
How adorable that some of the flower arrangements were put together in watering cans?! What a great way to make sure the "shower" theme was experienced by everyone who was able to take part in this wonderful hot air balloon baby shower.
Guests were treated to amazing hot air balloon centerpieces on the tables, which was sure to grab everyone's attention! What incredible displays that made the entire event feel whimsical and like you were in a bit of a fairy tale.
Who knew if the entire event was going to go up, up and away with all of the wonderful hot air balloons that were found around the shower!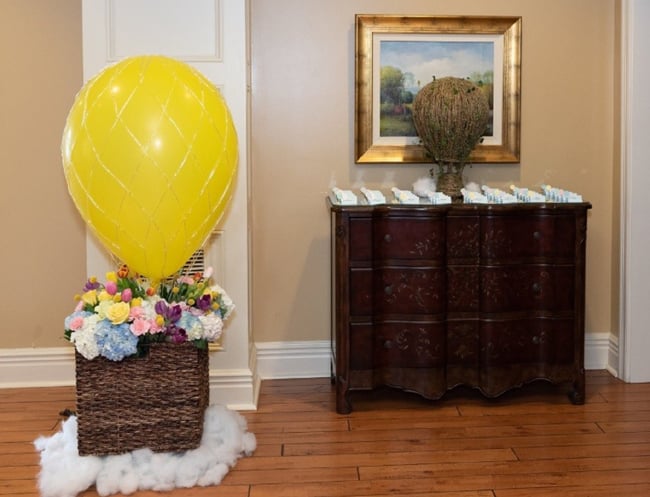 Custom place cards were made with 3D cutouts that were set atop blue pearl paper to emulate the sensation of floating. A large hot air balloon decoration in a floral basket was set on top of "clouds", which made the perfect decor for guests to see as the walked into the event to find their place cards.
When the group got together to discuss hot air balloon party ideas for a baby shower, it was decided quickly that the centerpieces had to be hot air balloons! And they couldn't have turned out any better. We love the variety of colors that are found around the hot air balloon baby shower. It made everything feel fun and lighthearted, while knowing that everyone was in for quite a treat that day!
Hot air balloons were used for many of the decorations around the baby shower, including here, where a special balloon was created for all of the stuffed animals that were gifted. What a sweet baby shower addition! This specific decor piece really brought home the point of knowing this little one was going to be off on great adventures for their entire life!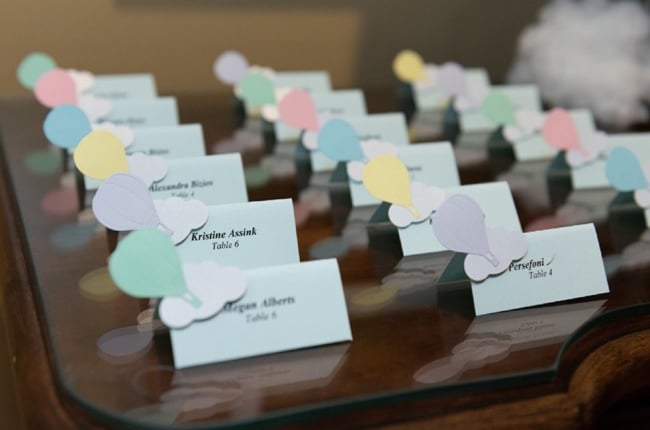 The custom place cards were beautiful and everyone knew immediately where they belonged because of them. We also adore how they incorporated all of the fun colors into the place cards, as well!
Everyone was welcome to chat for awhile with drinks from the bar, while waiting for the main event to begin. And with these cute tables that were set up on one side of the event, it was easy to mix and mingle as everyone saw fit! We absolutely love the gorgeous pastel colors and floral arrangements on the cocktail tables!
"Wisdom cards" were available for guests to fill out for the happy parents-to-be. They also were told to take time to decide whether they thought the baby would be a boy or girl. It was even turned into a game where the winner wouldn't be revealed until the baby was born, to see who was the closest with names and dates!
The gift table was created with cute decorations on it, along with a lovely printable for everyone to read as they set down their presents. No details were overlooked for this special event!
Even the sweet bear got to hang out with everyone and celebrate this little baby that was going to be quite the star!
A great fruit tray was among the baby shower food as well.
Two different salads were presented to the guests, one being a delicious Caesar salad.
A nice, fresh summer salad was made available with fruit and goat cheese topping the fresh greens.
We love how everything was kept gender neutral throughout the event. What a great way to celebrate any child coming into a family's life!
The day was filled with joy and happiness! The couple was simply overwhelmed with the generosity shown to them and their unborn child. New memories were created and memories that will be shared for years to come, explaining the amount of love showered onto this blessed family of soon-to-be three.
What's your favorite details in this Hot Air Balloon Baby Shower? Let us know in the comments below!