Boy's Hot Air Balloon First Birthday
This boy's hot air balloon first birthday party has details that will blow you away! It's the perfect party theme for any little guy whose turning 1!
It's not everyday a child turns one, so why not go up, up and away in a spectacular Boy's Hot Air Balloon First Birthday?! This party is absolutely magnificent with pastel blue accents and sweet bunnies throughout to celebrate a special little boy. If you're looking for first birthday party ideas, this hot air balloon 1st birthday theme is perfect for your little guy whose growing up, up, up!!! There are so many fun ideas for a hot air balloon birthday theme that will blow your guests away!

Check out these Hot Air Balloon Party Supplies: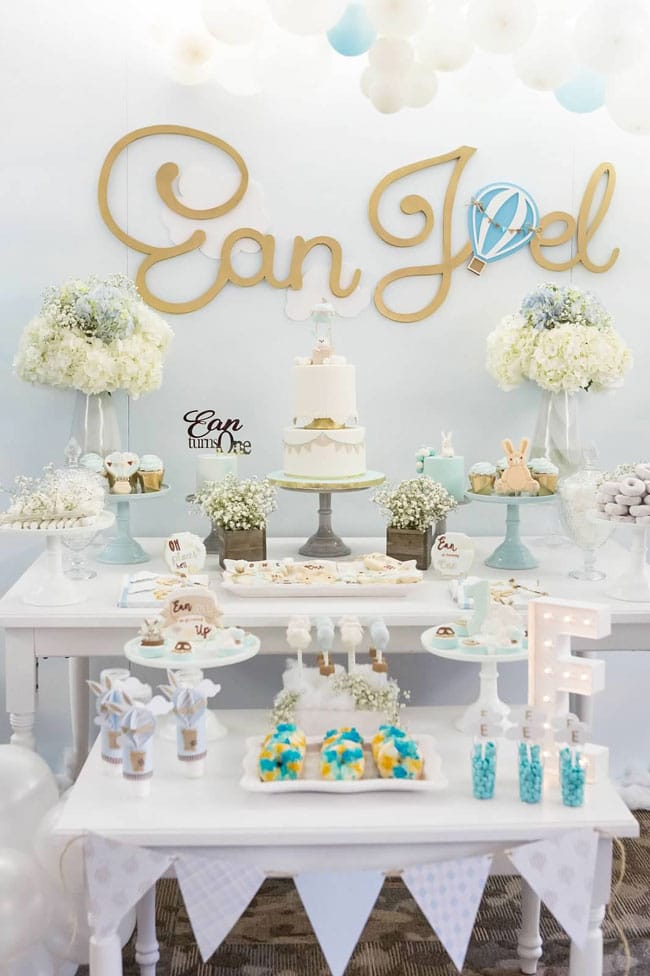 Creative Touch by Johanny went above and beyond for this gorgeous hot air balloon party. And the sweet bunny touches? It created the perfect little guy's first birthday celebration!
Highlights from this adorable hot air balloon first birthday party:
Out of This World Hot Air Balloon Birthday Cake With Adorable Bunny Cake Topper

Hot Air Balloon Themed Sugar Cookies

Hot Air Balloon and Cloud Cake Pops

Hot Air Balloon Floral Table Centerpiece with Bunny

Spectacular Floral Arrangements In Coordinating Colors

Balloon Cascade and Gold Name Backdrop Sign
Sweets and desserts were plentiful and they were incredibly detailed! Hats off to La Cuchara Dulcetta for the amazing cakes that were created for this Boy's Hot Air Balloon First Birthday!
JC's Exquisite Delights made cookies for the birthday bash that were absolute perfection. They couldn't have been more detailed and were the talk of the party!
Just look at the quality of these treats! Who could bear to even take a bite into them?!
Many other delicious treats adorned the dessert table for this incredible Hot Air Balloon Birthday Party, like donuts from JC's Exquisite Delights, cake pops and candy.
These custom pink and blue bunny themed party favor bags were perfect for all of the little guests!
We just love the sweet hot air balloons from Past Decor, which were used as decorations and table centerpieces. What an amazing way to bring the party to life with gorgeous flowers from Hunts Point Flowers Market.
Fun placemats were found on the tables for the guests, as well!
Just look at this sweet little guy, totally enamored with everything around him! This Boy's Hot Air Balloon First Birthday couldn't have been any more spectacular. What's your favorite detail in this Boy's Hot Air Balloon First Birthday? Let us know in the comments below.
For more party ideas, follow us on Instagram @prettymyparty and Pinterest and join us in our private Facebook group.