Vintage Airplane Birthday Party
Get ready for take off with these vintage airplane birthday party ideas that are perfect for any age!
What boy wouldn't go crazy over this amazing Vintage Airplane Birthday Party?! Everything from the perfect airplane party printables and decorations to the awesome party backdrop, cake and desserts, this vintage aviation-inspired party is perfect for any age.

Vintage airplane birthday party decorations: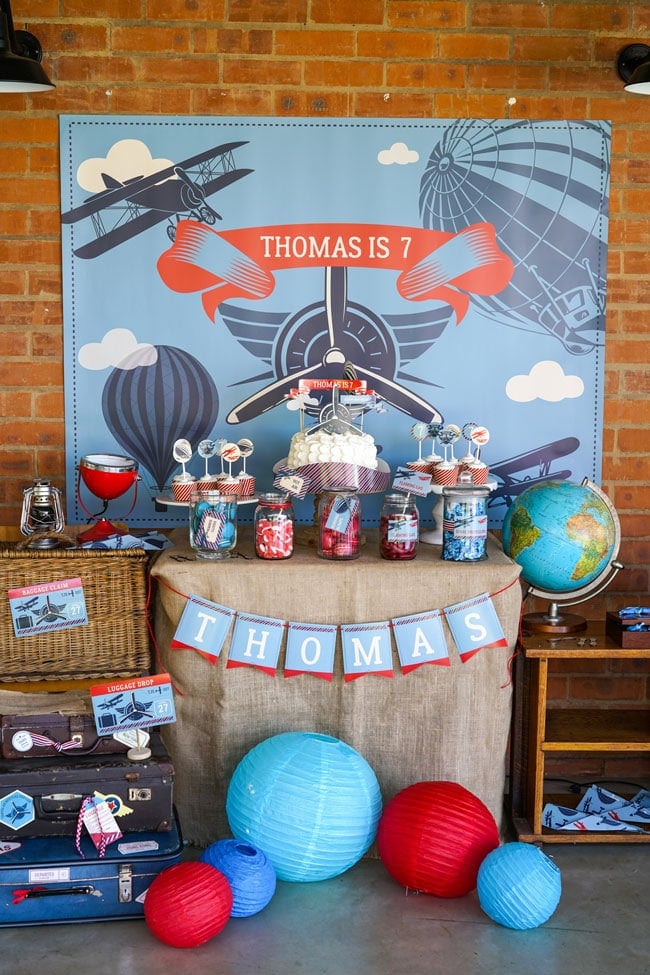 Vintage Airplane Birthday Party Ideas
An airplane backdrop that was custom made for the birthday boy

"Boarding Pass" Invitations

"Cloud" cake with airplane cake topper

Adorable food labels for treats
As it turns out, anything vintage tends to make for cool designs and gorgeous classic photos from the event! Just look at how well everything turned out! Sunshine Parties did an amazing job, as always! We just love the vintage airplane birthday party decorations!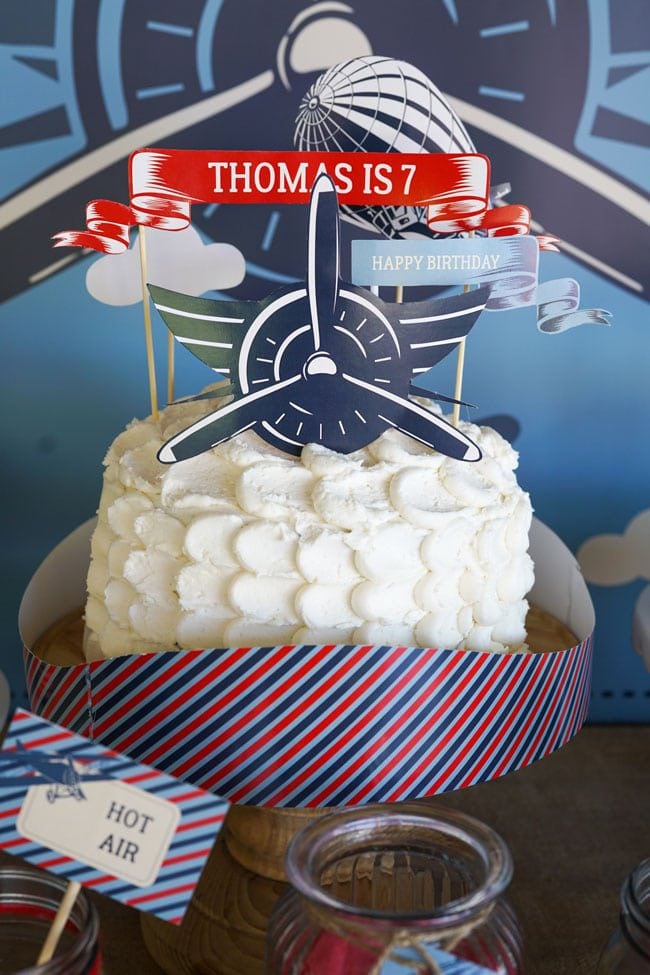 How adorable is the cloud-like 'poufs' of icing that were created on the 4-layer chocolate cake?! It all comes together perfectly with the cake topper and cool 'airmail' striped cake wrapper. This vintage airplane birthday cake was definitely a party favorite!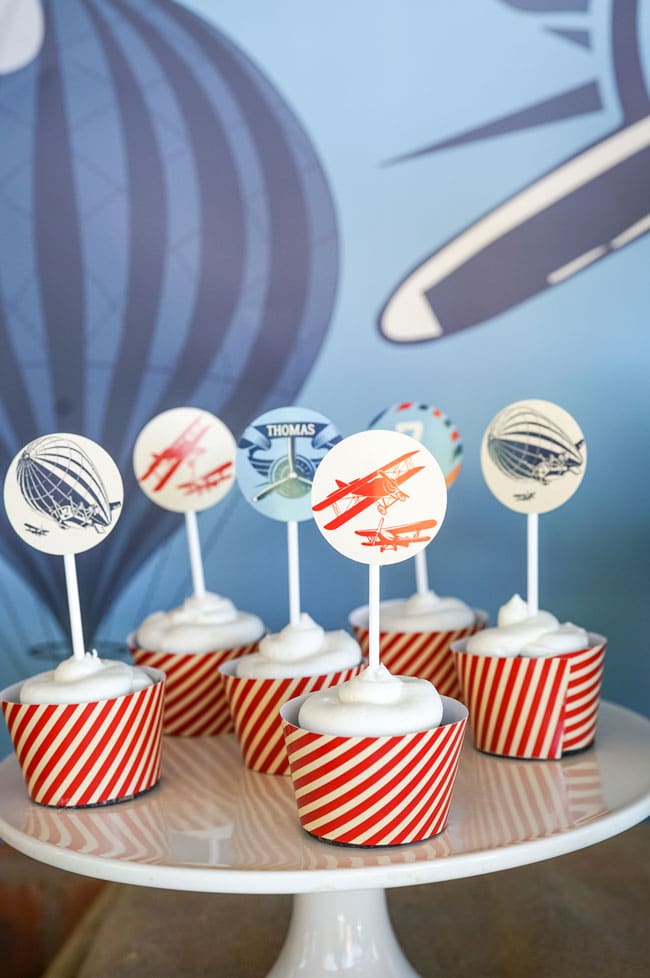 Cupcakes were made, as well, with great vintage airplane cupcake toppers that made them extra special for this little aviation enthusiast.
How cute are the periwinkle blue and red macaroons?! The food labels for these 'Nimbus Clouds' and 'Burning Blimps' are a great way to spice up the dessert table!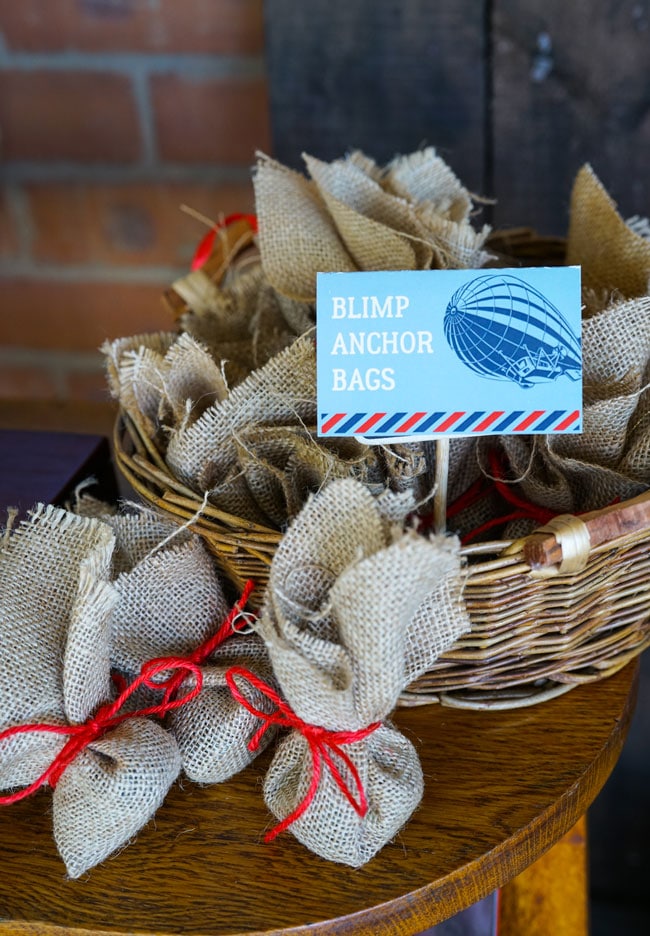 Did you know that blimps have to have anchor bags, or they'll never come down to the ground? These anchor bags contain a delicious mini chocolate bar, wrapped in some burlap, with red string. We'd say these have to be the most popular anchor bags ever!
Party games and activities were numerous for this birthday boy and his friends! Kids were able to create their own biplane, thanks to this biplane template, which was used to laser cut some wooden biplanes. With some brightly colored paints and brushes, the guests were able to paint away until their creativity was complete!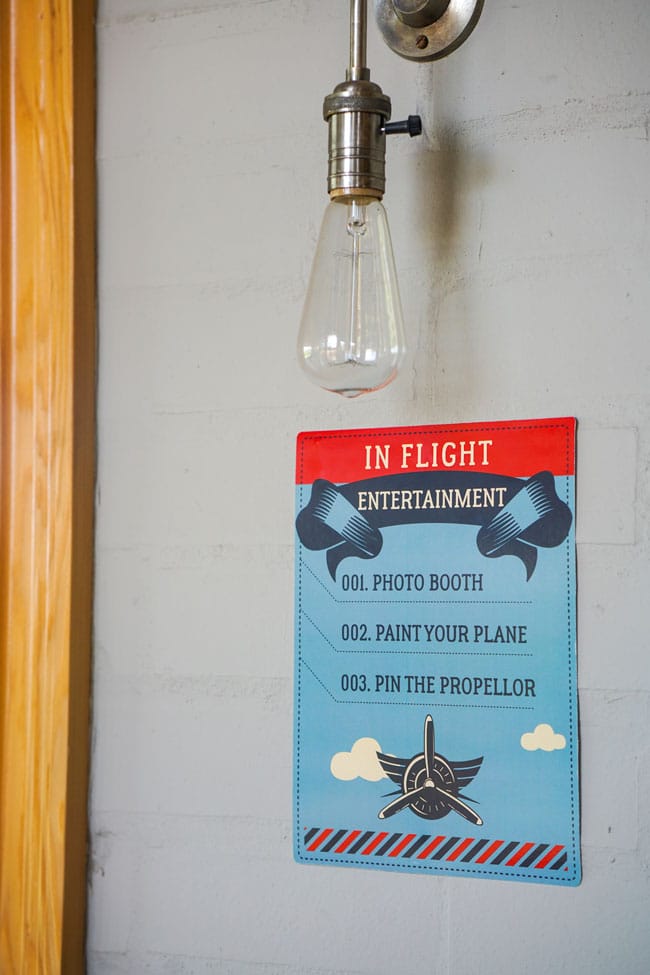 We also love the three activity posters that were found around the party, to add the extra decorative touches that are always fun to have!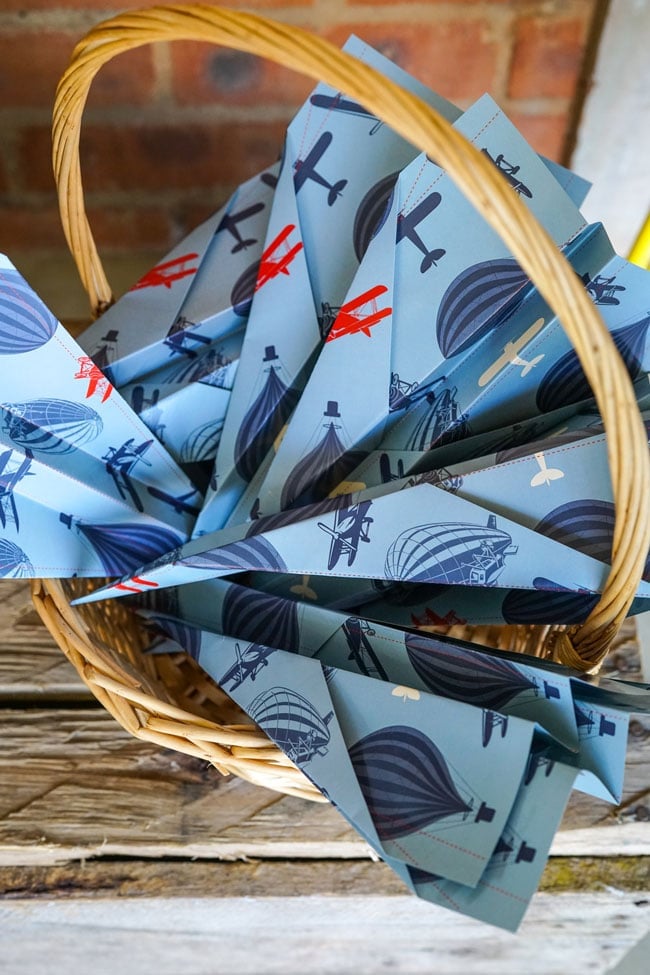 What kind of airplane party would it be without paper airplanes?! This basket of paper airplanes was available for the birthday boy to grab, with planes soon soaring and swooping through the air! How could you not want to give one a toss?!
Pin the Propeller on the Plane was another big hit! Watching the kids stagger around after being blindfolded and being dizzy is always amusing for everyone!
A vintage airplane themed photo booth was also set up, with a full set of photo booth props available for the party guests! Who could pass up a photo opportunity with these sweet items?! What a fun idea for a Vintage Airplane Birthday Party!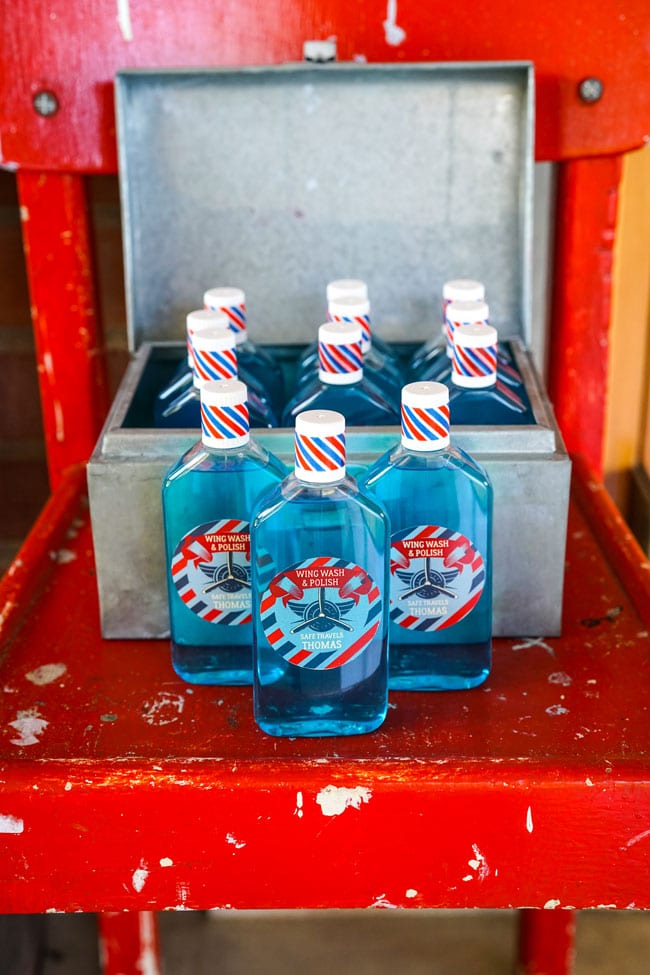 For party favors, blue bubble bath was packed and called 'Wing Wash and Polish', along with great favor tags printed out on sticker paper! So unique and we love that it was a sugar-free gift!
This was quite the aviator's dream party! This little guy will have the best memories from this incredible event. What a great theme that is a different take on the typical airplane birthday party. We love it!
What's your favorite detail in this Vintage Airplane Birthday Party? Let us know in the comments below.
Party Vendors