Pink and Gold Princess Baby Shower
Any Mom-To-Be would feel like a princess with this gorgeous Pink and Gold Princess Baby Shower being thrown for them!
This event designer,
Fairy Godmother a Wedding & Event Company
, went above and beyond to create the perfect
Pink and Gold Princess Baby Shower
for these parents-to-be! Pretty in pink perfectly describes this baby shower and all of the
supplies and decorations.
The details featured various shades of pink combined with gold for a true princess celebration. What a gorgeous princess baby shower that was created in a whimsical backyard setting to make everyone feel welcome and at home.
See also: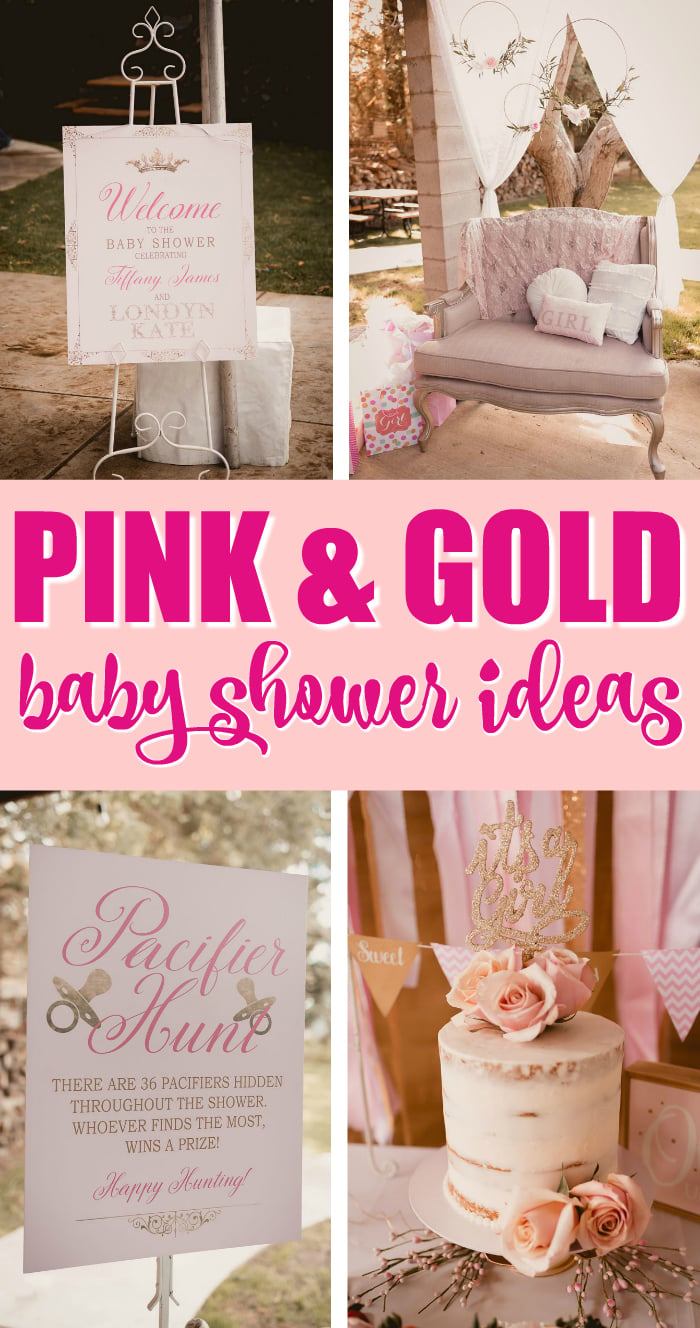 Pink and Gold Princess Baby Shower Supplies and Decorations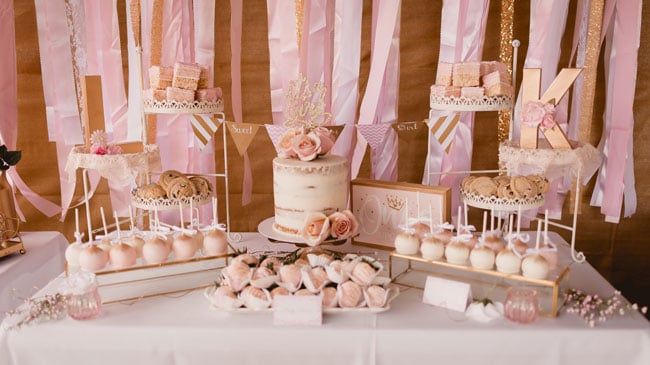 The cake table had so many delicious items to choose from, where it kept the color scheme of white, pink and gold front and center through all of the table decor. Just look at how yummy all of these amazing treats look. Everything is definitely fit for a little princess.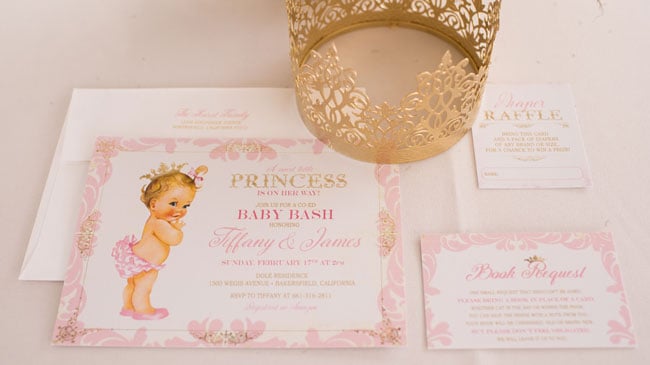 The invitation designer, Matinae Design Studio, did a fantastic job of creating the most adorable princess baby shower invitations, along with special items that were included with the invites. The parents-to-be requested books for their little girl and the request fit in perfectly with the invitations and envelopes. Very elegant and fancy, indeed!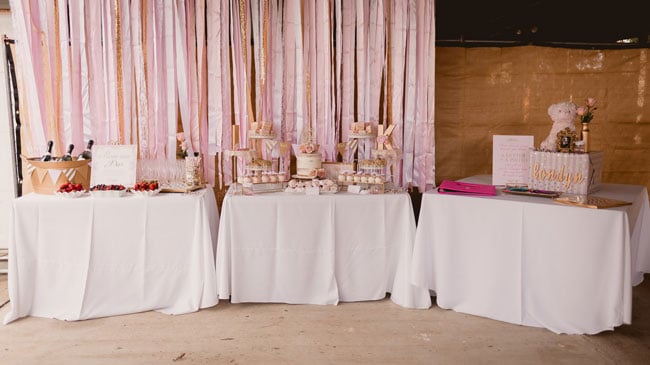 The decadent sweets table was almost too pretty to eat! We love the backdrop that incorporated the color scheme, yet would be simple enough to replicate as a DIY project for your next get-together. We also love how the main tables were close to each other for everyone to grab what they needed and get ready to celebrate this sweet little princess!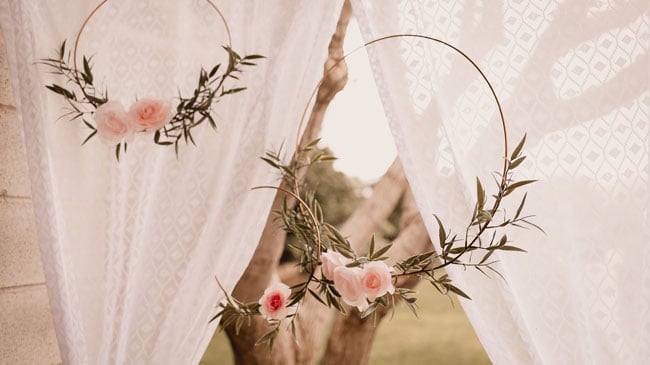 House of Flowers Bakersfield did an amazing job as the floral designer, including these elegant hoops that were found throughout the event. The Pink and Gold Princess Baby Shower had beautiful decorations all around the celebration and these were some of the favorites that people were admiring. What a fun and fancy way to celebrate a princess baby shower theme!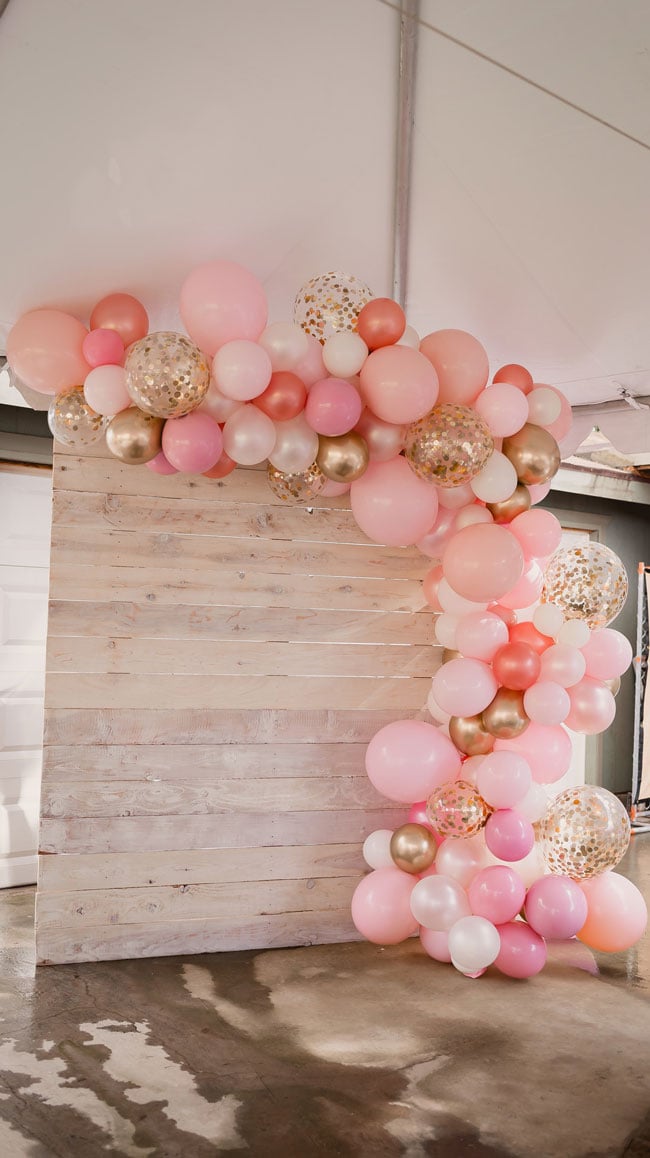 There is no doubt about it. This overflowing balloon garland backdrop created a pink oasis for welcoming their baby girl! Ballooniverse did an amazing job creating this masterpiece and the color scheme looks beautiful against the wood backdrop. The different shades of pink really make the balloons pop!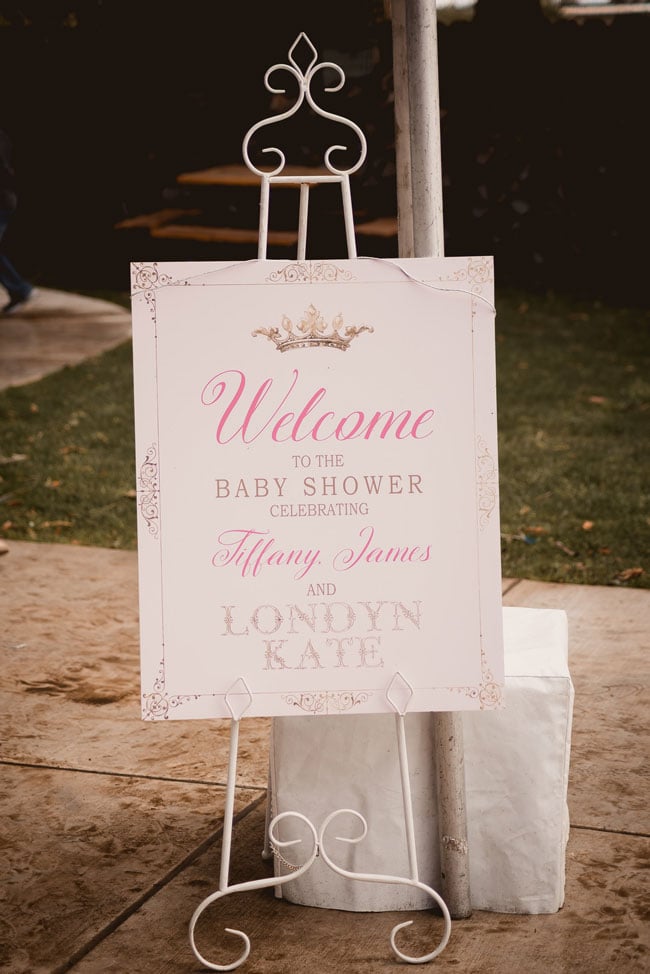 Every little princess needs a special announcement welcoming everyone to the big event! What a gorgeous printable that felt like a royal celebration was taking place. What a great addition to the entrance of the princess baby shower theme.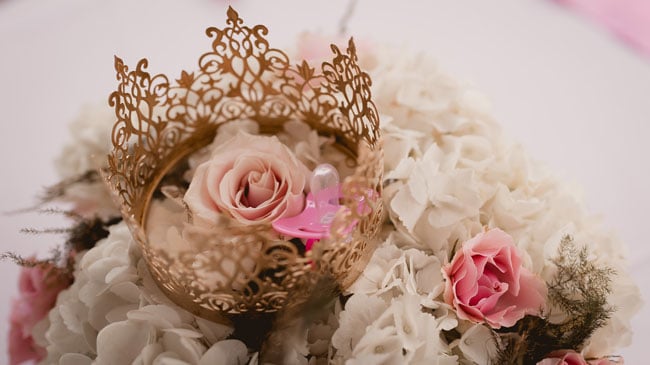 Many of the gorgeous florals were topped with princess tiaras on the table centerpieces. We just love the fancy crown that was on each and every guest table. This was a great decor addition for this Pink and Gold Princess Baby Shower.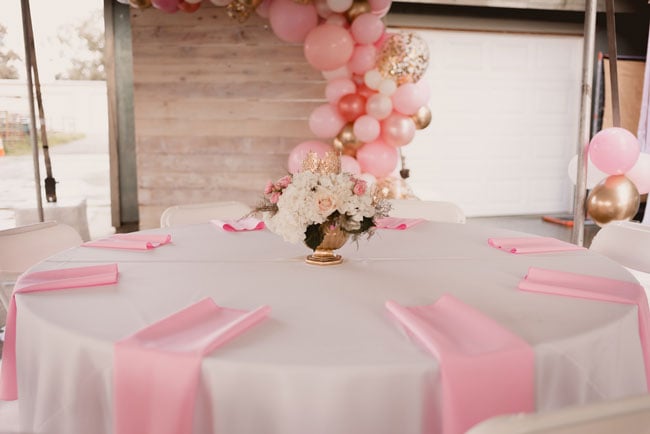 The floral centerpiece, along with the pink linens and white tablecloths gave off such an elegant feel to the princess theme baby shower. There was no doubt that this little girl was much anticipated and everyone in attendance could barely wait for her arrival!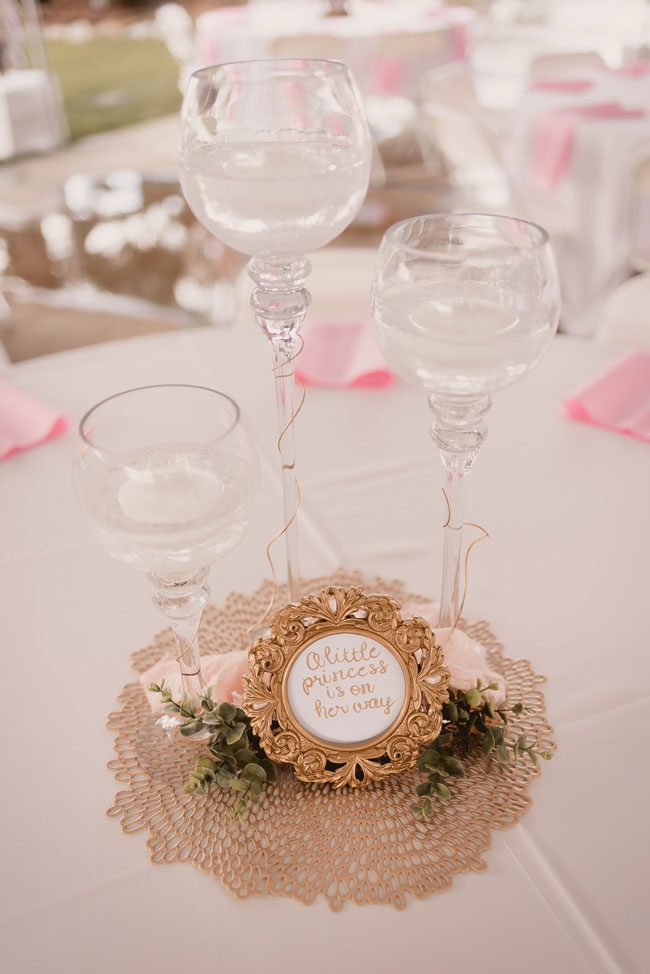 Great printables were available around the princess themed baby shower, with perfect gold frames and greenery giving the perfect touch to everything. Fancy gold doilies were used as placemats for some of the centerpieces, as well. Gorgeous!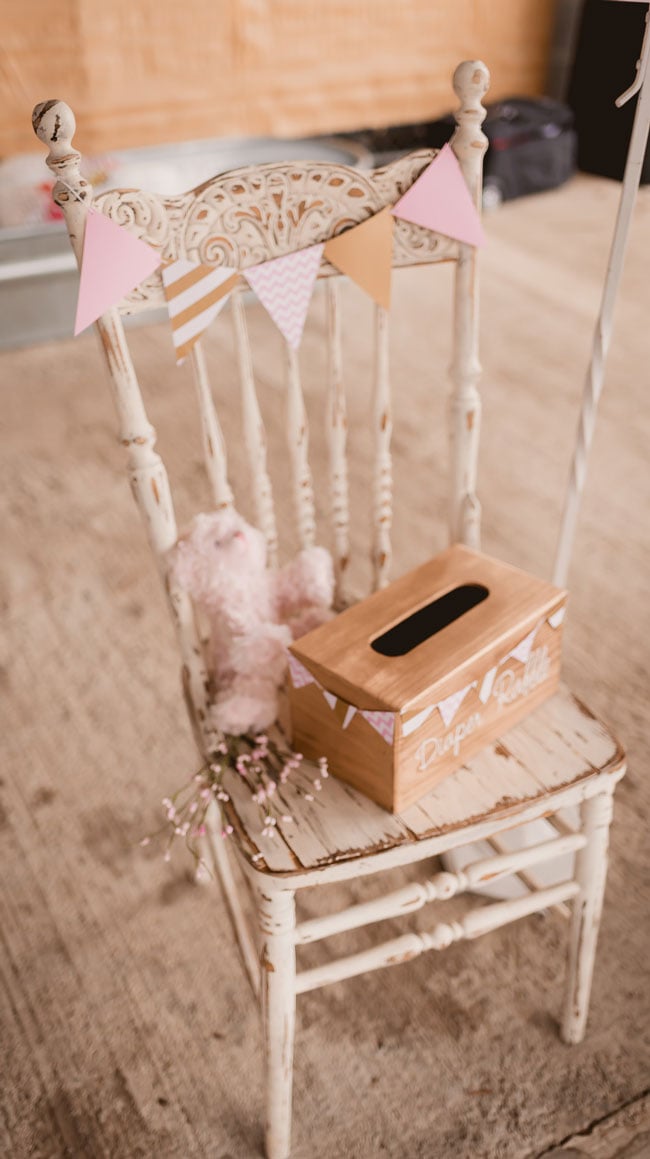 Fun games and decorations were scattered around the Pink and Gold Princess Baby Shower. A great addition to the event was the Diaper Raffle game that was organized, which really only needs a Kleenex box holder, along with lettering to finesse the finishing touches. What a fun idea!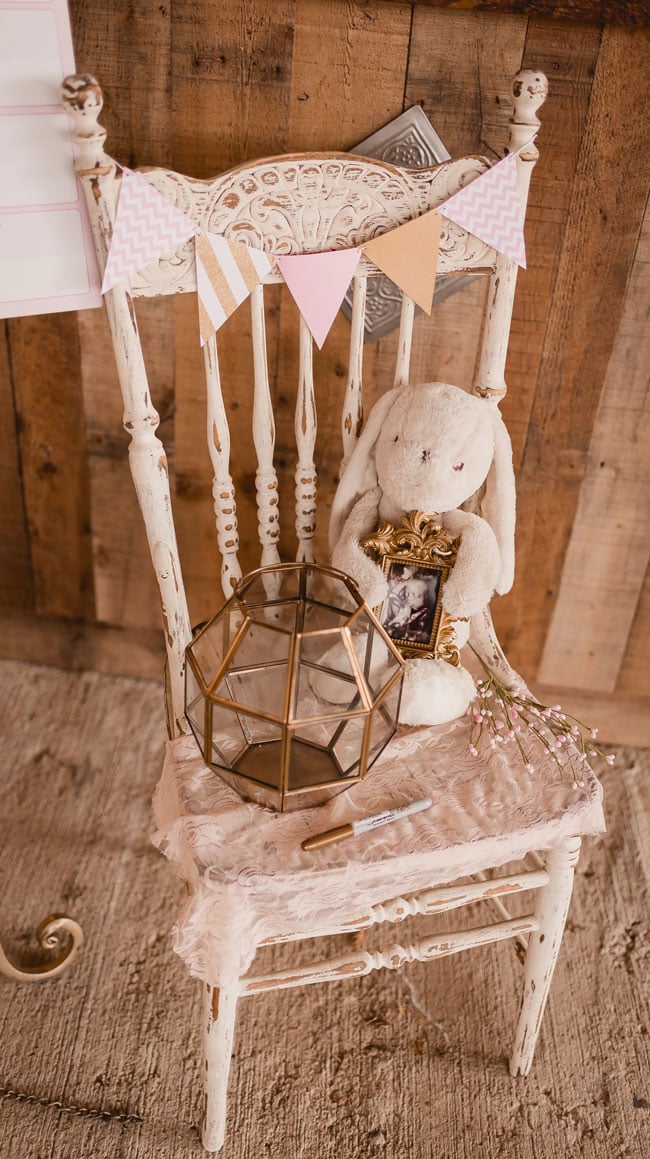 We love all of the vintage touches that were found around the princess baby shower theme, as well. These distressed chairs were used for a few different areas of the event, with elegant decorations found on top of them. We also just love the pink and gold banner that was found in different places of the celebration, as well. It fit in perfectly!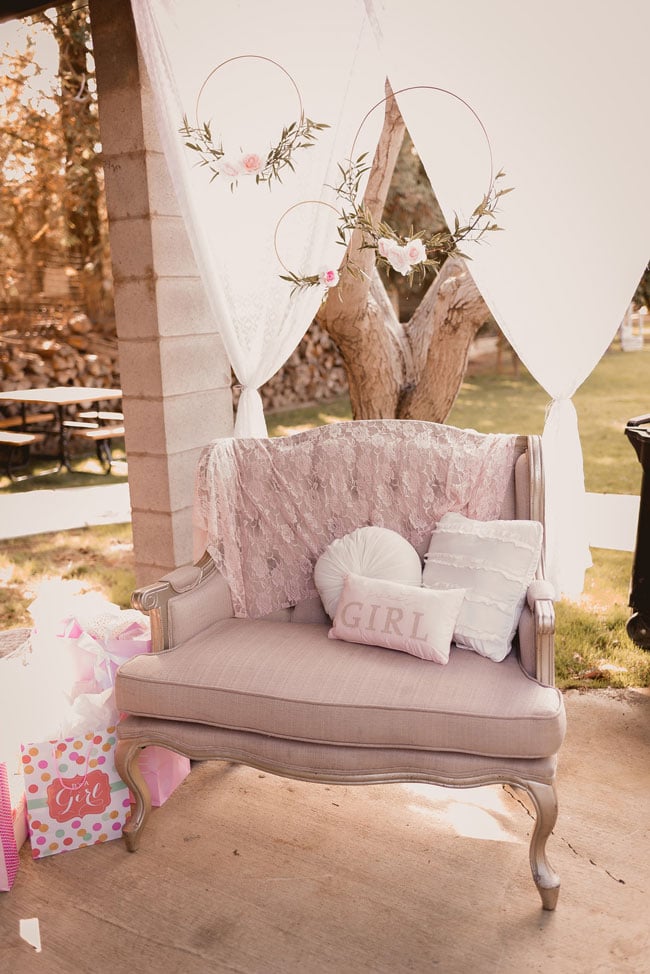 This mom-to-be was going to be nice and comfy when it came time to opening all of the generous gifts that were given. What a great oversized chair that had perfect complimenting pillows on it, as well. Gorgeous!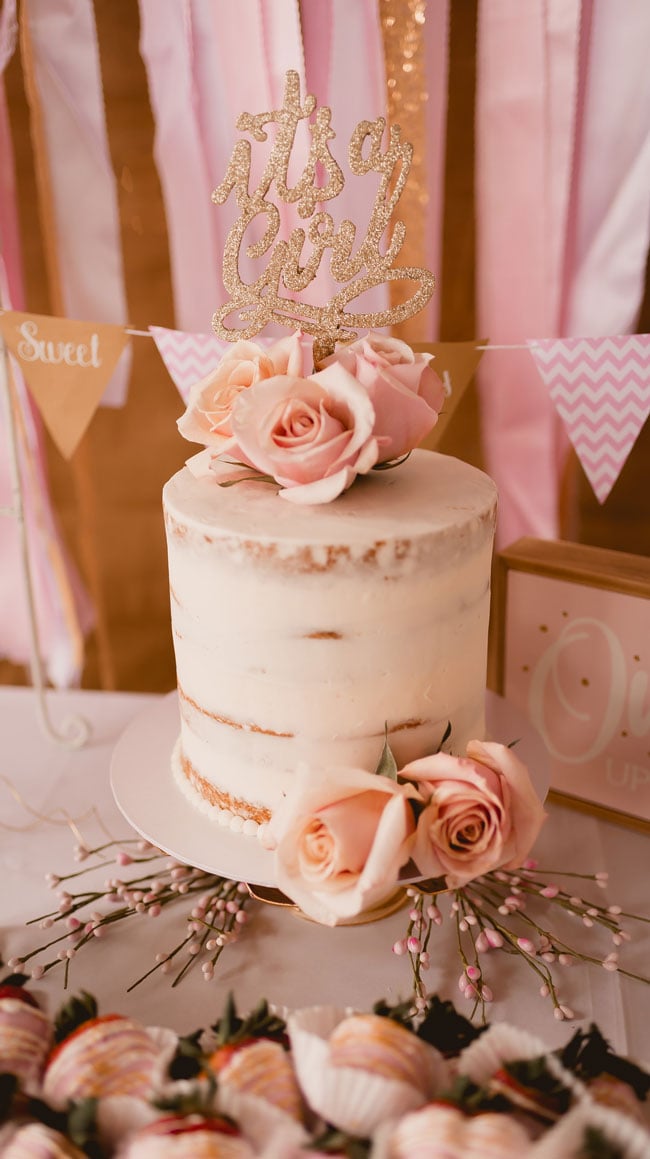 Two different bakeries created all of the desserts for the Pink and Gold Princess Baby Shower. Sugar Bomb Cakes and GhilaDolci Bakery couldn't have done a more perfect job from the cake to all of the other yummy treats that were available. Just look at this adorable naked cake that was simple, yet elegant. The addition of pink roses and greenery around the cake made it perfect!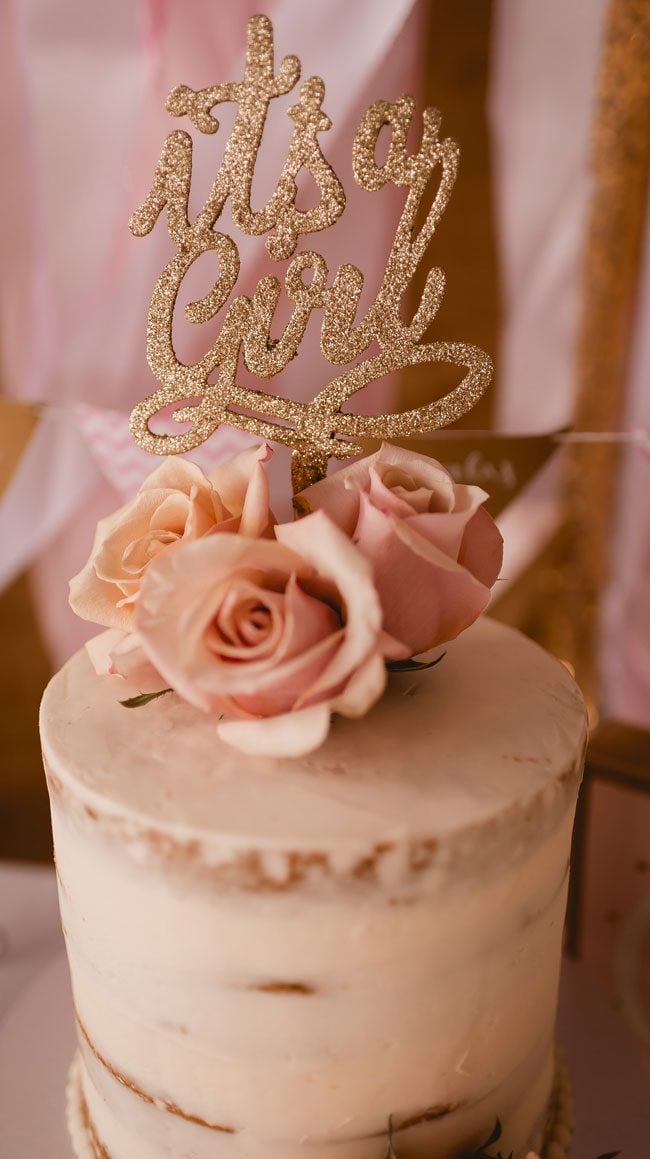 We love all things sparkly, so we just love this amazing "It's A Girl" cake topper!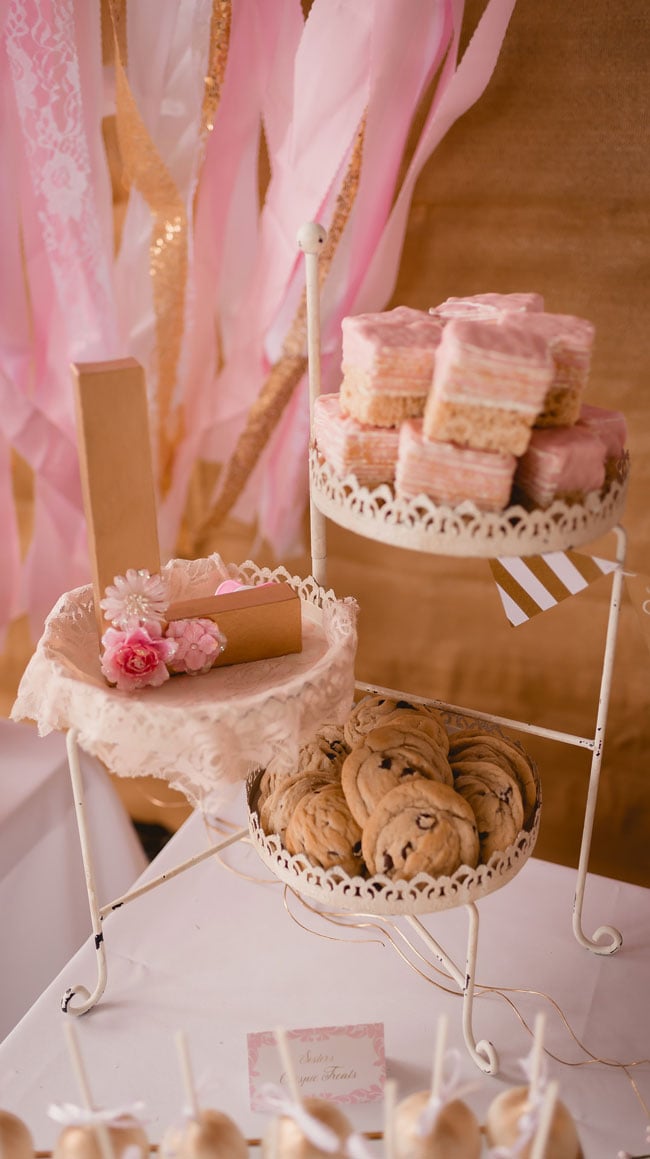 The cake wasn't the only amazing creation that was available to munch on. Delicious chocolate chip cookies, Rice Krispie treats and more were created for the Pink and Gold Princess Baby Shower.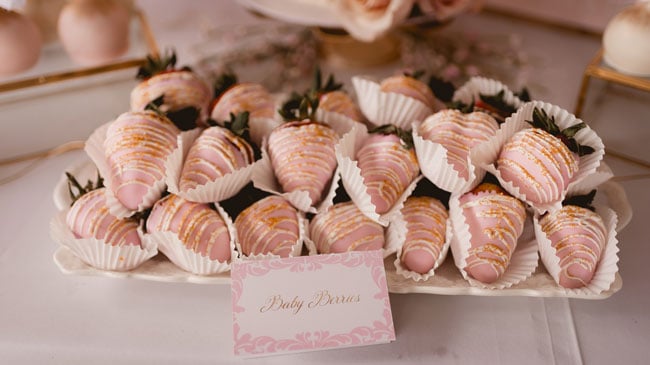 These chocolate covered strawberries are amazing, but even more so since it was pink white chocolate! What an incredible way to bring in the color scheme to the cake table in fun, nontraditional ways!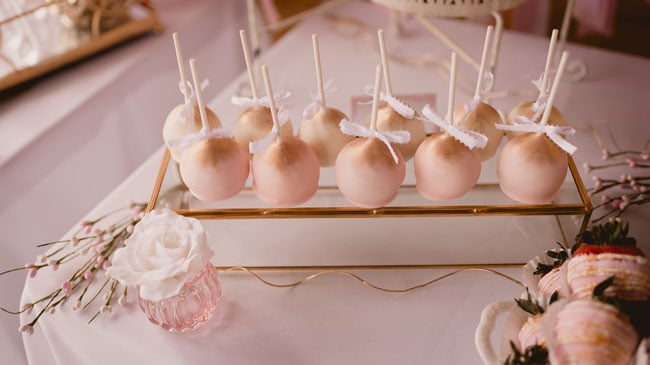 What would a special baby shower celebration be without cake pops?! They were adorably created with sweet white bows that were tied around the sticks, as well!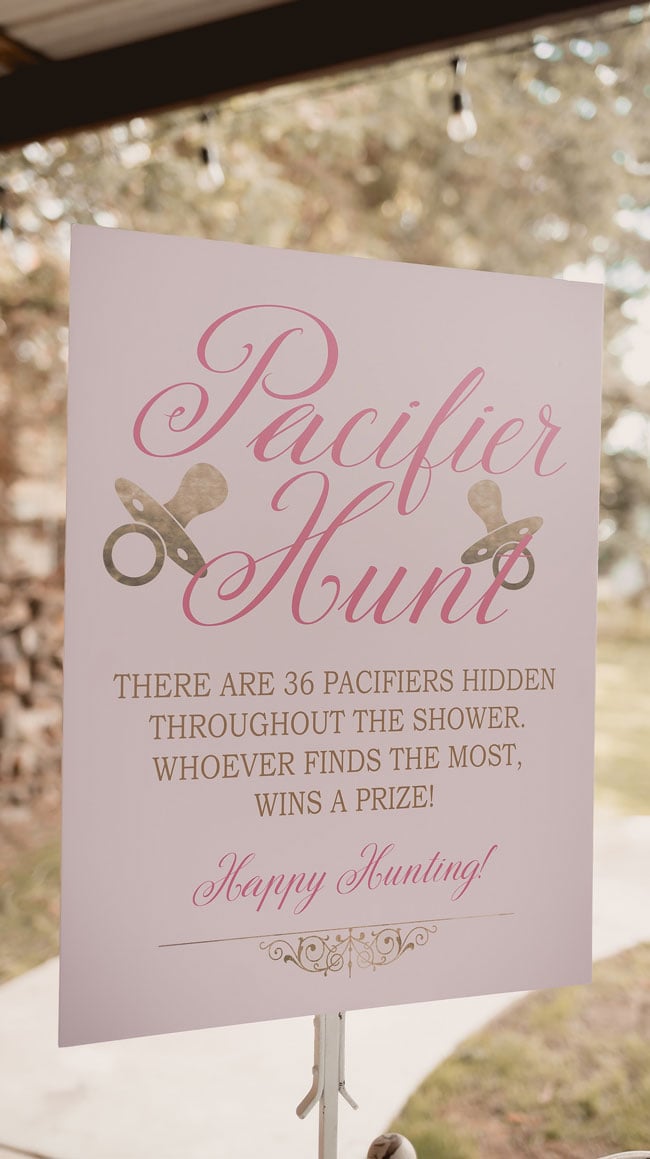 Games are always part of a great baby shower and this one was no different! This fun Pacifier Hunt game was a fun way to get everyone at the celebration involved!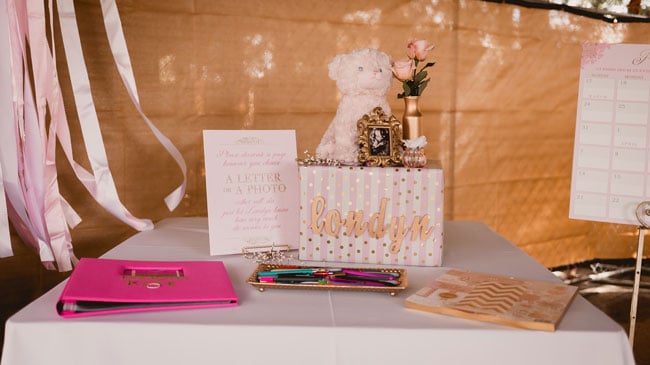 There was a little scrapbook station that was available for all of the guests to decorate a page of the book with their words of wisdom. What a great way to take something tangible from the Pink and Gold Princess Baby Shower that the parents and little girl will be able to cherish for years to come! We just love this idea!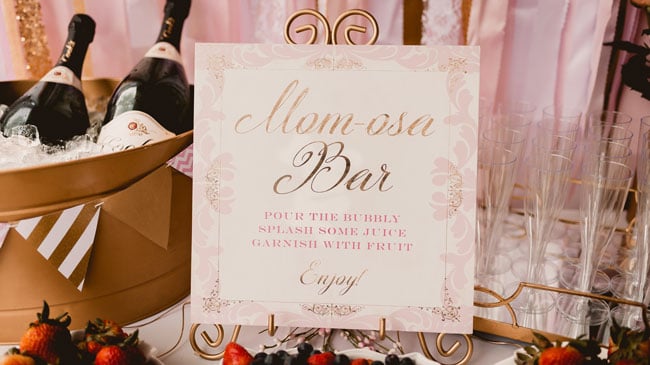 What kind of celebration would it be without a fun Mom-osa Bar?! Don't worry, there were a few non-alcoholic sparkling wine choices to choose from too!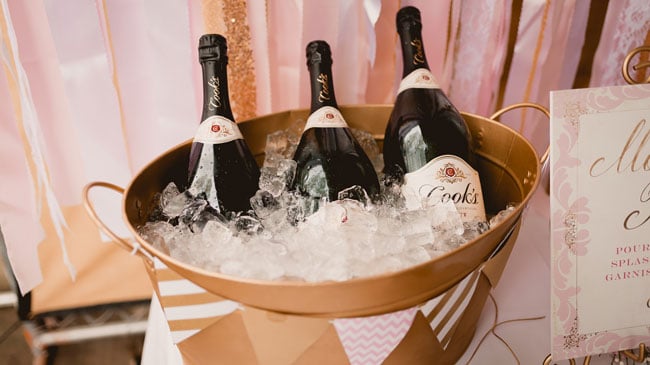 Everyone else got to enjoy a fun Mom-osa with their juice of choice. And don't forget to add in the yummy fruit!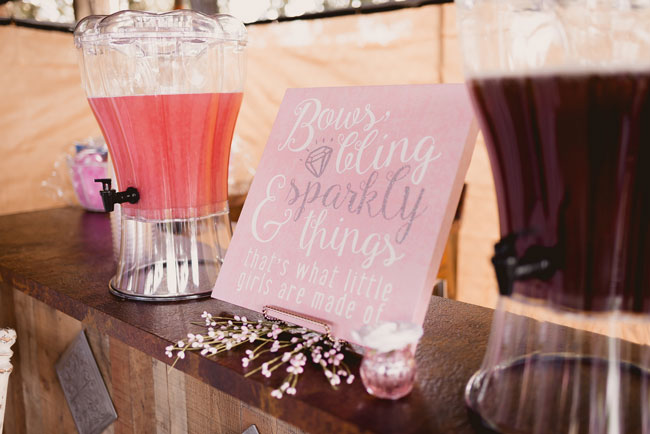 For those who wanted something different, there were additional drink options that everyone was able to enjoy, as well.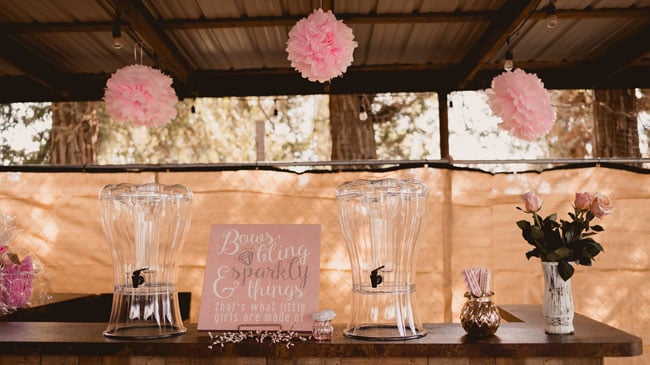 The drink station was so elegant and the pink pom moms looked so great against the wood and outdoorsy atmosphere. Gorgeous!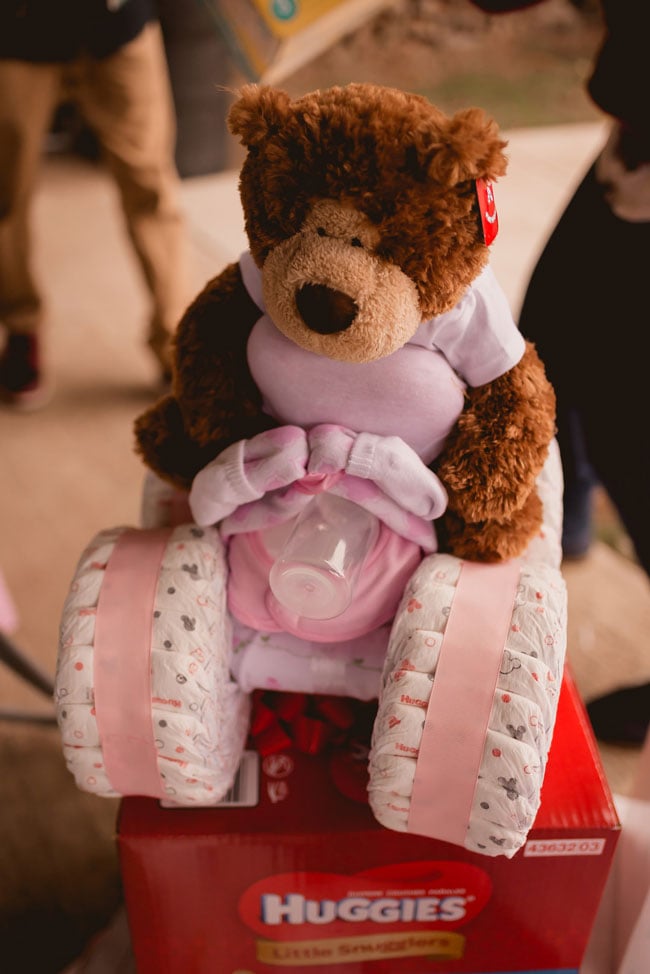 Who doesn't love a great diaper creation when it comes to a baby shower?! This little girl is sure to enjoy some of these goodies in the future and we just love how creative this diaper bear is!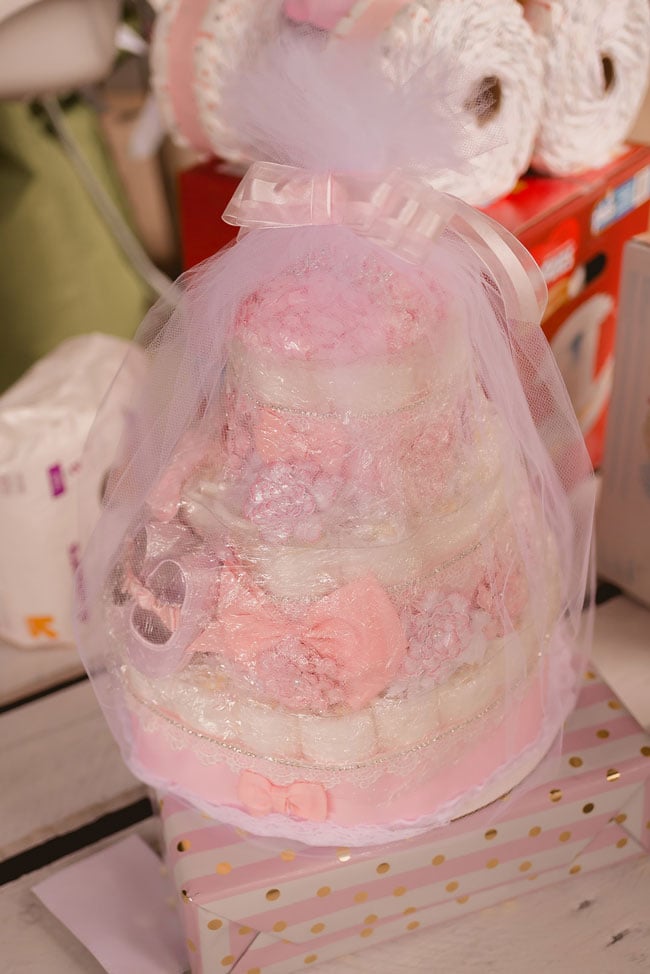 More diaper cakes were created, as well, with fun bows, shoes, and all things girly included in the gift. Diaper cakes are such a wonderful gift, as they provide diapers for months to come in the future. Just be sure to give diaper cakes with varying sizes of diapers!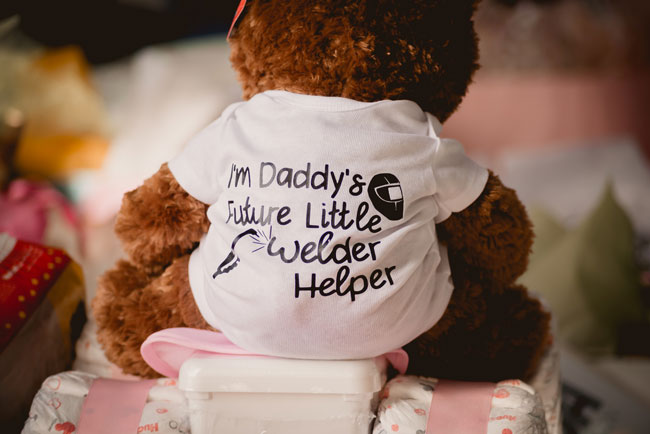 So cute!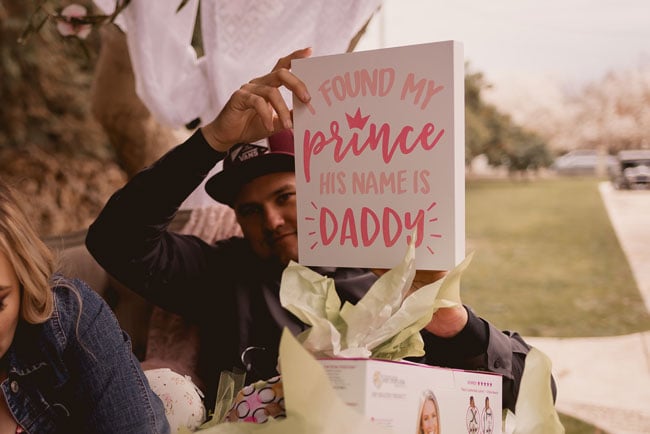 This elegant event included daddy, as well, and even he got some pretty cool gifts that he could be excited about for his little girl, too.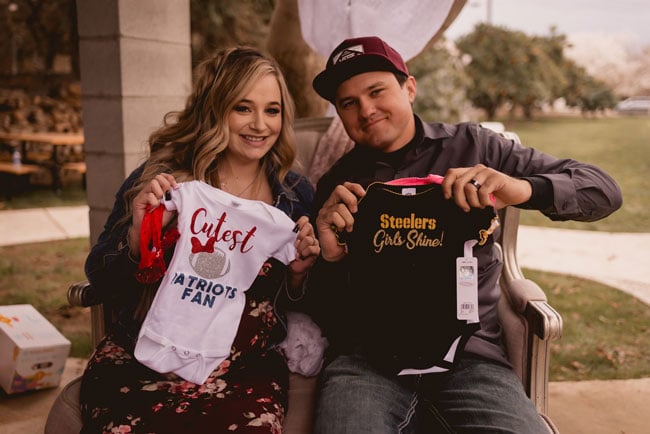 Clearly, Mom and Dad are big football fans, and the gifts didn't disappoint!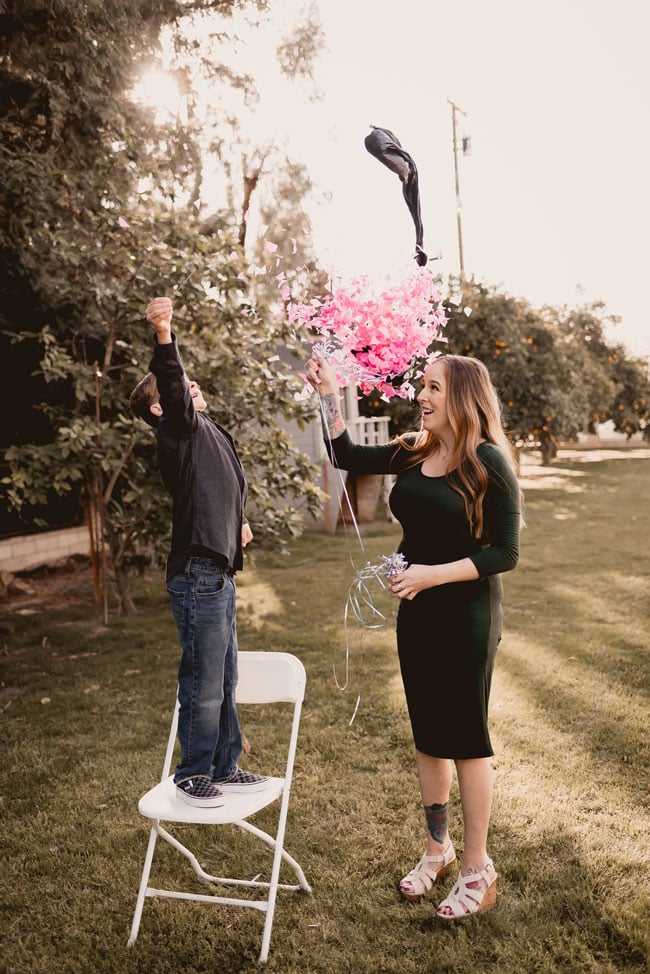 The Mom-to-Be's sister is also pregnant, with twins, and the family was able to do her gender reveal at the shower, while surrounded by family and friends. What a great way to celebrate, which was double the fun for everyone!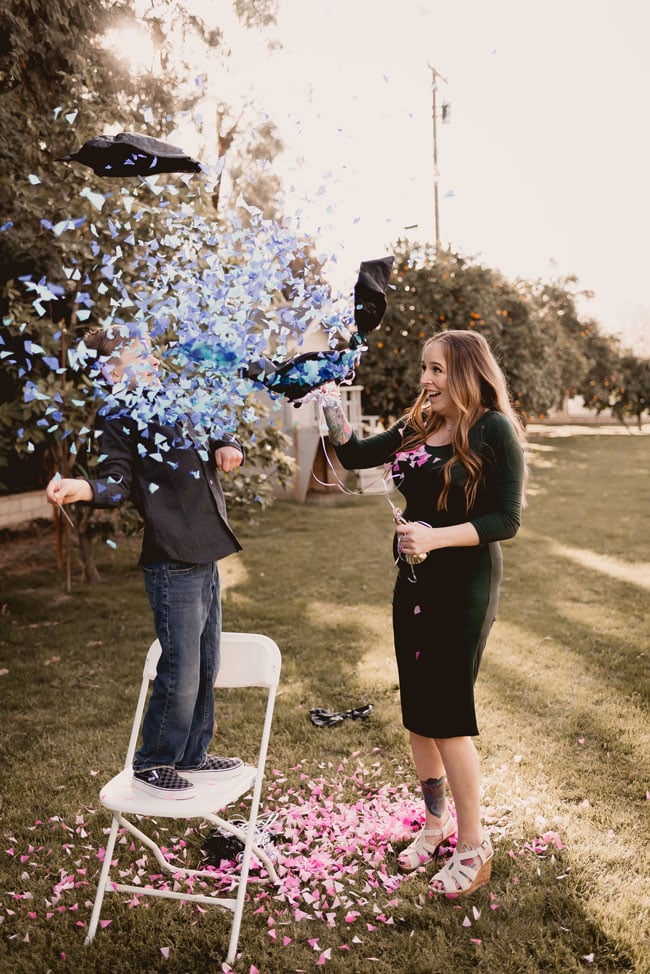 Looks like a little boy and a little girl will join the family in a few months!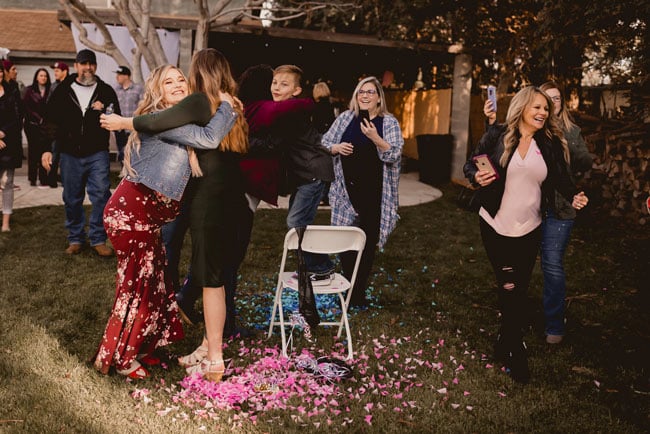 What a wonderful way to have all of your loved ones present at a gender reveal, when everyone is already present for the baby shower. This family is extra lucky to celebrate so many little ones joining their family soon!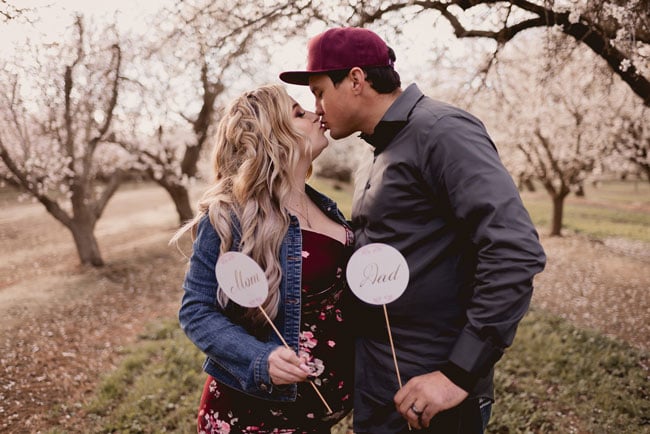 Darling Nikki Photography pulled the parents-to-be away from their celebration for just a bit to take a couple of private pictures that they would be able to enjoy. What a fun way to get in some extra pregnancy pictures during such a special event!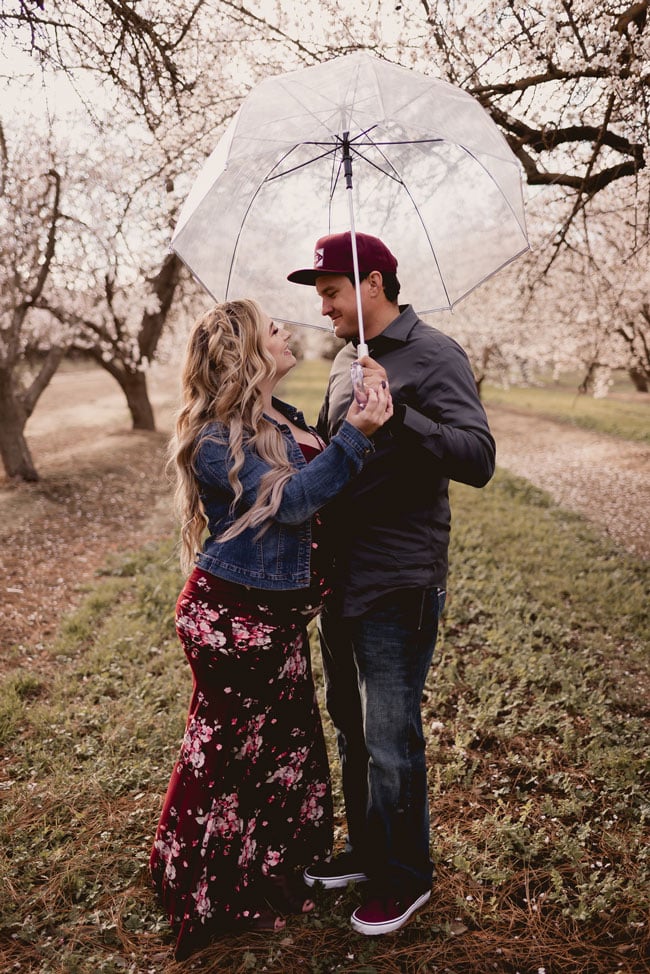 This Pink and Gold Princess Baby Shower was made extra cute by the special picture the photographer got with the expectant couple and their umbrella! Everything about this sweet little girl baby shower was extra special and elegant. Congrats!
Shop these Pink and Gold Princess Baby Shower Decorations:
(Amazon Affiliate)