Pink and Gold Princess Birthday Party
Treat your little one to an enchanting princess party with gorgeous pink and gold decorations like this one!
We believe that every little girl who loves playing princess should have at least one princess birthday party in her life. It's a great way to let them embrace their love of pretty things and have fun! If you're thinking of wonderful princess party ideas, this pink and gold princess party is the epitome of every little girl's dream.
Creative Touch by Johanny did an outstanding job styling this event with gorgeous pink and gold princess party decorations! Everything from the pink princess skirt on the dessert table to the balloon garland looked absolutely amazing. This pink and gold birthday party was certainly fit for a little princess!
Pink and Gold Princess Birthday Party
Touches of gold give this party an elegant, regal feel. Gold glittery princess crowns and the birthday girl's name were surrounded by gorgeous birthday balloons, flowers, and of course, amazing desserts! What a lucky little lady! Everything about this pink and gold party was so dreamy and elegant. What a perfect party theme for a kid's birthday party!
Shop these Pink and Gold Party Supplies:

Looking to recreate this amazing princess themed birthday party for your little birthday princess? Check out this royal princess party below for all the stunning details! Your little princess will flip over these amazing princess party ideas!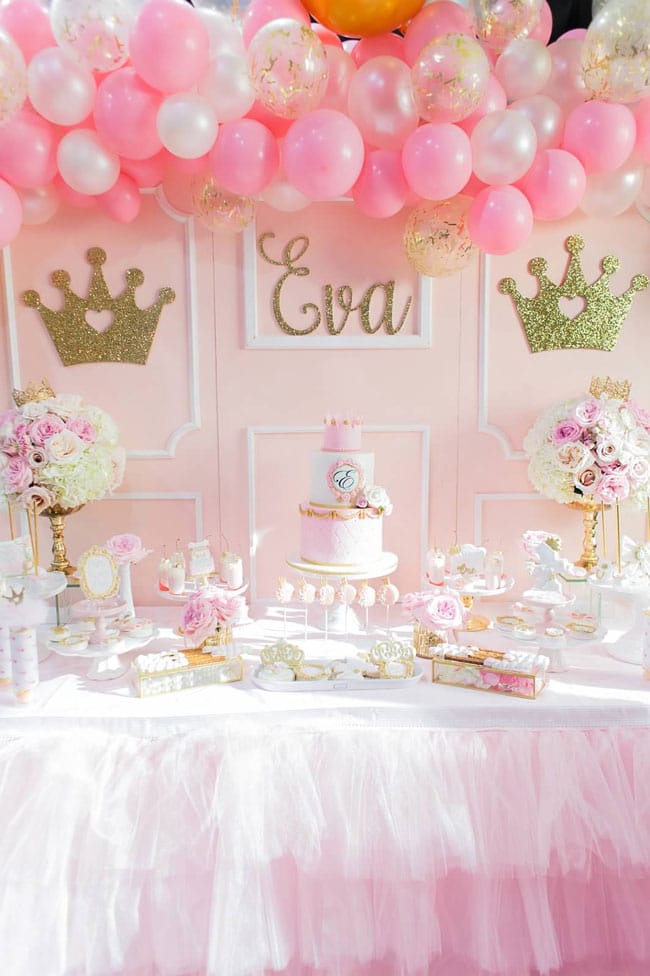 Our Favorite Details From This Pink And Gold Princess Party:
This pink and gold party theme has it all – lots of pink, glitter, crowns, wands, flowers, and more! Here are our favorite princess party ideas:
Gorgeous pink and gold princess birthday cake topped with a princess crown

Pink macaroon cake pops with gold princess crown

Shimmering balloon garland backdrop

Princess-themed sugar cookies

Glitter princess cupcakes

Gorgeous flower arrangements topped with a gold princess crown

Gold glitter princess crown decorations

Gold glitter name sign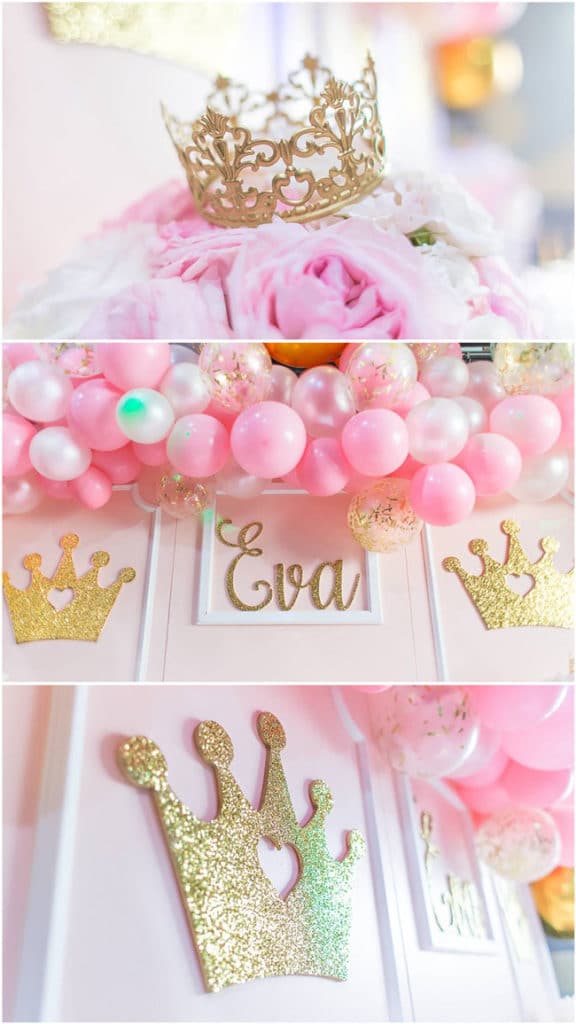 This pink and gold birthday party was turned into a royal celebration with the addition of gold glitter princess crowns. After all, every princess has to have their own crowns and tiaras, right? We love how the flower arrangements were topped with little golden tiaras in addition to the birthday cake and macaroon pops. There were even gold princess crown cookies! It's the little details like these that really make this princess birthday theme complete! These amazing Princess Party Ideas will inspire you to create a magical party of your own!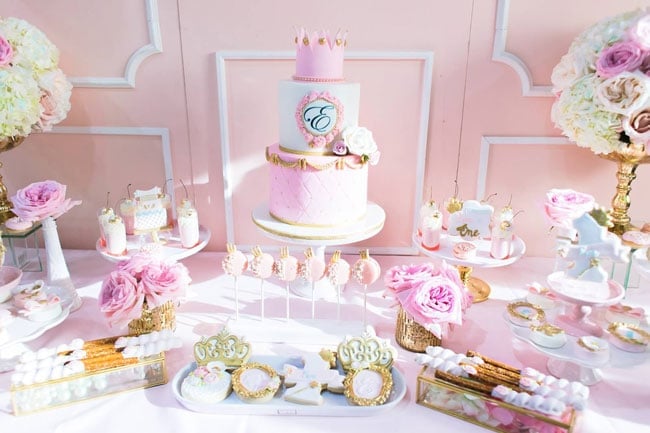 The dessert table was definitely the star of the show! This pretty in pink dessert table serves as the focal point of the party and was eye-catcher for sure! The delicate light pink princess birthday decorations coupled with the golden accents make everything almost too pretty to eat! If you're loving these princess party ideas, wait until you see the rest of the decorations!

The party desserts looked amazing and the beautiful pink roses make the spread so much more appetizing. If you're looking for princess party food ideas that won't ruin the pretty and delicate look of the party, here are some great ones. Mini donuts, pretzels, cupcakes, and cookies were just the beginning of this amazing dessert spread! This is truly a fabulous princess theme party!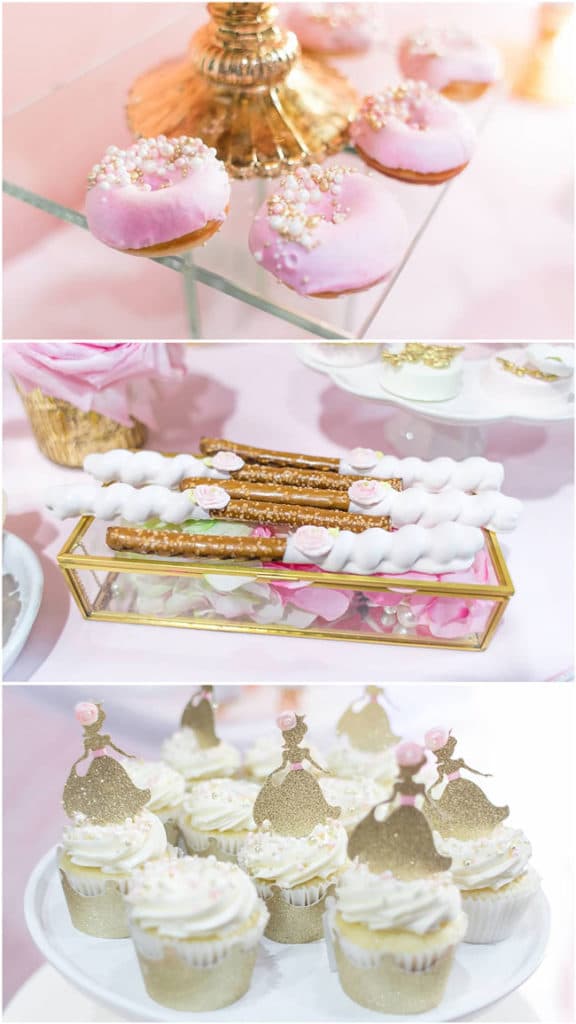 How adorable are these desserts? Topped with pretty sparkly gold princesses in ball gowns, these cupcakes are as sweet as can be! Pink mini donuts topped with pretty pearl and gold sprinkles were also on hand for guests to enjoy at the princess birthday party. Pretzels dipped in delicious white chocolate and adorned with a pink flower was another sweet treat for guests!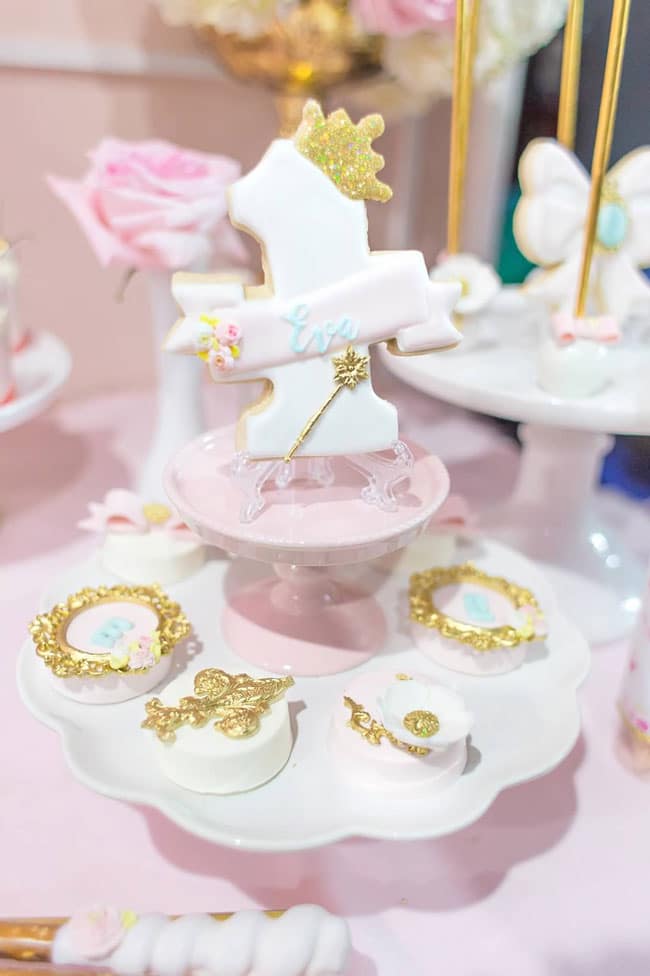 How cute is the personalized number one cookie? White chocolate covered Oreos topped with exquisitely detailed designs were also among the array of desserts. What a fabulous way to display all of the artful desserts.
The intricate details in every dessert were astonishing. The big number one cookie looked extra charming with its glittery crown, pretty golden snowflake wand, and dainty bouquet and lettering – definitely fit for a princess! Of course, a princess birthday party needs a royal dessert spread like this one!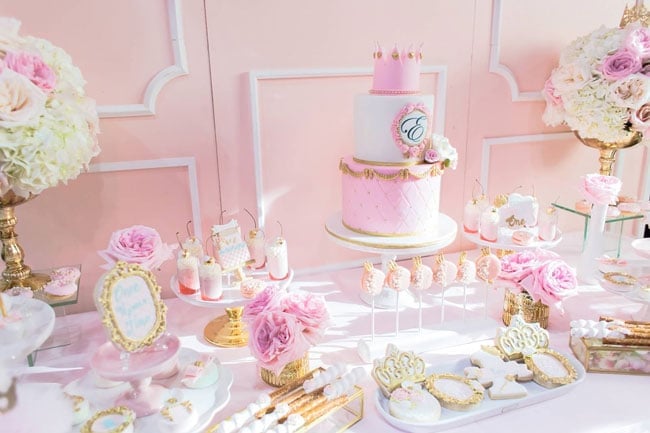 We also love the addition of pretty flower arrangements in gold vases that were around the desserts on the sweets table. It really gave it that girly, yet elegant vibe. Keeping the serving plates, cake stands, and other elements white, gold, or glass really made everything super sophisticated and upscale. Even the pale pink walls with white accents contributed to the appeal of the princess theme party dessert table.
If you are thinking of a princess theme party, it's definitely good to keep a simple and classy color scheme like this one.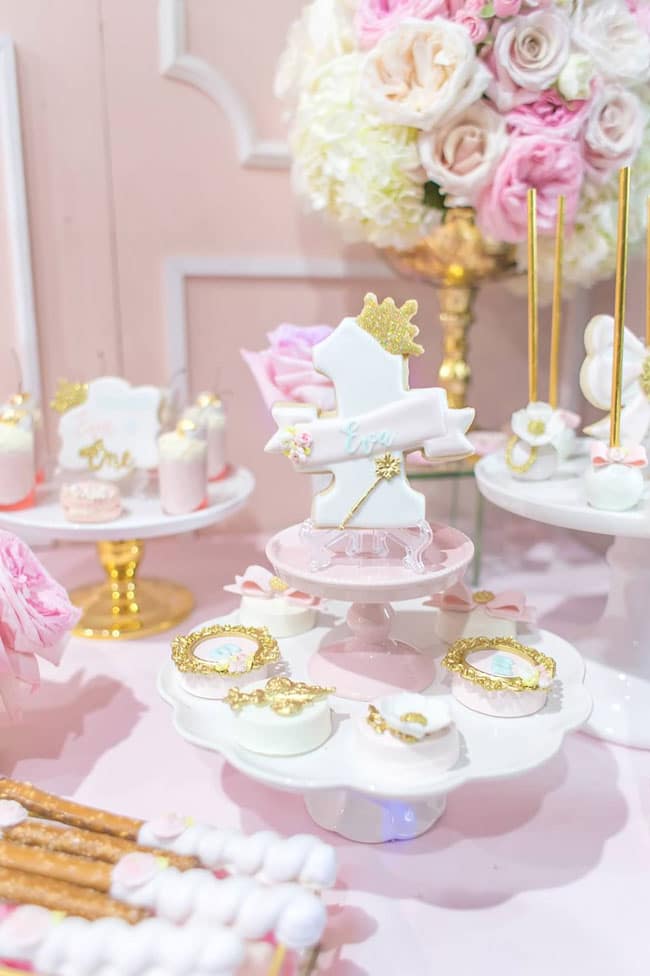 How fun is this amazing dessert table for the little birthday princess?! Pastel pink and gold was the main color palette used, which worked together perfectly. The pastel pink table cloth really made a big impact paired with the gold accents, didn't it? We just can't get enough of these princess party ideas!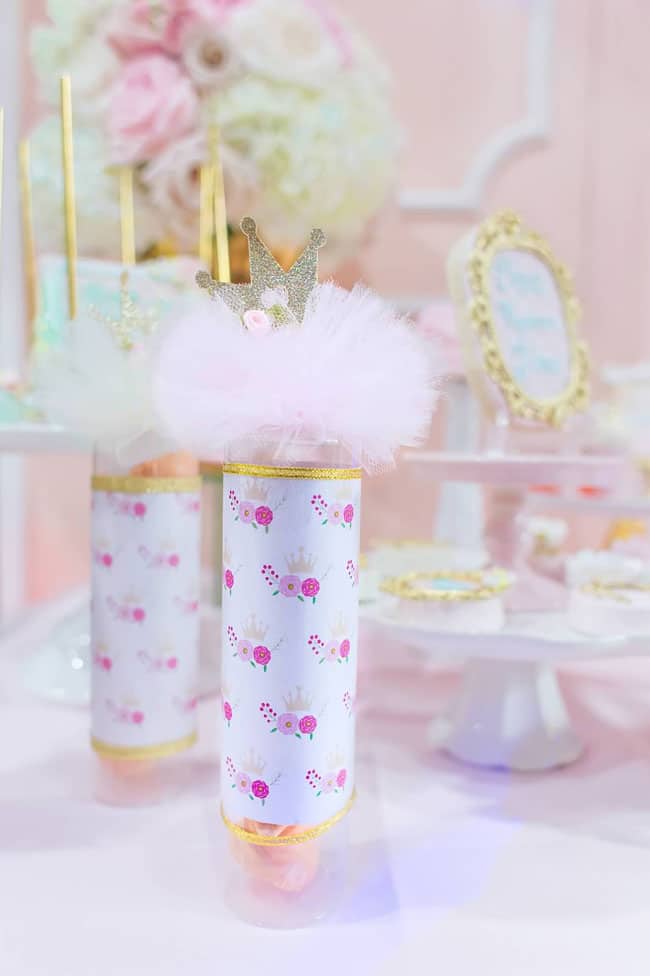 Even the push-up pops were decorated for the theme with coordinating paper! We love the attention to detail! What's great about these decorations is that you don't need to go to a special store that sells princess birthday party supplies to recreate them.
There are a lot of places that sell these floral wrapping papers and gold glitter ribbons, so anyone can make these cool push up pops! Pink tulle and a gold glitter crown topped them for a sweet display.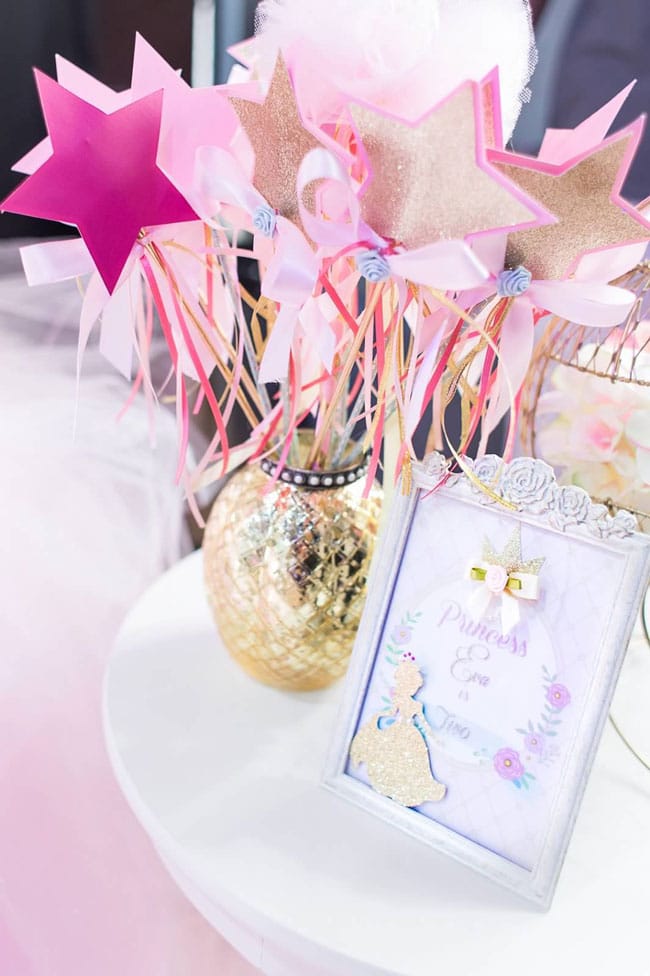 Gold glitter and pink princess wands were given out to each princess at the party. What a cute and fun party favor idea! These are super easy to DIY as well, so there's no need for you to find a store that specifically sells princess party supplies. You can buy the materials for these lovely wands at any regular craft store! We're sure all of the girls were excited to get their very own princess wand. How magical and perfect for a princess theme party!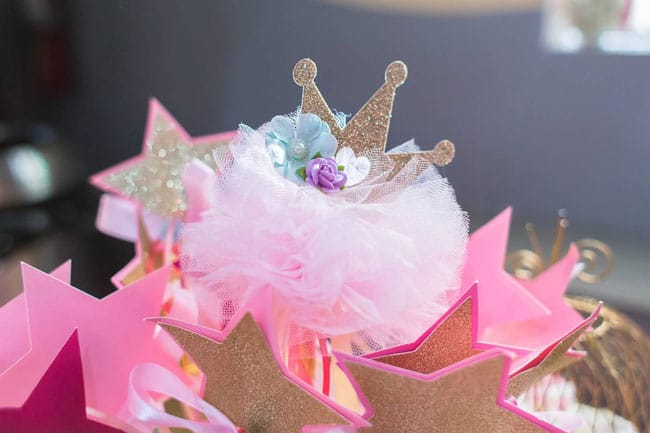 Here's a closeup look at the cute little tulle pom pom with a pretty little plastic flower bouquet and golden crown. This party is definitely filled with fun and creative birthday party ideas for girls! You can never go wrong with the classic princess theme party!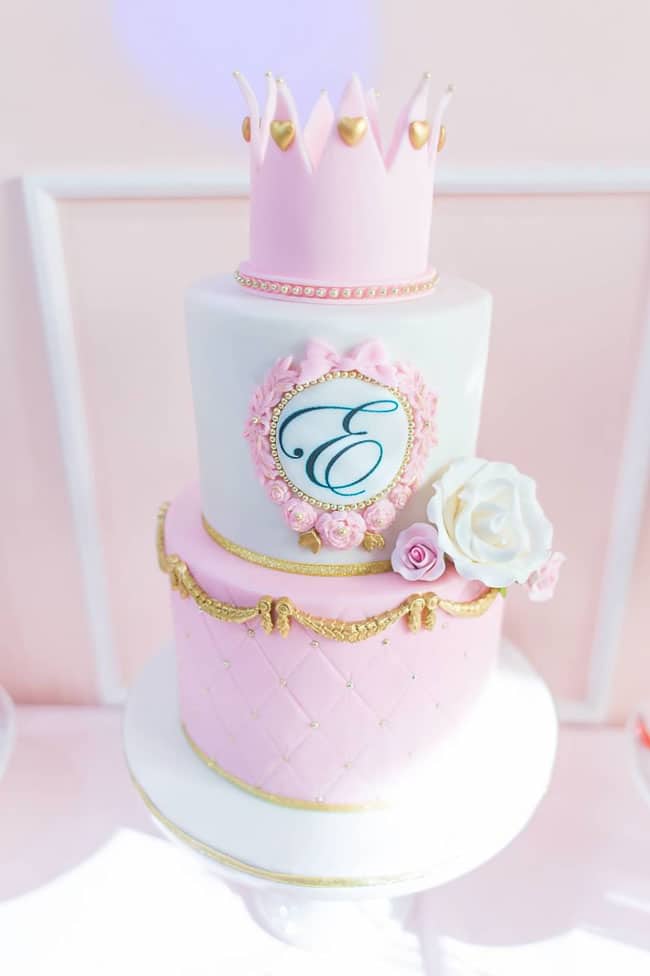 The gorgeous princess cake was a hit! At a glance, it looked like a pretty but simple cake, but once you get up close and personal, you'll see that it has all of these incredible little things that make it so unique!
Decorated with intricate details, the birthday cake was front and center on the dessert table. The pretty designs included flowers, a monogram letter, a cute princess crown with gold hearts, and more! What an amazing cake for an amazing princess theme party!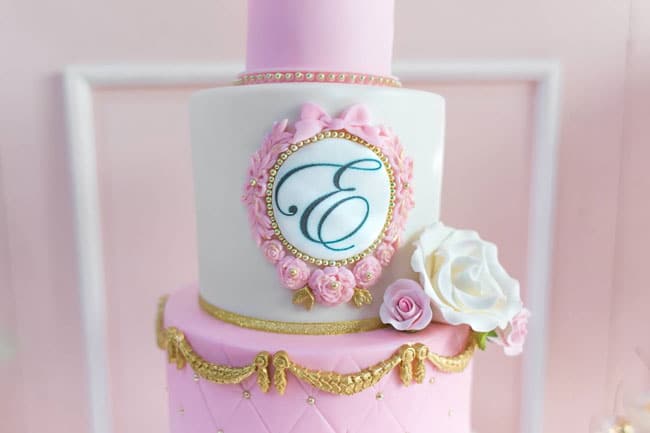 This amazing cake from Sweet Lil Sweets was something straight out of a fairytale! It was the perfect cake for this pink and gold princess birthday party! From the golden pearls to the beautifully piped flowers, and the gorgeous marzipan roses to the quilted texture of the bottom tier, everything on the cake is just perfect. The gorgeous golden curtain valances with tiny gold rosettes also deserve a special mention!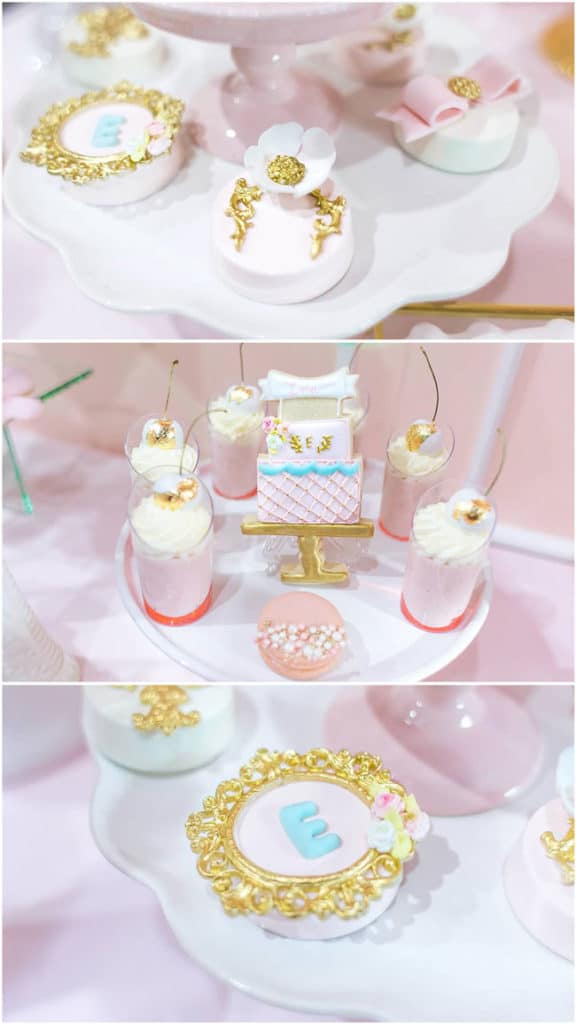 Here's a closer look at some of the other gorgeous desserts! The many designs and variations of the desserts make them perfect for a princess theme party with her friends. Your little princess' guests will surely have a great time marveling at all the charming desserts on your table. They will definitely keep coming back to make sure that they've tried each and every kind!
All of the desserts were incredibly well thought out, including these amazing custom cookies, created by Mayra's Cakepops. Everything was gorgeous and detailed, and the shining gold icing that decorates the desserts really make them stand out. We love how the desserts for this princess theme party also doubled as gorgeous party decorations!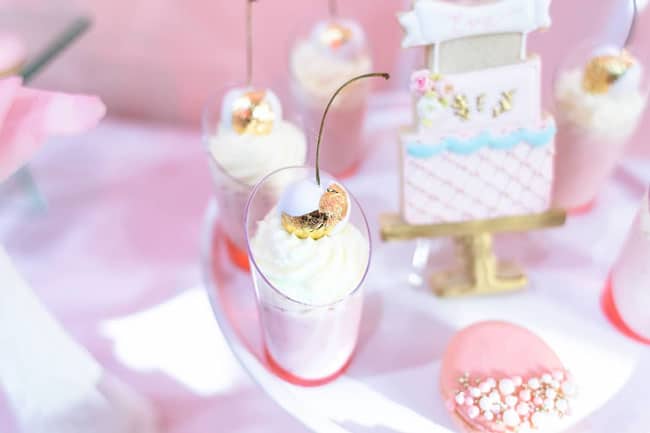 These sweet cups topped with gold-flecked cherries were such a unique dessert idea for the princess birthday party! The beautifully delicate macaroons with little white pearl and gold sprinkles are also a treat for the eyes.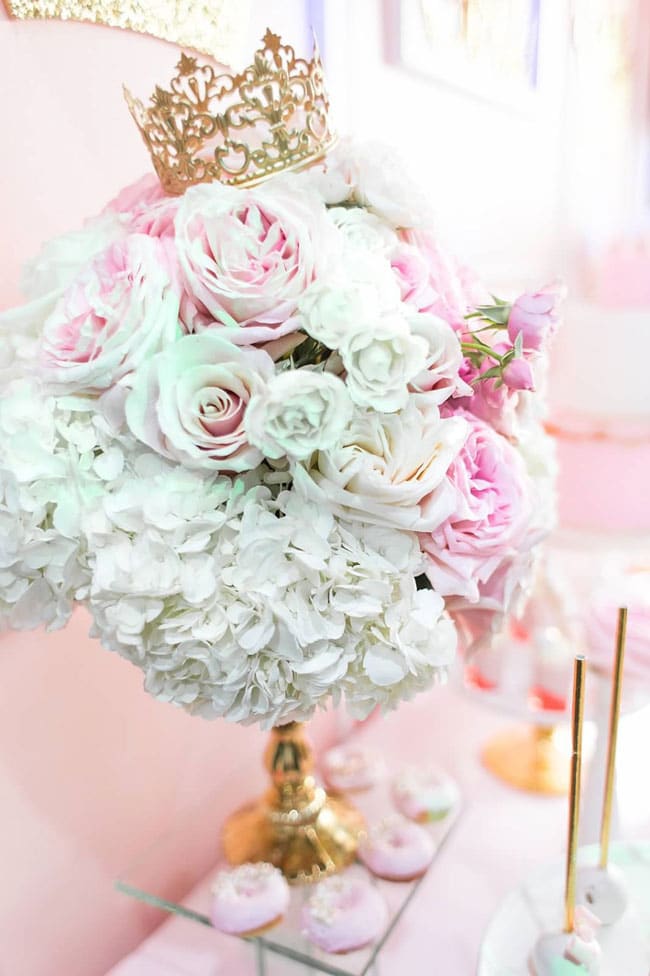 InspirationZ created the most perfect flower bouquets for this very special princess theme party. Sticking to the pastel pink, white, and gold theme, they have chosen the best flowers for the royal event. The golden candelabra vase that holds up these gorgeous bouquets complete the upscale look. With sweet gold crowns adorning some of the arrangements, it was truly a princess' paradise!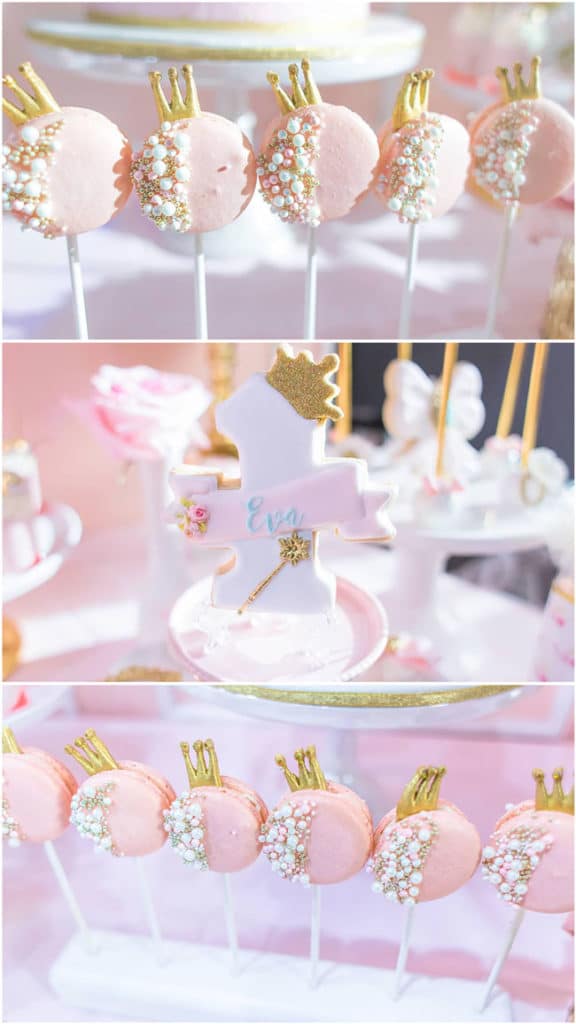 These cute macaroon pops take your typical cake pops up a few notches! The cute golden crowns on top turn them into true royal desserts. They're also beautifully displayed on the dessert table too! Nothing is out of reach when it comes to a princess theme party for a sweet little princess!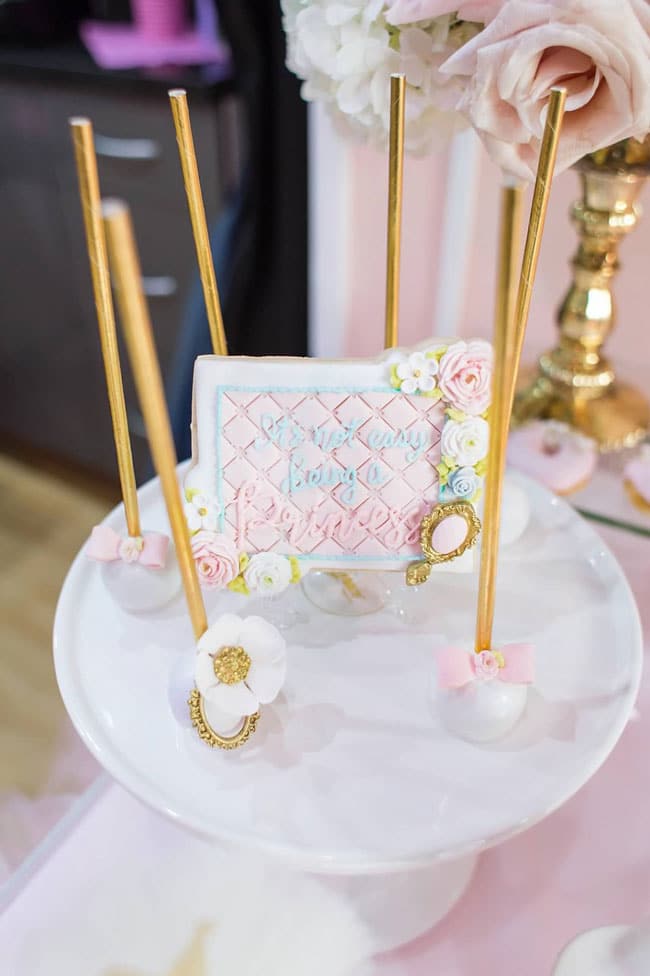 A last look at one of the cute desserts complete with a sassy quote: "It's not easy being a princess!" Maybe it's not easy being a princess, but having such a beautiful party like this complete with stunning, delicious desserts and super stylish decorations surely make it all worth it!
Nothing could top this amazing Pink and Gold Princess Birthday Party! What an amazing princess theme party for a very special princess! It's definitely one of our top favorite princess party ideas. What are your most loved details in this Pink and Gold Princess Party? Let us know in the comments below!
For more princess party ideas, follow us on Instagram @prettymyparty and Pinterest and join us in our private Facebook group.