Whimsical Pink and Gold Baby Shower
Are you looking for baby shower themes for girls? If so, you're in for a real treat with this gorgeous Whimsical Pink and Gold Baby Shower!
Liza Naguib of Dess Art Designs really set the bar high with this stunning Whimsical Pink and Gold Baby Shower. From the beautiful pink and gold details and the jaw-dropping cake to the darling desserts and intricate details, this party is simply glamorous! What a perfect way to celebrate the birth of a little baby girl!
Pink and Gold Baby Shower
A pink and gold baby shower is one of the most sought-after themes when it comes to baby showers for girls. While you may think that it's a pretty common theme because it's so popular, there are a lot of ways to customize pink and gold baby shower decorations to make it unique.
Planning a baby shower is no easy feat. There are event-planning basics that you need to learn in order to pull it off successfully and make the mom-to-be happy! To have a fun and festive baby shower, one must have the perfect theme! And if the soon-to-be parents are expecting a little princess, what better theme is there than a pink and gold baby shower?!
If you're going for the whimsical and elegant look, there are plenty of baby shower decoration ideas that you can get from this beautiful set up by Dess Art Designs. Some of our favorite whimsical pink and gold baby shower ideas are the use of lots of pretty flowers, butterflies, pearls, and more.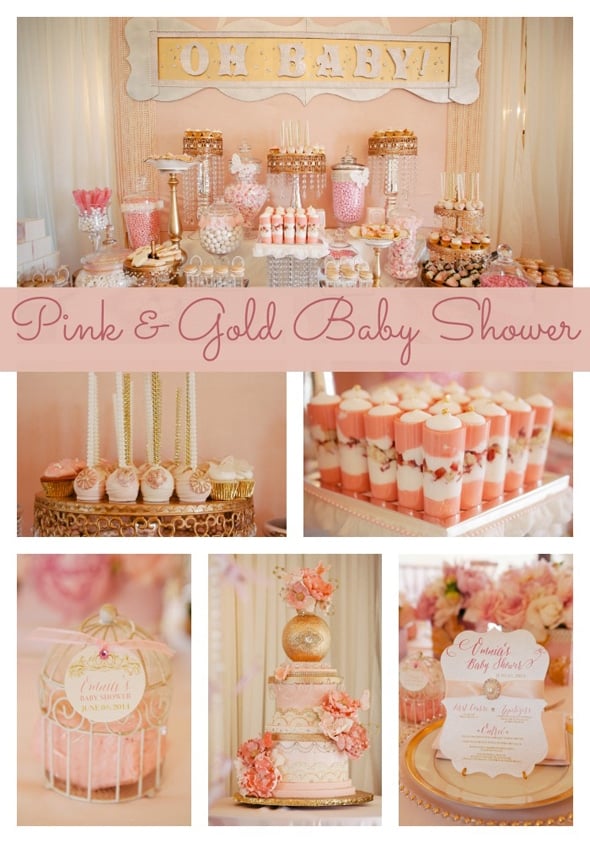 Shop these Pink and gold Baby Shower Decorations:
Pink and Gold Baby Shower Decorations: Get inspiration from these exquisite baby shower decorations. Whimsical butterflies dangling off strands of crystals and the pearls look absolutely stunning and perfectly matches the gold ornaments and table decorations! Crystals were seen everywhere from the menus and baby shower invites to the favor labels and floral arrangements. Birdcages and gold and pink accents were added throughout the space for a romantic feel.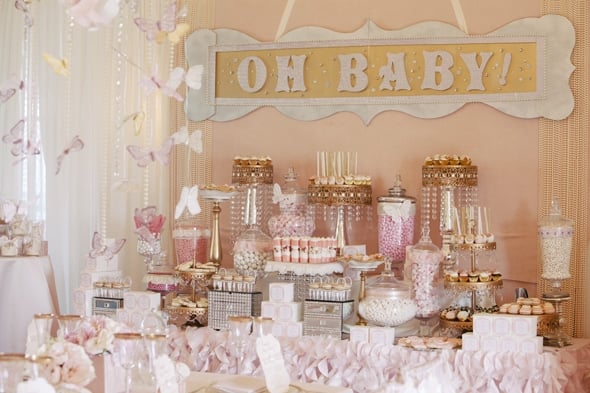 Table Decorations: What an elegant dessert table! From the glass lamps and the pale pink butterflies to the carefully selected spread of desserts and delicate mini cupcakes, this pink and gold candy table is such a delight to look at. It's a setting that everyone will want to capture and post on Instagram! The baby shower banner with the playful letters, scalloped edges, and the glittery accents perfectly matches with the whole arrangement as well. And we can't forget about the light pink frilly tablecloth!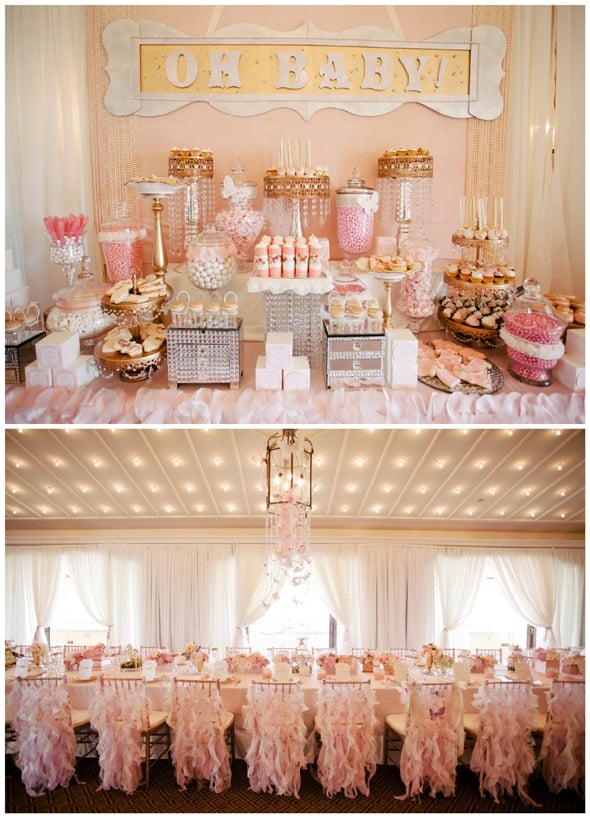 Check out the dessert table from up front! Now, that is pure elegance! Among the desserts were cute pink and white dessert cups, cute onesie and dress sugar cookies, and darling macarons covered in pearls on mini phantom chairs! AMAZING!
For the seating area, the Tiffany chairs were adorned with beautiful pink chiffon chair covers and delicate ropes of pearls, while butterflies dangled above the table. It's a table arrangement fit for the little princess that everyone is waiting for! Everything looks truly magical.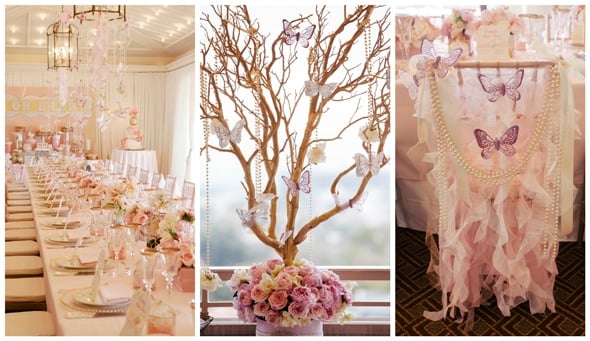 Baby Shower Decor: The long table arrangement is pure bliss. From the gorgeous place settings to the table centerpieces, everything was absolutely amazing! Whimsical details were carefully spread not just on the table arrangements but throughout the event space as well. The butterflies and pearls on the chair covers and gold and pink centerpieces looked delicate yet exquisite. Perfect for a pink and gold baby shower! Amazing flower centerpieces with branches were also adorned with crystals, long strands of pearls, and those dainty butterflies. The divine pink ruffles on the chairs look so feminine and oh so sweet!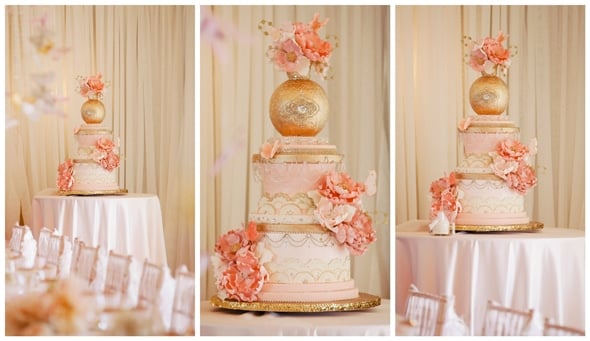 Pink and Gold Baby Shower Cake: This baby shower cake is an absolute showstopper! This three-tiered cake featured intricate pink and gold trimmings along with these amazing intricate sugar flowers. It looks absolutely stunning when placed and displayed on a single table.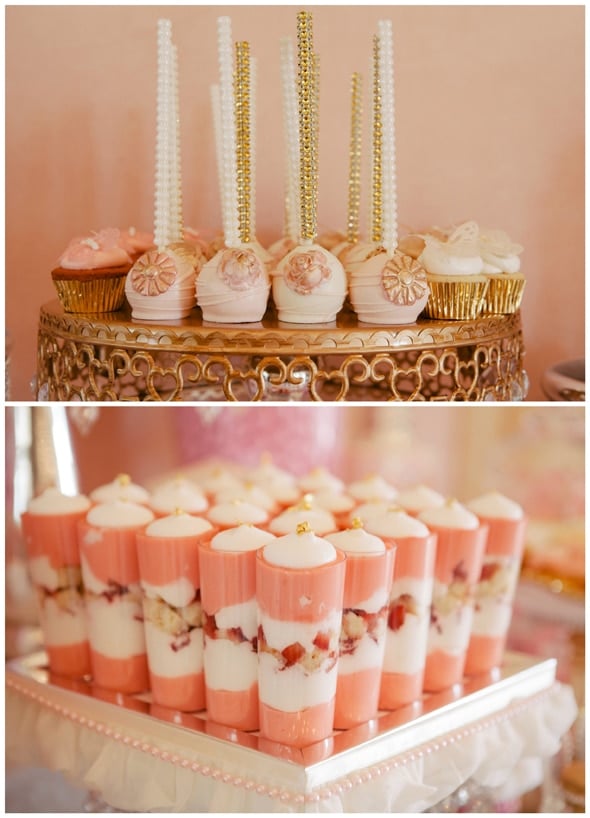 Pink and Gold Baby Shower Desserts: What's a party without desserts? And who could resist these delectable goodies?! Come and have a look at these yummy looking desserts! These darling cake pops with the intricate holders, cupcakes with gold foils, cookies, and macarons look too good to eat. When it comes to desserts, you can't go wrong with bite-sized ones. That way guests can sample all the desserts instead of fill up one just one.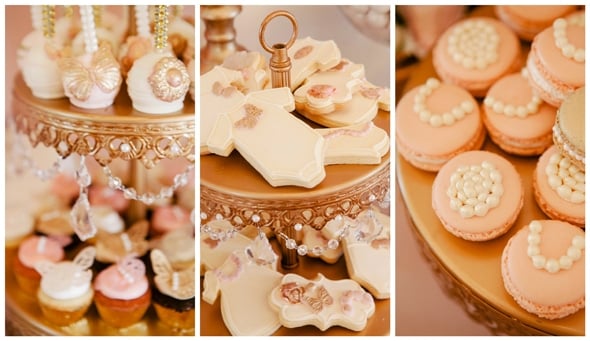 Have you ever seen anything so pretty? The carefully chosen desserts perfectly complement the whimsical theme of the baby shower. From the white onesie-shaped cookies and the pink-hued macarons to the elegant cake pops and mini cupcakes with sugar butterflies, guests are sure to enjoy the wonderful selection of desserts filling up the beautiful dessert table.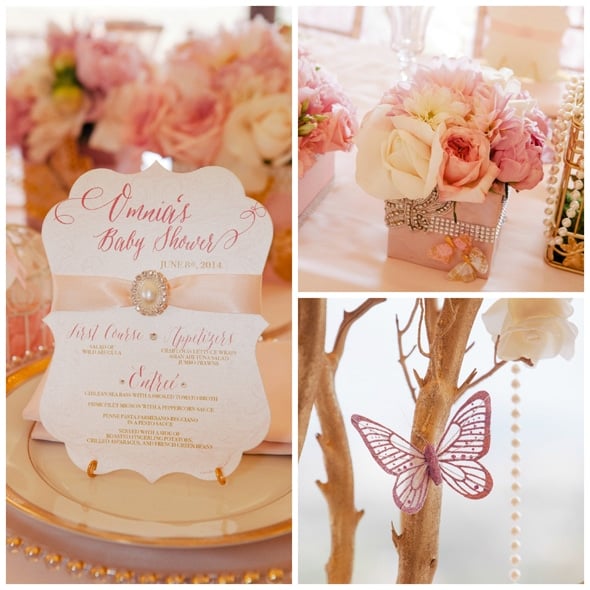 Baby Shower Menu Cards: The elegant menu cards are simply adorable. If you're loving it as much as we do, you can easily replicate this menu card online by using an app called Canva. The beautiful flower arrangements, the ropes of pretty pearls, and butterflies dangling on the branches fill up the event space and gives the baby shower a whimsical feel.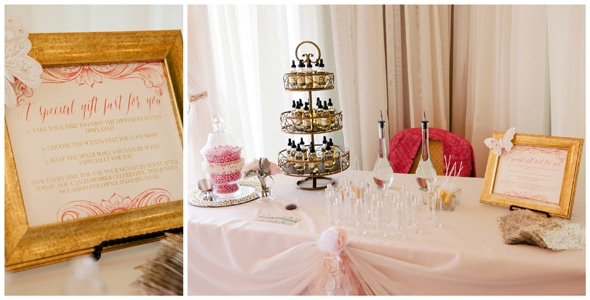 The pink and gold table for the favors is sure to make the guests feel extra special. It's the elegant details of the table that makes it unique and oh so beautiful. A baby shower is the first party for the future baby and you can make the special event even more memorable by having a similar table arrangement for the party favors. A baby shower favor doesn't have to be a baby item. Some of the best baby shower favors are simple items that you can use every day. It can be a lip balm, a bag of excellent tea, or even a personalized perfume!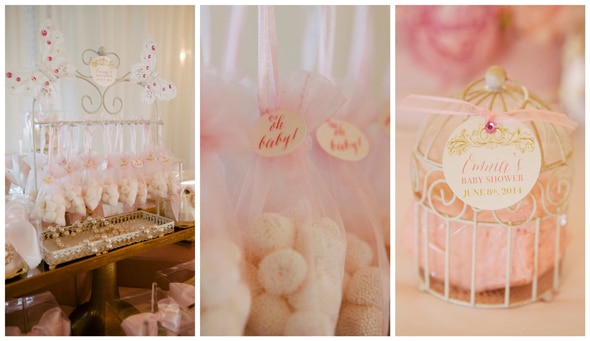 These sweet treats are sure to thrill the guests. And nobody can resist a bag of goodies especially if they come inside these tiny yet adorable birdcages! Don't they make the perfect take-home?
There's something truly magical about having a pink and gold theme. Transport the guests to a whimsical, dreamy space with floating butterflies, lovely flowers and exquisite baubles. A place fit to celebrate the coming of a much-awaited little baby girl.
This mom-to-be sure is lucky! What a wonderful way to celebrate the upcoming arrival of her baby girl!
What's your favorite detail in this Whimsical Pink and Gold Baby Shower? Let us know in the comments below!
Looking for more baby shower and party ideas? Don't forget to follow us on Instagram @prettymyparty and Pinterest and join us in our private Facebook group.
Credits & Resources
Plan an amazing pink and gold baby shower with these products:
Sign up for a free 30 day trial of
Amazon Prime
and get free 2 day shipping on your party products!