Think outside the box for your little one's birthday theme with this perfectly pink Kentucky Derby Party!
What could be more fun than a springtime Kentucky Derby Party?! If your little one loves all things horses, why not get creative and plan the most amazing Kentucky Derby Party?! Pulling off the perfect Kentucky Derby Themed Party is a piece of cake with the gorgeous girly inspiration found in this sweet second birthday party!
Kentucky Derby Party Supplies: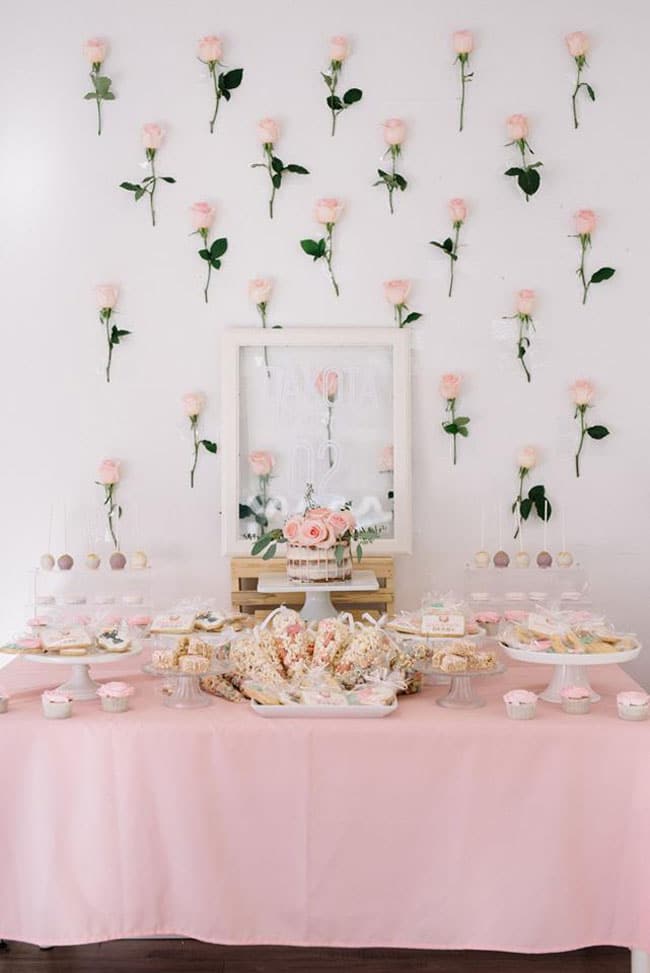 Kentucky Derby Party Ideas that we love from this fun day include:
Beautiful roses that adorn the backdrop of the dessert table

Unique table settings with "winning ribbons" that adorn the chairs
A gorgeous naked cake that was topped with beautiful florals and greenery
The fun Mint Julep bar
Personalized Kentucky Derby Themed Cookies
A fun Burger Bar with all of the fixings
How to have a Kentucky Derby Party?
Mon Amie Harlow was the genius event planner behind this amazing birthday celebration for her own daughter's second birthday and we couldn't love it any more! What a fun idea to celebrate with a Kentucky Derby Party Theme! If a sweet birthday party like this is in your future, you're going to find some amazing inspiration below. Or, if you just want to throw a party for the upcoming Kentucky Derby, these ideas will help you to the finish line!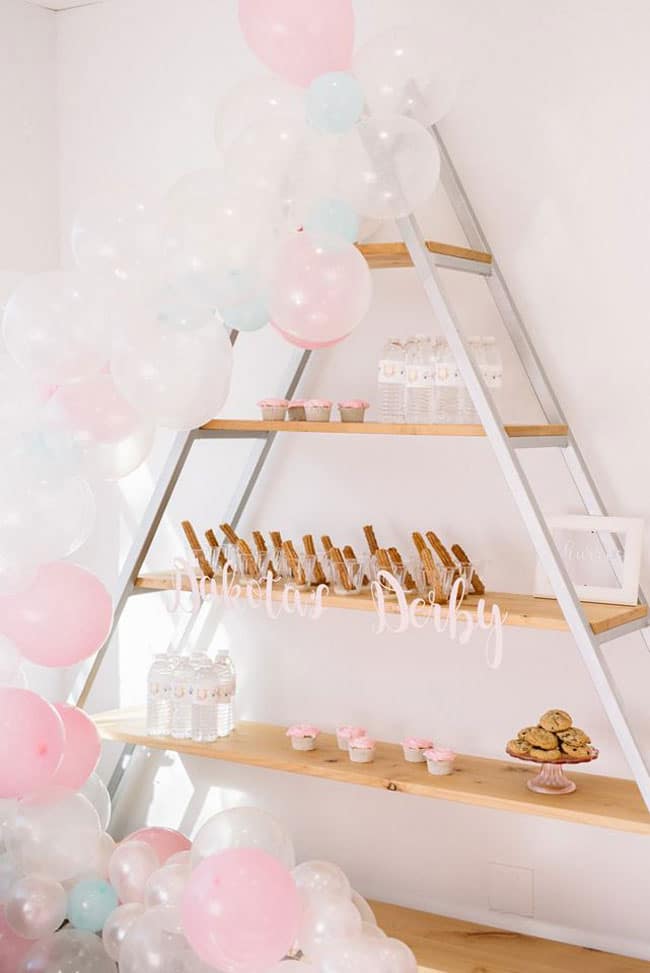 This Perfectly Pink Kentucky Derby Party was completely unique with sweet pastels incorporated for this birthday girl's love of color! We love this triangle shelf that helped to hold all of the amazing Kentucky Derby Party Food that the guests enjoyed! We love how the dessert spread was personalized with "Dakota's Derby!" Top it off with gorgeous balloons that set off the entire display and it was absolutely perfect!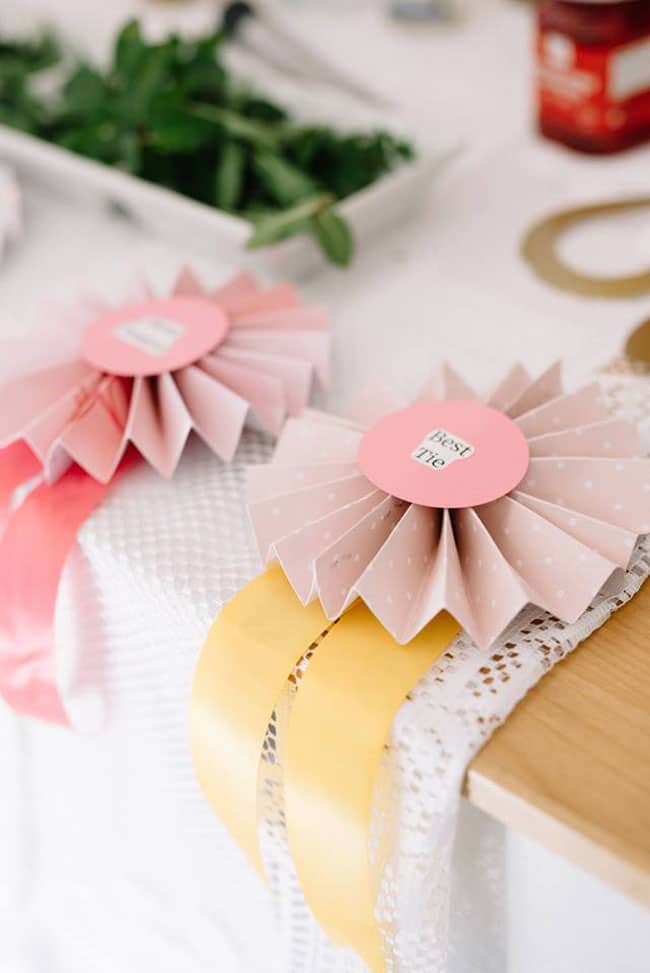 How amazing are these DIY ribbons?! We love these great "ribbons" that were given for each winner of the Kentucky Derby Party! Everyone got in on the action with these fun Kentucky Derby Party Supplies! These are also a great DIY project to create before you race to your fun Kentucky Derby Party!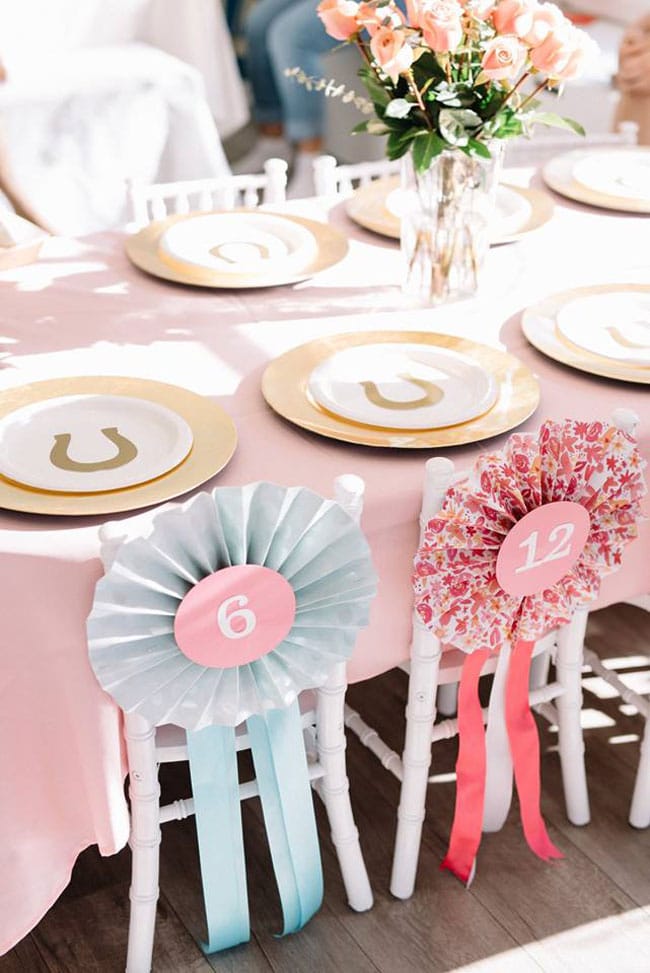 Chairs were decorated with larger ribbons, which were the perfect touch! Fun horse racing plates were used for the Kentucky Derby Party with gorgeous flowers commanding attention as the centerpiece! The great, pastel colors scream spring, which is exactly the timeframe for the famous Kentucky Derby!
Kentucky Derby Party Food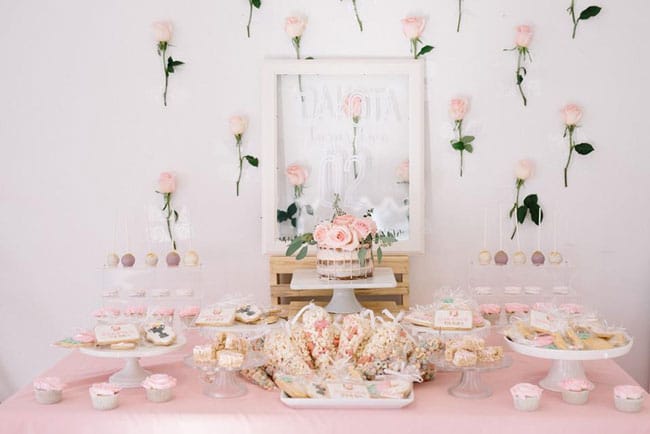 Just look at this sweet dessert table truly fitting for a girly Kentucky Derby Party! The flowers from Josie Locquiao that lined up on the wall were a unique addition to the day's festivities. The party decor was so classic, yet feminine.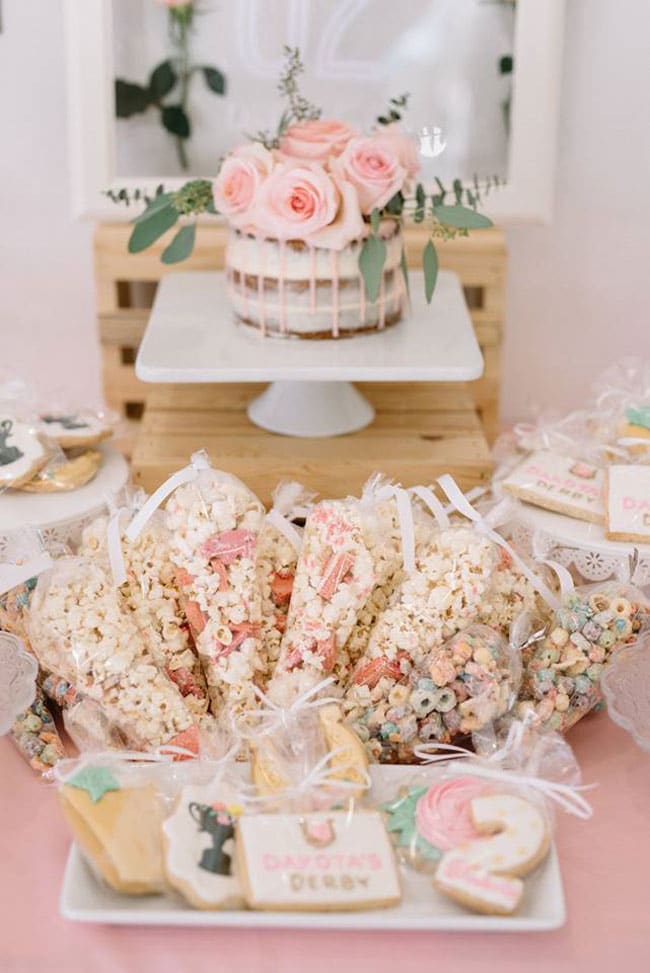 The Kentucky Derby Party Food was amazing! Candice Elaco Wong provided many of the beautiful desserts that were created for this sweet second birthday party. From cake pops to colored popcorn bags, there was no shortage of amazing sweets during the great Derby Themed Party.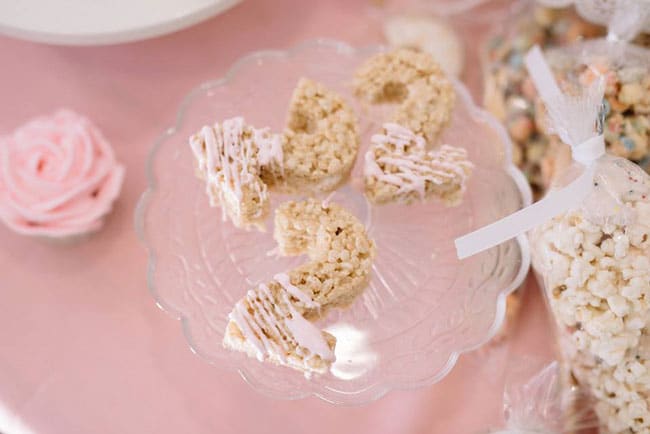 Rice Krispies shaped in the number "2" were a big hit! Who doesn't love to munch on some Rice Krispies when attending a second birthday party? We love the pink pastel drizzle that was used to match many of the other desserts and decorations that were found around this Perfectly Pink Kentucky Derby Party.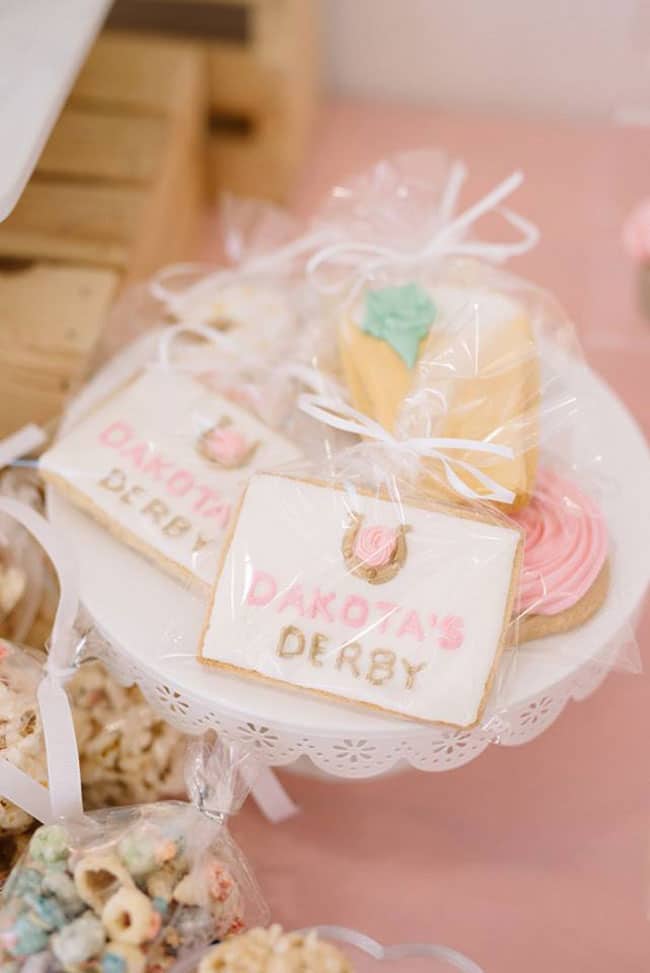 Pretty personalized cookies for the Derby Themed Birthday Party were created by Ingrid Hotchkiss Aclan. We love the customization that was found on all of the cookies. Individually packaged, they were each a sweet treat that were almost too good to open up and eat!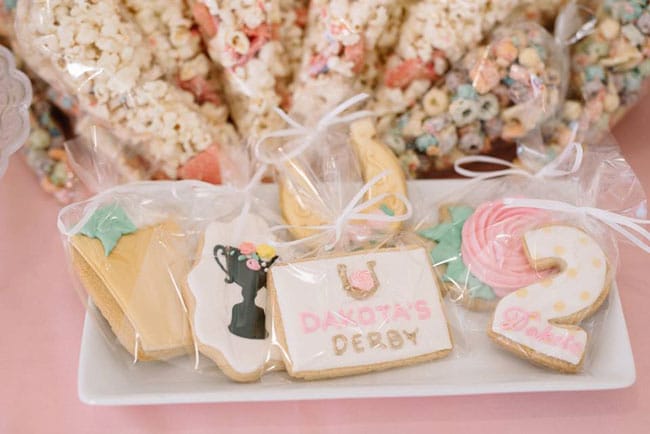 Of course, some horse-themed desserts had to be included in this Kentucky Derby Party! Cookies were created for the event, including horseshoes and roses, which are part of the Kentucky Derby celebration! What a lucky birthday girl!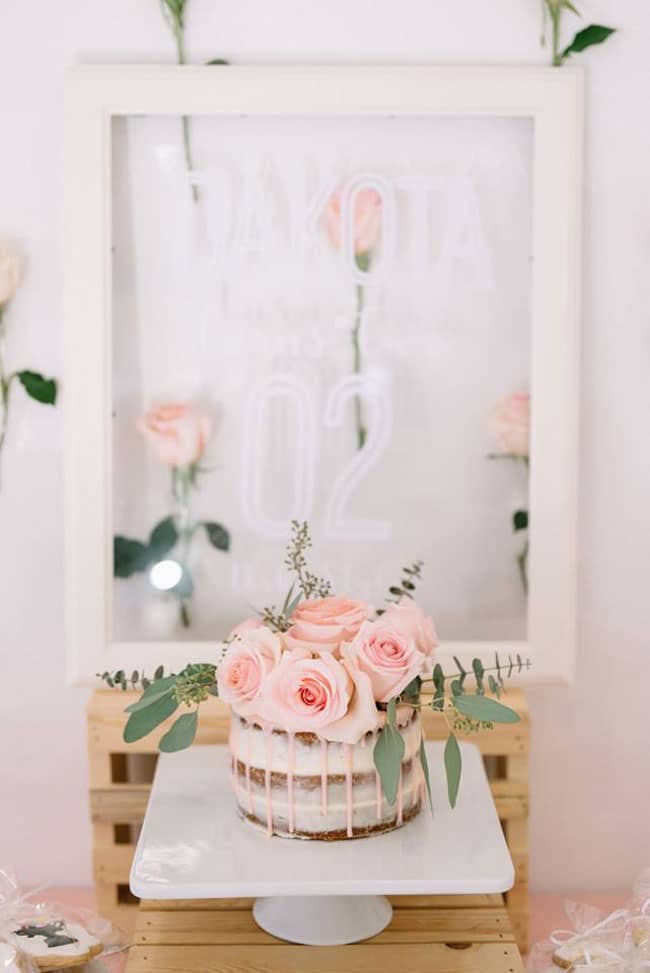 The Kentucky Derby Birthday Cake was absolutely gorgeous and it was the perfect addition to this creative Derby Themed Party. It was a classic naked cake, dripping with pink frosting, and topped with amazing pink florals and greenery from Josie Locquiao. While it was simplistic in nature, it was perfect for the event and this sweet birthday girl's Kentucky Derby Party!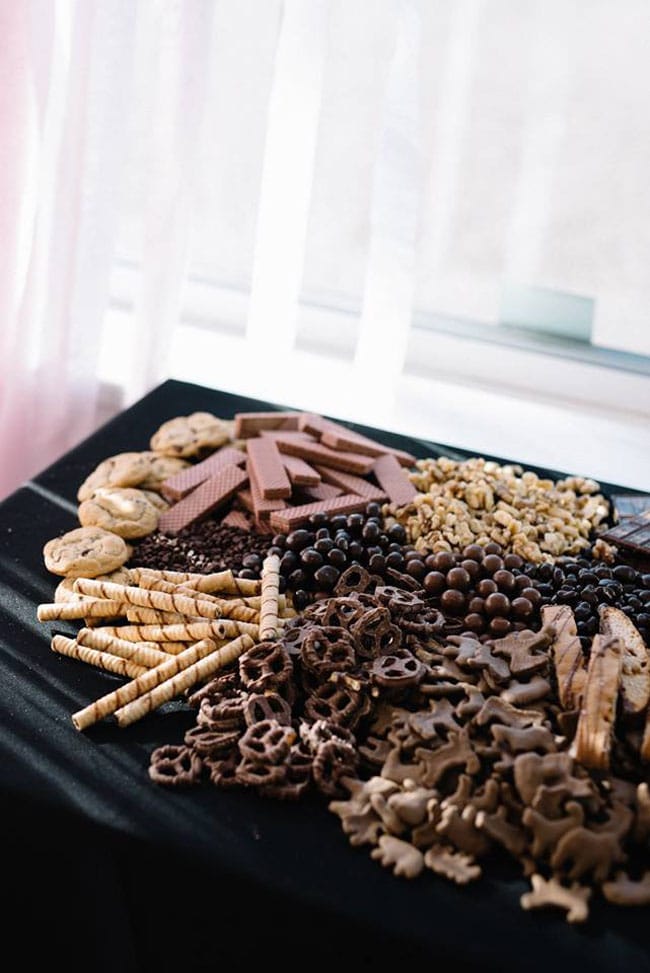 Look at all of those amazing desserts on an amazing dessert tray! Pretzels, animal crackers, cookies and so much more were included in this amazing spread! All of the kids were excited to dig in, and it looks like the adults remembered their inner child, as well!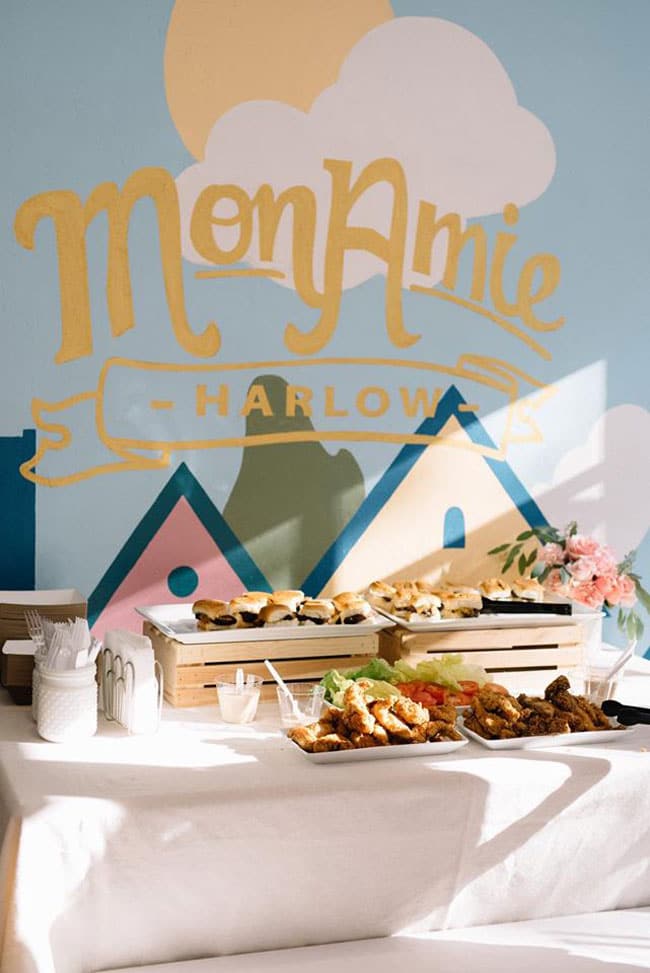 A delicious burger bar was provided by Konjoe Burger Bar. In addition to basic sliders, lots of other Kentucky Derby Party Food was available, as well, such as chicken tenders and pork belly sliders – complete with all of the fixings! YUM!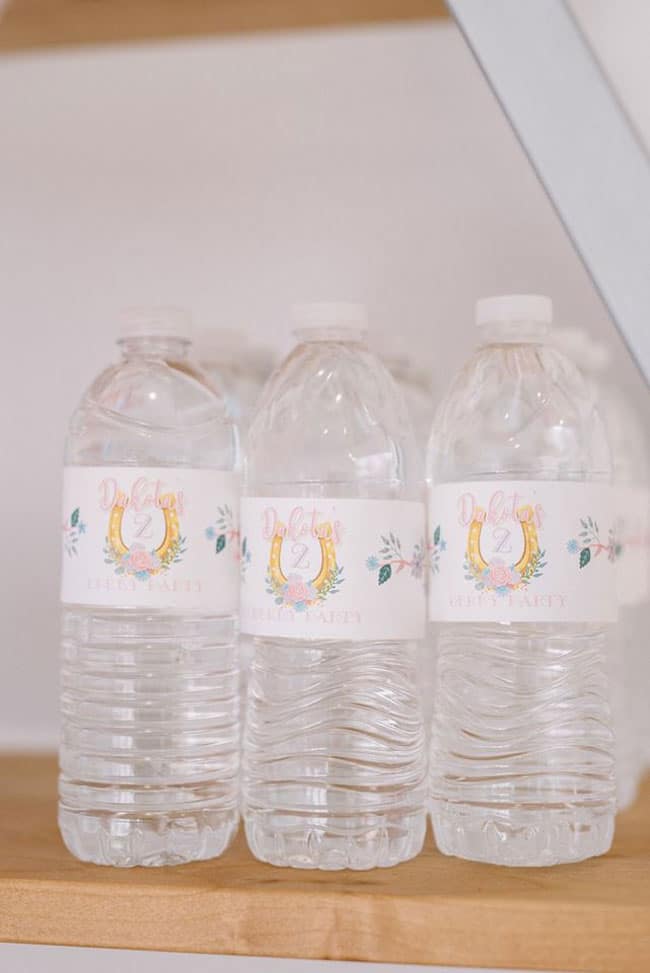 Even the water bottles were wrapped with a Kentucky Derby Party theme in mind. We just love these sweet water bottle labels that were found throughout the event.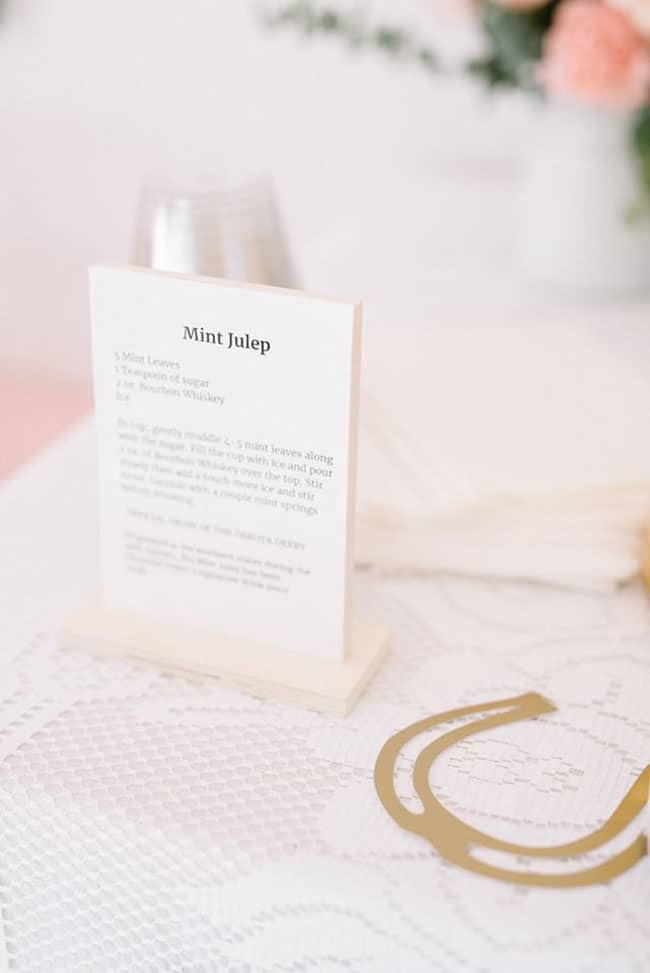 Our favorite element of the Kentucky Derby Party? The Mint Julep Bar, of course! The Kentucky Derby is well-known for serving Mint Juleps at the event, itself, so this Kentucky Derby Themed Second Birthday Party provided them as well! A recipe was provided for anyone interested in partaking in the popular cocktail!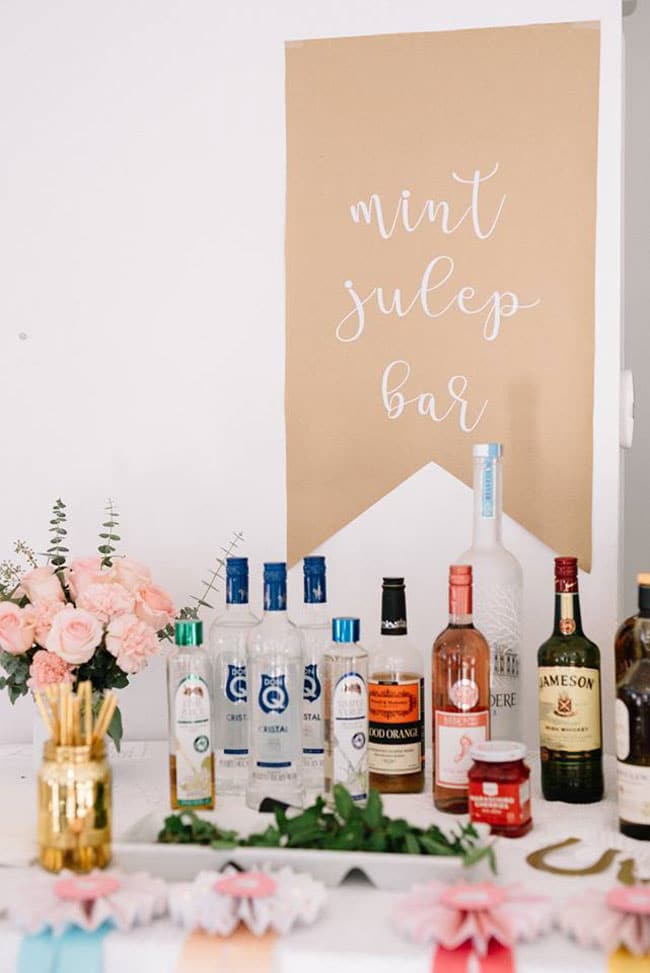 Just look at this pristine Mint Julep Bar! If you're looking for your own Kentucky Derby Party Ideas, this is a must! Everything was provided and clearly labeled, for all of the guests to create their own Mint Juleps. Everyone absolutely loved this feature of the party! Well, the adults did, anyways!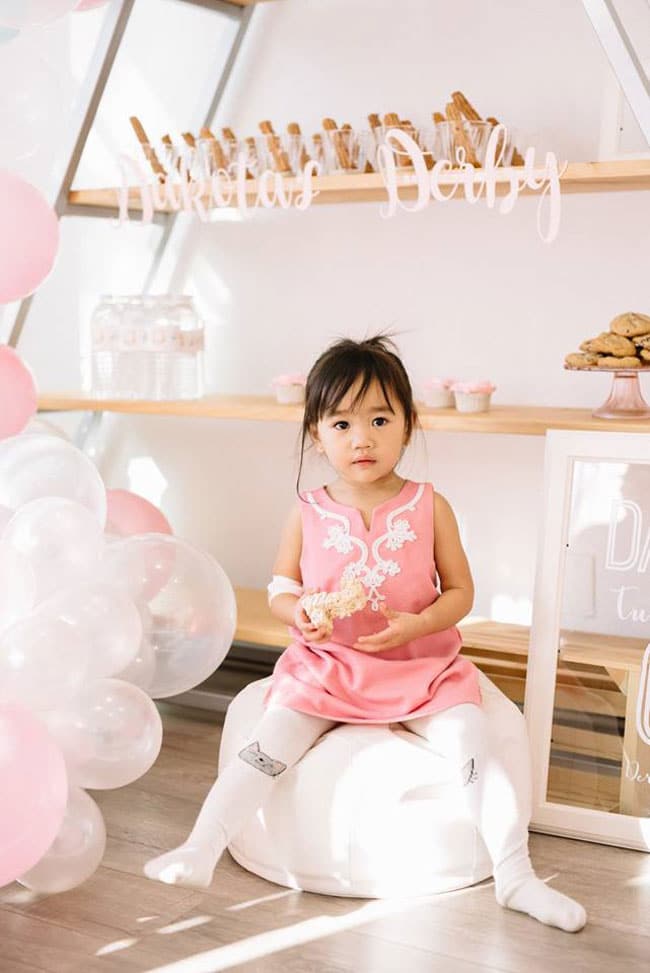 Look at this sweet birthday girl! It looks like this Kentucky Derby Party was a big hit with gorgeous balloons and other wonderful decorations found all around the event. Even the birthday girl was dressed in a darling pink dress for her big day! What a Perfectly Pink Kentucky Derby Party!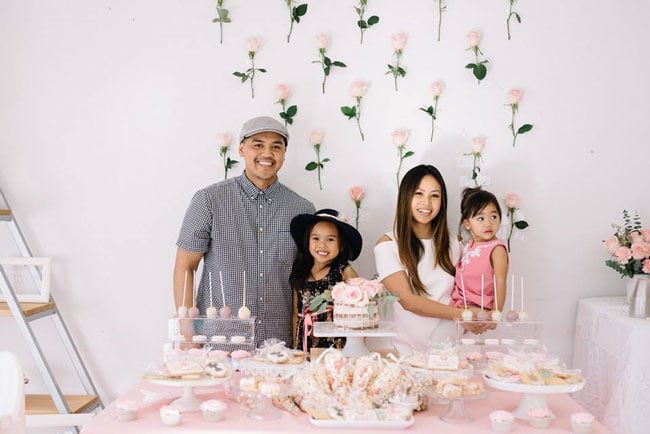 Mon Amie Harlow went all out for her sweet little girl! We absolutely adore this Kentucky Derby Party. It's the perfect birthday theme for any age! Everything was exquisite, from the amazing party menu to the gorgeous decorations. What a wonderful birthday theme for a second birthday party!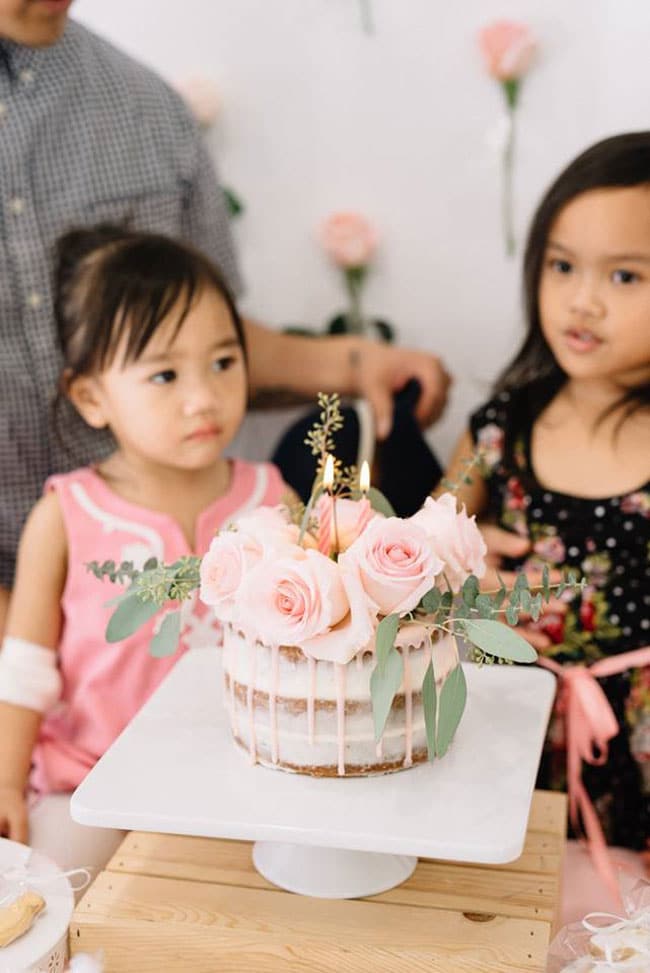 Happy birthday, sweet girl! We hope you enjoyed your Kentucky Derby Party as much as we enjoyed sharing it. What's your favorite details in this Perfectly Pink Kentucky Derby Party? Let us know in the comments below!
SaveSave
SaveSave
SaveSave
SaveSave
SaveSave
SaveSave
SaveSaveSaveSave
SaveSave
SaveSave
SaveSaveSaveSave
SaveSave