Parisian Tea Party Third Birthday
Plan a beautiful Parisian Tea Party Third Birthday with darling vintage details like this one!
This classic Parisian Tea Party Third Birthday comes as close to perfection as it possibly can! High tea will never be the same thanks to the elegant details found in this adorable children's tea party. These stunning details will inspire you to plan your own Parisian themed tea party like a pro!
A Paris Themed Tea Party is a great theme for any little's girl's birthday. There are so many ideas for a tea party theme that you can incorporate into your party. Add in some fun tea party games to keep the kids entertained. We love the elegant style of this Parisian Tea Party. Everything from the birthday cake and desserts to the hanging gold floral wreaths and other party decorations turned out beautifully for this lucky 3-year-old!
Parisian Tea Party Supplies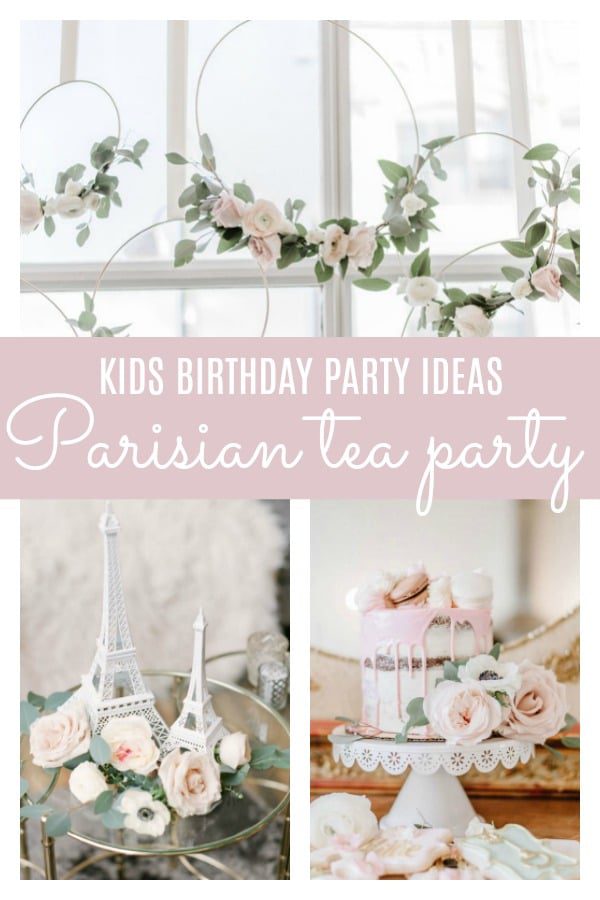 Parisian Tea Party Third Birthday Ideas that are on the top of our list:
Vintage silver tea set purchased in London
Gold floral wreaths hanging from above set the tone for the tea party decorations
Industrial cart used for tea settings and drink holder, flanked by gorgeous pink and blush balloons
Beautiful white and blush roses seen throughout the entire venue to give a classic and luxurious vibe
Incredible cake, cupcakes and macarons with exquisite details on the dessert table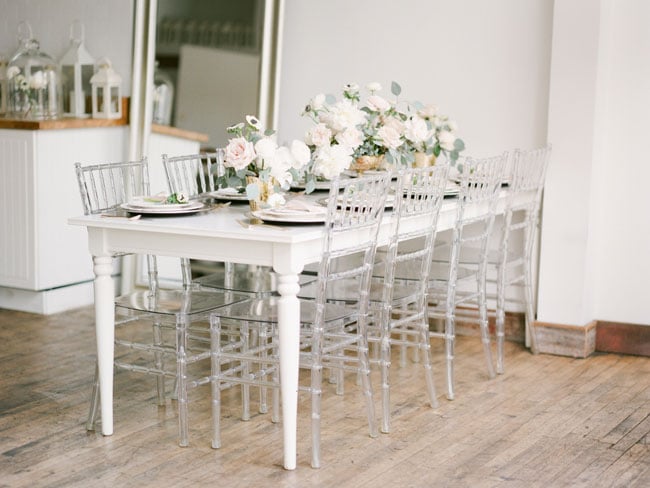 For Millie's 3rd birthday, her mother wanted her to be teleported to an old Paris apartment enjoying tea and cake with her friends and family. Every little girl has to enjoy at least one tea party birthday while she is growing up, and this was the perfect time to do just that! The gorgeous tea party table setting was beautiful with gorgeous flower centerpieces in gold vases. This table setting idea can be used for any event with its simple elegance.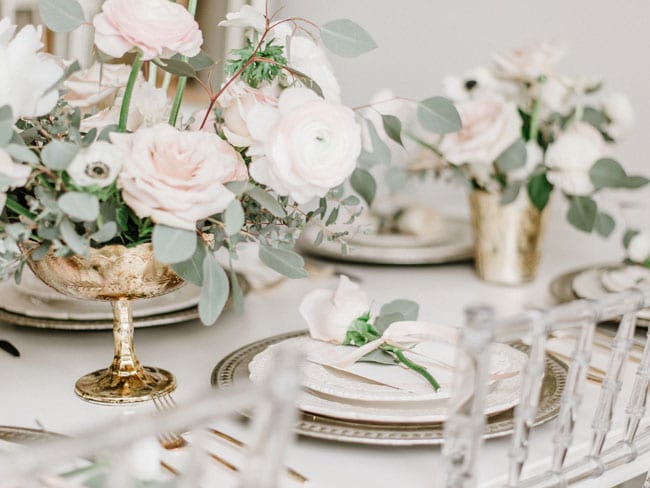 Place settings for the guests couldn't have been more classic and exquisite! Roses were found on each place setting, with gorgeous gold vases, silverware and tableware found throughout the Parisian Tea Party table setting.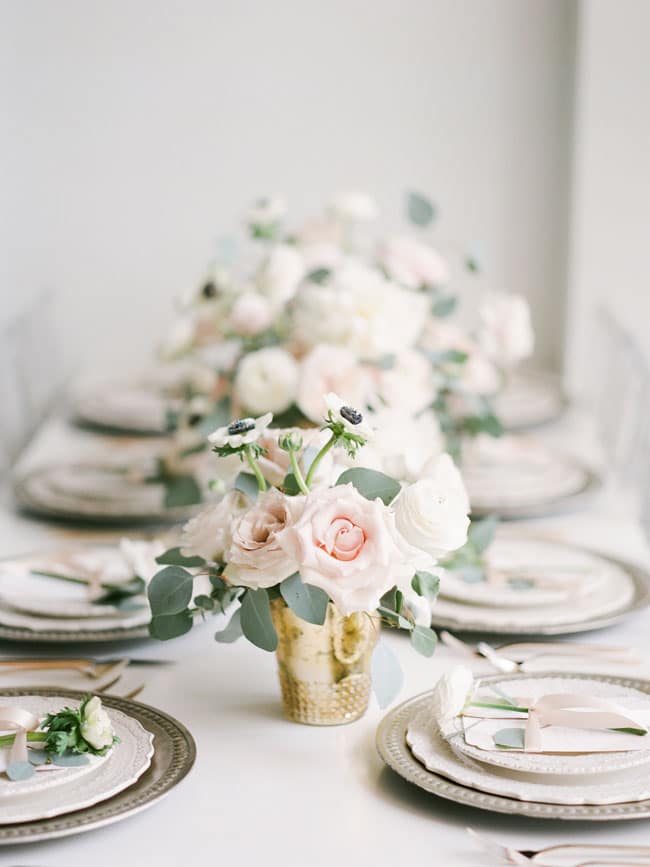 Parisian Tea Party Ideas
Splendor of Eden did an absolutely amazing job with the gorgeous tea party flowers. Everything was absolutely exquisite and perfectly styled. The gorgeous inspiration here can be incorporated into a bridal shower, wedding and even a baby shower. Everything looked so timeless and classic in this Parisian Tea Party Third Birthday!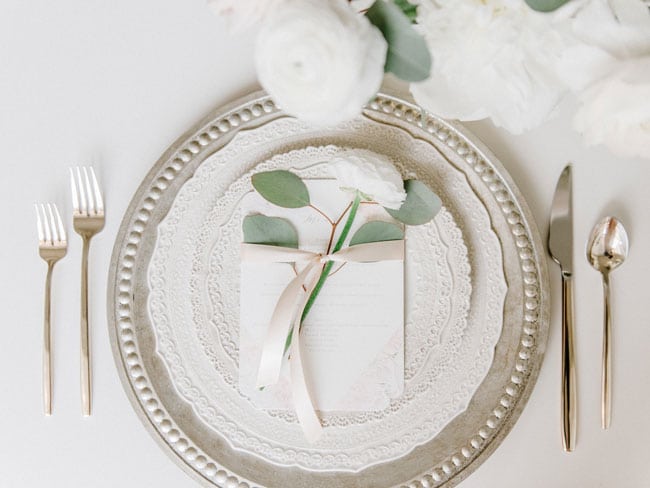 Just look at this perfect tea party table setting! We don't think it could look any more beautiful and the gorgeous lace underlays were the perfect edition. Simply breathtaking!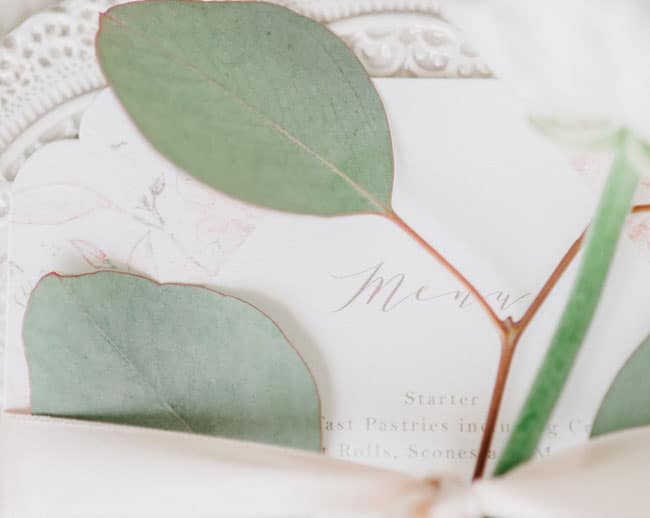 This French themed tea party had a menu fit for a little princess! While it may have been a kid's tea party for this little princess' birthday, we're pretty sure the moms and adults were absolutely loving this amazing Parisian Tea Party Third Birthday!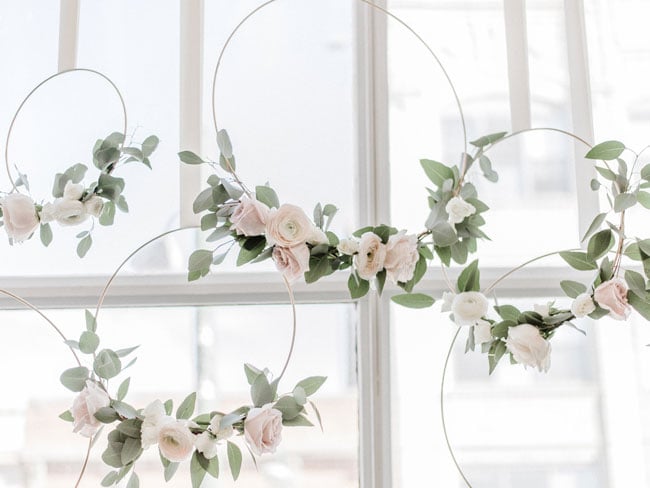 Flowers were seen in every corner of this Parisian Tea Party. What a unique way to decorate something as ordinary as a window, with these amazing gold wreaths adorned with flowers and greenery! So unique! They would make the perfect tea party DIY project!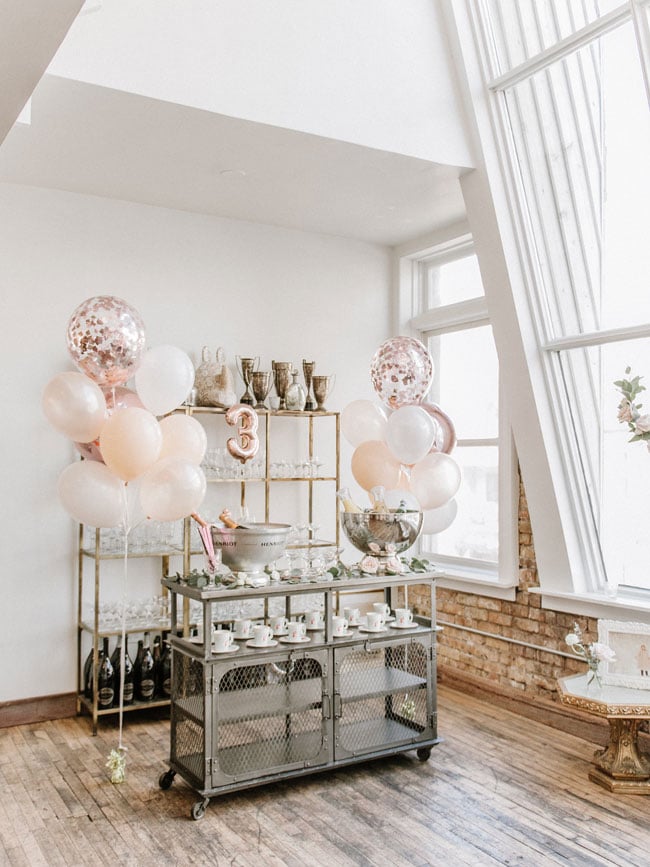 As a lover of all things classic/vintage French, mom chose the perfect venue in DL Loft to accomplish her vision. With high ceilings, vintage decor and beautiful brick walls, it was a great place to host a Parisian Tea Party!
Children's Tea Party Decorations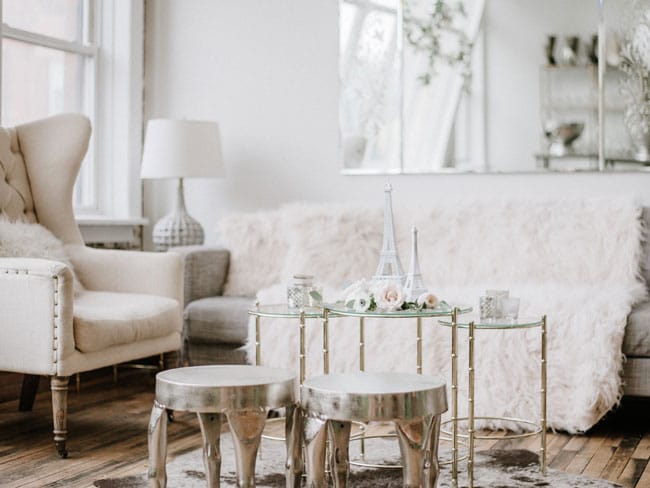 Wrap it Up did an amazing job helping with the event planning, along with day-of styling for this Parisian Tea Party. We love all of the French-themed decorations that were used at the venue, along with the gorgeous colors and textures found on all of the furniture and tables! So classic and elegant!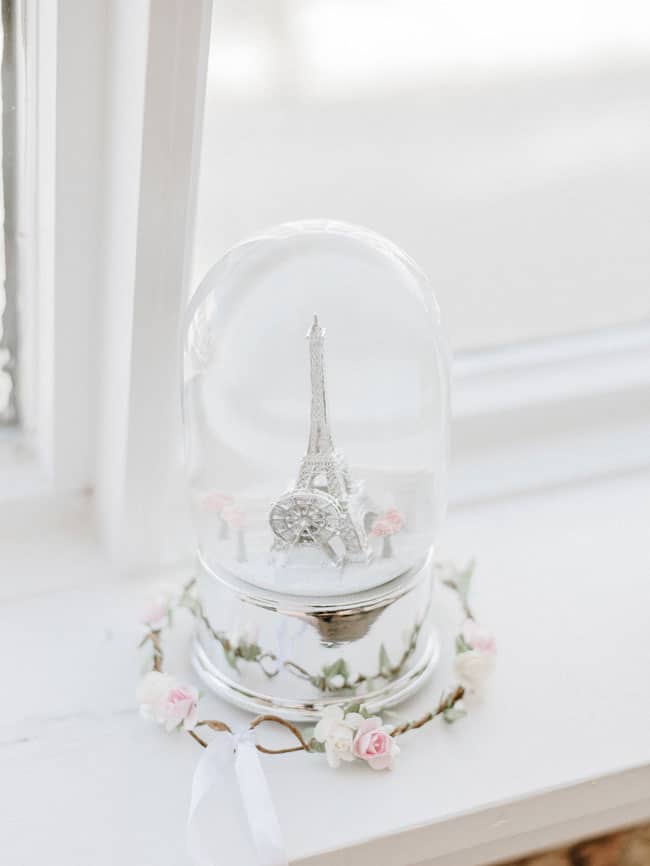 Who can have a Paris themed tea party without a sweet Eiffel Tower snow globe? Adding the sweet crown at the base of the globe was the icing on the cake!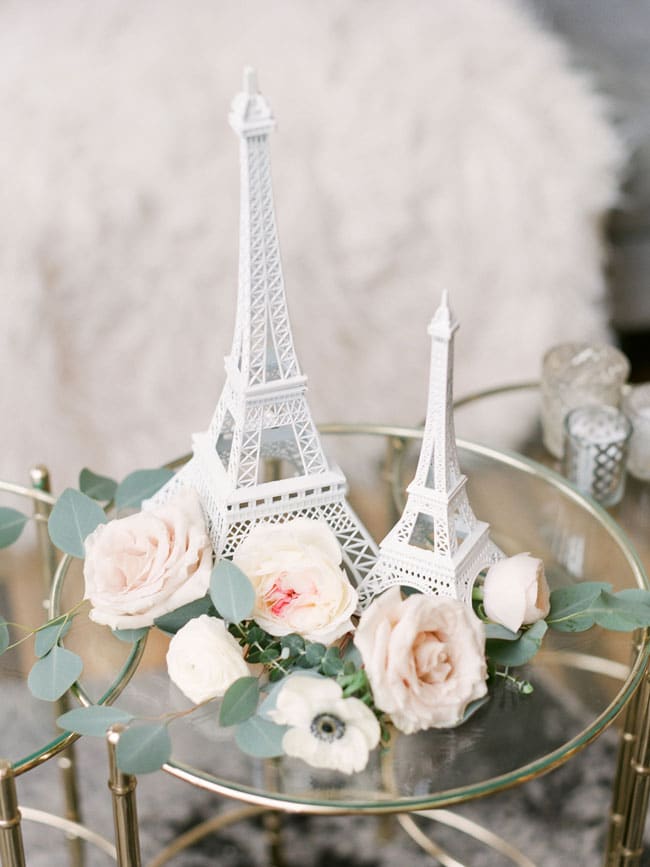 Eiffel Tower decor was accented throughout the venue for this elegant Parisian Tea Party. What girl wouldn't love all things Paris themed?!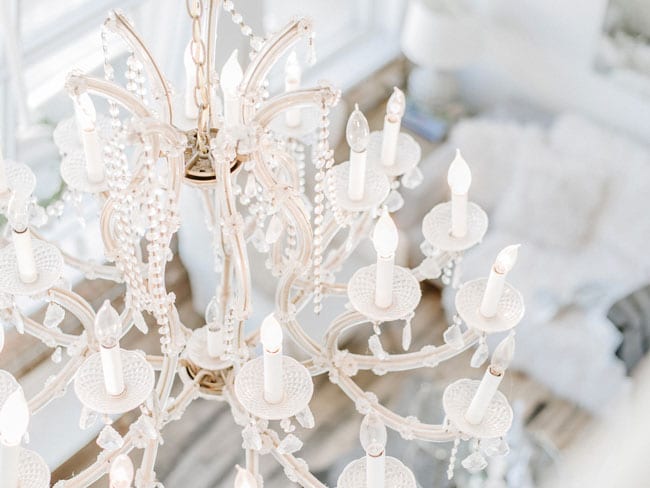 DL Loft featured the most gorgeous chandelier, which highlighted the setting perfectly for this incredible tea party theme. All of the sparkly and beautiful features of this chandelier lent the perfect backdrop for this sweet girl's birthday tea!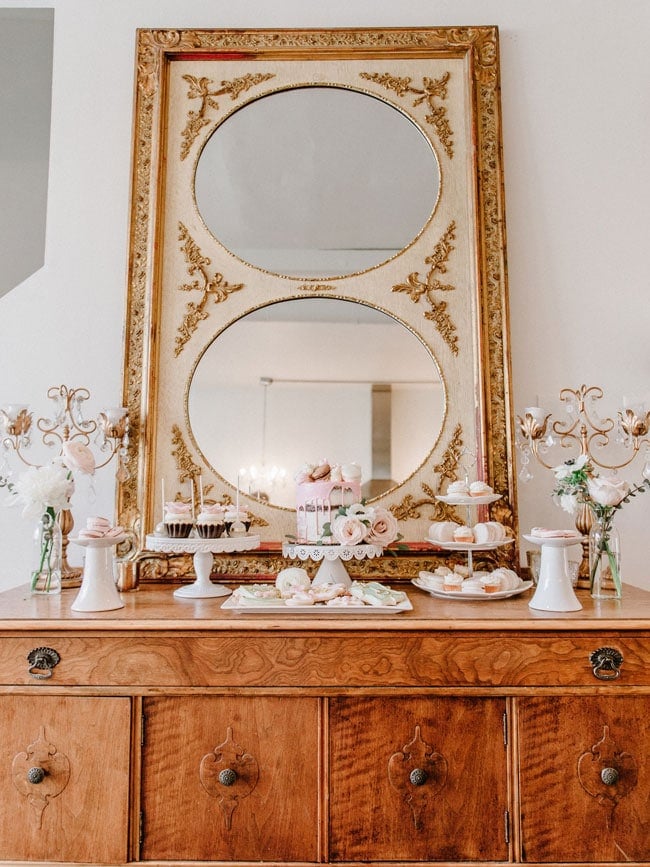 Take a look at this incredible children's tea party dessert table! The gorgeous mirror reflects the perfect, vintage Paris themed tea party that this amazing mom created for her little girl's third birthday party. Topped with matching blush pink desserts, this dessert table definitely caught everyone's eye.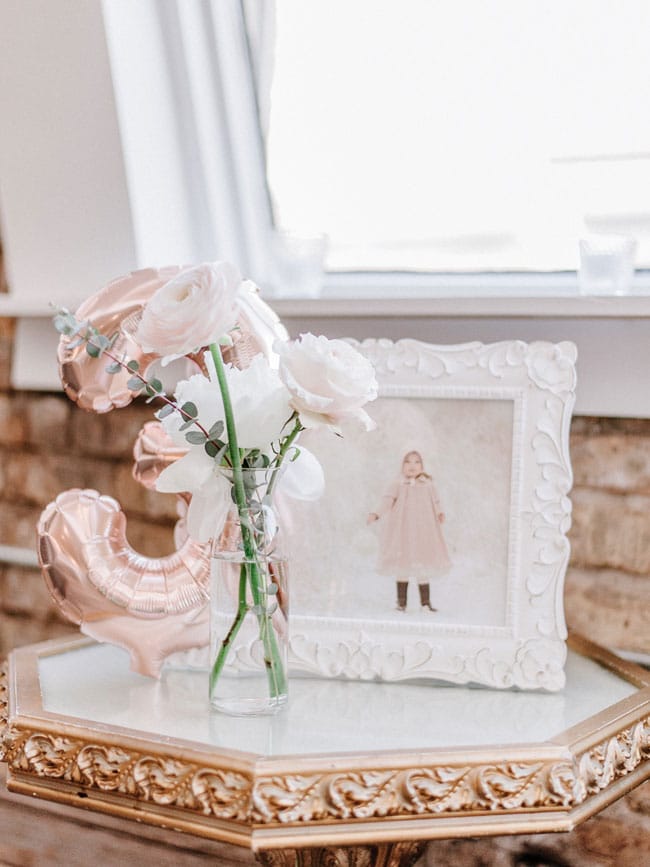 Little details were set up perfectly for the afternoon Parisian tea party! Sweet pictures of the birthday girl were found around the venue, along with the number "3" balloons to signify the importance of the day! We just love everything about this Parisian Tea Party Third Birthday!
What a great idea to cover flowers and tea party decor with glass, to give a unique effect for the Parisian themed tea party.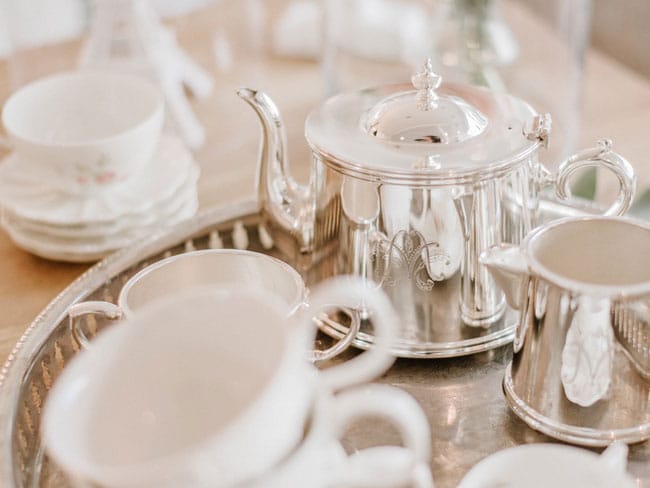 Mom truly thought through every detail of the day, right down to the elegant silver tea set purchased in London. It was made by the tea maker who provides tea to Queen Elizabeth and the inventor of afternoon high tea! Incredible!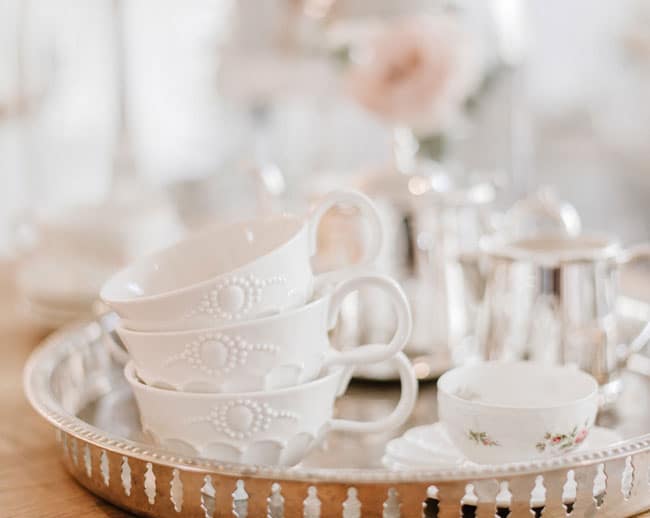 As the birthday girl gets older, mom also hopes to pass this tea set down to her as an heirloom that will last many lifetimes. What a sweet gesture for a perfect Parisian Tea Party! This china and tea set is absolutely perfect!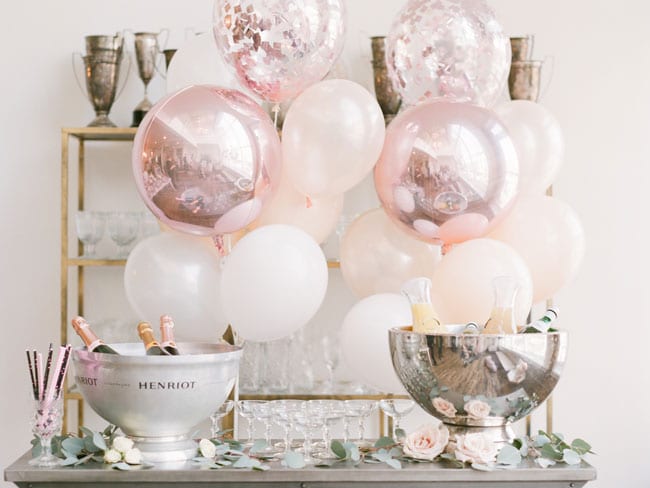 We absolutely love how mimosas were set up for the adult party guests to enjoy! Gorgeous drink holders were placed on a table, with metallic pink, white, and cream balloons surrounding it. Everything looks so elegant and perfect for this tea party birthday theme.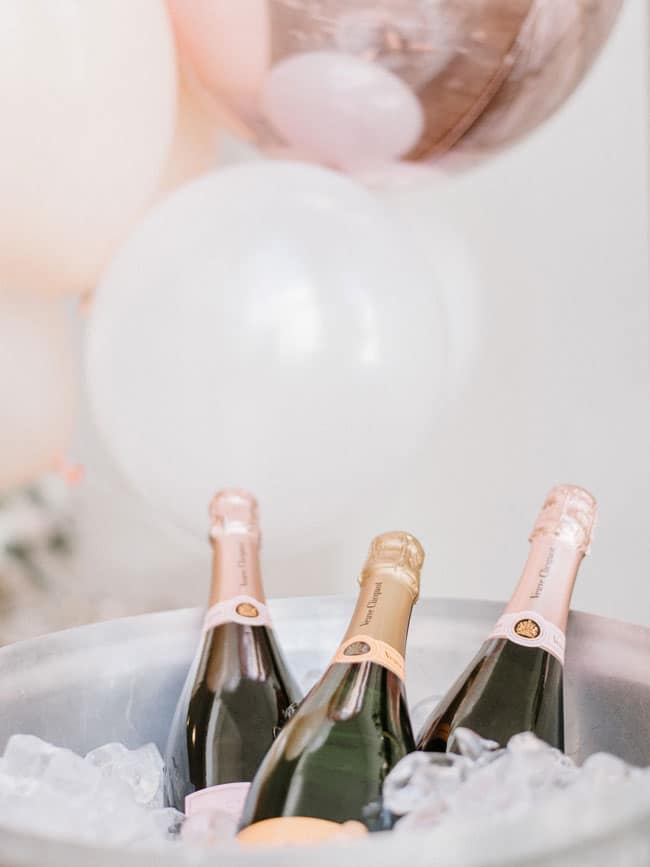 Adults were sure to enjoy a little champagne and mimosas while the children celebrated this birthday girl's kids tea party!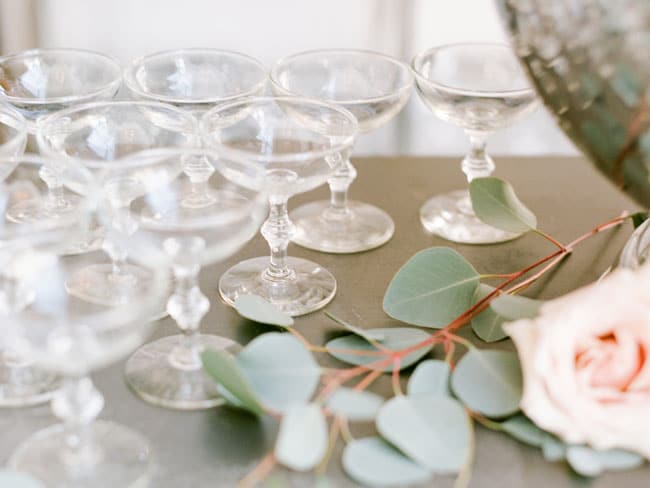 Vintage glassware was used for the Parisian Tea Party drinks that were served. The greenery and flowers that casually adorn the table were the perfect addition for the birthday tea decor!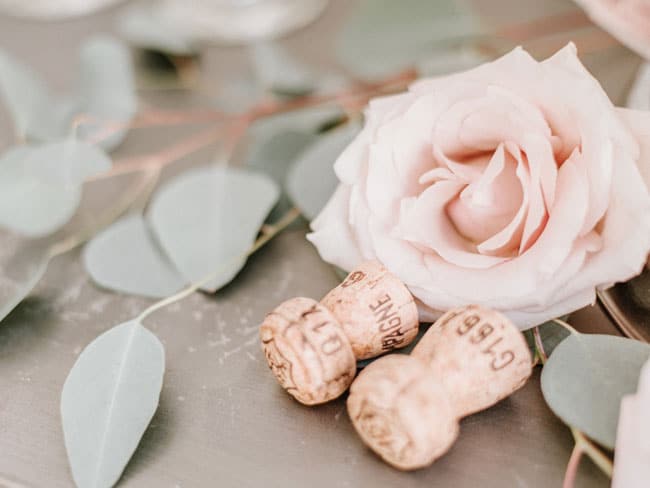 Splendor of Eden couldn't have chosen more gorgeous roses and greenery for the little girl tea party decorations! Absolutely stunning!
French Tea Party Food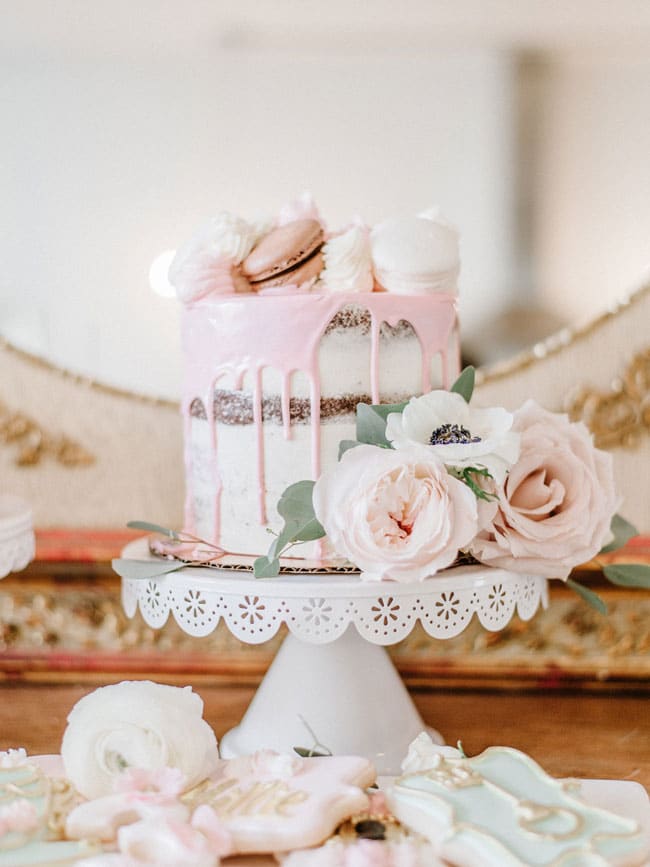 This tea party birthday cake absolutely blows us away with the detail and perfection that was used to create it! It is too gorgeous to dig into! A naked drip cake with pink icing was topped with macarons and meringues and was the perfect birthday cake for this little's girls third birthday party.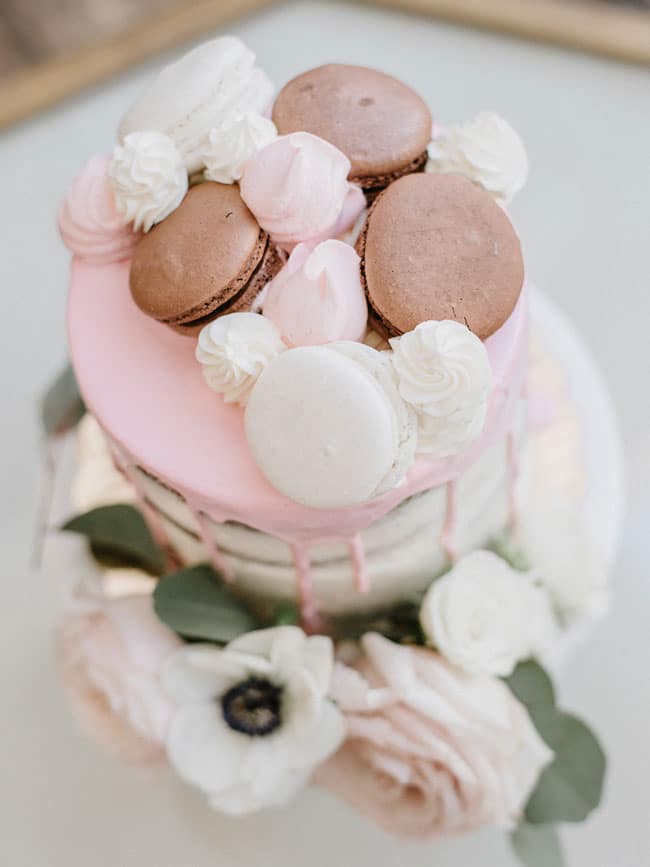 We love the way that macaroons, meringues and flowers were used to decorate the tea party birthday cake. What an original idea, while being completely on point with the tea party theme! Absolutely beautiful.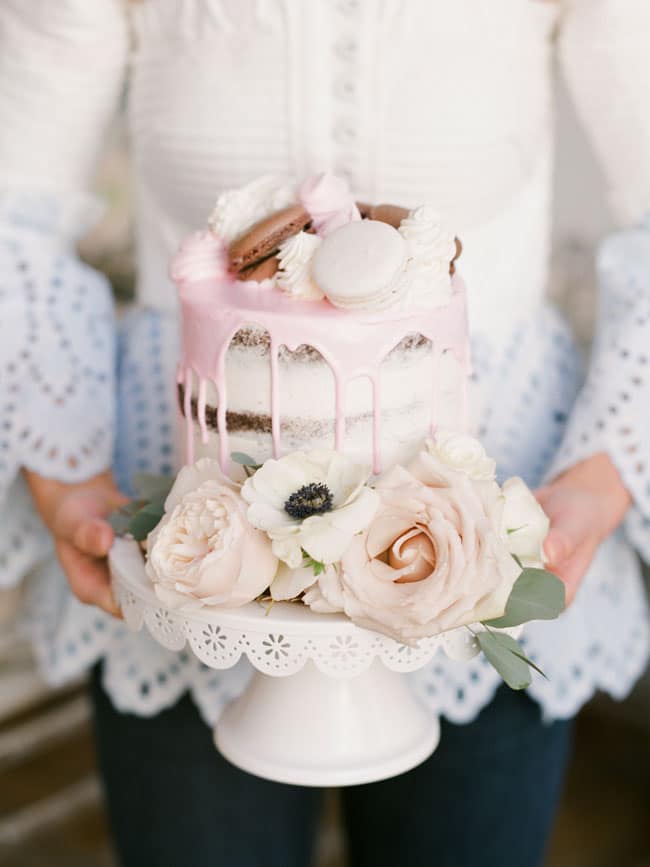 Mom did a great job in conveying her vision for the tea party birthday cake. The flowers at the base of the cake couldn't have been any more gorgeous and the entire cake exuded was pure perfection. Everyone was absolutely in awe of the gorgeous cake and tea party desserts.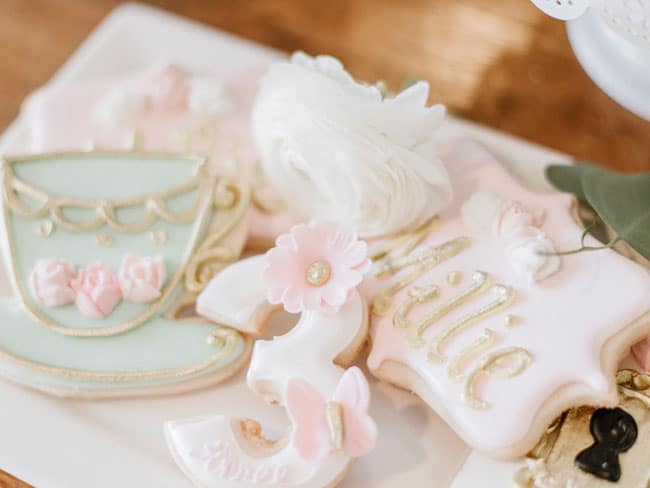 Desserts were provided by Toni Patisserie, and we can't imagine any little girl tea party having more beautiful creations. Just look at the detail used in these amazing cookies!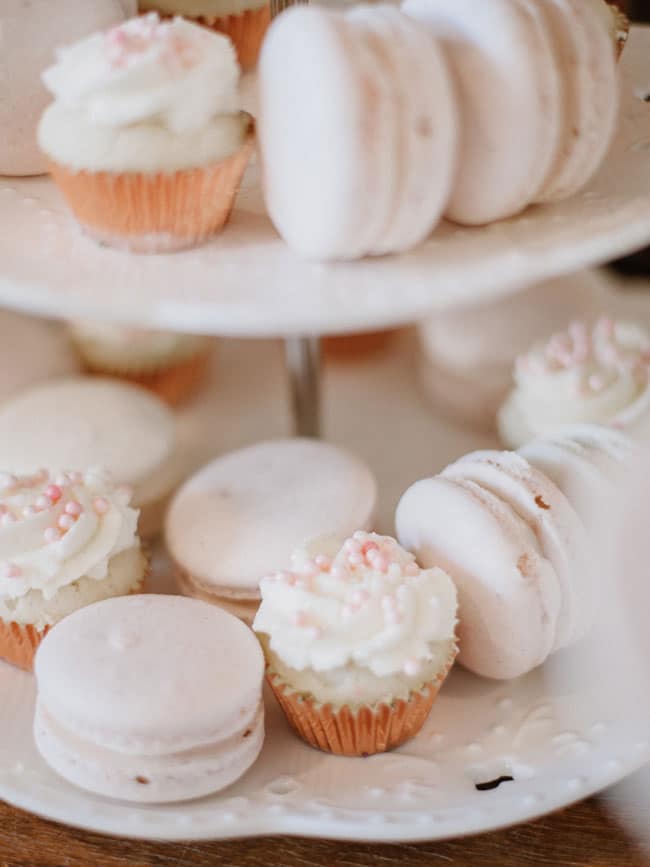 Everything was almost too beautiful to eat! Cupcakes and macaroons were found on the dessert table, and went perfectly with the Parisian Tea Party Theme!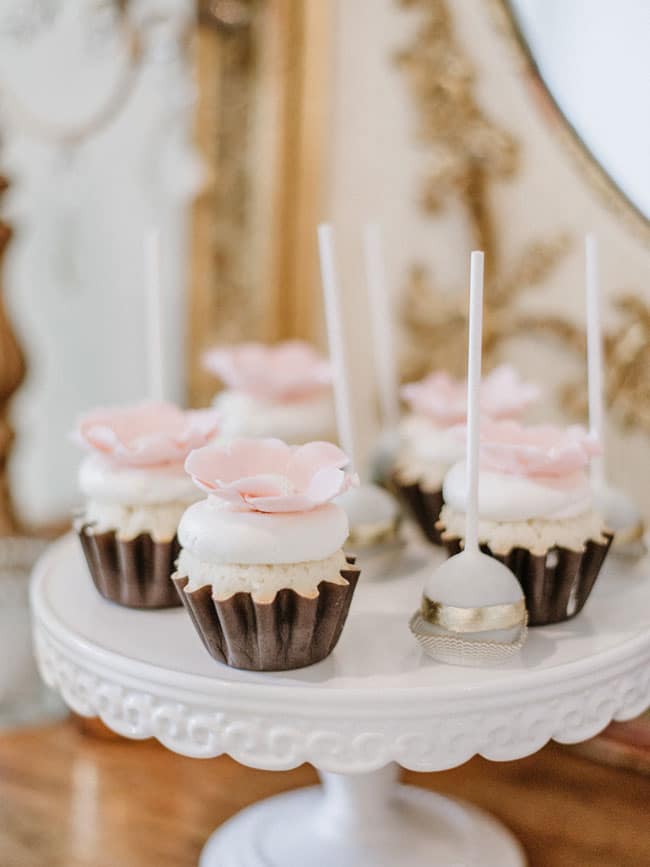 Just look at the beautiful French tea party food that was provided! We absolutely love the detail that was used to create the perfect dessert, with flowers adorning many of the cupcakes. We love the gold stripes on the cake pops, as well. No detail was left out, even on the desserts!
Look at this sweet vintage car that was available for the birthday girl on the day of her big Parisian Tea Party! Talk about perfect! The birthday girl loved taking a ride on the car during her party!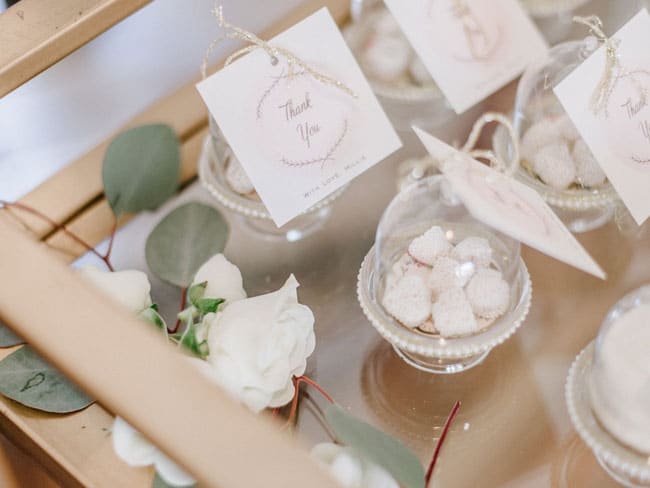 Minted did an amazing job with the gorgeous tea party favor tags that adorned every party favor. Everyone was thrilled to take home a little piece of this fun Parisian Tea Party that they were able to experience with the sweet birthday girl!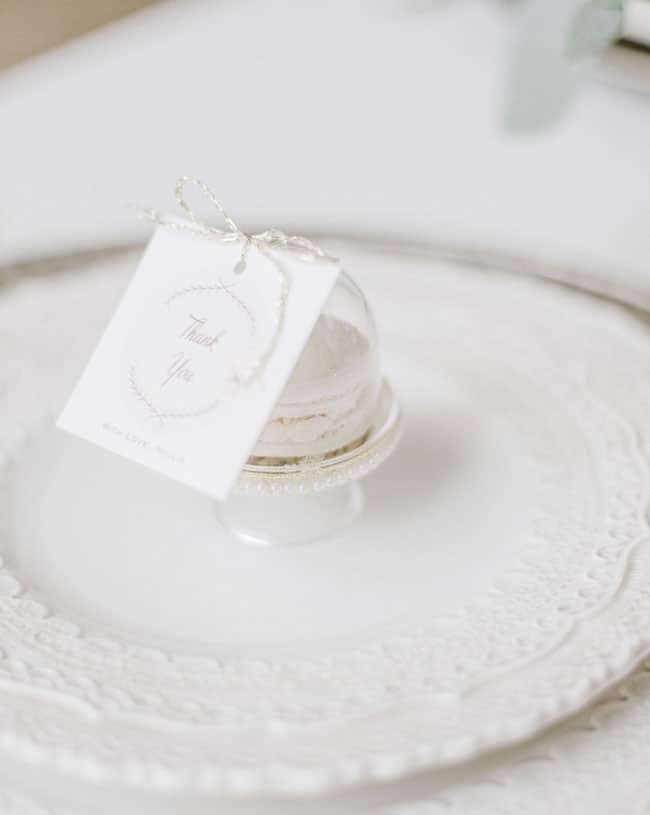 Gorgeous!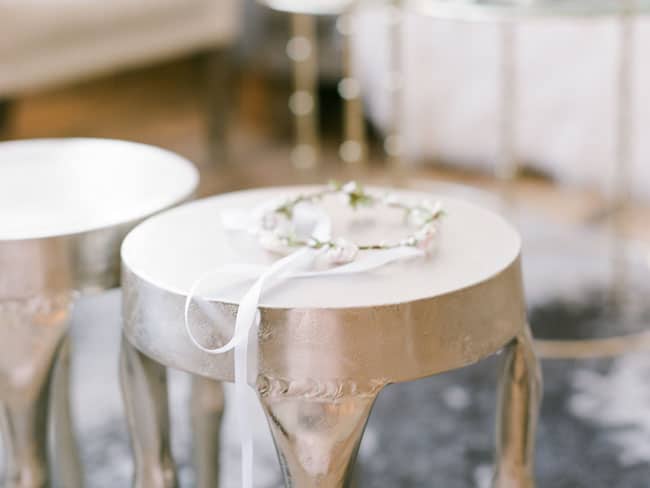 The birthday girl was also treated to a perfect floral crown that she was allowed to wear during her Parisian Tea Party Third Birthday! What a simple, yet perfect addition to this children's tea party!
French Tea Party Attire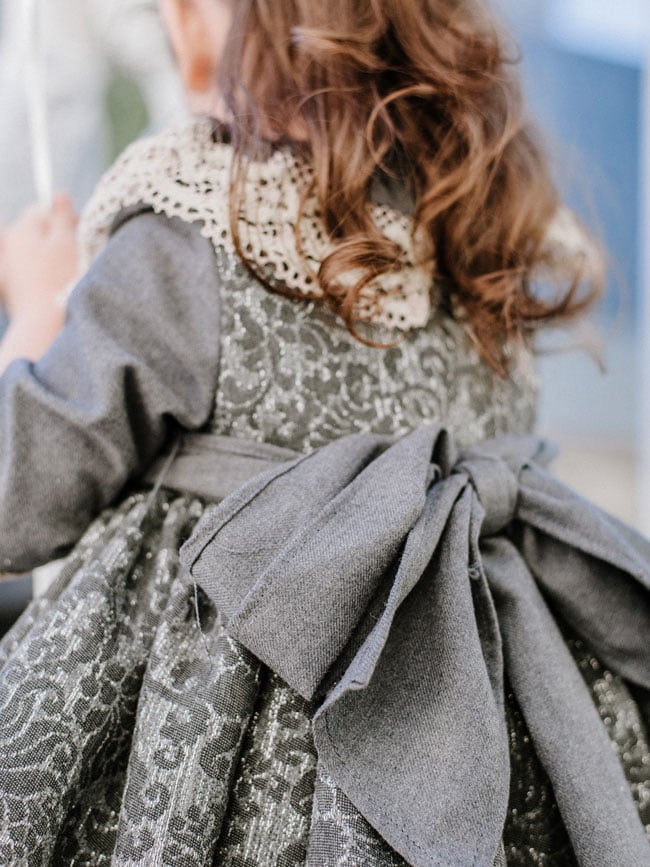 The details of this adorable tea party dress are absolutely amazing! We love the color, along with the ruffles and large bow that was found on the gorgeous dress. This birthday girl looked absolutely sweet as pie for her Parisian Tea Party with this one-of-a-kind dress!
We don't think there could have been any other detail added that would have made this Parisian Tea Party any more perfect! This adorable 3-year-old certainly celebrates turning 3 in style with the most beautiful and classic Parisian Tea Party! What's your favorite details in this Parisian Tea Party Third Birthday? Let us know in the comments below!
For more party ideas, follow us on Instagram @prettymyparty and Pinterest and join us in our private Facebook group.
Planning: Angel Sadofsky (the mother of the birthday girl)
Menus, Food Tags, and Favor Tags:
Minted
Crepe Cake: Dessert by Aya
SaveSave
SaveSave
SaveSave
SaveSave
SaveSave
SaveSave
SaveSave
SaveSave
SaveSave
SaveSave
SaveSave
SaveSave
SaveSave
SaveSave
SaveSave
SaveSave
SaveSave
SaveSave
SaveSave