Finding out the gender of your baby is a BIG DEAL! It's so big that it definitely calls for a party! Because gender reveal parties have only been celebrated recently, there are a lot of people who aren't yet in the know. If you're looking for unique and creative gender reveal party ideas, here are 27 ideas for you to try.
What's a gender reveal party?
A gender reveal party is an event where expecting parents get together with their friends and loved ones to celebrate and, of course, reveal the gender of their soon-to-be-born child. Gender reveal parties are becoming quite the trend. Why? Because they're pretty exciting and so much fun!
Great reasons why you should have a gender reveal party
While it's certainly a new trend, there are, in fact, plenty of excellent reasons why you should consider having a gender reveal party.
It's an important milestone in your life as a soon-to-be parent. And every milestone should be celebrated. Don't you agree?

It's way better than just sending an "It's a girl!" text to all the people you know. Plus, you get to invite your friends whether they're single or not. Win-win!

It's a good way to enjoy the company of friends and loved ones. Once the baby arrives, you'll soon be responsible for taking care of your precious, tiny human which means that you'll be too busy to socialize.

It's a momentous and exciting family occasion that you can look back on when the kids are grown – so don't forget to take plenty of photos!
Do guests need to bring a gift?
Unlike with baby showers, there's no need to bring gifts for the baby at gender reveal parties. However, if guests don't want to turn up empty-handed, they can bring a gift for the mom-to-be.
Gender reveal party ideas
Hosting a gender reveal? Aside from getting your friends and family into the fun by having everyone choose team blue or team pink (and by wearing those colors on the day of the party), there are a ton of ideas to make your reveal party unique.
If you have a baby on the way and are planning a big reveal, here are 27 Creative Gender Reveal Party Ideas that you can incorporate.

Get your free party planning checklist
Become a party insider and get free access to the hottest party trends, the best sales, exclusive freebies, and more!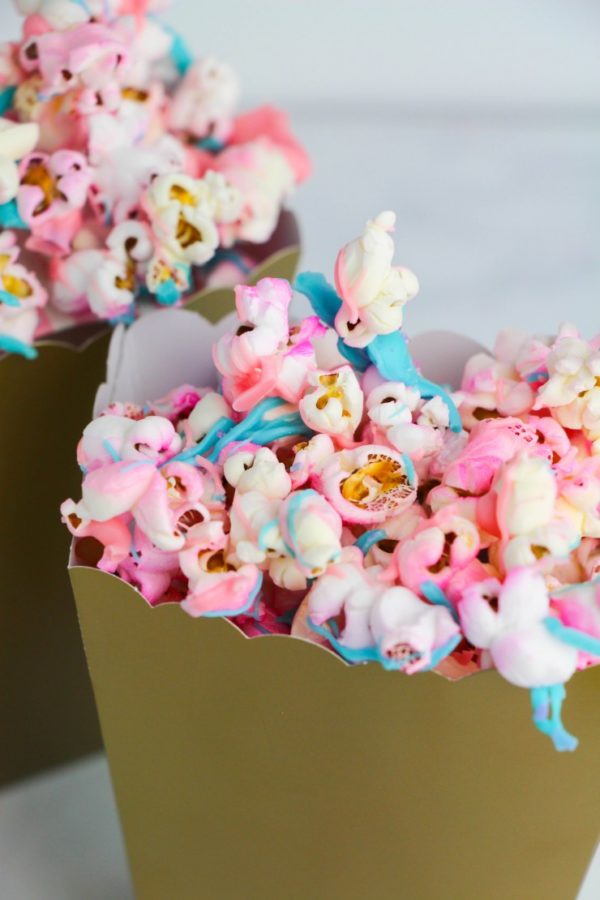 Idea Number 1: Serve guests this Blue and Pink Popcorn at your gender reveal. Everyone loves popcorn! It's also cheap, easy to make and delicious. Plus, you can color popcorn to match your gender reveal party theme and decor. No wonder it's one of the most popular food choices for parties and other events.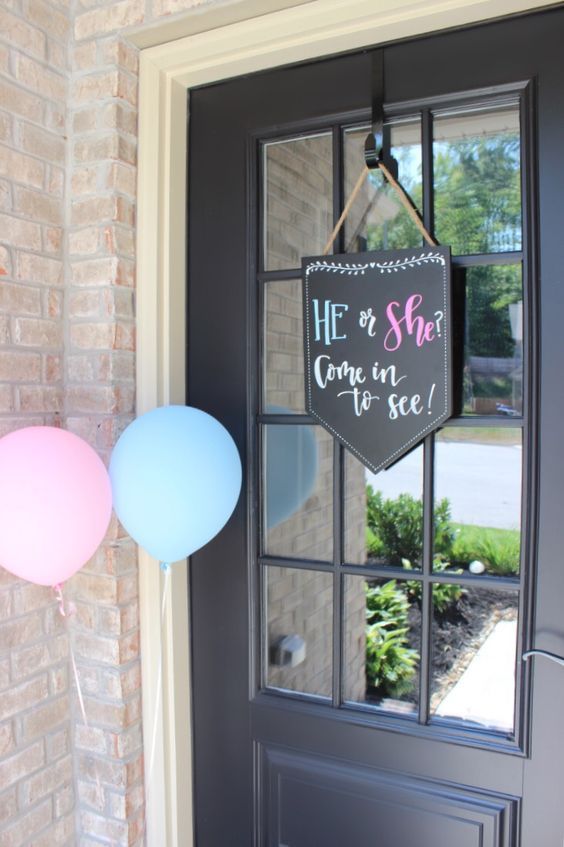 Idea Number 2: Get your guests excited for the big reveal by greeting them with this cute He or She Door Sign. Don't forget to tie it all up together with a few gender reveal balloons.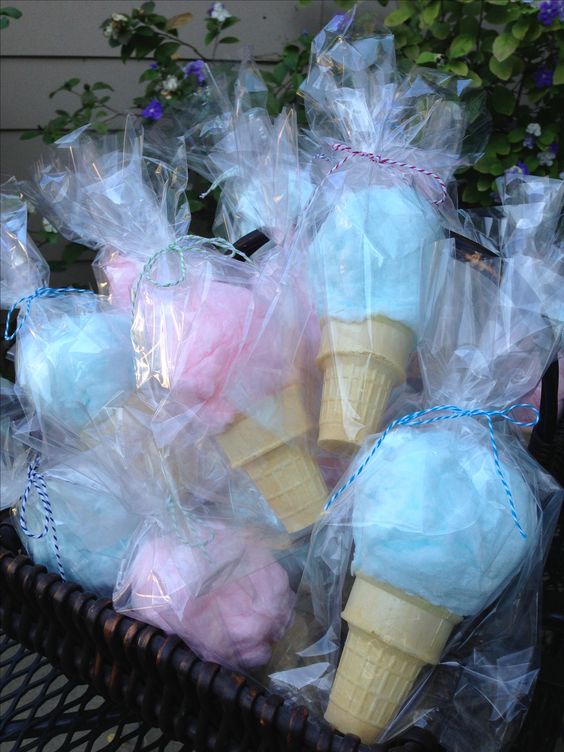 Idea Number 3: Blue and Pink Cotton Candy is another great treat for guests to enjoy at the party. This fluffy stuff is not just for kids. It's a sweet treat to celebrate a sweet occassion!

Idea Number 4: If you're after a more elegant decor, this Who Will Join Our Tribe Gender Reveal Party Theme is so cute and clever. Mint green goes well with black and white, don't you agree?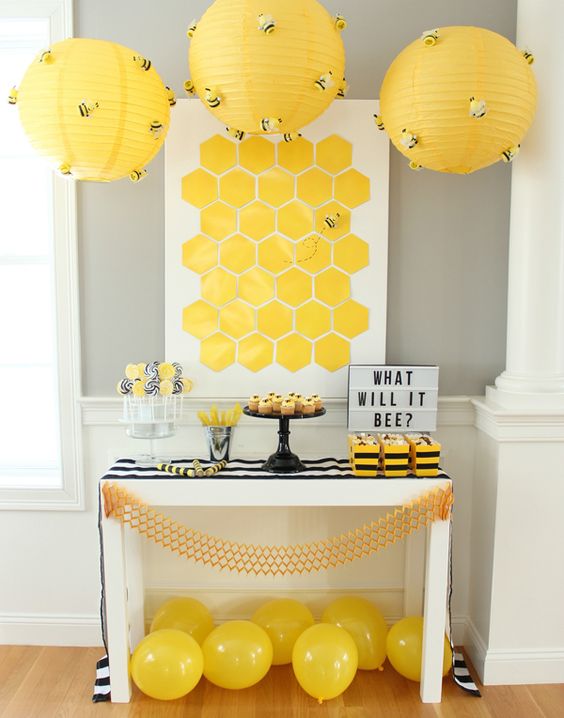 Idea Number 5: Another adorable and super clever idea is this What Will It Bee Gender Reveal Party Theme. Bright and cheery, this color combination is sure to keep your guests a-buzzing with excitement!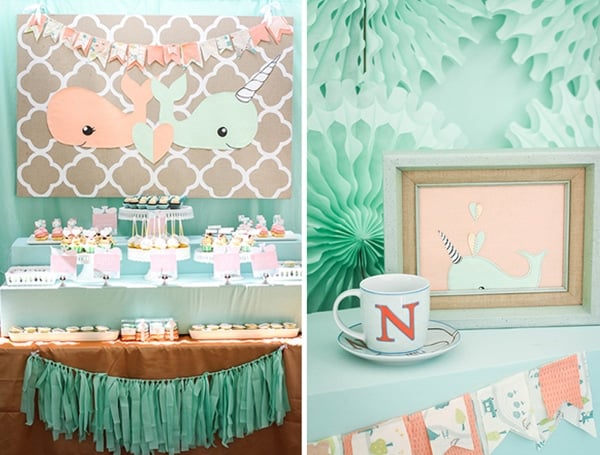 Idea Number 6: Set up a great dessert table like in this Peach and Mint Whale Gender Reveal Party Theme. This delightful setup is sure to wow your guests especially those with a sweet tooth!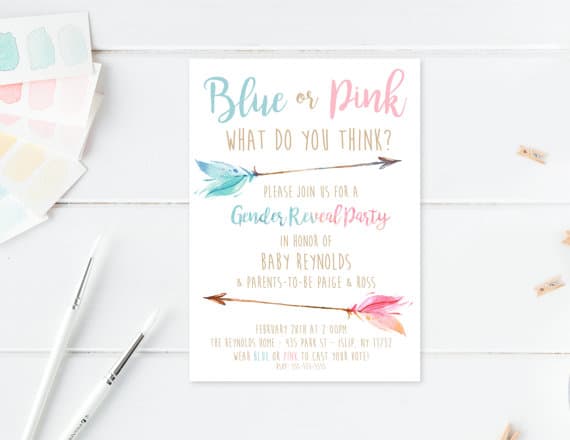 Idea Number 7: Gender reveal parties thrive on themes. They can make or break your event. If you're planning a boho chic theme, send this Boho Gender Reveal Party Invitation to your guests.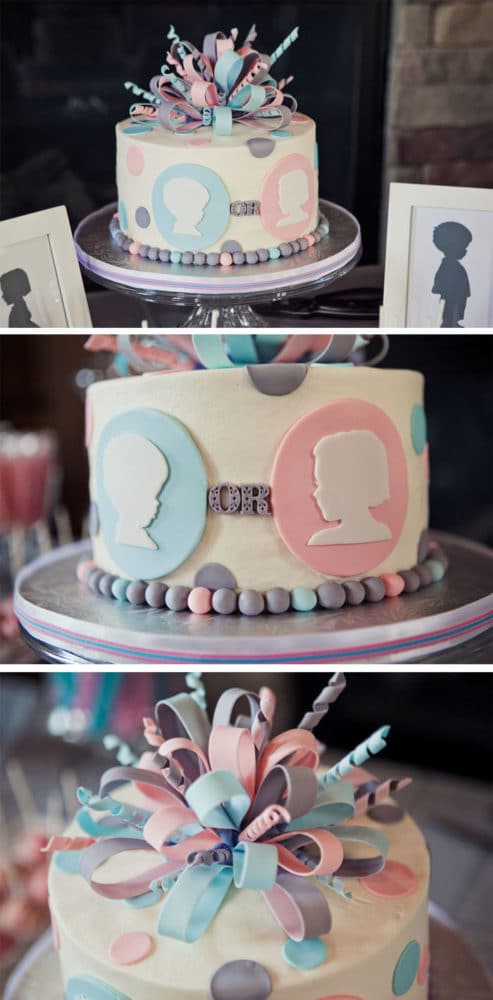 Idea Number 8: Reveal the big news with this Boy or Girl Gender Reveal Party Cake. This adorable cake can be the centerpiece of your dessert table.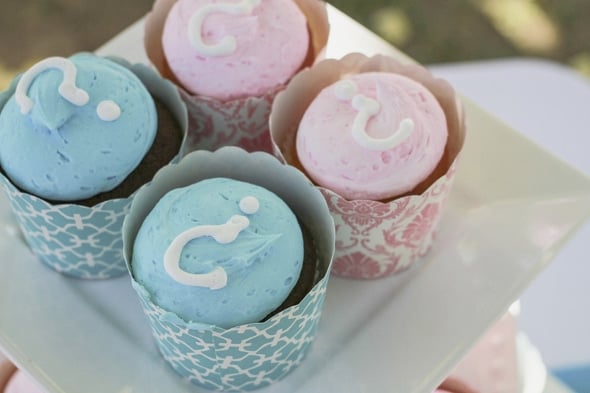 Idea Number 9: These Blue and Pink Cupcakes are absolutely adorable and should go well with your rustic theme.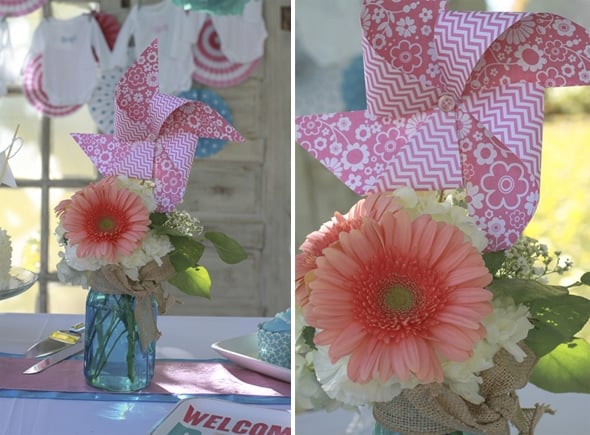 Idea Number 10: Aiming for a rustic theme? Check out these Rustic Gender Reveal Party Ideas. It's all about the details. We're loving the pinwheels in these blue mason jars filled with flowers.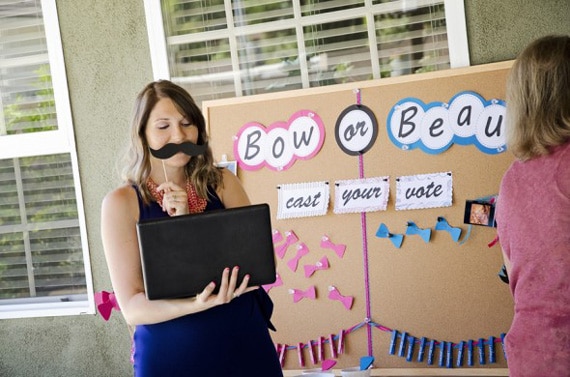 Idea Number 11: Set up a Bow or Beau Cast Your Vote Gender Reveal at your party, so guests can get in on the fun. Everyone at the party will surely have a blast!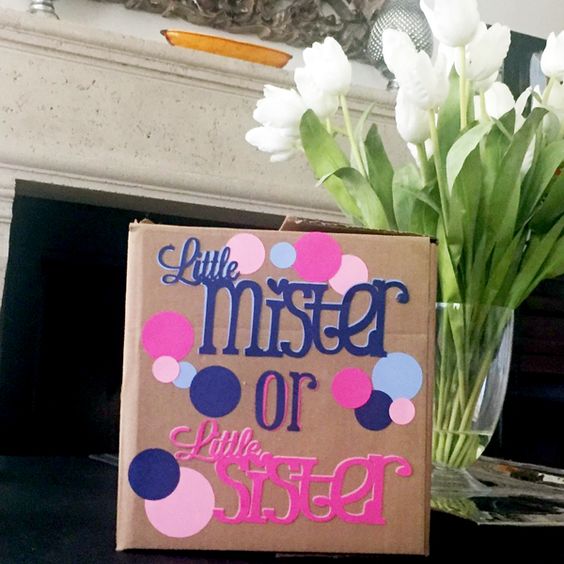 Idea Number 12: When it's time for the big reveal, you can make it unforgettable by using this cool trick. Make a DIY Gender Reveal Box like this one to release pink or blue balloons. Don't forget to make the box all pretty!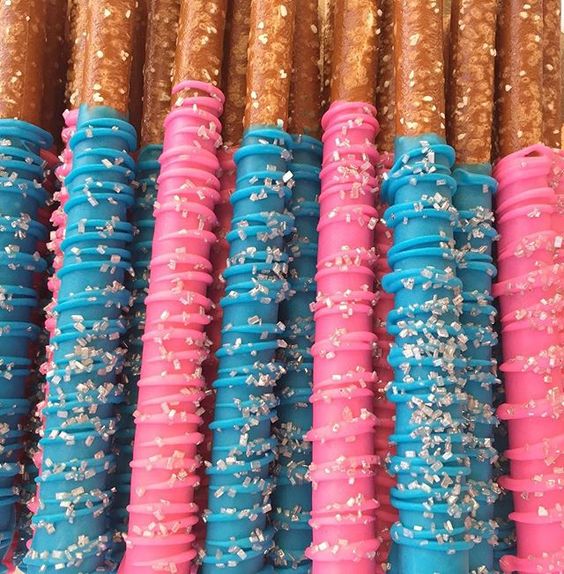 Idea Number 13: Looking for another snack option? These Blue and Pink Pretzels might do the trick.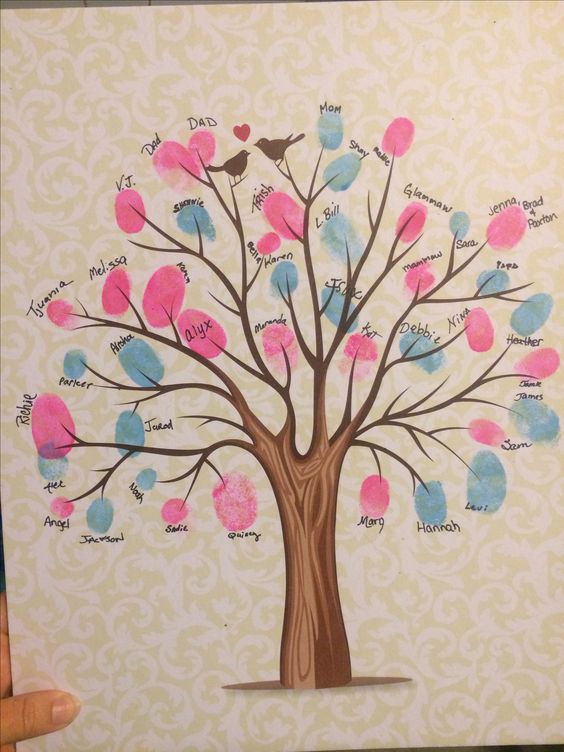 Idea Number 14: We absolutely LOVE this Fingerprint Guesses Tree that you can keep as a memento. Have it framed and turn it into a wall decor!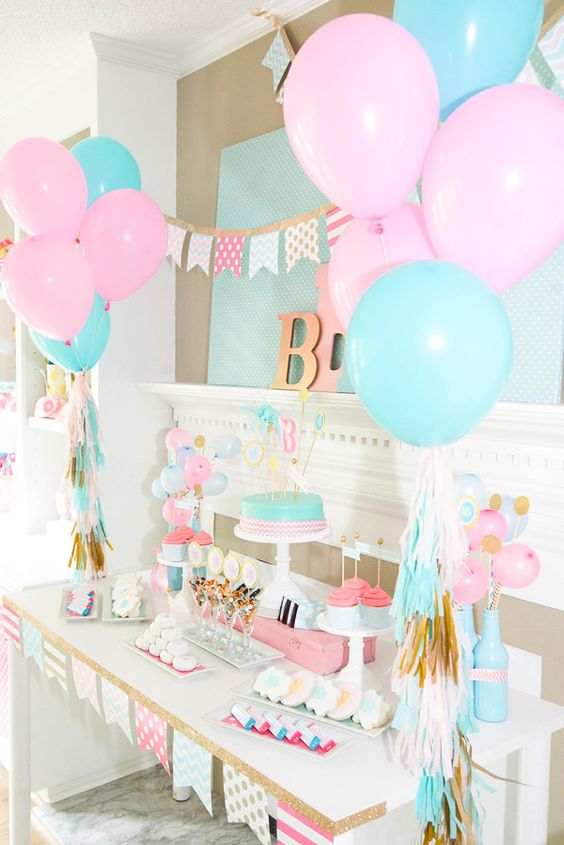 Idea Number 15: You can set up a gorgeous and fun Blue and Pink Gender Reveal Party Dessert Table like this one at your home or at a venue. Check out all the lovely details!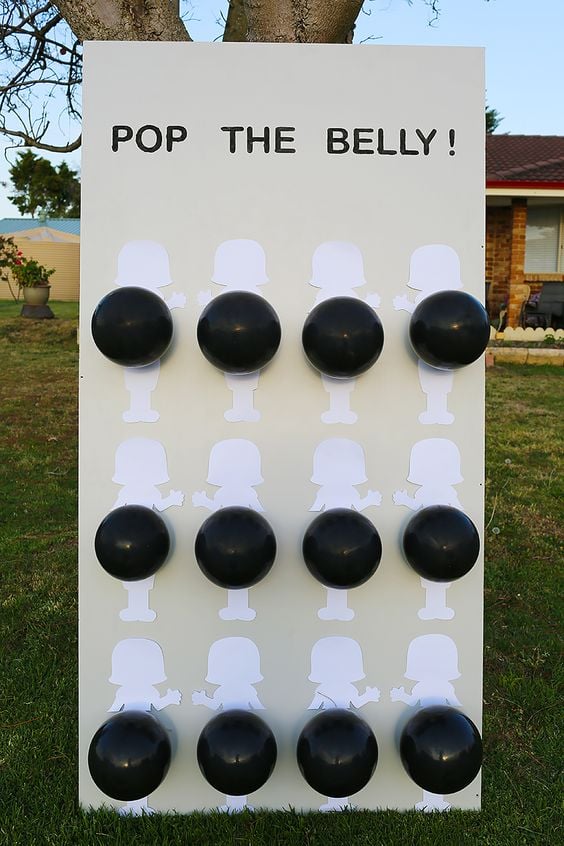 Idea Number 16: How cute is this Pop the Belly Gender Reveal Idea?! LOVE! You can customize the balloon colors to your liking.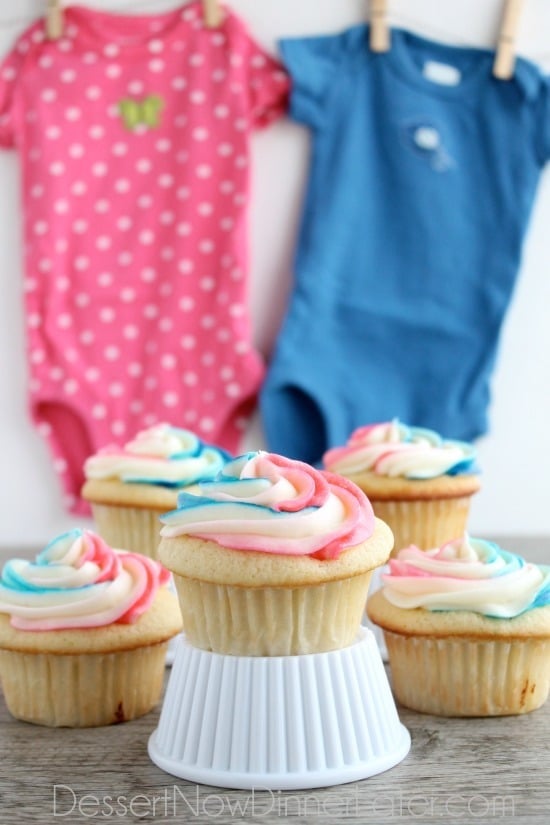 Idea Number 17: It won't be a party without any cupcakes! Check out How to Make Gender Reveal Cupcakes for your party.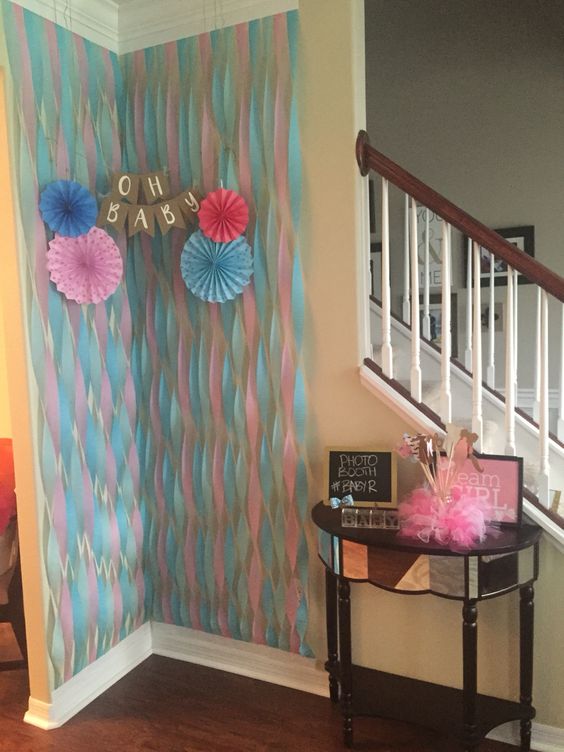 Idea Number 18: Anyone can set up this easy Gender Reveal Photo Booth. Guests will have a lot of fun taking photos. Make sure to ask for copies so you can post them on Facebook or Instagram.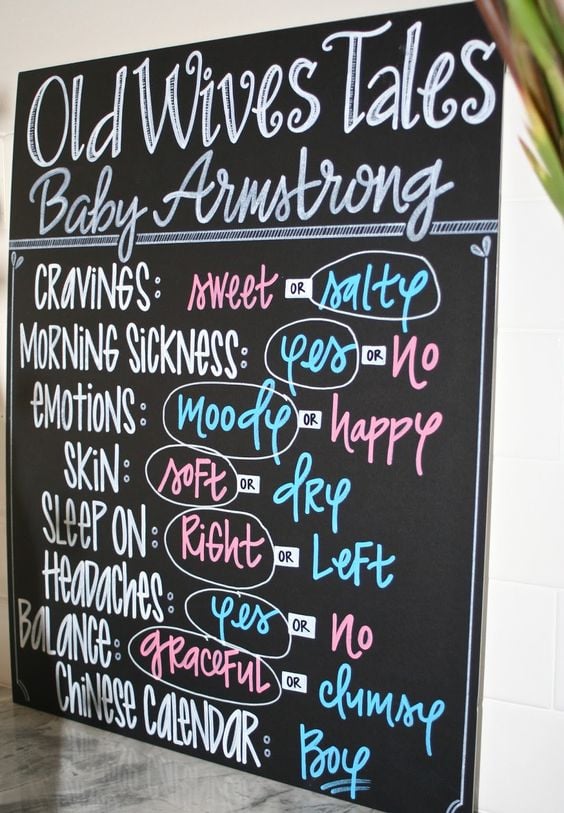 Idea Number 19: This Old Wives Tales Sign is a great idea for your guests to take their guesses for boy or girl! From morning sickness to Chinese calendar, it's a fun yet unique way to decode your baby's gender.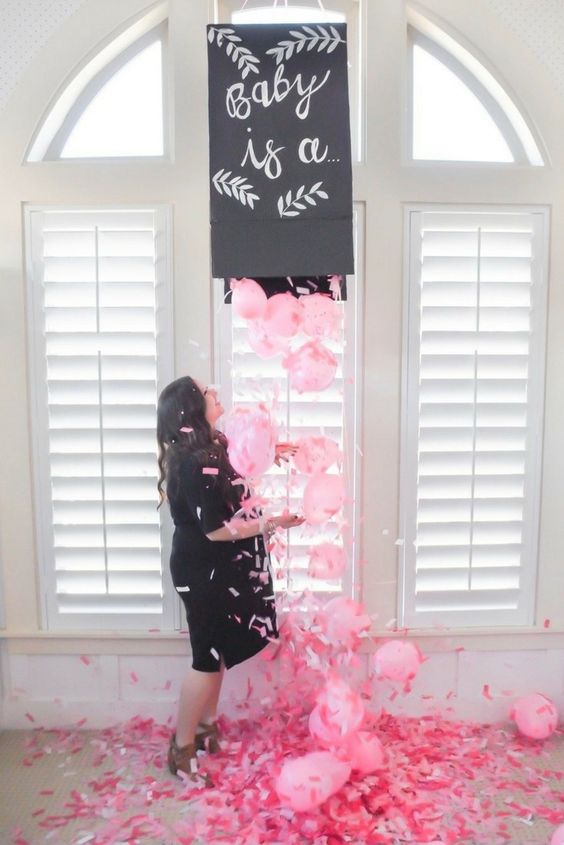 Idea Number 20: Learn How to Make a Gender Reveal Box like this one for your big reveal. It's a cute way to make the announcement. Just hang it up like a piñata and voila! Such fun!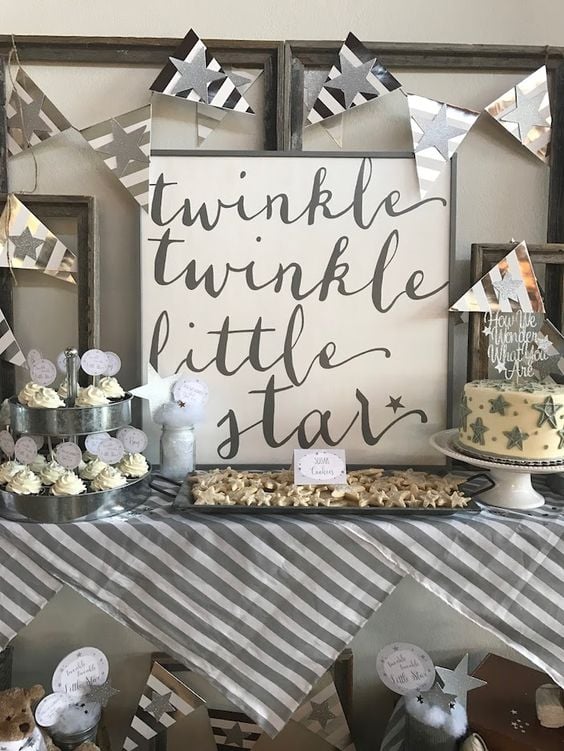 Idea Number 21: This Twinkle Twinkle Little Star Gender Reveal Theme is another popular choice. Get a load of those adorable star-shaped cookies. We bet they're quite easy to make too!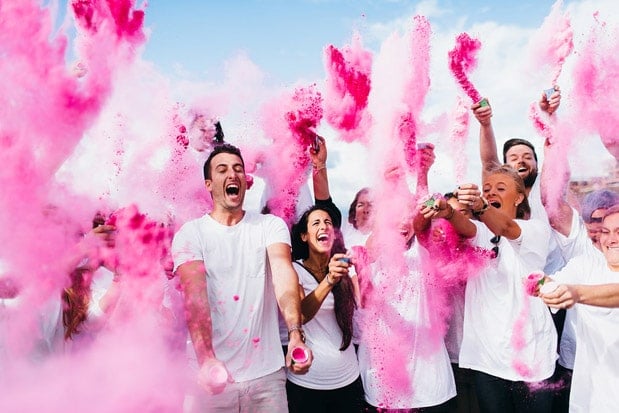 Idea Number 22: Would you do this Gender Reveal Powder Idea at your party?! It sure looks like they're having the time of their lives!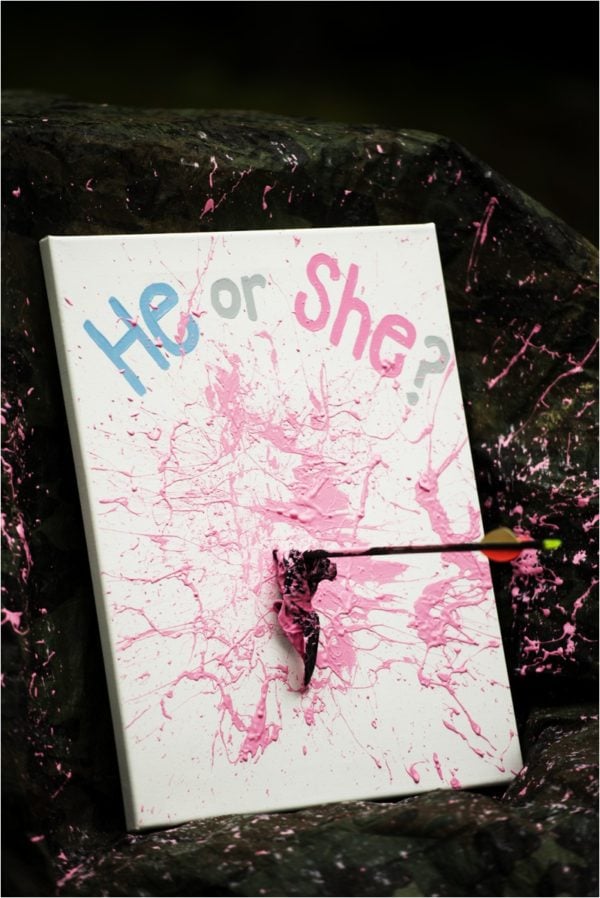 Idea Number 23: What about this Paint Balloon Gender Reveal Idea?! All you need is to do is mix water, cornstarch, some food dye, and then use a nozzle to fill up the balloon. All done!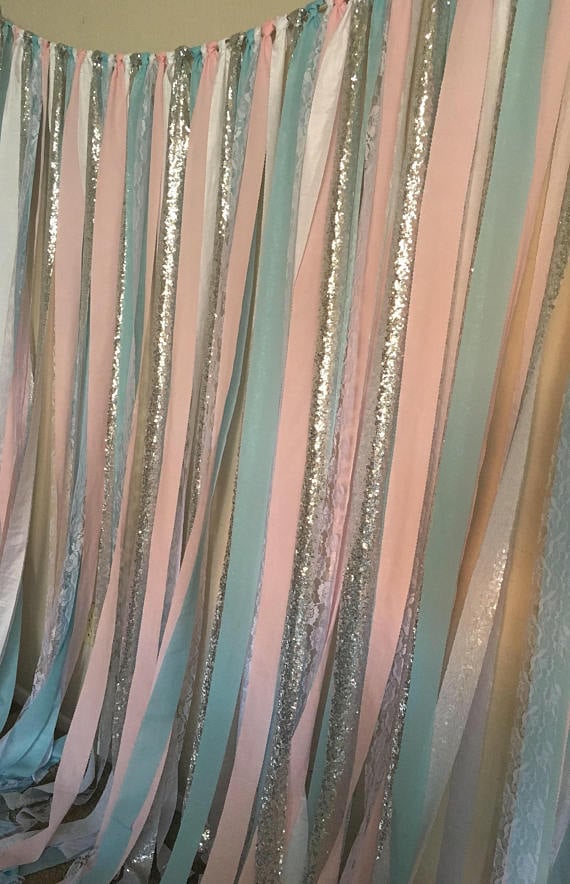 Idea Number 24: This Pink and Blue Gender Reveal Party or Photo Booth Decor is perfect for the occasion.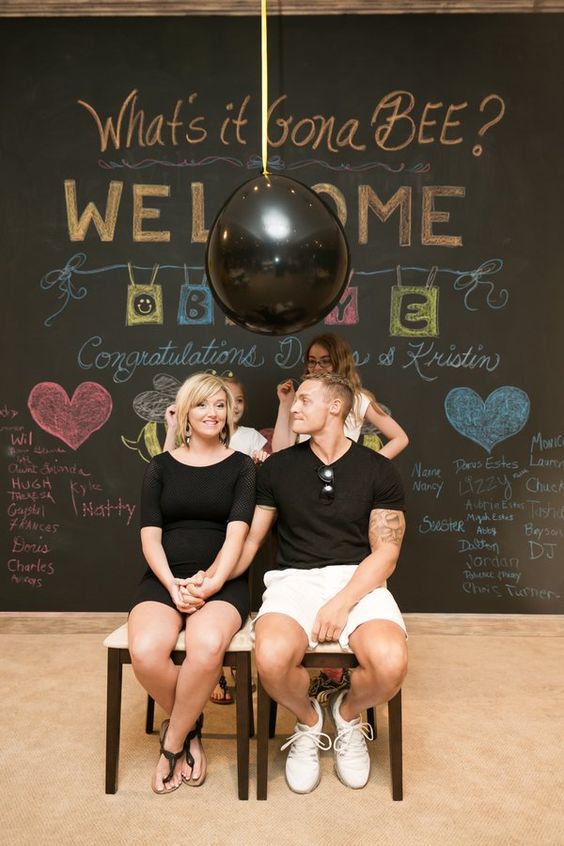 Idea Number 25: We love this Gender Reveal Balloon Pop Idea! Being showered with confetti (or even pink or blue colored candies) is a delightful way to end the reveal.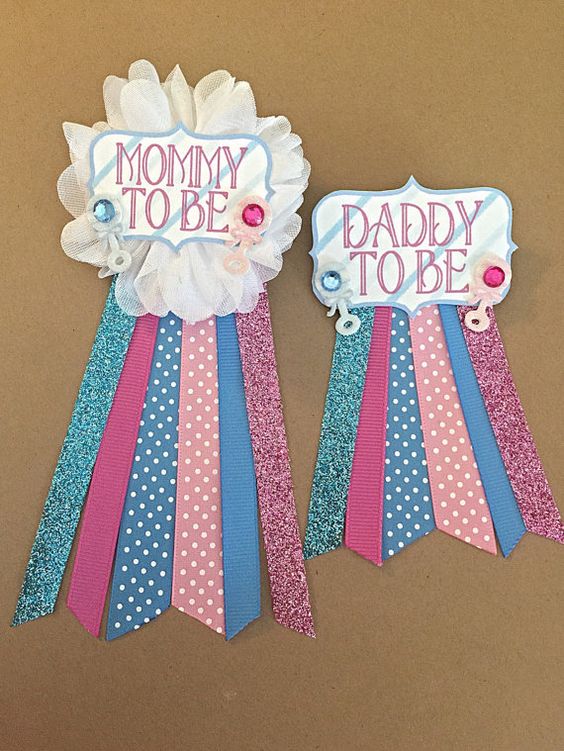 Idea Number 26: These fun Gender Reveal Party Pins are perfect for the soon-to-be parents.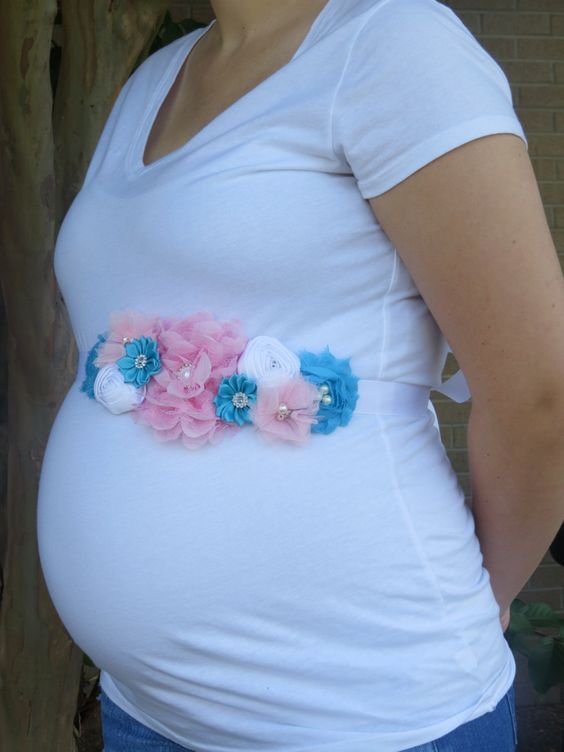 Idea Number 27: The mama-to-be will look oh so stylish and sweet with this Gender Reveal Party Sash at the party.
Which of these 27 Creative Gender Reveal Party Ideas will you incorporate into your big reveal? Do you have a creative idea for your party you would like to share? Tell us in the comments below!
You can get more gender reveal party ideas if you follow us on Instagram @prettymyparty and Pinterest and join us on our private Facebook group. Looking forward to seeing you there!

SaveSave
SaveSave
SaveSave
SaveSave
SaveSave
SaveSave
SaveSave
SaveSave
SaveSave
SaveSave
SaveSave
SaveSave
SaveSave