Whimsical Hot Air Balloon Baby Shower
A Whimsical Hot Air Balloon Baby Shower is the perfect theme for those who have the travel bug!
This Whimsical Hot Air Balloon Baby Shower celebrates the parents-to-be and their love of travel. Which is also something they hope to instill in the life of their baby boy! Mom wanted an "up up and away" travel themed baby shower to make guests feel like they were up in the clouds, but it was important to still provide a natural elegance to the event. Bayou Balloons created the perfect design at The Ritz Carlton, which gave a gorgeous view of New Orleans from high in the sky. What a great vantage point!
A lavish tea party was created with the most amazing hot air balloon centerpieces that were to die for! Plantation Decor helped with florals that were found in the whimsical balloon centerpieces, as well as throughout the event. We just love the ivory, sky and gold color palette, which is soft and sweet for a baby boy shower. And that cake? Nikki's Frosted Fantasies knocked it out of the park. Cloud 9 Factory also created the perfect invitation for the event, which was captured in a frame for everyone to admire. What exquisite detail!
Every aspect of this event nailed the modern theme and all the guests in attendance were blown away. What an amazing concept that was truly brought to life! And we have to say, we just love the mom-osa bar that was ready and waiting for all of the guests to enjoy, as well. What an incredible Hot Air Balloon Baby Shower Theme!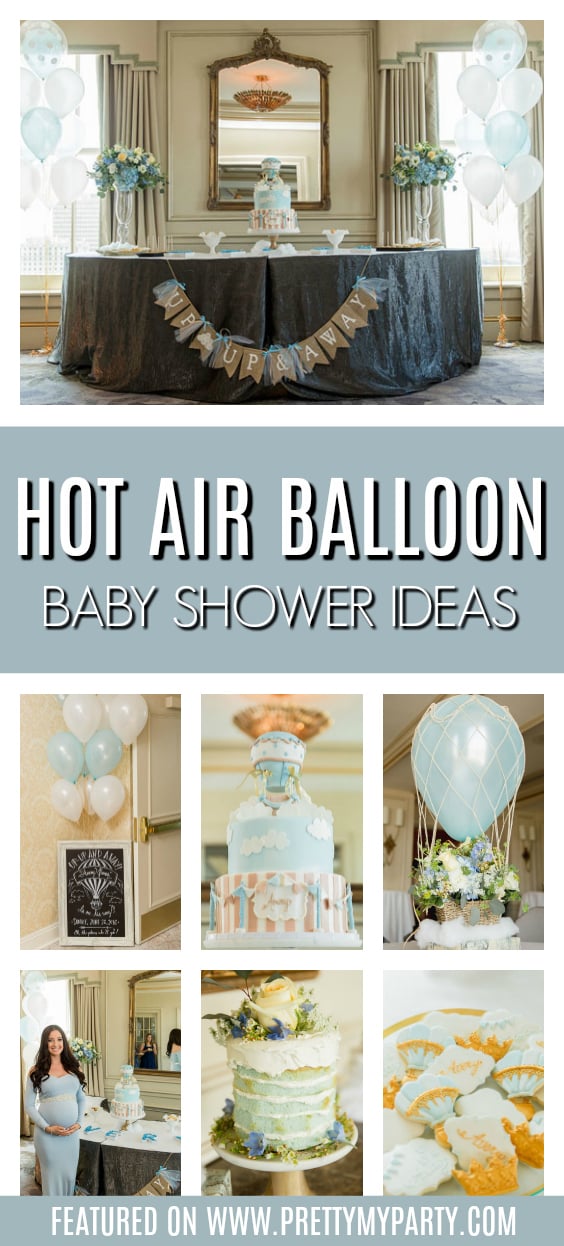 Whimsical Hot Air Balloon Baby Shower Ideas
Hot air balloon cake with detailed cake topper
Blue naked cakes topped with frosting, flowers and leaves
Gorgeous treats including hot air balloon cookies, cake pops and donuts on dessert table
Gorgeous dessert table banner and backdrop
Wonderful tea party food table ideas with appetizers and mimosa bar
Hot air balloon centerpieces with baskets full of flowers
Gorgeous blue, cream, white and green flower decorations
Fun hot air balloon up, up and away chalkboard sign with balloon decorations
"Around the World" baby shower games and printables, including Around the World game
Hot air balloon shower invitations, framed to enjoy
DIY party favors
Nice variety of baby shower food, a mimosa bar and coffee station
Stunning mom-to-be with a beautiful, long, light blue dress with crystal belt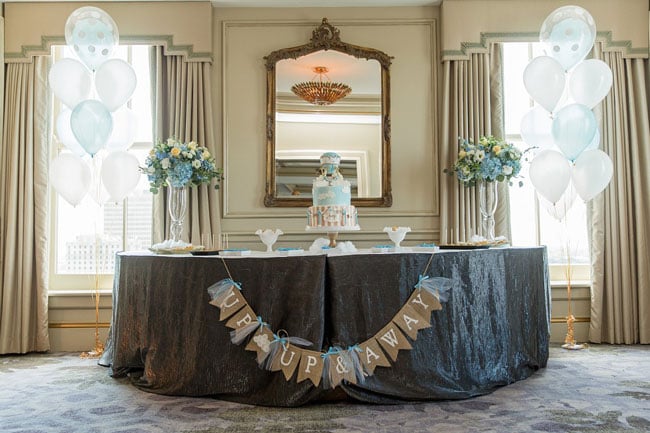 Whimsical Hot Air Balloon Baby Shower Supplies and Decorations: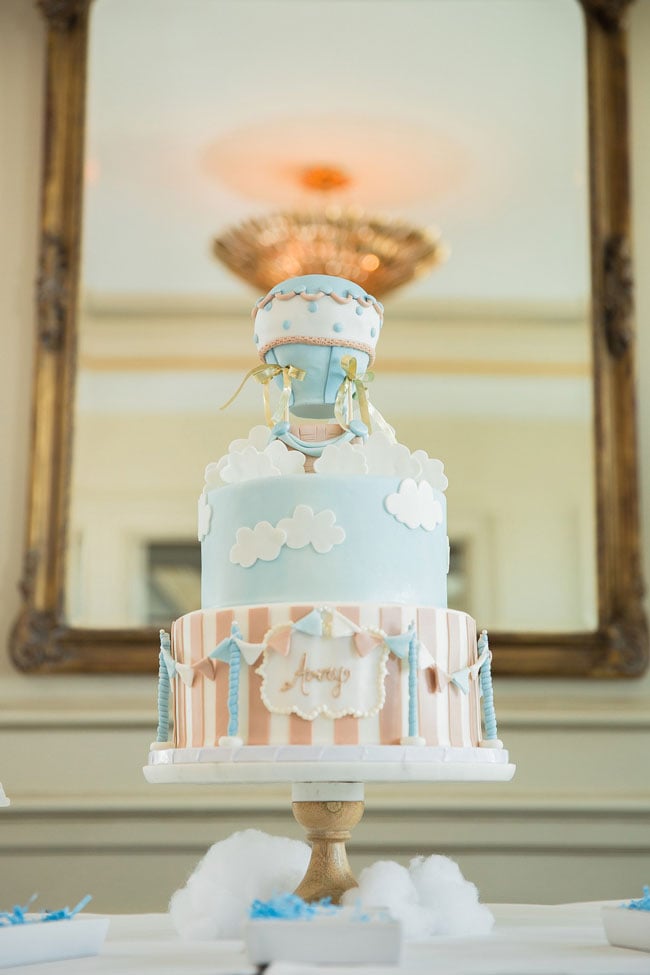 See more Hot Air Balloon and Baby Shower ideas here:
There isn't a more beautiful mother-to-be to be found and we love absolutely everything about this gorgeous Whimsical Hot Air Balloon Baby Shower. What is there not to love?! From the incredible hot air balloon cake and centerpieces to the beautiful dessert table and banner, this modern celebration was exquisite. And the mom-to-be's dress? She was a vision of maternal bliss in her baby blue dress to match her baby blue theme.
What are your favorite details of this stunning up up and away baby shower? Let us know in the comments below!
For more baby shower ideas, follow us on Instagram @prettymyparty and Pinterest and join us in our private Facebook group.
Party Vendors
Makeup Artists: Makeup By Jacky Martinez