Around the World Baby Shower
An Around the World Baby Shower is just the ticket for those who enjoy travel and adventure!
An incredible Around the World Baby Shower took all of the guests on a trip around the world with all of the amazing food and decor in honor of a sweet little baby's arrival!
Reena Ravi Design created the perfect Around the World Baby Shower with incredible styling! Pink was the main color used, since the parents-to-be knew that they were having a baby girl. We love all of the shades of pink that were used throughout the event with white, gold, silver and rose gold topping off all of the travel theme decorations.
The parents-to-be wanted to celebrate their little girl's upcoming arrival by celebrating her heritage and things that reflect their interests as a family. Mom grew up in the Middle East with Indian and Filipino parents, while Dad grew up in Kentucky with Taiwanese parents. And they've been traveling, eating and laughing through life together ever since they met.
So it only made sense to reflect their global influences in food, from an amazing dessert bar with items from the Philippines, India, Middle East, Taiwan and Kentucky, to an incredible Spanish Paella bar from Ravishing Radish Catering, along with the most amazing charcuterie table runner. Talk about a taste your way around the world celebration!
Since the couple first met in Baltimore, they also had mini crab cakes available as hors d'oeuvres. The most adorable travel-themed cookies were also part of this Around the World Baby Shower Theme, which featured a globe, hot air balloons and onesies. South Lake Union Bouquet did an amazing job with incorporating the florals around the travel themed baby shower, as well.
The travel theme was incorporated into the decor at the Around the World Baby Shower, as well, particularly with the paper goods. We just love the amazing travel-themed sign that was used as the backdrop for the dessert bar. And the customized napkins from Beau-coup, water bottles and party favor tags incorporated world adventures, too!
Who wouldn't love a self-serve mimosa bar with rose champagne, along with the Kentucky bourbon, which was paired with bourbon filled chocolates?! Yum!
Finally, fun was front and center, which helped to inject the couple's sense of humor perfectly into the celebration. The perfect topper was used on the amazing cake by Morfeys Cakes, which made people chuckle! The light-hearted "Baby Bump or Beer Belly" game appealed to both the males and the females at the Taste Around the World Baby Shower, as well.
All of the guests were sent home with the prettiest pink mini champagne bottles that they could use to POP and celebrate when the little girl finally arrives. What a great travel theme to welcome their sweet baby girl into the world!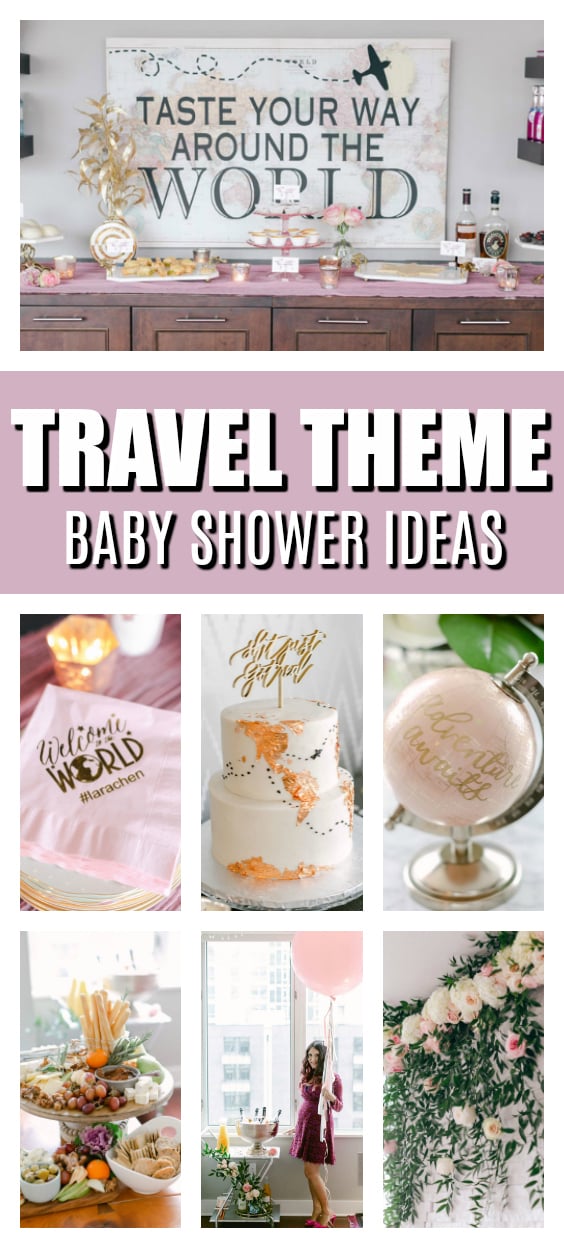 Around the World Baby Shower Ideas
Taste Your Way Around the World Dessert Table Backdrop
Personalized Pink Theme Napkins
Globe Decor with "Adventure Awaits" Inscribed on the Globe
Funny "Sh*t Just Got Real" Cake Topper
Unique Detailed World Map Cake
Personalized Hot Air Balloon and Globe Travel Cookies
Incredible International Menu for Guests to Enjoy
Unique Charcuterie Table Runner
Different Dessert Food Ideas from Unique World Locations
Fun "Mom-osa Bar"
Bourbon Tastings, With Bourbon Chocolates to Savor Dad's Kentucky Roots
"Welcome to the World" Personalized Water Bottle Labels
Personalized Pink Champagne Mini Bottle Baby Shower Favors
Gorgeous Floral Centerpieces and Decor
Fun "Baby Bump or Beer Belly" Baby Shower Game
Incredible Travel Theme Decorations with Luggage, Passports, Compasses and Globes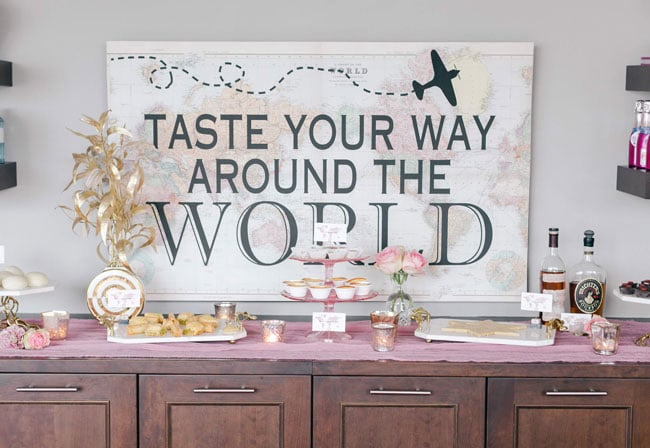 Around the World Baby Shower Supplies and Decorations:
More baby shower ideas:
There's no doubt that adventure awaits this little girl when she finally arrives! We are sure that this sweet baby is going to grow up to be as inspired and influenced by the world as her parents. It's hard to pick what our favorite detail is at this incredible Around the World Baby Shower. There were so many amazing details and parts we loved, but we definitely loved the international cuisine that was served. What an amazing charcuterie platter that was available for everyone to enjoy. We may not have ever seen such an elaborate spread! And of course, we always love a good Mimosa Bar! How about you? What are your favorite details? Let us know in the comments below!
For more baby shower ideas, follow us on Instagram @prettymyparty and Pinterest and join us in our private Facebook group.
Party Vendors