Whimsical Garden 1st Birthday Party
What better way to celebrate a milestone birthday than with this sweet Whimsical Garden 1st Birthday Party?!
This Whimsical Garden 1st Birthday Party was definitely one to remember! When guests walked into the room, smiles were everywhere as they admired the decor and styling for the event. Now Prop It Up and Rent A Flower Wall Atlanta did an amazing job designing the birthday celebration from one end of the venue to the other. And It's All About You Birthdays had an incredible eye with amazing vision and inspiration.
The event planner envisioned a whimsical, light and airy party with butterflies, flowers, greenery and pastels. The large paper flower and green grass wall was the perfect way to fill the big party space. Along with the pink paper flower wall, there was an incredible dessert table spread that wowed the guests.
How about the dramatic green garden set-up with a swing to highlight the beautiful custom cake from Sassy Girl Cakes?! It was incredible! We love everything about the colors that were used to make everyone feel like they were walking into a whimsical garden fantasyland.
What a perfect Whimsical Garden 1st Birthday Party celebration for this little girl.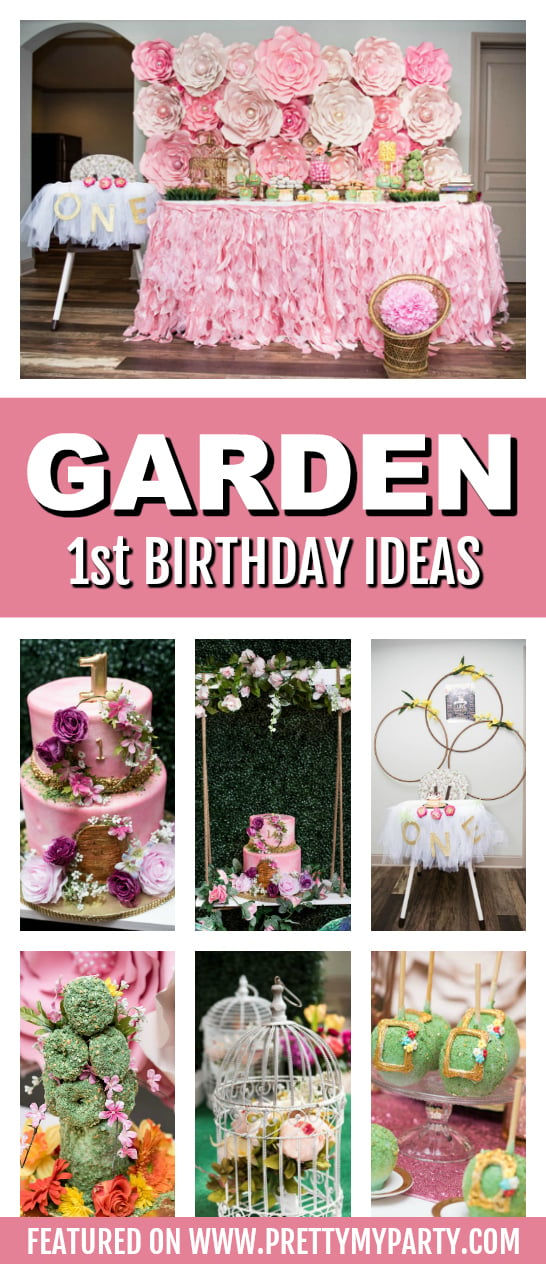 Whimsical Garden 1st Birthday Party Ideas
Elegant oversized pink paper flower dessert table backdrop
Enchanted fairy greenery creation with moss and floral decor
Magical fairy garden swing greenery creation to highlight the birthday cake
Baby girl cake smash high chair with pink flowers and gold accents
Amazing dessert table with cupcakes, cookies, doughnuts, and more treats
Garden themed birthday party caramel apples
Outdoor guest tables with flower garden birthday party tableware
Garden theme party decorations, including pink-hued balloons
Gorgeous whimsical garden party decor
Garden party fairy themed party supplies
Whimsical Garden 1st Birthday Party Supplies and Decorations: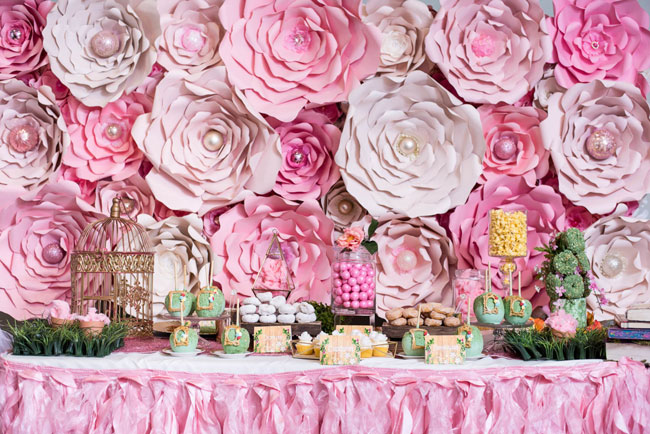 See more garden party ideas here:
This Whimsical Garden 1st Birthday Party has our eyes bugging out from all of the incredible features that were included in the design! How could we possibly pick a favorite?! First of all, the incredible pink paper flower backdrop behind the dessert table is incredible. Not to mention all of the delicious desserts that were styled perfectly for a fairy garden party table. It's gorgeous!
And the greenery and swing styling that was created to showcase the amazing pink fairy garden birthday cake?! What in amazing addition to an already outstanding birthday party. We just love all of the greenery and flowers that surround the cake and trellis. Not to mention the amazing fairy creation displayed in front of the birthday cake. We love everything about it!
What are your favorite details from this stunning 1st birthday celebration? Let us know in the comments below!
For more 1st birthday party ideas, follow us on Instagram @prettymyparty and Pinterest and join us in our private Facebook group.
Party Vendors