1st Birthday Garden Party
Plan a chic garden party with soft colors and gorgeous florals for your daughter's 1st birthday!
This gorgeous 1st Birthday Garden Party from Sandy of Sandy a la Mode is absolutely breathtaking. Every little girl deserves the very best for her first birthday and this sweet garden party definitely delivered the goods! By creating a sweet circle garland backdrop for the dessert table with gorgeous flowers all around, nothing could beat the perfect day that was in store for this sweet girl! This beautiful celebration was held at Georgell Doll Shop at Gardner Village in Utah and it was the perfect venue for this sweet garden party.
1st Birthday Garden Party Ideas
Adorable floral tutu birthday outfit with matching headband for the birthday girl
Circle garland dessert table backdrop with greenery accents
Gorgeous floral 1 decor for dessert table backdrop
Customized glittery 1st birthday banner
Beautiful floral garland decor
Pink, purple and white floral and garden theme chocolate covered Oreos
Yummy desserts, including fruit tarts, macarons, cupcakes, sugar cookies, cotton candy in waffle cones
Stunning naked cake with gorgeous floral accents and glittery one cake topper
Stunning floral centerpieces for guest tables
DIY first year photo banners of the birthday girl
Sweet 1st birthday milestone poster
Pretty hanging floral decor in mason jars
Pink, purple and white No. 1 lollipop party favors with printable thank you tags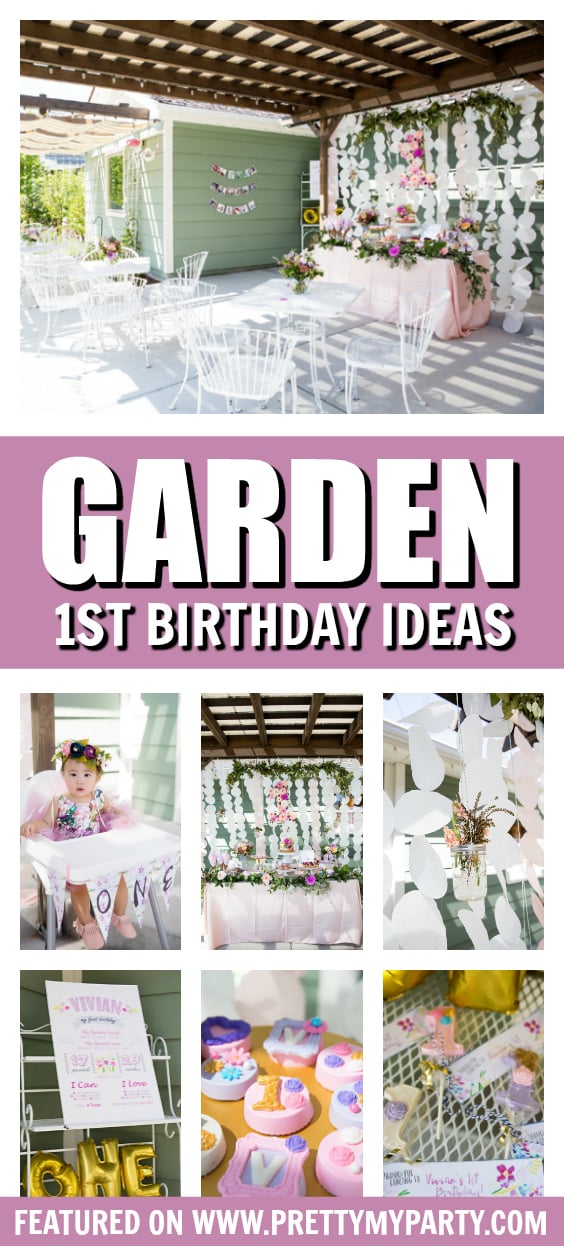 1st Birthday Garden Party Supplies and Decorations:
See more 1st birthday party ideas here: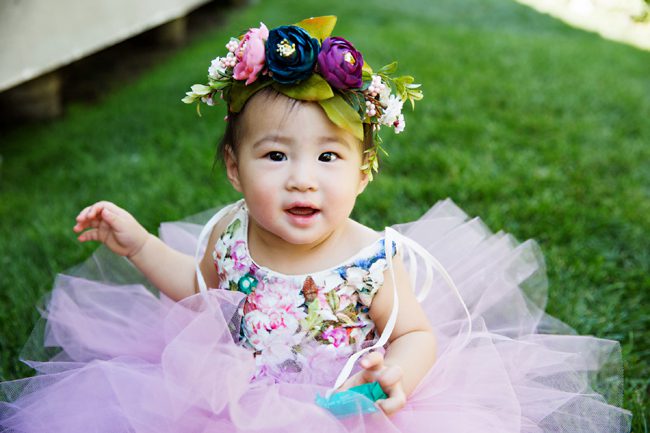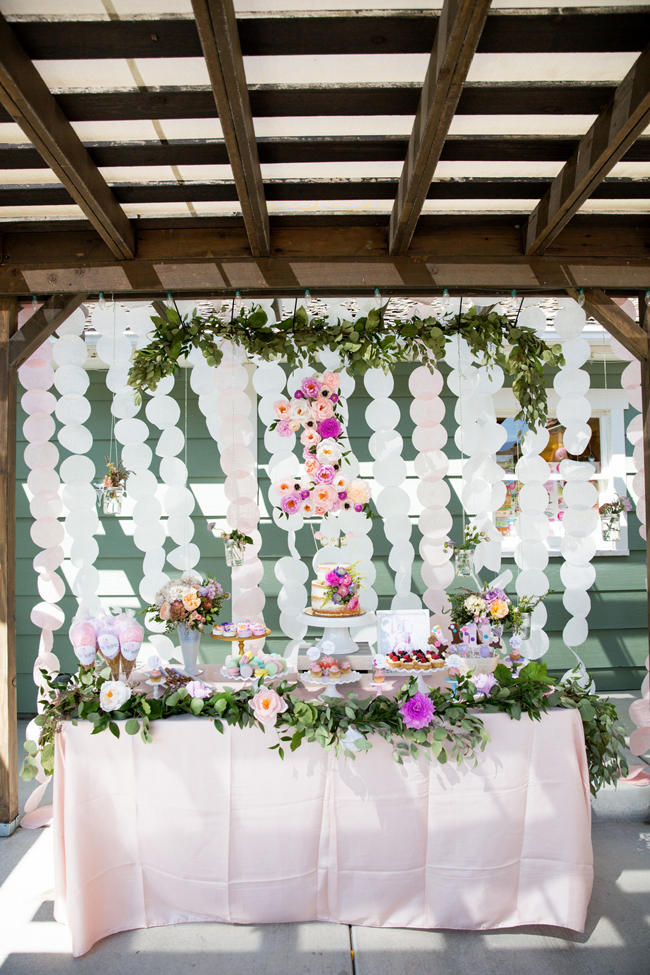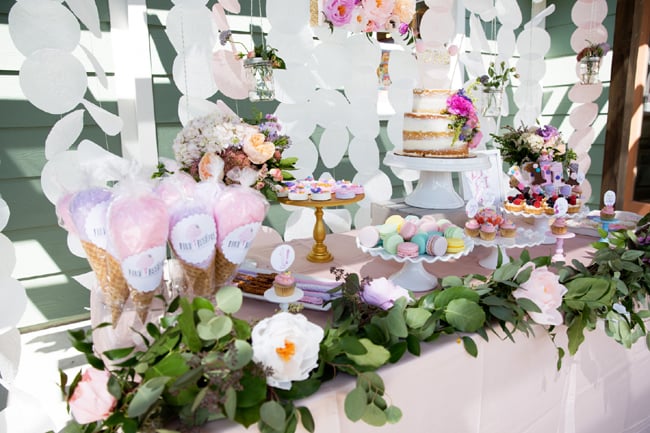 This garden themed birthday party also included a fun game that is a Chinese tradition. People pick items that relate to certain professions and whatever the baby picks will determine their future. For example, a ball would mean an athlete, an abacus means a mathematician, a necklace could mean a fashion designer, etc. This little birthday girl … Well she picked the ball, which she quickly dropped and then proceeded to pick up some money. Smart girl! Nothing could spoil this absolutely perfect garden party! That first year goes so fast with a little one and it's amazing for friends and family to see just how much that little beauty has grown in a year! We absolutely adore all of the fabulous details in this garden theme 1st birthday party!
What's your favorite ideas in this 1st Birthday Garden Party? Let us know in the comments below!
For more party ideas, follow us on Instagram @prettymyparty and Pinterest and join us in our private Facebook group.
Party Vendors
Planning: Sandy a la Mode
Venue: Georgell Doll Shop at Gardner Village
Photography: Diana Putnam Photography
Paper Circle Backdrop and Floral Garlands: KMHallberg Design
Tablecloth: DinDinDecor
Garlands and Paper Flower "1″: The Lovely Ave
Sugar Cookies: The Fix Utah
Cotton Candy: Pink Beehive Cotton Candy
Chocolate Desserts, Pretzels: Summer Time Sweets
Cake, Fruit Tarts, Macarons, Cupcakes: Sprinkle and Dash
Cake Topper: Little Dovie
Vivian Turns One Garland: Little Dovie
Fresh Flowers: La Belle Fleur
Birthday Chalkboard: Pearl Pear Designs
Party In A Box Paper Designs: Happy Confetti
Floral Design: Canary Jane
5×5 Instagram Prints: Pro Digital Photos
ONE Gold Balloons: It's My Perfect Party
Headband (custom): Czarina's Project
Dress: Wrare Doll
Shoes: Love Winnie James
Follow Sandy a la Mode on her Blog // Facebook // Twitter // Pinterest // Instagram