Magical Bambi Garden Party
Pretty colors, flowers and butterfly birthday decorations make this Bambi Garden Party one to remember!
This Magical Bambi Garden Party from Andreina of Anes Custom Party Decor of Bakersfield, California is a sweet party theme for any little girl. If your little one LOVES Bambi, a Bambi Garden Birthday Party is the perfect theme to celebrate the occasion.
Blues, pinks and purples take center stage at this Bambi Garden Party with a gorgeous balloon garland decorated with florals and gold butterflies. We love how the balloon garland is a real eye-catcher and really makes the dessert table the star of the party. Party guests and the birthday girl were probably floored as they entered the venue. Bambi party decor is seen throughout the party on the dessert table backdrop, desserts, tables, and party favors.
Magical Bambi Garden Party Ideas
Blue, Pink and Purple Balloon Garland With Florals and Gold Butterflies
Pretty Hoop Decor With Gold Bambi and Flower Accents
Cute Pink Bambi and Butterfly Party Favor Boxes
Adorable Bambi Cookies
Bambi and Garden Inspired Desserts
Gorgeous Garden Inspired Birthday Cake
Wooden Table Centerpieces With Flowers and Plush Bambi Decorations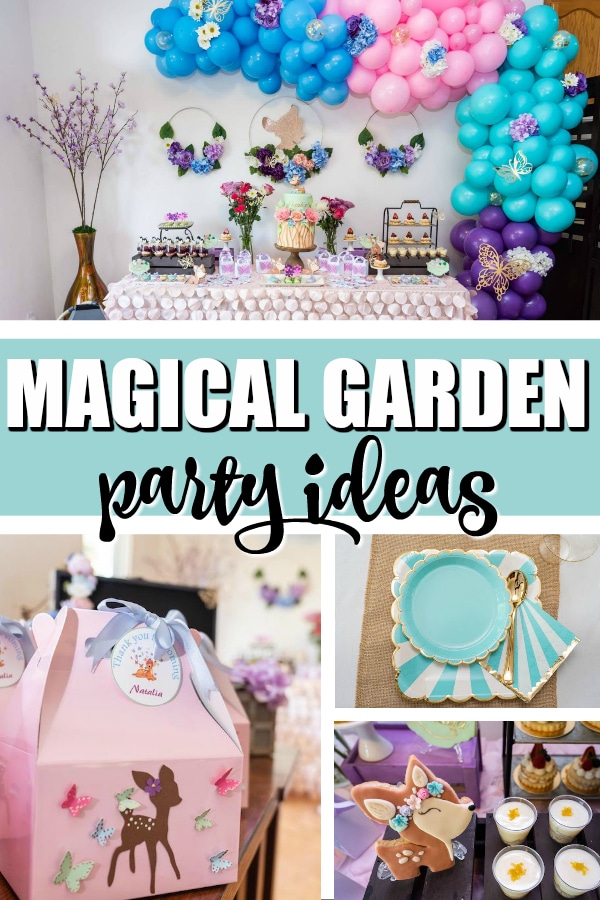 Bambi Garden Party Supplies and Decorations: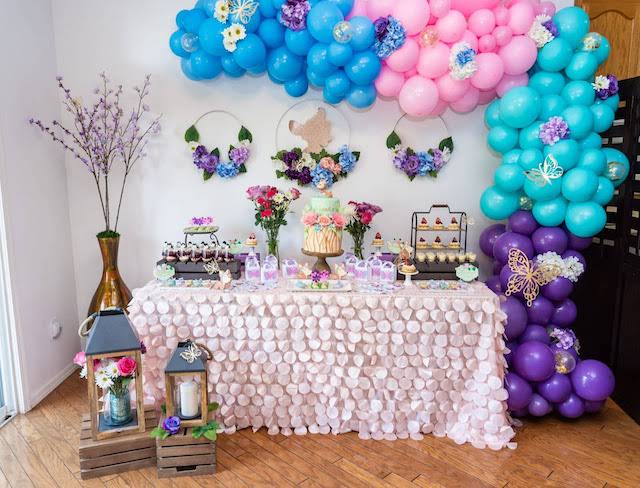 The pretty dessert table inspired by the garden includes many great elements for the perfect Bambi garden themed party. The garden inspired dessert table features tons of gorgeous goodies all placed perfectly for all to see.
We love how the textured pale pink table cover design mimics flower petals. Other party decor included wooden lanterns which sat on top of wooden crates in front of the dessert table.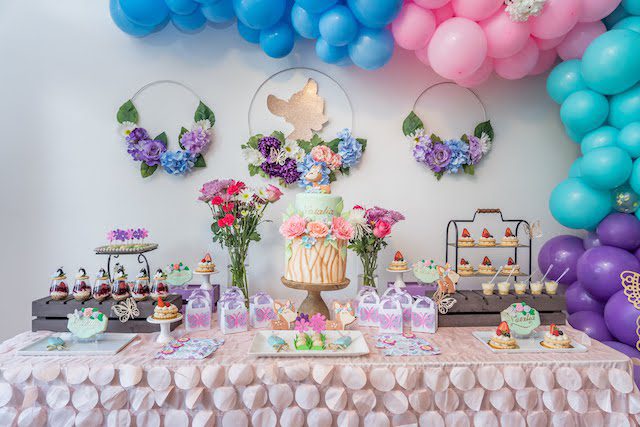 The dessert table featured an array of sweets, including cookies, cake pops, popsicles, cream tarts, and of course, birthday cake. The birthday cake was absolutely gorgeous and fit the garden theme perfectly.
The bottom layer of the birthday cake was made to look like a wooden tree stump and the top layer was light green and featured pretty flowers. The cake sure took center stage on the dessert table and looked fabulous paired with all of the other pretty desserts that were offered to the guests.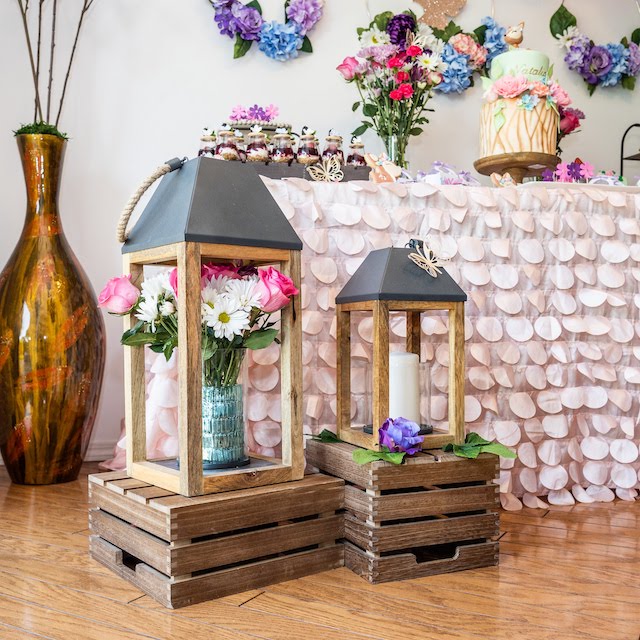 Wooden lanterns sat on top of wooden crates in front of the dessert table and held a candle and flowers. What a nice touch for this Bambi Garden Theme!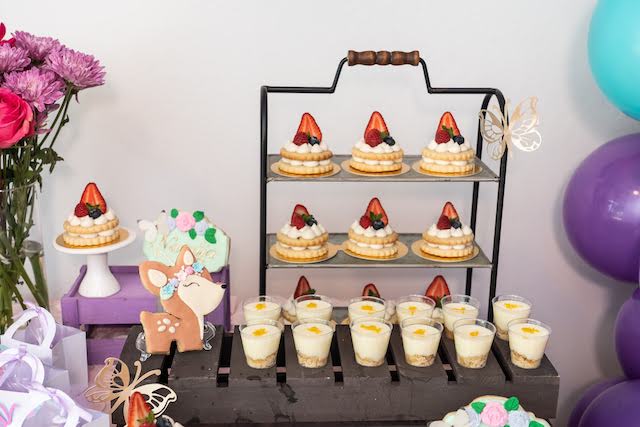 Guests were able to dig right in to all of the pretty and delicious desserts on the sweets table, including the gorgeous cream tarts with berries.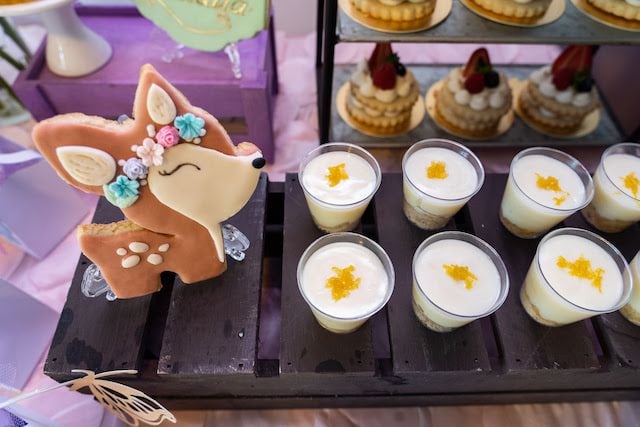 We absolutely adore the Bambi inspired cookies, perfect for a Bambi themed birthday party!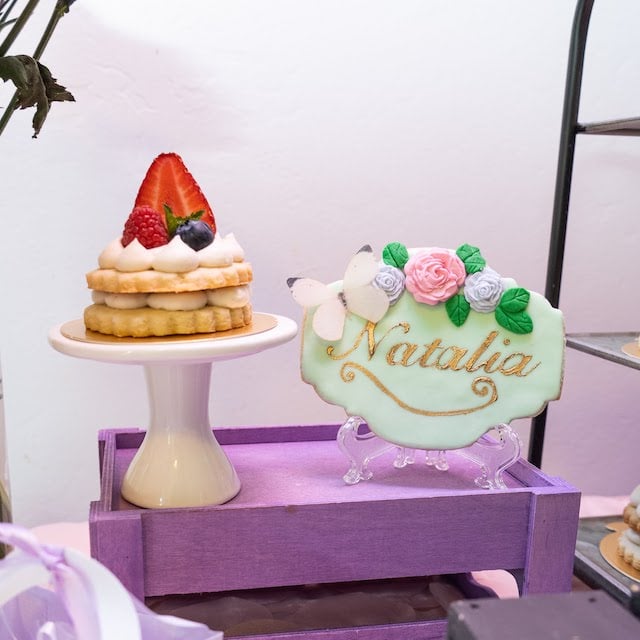 Pretty personalized cookies were also works of art and featured butterflies and flowers. So pretty!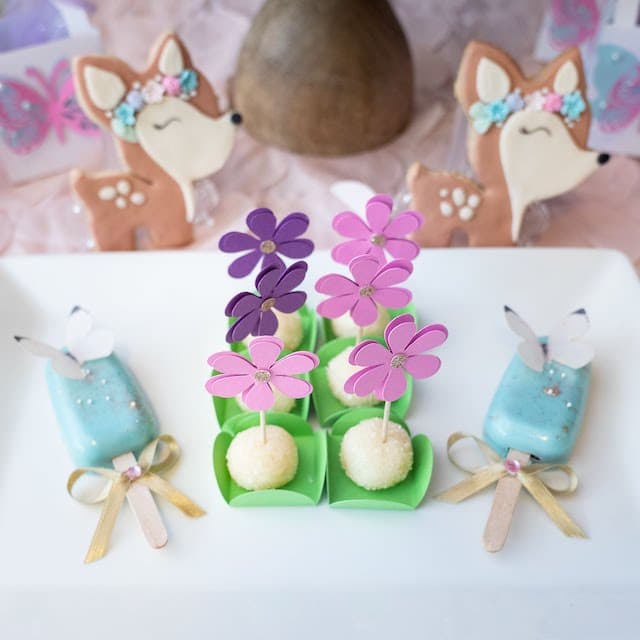 Cake balls were topped with pretty pink and purple flowers and fit with the garden theme perfectly. Blue popsicle cakes featured a pretty white butterfly and were adorned with a gold bow and pink jewel.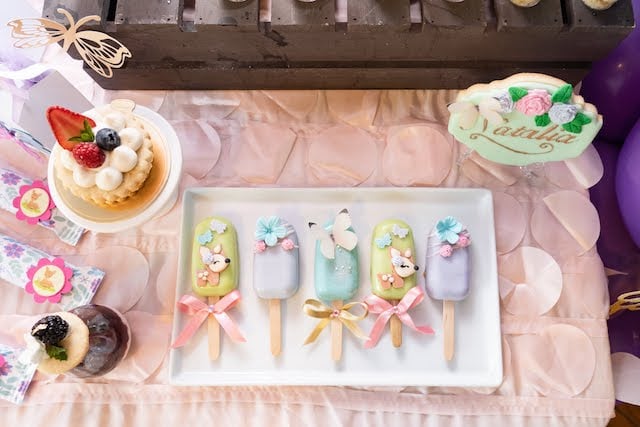 Other popsicle cakes, matching the party's colors, featured Bambi, flowers and butterflies.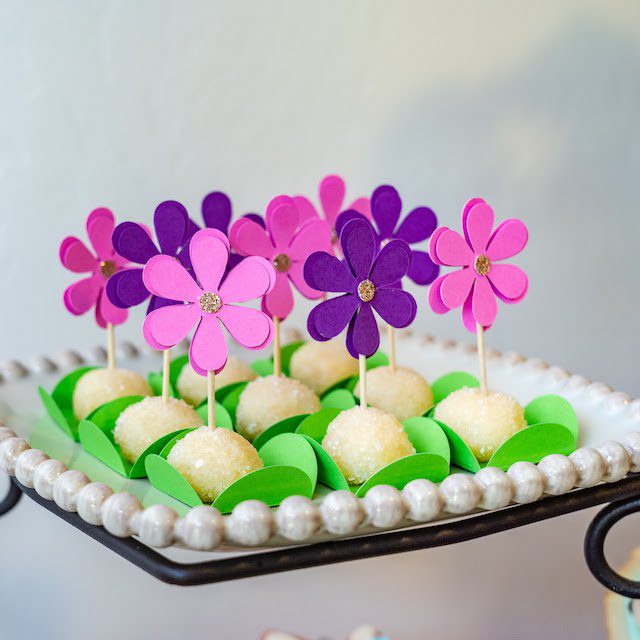 We love how the pink and purple toppers fit perfectly with the garden theme and other decor for this Bambi Garden Party.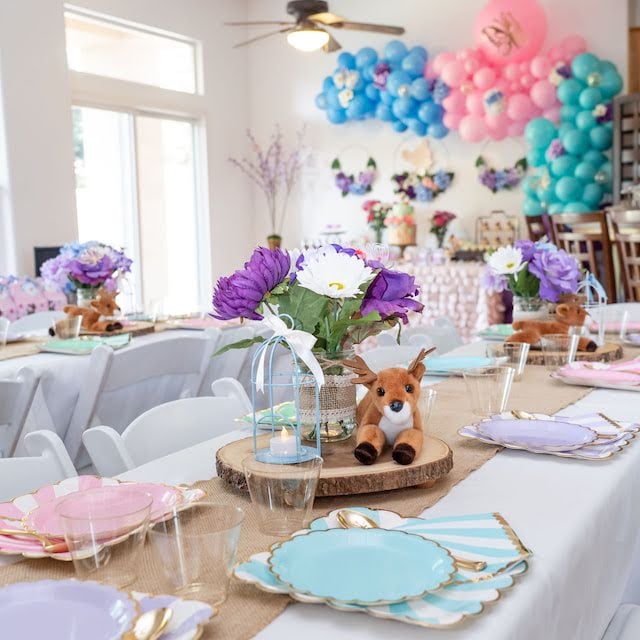 The party tables featured a burlap table runner, which gave the space a garden woodland feel. Table centerpieces were wooden slices topped with flowers, a candle and a plush Bambi.
The flowers were set in mason jars and wrapped with burlap and lace fabric to complete the garden woodland look.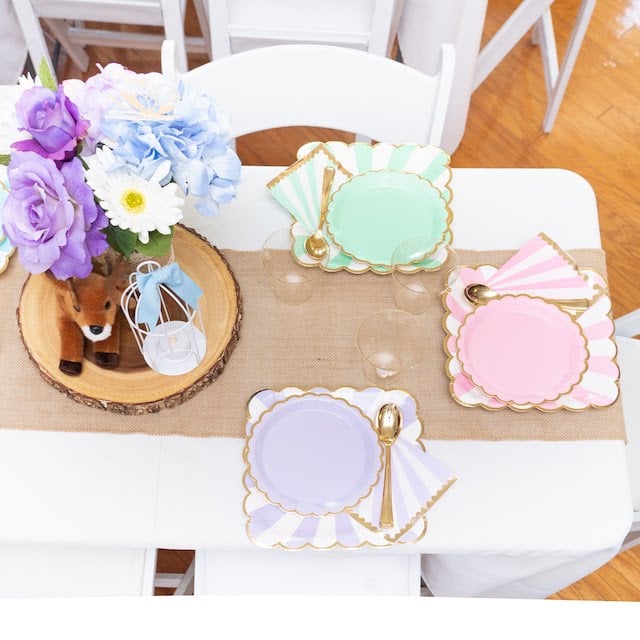 The tables featured pretty pastel pink, blue, green and purple striped plates and napkins that matched perfectly with the other garden party decor.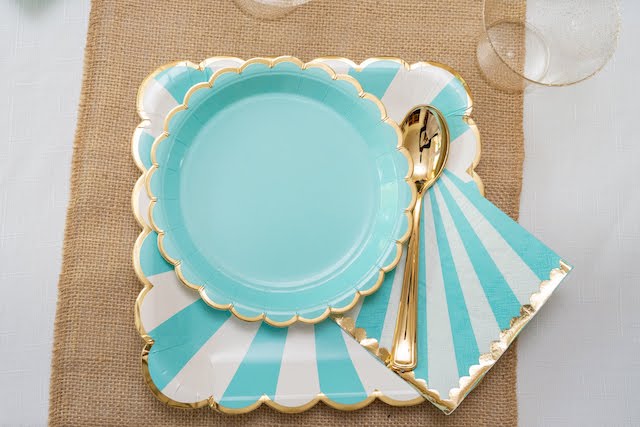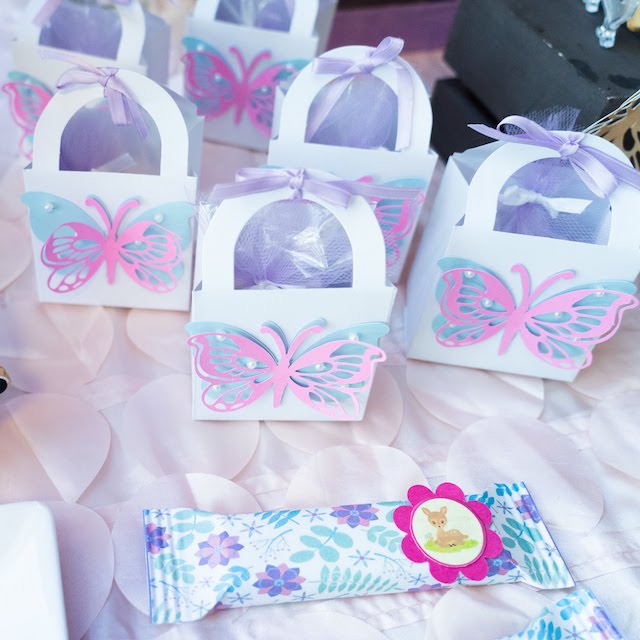 Little white boxes with pink butterflies were also available for the kids to take home and enjoy.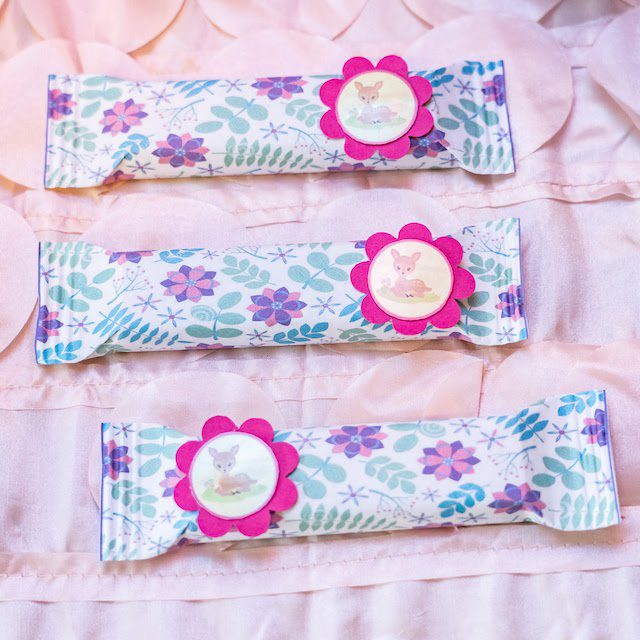 Chocolate bars were wrapped in floral wrappers and featured a cute Bambi tag.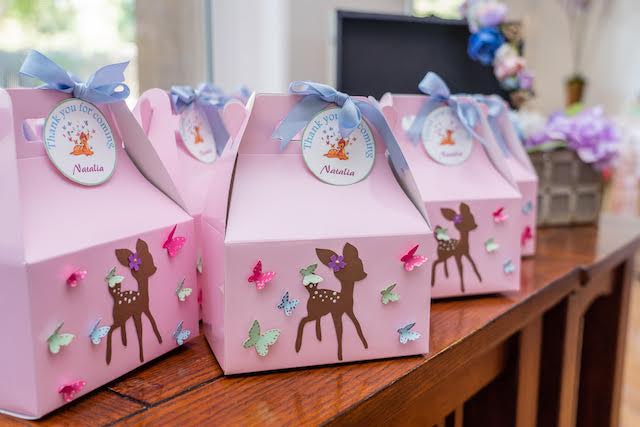 How sweet are these pink favor boxes that were embellished Bambi and butterflies? Each party favor had a sweet Bambi thank you tag tied to it with a light purple ribbon. We're sure all of the party guests couldn't wait to see what goodies were inside!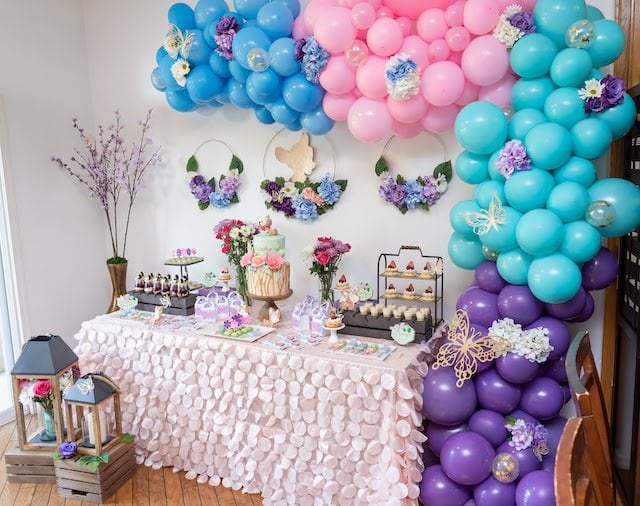 What beautiful party inspiration for a Magical Bambi Garden Party. This party theme is easy enough for any mom to set up at home for a very special birthday. The Bambi Garden Party Ideas found in this event are the perfect inspiration for you to plan a fabulous event like this of your very own.
Party Vendors
What's your favorite details in this Magical Bambi Garden Party? Let us know in the comments below.