Gorgeous Bambi 1st Birthday Party
Bambi and all of his friends came out to play at this Gorgeous Bambi 1st Birthday Party in the great state of California! Just look at all of the woodland fun Bambi brings to this great birthday celebration!
When you think Bambi, this Bambi 1st Birthday Party by Chakoda Design is exactly what we would want! Filled with amazing woodland details, it is sure to make any Bambi fan's dreams come true. There are so many amazing details. All of these Bambi Birthday Party Ideas are so gorgeous and make the perfect inspiration for your own Bambi party!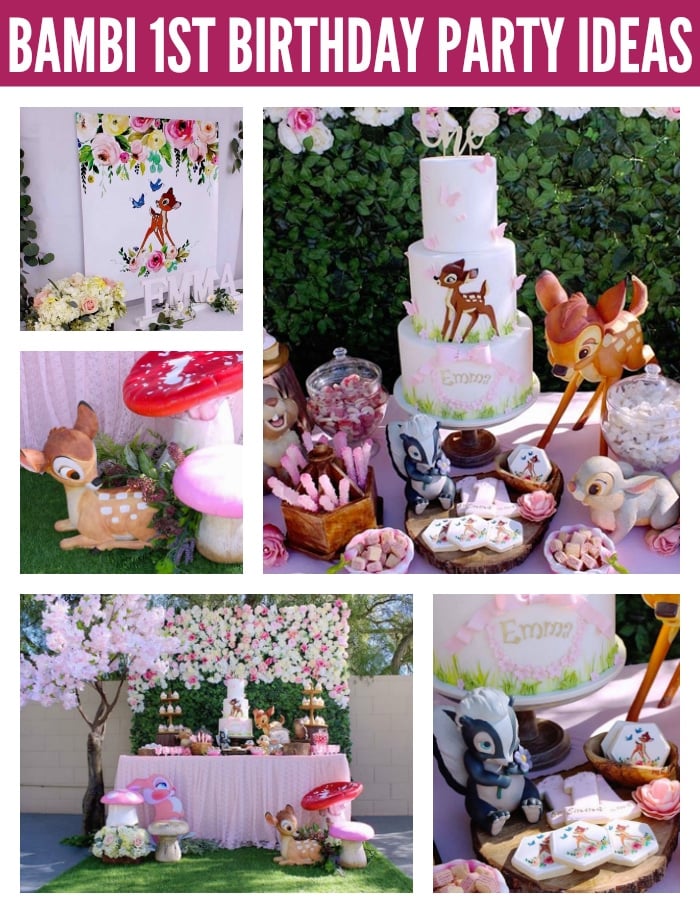 Bambi Party Supplies and Decorations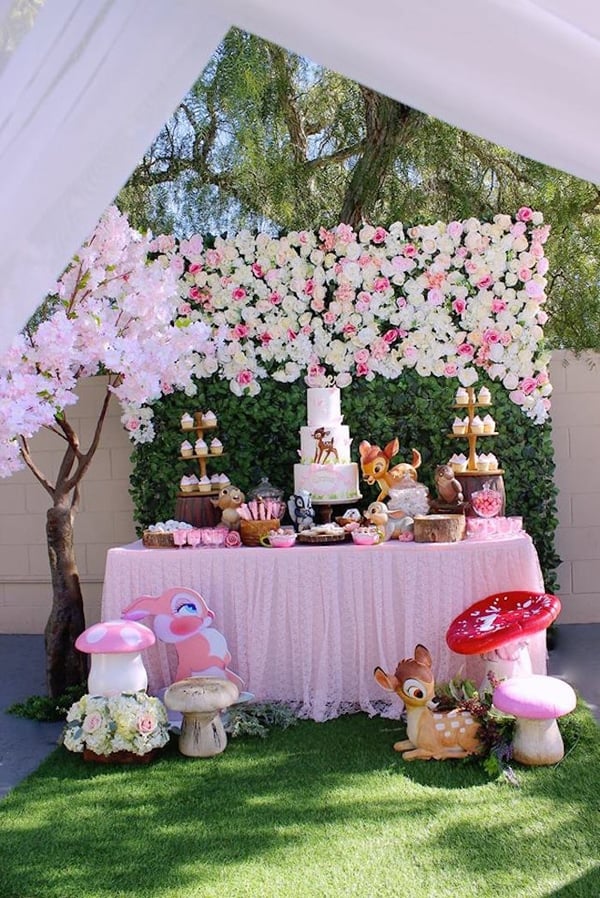 The first thing that absolutely took everyone's breath away at this Bambi Birthday Party was the gorgeous floral hedge wall that was created as a backdrop for the dessert table! Balloons and Blooms did a fantastic job creating a whimsical woodland that everyone was able to enjoy.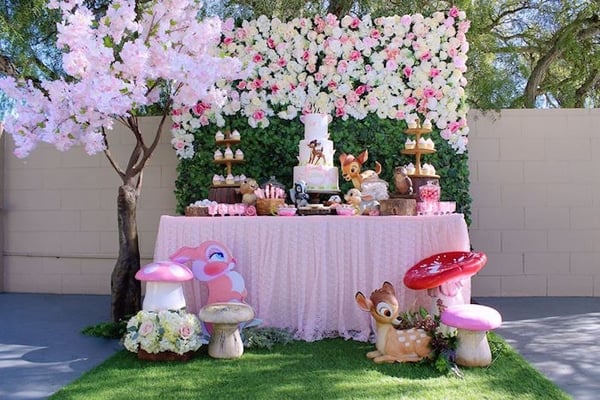 Bambi Character Props were found all around the Bambi 1st Birthday Party, which made everything more magical and life-like! What a gorgeous day to have a Bambi Inspired Birthday Party! Chakoda Design did a wonderful job providing all styling and decor and it couldn't have been more picture perfect with pink everywhere!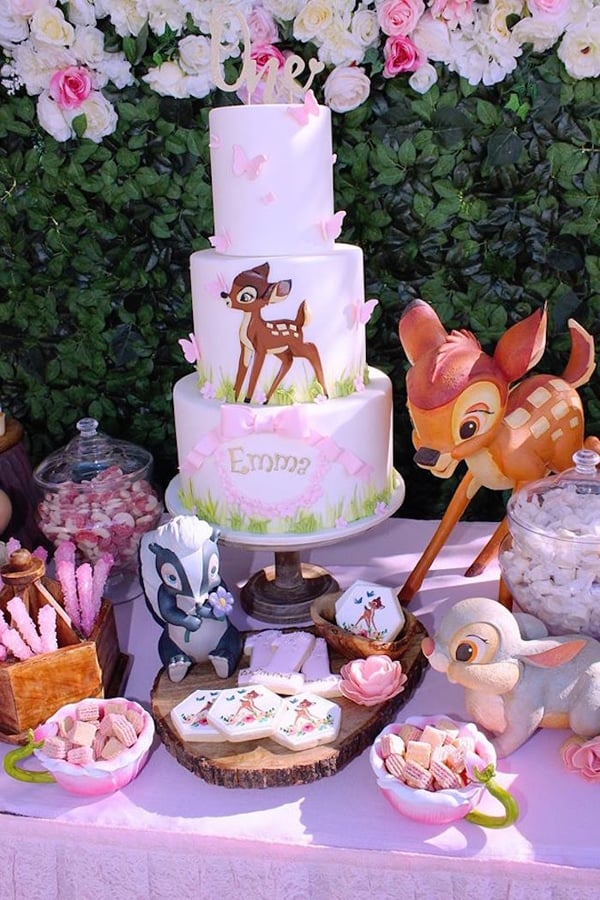 How sweet is this Bambi Birthday Cake? All covered with pink and butterflies, with some cute greenery as an addition, make it absolutely perfect for the birthday girl! What a gorgeous cake topper to celebrate a first birthday party in style!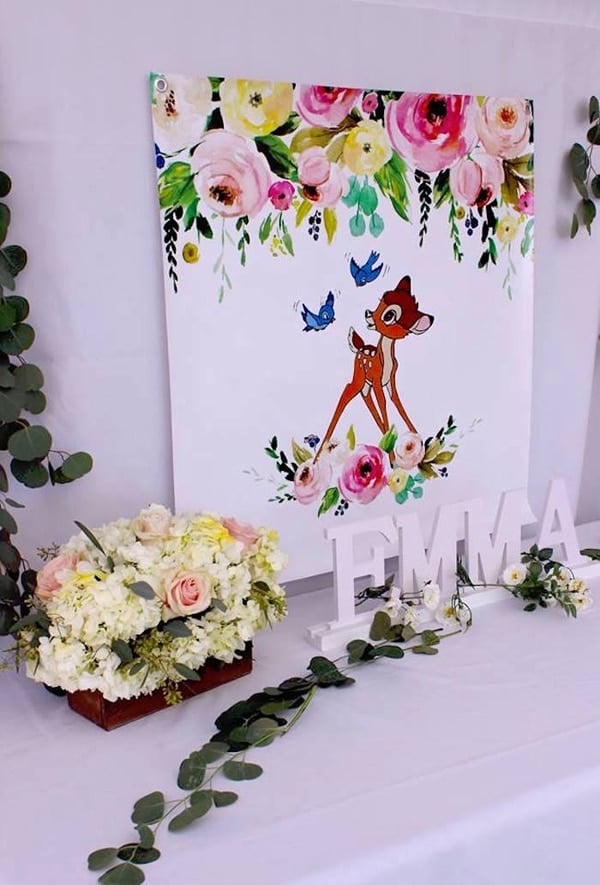 This birthday girl had her name in wooden letters throughout the Bambi Party and we just love this Bambi Backdrop that was used, along with the great greenery strewn around on the table. The flowers were overflowing at this event and every single one was a beautiful addition!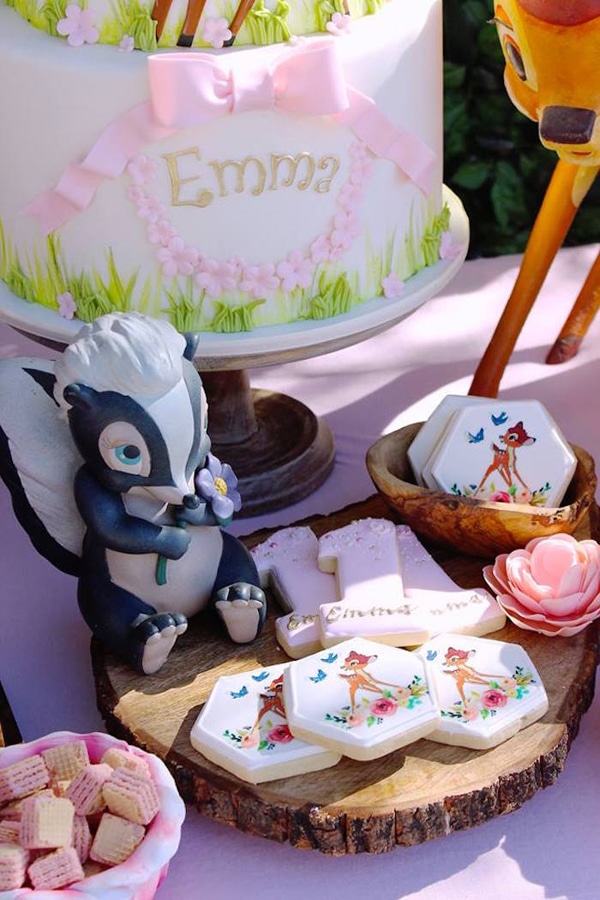 Bambi Cookies were absolutely delicious and all of the Bambi 1st Birthday Party guests marveled at the edible works of art! Just look at these amazing Bambi cookies that were part of the Bambi Party!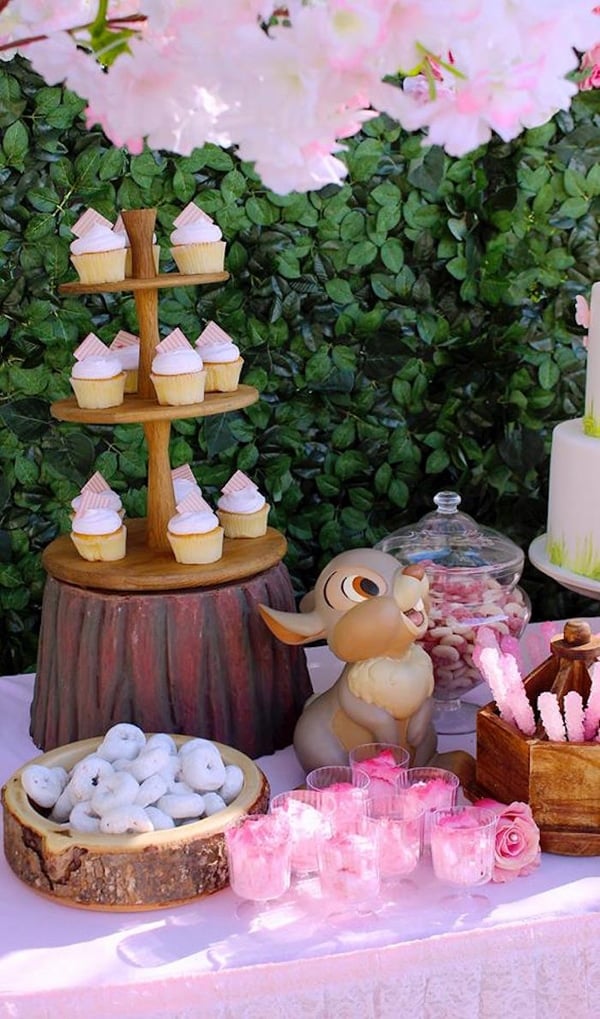 More desserts were found on the dessert table, such as yummy powdered donuts, along with little glasses full of pink cotton candy for the guests to enjoy! We bet all of the little party guests couldn't wait to eat all of the candy, cupcakes and desserts that were available on the table, with sweet wooden accents.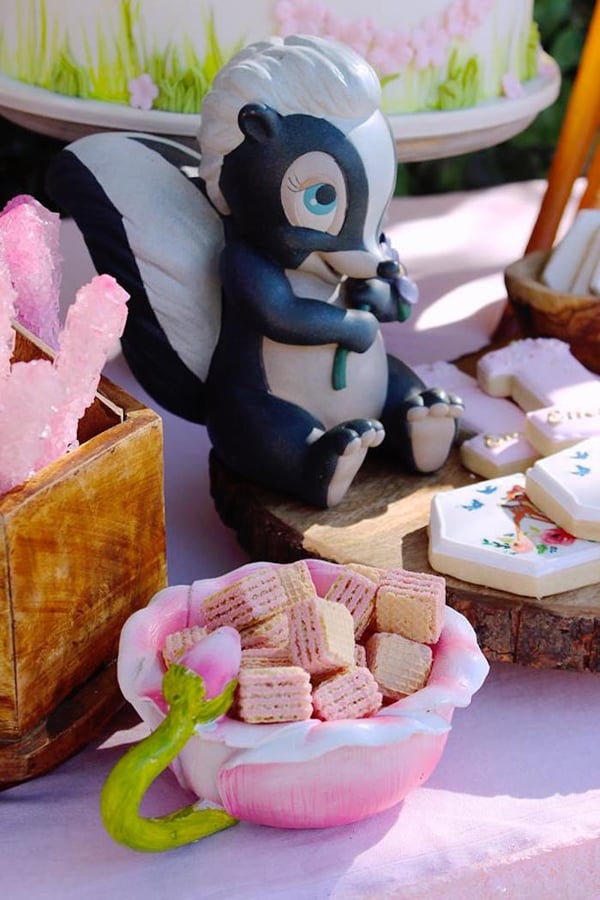 Everywhere that one looked, there were life-sized Bambi character figurines that were found near or on the dessert table. "Flower" was busy looking at all of the yummy goodies in front of him and we bet he really wanted to take all of the flowers on the table to his little home!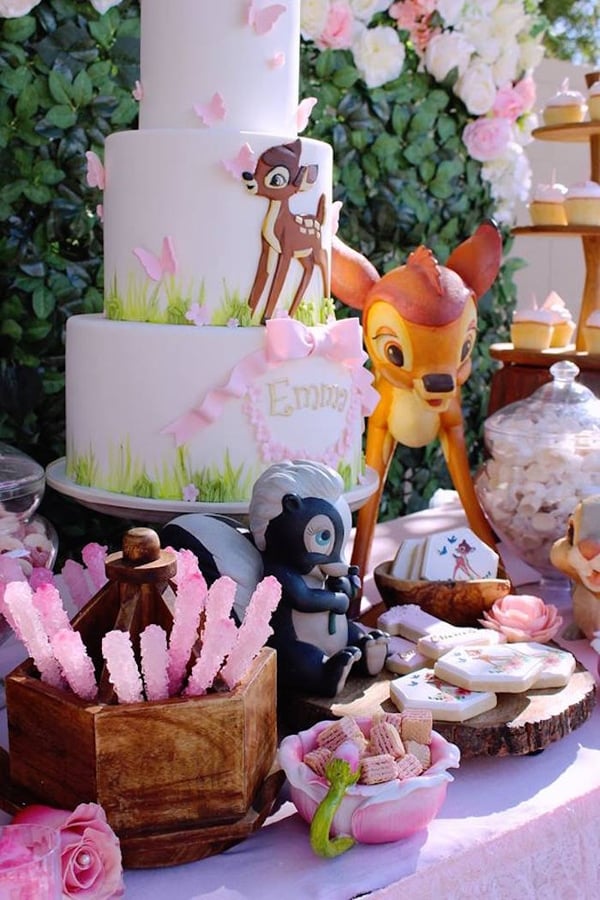 Of course, Bambi was everywhere to be found at this Bambi Inspired Birthday Party. What else would you expect?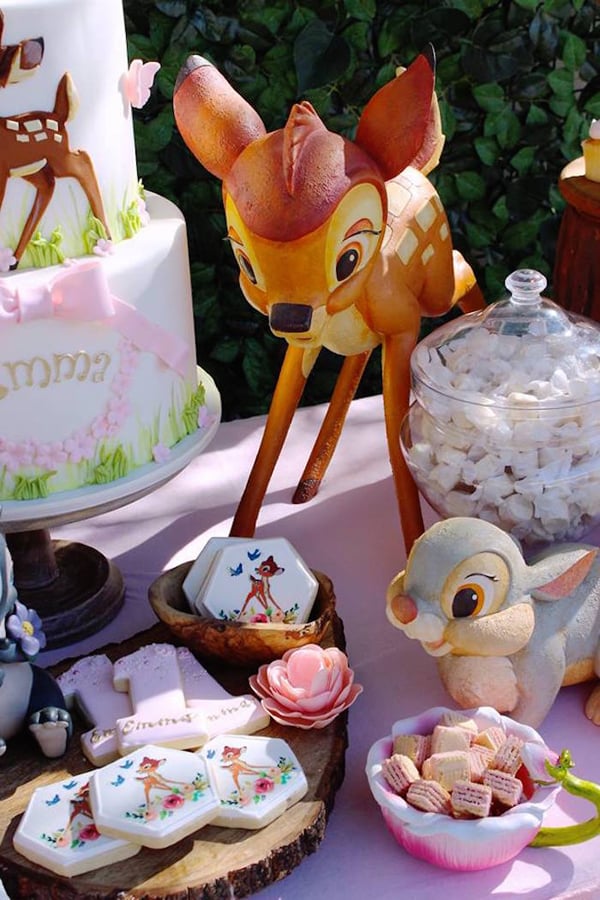 Sweet Bambi is busy looking over all of the goodies at the party and is sure that everyone will love the amazing Bambi Birthday Party Ideas for a similar-themed event of their own! We just love it! How could you not want to have such a sweet and memorable theme for a little girl of your own.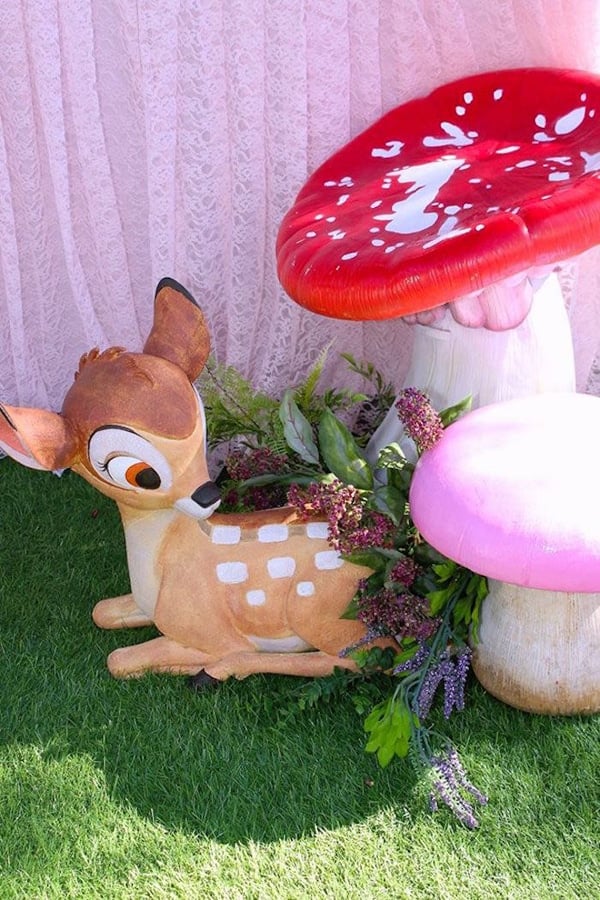 Bambi Character Props weren't found just on the table, but on the ground around the dessert table, as well! And the cute little mushrooms that were added on the ground, with more florals, made the woodland theme even more amazing!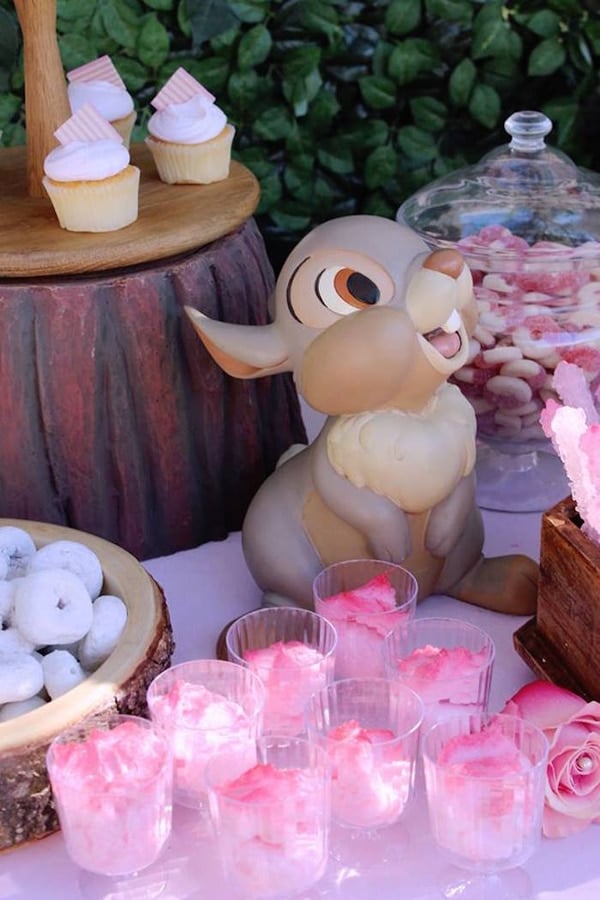 Thumper wasn't about to miss any of the action that was available at this birthday girl's Bambi 1st Birthday Party! What amazing decorations with incredible party supplies found in every corner of this fun event. Chakoda Design went all out!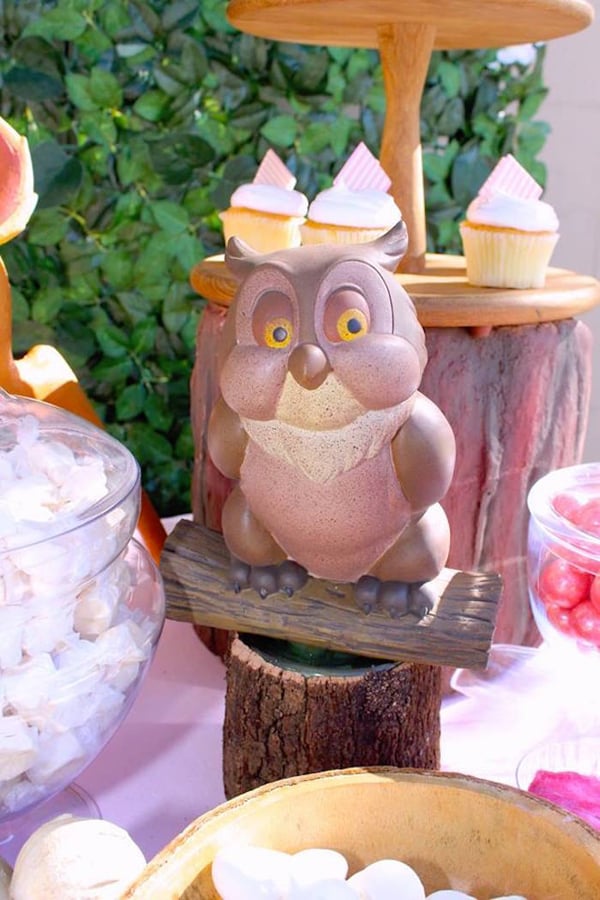 Tree Stump Bowls, along with wooden platters were found all over the Bambi Inspired Birthday Party. "Friend Owl" loved all of the wooden perches he was able to land on, and it was no surprise that the wooden accents were the perfect addition for the Bambi Party.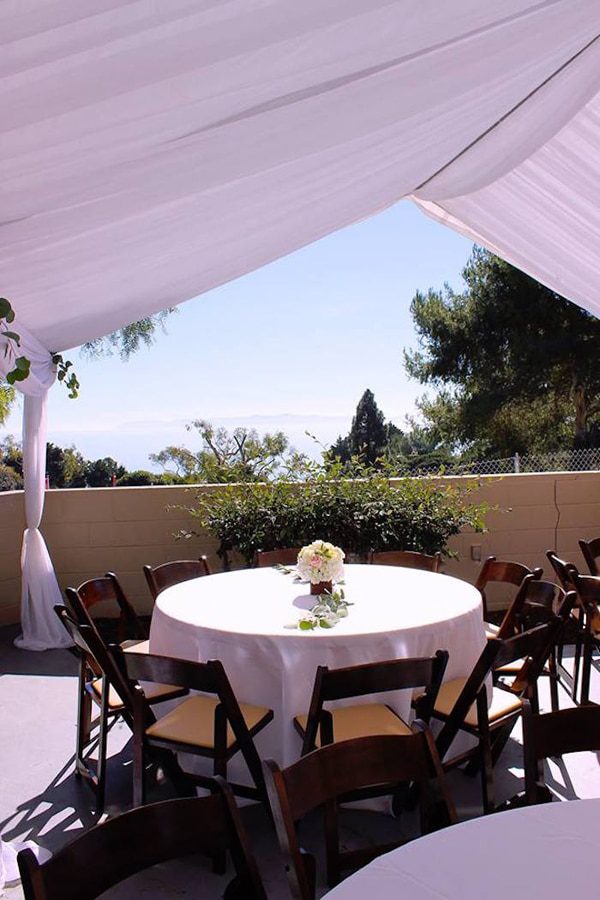 All of the guest tables were located under a gorgeous tent in the park, where everyone enjoyed eating their meal. Beautiful florals were gorgeous centerpieces on each of the tables. We love the simplicity of the table set-ups, alongside the elegant dessert table that everyone was able to admire.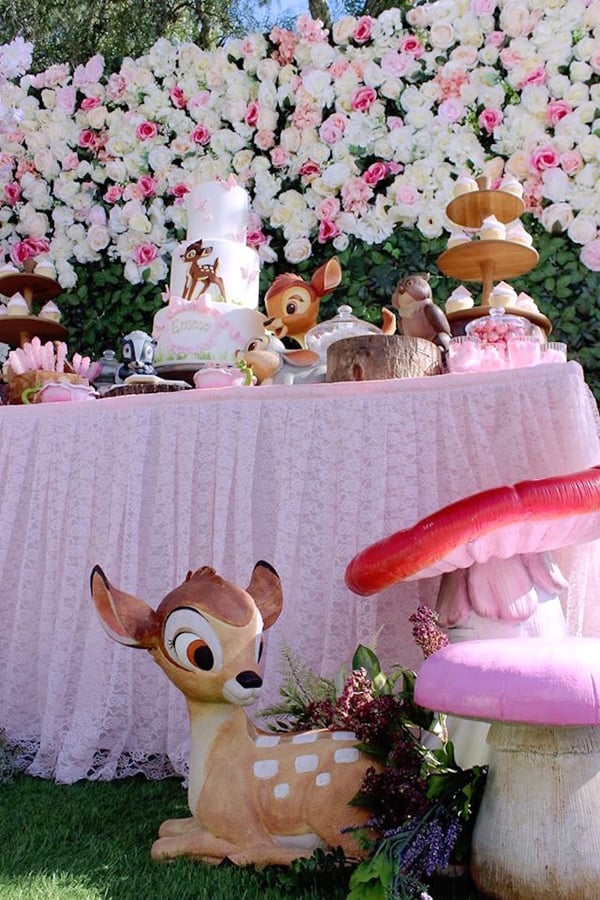 We still can't get over this amazing floral hedge wall that was created for the Bambi Backdrop of the dessert table. All of the detail and flowers that were used, along with the amazing greenery simply took everyone's breath away. It was like walking into a woodland wonderland that was perfect for a Bambi Themed 1st birthday.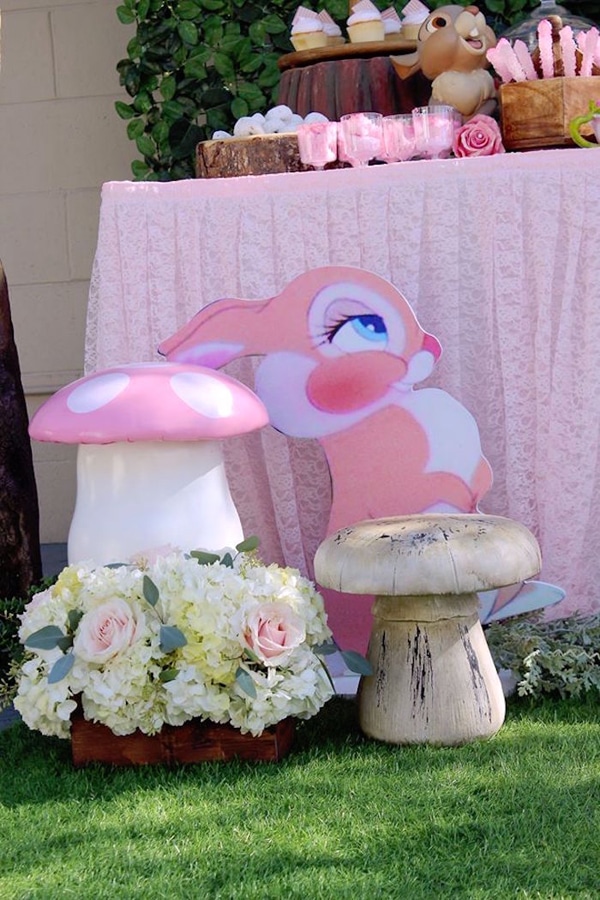 The pink lace linens that graced the desert table were also the perfect addition to a Bambi 1st Birthday Party. They were perfectly feminine with a gorgeous pink hue that complimented the entire Bambi Party and laid perfectly with ruffles and pleats that looked amazing.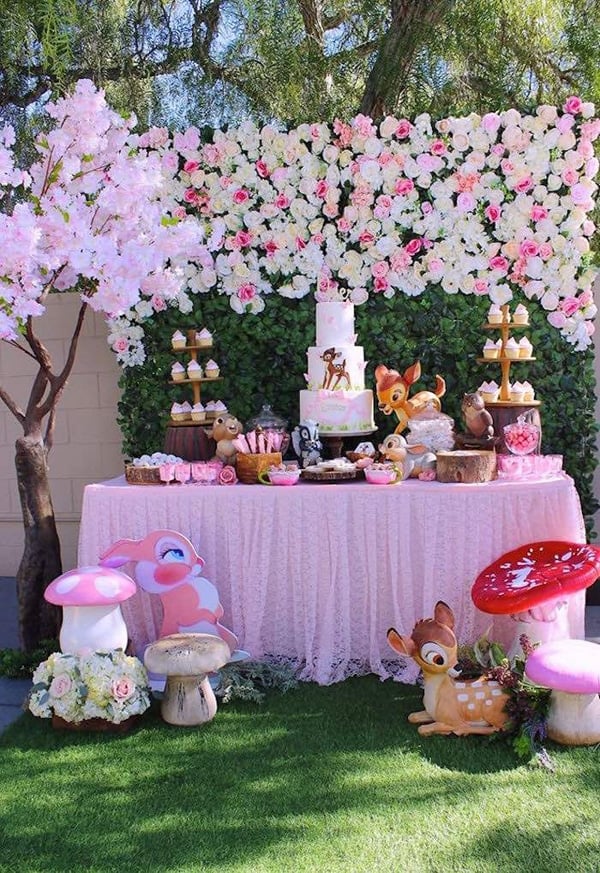 There is nothing that could have made this amazing Bambi 1st Birthday Party any better, minus the actual Bambi coming out of the woods to give the birthday girl in-person kisses. Everything was amazingly planned and the perfect wooden mushrooms that were found at the foot of the table were a wonderful addition, as well. If you are interested in Bambi Birthday Party Ideas, there is no need to look any further than these perfect decorations. Way to go! We bet this birthday girl is going to be amazed at the beautiful pictures from her special day for years to come!
What's your favorite details in this Gorgeous Bambi 1st Birthday Party? Let us know in the comments below.
For more party ideas, follow us on Instagram @prettymyparty and Pinterest and join us in our private Facebook group.
Vendors & Credits
Party Styling and Decor: Chakoda Design // Hedgewall: Balloons and Blooms