Beauty Boutique Birthday Party
A Beauty Boutique Birthday Party is a fun girly adventure for your little make-up loving, garden party girl!
This Beauty Boutique Birthday Party is absolute perfection! We love all of the garden party inspiration that is found throughout the event. And what little girl doesn't want a makeup birthday party to celebrate her big day with friends and loved ones?! This little sweetie pie got an incredible fourth birthday celebration that she will be able to look back on fondly with these gorgeous photos.
Makeup Party Supplies and Decorations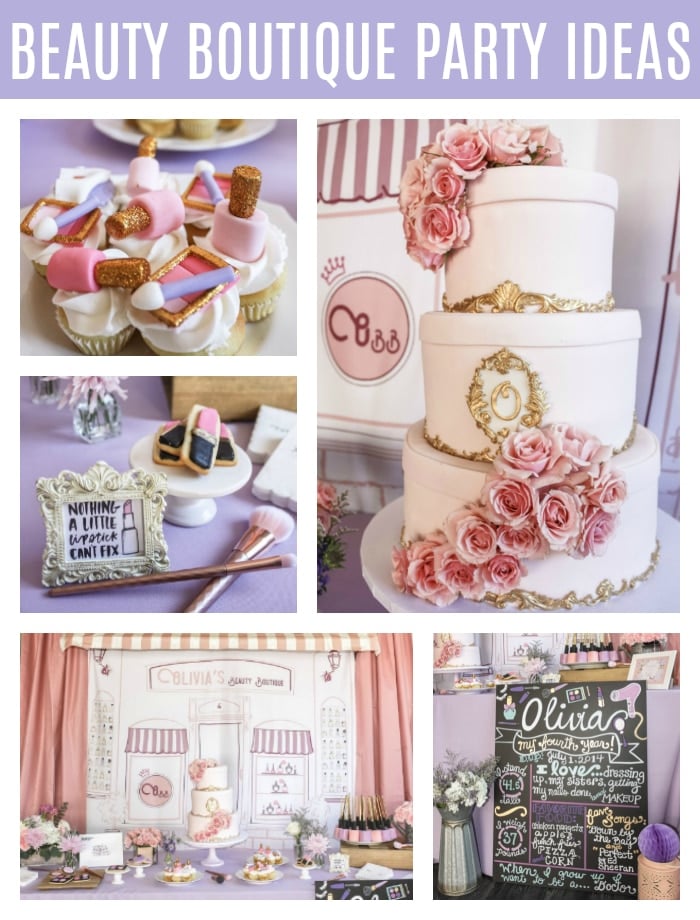 Dreamery Events styled the most gorgeous, fun and colorful garden party for this little lady's fourth birthday. You can't go wrong with a Beauty Boutique Birthday Party! This sweet girl asked to show off her prettier side by adding a makeup themed party to the mix, as well. You can't go wrong with that idea!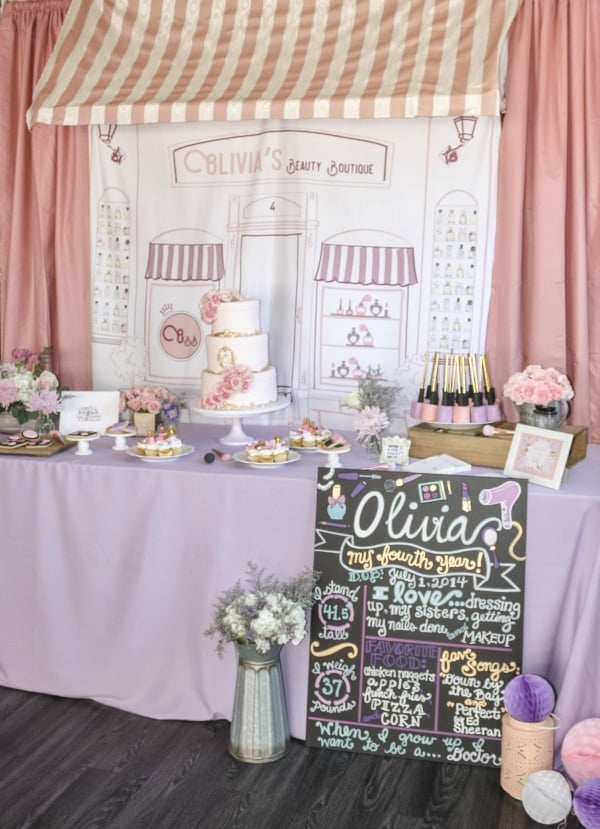 When it comes to a makeup themed party, it works for so many different types of celebrations. Older girls love it, along with spa party themes, as well! This fun Beauty Boutique Birthday Party was geared more toward little girls, since the birthday girl was only turning 4, but it was absolutely incredible!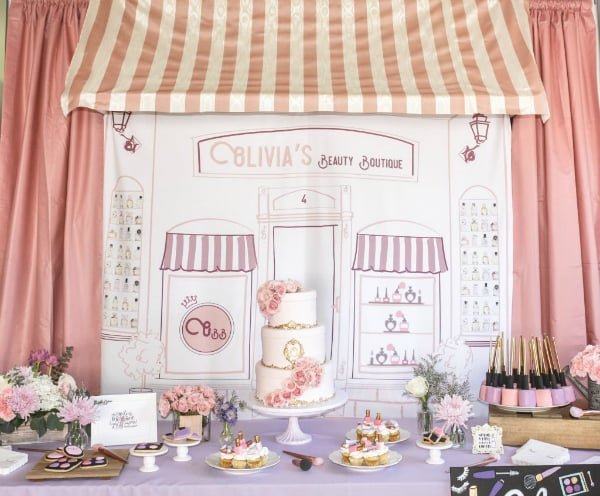 The theme for this Beauty Boutique Garden Party was kept light and fun. It highlighted the birthday girl's favorite colors, along with a pastel touch. We love all of the specific, yet subtle "makeup" details that were found around the birthday celebration, especially in the desserts that were made!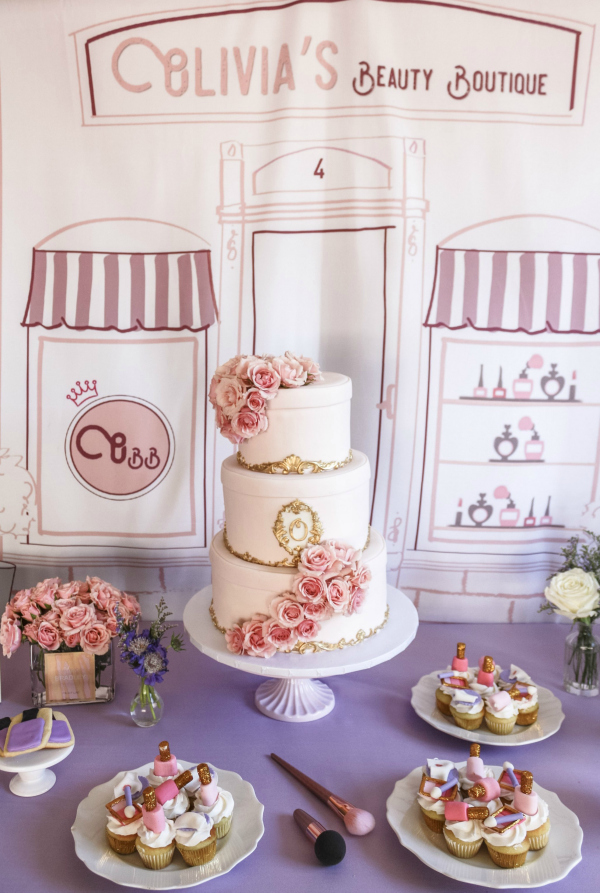 This cake! Patty Cake Bake Me A Cake did an absolutely amazing job of creating a sugary tower of hat boxes, that mimicked a European-inspired beauty boutique perfectly! After all, what type of beauty themed cake would this be without vintage hat boxes?!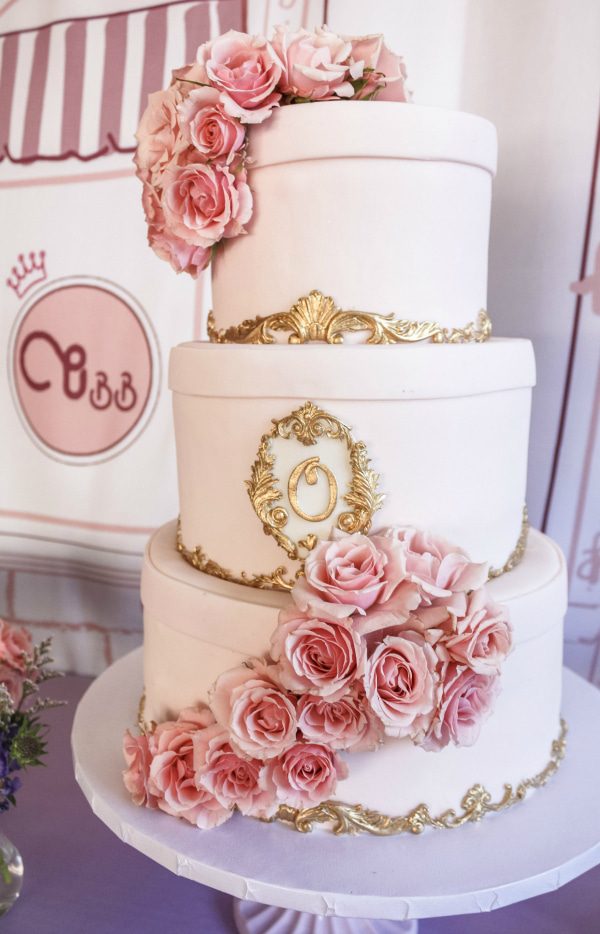 The beauty themed cake was everything this birthday girl dreamed of, and more! With the sweet gold and pink touches, it fit in beautifully with all of the other beauty themed party ideas that were found around this celebration.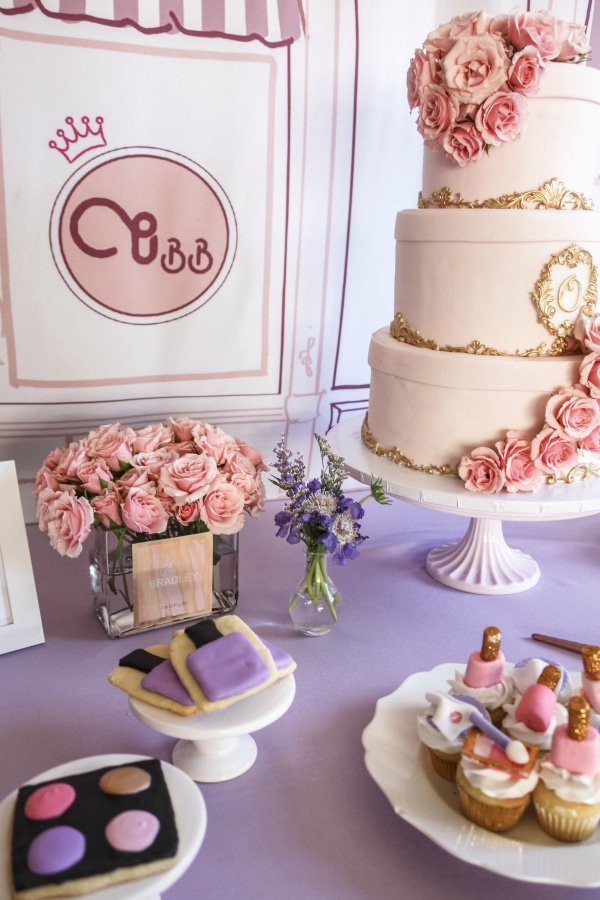 There were many edible makeup themed party decorations found on the dessert table! Just look at all of these goodies!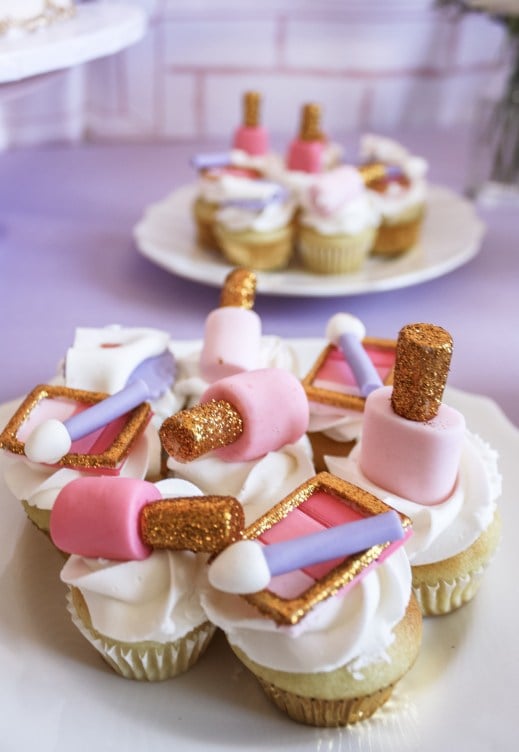 From make-up inspired cupcakes to delicious cookies, we love the great ideas that were used to create the fun looks on the Beauty Boutique Birthday Party dessert table! It all looks so delicious!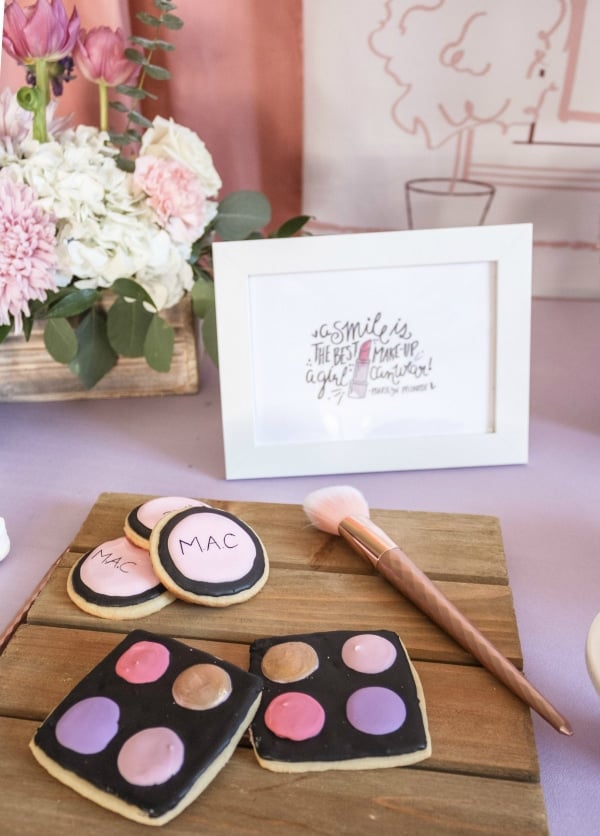 Of course, some real makeup brushes were added as accents on the wooden serving platters that had all of the "eye shadow palette" cookies, and sweet "lipsticks" so delicately and perfectly made.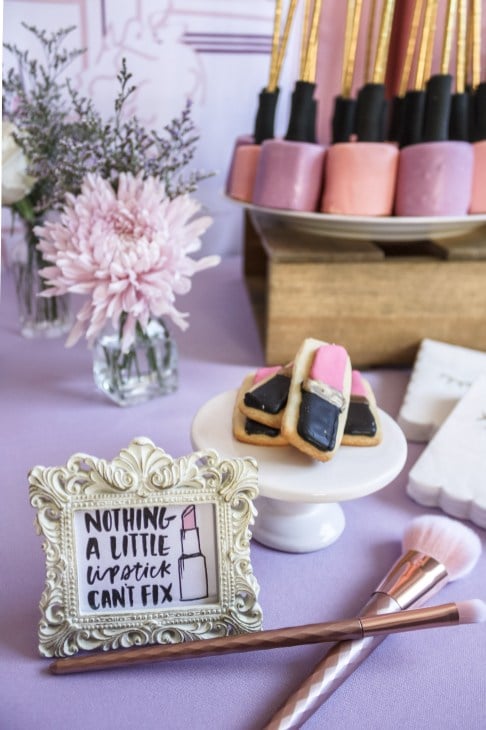 The great signage found around the event was a fun way to add makeup themed party decorations on the dessert table. And they're right! Lipstick will fix everything!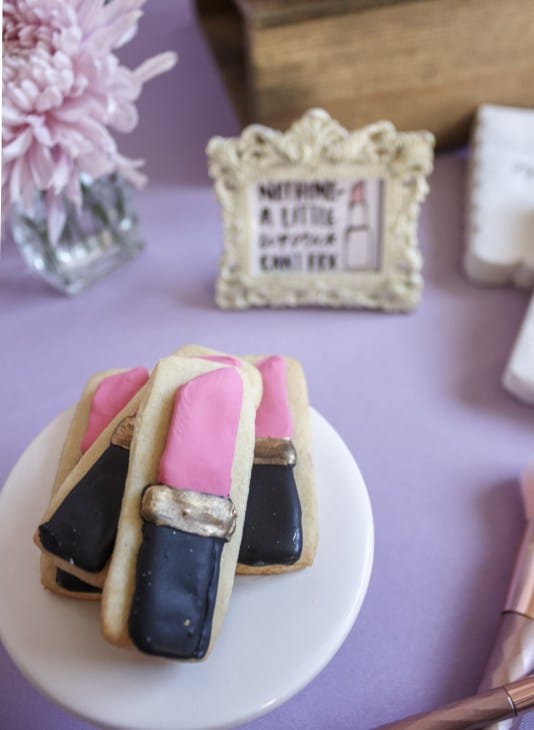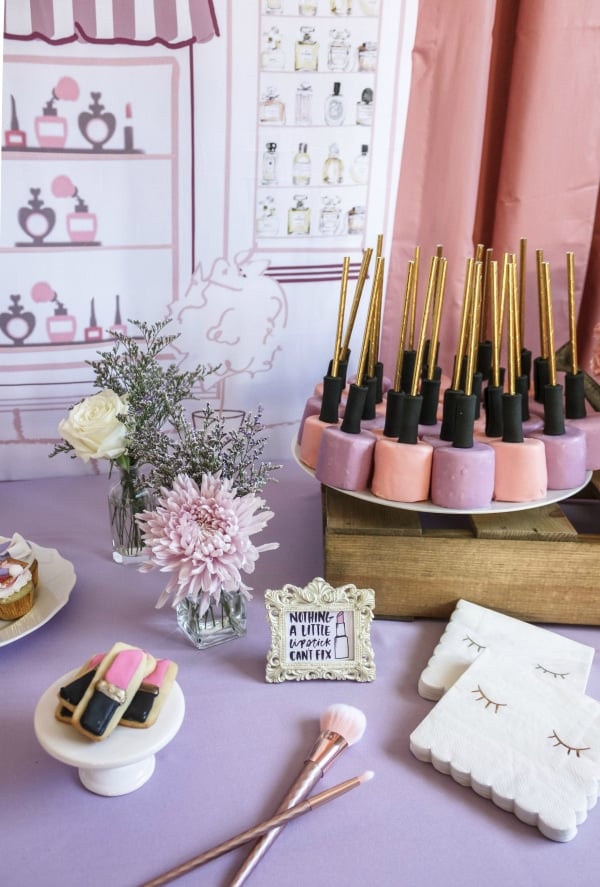 Our favorite makeup inspired dessert that we found on this Beauty Boutique Garden Party table were the "nail polish" mallows that were created for everyone to enjoy! Just look at how adorable those are! We bet the little girls couldn't wait to get their hands on those yummy treats!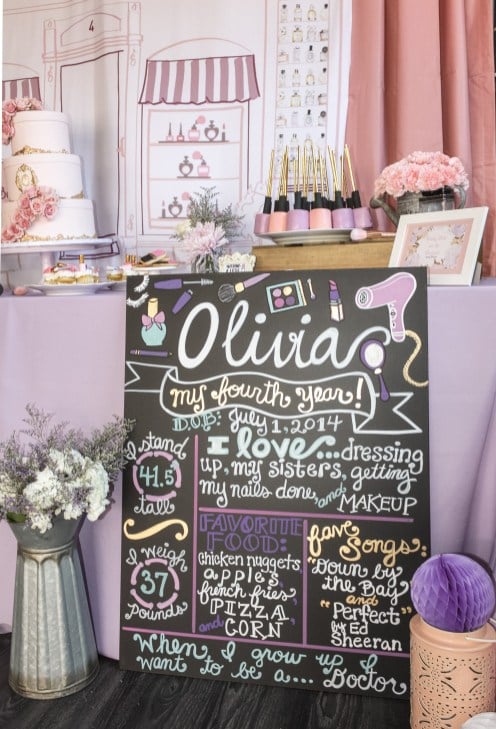 We love the entire dessert table that had the look of a real life Beauty Boutique storefront. It had an adorable pink-striped awning with a sign that shared all of the birthday girl's favorites!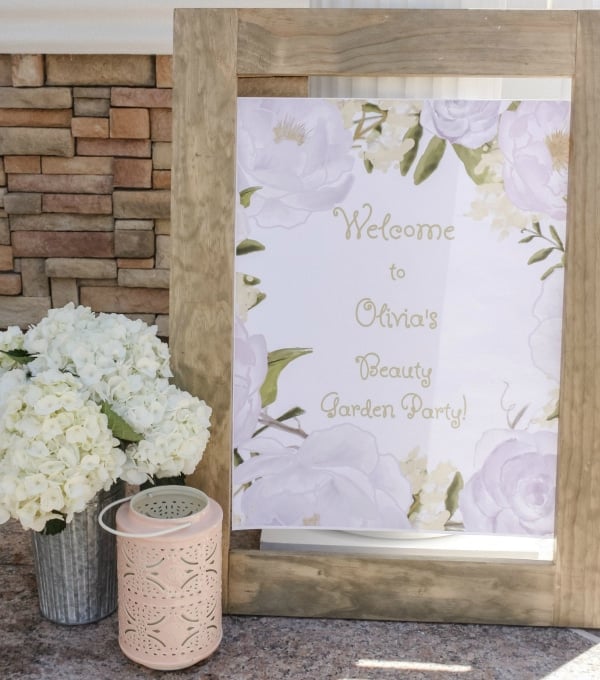 The Beauty Boutique Birthday Party was held in the family's yard, so it was easy to create the Garden Party of this little girl's dreams with things that were already found around the house. With all of the whimsical shades of light pinks and purples, along with the pastel linens found on the tables and rustic wood planters, it included details that any French boutique would setup at their own al fresco eatery!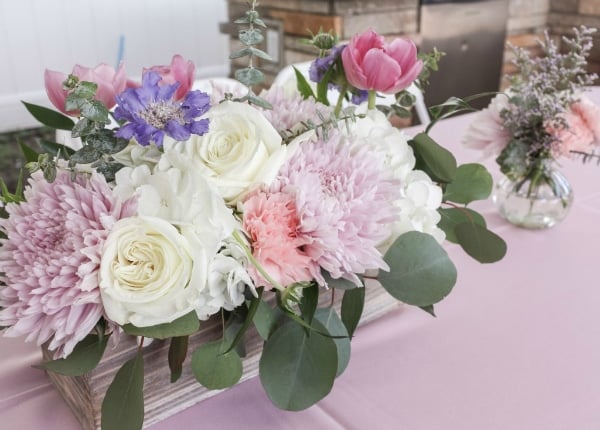 All of the flowers were sourced from Dreamery Events and it couldn't have been any more beautiful. Not only were all of the Makeup themed party decorations perfect, but the greenery that subtly surrounded the flowers was the perfect mix for the event, as well.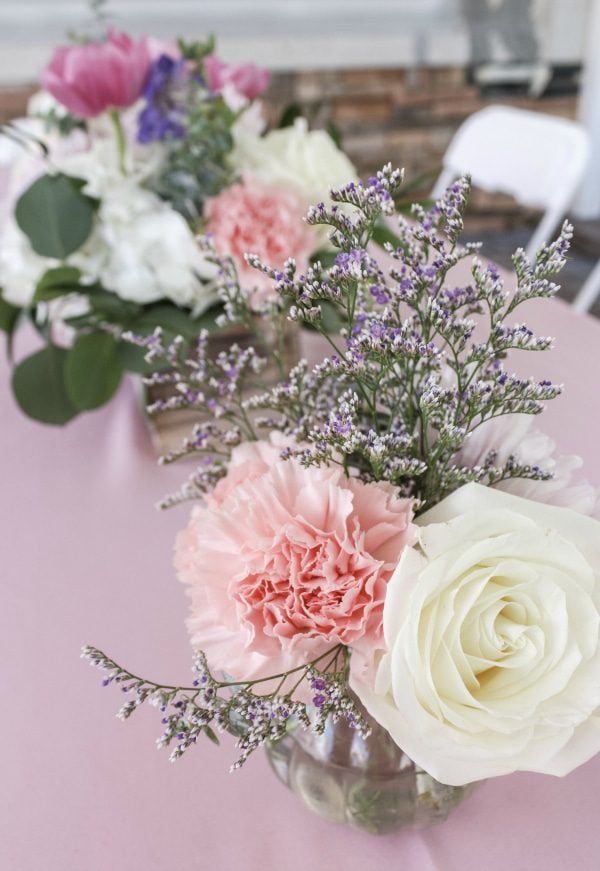 What gorgeous large roses and carnations!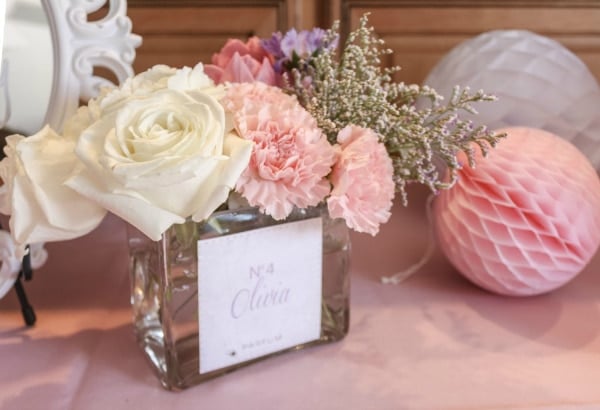 We're betting a fourth birthday never looked so sweet! What a great addition, to have the birthday girl's age on the flower vases that were used as centerpieces around the Beauty Boutique Birthday Party.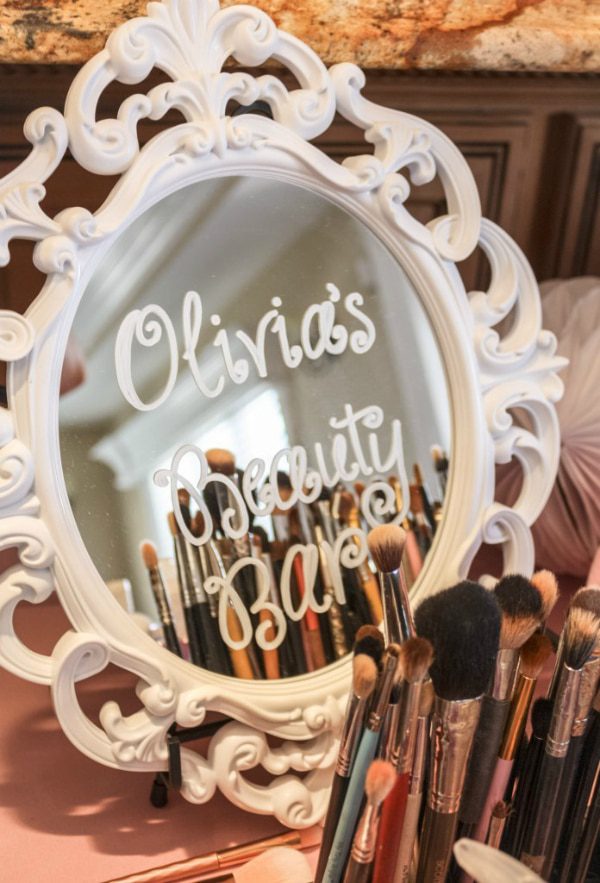 While the Beauty Boutique Garden Party was an amazing theme, the most exciting part of the birthday girl's day was her very own "Beauty Bar," where each girl was treated with make-up applications any girl would love! Red Carpet Faces did a great job spoiling the girls!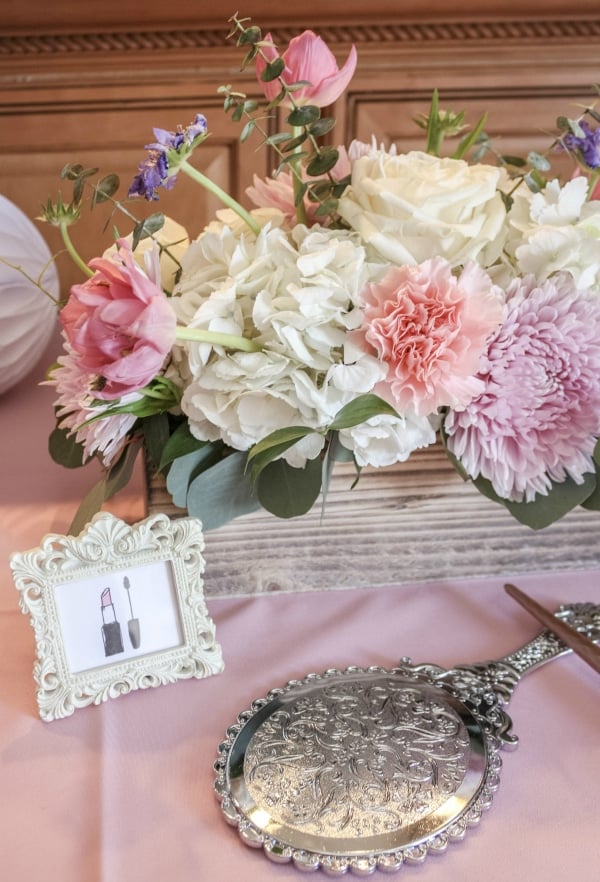 We love the vintage decorations that were found around the birthday celebration, such as this vintage mirror used on the make-up table.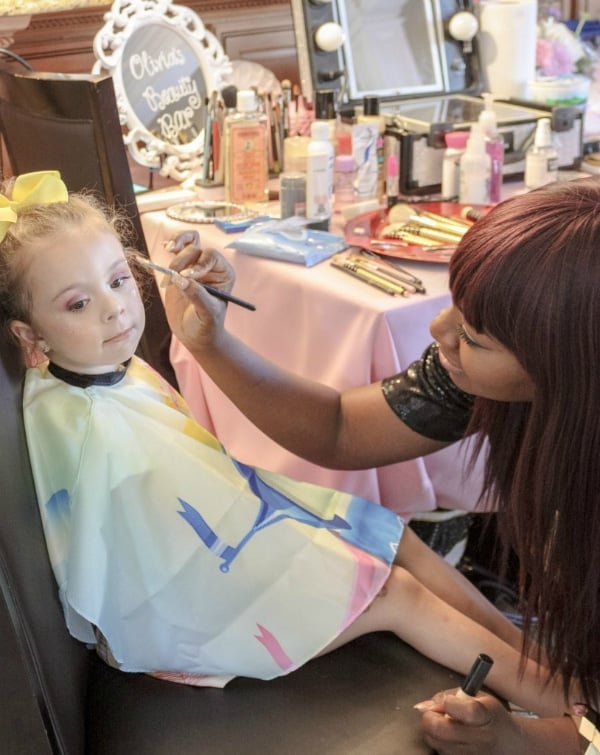 Every girl was treated to yogurt facials, along with a makeup session and … of course … a mani/pedi! Even better? Glitter! Because a Makeup theme birthday party for a fourth birthday isn't complete without glitter!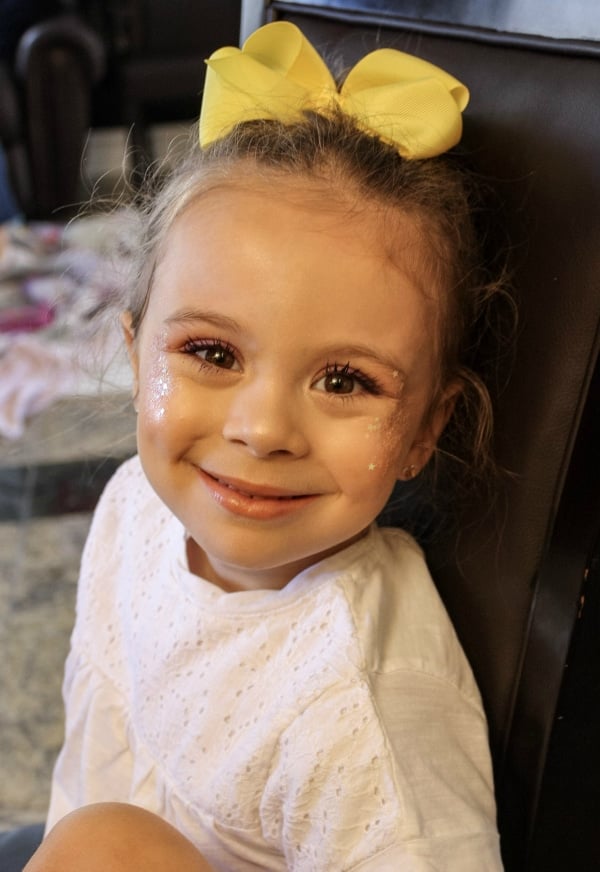 This birthday girl was absolutely in heaven during her Beauty Boutique Birthday Party. Just look at that giddy face! We bet the mamas had just as much fun watching their little girls get all dolled up!
Inspirational quotes that were framed in gorgeous frames were also found throughout the birthday celebration. What a great idea to instill the concept of beauty being within these little girls, rather than not just being skin deep. We love it!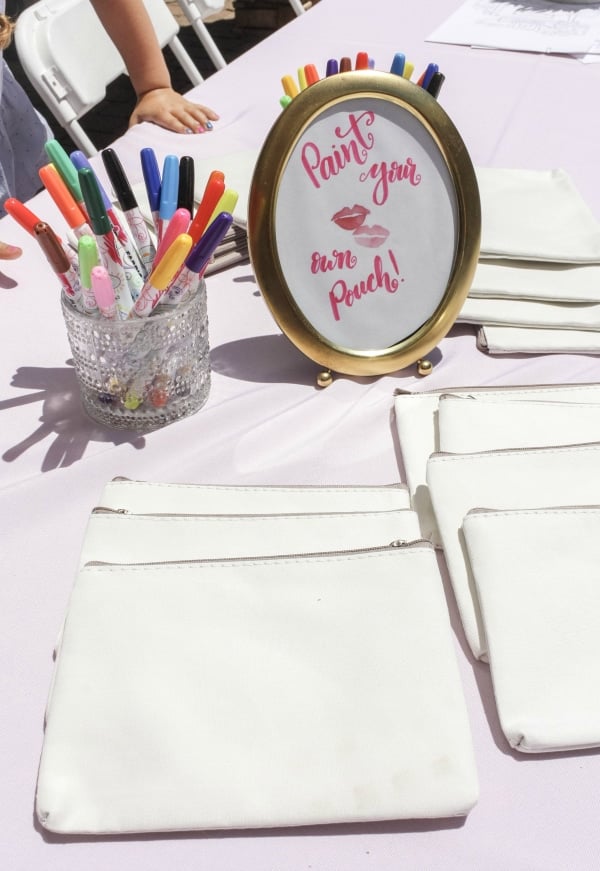 The girls also got to paint pouches to carry all of their new makeup supplies in! What a fun and creative way to spend time during the kids beauty party. It's a great way for the girls to take all of their new goodies home and who doesn't love to color?!
The kids also got to play in the tree house, slides and swings that the birthday girl had in her yard, too. What perfect adventures for the sweet girls!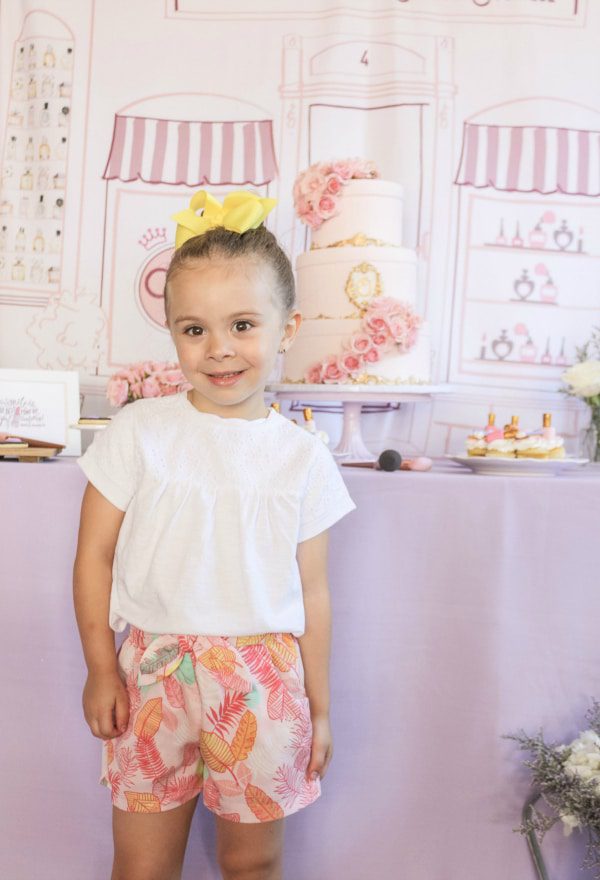 At the end of the day, this sweet and angelic take on a makeup themed party was just the right combinations of little girl and growing young lady! What a wonderful day for this birthday girl and she couldn't have been more excited to celebrate with all of her friends.
What's your favorite details in this Beauty Boutique Birthday Party? Let us know in the comments below.
For more party ideas, follow us on Instagram @prettymyparty and Pinterest and join us in our private Facebook group.
Vendors & Credit
Styling, Flowers, Planning & Photography: Dreamery Events
Cake & Mini Cupcakes: Patty Cake Bake Me A Cake
Other Small Desserts: Spoonful of Heaven
Make Up: Red Carpet Faces
Catering: Valenca Restaurant
Table Linens Bergen Linens
Tent & Seating Rentals: Hodges Party Rentals