Incredible Star Wars Birthday Party
This Star Wars Birthday Party is one for the record-books and it will have any Jedi-Master looking to throw their own Star Wars Themed Party!
This incredible Star Wars Birthday Party from Trendy Events is everything any super fan would die for. This little birthday boy had the most incredible wish come true when he was able to have his very own Star Wars birthday! Everything was perfect, from all of the Star Wars characters to the incredible multi-tiered cake. Nothing was left to chance and all of the Star Wars decorations were Jedi approved!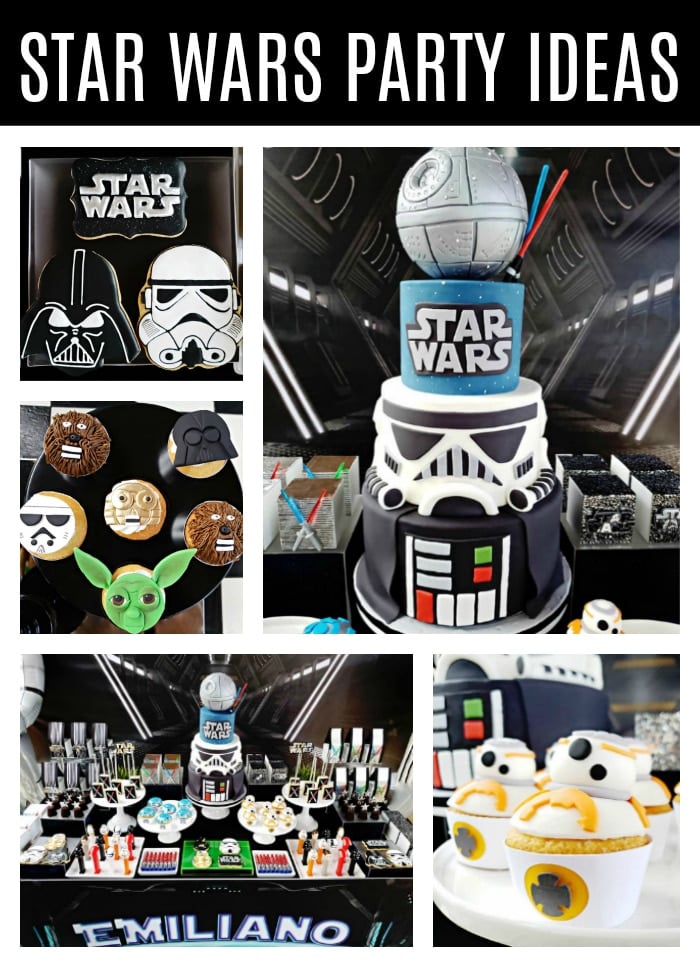 Star Wars Party Supplies and Decorations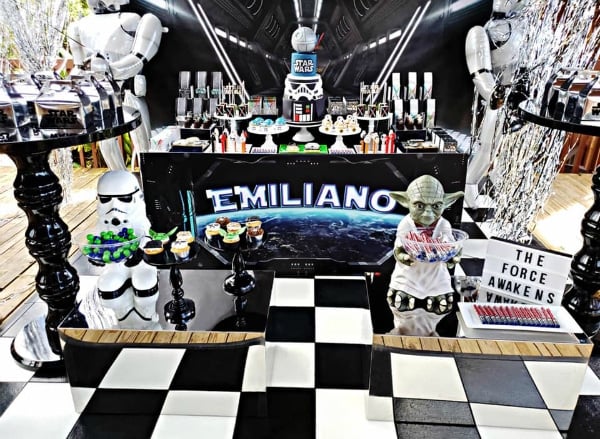 This mom was channeling Princess Leia and thinking, "Help me, Obi-Wan Kenobi, You're my only hope" when it came to planning a birthday party for her little guy. Luckily, Trendy Events stepped in to plan, design and style this amazing Star Wars Birthday Party that any Star Wars fan would die for!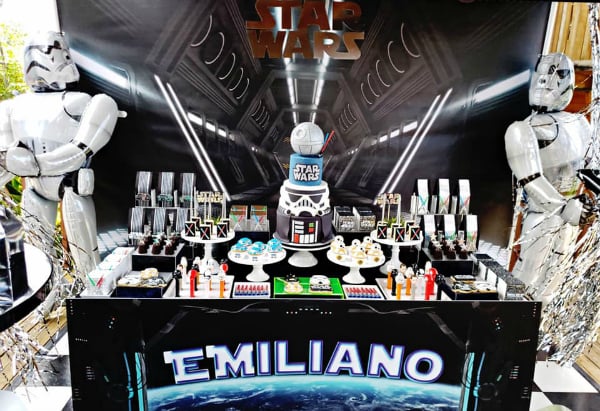 All of the graphic design that was done for this Star Wars Themed Party was created by Cristina Marrero. Just look at the amazing backdrop that was made for the dessert table. And the sign that was found on the front of the dessert table with the birthday boy's name was perfect, too! With Storm Troopers guarding each side of the dessert table, though, guests weren't going to be able to dig in before it was time!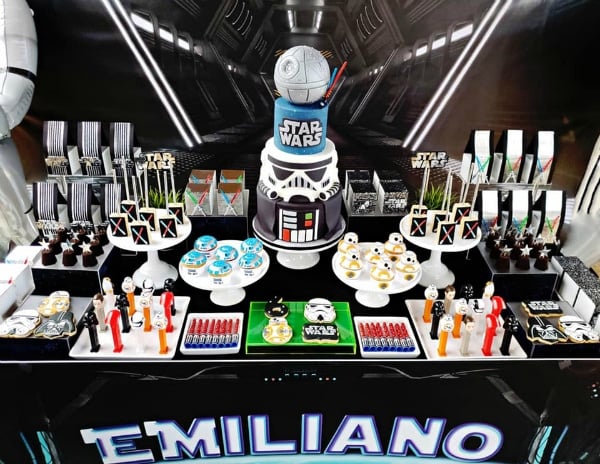 Just look at this dessert table for the Star Wars Birthday Party! There was so much Star Wars Themed Food found everywhere on the table, from the cookies, cupcakes, Rice Krispie treats, and so much more! And all of it was on-point!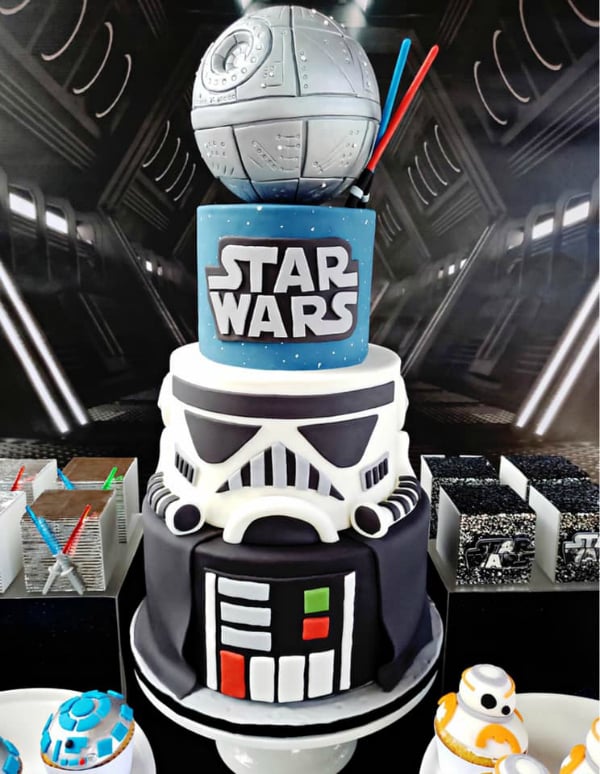 This Star Wars Birthday Cake was made by Caje Boutique by Grizelle Silva and it couldn't have been any more impressive! The three-tiered cake represented many different aspects of the Star Wars movies, with, of course, the ultimate Death Star representing the cake topper! We love it!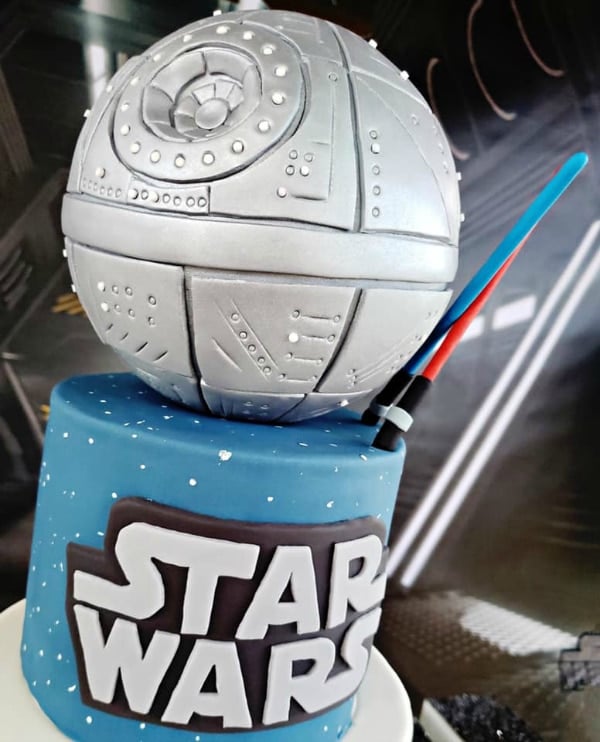 "Do OR do not. There is no try." Yoda was sure right on this one, when it comes to the most ultimate Star Wars Birthday Cake ever! This cake idea is definitely one of the most incredible creations we've seen and we love the light sabers that were found on top of the cake, as well. The details are simply amazing!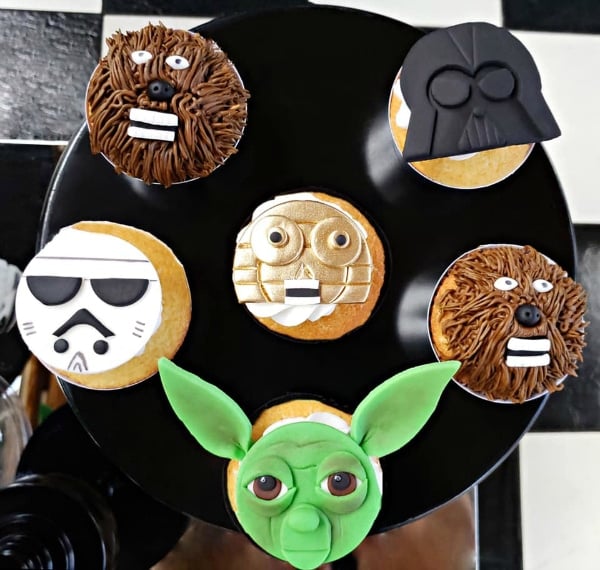 Sweets were made by Heidy Beltran and these amazing cupcake toppers made everyone want to dig in as soon as they arrived! The only problem? Everyone wanted one of each and it was hard to pick which Star Wars character everyone would receive! They were all incredible!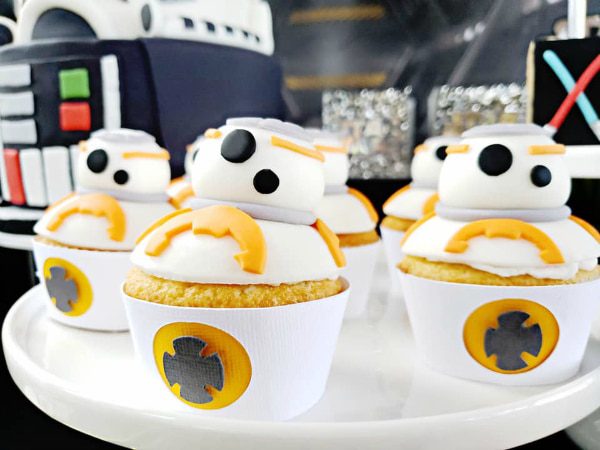 BB-8 also had to get in on the fun when it came to amazing cupcakes! This Star Wars party had incredible decor, starting from the cupcake liners, to the top of the sweet little droid cupcake. Everything is so perfect it's almost too good to eat. Thank goodness for the gorgeous pictures from Semprit Photography so everyone can remember all of the details for years to come!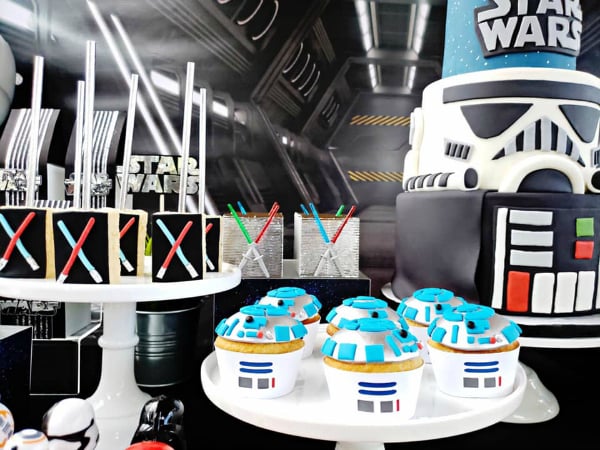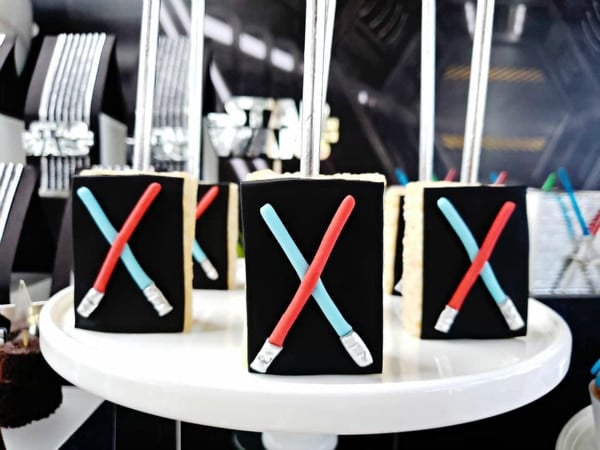 More desserts were found, including these fun Rice Krispie treats that were decorated with light sabers! We're thinking the dark side is a little evident with the crisp, black frosting that was used, but not everyone can be the good guy!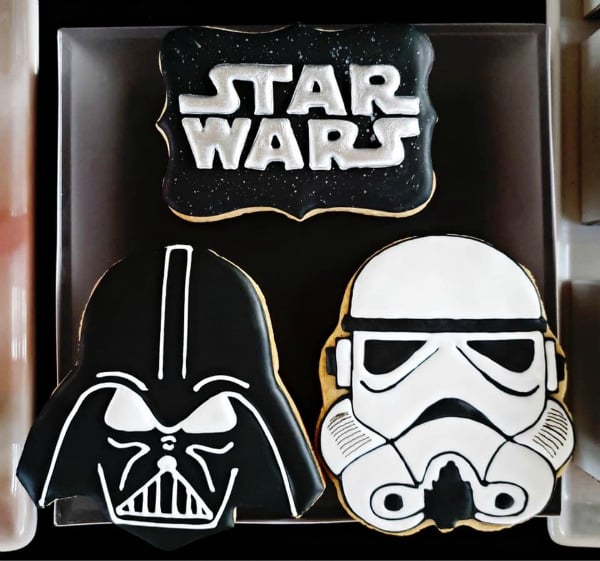 More desserts for the Star Wars Themed Party were found on the table, including these cookies from Sugar Box PR. Storm troopers and Darth Vader were the intimidating cookies that all of the birthday party guests could choose from, but that didn't mean the whole party was found on the dark side!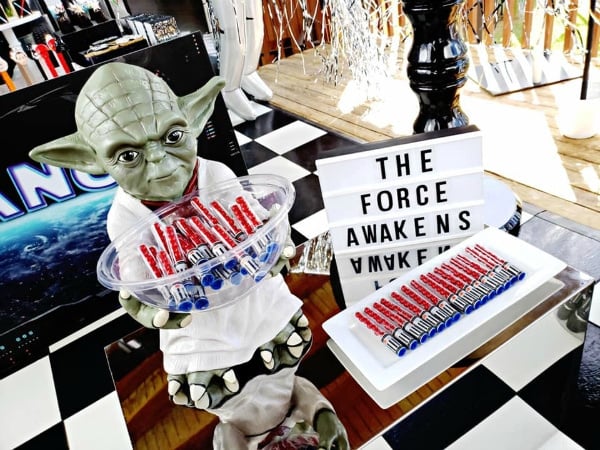 Master Yoda was on hand to pass out light saber treats to everyone. These are so cute! Red candies were found in a covering where everyone was able to have their own light saber, and even one to take home, should they so choose. What a unique idea!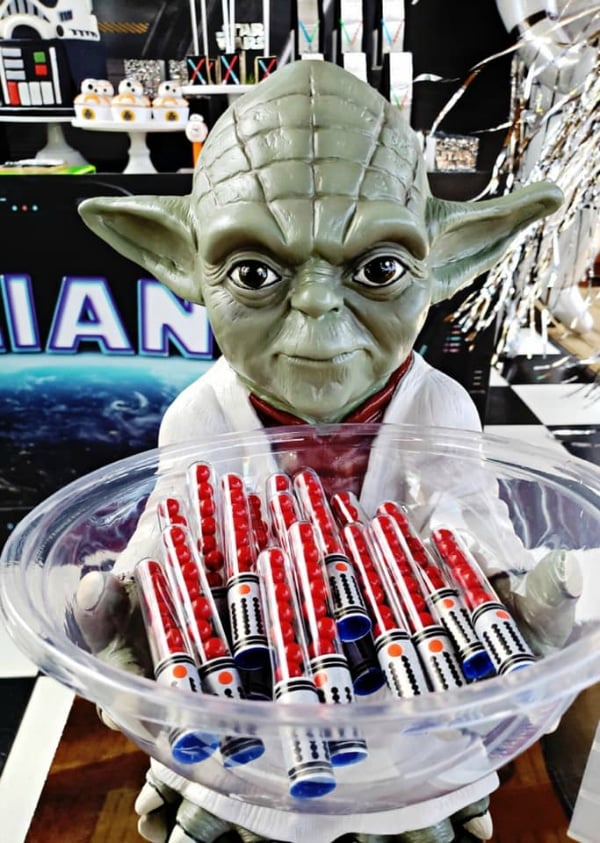 We love the Star Wars Themed Food that was found on the dessert table. If Yoda says to take a treat, you better believe the treats are going to be eaten!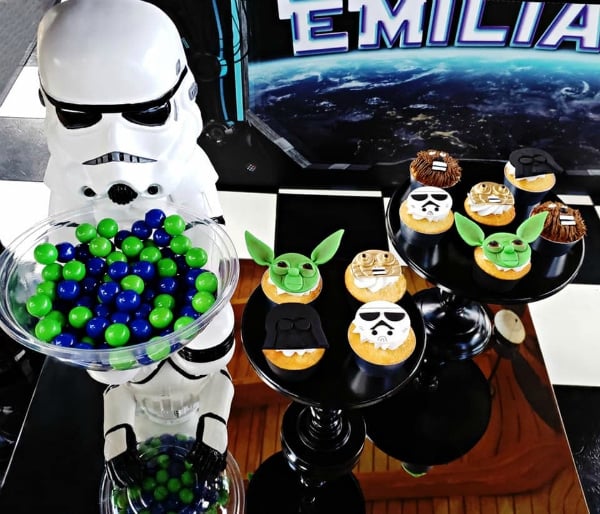 Storm troopers were available to help pass out some of the treats, as well. What a great way to serve all of the desserts. Star Wars decorations were found all around the event, as well as being part of the dessert table. Whenever you can get such amazingly themed desserts that can double as part of the decor, it's a win-win!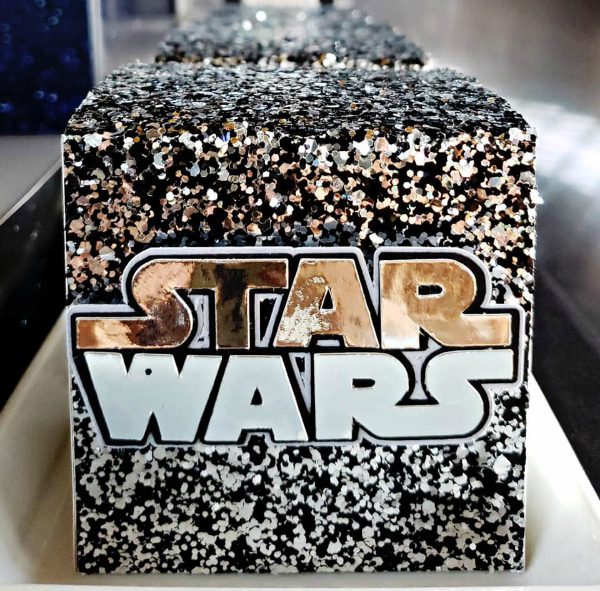 Star Wars party supplies were found from one end of the Star Wars Birthday Party to the other! We bet that all of the party guests couldn't wait to get home to have a Star Wars movie marathon!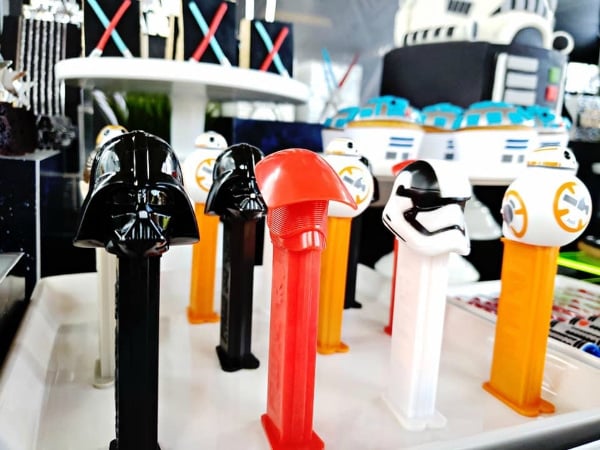 Pez dispensers are always an old-school favorite, so of course they were part of the dessert table at this Star Wars Themed Party. What a great food idea to incorporate into the celebration!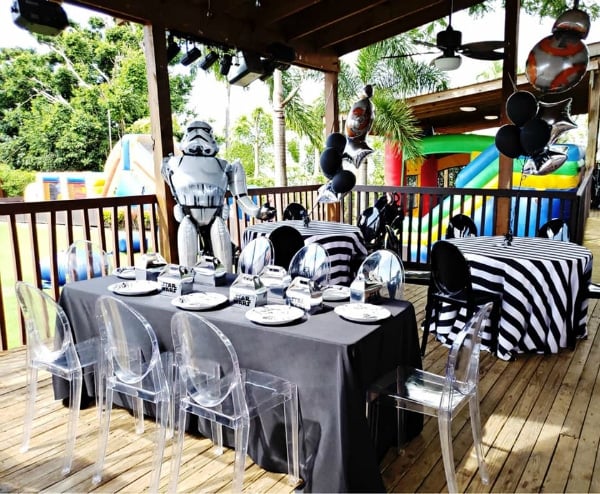 All of the guests were able to enjoy wonderful table settings at the tables where they ate. There were even life-sized storm troopers around to guard all of the decorations, too. Nobody was going to do no wrong with that guy watching over them!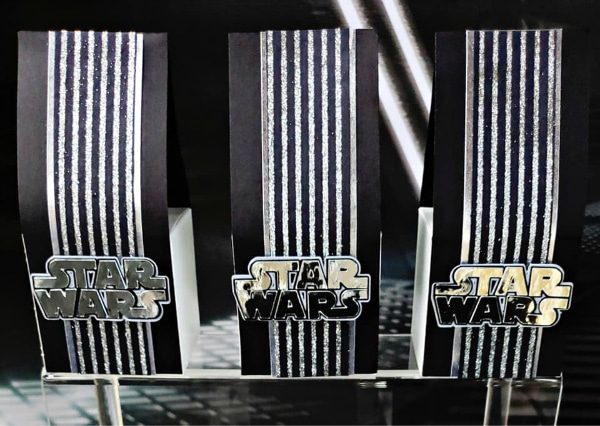 Personalized items were created by Grilos for the Star Wars party supplies that were done for the birthday celebration. The birthday boy loved it!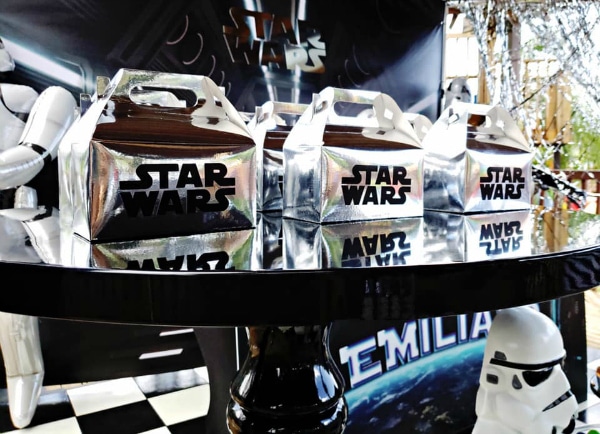 This amazing Star Wars Birthday party was everything any Star Wars fan could dream of. Obi-Wan Kenobi didn't lie when he said that "The force will be with you always" for all of the children who dream of growing up to be a Jedi!
What's your favorite details in this awesome Star Wars Birthday Party? Let us know in the comments below.
For more party ideas, follow us on Instagram @prettymyparty and Pinterest and join us in our private Facebook group.
Credits & Vendors