27 Star Wars Birthday Party Ideas
Planning a Star Wars Birthday? The force awakens with these 27 Star Wars Party Ideas that are out of this world!
Star Wars is one of the top party themes this year, and it's not hard to see why. The Star Wars universe presents so many out of this world ideas that any kid would go crazy over. From lightsabers to stormtrooper costumes, you won't run out of amazing ideas for your Star Wars Themed Party.
Why A Star Wars Birthday?
Released in 1977, Star Wars became a pop culture phenomenon that prompted several equally successful sequels in its wake. The film series was a commercial success. Kids and adults alike became totally enamored with the characters that lived "a long, long time ago in a galaxy far, far away." From Luke Skywalker, Princess Leia, Han Solo, Chewbacca, to Rey, Finn, and BB-8, fans from all over have been following the story of these beloved characters for a number of decades until today.
So whether your little Star Wars fan is hoping to be the last Jedi or want to follow in the footsteps of Darth Vader and be a Sith Lord, we're betting that he or she will be pretty psyched to have a Star Wars birthday!
Don't know where to get started? We've got you covered. Here are 27 Star Wars Birthday Party Ideas to help you put together the Star Wars party of your child's dreams. May the force be with you!
Star Wars Party Supplies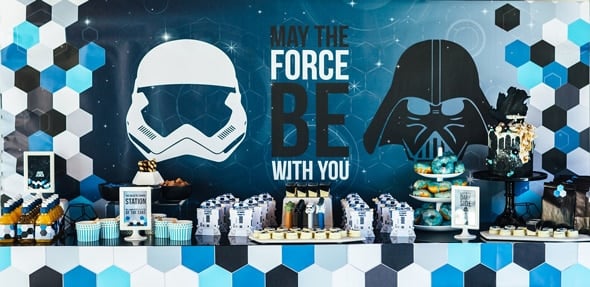 Star Wars Birthday Party Idea #1: We LOVE the modern take that this party has with these Creative Star Wars Party Ideas! All the futuristic elements of this party setup, from the cool stormtrooper and Darth Vader backdrop to the blue honeycomb pattern, will surely take your guests to a galaxy far, far away.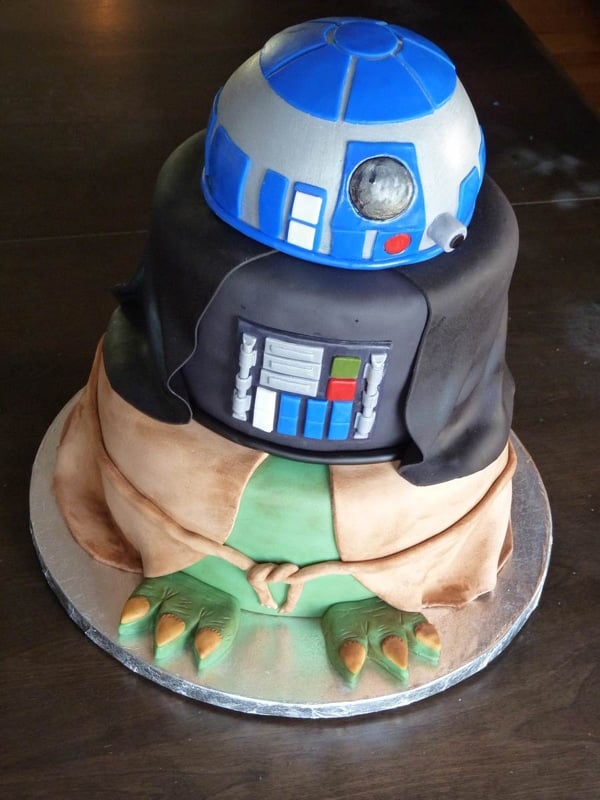 Star Wars Birthday Party Idea #2: Do you need ideas for a Star Wars birthday cake? Check out these Out of This World Star Wars Birthday Cakes! The particular cake pictured here is perfect for those who haven't decided whether they want to move over to the dark side or not because it's got a bit of everything!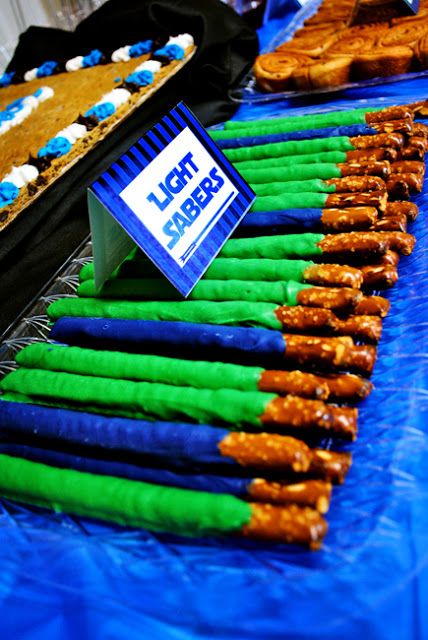 Star Wars Birthday Party Idea #3: Looking for easy but delicious food ideas for your party? Check out these Light Saber Pretzels – the perfect snack for kids! Your party guests will definitely have a lot of fun doing mini saber fights with these.
Star Wars Birthday Party Idea #4: We're totally digging this Luke Sky-Water Beverage station! How FUN! This shows that you don't have to do anything fancy to have an awesome Star Wars party table.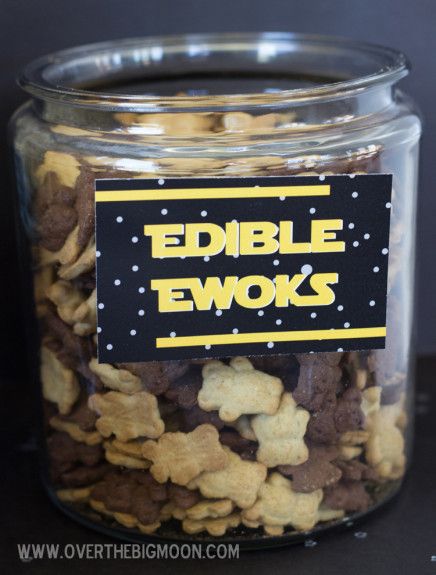 Star Wars Birthday Party Idea #5: Edible Ewoks aka Teddy Grahams are another fun snack idea for your party! CUTE! These require no effort at all to make, and they will go perfectly well with your other Star Wars themed food!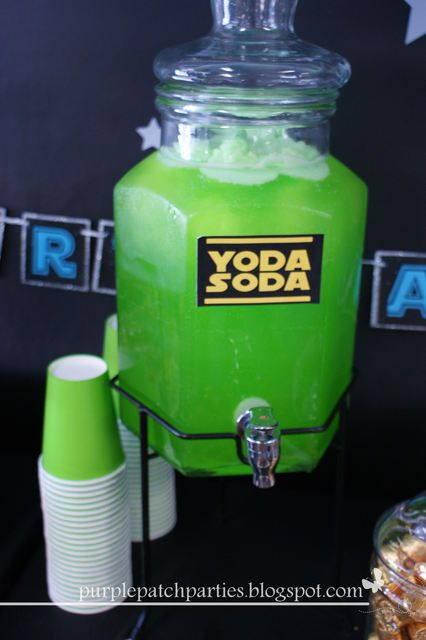 Star Wars Birthday Party Idea #6: Let the kids wash down all of those party sweets with some "Yoda Soda!" It's a fantastic idea if you're on the lookout for something that's affordable and totally easy to make.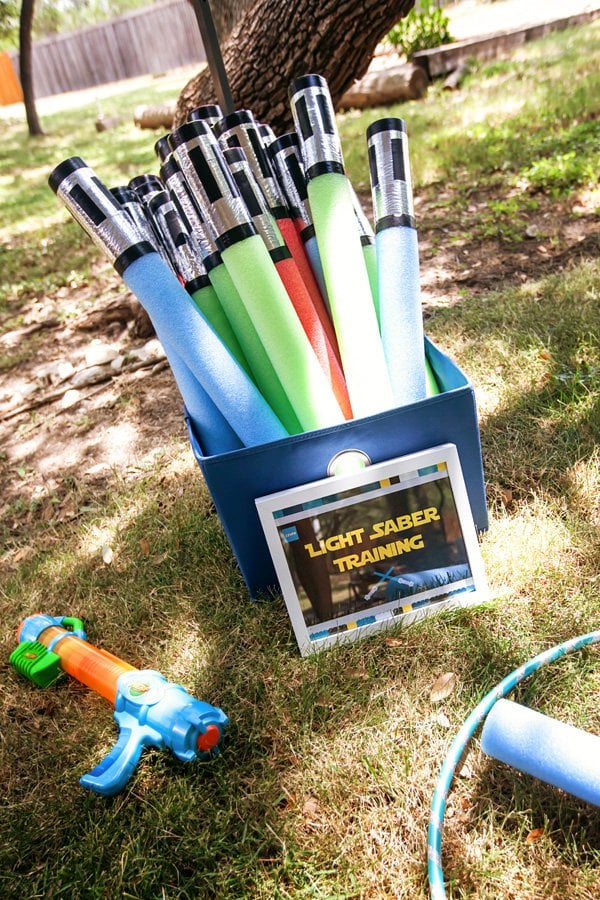 Star Wars Birthday Party Idea #7: How about some cool party games? DIY Pool Noodle Light Sabers are an awesome idea for some Light Saber Training. They're super safe and they promise a ton of fun – a great party activity for the kids! These pool noodle light sabers make awesome party favors too!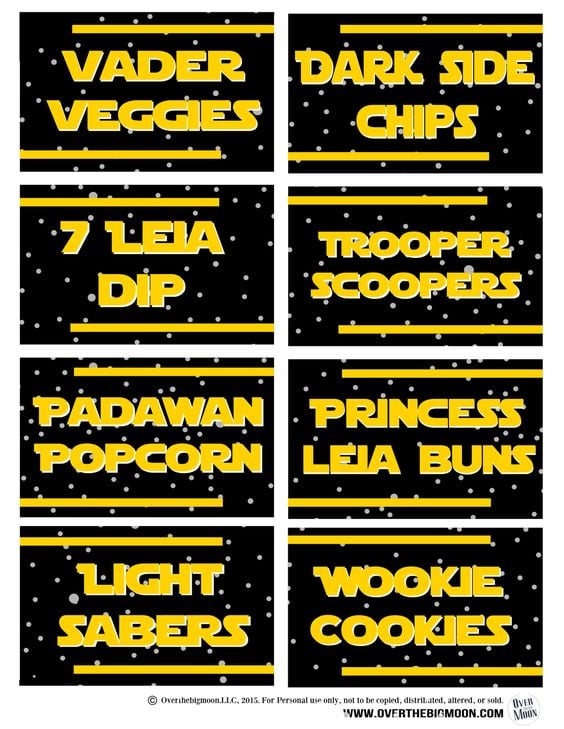 Star Wars Birthday Party Idea #8: Grab these fun Free Star Wars Party Printables for your party! Printable Star Wars labels are always a great way to make sure that all the elements of your party fit your theme, and they're FREE so you can't go wrong there!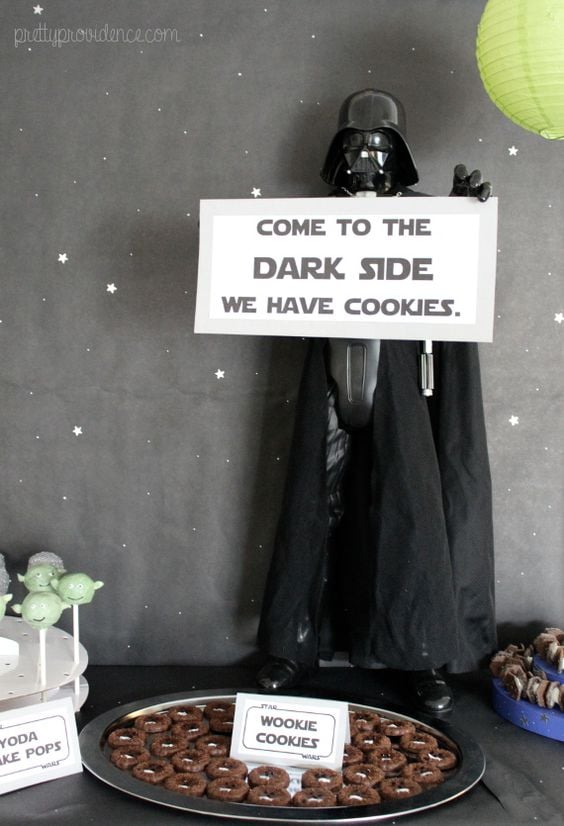 Star Wars Birthday Party Idea #9: This Come to the Dark Side Sign is perfect for your dessert table! And if you're looking for centerpieces, this tall Darth Vader figure is definitely a wonderful idea.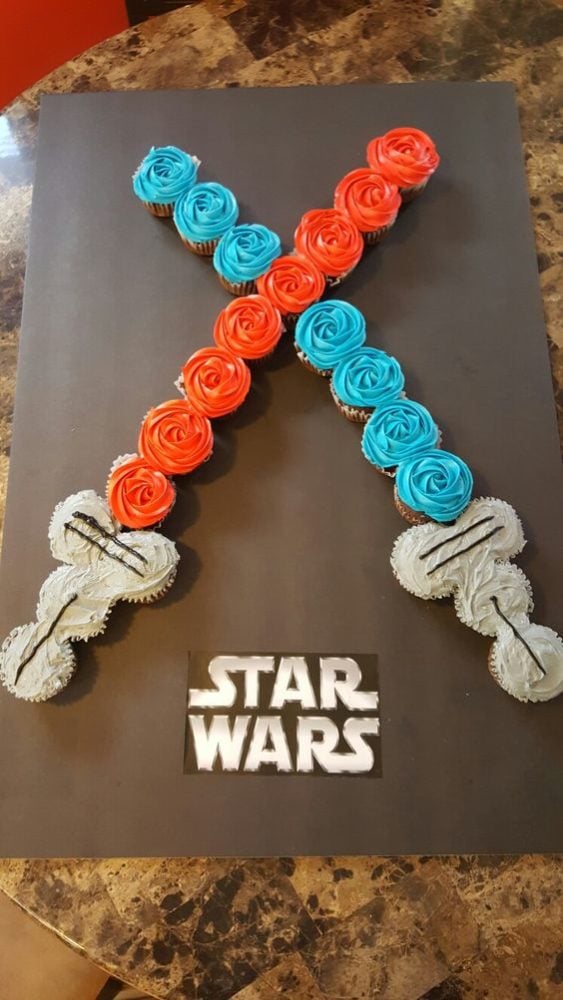 Star Wars Birthday Party Idea #10: If you're looking for a fun, yet simple cake alternative, this Light Saber Cupcake Cake is perfect for you! How creative are those beautifully piped rosettes on the lightsaber cake toppers?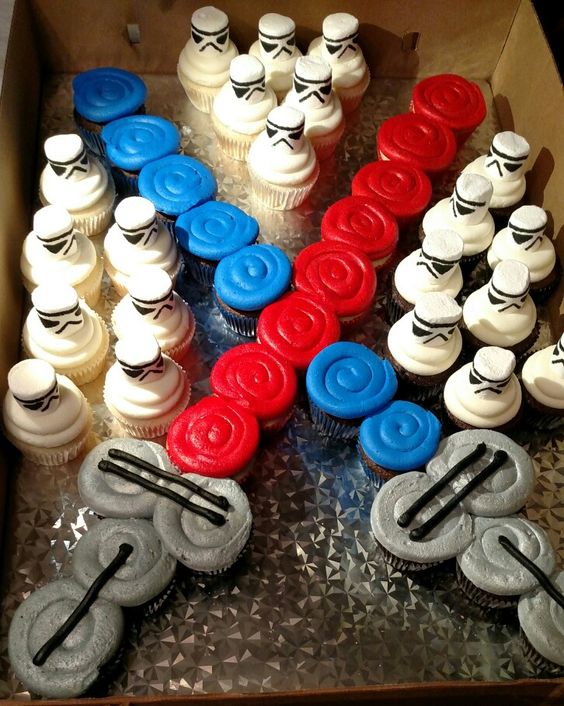 Star Wars Birthday Party Idea #11: Here's another fun Light Saber Cupcake Cake that the kids will love! Those stormtrooper cupcakes look amazing as well! A fun idea that your guests are sure to love. This is definitely a must-have for your dessert table.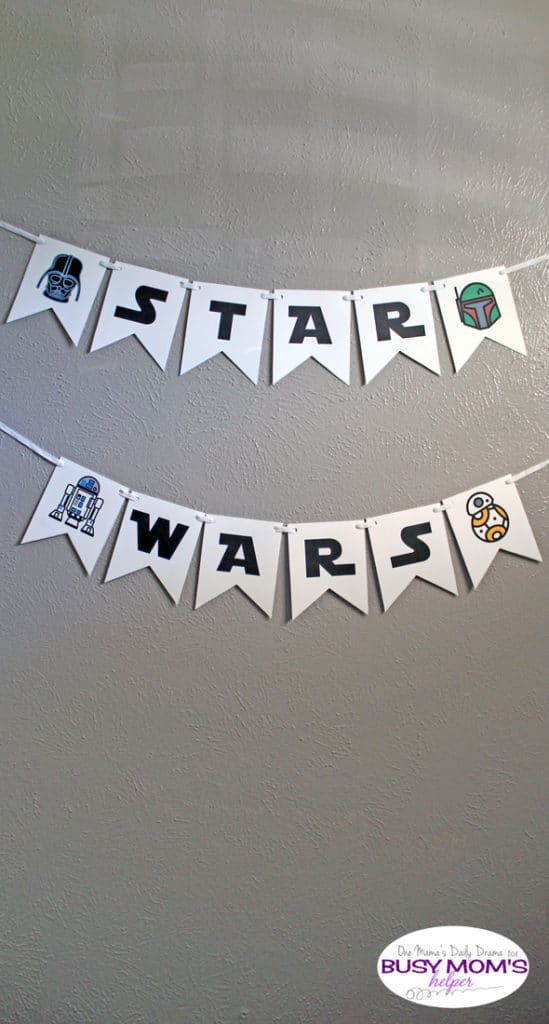 Star Wars Birthday Party Idea #12: If you need some Star Wars decorations for your party, grab this Free Printable Star Wars Party Banner. Simple yet very effective. What's great about this is that you don't need to go visit a specialty Star Wars party supplies shop to get them, you can print them right at home!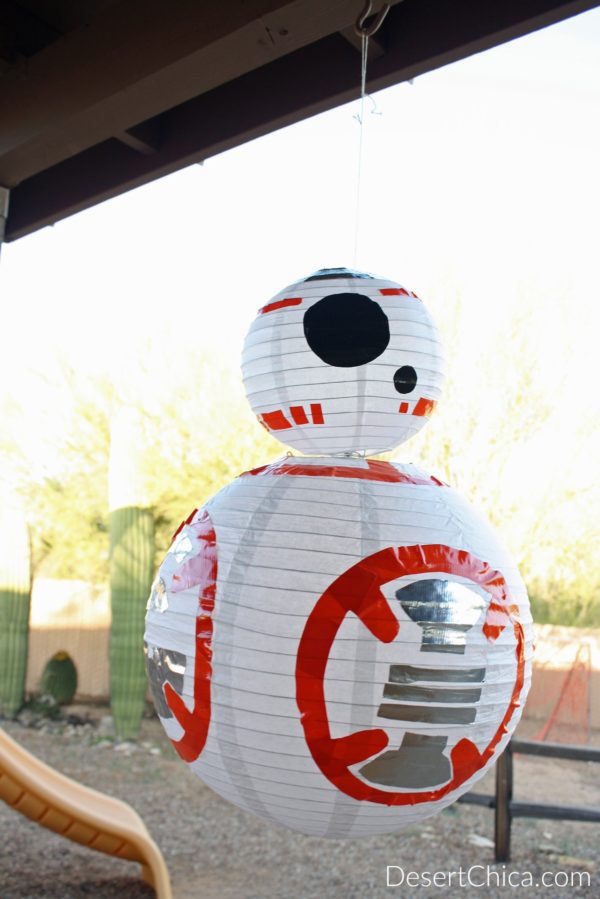 Star Wars Birthday Party Idea #13: Want to add some paper lanterns to spice up your party decor? How about this great DIY Star Wars BB-8 Paper Lantern? This will make a perfect Star Wars Party decoration that all your guests will definitely marvel at.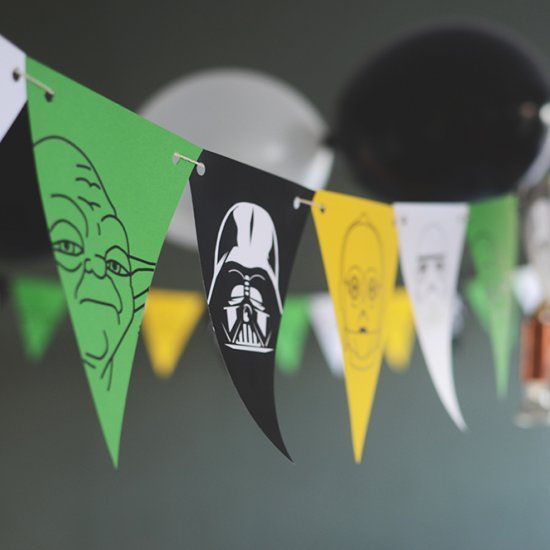 Star Wars Birthday Party Idea #14: For those who are eager to try out their DIY skills, here's another fun and Free Star Wars Printable Banner! This banner would complete the whole look of your Star Wars themed birthday party. Be sure to include your kid's favorite Star Wars character!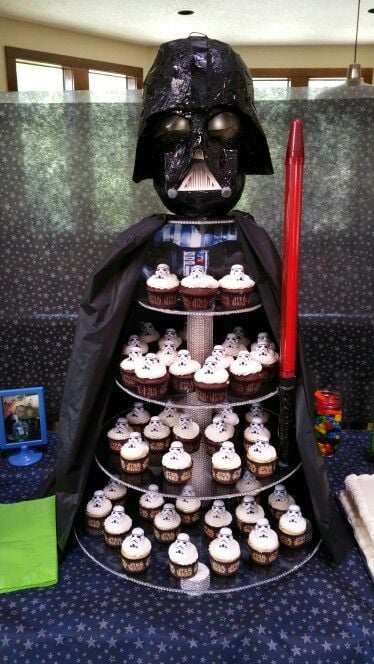 Star Wars Birthday Party Idea #15: For the little Sith apprentices, this dessert is the bomb. This Star Wars Cupcake Stand is totally out of this world! Don't you think?! The cute little stormtrooper cupcakes with the huge Darth Vader decoration will definitely be a talking point at your party.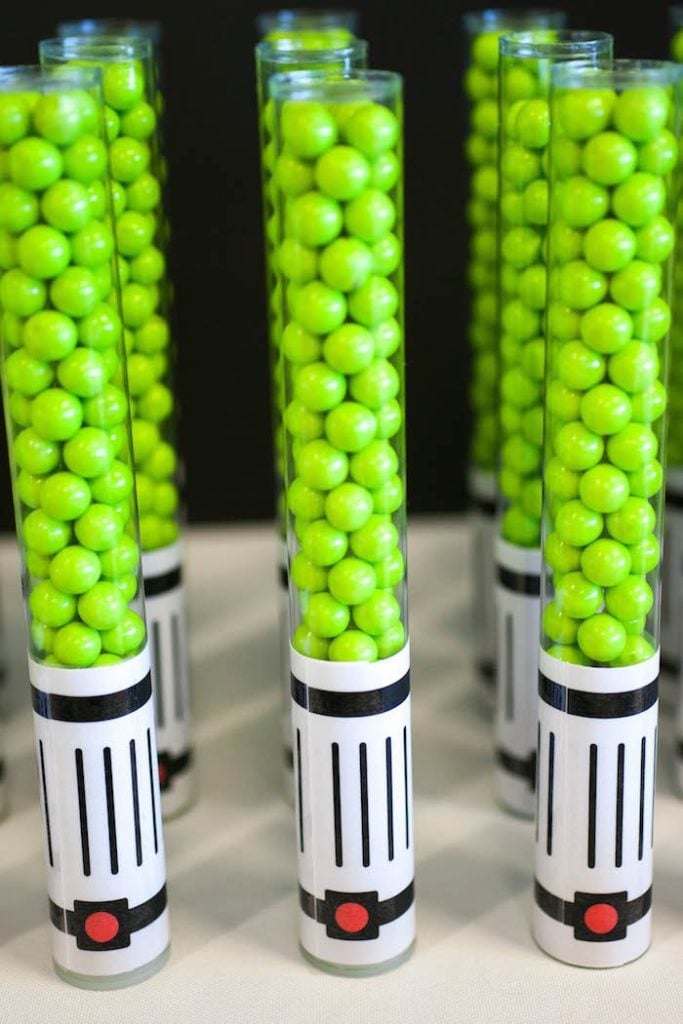 Star Wars Birthday Party Idea #16: In search of cool party favors to complement your party? Here are more awesome lightsaber ideas to try out. These Star Wars Light Saber Candy Favors will be a hit at your party, especially for the little Jedi Knights! Remember, you can never have too many lightsabers in a Star Wars birthday party.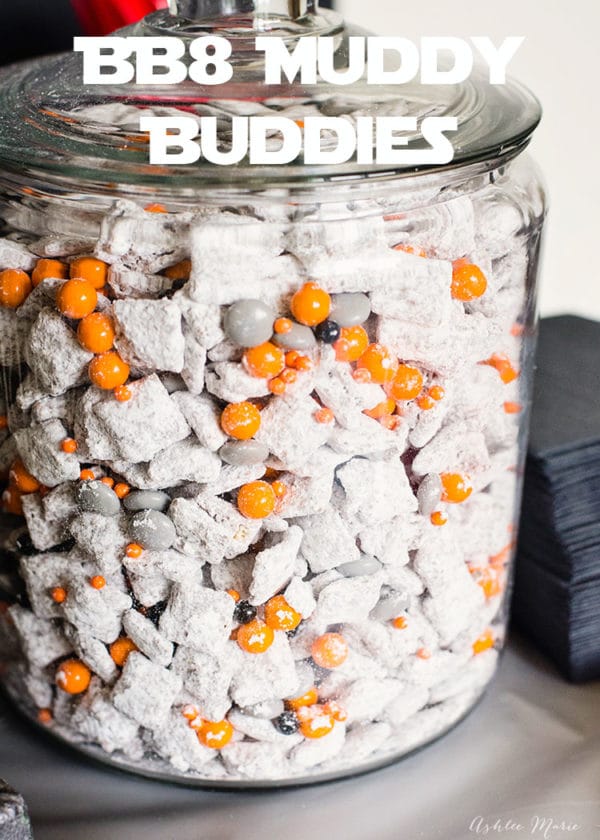 Star Wars Birthday Party Idea #17: These yummy BB-8 Muddy Buddies are super easy to make and super delicious! Muddy buddies are always a hit at kids' parties, so these Star Wars version of a classic party favorite will definitely be well loved too!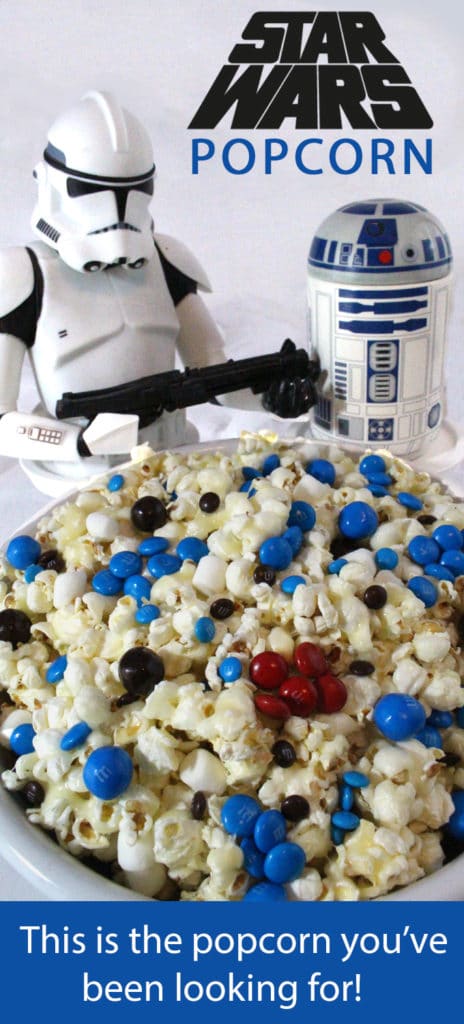 Star Wars Birthday Party Idea #18: Looking for another easy party snack? Check out this Star Wars Popcorn. Just throw in a couple of Star Wars action figures and some red and blue M&Ms, mix them all up in a big festive bowl and voila! It's good to go. Yum!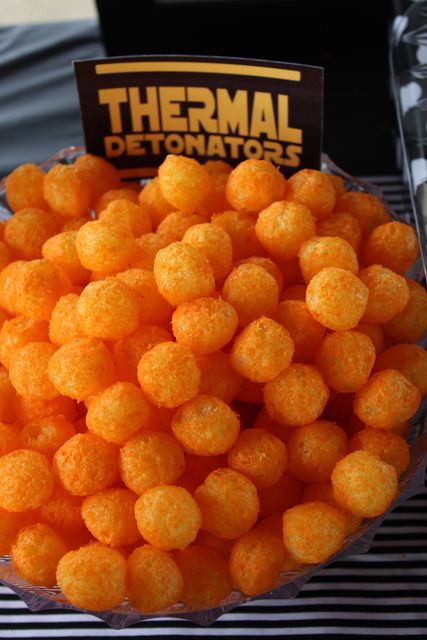 Star Wars Birthday Party Idea #19: Sometimes, the best party ideas are the most simple ones. So here is more super easy to make, but super clever Star Wars themed food ideas here! Grab those cheese balls for another creative Star Wars Party Snack Idea.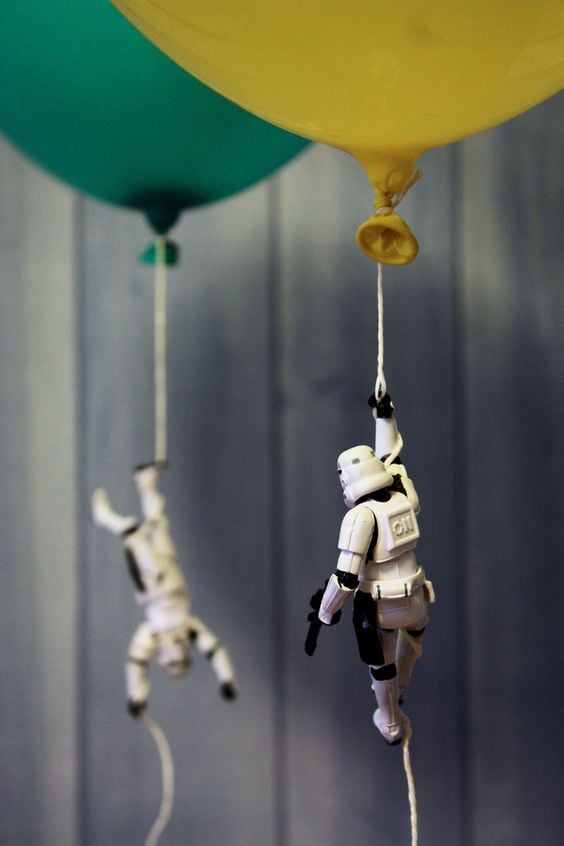 Star Wars Birthday Party Idea #20: Just hang some stormtroopers on balloons for this simple yet awesome Star Wars Balloon Idea! These decorations are super clever and they're very easy to make too.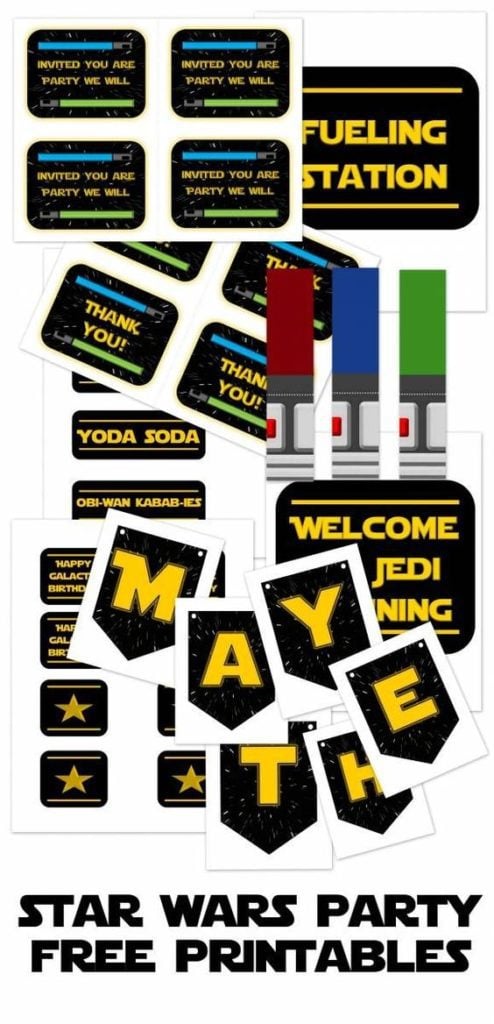 Star Wars Birthday Party Idea #21: Who doesn't love freebies! It doesn't get much better than these Free Star Wars Party Printables! Now you're ready to go full on party planner mode for the most epic Star Wars party for your child!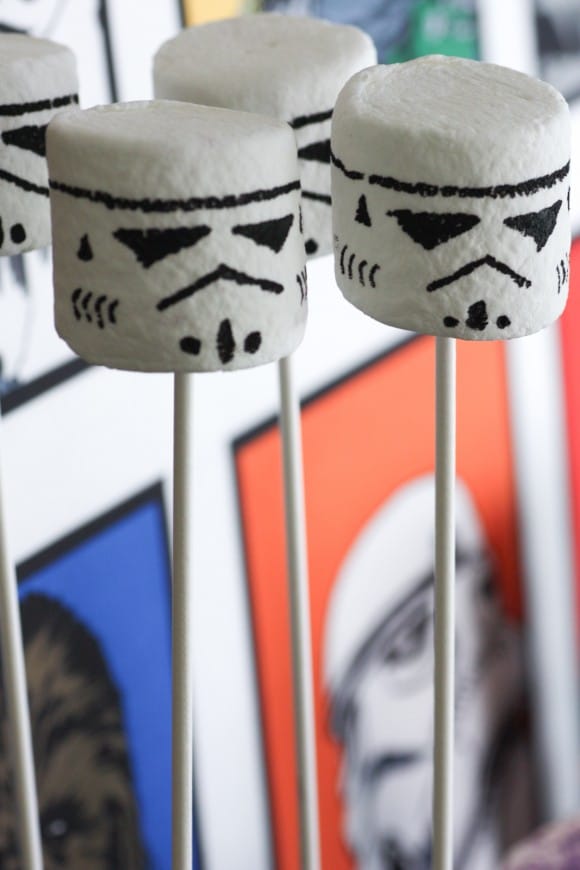 Star Wars Birthday Party Idea #22: These are quite possibly the cutest Star Wars themed desserts ever! You should definitely add these Storm Trooper Marshmallows to your dessert table. Marshmallows are always a hit. The kids will totally dig them.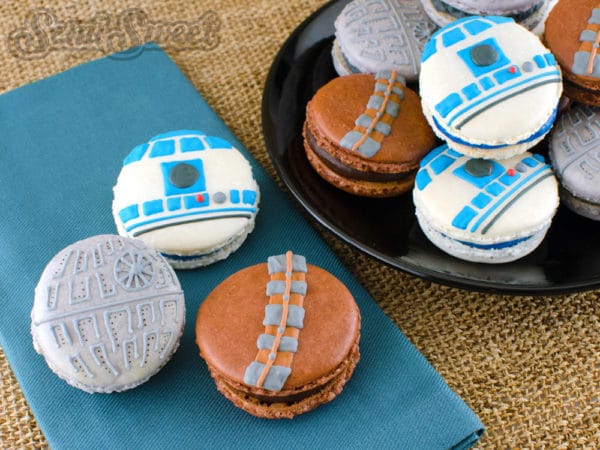 Star Wars Birthday Party Idea #23: Quell the rebellion (or the hunger!) with these awesome Star Wars Macarons. These googies will be the star of the party for sure! There are lots of cool designs you can create including the ones here: the Death Star, Chewbacca, and good old R2-D2.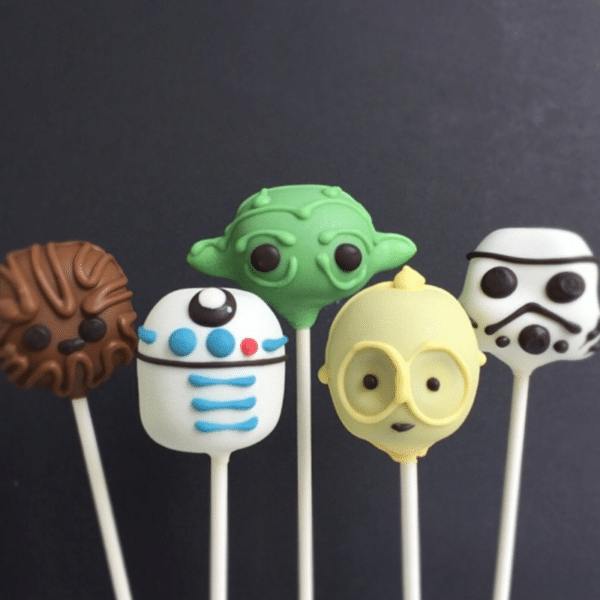 Star Wars Birthday Party Idea #24: How adorable are these Star Wars Cake Pops?! These are definitely a party must-have! Star Wars has a ton of cool characters to choose from, so you'll surely have loads of fun thinking of more cake pop characters to create! Think Darth Vader, Darth Maul, BB-8, Princess Leia, Chewbacca and so many more!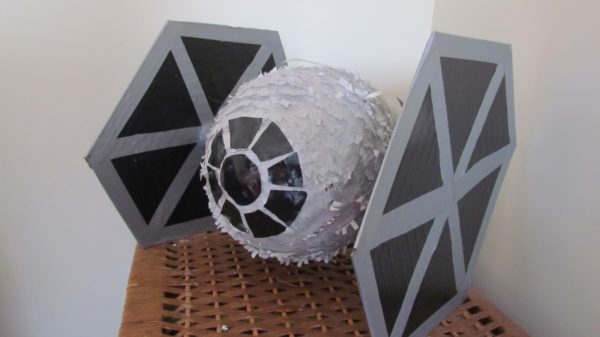 Star Wars Birthday Party Idea #25: Want to add some DIY fun to your party? Get a little crafty and make a Star Wars Piñata like this one. This Twin Ion Engine Fighter is one of the many ships that the Empire uses to battle with. It's pretty iconic! Take it up a notch by having them hit the pinata with your custom made lightsabers!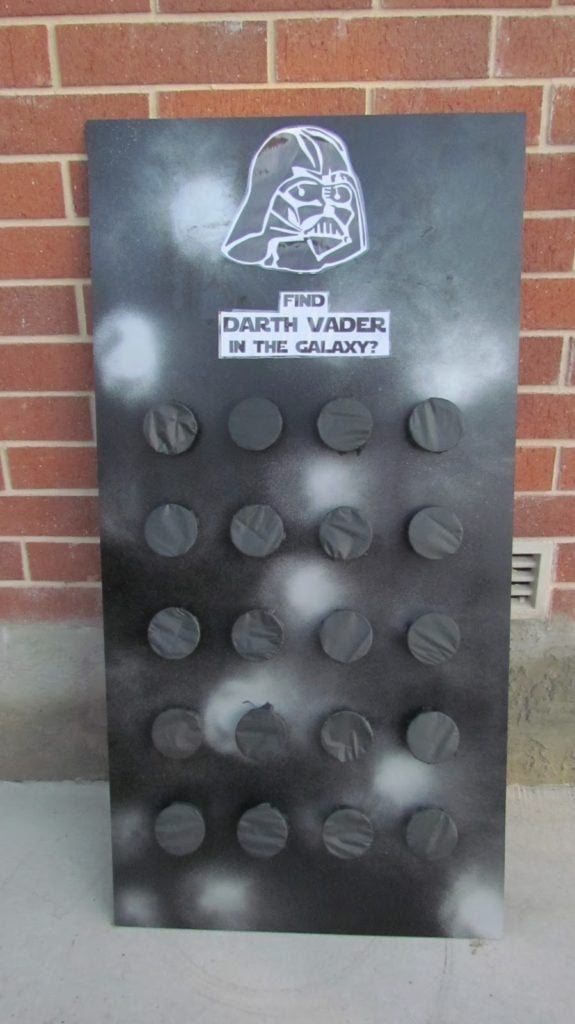 Star Wars Birthday Party Idea #26: Looking for something that will liven up your Star Wars themed birthday party? Try some games! Here's a fun and creative DIY Star Wars Game that kids and adults alike can play at the party. LOVE this idea!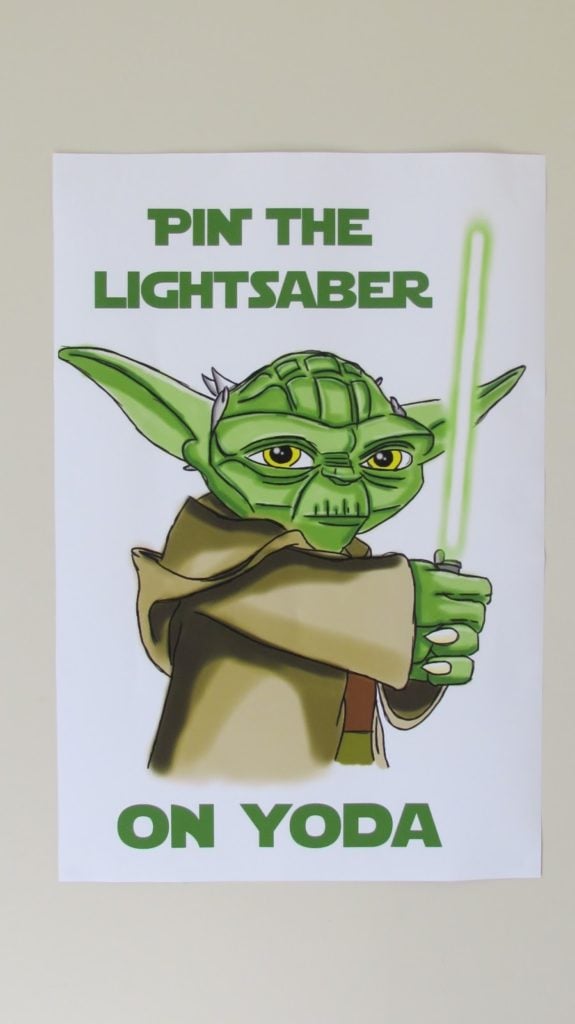 Star Wars Birthday Party Idea #27: Pin the Light Saber on Yoda is another fun activity to add to your Star Wars Party! It's a classic game that's always fun to have at children's parties.
Which of these 27 Star Wars Theme Birthday Party Ideas are your favorites? Let us know in the comments below! Looking for more party ideas? Don't forget to follow us on Instagram @prettymyparty and Pinterest and join us in our private Facebook group.
SaveSave
SaveSave
SaveSave
SaveSave
SaveSave
SaveSave
SaveSave
SaveSave
SaveSave
SaveSave
SaveSave
SaveSave
SaveSave
SaveSave
SaveSave
SaveSave
SaveSave
SaveSave
SaveSave
SaveSave