17 Fun Vampirina Party Ideas
Sink your teeth into these fun Vampirina Party Ideas!
Any day can be Halloween if you throw a super fun Vampirina birthday party for your kids! Vampirina "Vee" Hauntley, the cute and friendly little vampire, might be the new kid on the block, but she's already got herself a ton of adoring little fans! Little kids everywhere love Vee, and she has quickly become everyone's favorite little vampire.
Does your little one love Vampirina too? If she does, then she would absolutely be delighted to have a Vampirina themed birthday party! If you're in need of some cute and fun Vampirina party ideas, you've come to the right place.
Here are 17 amazing Vampirina birthday party ideas to sink your teeth into. From easy to DIY Vampirina birthday party supplies to yummy Vampirina party food ideas, we've got you covered. You will definitely have a ton of fun planning your Vampirina party when you see what's in store for you below!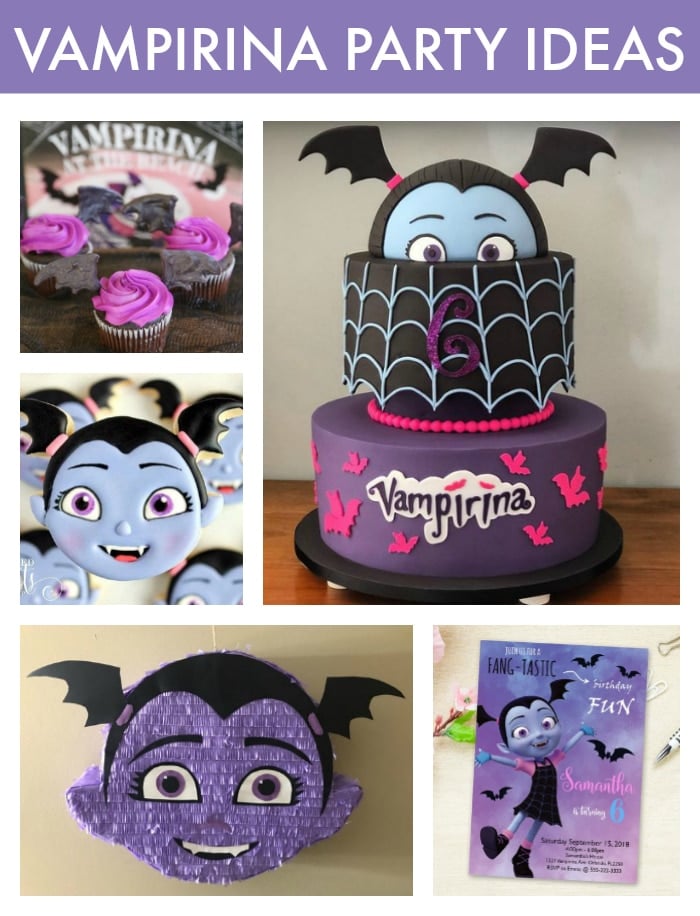 Vampirina Party Supplies and Decorations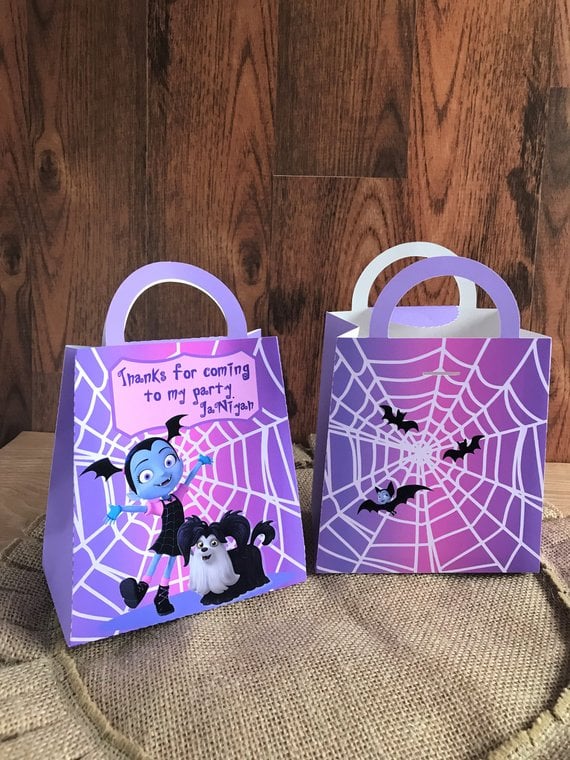 Vampirina Party Idea #1: These purple custom Vampirina Favor Bags will be the perfect place to house all your amazing Vampirina party favors. You can request a customized message for your little one's party on the message box to make it even more memorable for your guests.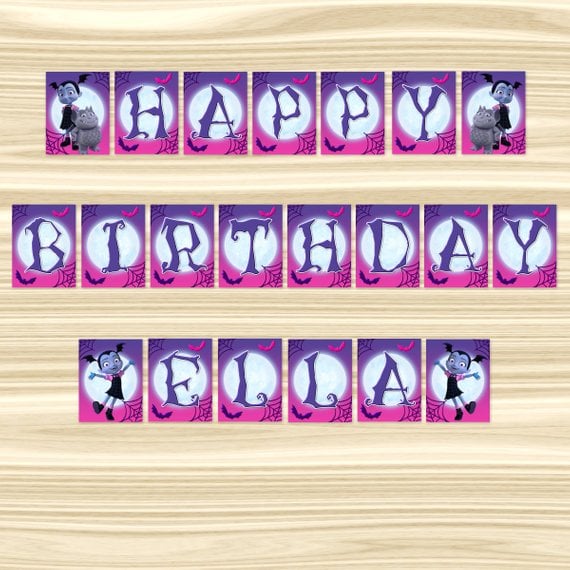 Vampirina Party Idea #2: How awesome is this endearingly spooky Vampirina Happy Birthday Banner? This comes as a high-resolution PDF that you can print out for your Vampirina party. If you're up to searching around the Internet, you can try to find some free printables too! Better yet, you can make your own custom printable if you're feeling a little creative.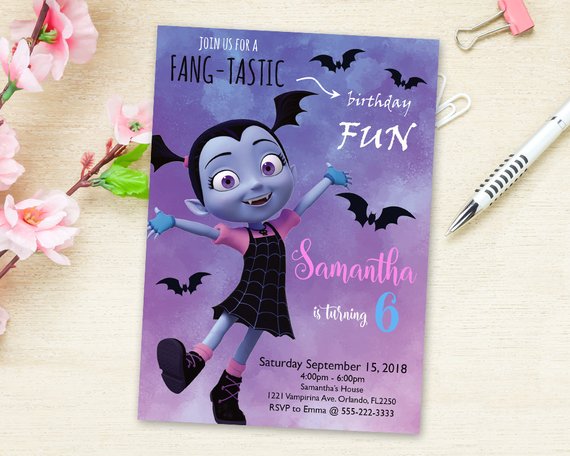 Vampirina Party Idea #3: This Vampirina Birthday Invitation looks stunning! Featuring our cute, friendly vampire in a pink and purple background. This one comes as a personalized digital file as well, so you're going to have to print them on your own.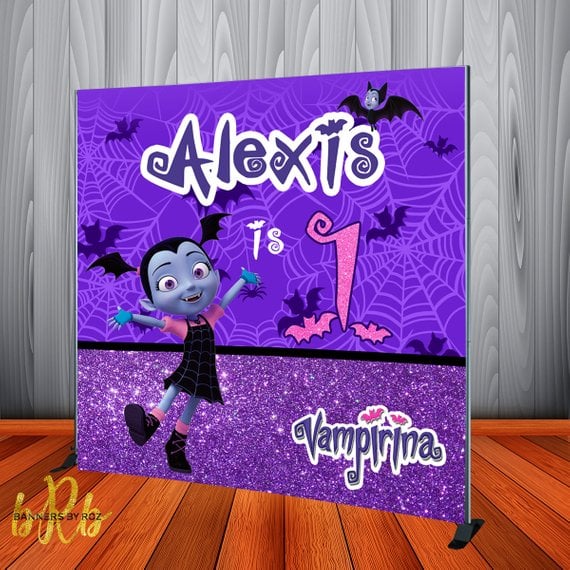 Vampirina Party Idea #4: Want something that will really grab attention at your party? How about this awesome Vampirina Birthday Banner? You can order this huge Vampirina backdrop that comes in three different sizes: 5×5 feet, 6×6 feet, or 8×8 feet. This backdrop will definitely be a standout at your little one's Vampirina birthday party.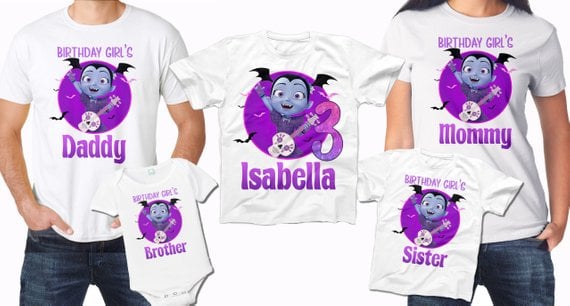 Vampirina Party Idea #5: These Vampirina Birthday Shirts are so adorable! You can have ones custom-made for the entire family and have some more generic ones made for your guests' goodie bags. Your little vampire and her friends are going to just love these shirts featuring their favorite new vampire.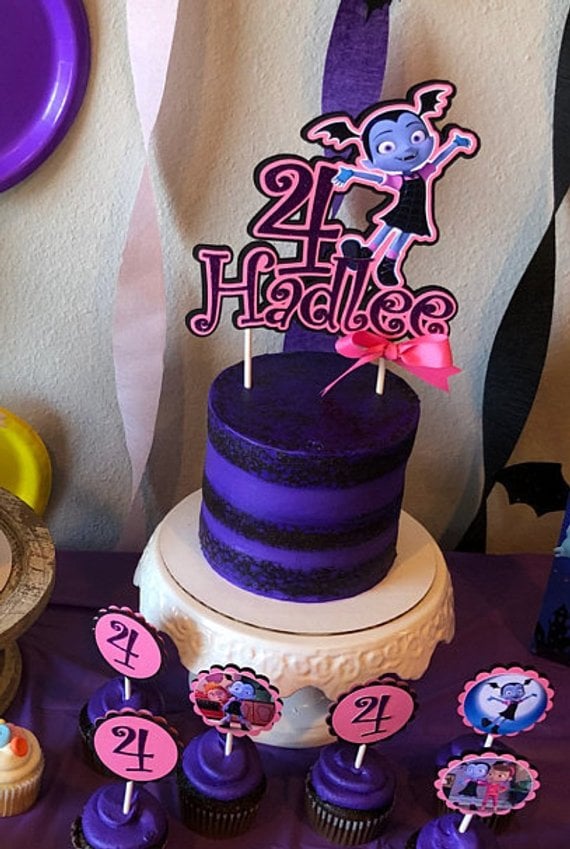 Vampirina Party Idea #6: This super cute Vampirina Cake Topper can instantly vamp up any regular purple cake! If you don't want to get a custom Vampirina birthday cake done for the party, you can just get this cake topper and put it on top of a plain or tiered purple cake. The delicious cupcakes with deep purple frosting also adds a wonderful touch to the dessert table!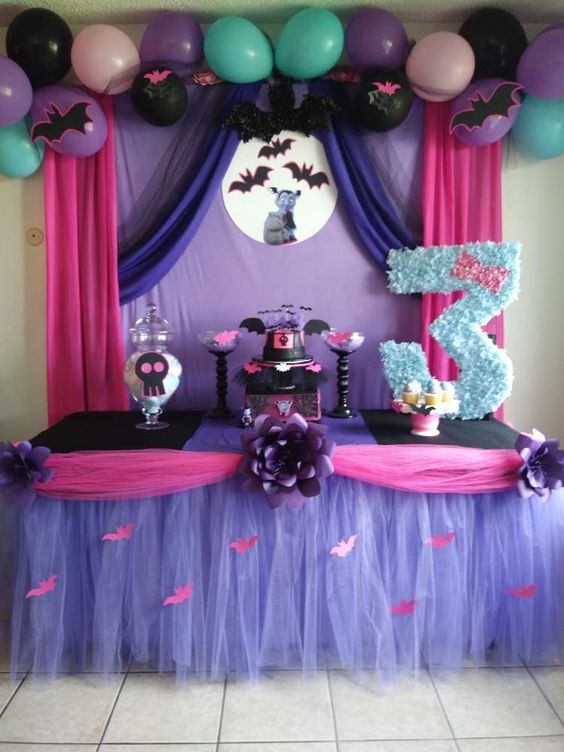 Vampirina Party Idea #7: This poofy pink and purple table setup is the perfect fit for a Vampirina party! You can recreate this lovely Vampirina Party Dessert Table set up quite easily too. If you don't have a bunch of custom Vampirina party decorations, you can just get some pink and purple cloths in various textures (including tulle, of course) to serve as the table cloth and backdrop for your own dessert table. Some pink and black bat paper cutouts and purple, turquoise, black, and pink balloons and some huge deep purple flowers also complete the look.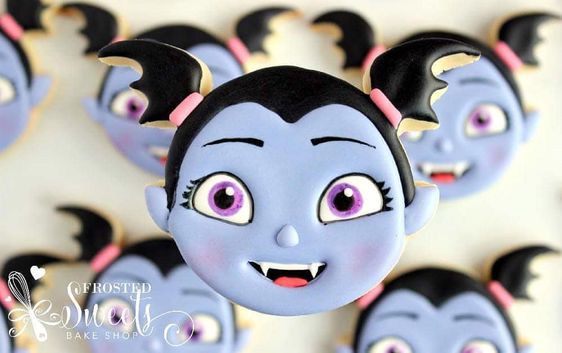 Vampirina Party Idea #8: These Vampirina Cookies look so accurate! This will be so fun to create on your own. The challenge with these cookies is trying to mix some blues and purples to get just the right shade for Vee's skin. Of course, you will need some artistic skills or a pre-made pattern to make sure that your Vee cookies looks just as great as these ones too!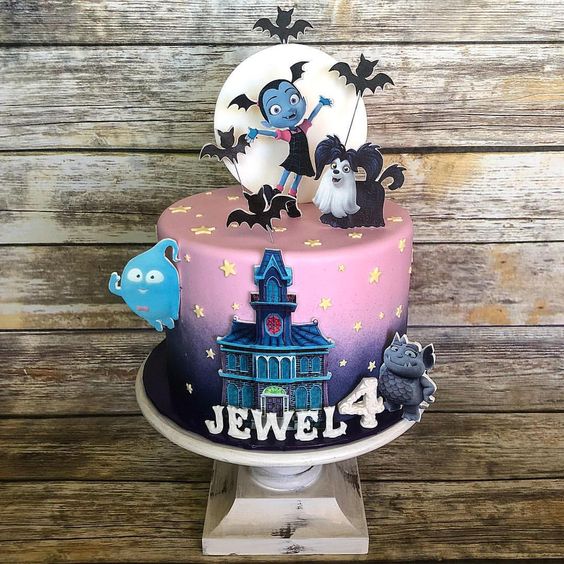 Vampirina Party Idea #9: Wow! This Vampirina Birthday Cake is a real standout! From the ombre pink to purple fondant sky to the cute little yellow stars and of course the awesome cake topper and castle, everything looks so impressive! Your guests will definitely marvel at this cake when you serve it for your kid's party.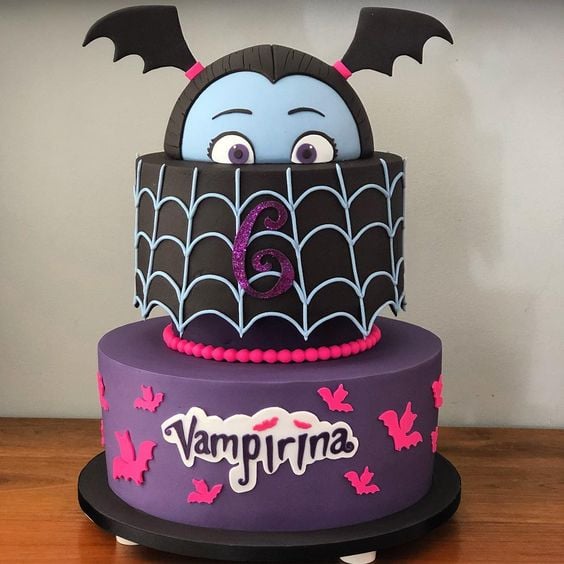 Vampirina Party Idea #10: Here's another lovely Vampirina Cake! The cute 3D Vee peeking out on top of the cake is so endearing, and the awesome floating spider web tier and purple bottom tier with pink butterflies are all skillfully done!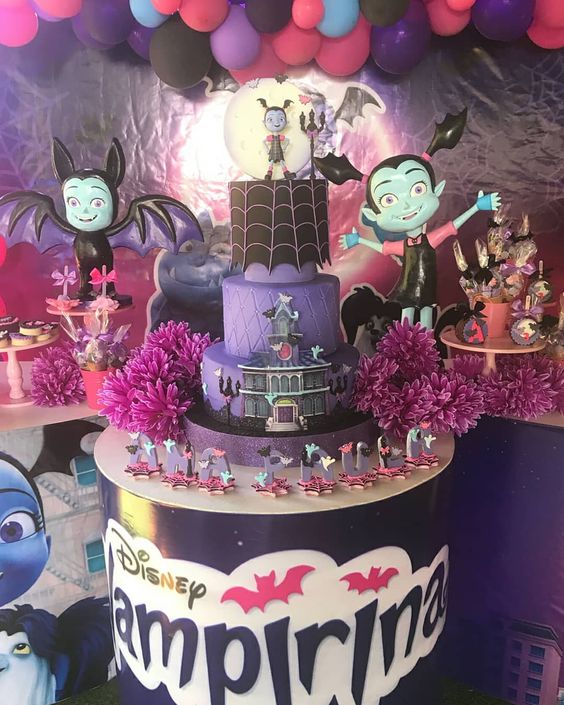 Vampirina Party Idea #11: Now this is a truly spectacular Vampirina Dessert Table! Every detail about this table spread is well thought of, and the majestic cake takes some of the most impressive elements of both cakes featured above: the floating spider web tier, the Vampirina cake toppers, and the amazing castle. The huge Vee figurines are also stunning, and the purple flowers really make quite an impact.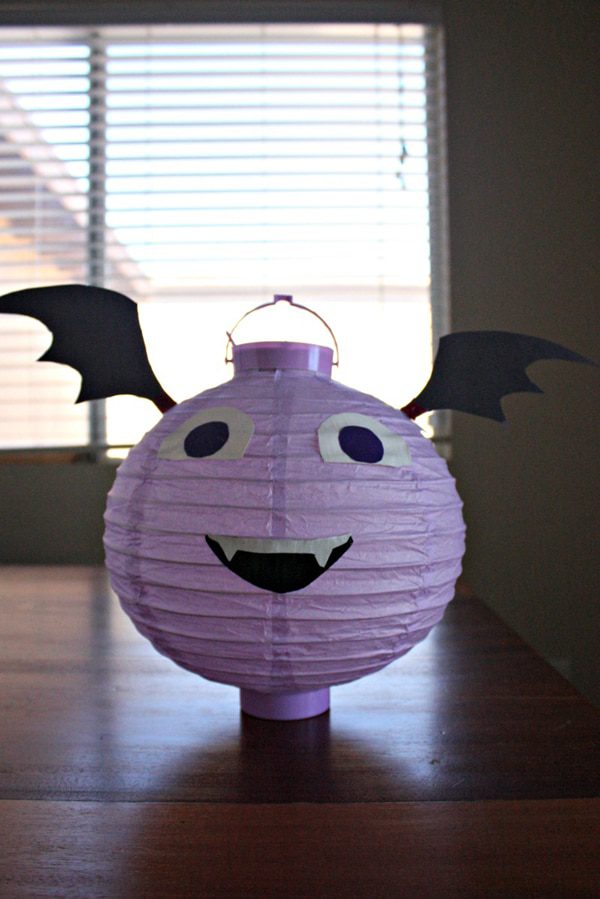 Vampirina Party Idea #12: Can't find Vampirina party supplies at your local party supply store? Then it's time to make your own! This DIY Vampirina Paper Lantern Craft is super easy to do and is the perfect project for someone who's just getting started with crafts.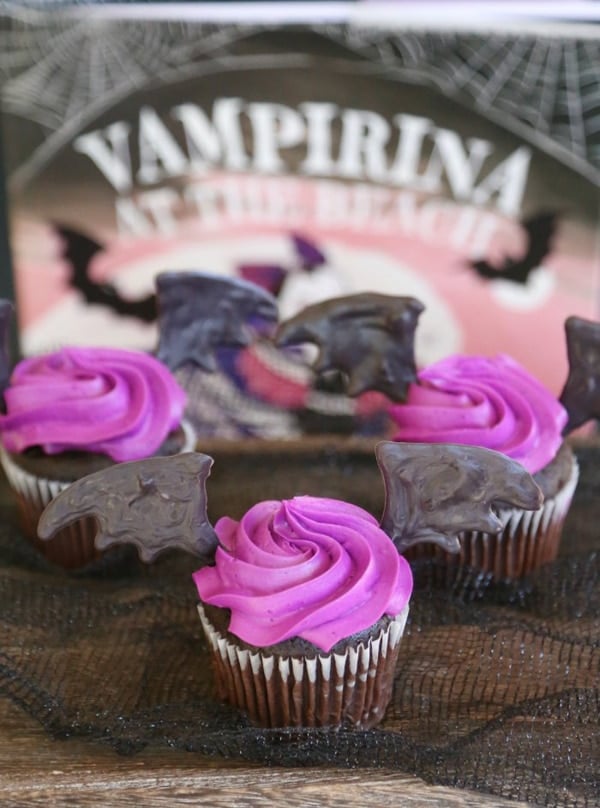 Vampirina Party Idea #13: These simple but cute Vampirina Bat Wing Cupcakes will make a scrumptious addition to your dessert table. Kids are sure to come back again and again for these yummies!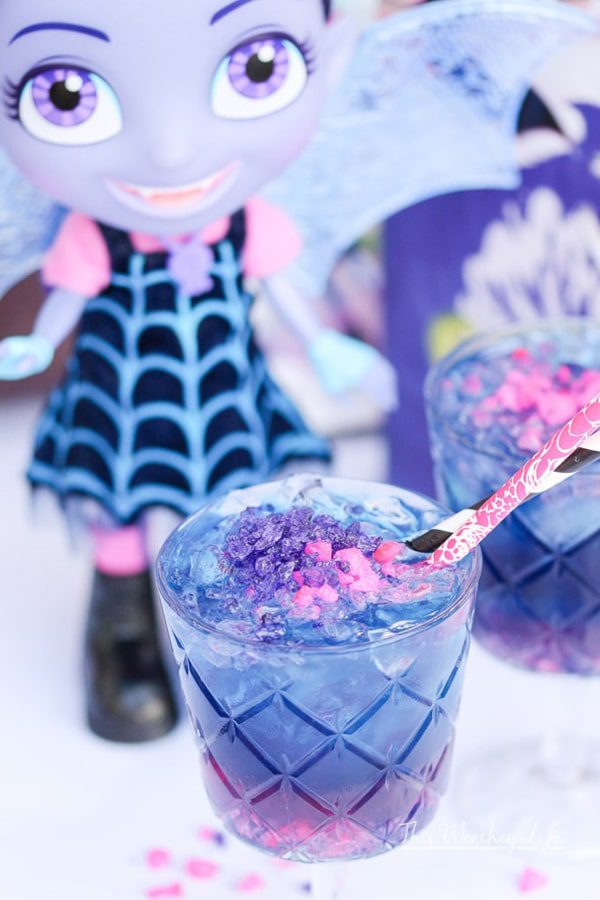 Vampirina Party Idea #14: This Vampirina Kid Drink looks so cool! Your little guests will definitely marvel at this colorful drink that will keep them coming back for more.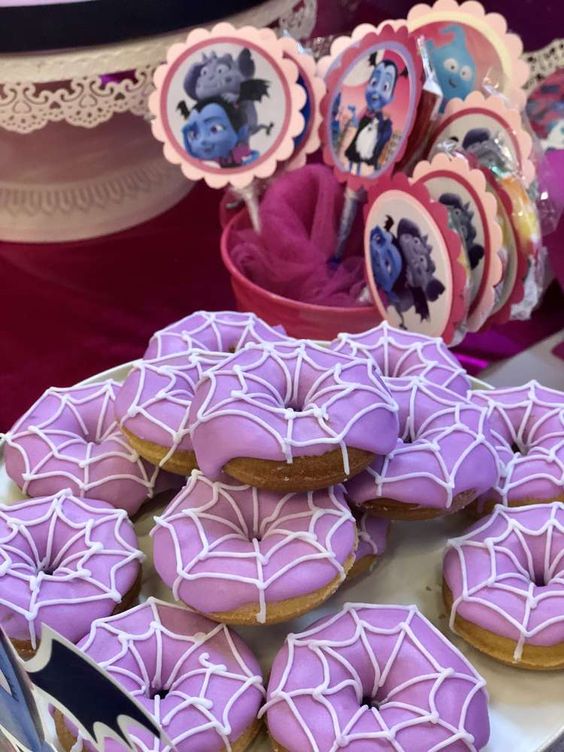 Vampirina Party Idea #15: More sweets for the dessert table! These Vampirina Donuts with purple frosting and a spider web design looks both yummy and cute. Plus, it's going to be so easy to make these doughnuts on your own too!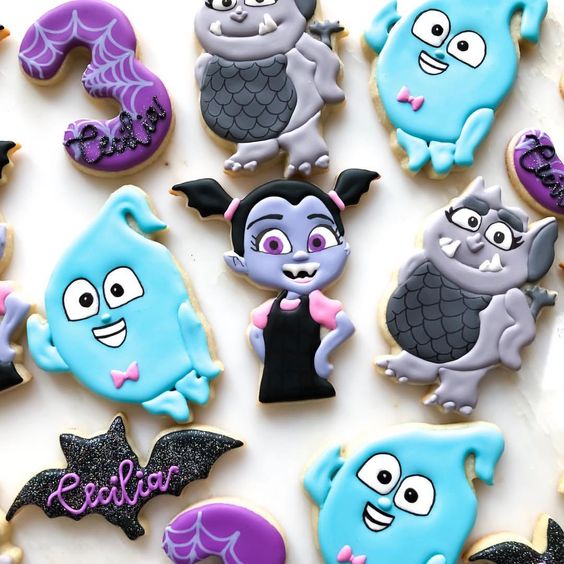 Vampirina Party Idea #16: You can never have enough yummy goodness for your Vampirina party! These Vampirina Cookies will be so fun to make with their various designs showing Vee and her friends.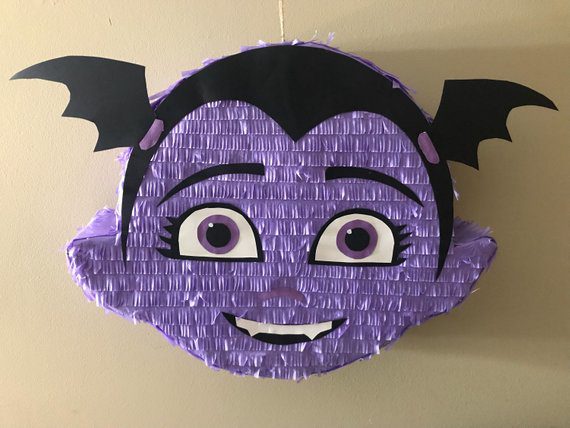 Vampirina Party Idea #17: Fill this Vampirina Pinata with a wide selection of Vampirina party favors and watch the kids go crazy! This awesome pinata will definitely guarantee a boatload of fun for everyone!
What are your favorite Vampirina Party Ideas from the ones featured above? Let us know in the comments below.