Museum of Ice Cream Inspired 1st Birthday Party
If your little one loves bananas, ice cream and sprinkles you're in for a real treat with this adorable 1st birthday party!
This Museum of Ice Cream Inspired 1st Birthday Party from Aracely of Minted and Vintage from Orange County, California is the perfect theme for any little girl who loves all things ice cream, bananas, sprinkles, and pink!
From Mom Aracely: We're B-A-N-A-N-A-S over Annie! Ever since our trip to the Museum of Ice Cream in LA, I've been obsessed.
When we started calling my sweet Annie, "Annie Banannie," I knew an MOIC themed 1st birthday party would be most fitting!
Inspired by their monochromatic pink aesthetic, pink plants, candy wall, sprinkle pool, and most importantly their banana split exhibit, I decided to incorporate these details to make her intimate birthday bash at home sweet and playful just like Annie Banannie!
Museum of Ice Cream Inspired 1st Birthday Party Ideas
Pink Balloon Garland Embellished With Sprinkle Balloons and Candy
Pink Annie Banannie Balloons embellished with Bananas
Ice Cream Cone Balloon Decoration
Lovely Vintage Pink High Chair With Pink and Yellow Garland, Steamers, Hanging Bananas, and One Banner
Matching First Year Poster Sign
Adorable Annie Banannie Birthday Cake with Custom Letterboard Cake Topper
Pink Bananas and Candy Themed Cake with Banana Cake Topper
Cute Bananas and Sprinkle Party Hat For The Birthday Girl
We're Bananas For Annie Sign
Adorable Ice Cream, Bananas and Cherries Cookies
Ice Cream Cone and Banana Cake Pops
Check out these fun Ice Cream Party Ideas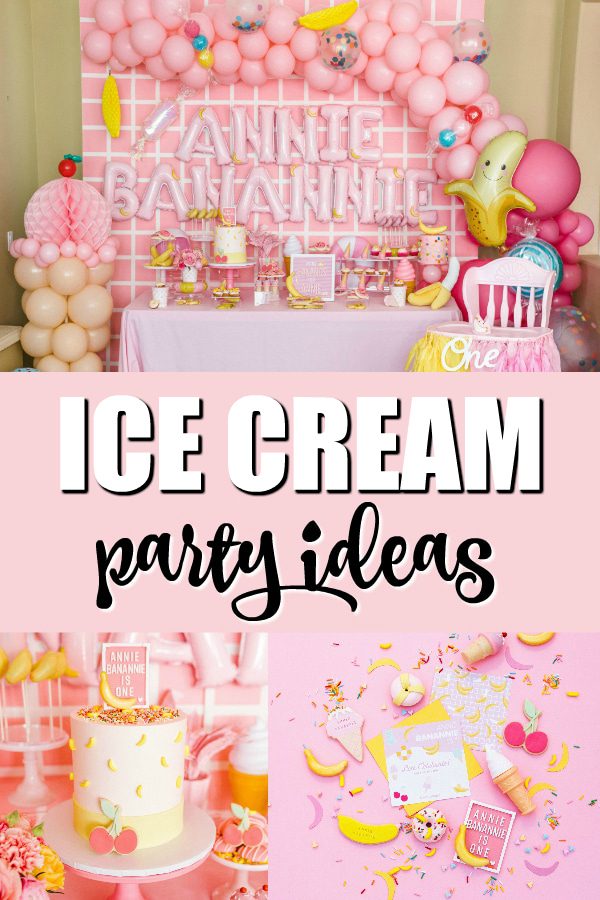 Ice Cream Party Supplies and Decorations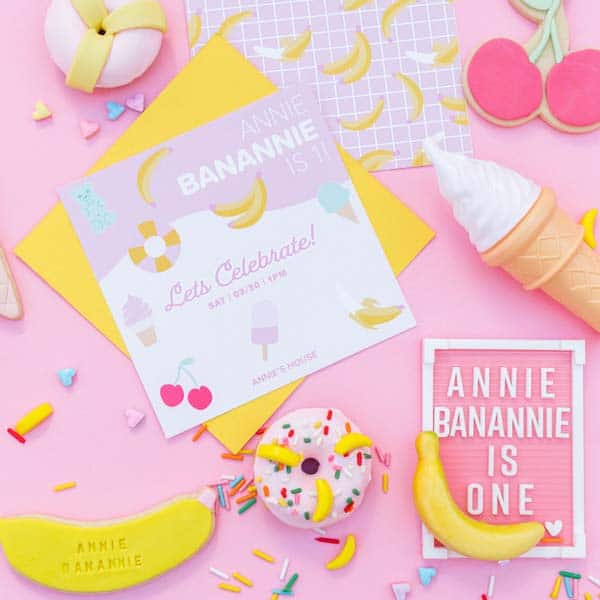 From Aracely: I start every planning process by dreaming up the invitation to set the theme.
I whipped up a perfectly pink printable, complete with iconic MOIC exhibit elements like striped pool floaties, gummy bears, bananas, ice cream, popsicles, and cherries!
I also designed a matching "My First Year" poster board to showcase all of her fun milestones.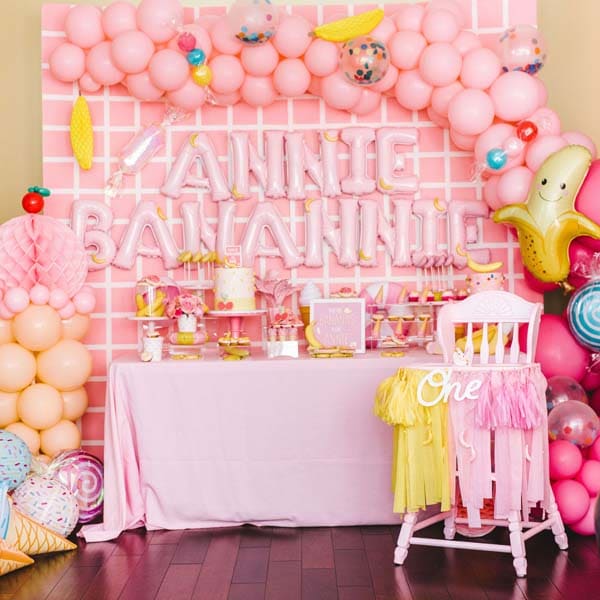 Next up, the dessert table (my most fave.) I knew I didn't want to spend an arm and a leg on a wooden backdrop, so I found a more disposable (and cheaper) alternative online.
It was an 8ft x 8 ft blank canvas made out of cardboard that I covered in photo backdrop paper in pink!
Next, I taped up some lines with gaffers tape to made a grid reminiscent of the tile walls at the sprinkle pool.
I turned some silver 16″ mylar letter balloons pink with some spray paint and embellished them with mini bananas.
Ellen from The Pop Shop stepped in to work her magic and created the cutest monochromatic pink balloon garland complete with candy and sprinkle balloons to frame the backdrop and table.
She also made an adorable ice cream balloon column that was absolutely perfect, but it popped right before the party (eek!)
I tried not to freak out but I was short on time, so I improvised and took an old huge honeycomb ball (I had saved from previous parties) and topped it off with a balloon cherry, voila prob solved!
For the party decor, I created floral arrangements in porcelain waffle cones and real pints of MOIC's sprinkle pool flavored ice cream from Target.
Trader Joes has the best prices on florals, so they are my go-to when I'm in DIY floral mode for my parties.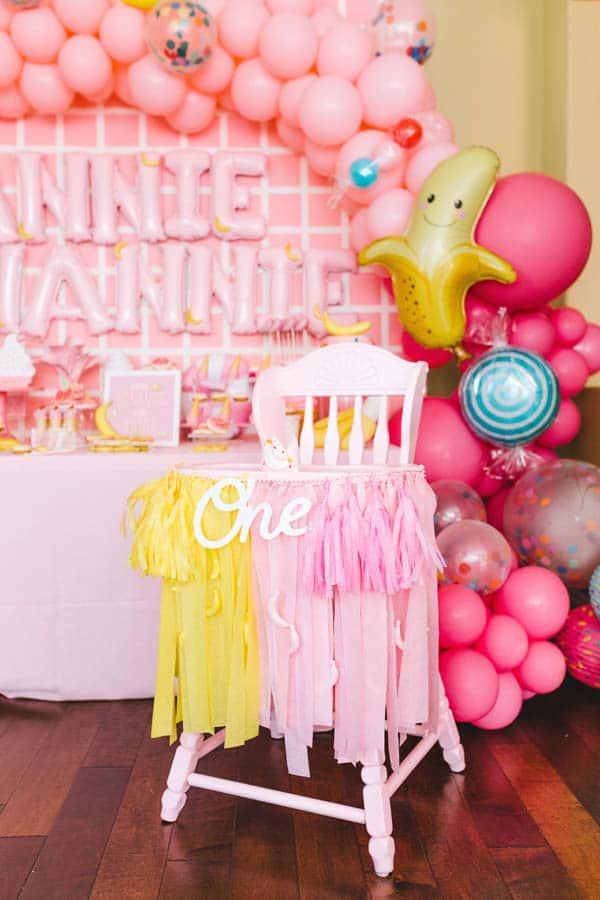 The perfectly pink vintage high chair was adorned with pink and yellow garland, streamers, hanging bananas, and a ONE banner. The adorable hanging bananas were from Paper Fox LA.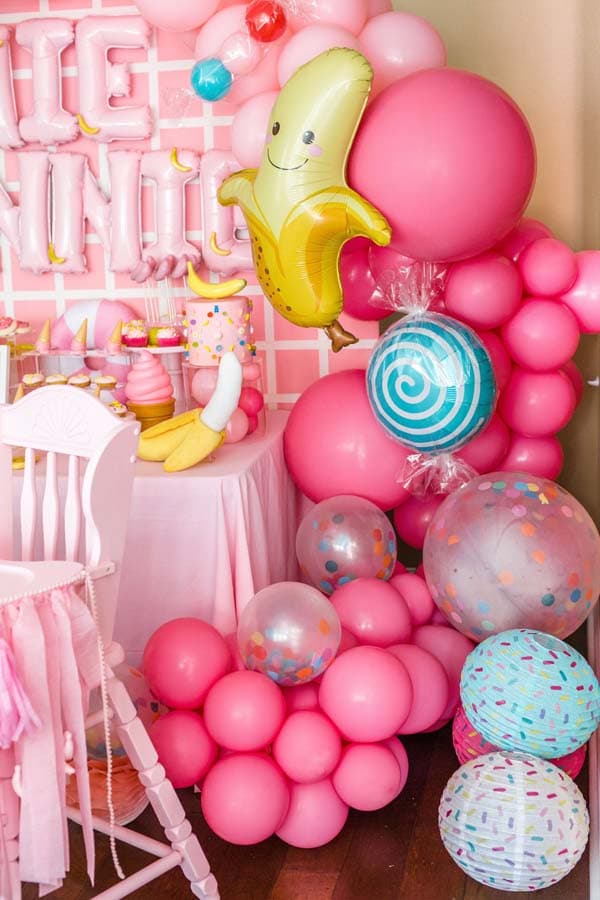 The sprinkle confetti balloons and paper lanterns looked amazing next to the bright pink balloon garland.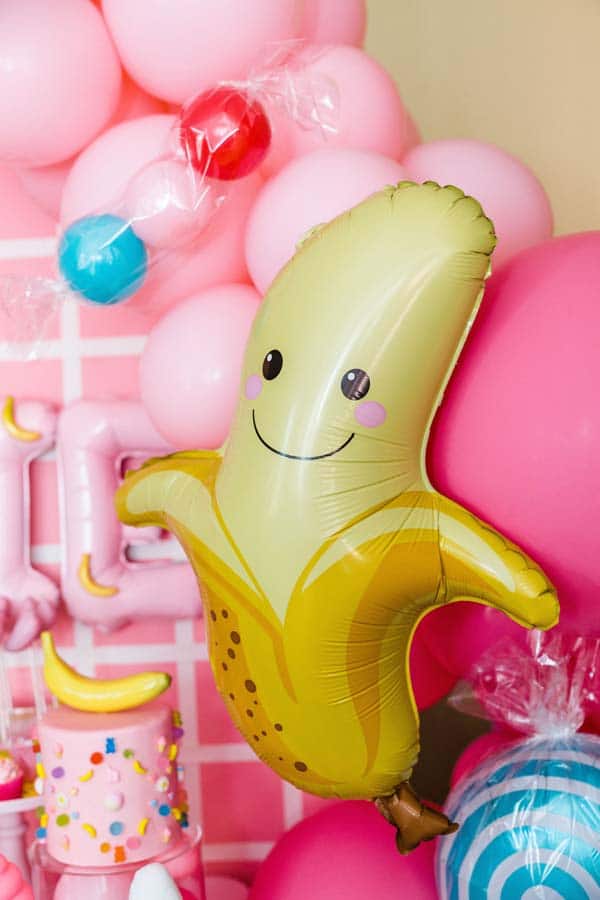 How adorable is this banana balloon? It goes perfectly with the ice cream and banana party decorations found throughout the party.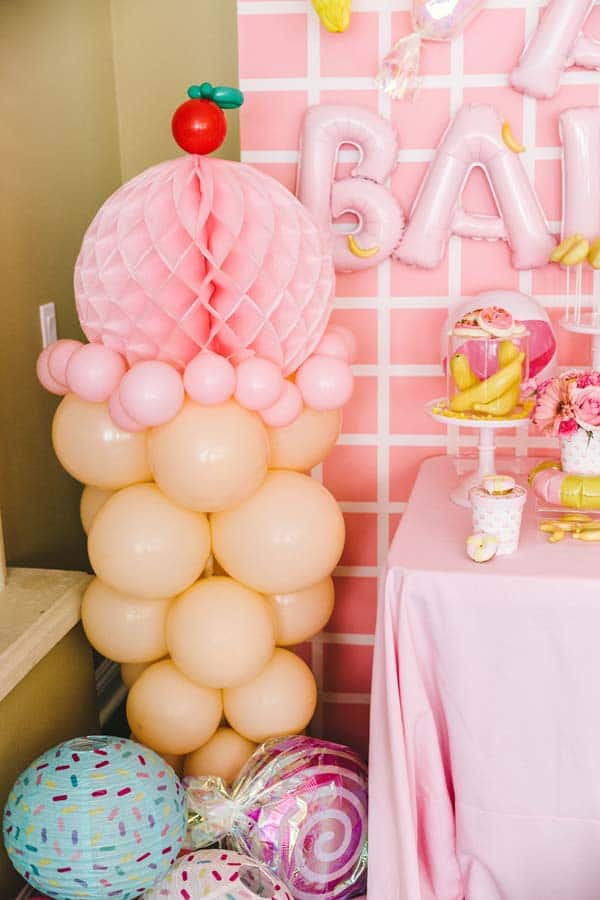 The ice cream cone balloon decoration look fabulous next to the dessert table.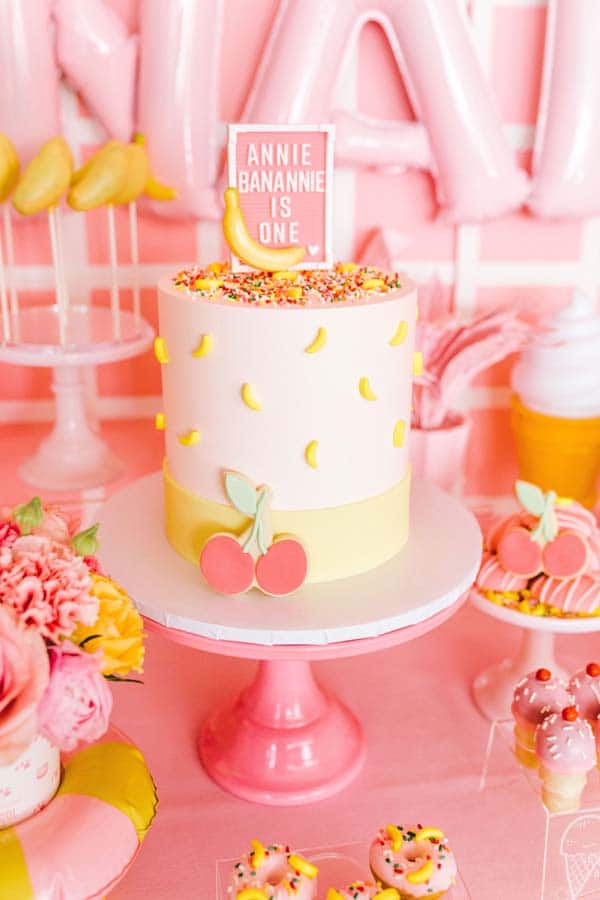 I set the table with a pretty cake and sweets from Sweetlee Made.
The cake had such carefully placed banana candies around the sides, and was topped with sprinkles and the most adorable letterboard custom cake topper from Kiki Sprinkles in Australia.
Sweetlee Made also created the cutest pool floaties in mini donut form and cute banana sprinkled cupcakes.
My most favorite sweets were the banana, cherry and ice cream shaped cookies with Annie Banannie stamped on them.
The table also featured cute mini ice cream cake pops from Cake Pop Swagga and a faux cake decorated like the candy wall at the MOIC in LA!
All dessert displays and table props are from my collection of cake stand rentals at Minted and Vintage.
To keep with the monochromatic pink look, I chose only pink cake stands, mixing in modern clear acrylic risers filled with balloons and mini faux bananas.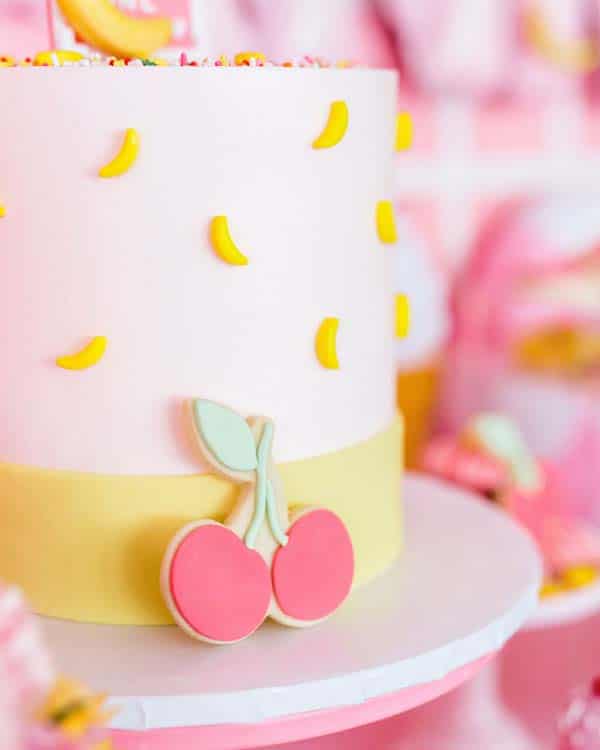 The banana themed birthday cake was perfect for the birthday girl "Annie Banannie.'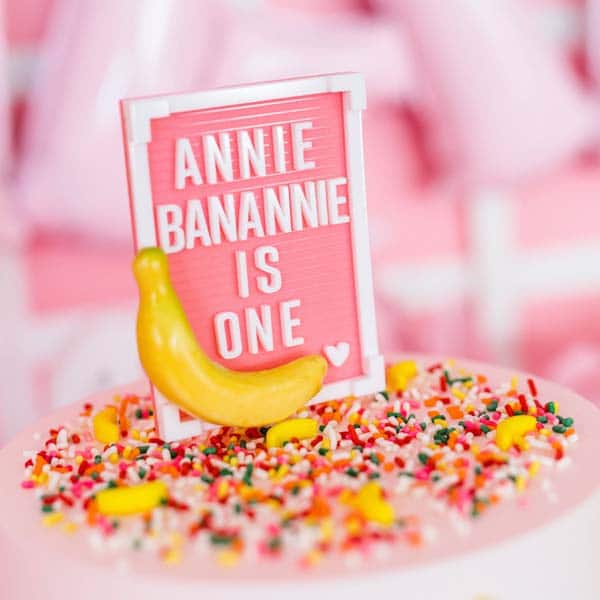 We just adore this custom letterboard cake topper that says Annie Banannie is One! How sweet!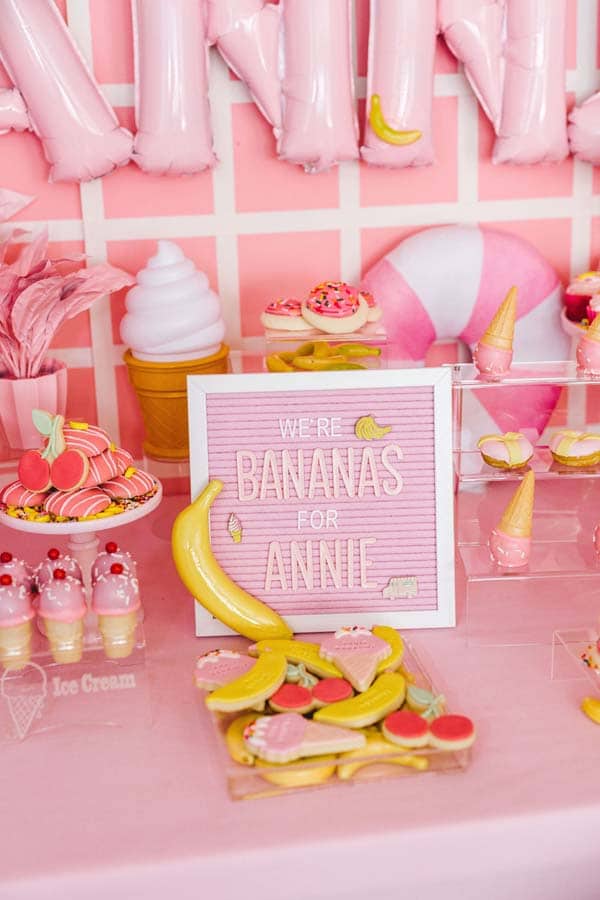 Everyone is Bananas for Annie and this adorable letterboard sign on the dessert table lets everyone know!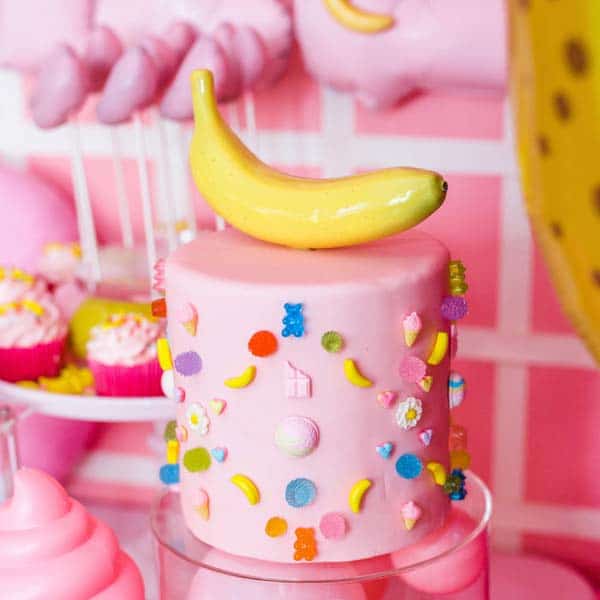 The faux candy cake with banana cake topper stands in as the perfect party decoration.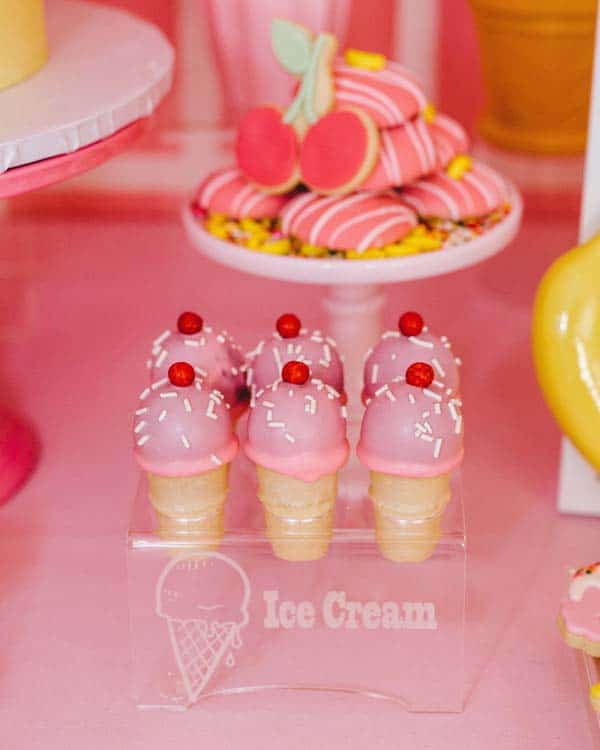 The dessert table features lots of yummy desserts, including these ice cream cone cake pops. Don't they look yummy?!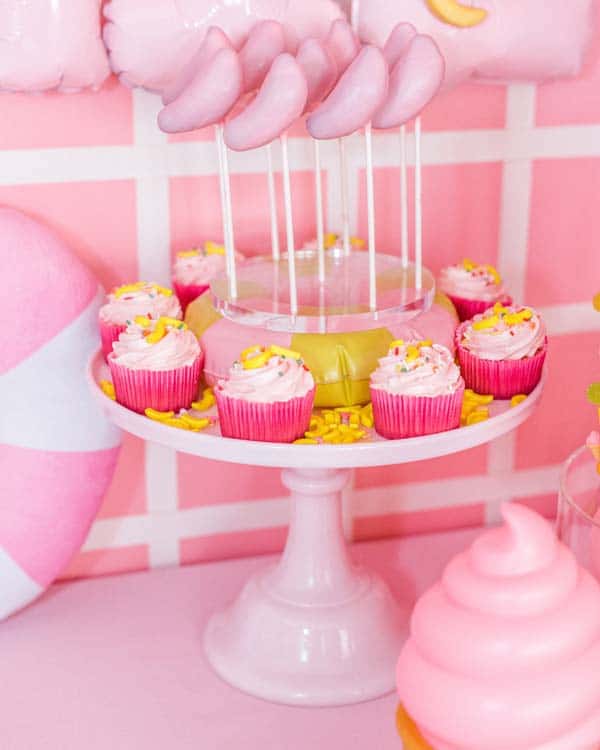 Pink banana cake pops and pink cupcakes sprinkled with bananas were also on hand for guests to enjoy.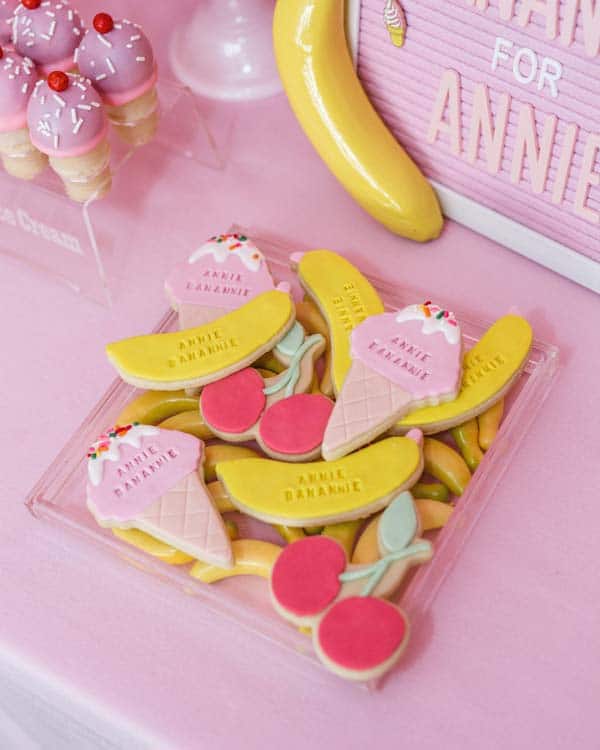 These cookies couldn't have been more perfect for this fun Museum of Ice Cream Inspired 1st Birthday Party!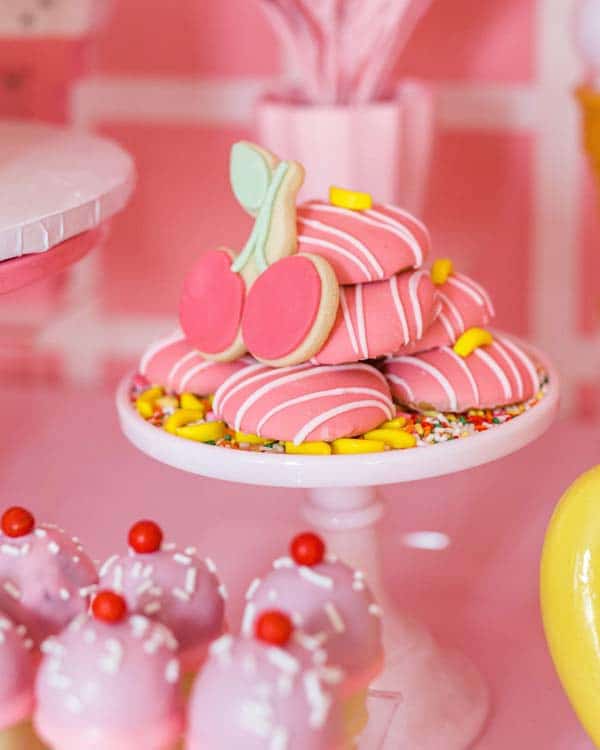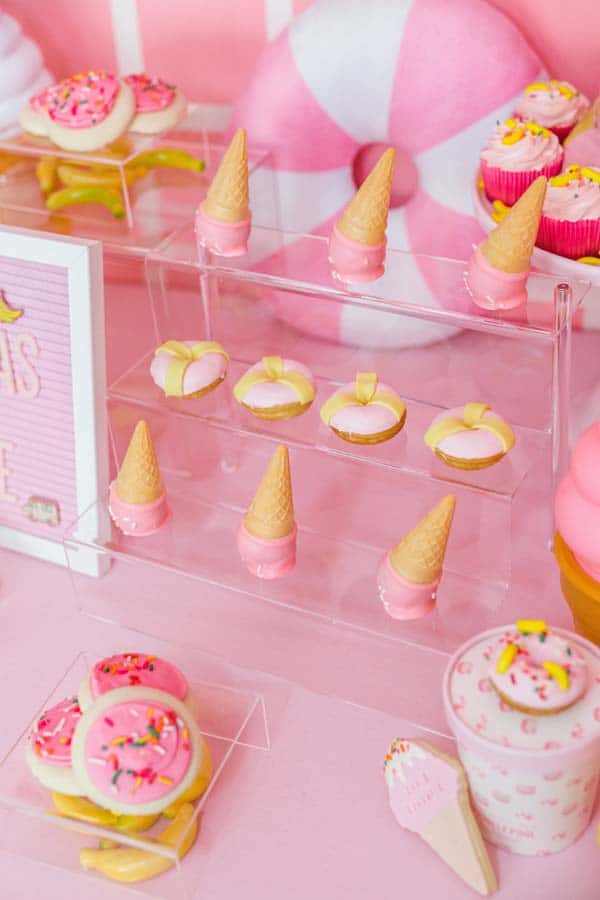 How clever are these adorable pink and yellow pool floatie donuts?!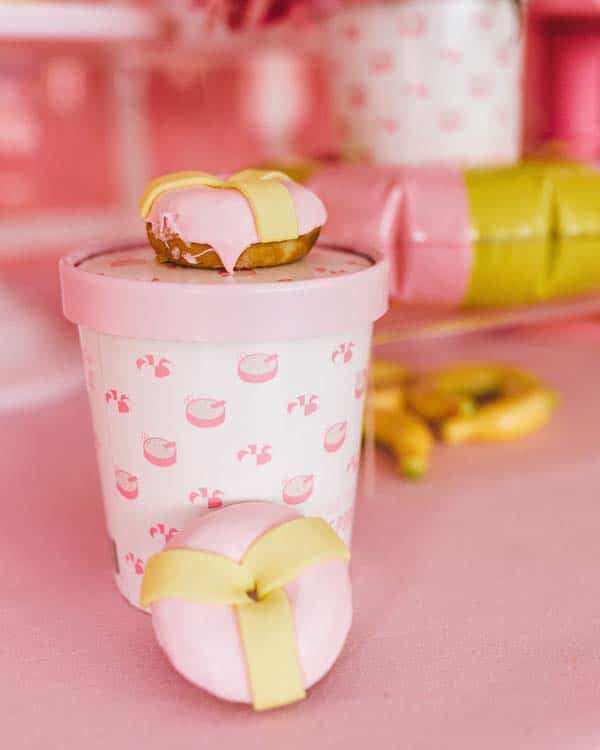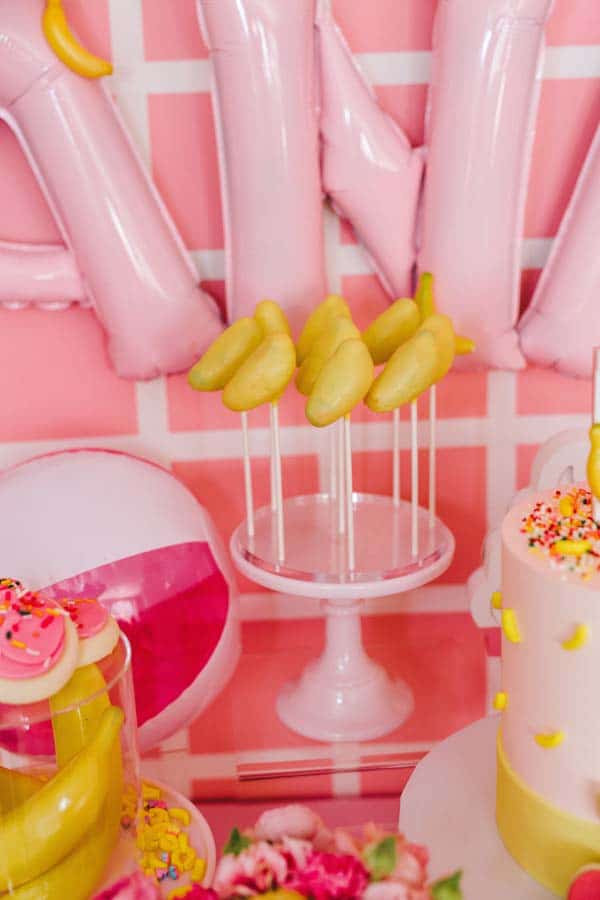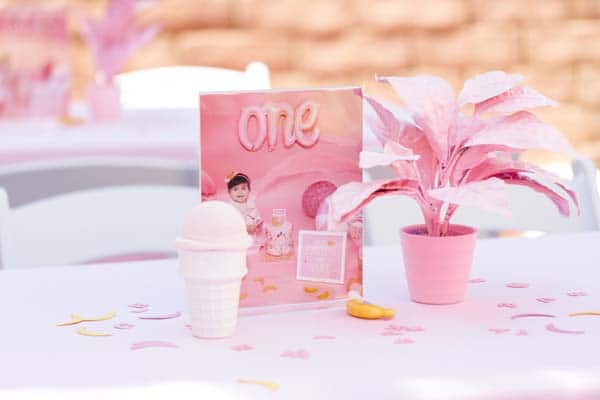 Guest tables outside were kept simple but really cute. Centerpieces were 8×10 photos from her 1 year photoshoot. I also placed faux plants from Hobby Lobby that I spray painted pink in the center of the tables.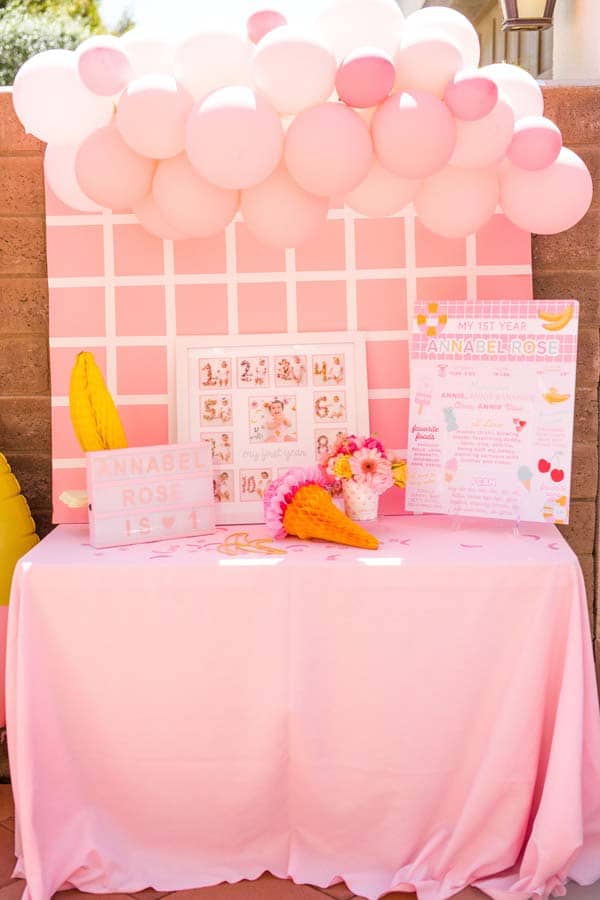 We love this perfectly decorated table dedicated to the birthday girl, Annie Banannie! The table features her 1st year poster board with all of her favorites and 12 months of adorable photos. How sweet!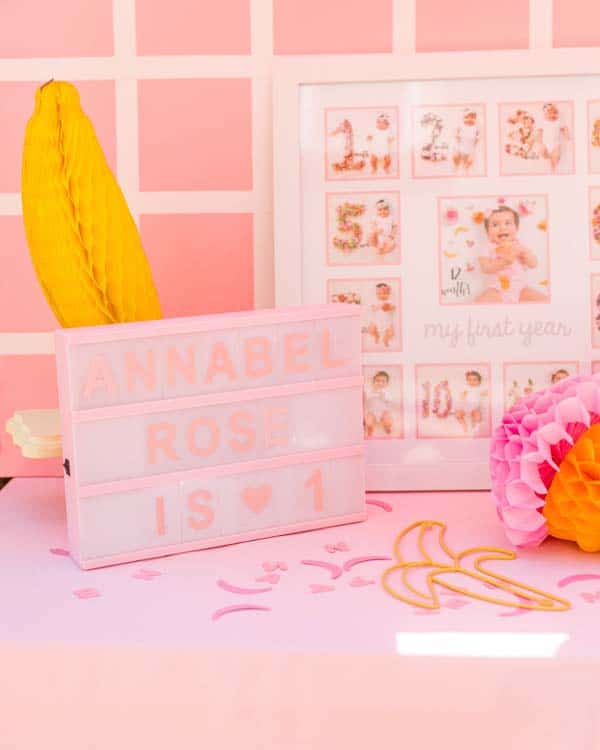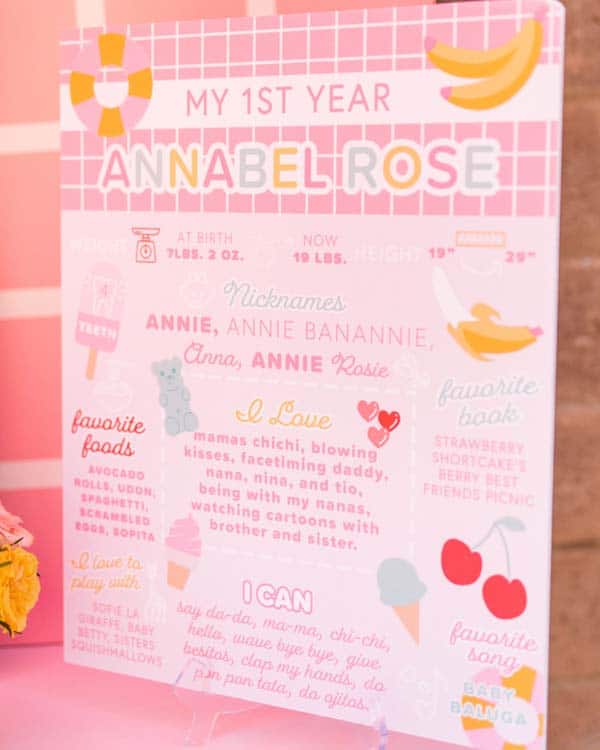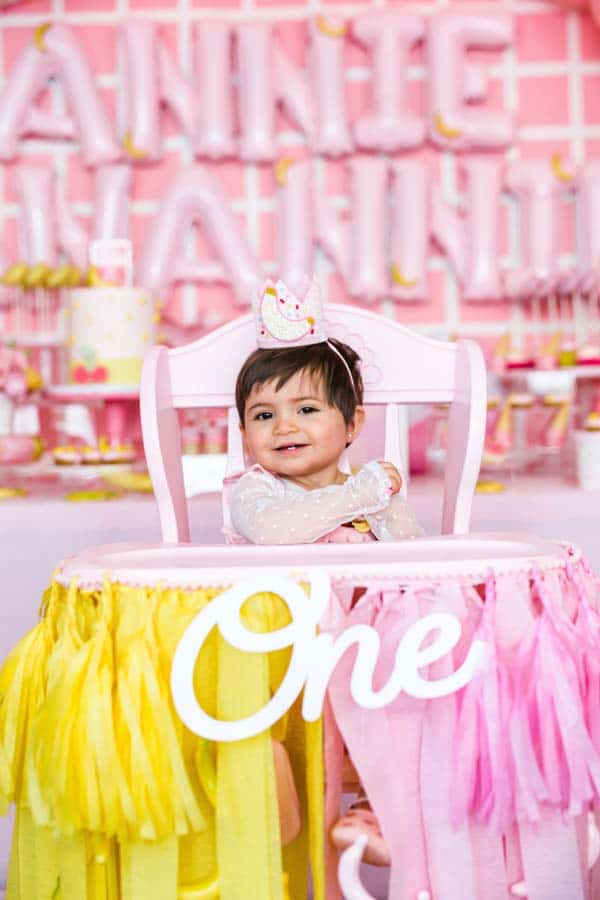 Annie Banannie is all smiles in her pink vintage high chair wearing her cute banana birthday crown!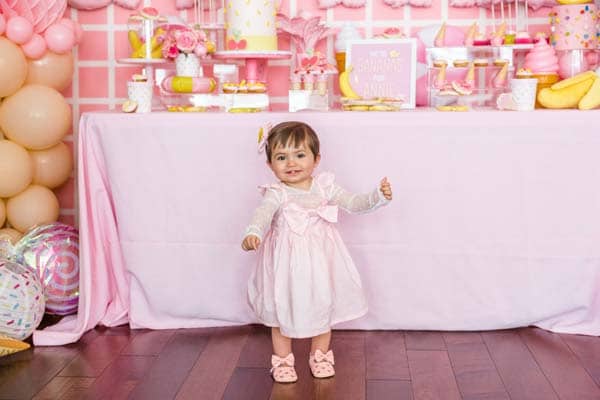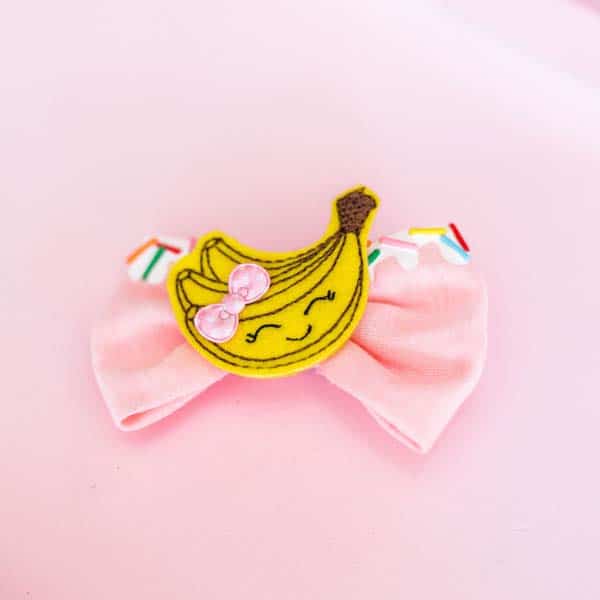 Annie Banannie even got to wear this adorable banana hair clip on her special day! How cute!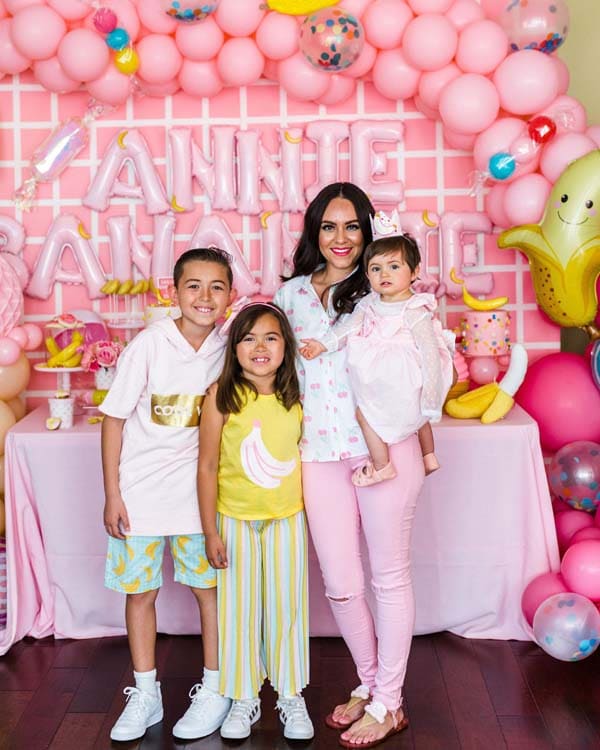 Mom says her little Annie Banannie was the happiest when they sang Happy Birthday to her in her perfectly pink vintage high chair. What a wonderfully creative Museum of Ice Cream Inspired 1st Birthday Party!
Vendors & Credits
Photography: Cyd Weeks Photography
Styling, Design & Cake Stand Rentals: Minted and Vintage
Cake & Sweets: Sweetlee Made
Cake Topper: Kiki Sprinkles
Cake Pops: Cake Pop Swagga
Balloons: The Pop Shop
Highchair Rental: Minted and Vintage
Highchair Tassel Garland: Paper Fox LA
Invitation Design: Polydot Printables
Invitation Printer: Polydot Print
Baby Mesh Top: Shop Sweet Threads
Birthday Hat: Cutest Little Party
What's your favorite details in this Museum of Ice Cream Inspired 1st Birthday Party? Let us know in the comments below!
For more party ideas, follow us on Instagram @prettymyparty and Pinterest and join us in our private Facebook group.
Shop these fun Ice Cream and Banana Party Supplies and Decorations
(Amazon Affiliates)