Navy Blue and Silver 40th Birthday Party
If you're looking for fun 40th birthday party ideas look no further than this chic affair!
This Navy Blue and Silver 40th Birthday Party from ADAL Kreation of New York City, New York is giving us all the feels!
Life begins at forty! So start your 40th year with a unique and elegant 40th birthday party like this beautiful navy blue and silver 40th birthday party!
If you're planning to give the best surprise for your husband on his birthday, you're definitely going to get so many amazing 40th birthday party ideas for men from this navy blue and silver party planned by ADAL Kreation.
The color combination gives off a strong, classic, and masculine vibe that's perfect for a gentleman's birthday party.
The modern, geometric decorations and party furniture combined with minimalist style of the theme makes this such a posh and elegant gathering that's perfect for adult tastes.
We absolutely love everything about this creative and inspiring party!
40th birthday party ideas
Silver, Gray and White Balloon Backdrop With Giant White 40th Marquee Sign Decoration
Fun and Modern Navy Blue and White 40th Birthday Cake With 'The Big Four Oh' Cake Topper
40th Birthday Party Cookies
Chic Furniture and Lounge Area
Floral Decor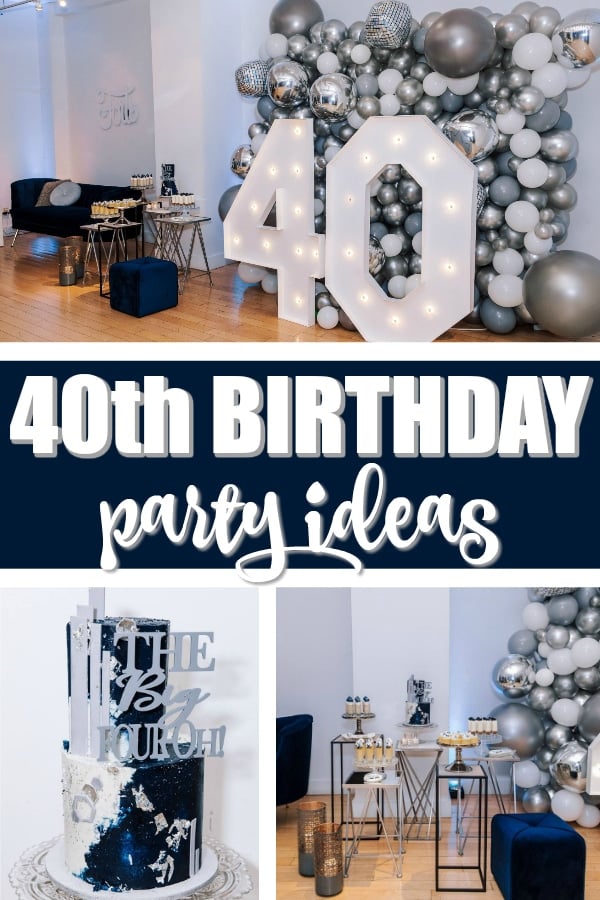 40th Birthday Party Supplies and Decorations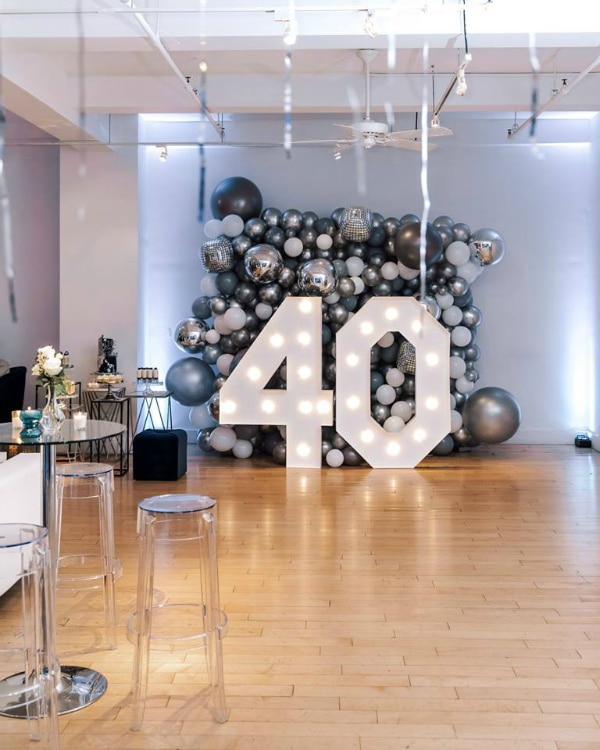 The white 40th marquee decoration really makes a statement!
The white numbers go really well with the silver and gray balloon backdrop and the lights make the silver elements in the decor even more dazzling!
This chic statement pieces really makes for some gorgeous photos as well. We really love the colors and decorations used for this fun birthday celebration that's totally guy-approved!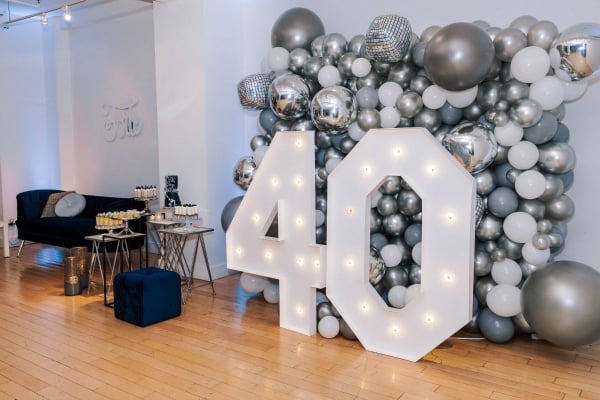 If you're looking for backdrop ideas for a birthday party, definitely give balloons a go.
Although banners are much more common, this balloon backdrop shows just how awesome this kind of backdrop looks as well.
Plus, these balloons are definitely going to WOW your guests as they walk into your party venue!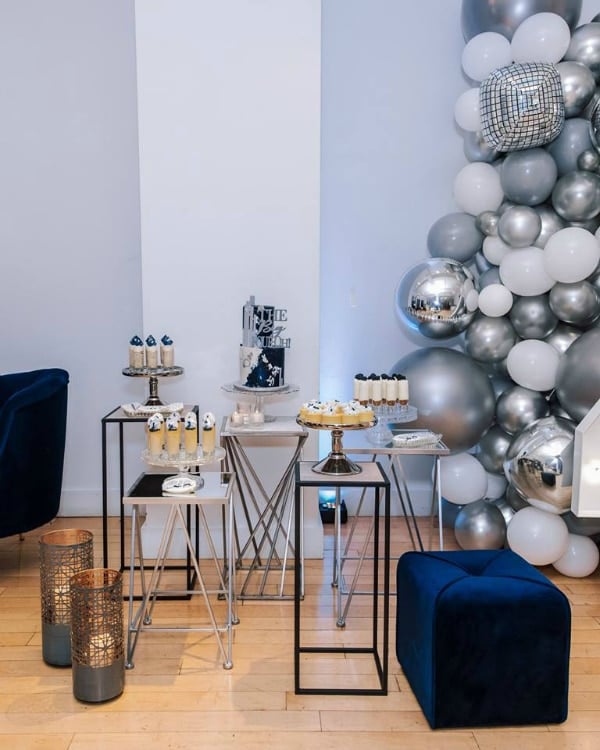 How creative is this "dessert table" setup? Instead of settling for a single table, we love how there are several mini tables of different heights to make up the sweets table.
The different elevations make the setup look chic and modern, and the one dessert per table means that all of the delicious treats get their own spotlight! What a wonderful idea!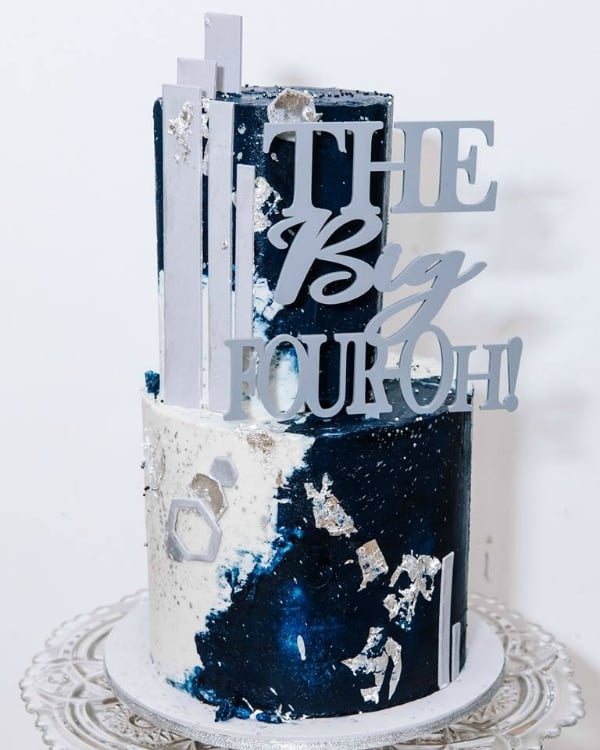 This white, silver, and navy 40th birthday cake looks absolutely stunning!
The abstract dual tone design complete with silver flecks and a gorgeous cake topper from MySentiments Designs looks very contemporary and fashionable.
It actually reminds us of the night sky or even a galaxy!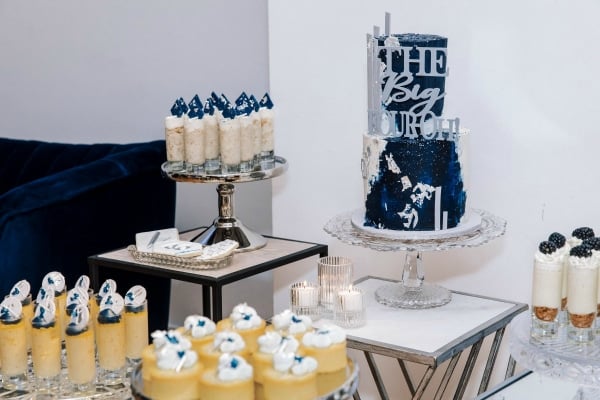 Sticking with the navy and silver theme, the other desserts on the tables all have a hint of navy in them, and they all look delicious too!
With such a gorgeous cake in the middle, it's nice to see the other desserts looking more subtle and low-key.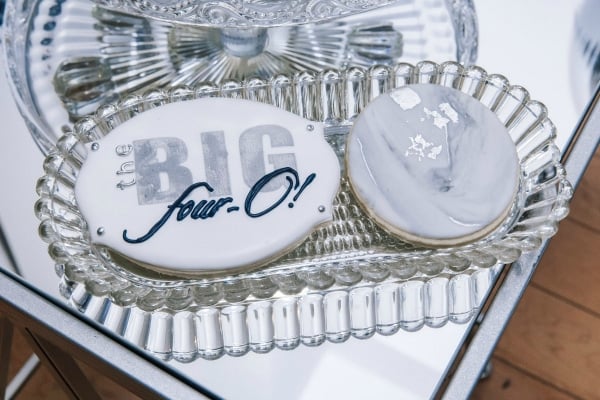 Sugar cookies might be served more in children's parties, but they can also work for adult parties with the right design and serving style.
The marble design and simple lettering are absolutely perfect for this party.
We also love how these beautiful sugar cookies are set in crystal trays! What a creative idea and definitely perfect for a grown-up event!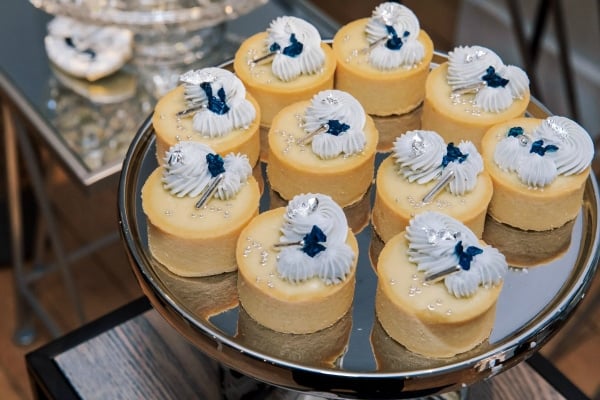 Think cupcakes are too cute and girly to be chosen as desserts for a man's 40th birthday party? Think again!
Silver flakes and single silver sprinkle on pale bluish gray frosting make these naked cupcakes look like decadent works of art.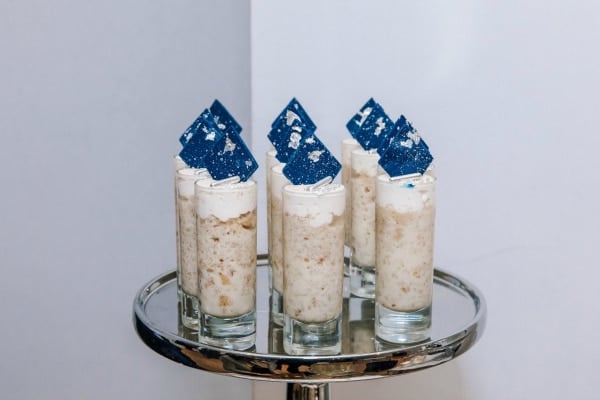 These desserts look scrumptious! We love the sparkly navy sugar element on top — what a nice touch!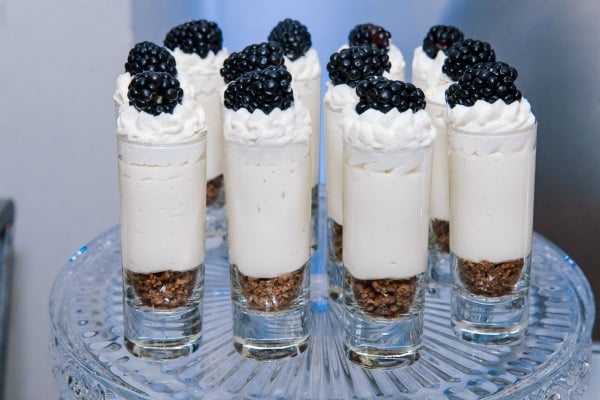 Blackberries give this dessert the required touch of navy.
We love how the desserts made for this party also exude that simple elegance that is the whole vibe of the celebration. It really makes everything look more luxurious.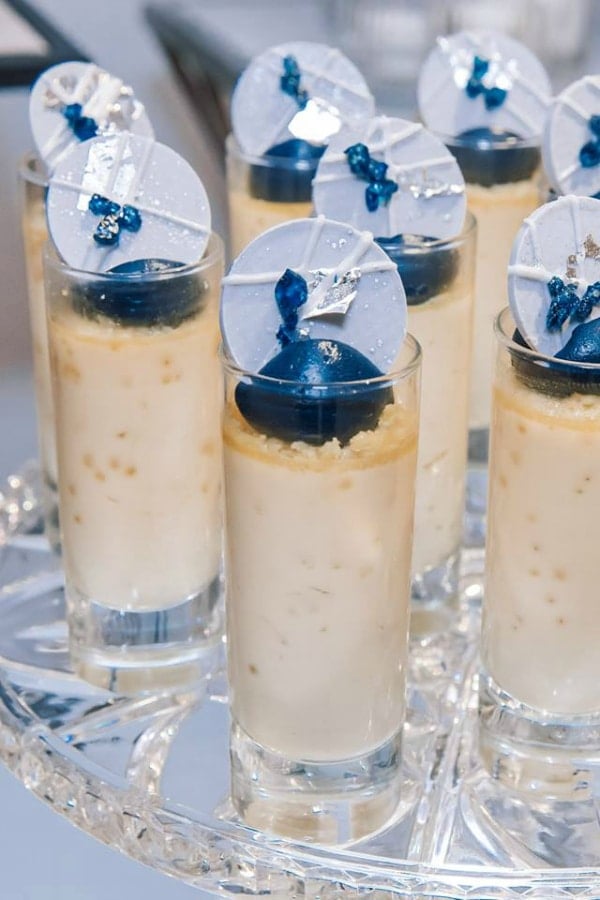 How gorgeous are these desserts? We think that the silver discs with navy elements really make these delicious creations look so unique and interesting.
We're sure that these mouthwatering sweets are a huge hit among the guests.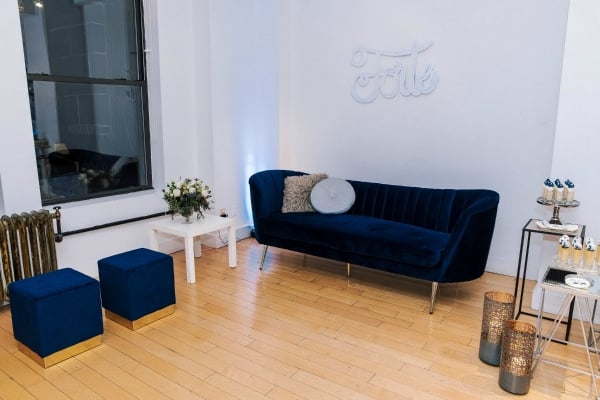 The plush navy couch and chairs are perfect for settling down and having deep discussions with guests or sharing a laugh and a round of drinks — take your pick!
It's close to the dessert table too, so it's perfect for guests who'd love to go for rounds two or three or four!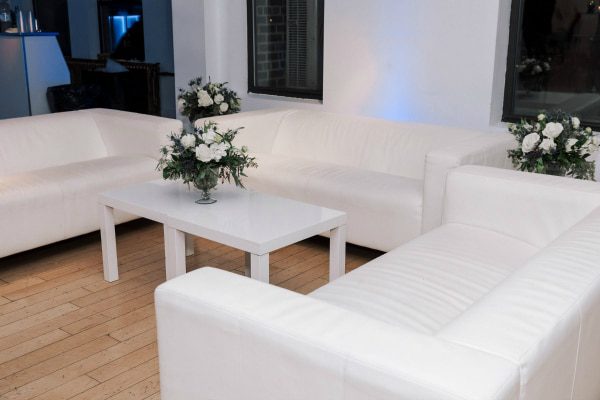 These cozy white couches are perfectly set up for overflowing drinks and entertaining conversations! It's even great for playing some nice games for adults to keep the fun to a maximum.
The small flower centerpieces add a nice touch of warmth to the chic furniture.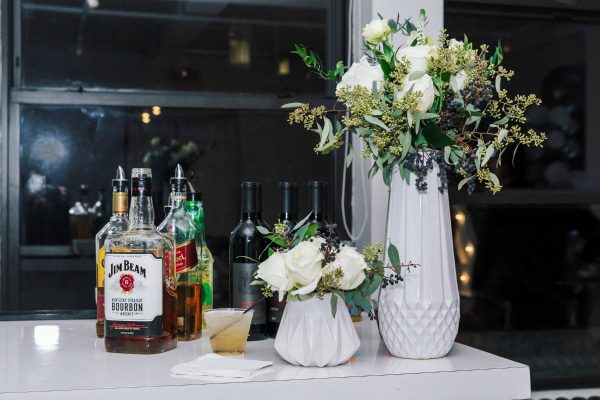 Gorgeous flowers and chic white vases adorn this bar setup. After all, you can't celebrate the big 4-0 without a ton of drinks!
This 40th birthday party is definitely stocked with liquor to quench the thirst and make sure all guests are getting their fill.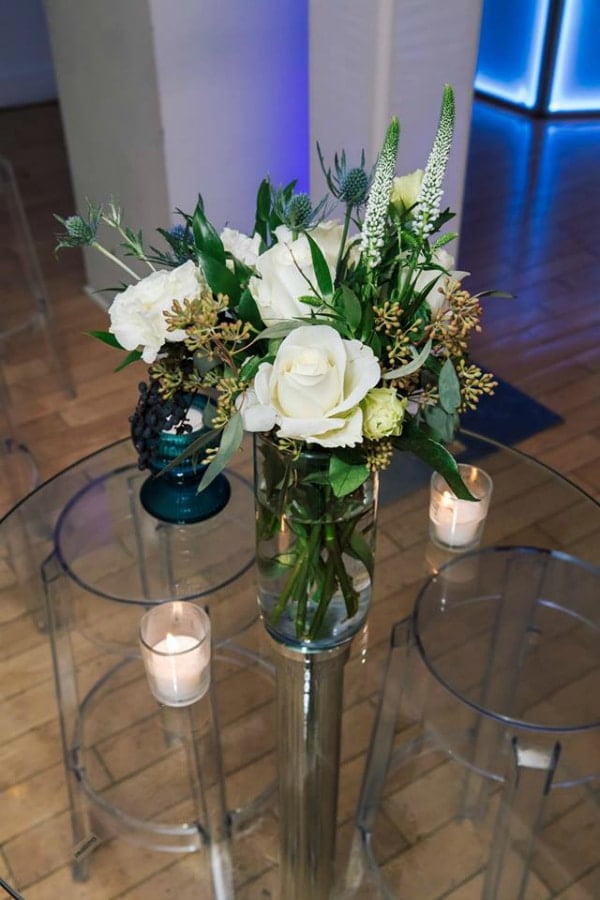 We love the crystal tables and chairs … so classy! These smaller tables are perfect for standing discussions and mingling with guests.
They definitely make going back to the bar or the dessert table so much easier!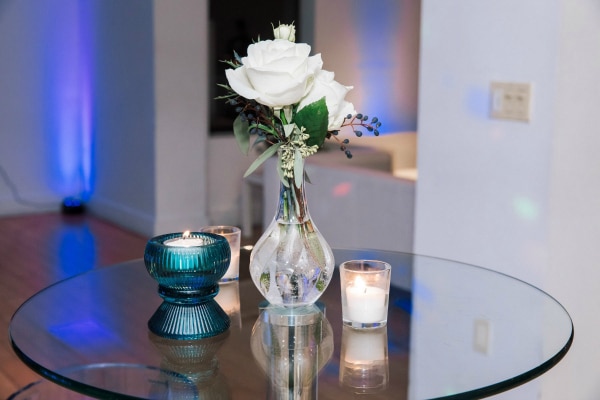 White flowers add a soft touch to the decorations. Candles on the table also set a nice warm and cozy atmosphere for intimate talks between guests.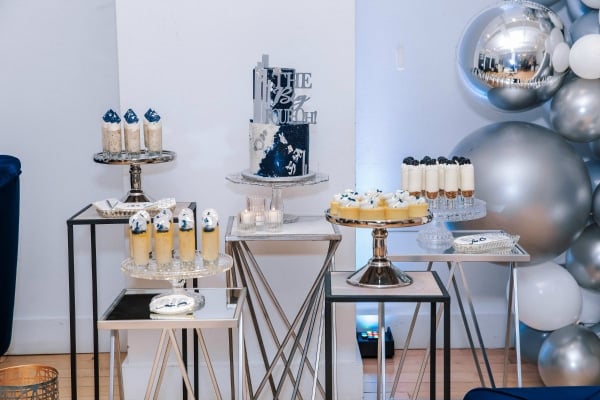 Here's another look at the beautifully set up dessert station. We just can't get enough of these appetizing treats!
Keeping the deserts and the tables simple really meshes well with the whole sleek and elegant vibe of the party.
The small tables definitely add a nice effect and ensures that the dessert station doesn't look under decorated or boring.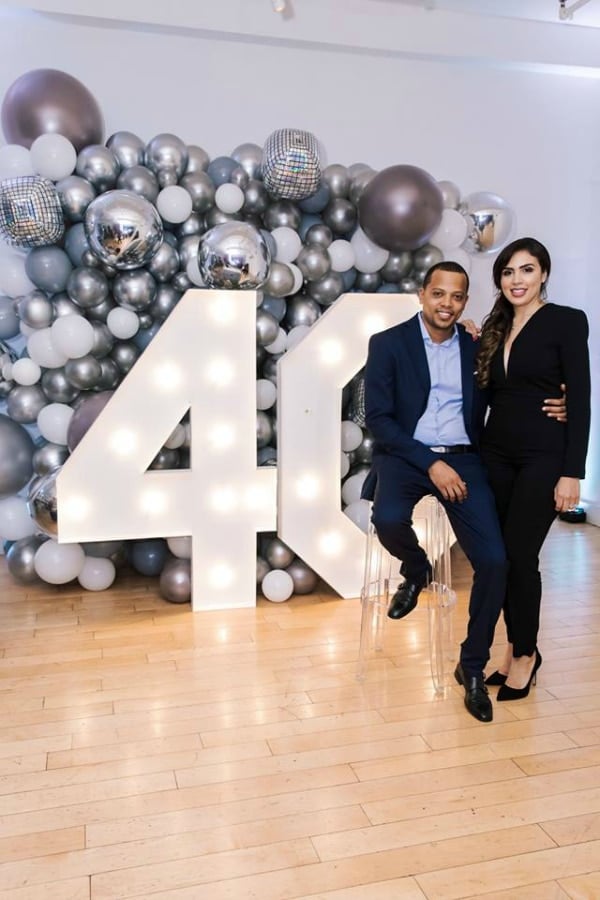 The big smiles on the birthday boy's face shows that he loved his navy blue and silver 40th birthday party setup just as much as we did!
We're sure all the guests also had a wonderful time during the party and enjoyed the delicious food and the beautiful decorations too.
Party Vendors
Planning / Design / Florals: ADALKreation
Balloons: MP Balloons Decor
Dessert: JD3s Dessertery
Custom Cookies: From Mireya's Kitchen
40 Marquee Numbers: Archicrafts Studio
Cake Topper: My Sentiments Designs
Balloons: MP Balloons Decor
Event Rentals: Long Island Party Rentals
Catering Services: Chef Ketty
Entertainment: Crespita Entertainment
Photographer: Purroy Photo & Video
What's your favorite detail in this Nancy Blue and Silver 40th Birthday Party? Let us know in the comments below.
For more party ideas, follow us on Instagram @prettymyparty and Pinterest and join us in our private Facebook group.