14 Colorful Care Bears Party Ideas
If you're planning a classic Care Bears Party for your little one don't miss these adorable ideas!
The Care Bears have been some of the most well-loved characters since the first ever Care Bears toys launched in 1981, and they're still so popular among kids these days! With toys, TV shows, and movies made about the colorful little teddy bears, it's not surprising to see many kids wanting to have a Care Bears themed birthday party at some point.
If your little boy or girl has been wanting to have a party with Tenderheart, Good Luck Bear, Cheer Bear, Birthday Bear, or even Grumpy Bear, you have come to the right place. We have a ton of Care Bear Party Ideas that will surely make your Care Bears party one to remember!
Ready for a fun and vibrant Care Bears themed party? Start the Care Bears countdown and check out these 14 Colorful Care Bears Party Ideas to get you started!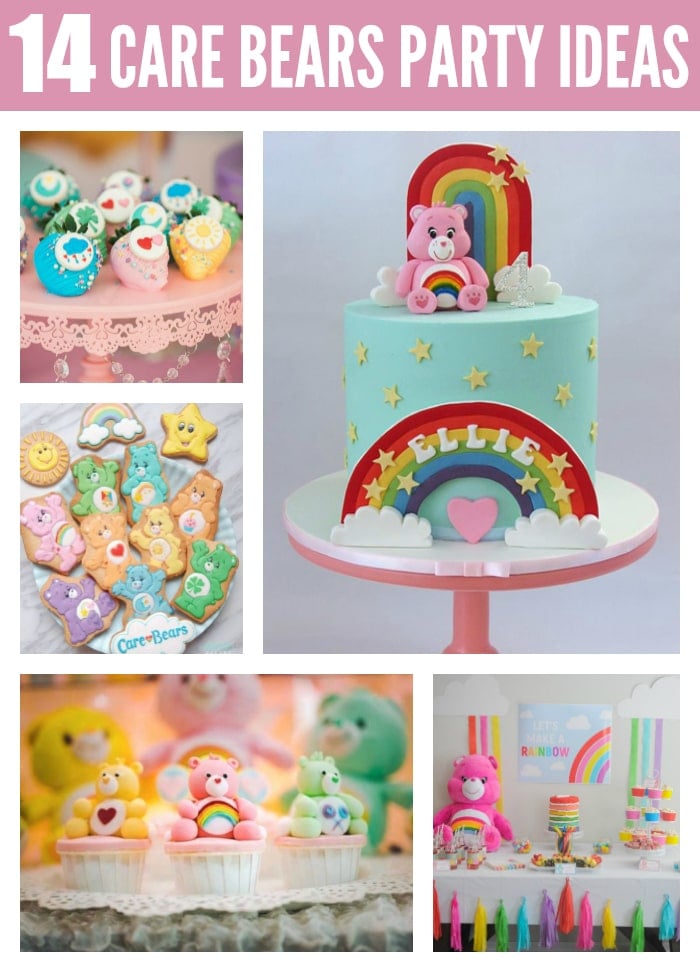 Care Bears Party Supplies and Decorations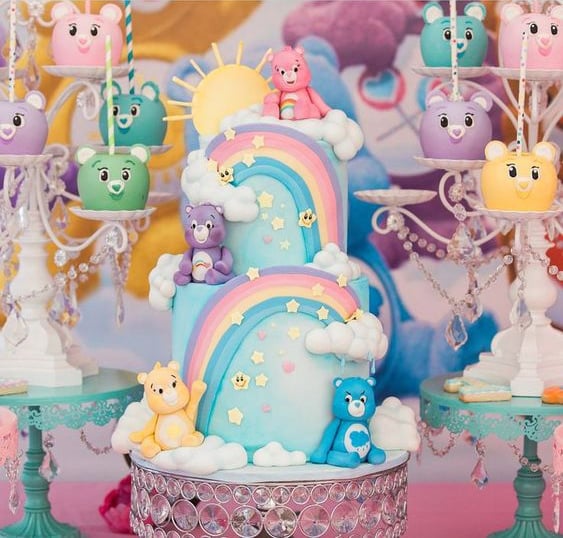 Colorful Care Bears Party Idea #1: How beautiful do these Care Bears Birthday Cake and Desserts look? The pale blue Care Bear birthday cake surrounded by everyone's favorite bears along with rainbows, clouds, and stars look absolutely incredible.
The super cute caramel apple Care Bears also add a nice touch! Everyone's definitely going to rush to grab a bite of their favorite Care Bear turned into a yummy treat.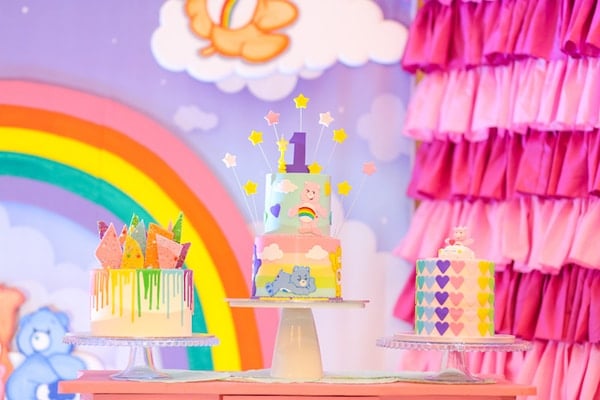 Colorful Care Bears Party Idea #2: Think your little one deserves more than just a single Care Bears Cake? How about making a trio of colorful Care Bears Birthday Cakes for their birthday?
Each of these cakes are super bright and eye-catching and they are all perfect for a rainbow and Care Bear birthday! They definitely look amazing with the gorgeous Care Bear backdrop complete with a large rainbow and all our Care Bear friends.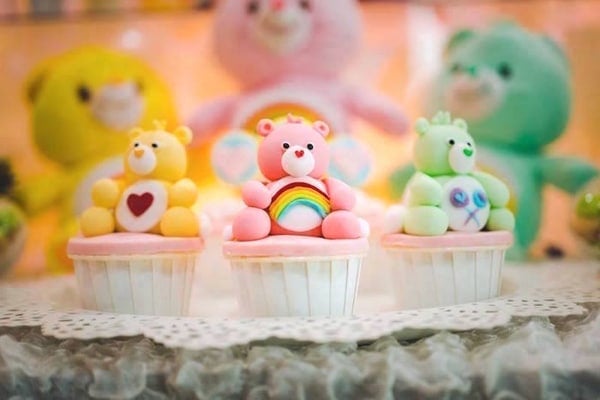 Colorful Care Bears Party Idea #3: These little Care Bears Cupcakes are beyond adorable! If you're looking for super cute Care Bear party food ideas, definitely give these bear-y delightful sweet treats a try!
You can have these custom made, or if you're feeling particularly creative and you're good with fondant, you can have a lot of fun creating these mini Care Bears from scratch too!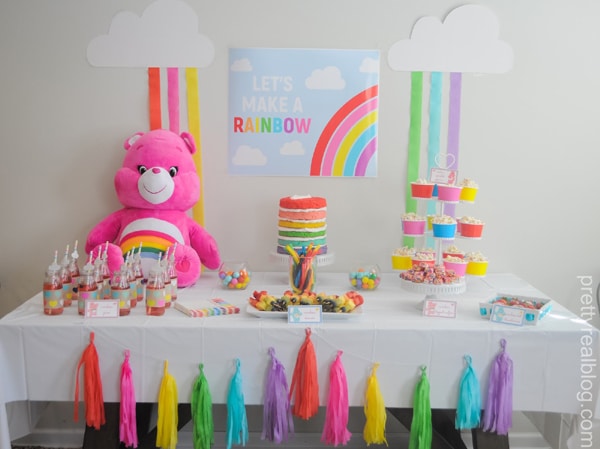 Colorful Care Bears Party Idea #4: This Care Bears Dessert Table will definitely make your little one's Care Bears birthday celebration come alive! All the colorful elements in this dessert table look so nice and vibrant, from the rainbow colored tassels to the rainbow themed desserts. Cheer Bear is even present to marvel at all the rainbow goodies!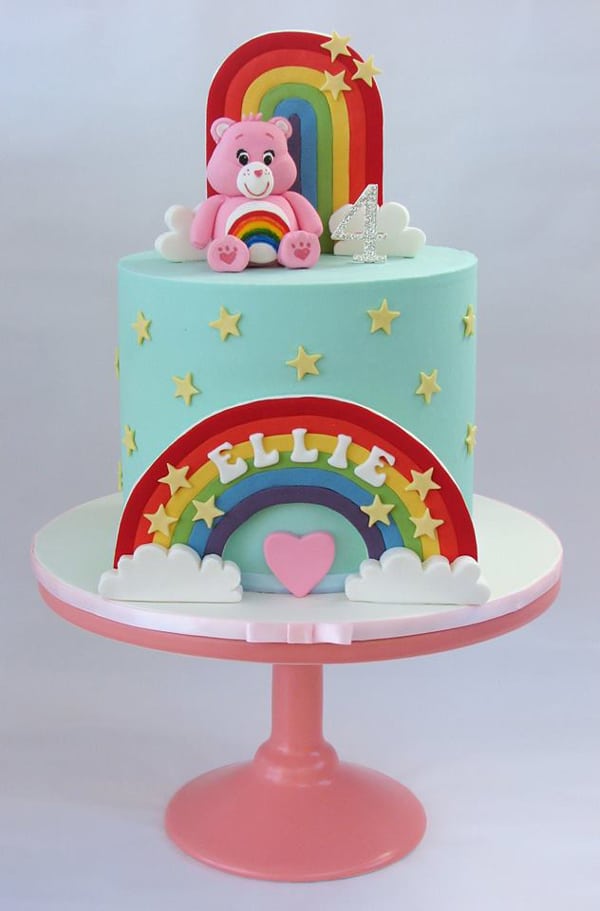 Colorful Care Bears Party Idea #5: This simple but sweet Care Bears Birthday Cake will be such a charming present for your birthday girl or birthday boy! The rainbows in this cake look so rich and vivid!
To top it all off, Cheer Bear is here to spread some warm cheer and a whole lot of happiness for your kid's birthday celebration.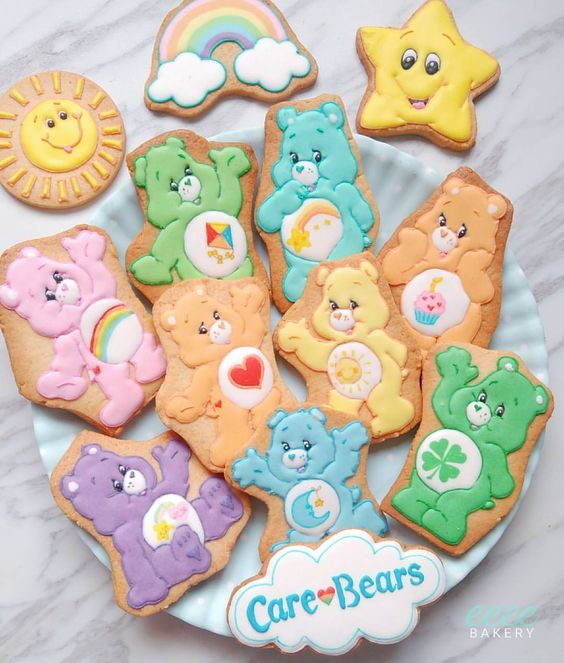 Colorful Care Bears Party Idea #6: These Care Bears Cookies will make for another brilliant addition to your dessert table. They're so cute that they will definitely be flying off their plates when you serve them at your Care Bears party!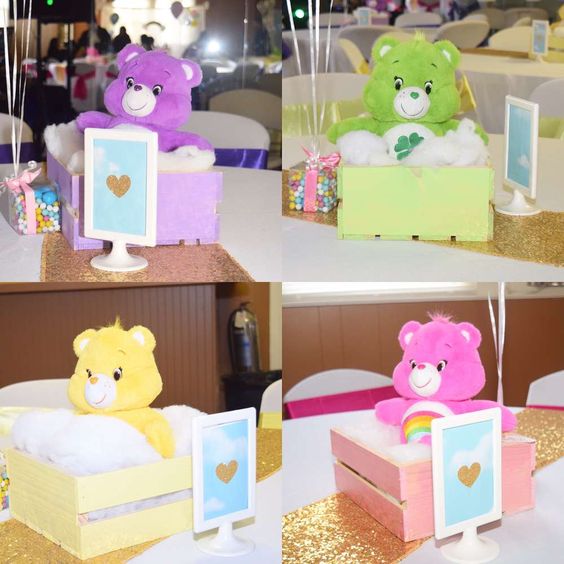 Colorful Care Bears Party Idea #7: Does your child want to showcase all their cute Care Bears plush toys? These Care Bears Centerpieces will be a great way to do just that!
You don't have to spend a lot of time looking for hard-to-find Care Bear party supplies to create amazing decorations. With just a few toys and some creativity, you can recreate these lovely centerpieces to fit your Care Bears party theme!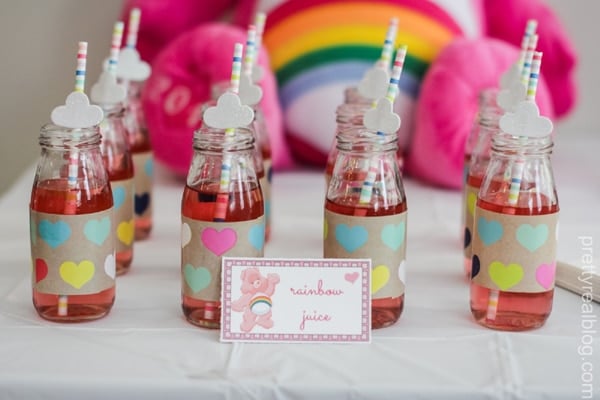 Colorful Care Bears Party Idea #8: Need to give your energetic party guests something to cool them down? How about this awesome Rainbow Juice?!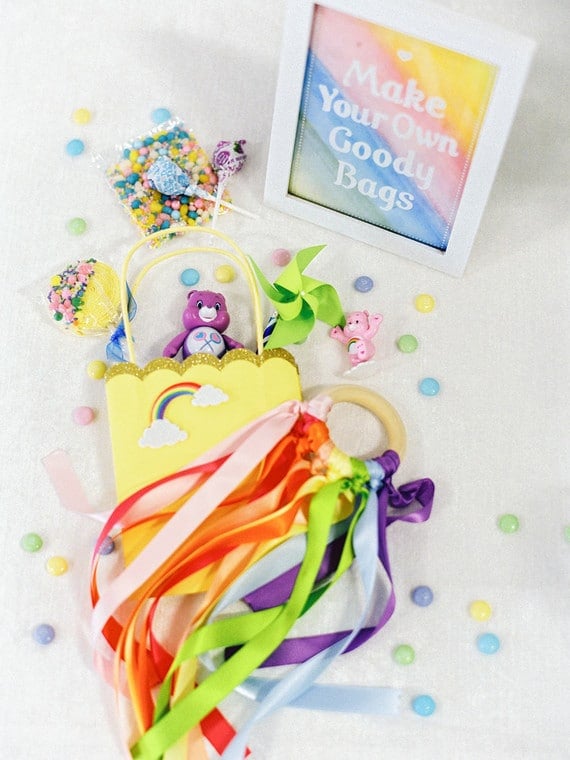 Colorful Care Bears Party Idea #9: A fun Care Bears party won't be complete without some nice Care Bears party favors for your guests to take home. These Care Bears Make Your Own Goody Bags will ensure that all your party guests will go home with a huge smile on their faces!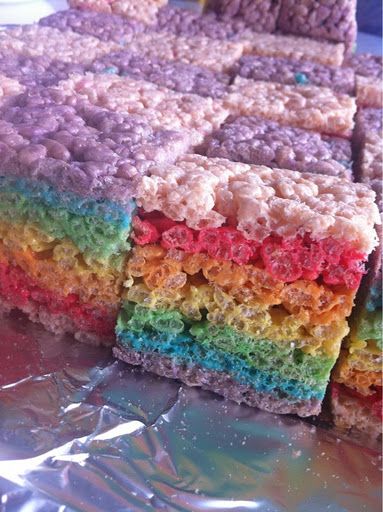 Colorful Care Bears Party Idea #10: Rice Krispie treats are one of the easiest desserts to make, and these Rainbow Rice Krispies will definitely be a perfect match for your Care Bears party theme.
To make these colorful treats, you need a bunch of different colors of food coloring, some large pans, and of course, your rice krispies. You will need to add the colors layer by layer to make them look defined and like very pretty rainbow squares!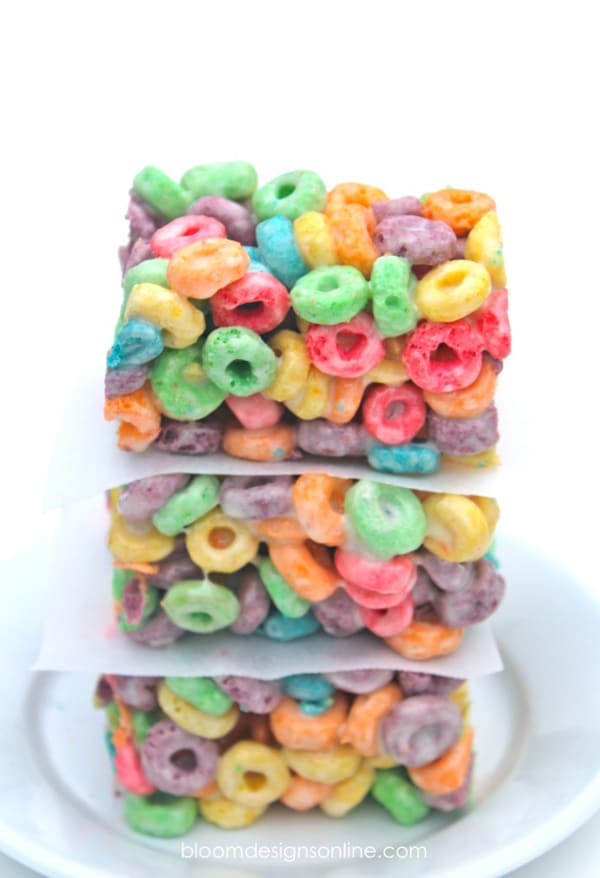 Colorful Care Bears Party Idea #11: If you want an alternative to rice krispies, you can also create these colorful rainbow bars using this very easy Rainbow Bars Recipe. This recipe just calls for three ingredients: margarine, mini marshmallows, and Fruit Loops!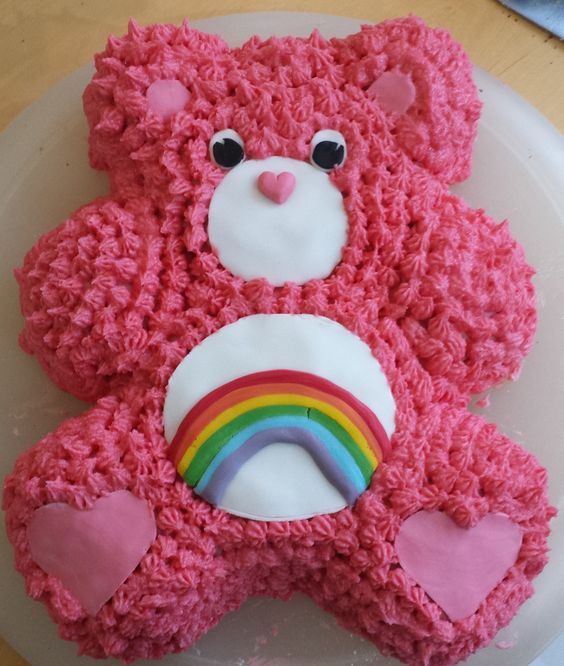 Colorful Care Bears Party Idea #12: This Care Bear Cake looks absolutely amazing! From Cheer Bear's cute rainbow belly badge to his adorable little button heart nose, this cake is definitely going to be the center of attention at your Care Bears party!
If your little one has a favorite Care Bear like Bedtime Bear, Wish Bear, or Love-a-Lot Bear, you can also try to recreate it using their favorite!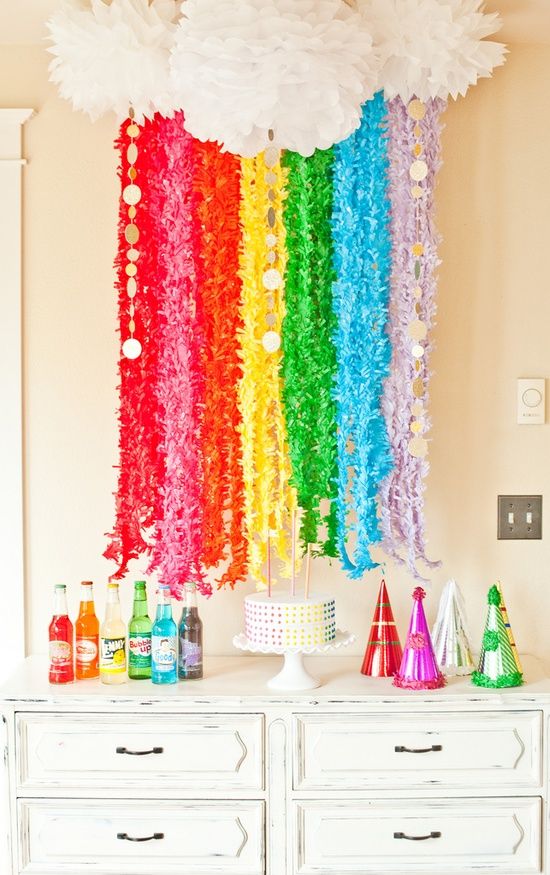 Colorful Care Bears Party Idea #13: This Rainbow Party Backdrop looks so vibrant and festive! Hanging rainbow colored garlands like this beneath a fluffy paper cloud is a thrifty but pretty alternative to having huge printed backdrops.
The colorful drinks and party hats and the simple rainbow dotted cake ties up this simple but colorful Care Bears party setup.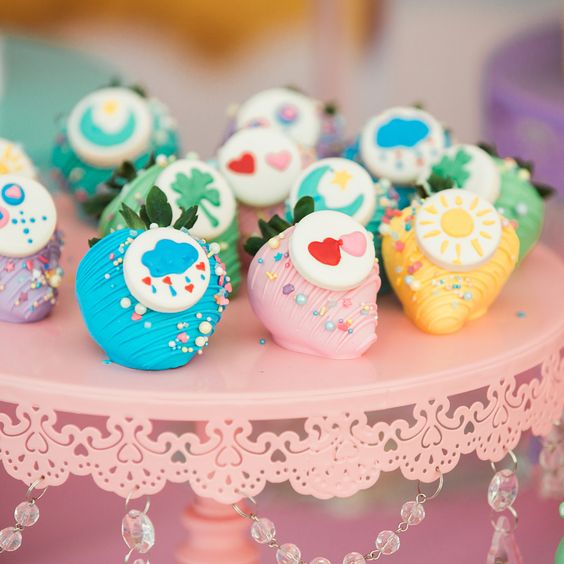 Colorful Care Bears Party Idea #14: Want something a little fancy but still super adorable for your Care Bears party? These Care Bears Chocolate Covered Strawberries are perfect for the colorful Care Bears dessert table!
Not only are the strawberries dipped in Care Bears colored chocolate, they even have tiny belly badges to match!
Which is these 14 Colorful Care Bears Party Ideas are your favorites? Let us know in the comments below.
For more party ideas, follow us on Instagram @prettymyparty and Pinterest and join us in our private Facebook group.