17 Fabulous Spa Party Ideas
These 17 Fabulous Spa Party Ideas will have you planning the best girls' birthday ever!
Hair and nails and facials, oh my! Spa parties are some of the most fun party ideas for kids and adults alike! Who doesn't like to kick back and relax while getting their nails painted or getting a nice, soothing massage?
A spa-themed party is an excellent sleepover birthday party idea. Aside from eating delicious food and playing fun games with her friends, your little princess and her guests will also be treated to lots of pampering and some much needed R&R if you host a spa theme party.
If your little girl has been wishing for a fun-filled spa party sleepover, you've come to the right place. From spa party supplies and spa party favors to spa party food and spa party games, here are are 17 fabulous spa party ideas that will teach you how to throw the best spa party at home!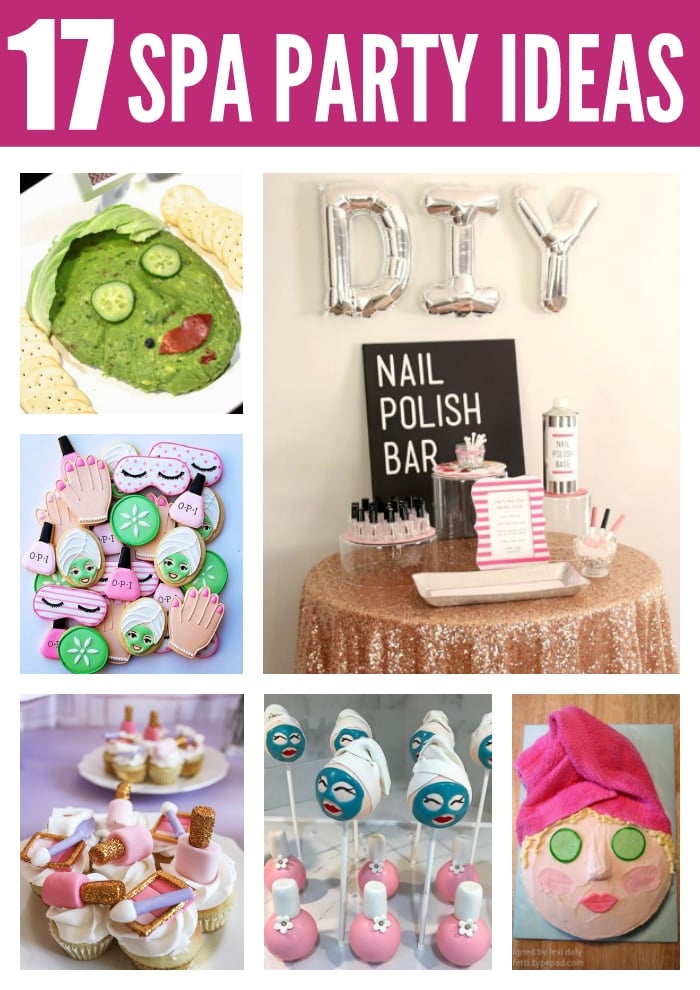 Spa Party Supplies and Decorations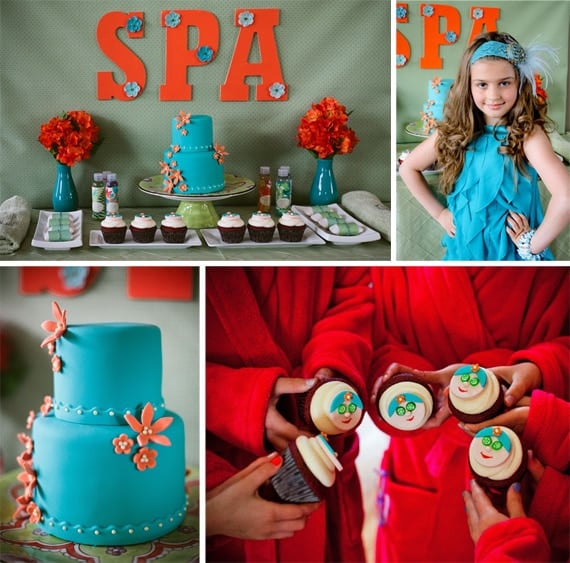 Fabulous Spa Party Idea #1: This blue and orange Spa Party theme is so hippie-chic! The gorgeous blue cake with dainty pearls and pretty orange flower decorations looks both delicious and relaxing which is perfect for a day or night of unwinding! The adorable cupcake toppers with the little cucumber eye masks are an excellent touch as well!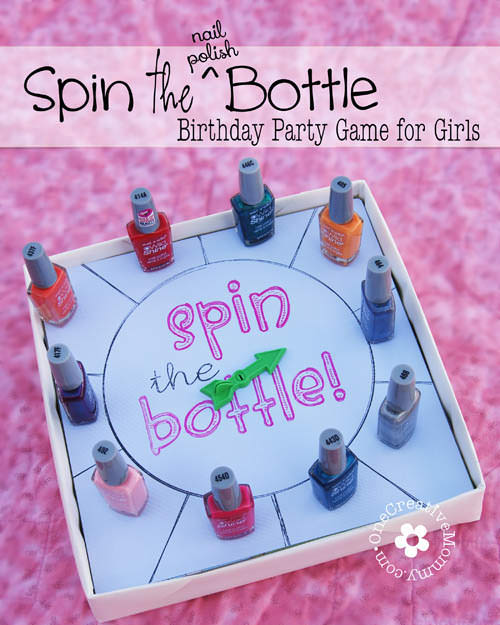 Fabulous Spa Party Idea #2: Have a splash of colourful fun with this Spin the Nail Polish Party Game! This game is perfect for a DIY spa party. All you need is a little spinner, a couple of bottles of different colored nail polish, and maybe an adult or two to supervise! To play, everyone takes their turn to spin and whatever nail polish the spinner lands on, they use it to paint one toenail. The game ends with the kids having a blast and very colorful toenails!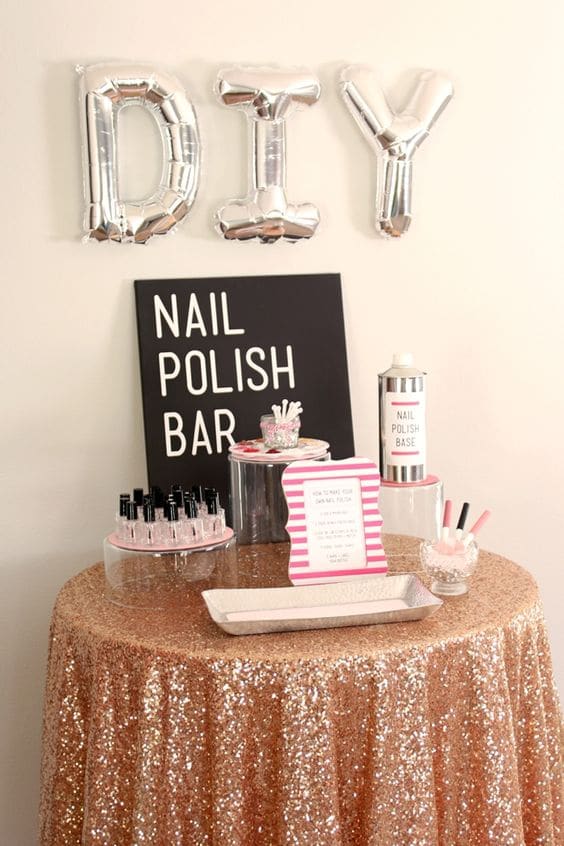 Fabulous Spa Party Idea #3: Painting nails is a staple at any spa party for kids, so make sure you set up an awesome Nail Polish Bar like this one. It's super easy to DIY too, and you won't even need special spa birthday party supplies.
You just need a glitter cloth, some metallic balloons, some empty nail polish bottles, a clear nail polish base, and different colors of mica powders. The girls can then mix and match and create their own unique polishes! If your little girl is into all things glitter, this super sparkly and shiny setup will be a massive hit!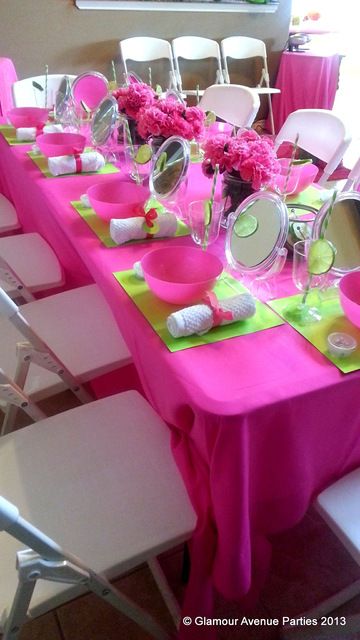 Fabulous Spa Party Idea #4: If your little princess adores facials, she is going to go crazy for this Spa Party Table! Your little one and her friends are going to have so much fun during spa day while having facials and sipping on drinks at this wonderful spa party table setup!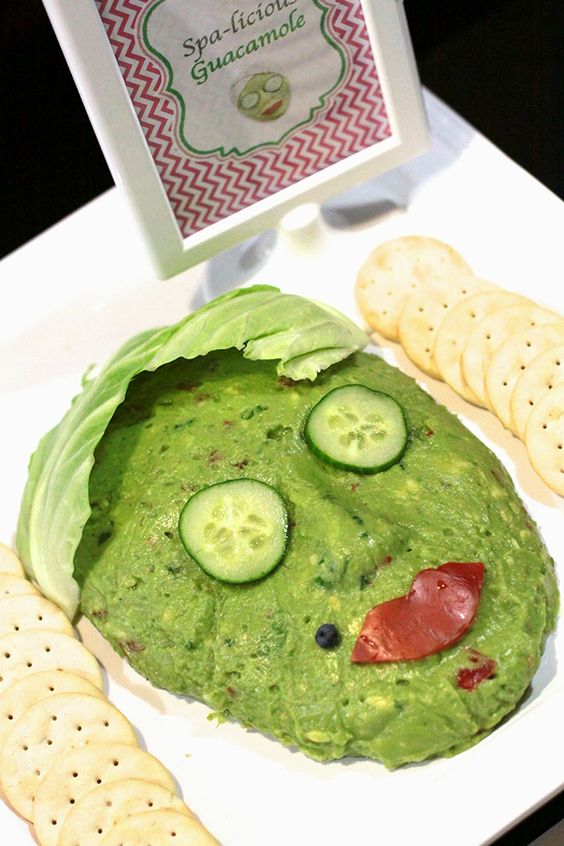 Fabulous Spa Party Idea #5: How creative is this Spa Party Spa-licious Guacamole Dip?! If you're looking for spa themed party ideas for the food table, this super cute guacamole mask dip is just perfect. The use of lettuce for the spa cap, red bell pepper for the lips, and cucumbers to tie up the whole look is so impressive!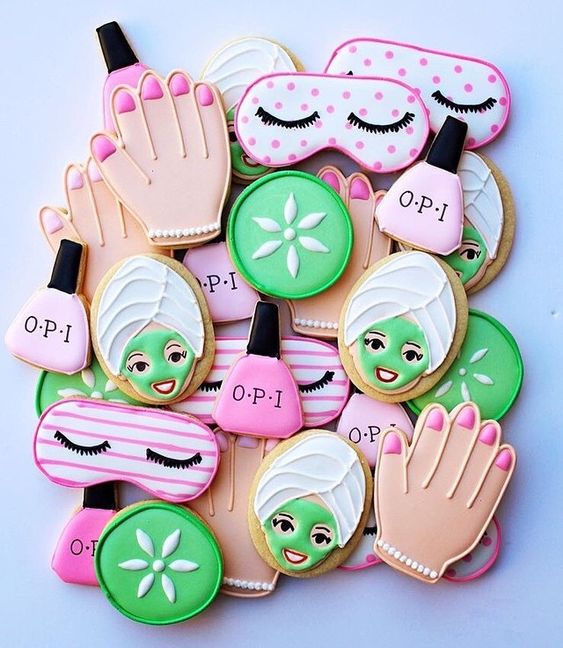 Fabulous Spa Party Idea #6: Wow, these Spa Party Cookies look absolutely smashing! You're going to have a boatload of fun designing all these spa-themed sugar cookies. The sleeping mask with eyelashes and the hand with polish and a pearl bracelet looks great, but the cute ladies relaxing in their face masks and spa caps are just too pretty to eat!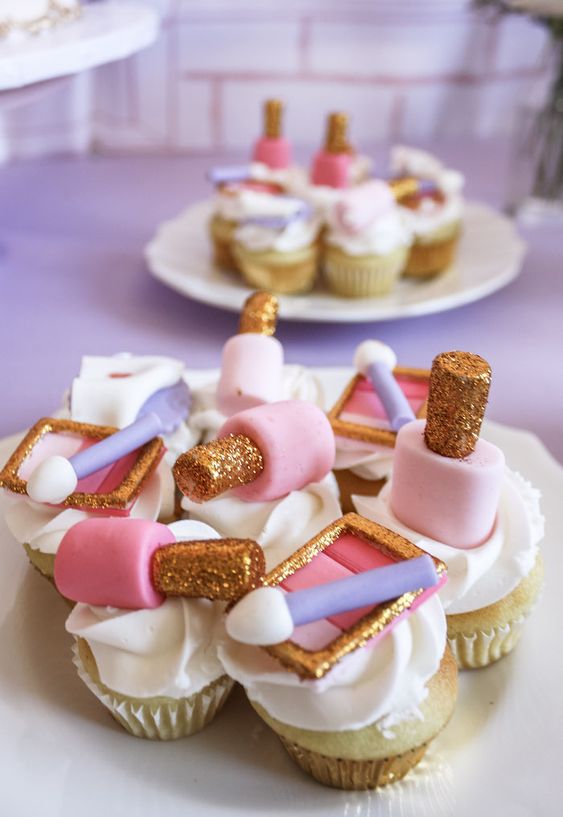 Fabulous Spa Party Idea #7: Fun with make up is another key element when hosting a spa birthday party, and these eyeshadow and Spa Party Cupcakes fit in perfectly with the theme!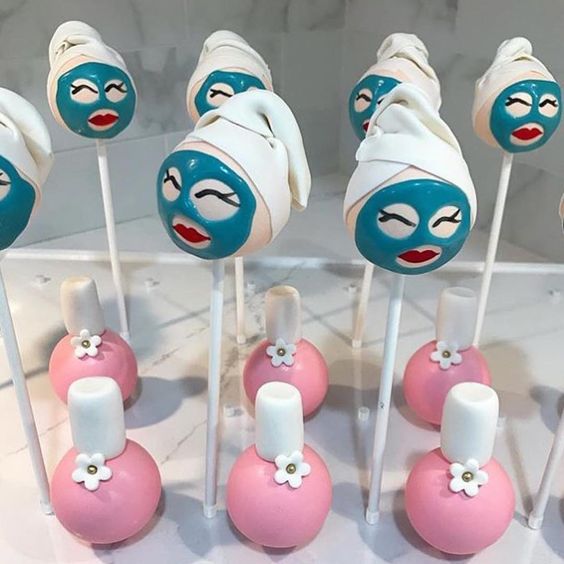 Fabulous Spa Party Idea #8: How adorable are these Spa Party Cake Pops?! Both chubby little nail polish cake pops and the cute girl having a relaxing time with her face mask and spa cap will look amazing on your spa-themed dessert table!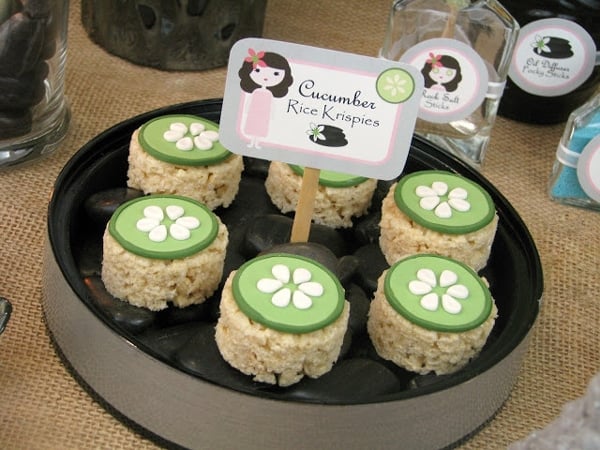 Fabulous Spa Party Idea #9: Cucumber eye masks are another spa party staple, and these Cucumber Rice Krispie Treats will match your little girl's cucumber eye masks perfectly! You can make your own rice krispie treats because they are one of the easiest desserts to make, so these yummy treats will be perfect if you're planning to DIY.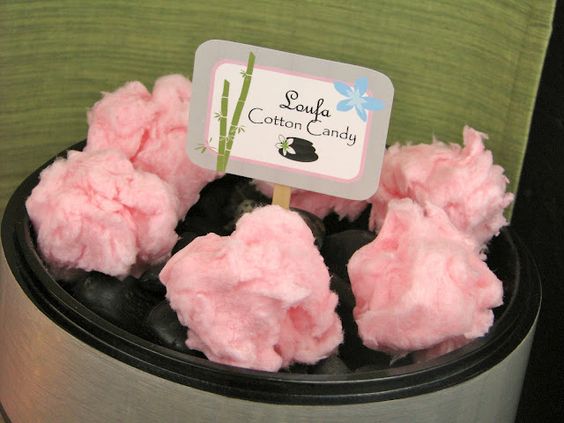 Fabulous Spa Party Idea #10: Loofah and cotton candy? What an interesting combination! The Spa Party Loofah Cotton Candy is another easy-to-make dessert. You can purchase regular pink cotton candy and just shape them to look like loofah sponges!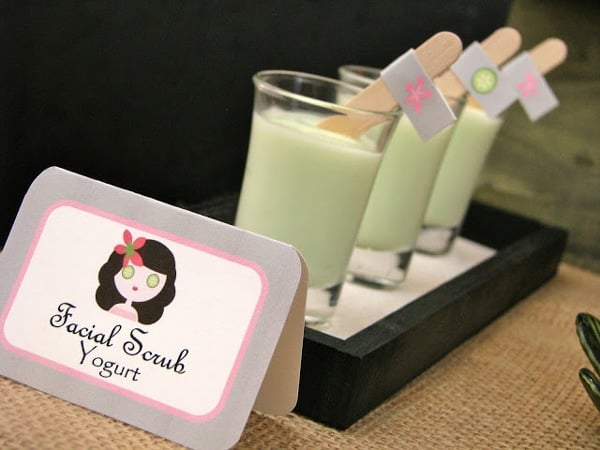 Fabulous Spa Party Idea #11: What makes these Spa Party Facial Scrub Yogurt desserts even more suited to the spa party theme is that they are served in beautiful zen garden containers. You can use a wooden tray and some white sand to make it look like a calming Japanese zen garden serving tray.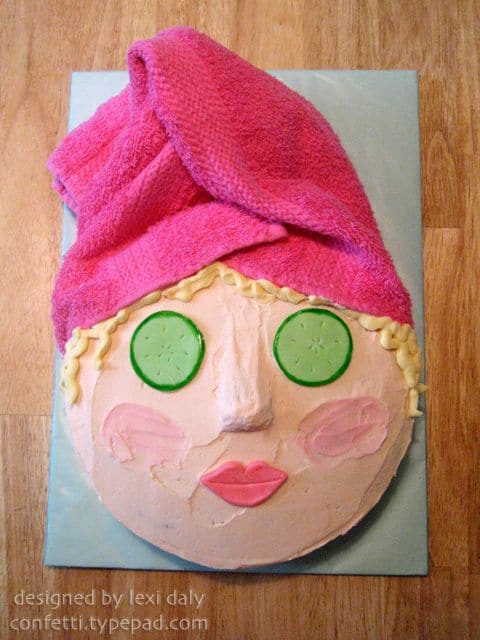 Fabulous Spa Party Idea #12: The party wouldn't be complete without a cute spa party cake! This Spa Party Birthday Cake is made using a simple round cake that's decorated with fondant to make up the details of the spa girl. The spa cap is a real hand towel, but you can make your own using icing or fondant too if you're feeling creative!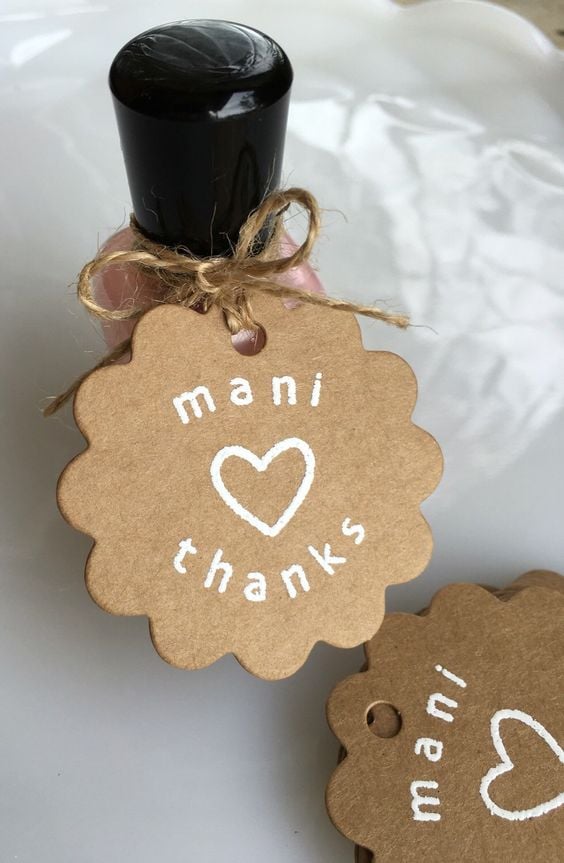 Fabulous Spa Party Idea #13: Want to personalize your nail polish party favors? Add this "Mani Thanks" Spa Party Favor Tag! Your guests will surely love this!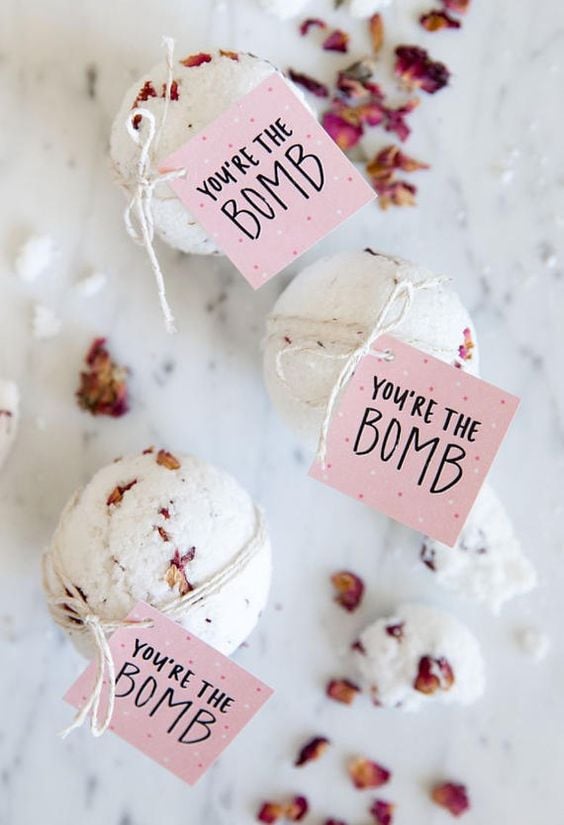 Fabulous Spa Party Idea #14: Another awesome spa party favor to give away are bath bombs! These Bath Bomb Spa Party Favors got really clever with the adorable "you're the bomb" party favor tags!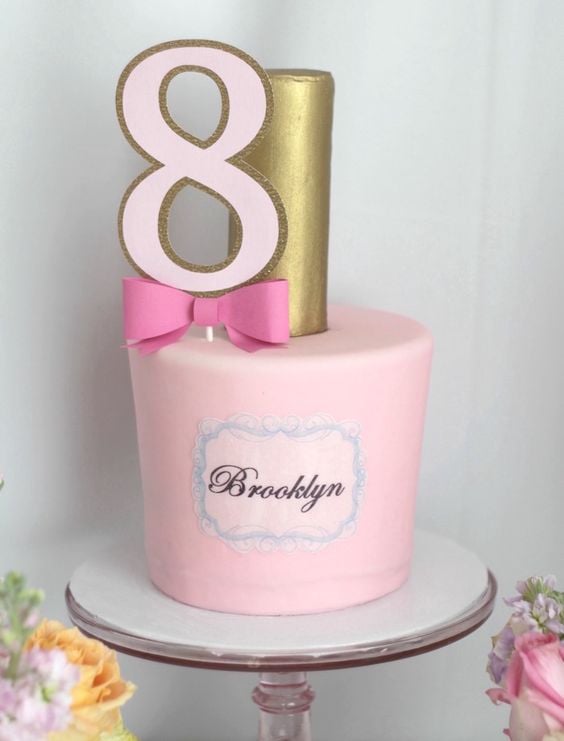 Fabulous Spa Party Idea #15: What can be more perfect as a spa party cake than a Nail Polish Cake? Your little girl will surely love this pretty-in-pink nail polish cake for her spa birthday party.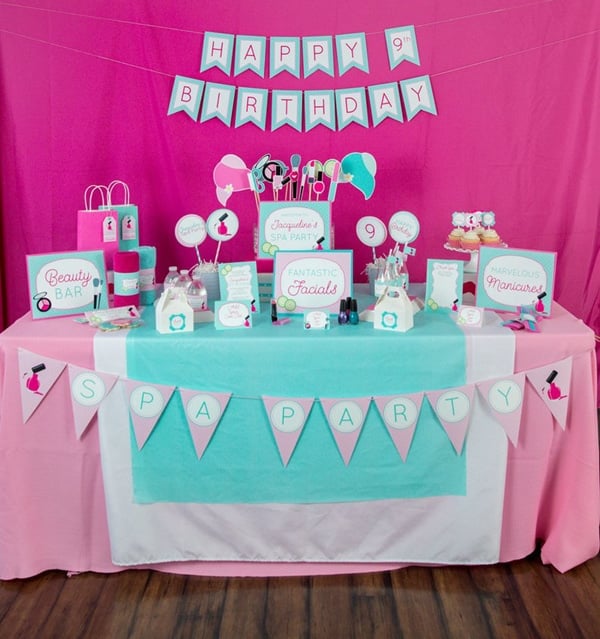 Fabulous Spa Party Idea #16: Check out these colorful Spa Party Decorations! You can make your own affordable but pretty spa birthday party decorations by downloading printables like these ones and printing them out yourself! You can easily find spa party invitations, banners, streamers, and more downloadables online.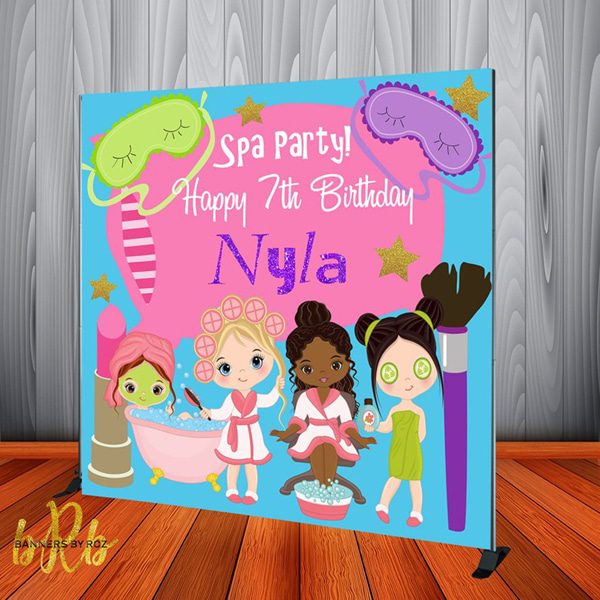 Fabulous Spa Party Idea #17: This Spa Party Backdrop is just so cute! Your little girl and her guests can definitely relate to the adorable little ladies in this banner having loads of fun during their spa day.
Which of these 17 Fabulous Spa Party Ideas are your favorites? Let us know in the comments below.
For more party ideas, follow us on Instagram @prettymyparty and Pinterest and join us in our private Facebook group.