Make your baby shower the event of the year with these Panda Baby Shower Ideas!
This elegant Gold Panda Baby Shower by ADAL Kreation of NYC is the perfect inspiration for a gender neutral baby shower.
Pandas are some of the most adorable animals in the world! With their chubby, fuzzy bodies and their endearing clumsiness, it's no wonder why so many kids and adults just love pandas! And what better way to celebrate your little bun in the oven than to have a Gold Panda Baby Shower?
This panda themed baby shower from ADAL Kreation in New York, NY is just filled with cute and classy decorations all around! We're loving every bit of this awesome panda bear shower theme from the invitations to the banner and of course, scrumptious desserts!
This gender neutral theme is perfect if the couple is wanting to keep the sex of the baby a surprise or if you just want to stick to a neutral theme! The panda baby shower supplies used in this party are also perfect for any occasion like birthdays!
Without further ado, let this awesome party creation from ADAL Kreation inspire you with some wonderful panda baby shower ideas for your future little boy or little girl!
Panda Baby Shower Ideas
Gold Panda Backdrop
Black, Green and White Balloon Garland
Palm Leaf Decorations
Fabulous Panda Baby Shower Cake
2 Mini Panda Themed Cakes
Panda Baby Shower Cookies
Panda Favor Tags
Gold Cake and Dessert Stands and Decor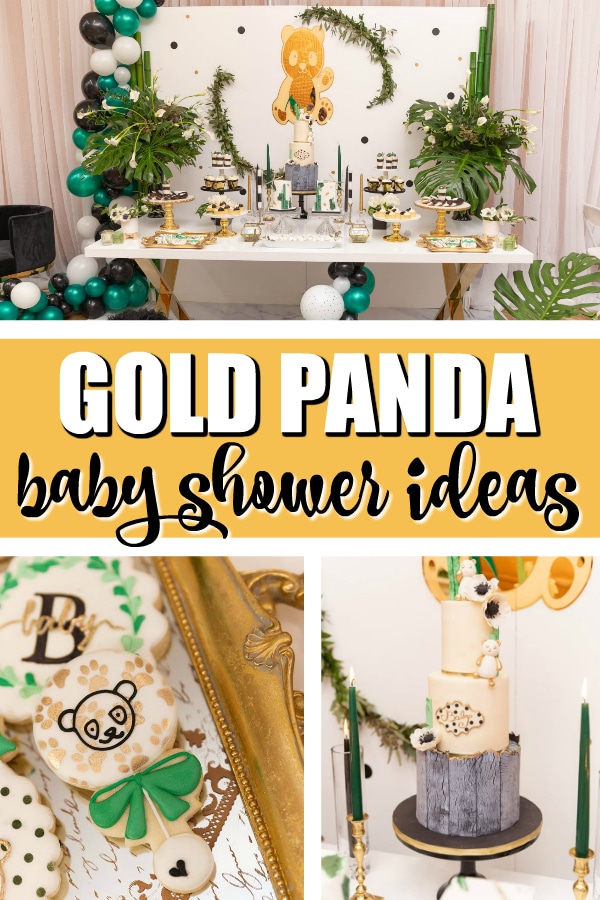 Panda Baby Shower Supplies and Decorations: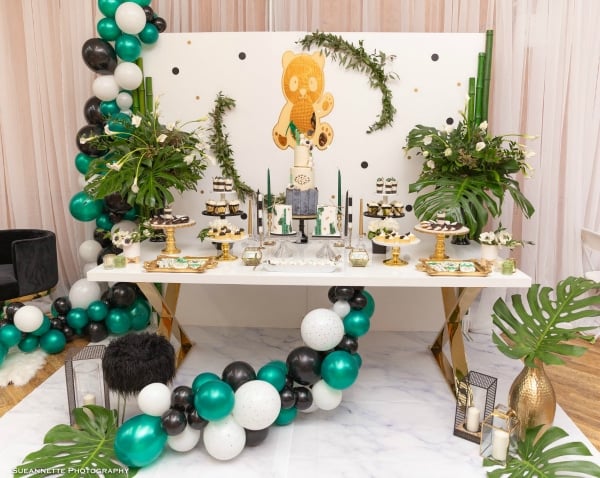 We absolutely love the green, gold, white, and black color scheme of this panda bear themed baby shower. The shimmery green balloons and foliage used add a touch of the forest, which is of course the panda's natural habitat. The gold decor combines nicely with the black and white to create an elegant look for this party.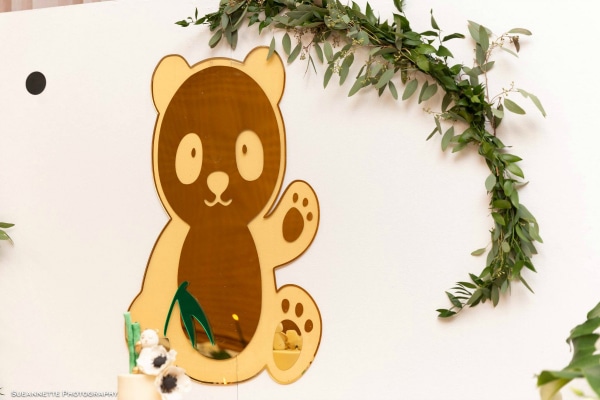 How charming is this panda backdrop? This simple gold panda banner with some green leaves around it is the perfect backdrop for this classy event. Here's a tip: because this cute backdrop is so simple, you can DIY one for your own party using a free printable online.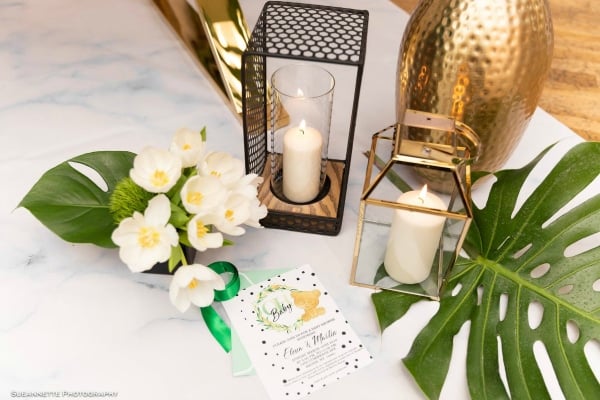 These gorgeous flowers and table decor can fit right in some posh hotels and upscale restaurants! Talk about elegant party decor!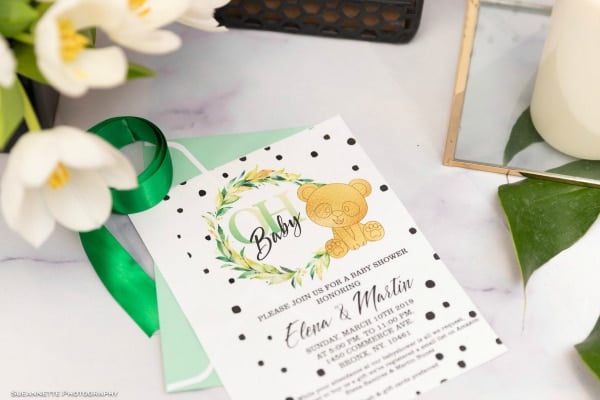 Anyone who receives such a lovely little invitation like this one will definitely want to join the fun!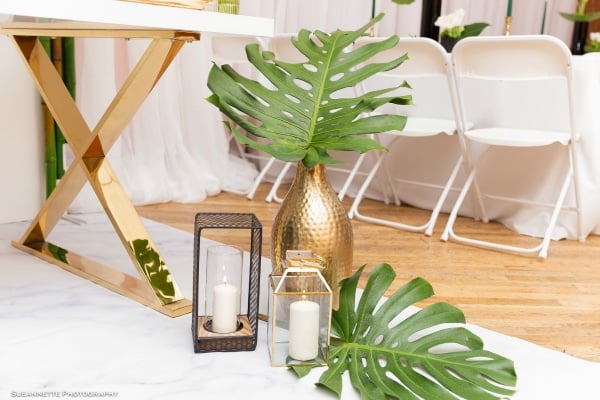 We're loving how these beautiful details complement the overall theme of the party.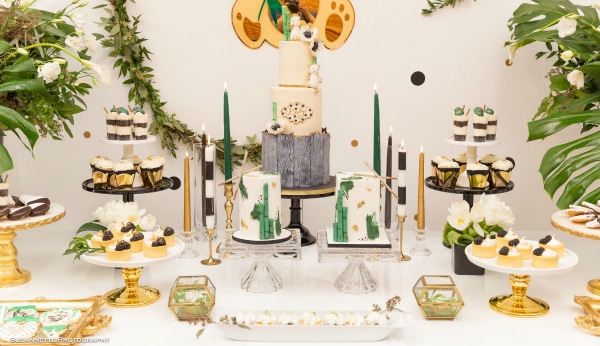 This dessert table looks absolutely stunning! We're sure that all the guests at this party marvelled at how pretty the food looks. Although it's a gold panda shower, the splashes of green in the food and decorations makes everything look even more decadent. It's a nice combination of jewel and earth tones that just pops!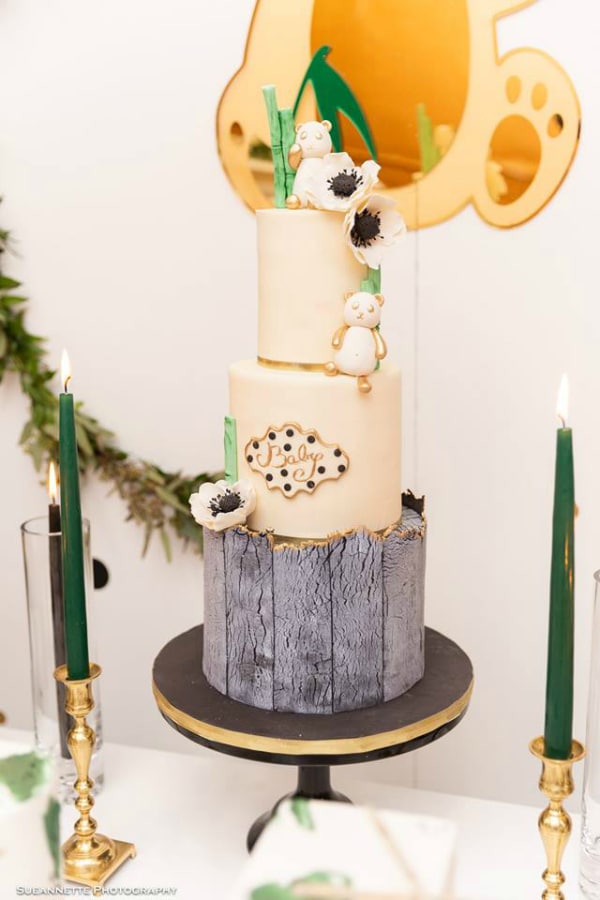 This panda cake looks wonderful! We love the realistic wooden trunk tier and the lovely flower and bamboo stalk designs.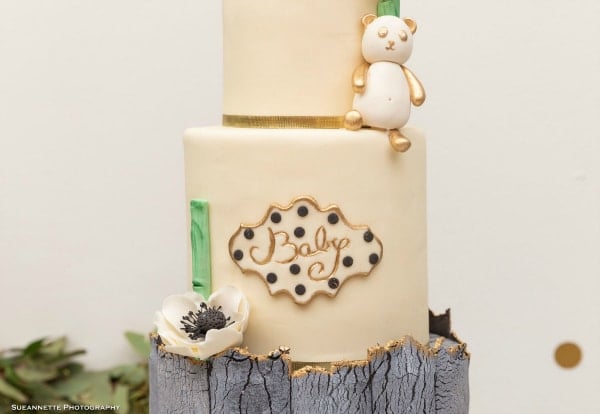 How cute is this little golden panda? Of course, the cake won't be complete without this cute and cuddly little fellow.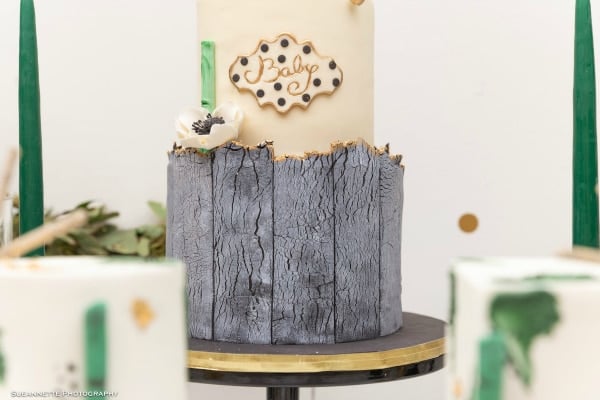 Here's a closer look at the beautiful bottom layer of this cake. La Cuchara Dulcetta definitely did an amazing job with the design and execution of this masterpiece!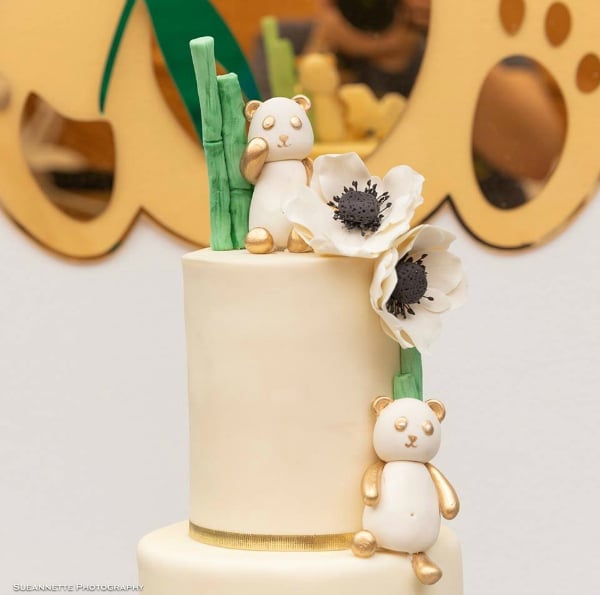 The top tier of the cake features two adorable golden pandas with some pretty bamboo stalks and gorgeous flowers. Very simple and artistic!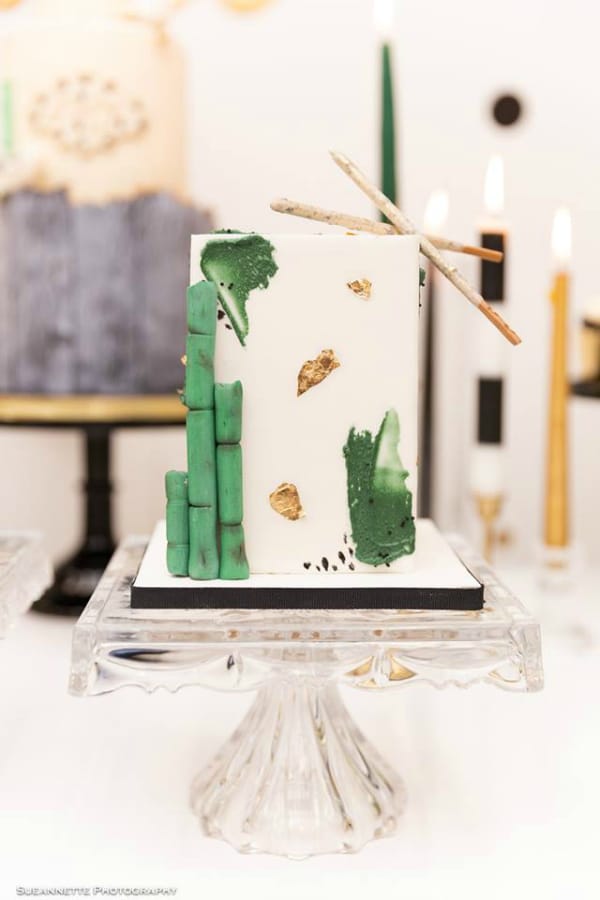 Who wants to have just one cake when you can have three? The main panda cake above is accompanied by these smaller cakes that look beautiful as well.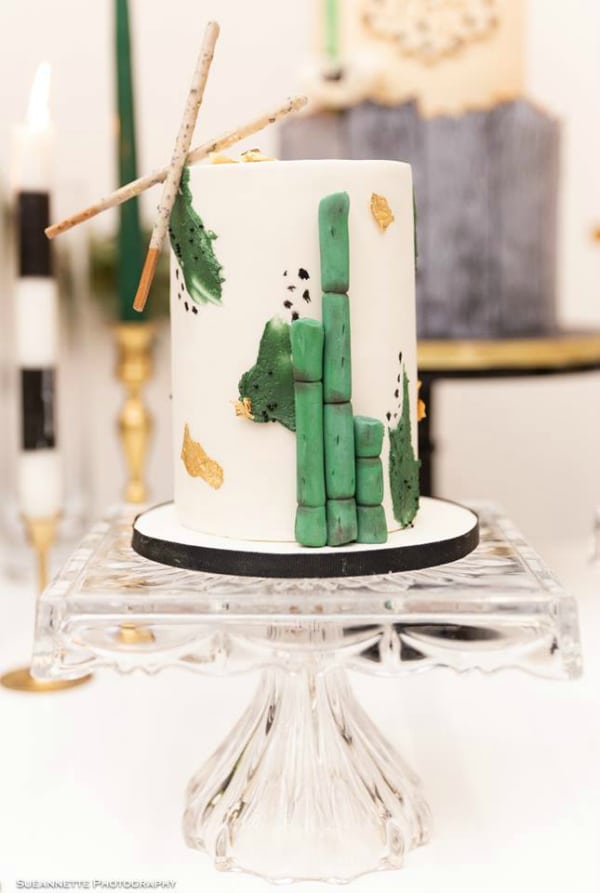 The bamboo and gold flake designs on the smaller cakes really fit in nicely with the whole golden panda theme!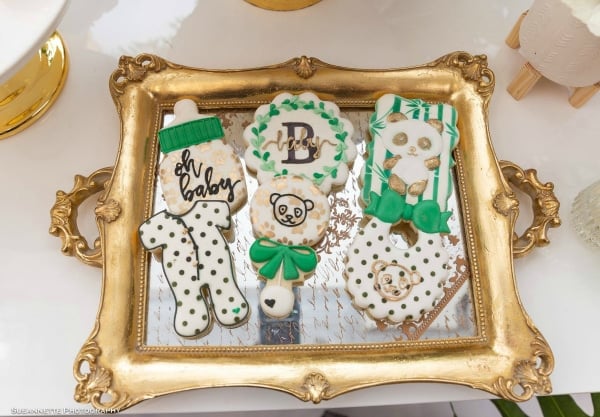 These super cute sugar cookies look amazing in this stunning golden tray!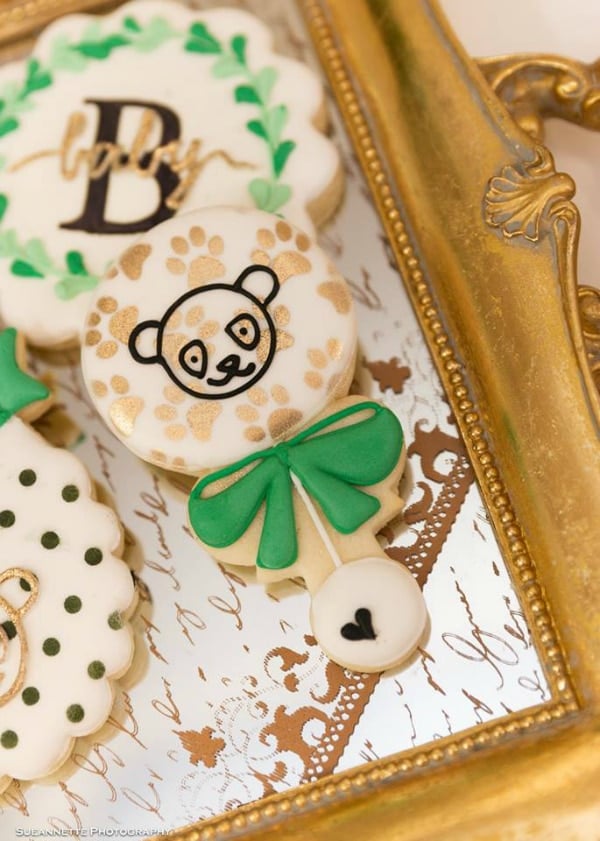 How cute is this little sugar cookie rattle? The adorable heart and panda outline details along with other intricate designs of all the other sugar cookies really makes these sweets a treat for the eyes.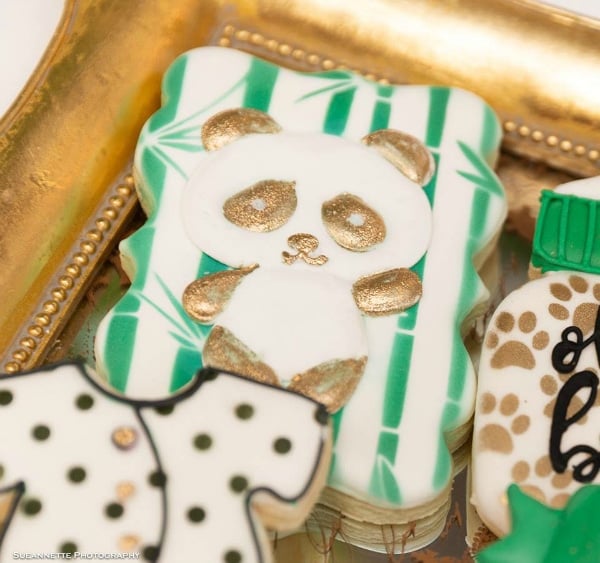 This cute golden panda with a bamboo forest background is one of our favorite sugar cookie designs! His tiny wave is just so adorable!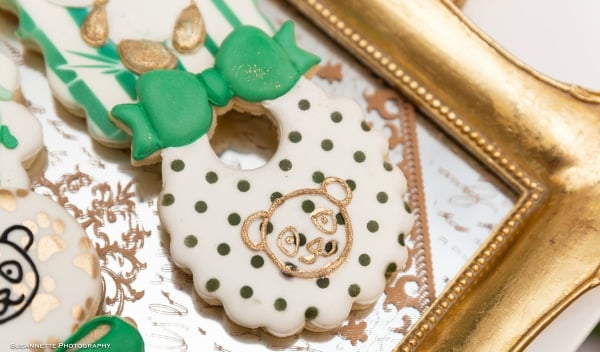 A closer look at these sugar cookie designs shows just how intricate each cookie is! From the black polka dots to the gold paw prints, these beautiful cookies are so well-made, and they definitely earned their spot on this fantastic dessert table!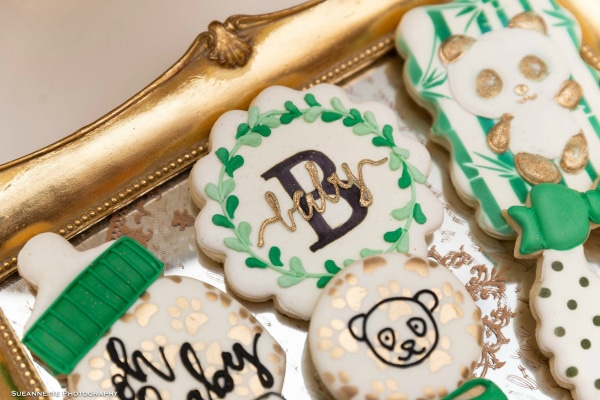 The cute baby milk bottle and the intricately designed sugar cookie with the leaves border and oh baby written in script are absolute works of art too!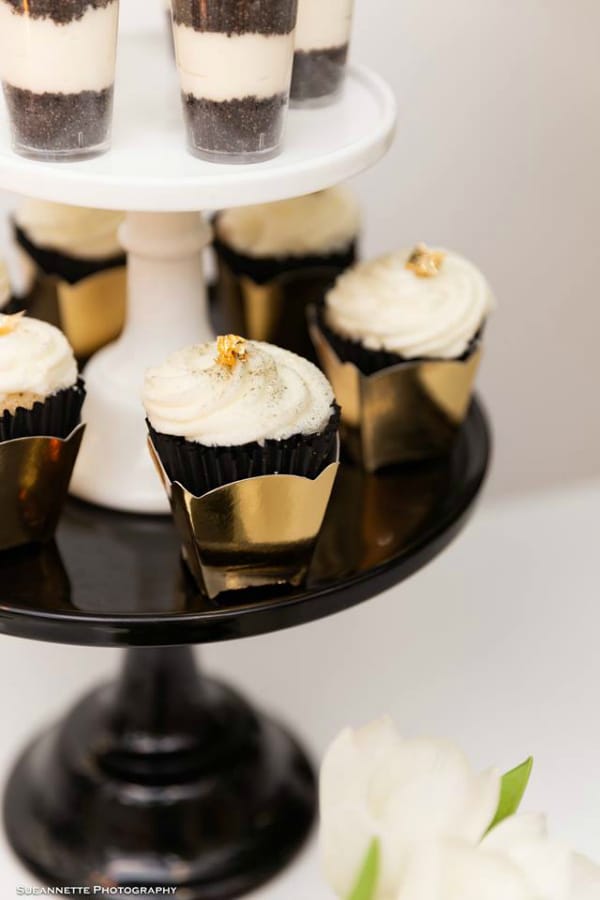 The dessert selection for this panda themed baby shower probably looks just as wonderful as they taste! The sprinkling of gold dust and gold flakes in almost all of the desserts really ties everything together.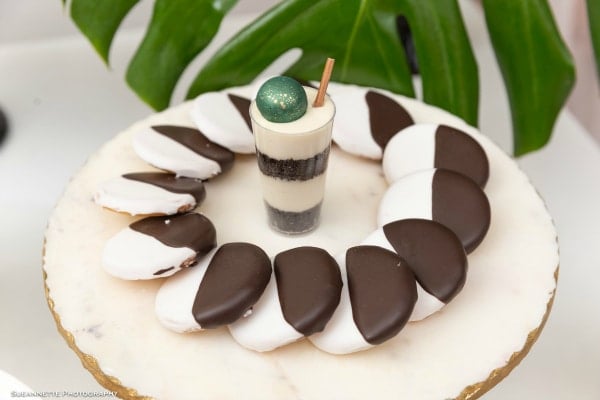 Even the simple chocolate dipped dual-toned cookies fit in perfectly with the panda theme!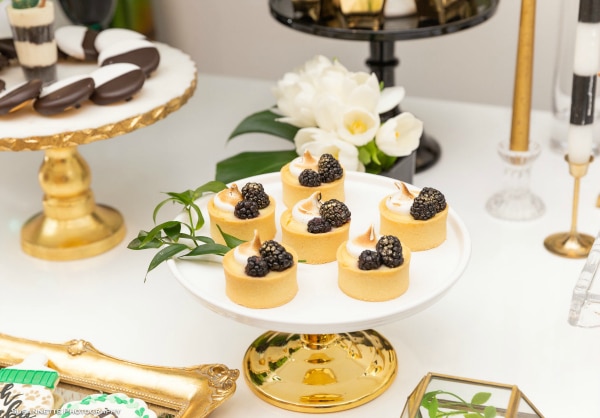 Now these desserts look so dainty and perfect for a high tea! Aside from the beautiful desserts, we also love the gold and white dessert stands, candle holders, trays, and other table decorations they used here. They add a great amount of sophistication to everything!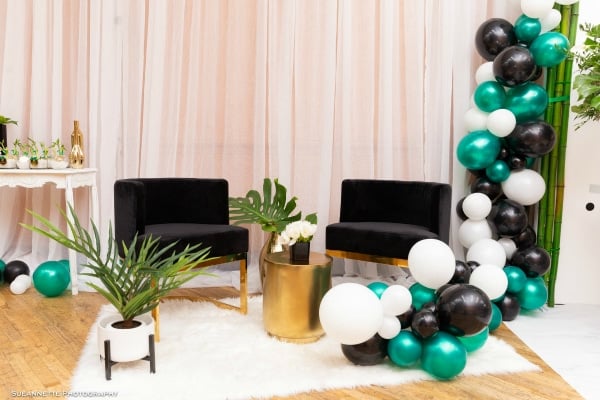 We really love the colors used in these balloons! The metallic green adds a nice touch to an otherwise plain black and white combination. The cute gold center table is a nice addition to this seating arrangement too!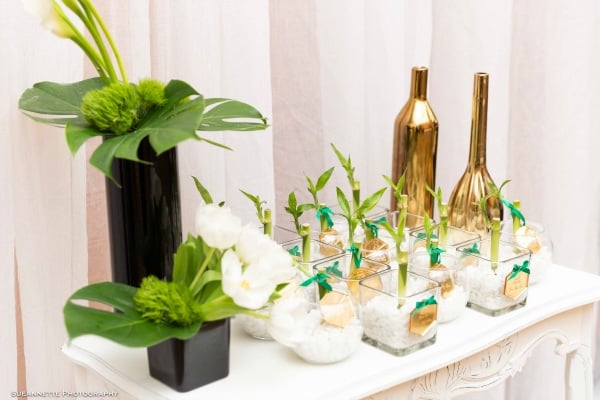 How adorable and creative are these little bamboo party favors? Not only are they unique, they are going to look great on the guest's office desks or fireplace mantels too. Plus they add a nice touch of greenery to the atmosphere and even help clean the air!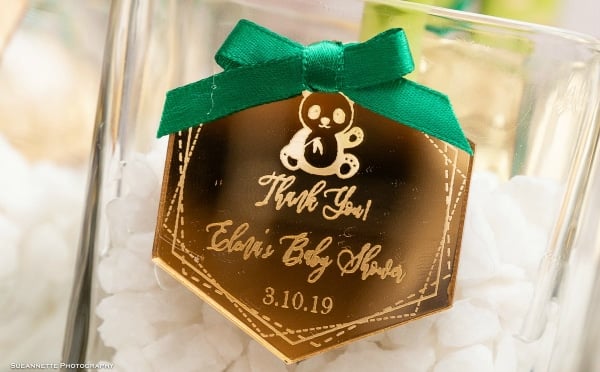 These beautiful thank you tags from My Sentiments Event Designs are the perfect way to give your guests a memento of this joyous celebration.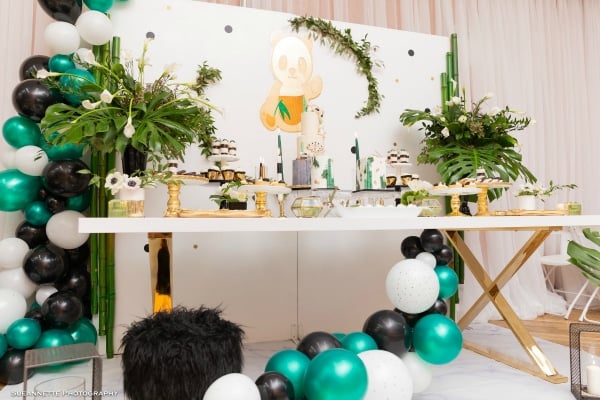 And that wraps it up for this stylish and charming gold panda baby shower! This beautiful party gave us so many amazing ideas for a panda party, whether it's for another baby shower or for a birthday party! This neutral theme is perfect for any occasion, and ADAL Kreation really did an amazing job bringing this party theme to life!
Vendors & Credits
Design | Stylist | Florals: ADAL Kreation
Cake: La Cuchara Dulcetta
Mini Cakes & Desserts: Sweet Little Sweets
Cookies: Brenda's Sweet Treats
Balloons: MP Balloons Decor
Acrylic Panda and Thank You Tags: My Sentiments Event Designs
Furniture Rental: Glam Party Rentals
Photography: Sue Annette Photography
What's your favorite detail in this Gold Panda Baby Shower? Let us know in the comments below.
For more party ideas, follow us on Instagram @prettymyparty and Pinterest and join us in our private Facebook group.