Colorful Coco Party Ideas
Throw a colorful Coco Themed Birthday Party with these fun ideas!
With its colorful imagery and lively music, it's not surprising to see that Coco, a 2017 animated movie from Disney and Pixar has become a well-loved children's movie and an absolute classic in just a short period of time! Not to mention one of the most popular party ideas today!
If your little one adores Miguel, Héctor, Mamá Coco, and the rest of the film's lovely characters, then a Coco theme party is an absolute must! And if you're looking for awesome Coco birthday party ideas, you've come to the right place.
From Coco party invitations to Coco party favors, we're going to show you some amazing Coco theme party ideas to ensure that you're throwing the best Coco birthday party for your child!
Here are some wonderful and colorful Coco party ideas and Mexican fiesta party ideas for your one-of-a-kind Coco party.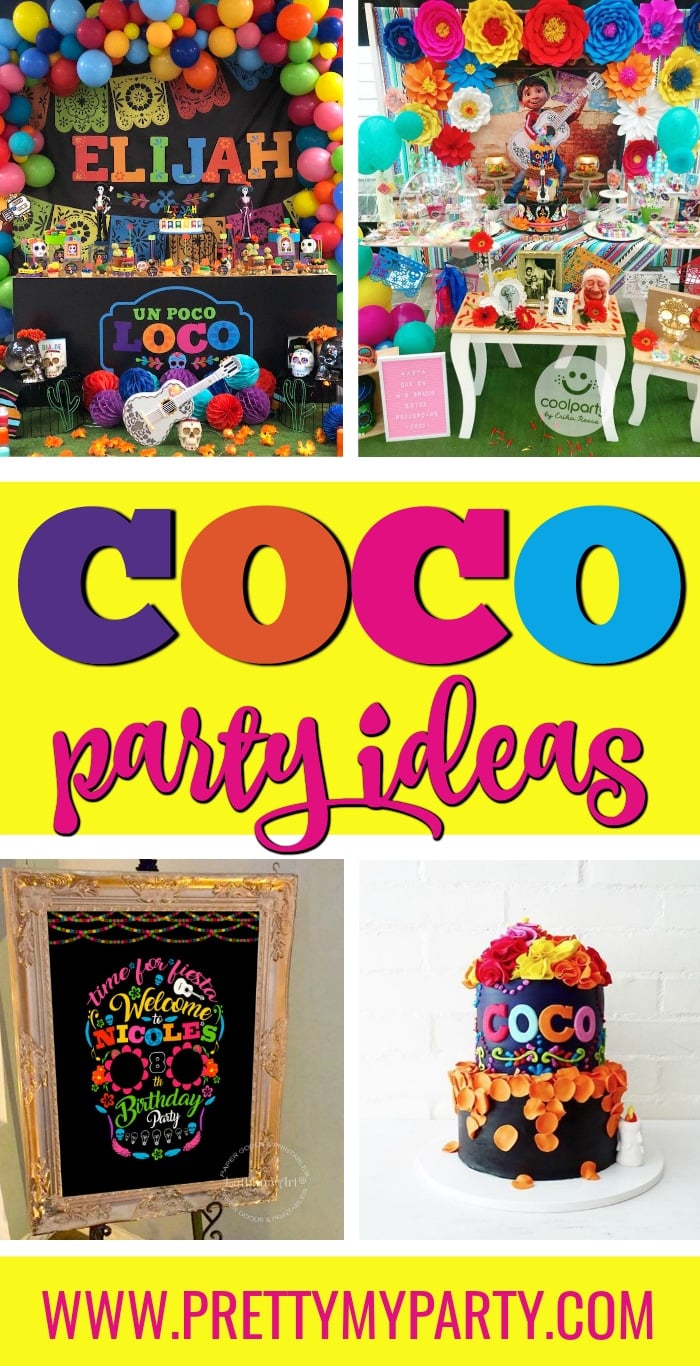 Coco Party Supplies and Decorations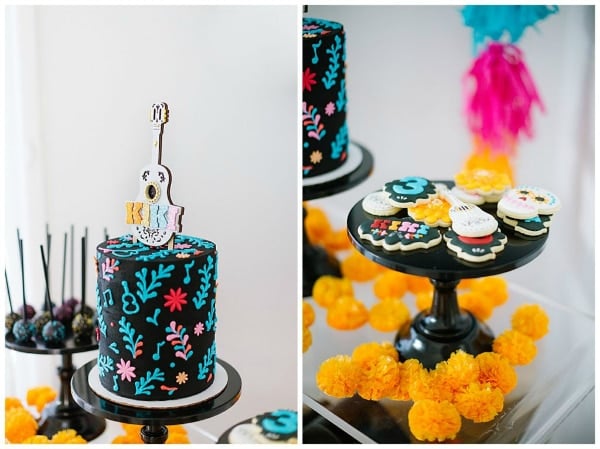 Colorful Coco Party Idea #1: These colorful Coco Birthday Cake and Cookies are absolutely perfect for a Coco themed party! The black cake and dessert platters make the colorful elements of the desserts stand out even more! The Mexican Marigold flowers scattered across the table are very pretty too!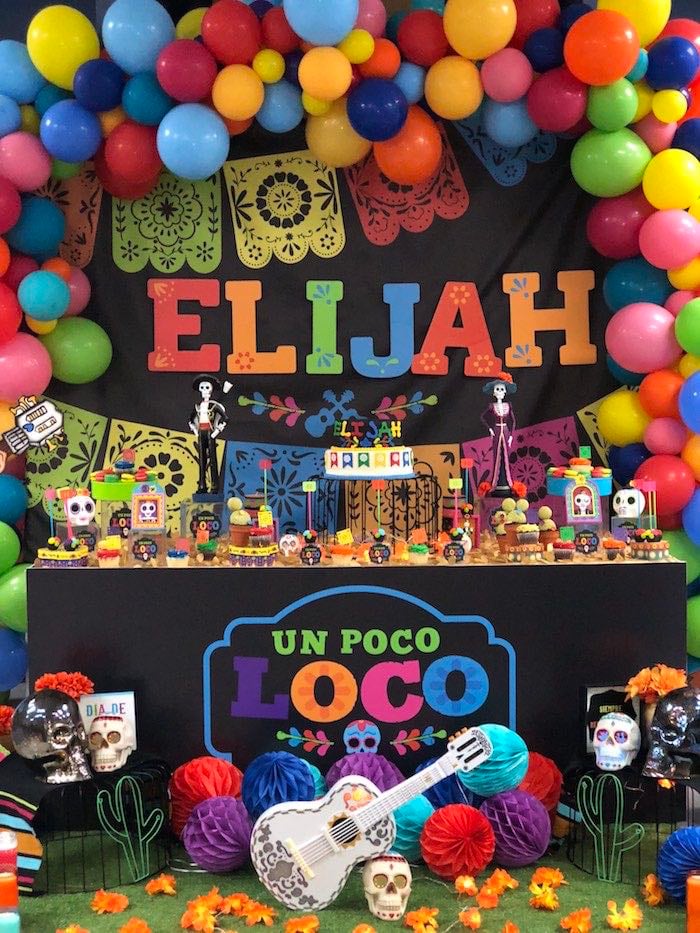 Colorful Coco Party Idea #2: What a truly colorful and exciting Coco Birthday Party Dessert Table! Everything about this dessert table setup just screams Coco! If you're looking for ideas for your Coco birthday party decorations, this complete setup will definitely give you several great suggestions.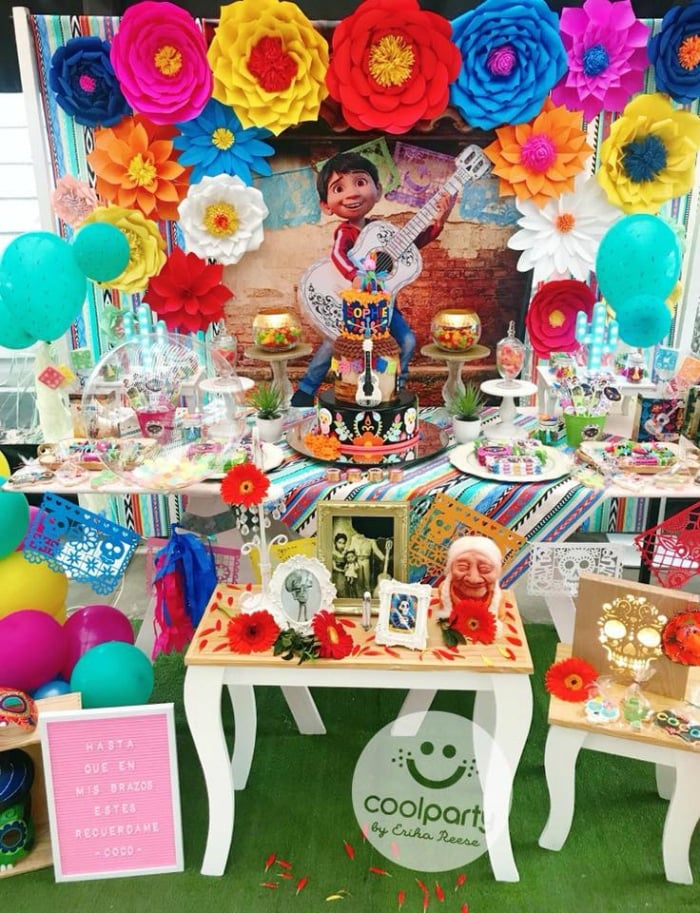 Colorful Coco Party Idea #3: The colorful giant paper flowers and the huge Miguel decoration really makes this dessert table pop! These Coco Party Dessert Table Decorations are absolutely perfect if you want a very lively party!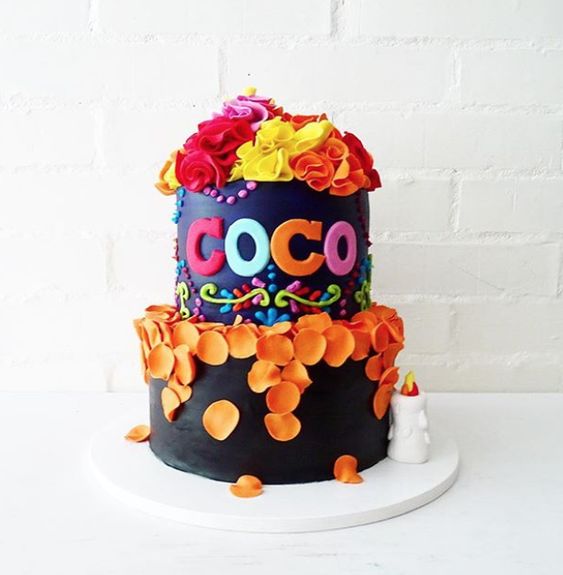 Colorful Coco Party Idea #4: How beautiful is this Coco Birthday Cake? All the subtle elements that make up this cake are absolutely adorable and very creative! We just love the Marigold petals scattered at the bottom tier of the cake and the single candle that's very important to the Coco story!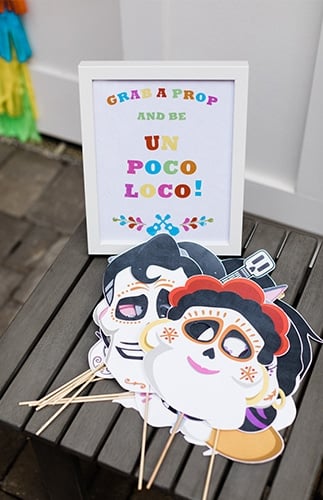 Colorful Coco Party Idea #5: Can't find enough stores in your neighborhood that stock ready-made Coco Party Supplies? Check out these super cool Free Coco Party Printables!
A free printable or two can really save the day if you can't find any good decorations that will fit right in with your Coco party theme. These Coco inspired masks are a wonderful DIY project that's super easy to do even for those who are not so crafty!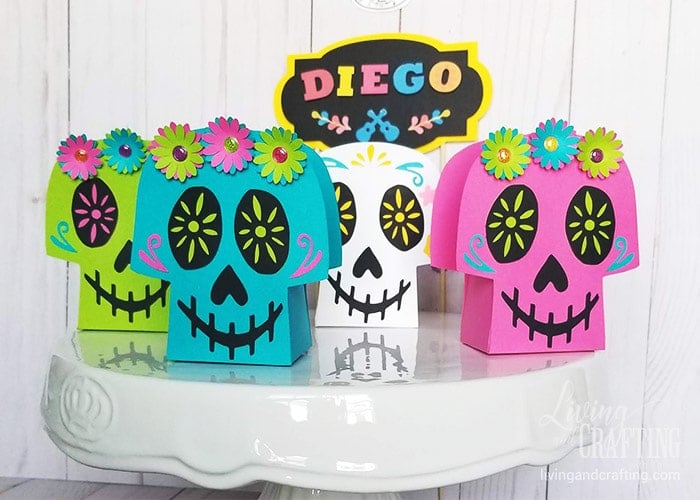 Colorful Coco Party Idea #6: Here's another wonderful Disney Pixar Coco themed party idea that you won't easily find in any regular Coco birthday party supplies store: super cute and colorful candy boxes! All the kids at your party will love to take home one of these candy-filled Coco Candy Box with Free Digital Files.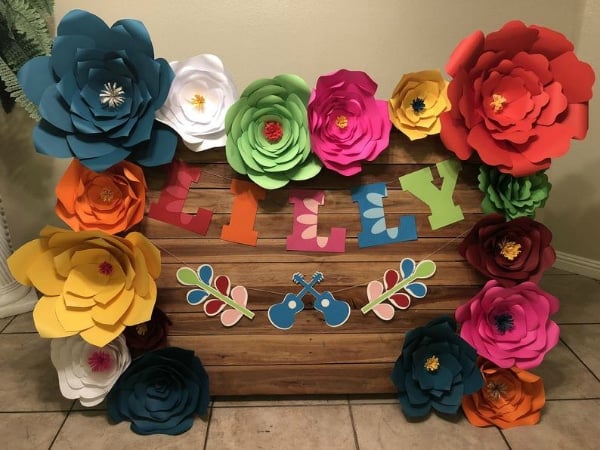 Colorful Coco Party Idea #7: Looking for more ideas for Coco party decorations? How about this stunning Coco Birthday Banner? The wood background for the birthday celebrant's name is just the perfect backdrop for the huge and beautiful paper flowers that adorn this birthday banner. So pretty!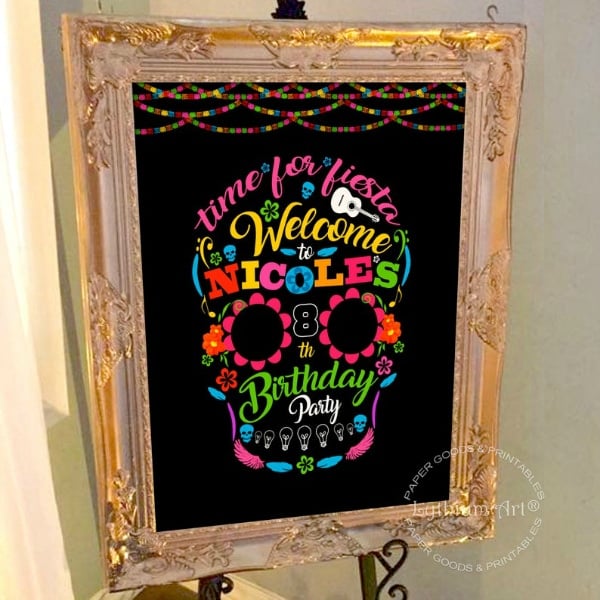 Colorful Coco Party Idea #8: This super cute and colorful Coco Welcome Party Sign is the perfect way to greet your party guests! We also love the gold, ornate frame that was used for the party sign!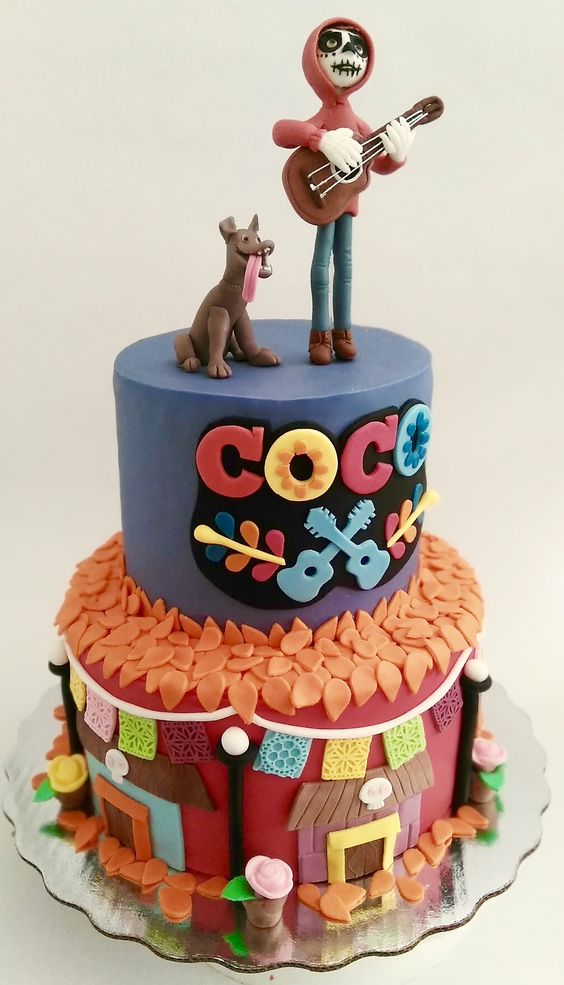 Colorful Coco Party Idea #9: What an adorable Coco Cake! We love the cute cake toppers which feature Miguel and his trusty guitar and the charismatic Dante which is Miguel's loyal companion in the movie, a Mexican hairless dog or Xoloitzcuintli, and imaginative use of the village in Coco for the bottom tier! The 3D elements of this cake really make it shine!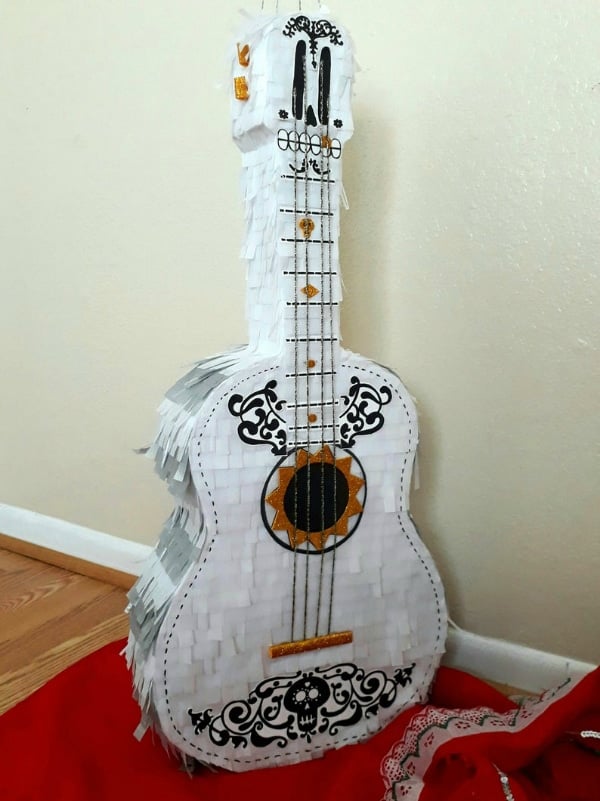 Colorful Coco Party Idea #10: Your Mexican party won't be complete without this delightful Coco Inspired Pinata! All of the little kids will definitely enjoy scrambling for the sweet treats that will burst out of this pretty piñata!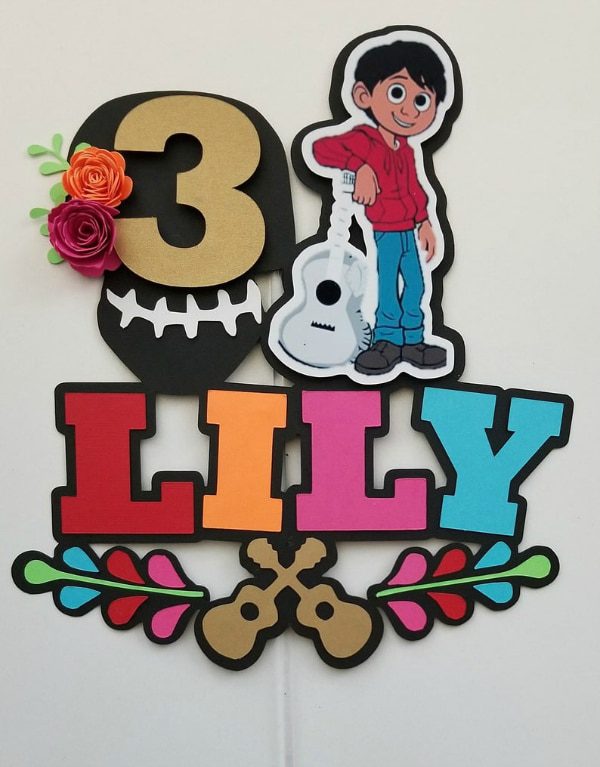 Colorful Coco Party Idea #11: We love how simple but lively this Coco Cake Topper is! The colorful elements look super cute and the 3D flowers add a nice touch! If you don't have a custom-made Coco inspired cake, this cake topper is a great final touch to keep your cake on theme!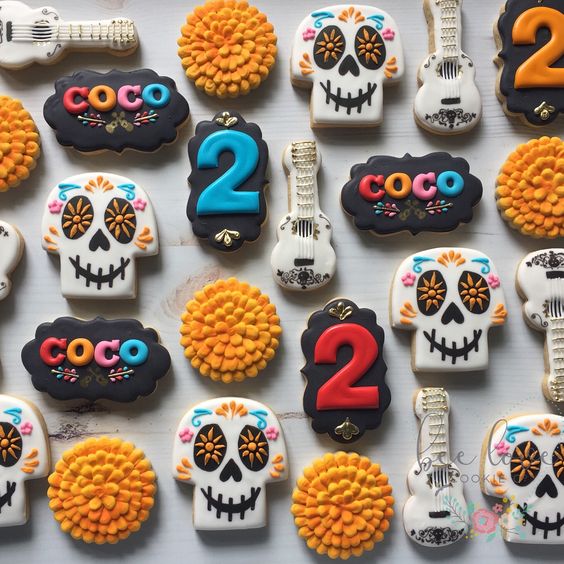 Colorful Coco Party Idea #12: Just how gorgeous are these Coco Party Cookies? Sugar cookies are a must for any kid's birthday party because they look great, are super fun and easy to make, and are the perfect bite-sized dessert for tiny tummies!
These Coco sugar cookies are definitely one of the cutest we've seen! Our favorites are the guitar, marigold and skull shaped cookies!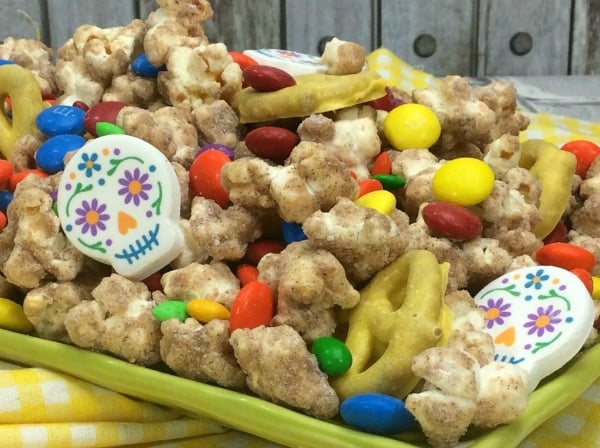 Colorful Coco Party Idea #13: This Coco Party Popcorn Recipe looks absolutely delicious! What makes this dessert even better? The popcorn used for this is Churro popcorn! Sounds yummy!
Aside from the unique Churro popcorn, this sweet treat also calls for some M&Ms, some pretzels, some sunflower seeds, and those super adorable cupcake candy skulls which definitely makes this dessert perfect for a Coco themed birthday party!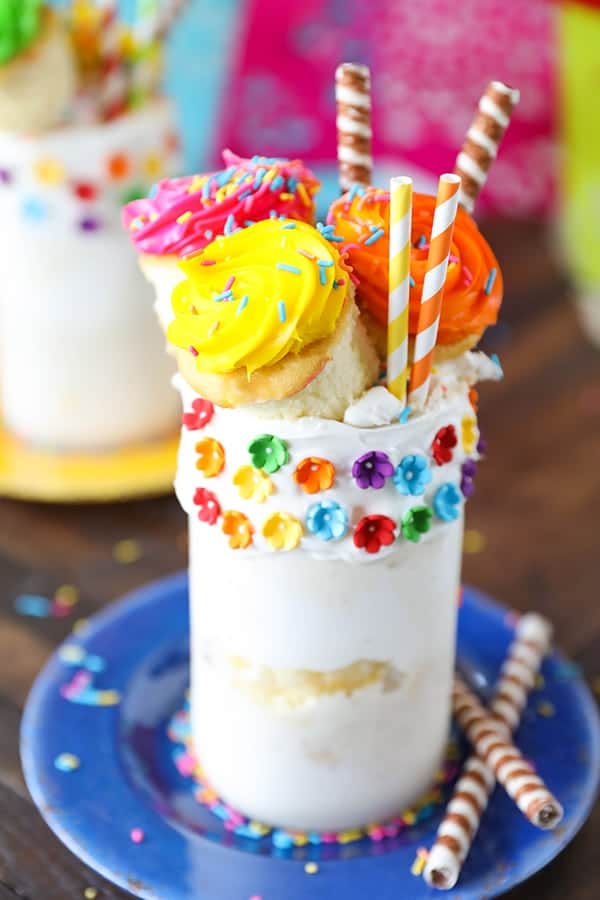 Colorful Coco Party Idea #14: Give your guests a delicious milkshake to quench their thirst after having loads of fun at your party with this scrumptious Disney Pixar Inspired Coco Freakshake Recipe!
This Tres Leches Milkshake inspired by the movie Coco is made with vanilla ice cream, heavy cream, evaporated milk, sweetened condensed milk, vanilla extract, white cake crumbles, whipped cream, store-bought frosted cupcakes, frosting, and some regular and flower sprinkles. Sounds like a super delicious combination right?!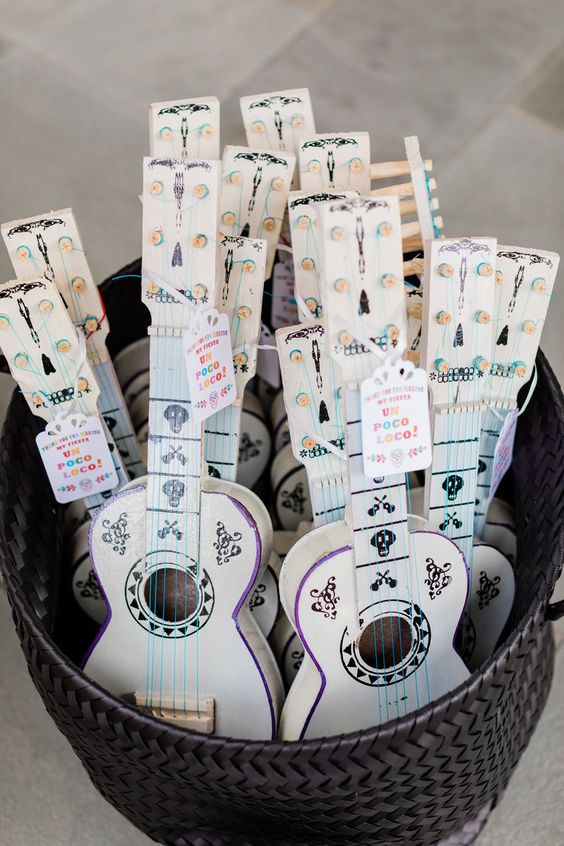 Colorful Coco Party Idea #15: You can't let your guests leave your Coco inspired party without giving them something wonderful to remember the event by. So how about these adorable Coco Guitar Party Favors?!
Did you get any amazing inspiration for your Coco party from any of the ideas featured above?
What's your favorite Coco Party Ideas? Let us know in the comments below!
For more party ideas, follow us on Instagram @prettymyparty and Pinterest and join us in our private Facebook group.