Elephant Themed Baby Shower
Throw a Cute Boys Elephant Themed Baby Shower like this one!
Cute and adorable, elephants make for the perfect theme for a baby boy or girl shower! An elephant baby shower theme is just the ideal way to welcome a baby that's just as cute and adorable as this gentle giant.
This Elephant Themed Baby Shower from ADAL Kreation of Tappan, New York looks cool and cozy with its charming blue and green hues. This relaxing color combination is perfect for anyone who is looking for elephant baby shower ideas for a boy or just elephant themed baby shower ideas in general.
With plenty of nature-inspired decorations and a ton of lovely, little elephant decor, this gorgeous green and blue elephant baby shower is the perfect way for any expectant moms to celebrate their little peanut!
Elephant Baby Shower Ideas
Gorgeous Blue, Gray and Green Balloon Arch
Adorable Blue and Green Ruffled Watercolor Elephant Baby Shower Cake
Two Smaller Blue and Green Watercolor Cakes With Elephant Cake Toppers
Large Grass Elephant Decoration
Cute Elephant Themed and Personalized Cookies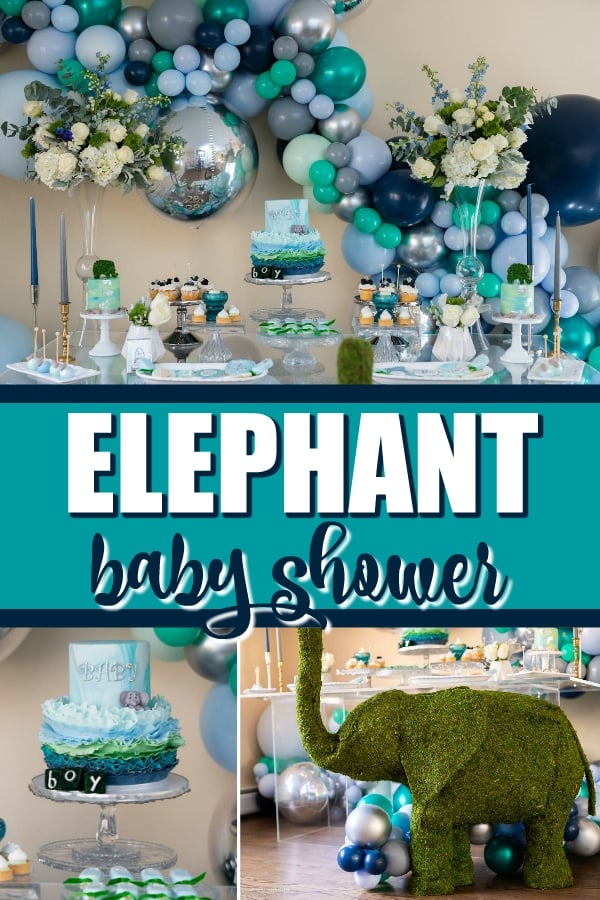 Elephant Baby Shower Supplies and Decorations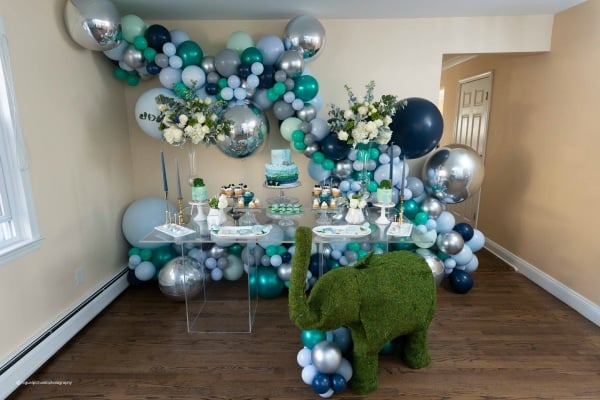 The beautiful elephant paper mache topiary set in a background of green, blue, and silver balloons definitely steals the scene at this elephant baby shower. The pretty combination of colors sets a luxurious but calm vibe that's perfect for a cozy little baby shower. This is great if you want a baby shower that feels more intimate rather than a large and boisterous party.
The transparent table makes the blue elephant baby shower decorations stand out even more, and it definitely adds to the classy aura of this particular elephant baby shower theme. The awesome combo of grassy decor and modern styling gives off a fun and chic atmosphere that we think is just perfect for a boy baby shower! It looks like a load of fun!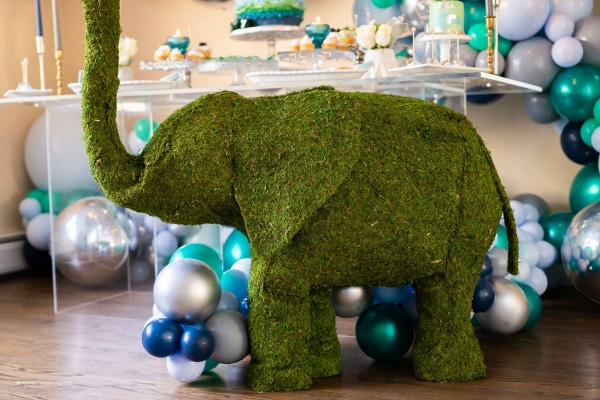 This adorable little elephant 'topiary' really is a standout! If you're looking for elephant baby shower ideas that are designed to really impress your guests, we're absolutely sure that you're going to get a lot of inspiration from this wonderful celebration.
This cute elephant, for instance, would also make for an adorable centerpiece! Having a bunch of miniature elephant paper mache 'topiaries' like this one as your elephant baby shower centerpieces will have everyone marveling at every table. If you're looking to get more creative, you can even have one as a super cute elephant baby shower cake topper! This awesome elephant decoration from Archicrafts Studio is definitely a versatile little design element.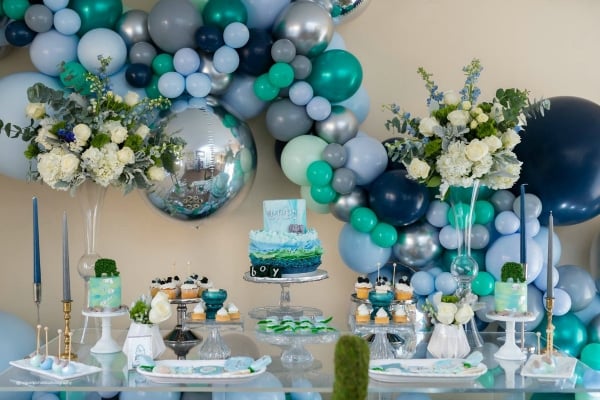 Doesn't this dessert table just look absolutely phenomenal? It definitely has all the elements needed for sweet baby party including cupcakes, cookies, and of course, the star of the dessert table: the cake! Everything on the dessert table just coordinates really well with the color scheme, and it's so pleasant to look at!
We absolutely love the addition of little nature-inspired elements like the little grass-themed decorations and the stunning flower arrangements. They definitely make a lovely combination of rustic and modern that makes this party so unique.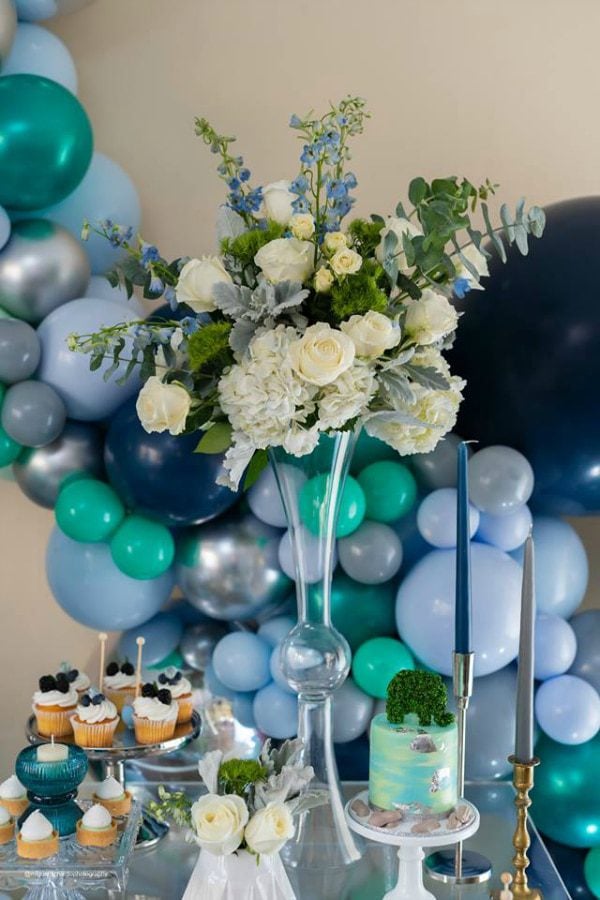 The flower arrangements for the dessert table are just perfect for the theme! The white roses and other blue and white flowers with some leaves and grass look great with the other elephant baby shower decorations. We also like the tall glass vases and the simple candlesticks used for the occasion because they place the focus more on the beautiful elephant decor and the desserts too!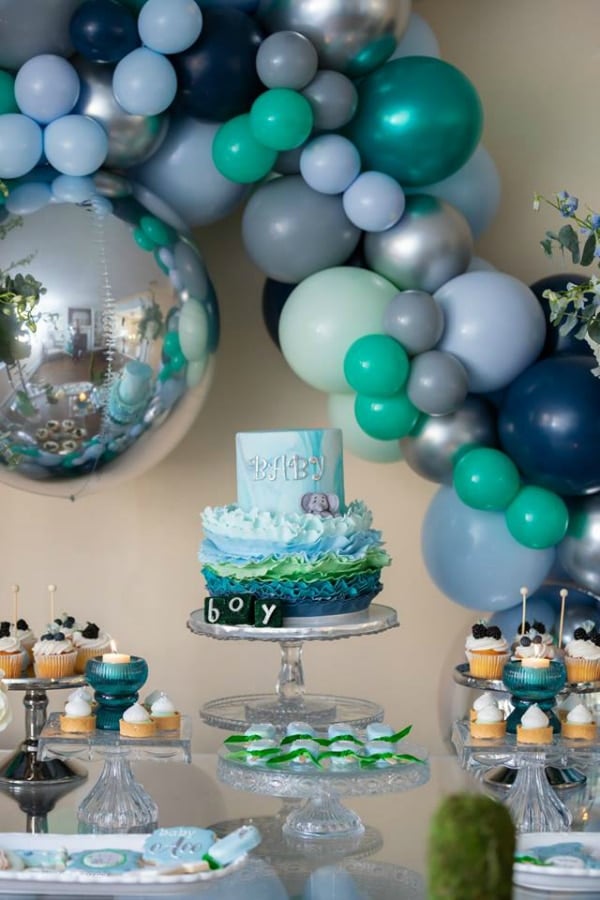 All of the desserts on this beautiful dessert table spread just look so delectable, and some even look to good to eat! The incredible green and blue elephant baby shower cake looks absolutely amazing. The cupcakes, cookies and cake pops also look divine. We're sure that everyone had a great time enjoying these sweet treats!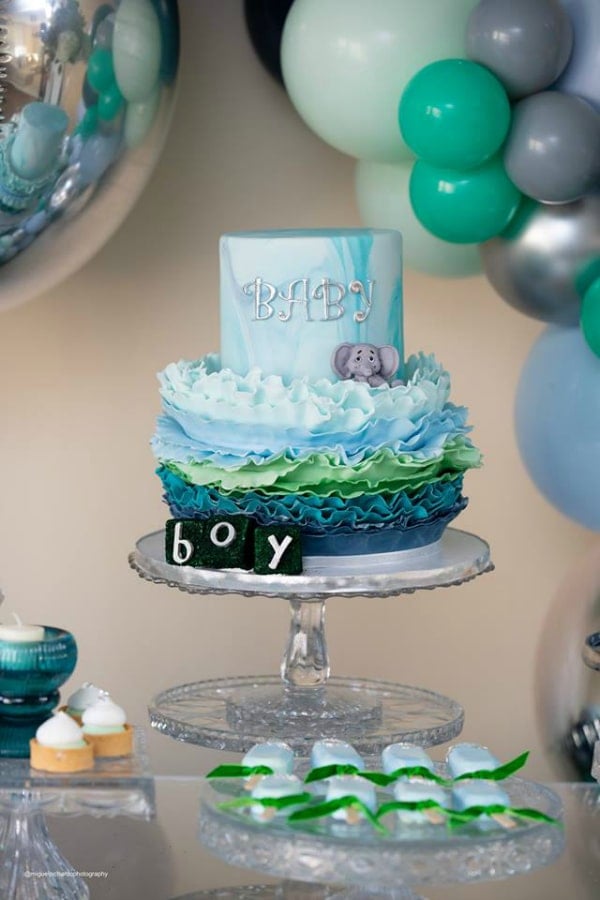 From the pretty ruffled layers at the bottom of the cake to the marbled design of the top tier, this cake just looks so gorgeous and intricate. The adorable little elephant and grass blocks that spell out boy just makes it look even more special!
Here's a closer look at the design of the cake. The silver letters that spell out boy and baby just jives perfectly with the silver balloons in the backdrop. Talk about attention to detail, right?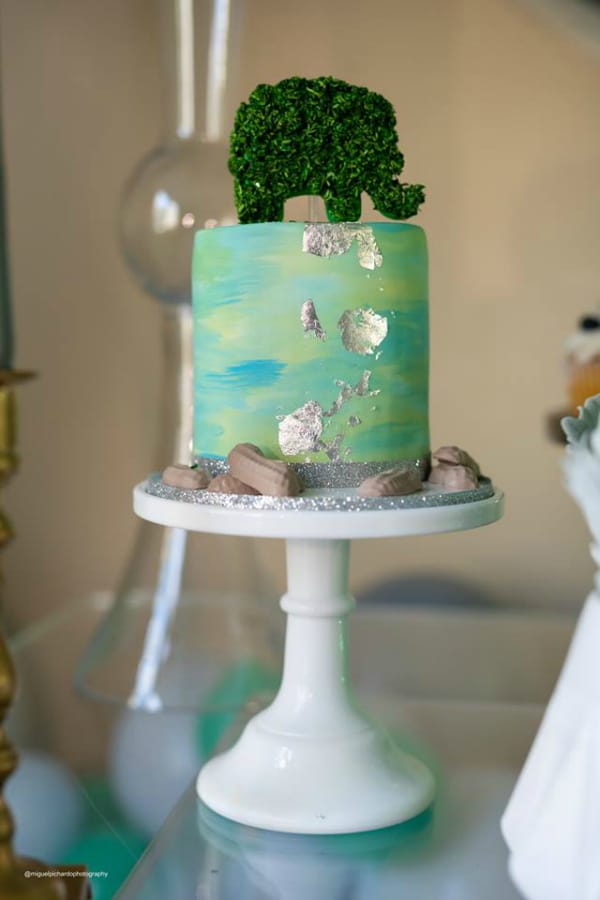 Let's talk about these super cute mini cakes with a miniature grass elephant! We told you they would look amazing as cake toppers! The green and blue surface of the cake with a splash of silver looks nice and elegant, and little peanuts scattered at the bottom add a wonderful touch!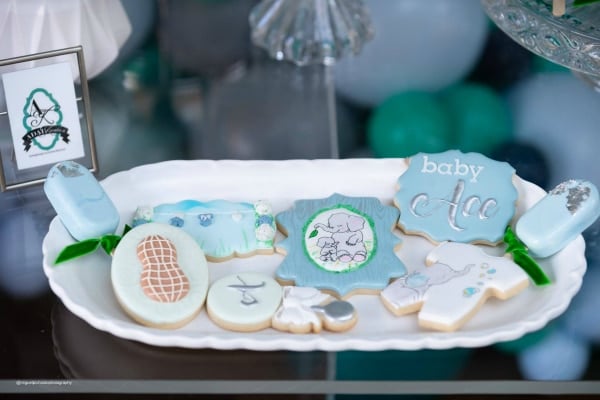 These dainty sugar cookies for baby Ace look charming and sweet! We love that there's so many designs for the cookies. So creative!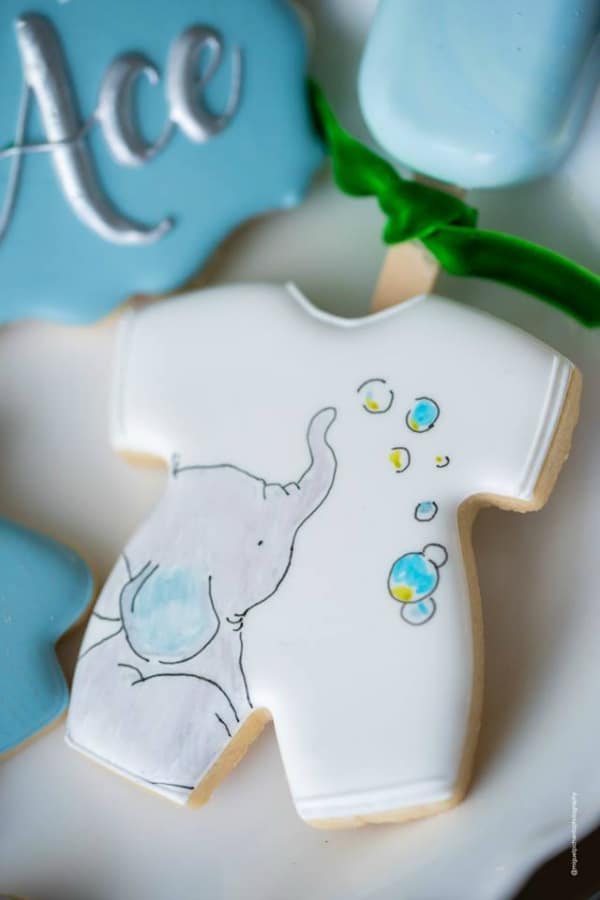 How gorgeous are these hand-drawn elephant designs? The artistic design of these cookies are absolutely amazing!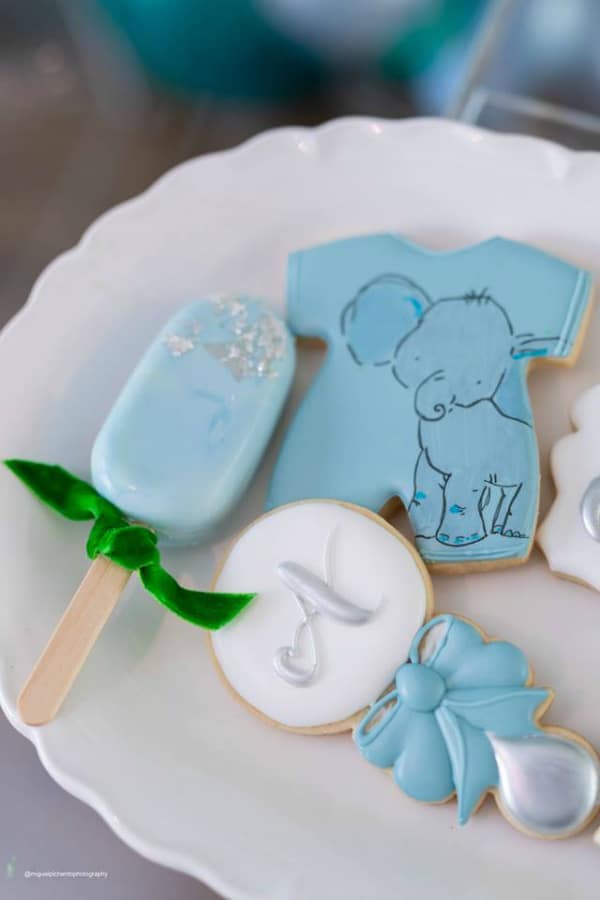 Everything about these sweet little desserts just look so well put together and intricately beautiful! From Mireyas Kitchen definitely did a wonderful job with these yummy sugar cookies.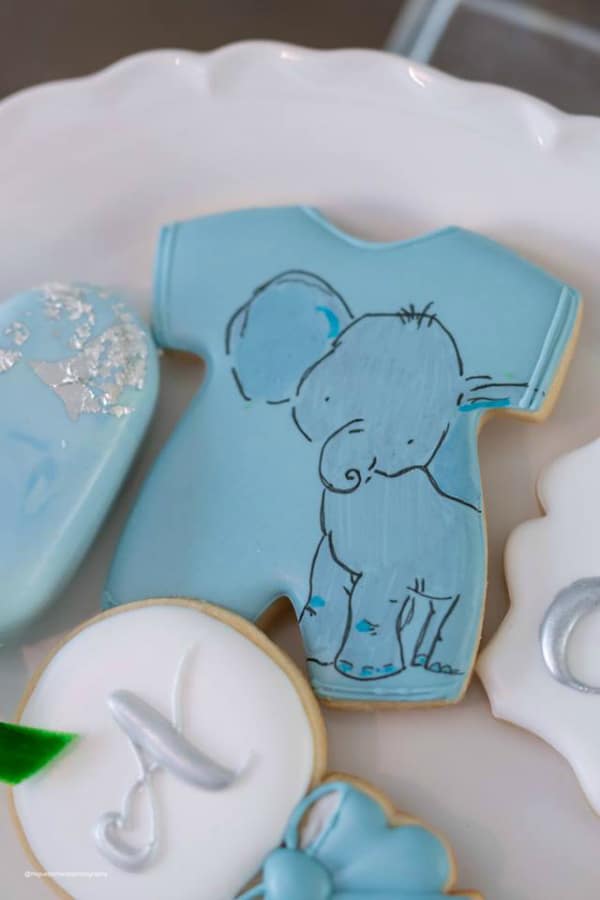 These elephant onesies are probably our favorites! The hand-painted elephants on each sugar cookie onesie just look so cute!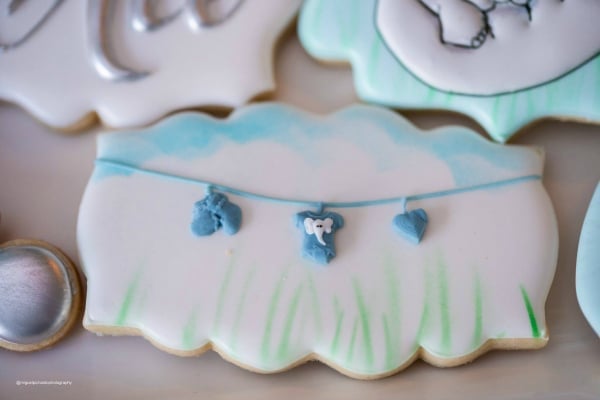 Aww, look at the little baby clothes on the clothesline! The teeny tiny white elephant on the onesie is just so adorable! We absolutely love all of these little details!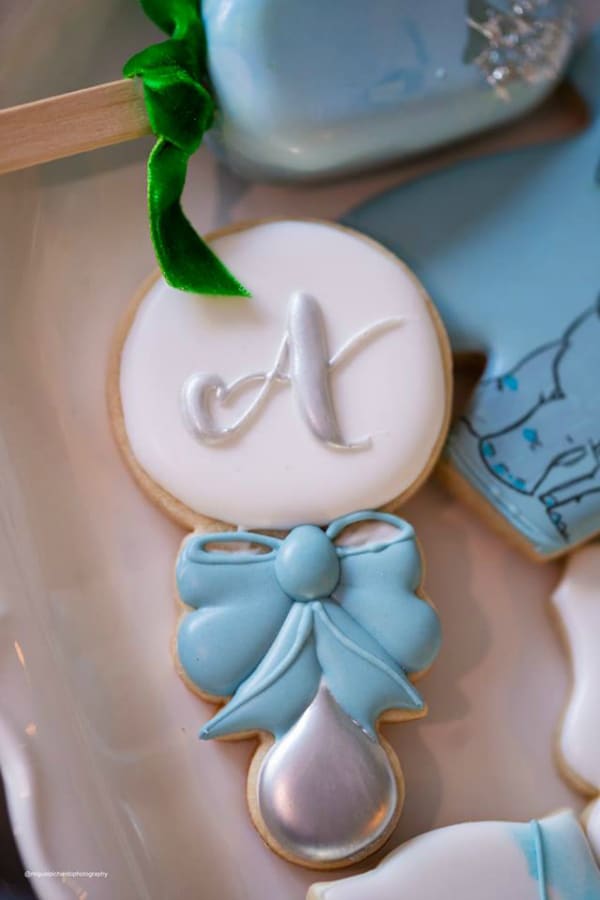 We wish baby rattles looked this stunning in real life!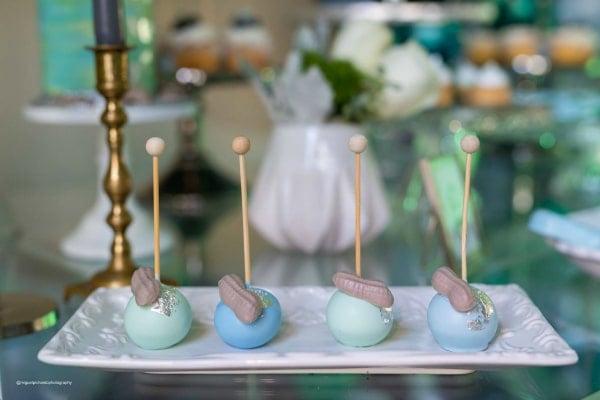 We bet these cute pastel cake pops with peanuts taste just as good as they look!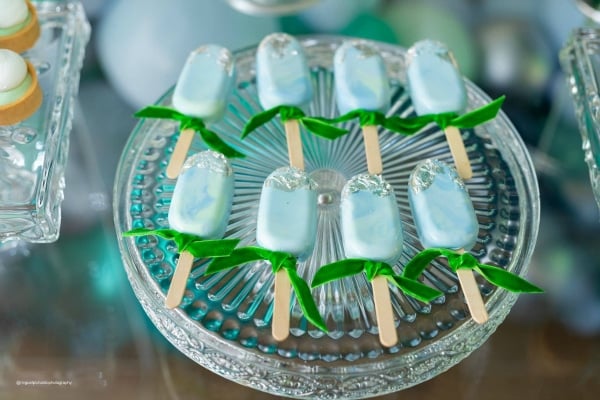 This is another one of our favorites! We love everything about these desserts from the beautiful swirls of green and blue to the silver accent and the pretty green ribbons! They match perfectly with the baby shower cake!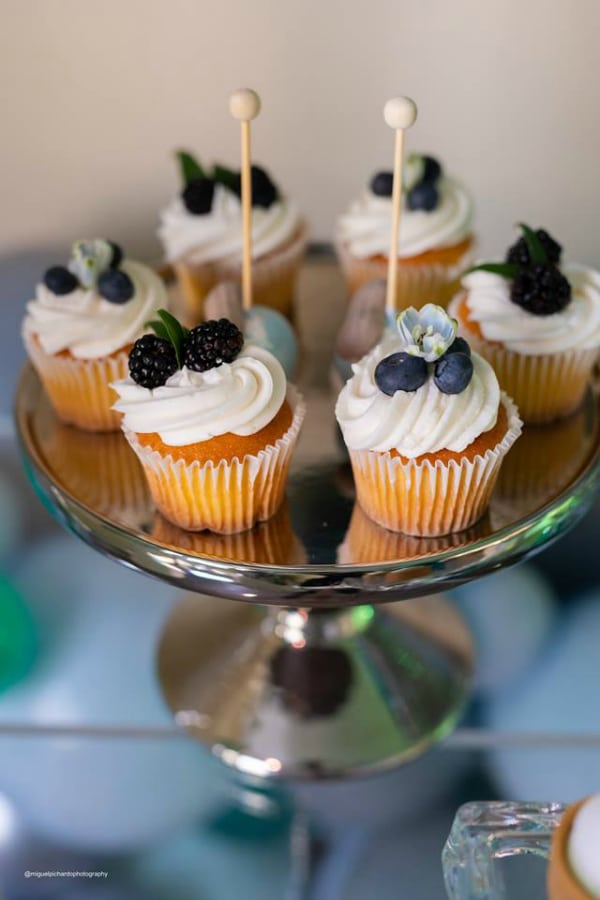 These cupcakes look so delicious! These simple blueberry and blackberry cupcakes add a nice rustic touch to the dessert table.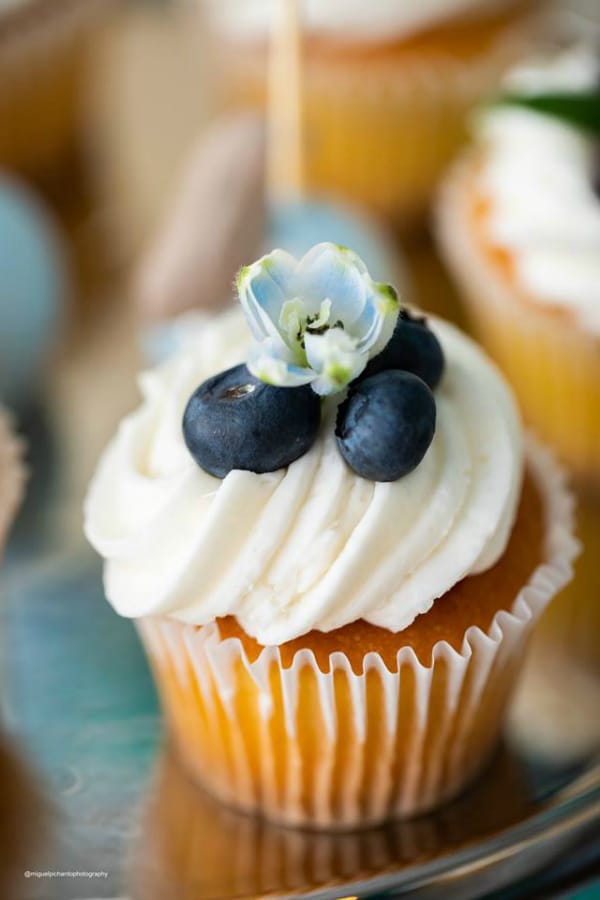 How pretty are the toppings on these cupcakes? A simple white frosting with a few blueberries or blackberries and a dainty blue, white, and green flower on top make these cupcakes a delight to gaze at!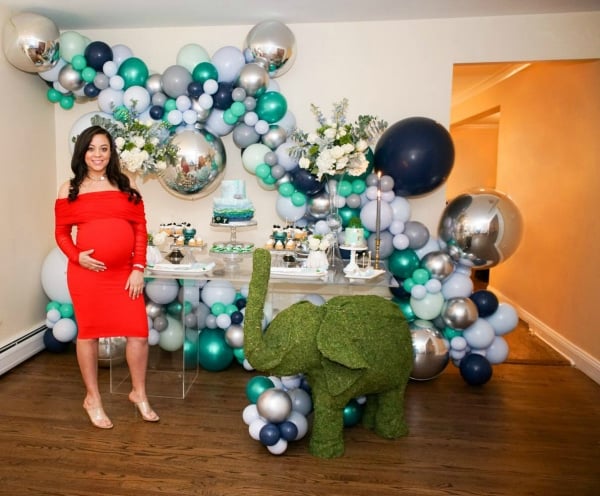 And here's the beautiful mom-to-be with her gorgeous elephant themed baby shower setup! We're sure that you can draw some wonderful inspiration from this lovely elephant baby shower for your own celebration.
Vendors & Credits
Planning, Design, Florals and Stationary: ADAL Kreation
Cake: La Cuchara Dulcetta
Desserts: Little Treats and Cakes By Janna
Sugar Cookies: From Mireyas Kitchen
Grass Elephant: Archicrafts Studio
Balloons: MP Balloons Decor
Acrylic Table: JL Craft Design
What's your favorite detail in this Elephant Themed Baby Shower? Are you planning a baby shower? Let us know all about it in the comments section below!
For more party ideas, follow us on Instagram @prettymyparty and Pinterest and join us in our private Facebook group.