Tinkerbell Fairy Garden Party
How could a Tinkerbell Fairy Garden Party be anything but enchanting and gorgeous? Your little princess will love it!
This Tinkerbell Fairy Garden Party from Partylicious of Sri Lanka might just be one of the most exquisite and charming Tinkerbell Party Themes we have ever seen! Just look at this amazing dessert table! If you have a little Tinkerbell fan in your home, you'll not want to miss all of these incredible Tinkerbell Party Ideas that come out of this celebration. We're pretty sure that if we were at this party, we would never want to leave!
Tinkerbell Party Ideas
Beautiful Floral Arch Surrounding the Dessert Table
Colorful Balloon Arch
Gold Name Sign and Gold Butterflies on Dessert Table Backdrop
Gorgeous Garden Party Fairy Cake
Tinkerbell Fairy Garden Themed Cupcake Toppers
Colorful Fabric Chair Decor
Grande Entrance with Tinkerbell Sign, Fabric and Balloon Decor
Themed Cookies and Desserts
Garden Themed Table Centerpieces
Adorable DIY Tinkerbell Favor Bags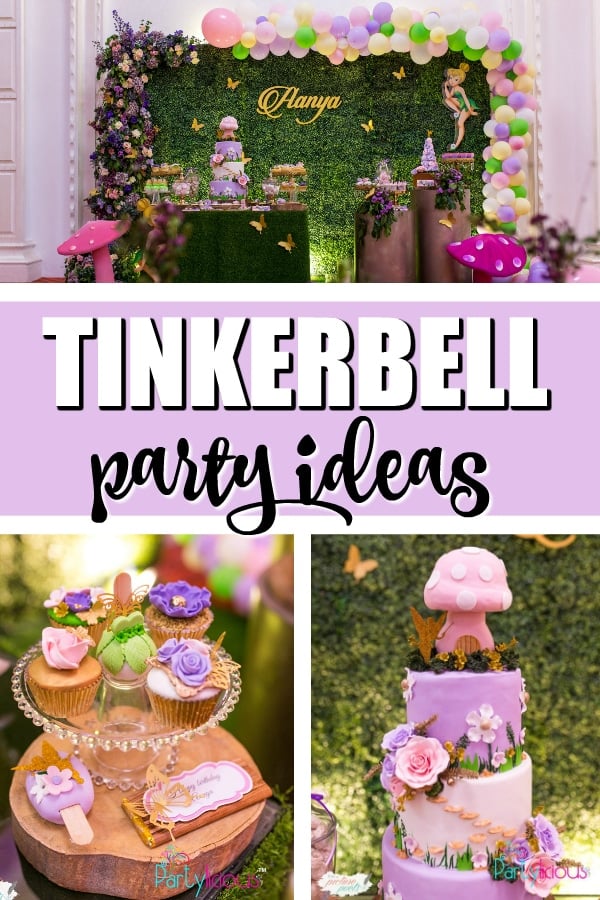 Tinkerbell Party Supplies and Decorations: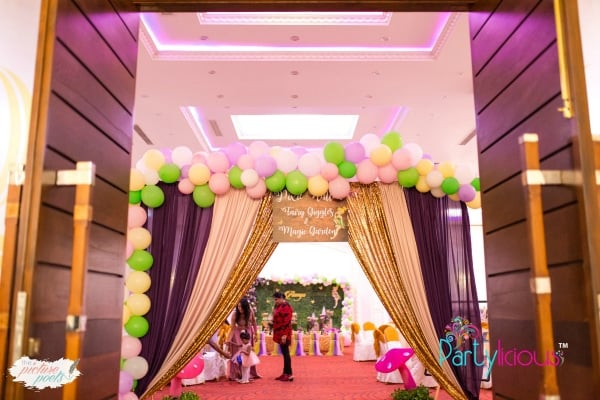 Not one single part of this amazing Tinkerbell Fairy Garden Party was left to chance, even the exquisite entrance! This little birthday girl arrived in style, complete with a balloon canopy and fancy drapes to welcome her into her own, personalized fairy tale!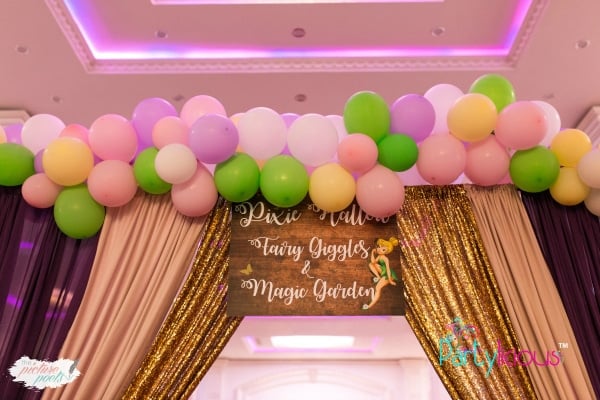 All of the kids were in awe when they saw the entrance for this Tinkerbell Fairy Garden Party. There was even a personalized sign welcoming everyone to the big event where all of the fairy tales and magic was going to happen. What an incredibly special event that was created for this birthday girl!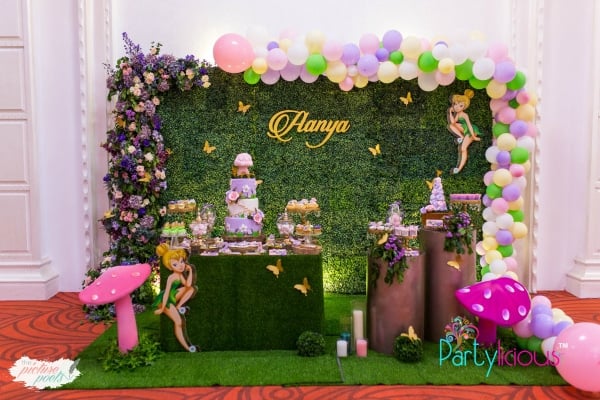 Wow! That's all we can say when we take a look at this amazing Tinkerbell backdrop. You feel like you just entered the fairy garden world with the faux grass below the table, as well as being used for the backdrop. Everything feels like you just stepped foot into the forest of magic where anything is possible. It is simply breathtaking!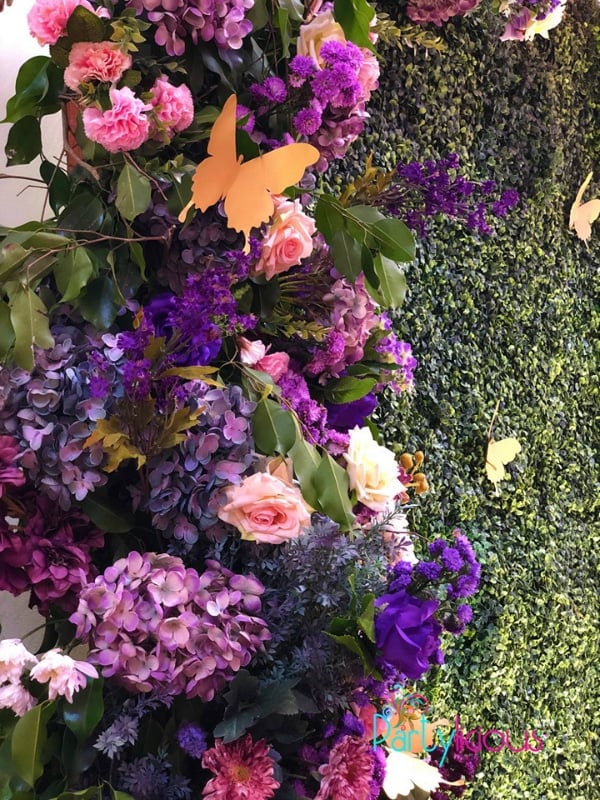 The Tinkerbell Fairy Garden Party had everyone feeling like they were truly in Pixie Hallow, and the flowers that draped the backdrop definitely added to that feeling! The color scheme was so romantic and fun, one can't help but absolutely fall in love with everything about this Tinkerbell Party!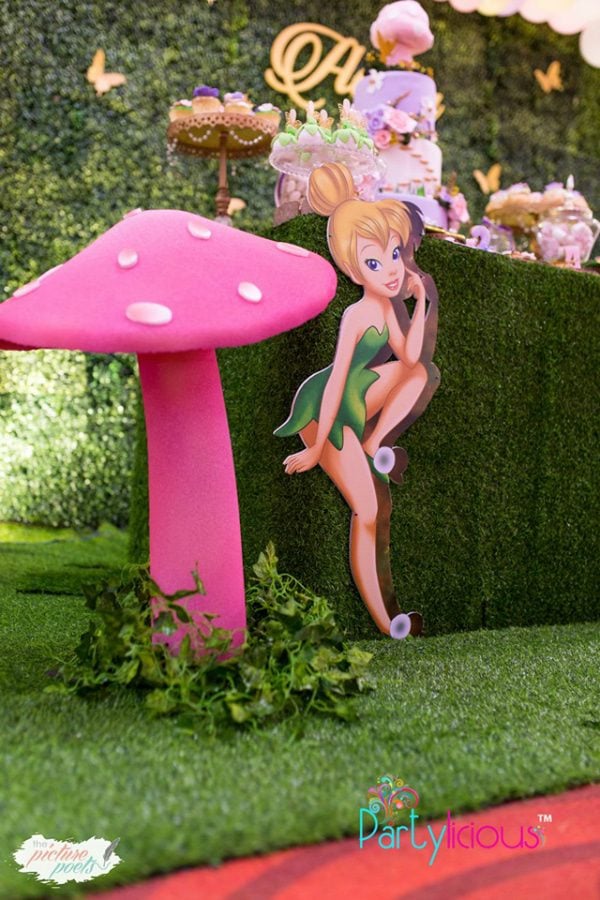 Tinkerbell, herself, was at the dessert table, welcoming all of the guests as they arrived. All of the attention to detail was amazing, as you can see with the above ivy that was scattered on the ground at the foot of the mushroom. Incredible!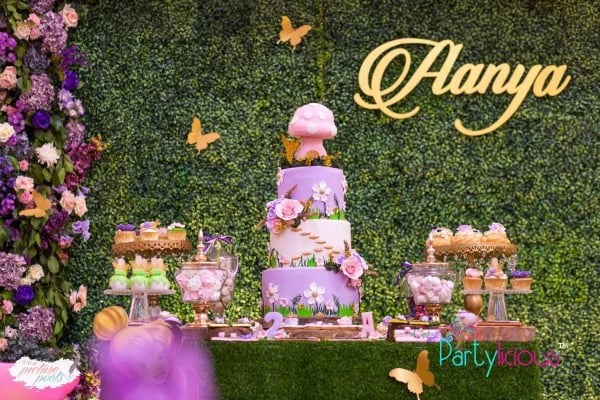 Melshika Weerasinghe truly outdid herself with this breathtaking Tinkerbell Birthday Cake! The attention to detail that was included on this cake is awe-inspiring and it is absolutely too beautiful to cut into to serve! We may have just cried thinking about it, but we also bet that everyone couldn't wait to get their hands on a piece, because it must have been delicious!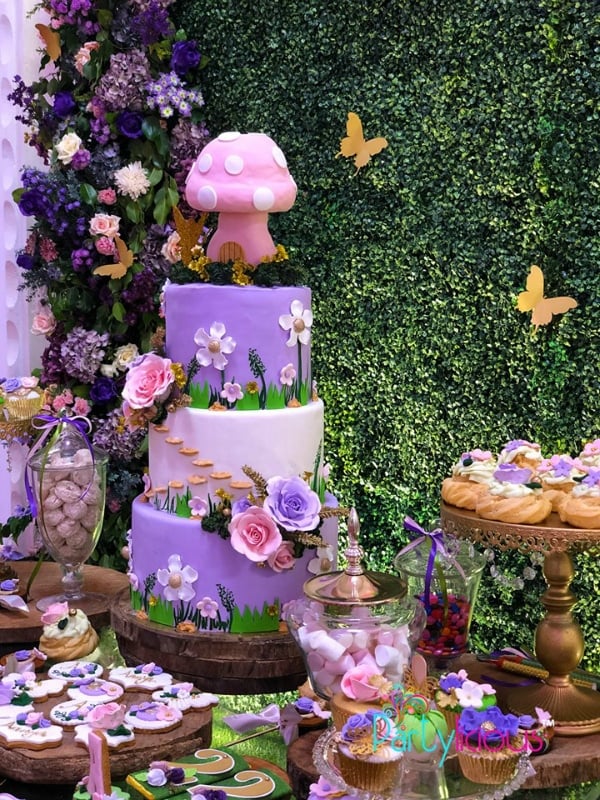 We just love the mushroom cake topper, along with the details that were found all around the cake. From the amazing scenery that would be found directly in a fairy garden, to the perfect flowers that were found on all sides of the cake, this one is a true masterpiece.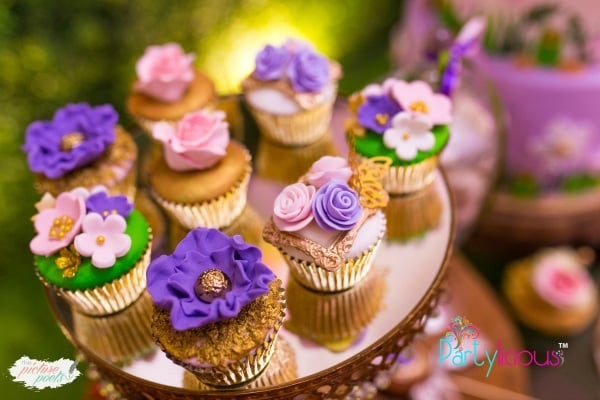 The color palette of this Tinkerbell Fairy Garden Party was ALL girly, and we couldn't love it anymore! From pinks to purples, to the fairy garden greenery that was added all around, it's simply magical. Just like these amazing cupcakes that were served, as well!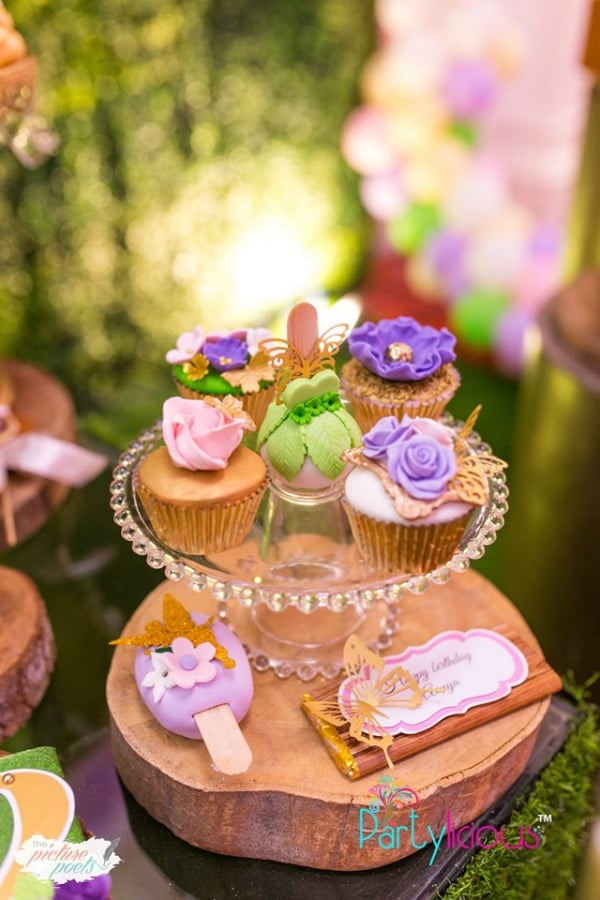 This great snippet of the Tinkerbell Party Food is making our mouths water right now! Look at all of those delicious goodies, just waiting to be plucked away by all of the eager party guests!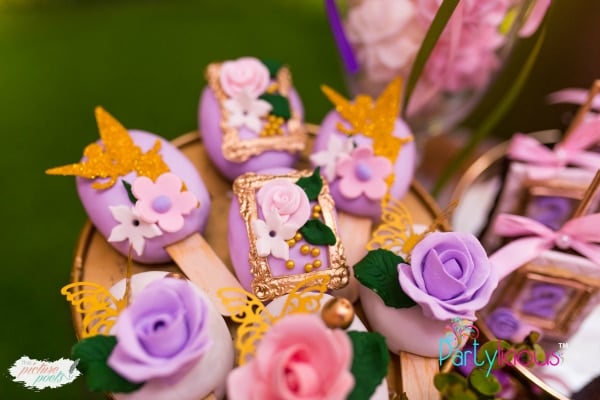 Tinkerbell decorations were used all around the birthday celebration, but some of the best decorations were the desserts themselves! Every single dessert was a complete work of art and included an attention to detail that only a true artist could provide. We love it!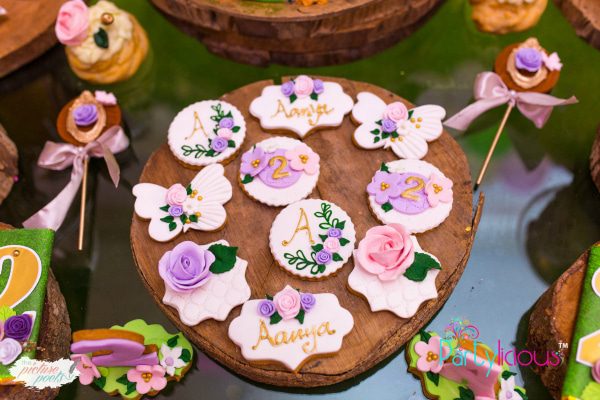 Look at these adorable cookies! This second birthday was nothing short of magical for this little birthday girl and we bet that her favorite cookies were the sweet butterfly ones! How fun!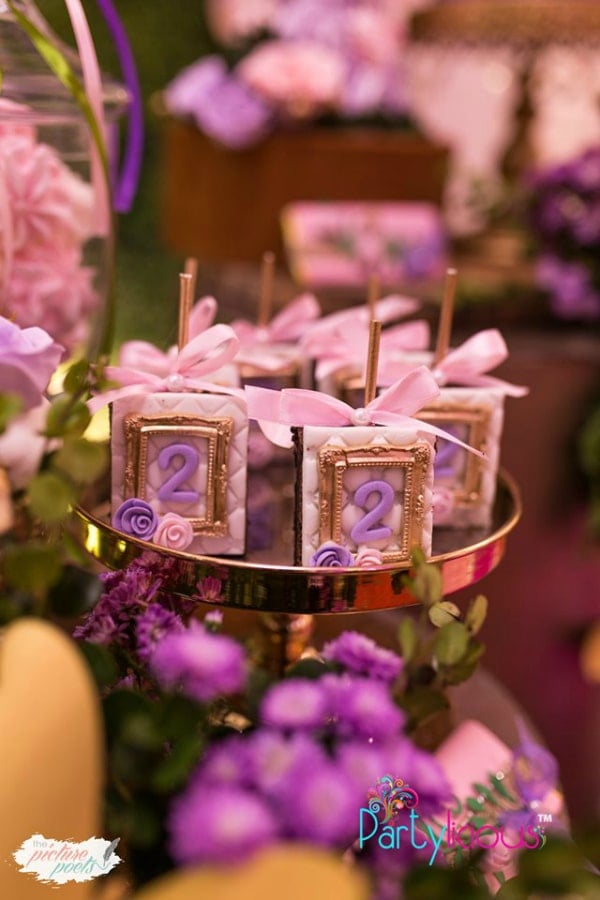 Desserts were in no short supply and each one looked more tasty than the one before it! Tinkerbell Party Ideas are in full supply for anyone who has a Tinkerbell fairy lover in their house. Creating a fairy garden is such a magical birthday party theme for any little girl!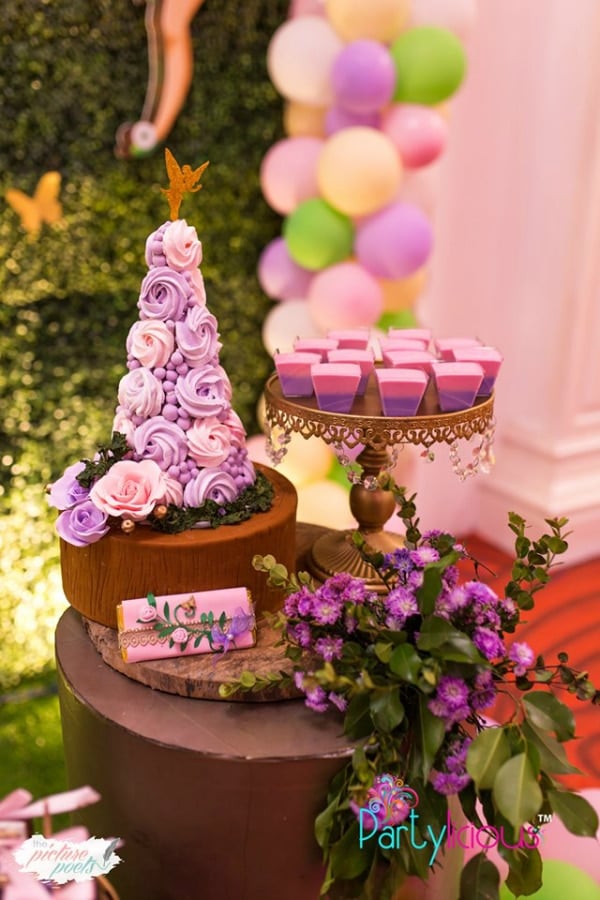 All good fairy gardens are in the woods, which makes all of the wood charger settings the perfect decor addition. Such a simple addition, but one that fits in absolutely beautifully.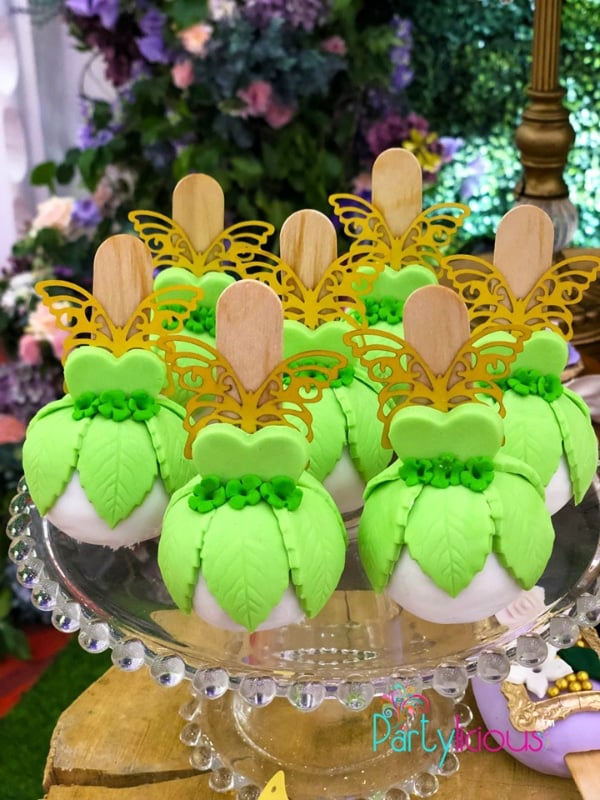 Oh. My. Goodness. I can't even believe my eyes! These Tinkerbell Party Desserts may just have won over all of our hearts. They look just like Tinkerbell and the detail that was used with the fondant icing is nothing short of incredible!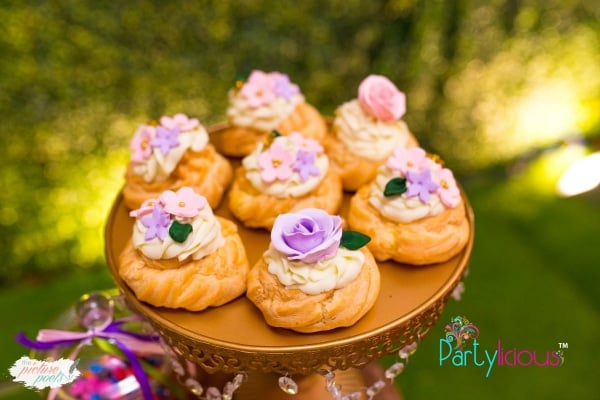 Everything looks worthy of being served to the most important fairy princess in the world, which today, was the birthday girl!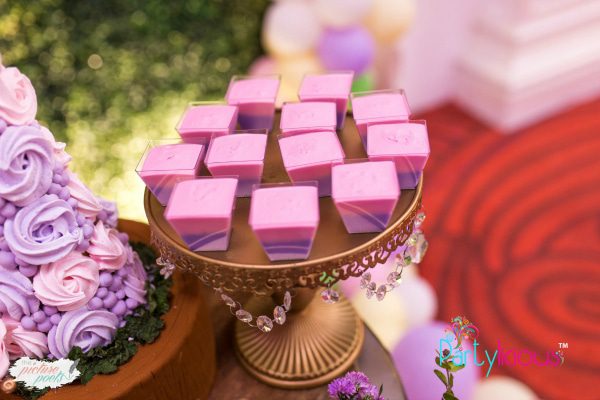 Even the layered jello bites were incredible. We love all of the Tinkerbell Party Food that was found from one side of the celebration to the other.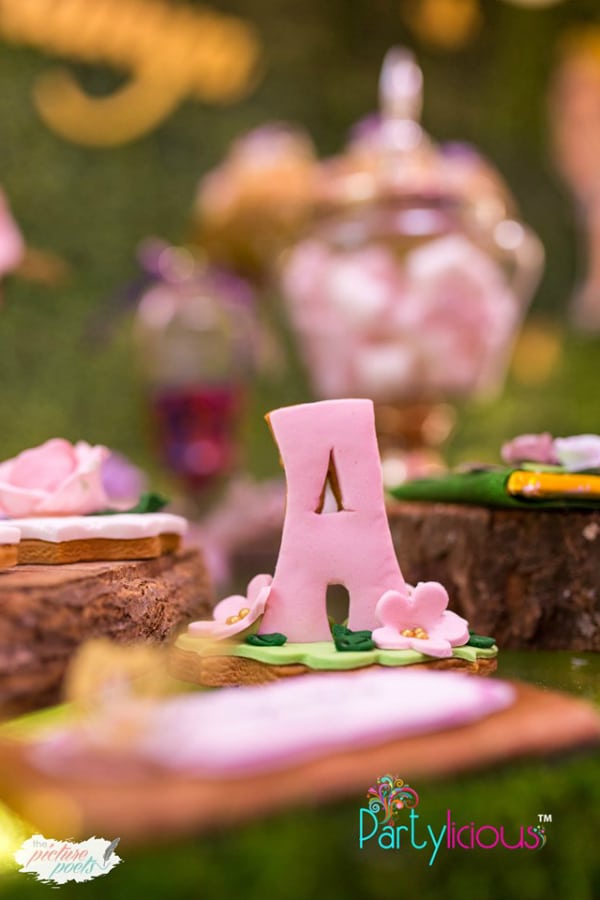 Some of the delicious sugar cookies even had the perfect letter "A" on them, in honor of the birthday girl, complete with sweet flower and greenery decorations on them, too.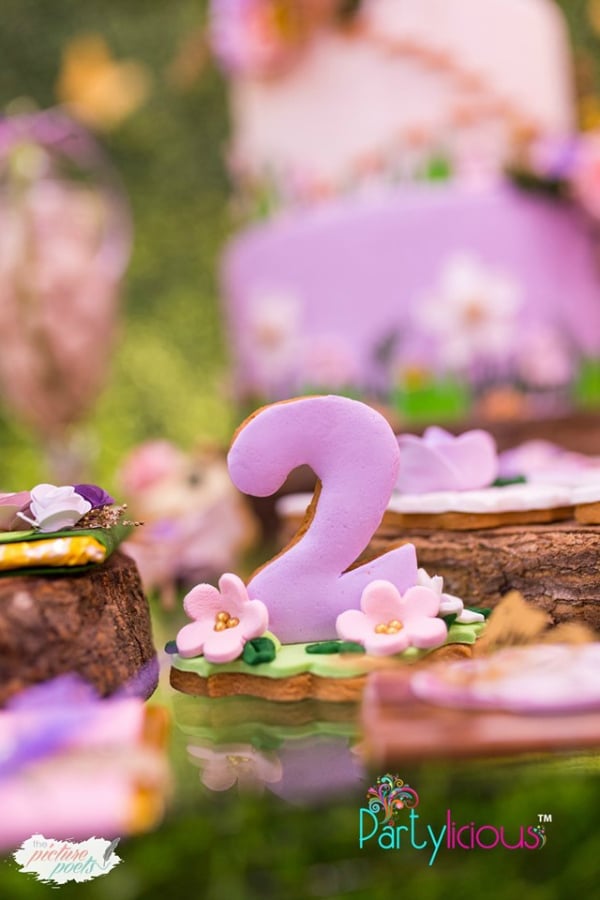 A number 2 was even seen on some cookies, representing the birthday girl's age! Gorgeous!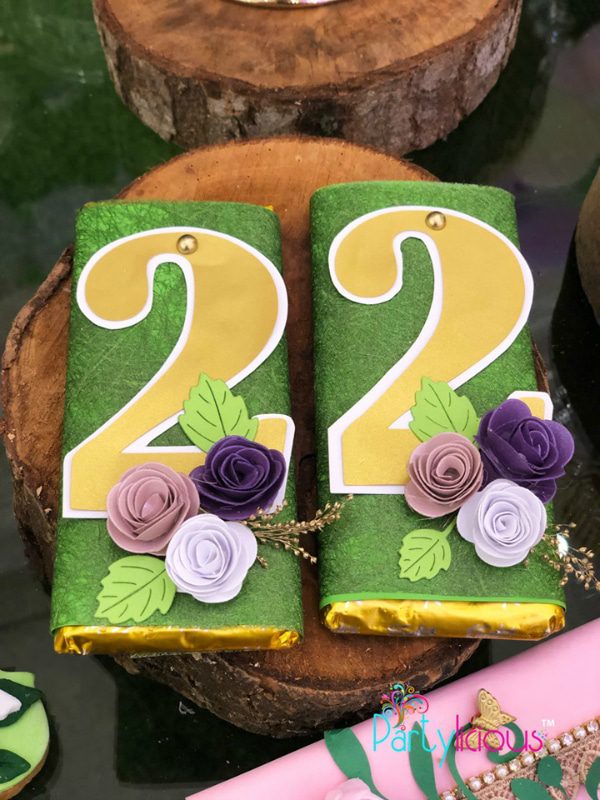 Special chocolate candy bars were found at the Tinkerbell Fairy Garden Party. Just look at those wrappers, which makes you feel like you are a part of a fairy garden right away! Simply amazing!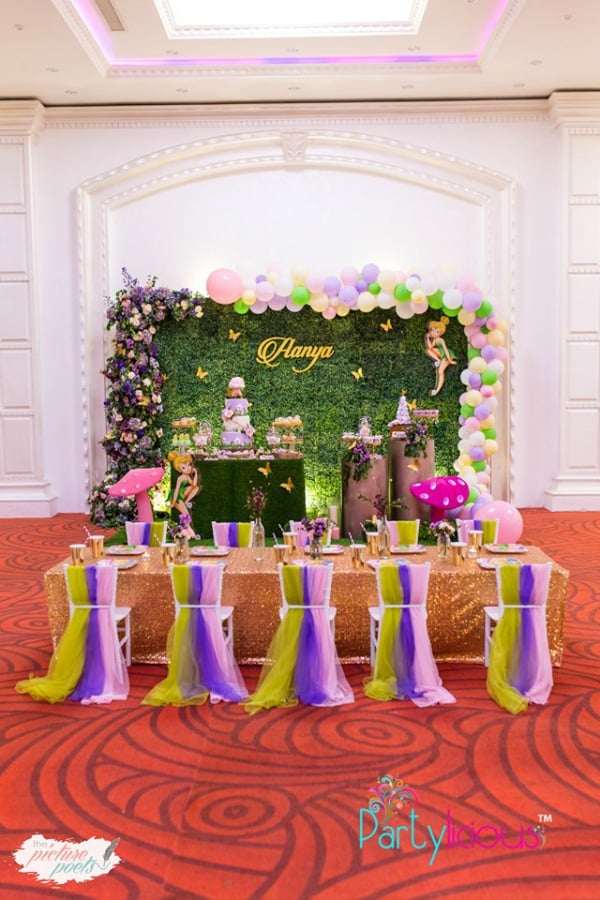 What a spectacular Tinkerbell Themed Birthday Party! Everything was impeccable and we are loving this table that everyone was able to enjoy their goodies at. What an incredible theme, one that we bet Tinkerbell approved of very much!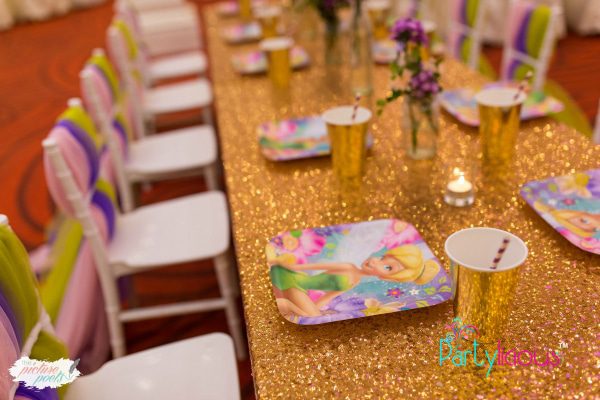 We love the gold tablecloth that was used on the party tables. Talk about raising the bar and making everything feel extra fancy and special!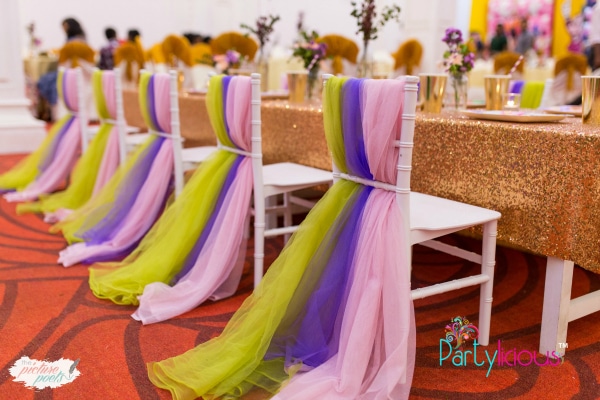 All of the Tinkerbell decorations weren't just used up on the dessert table. Just look at the magical chair decor that was available for all of the party guests! All of the kids were going to feel like they were in the middle of a fairy tale with these fancy chairs!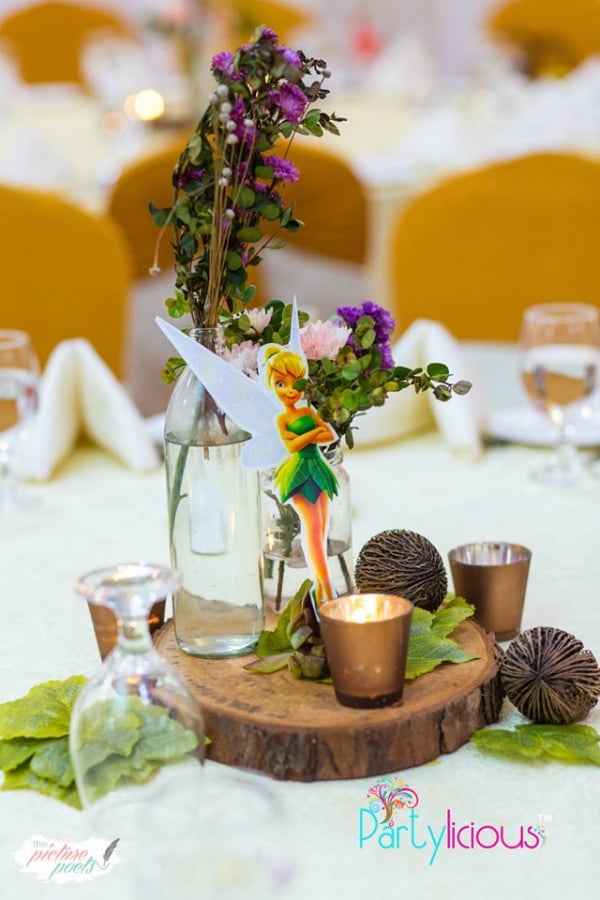 Of course, fairies were all over the Tinkerbell Fairy Garden Party, especially Tinkerbell herself! We love all of the centerpieces that were found around the event. So simple, yet made everyone feel like they were in the middle of a fairy garden in Pixie Hollow!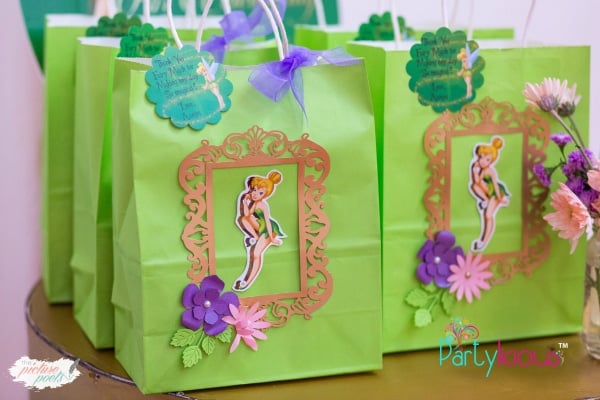 Tinkerbell Party Favors were arranged for all of the party guests, with lots of goodies to take home with them! Everyone was welcomed to snag a few of the extra desserts at the end of the celebration, as well. Who wouldn't want to take home those amazing creations?!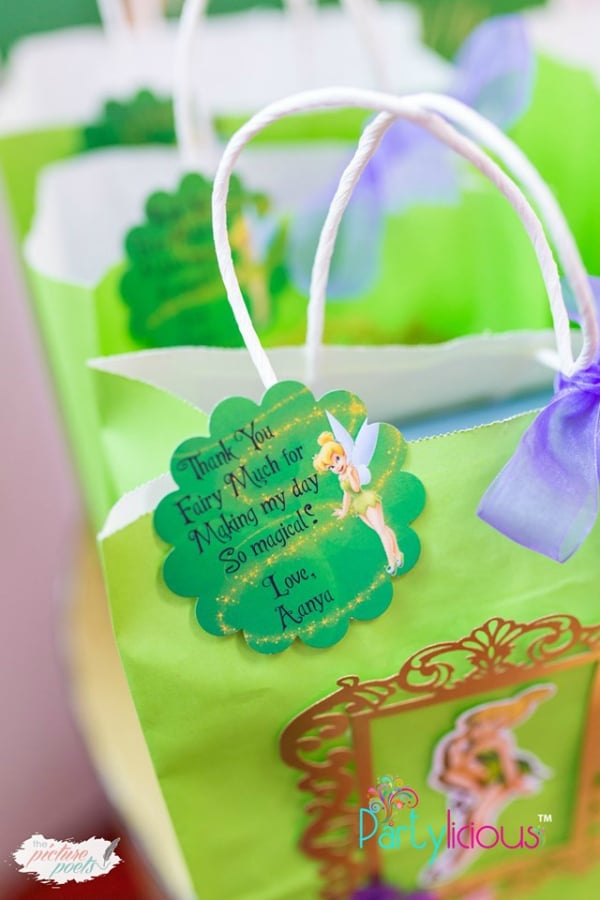 This Tinkerbell Fairy Garden Party is completely swoon-worthy and gives us all the feels! What an incredibly lucky little girl to have this be the theme for her big celebration. We can't give all of the vendors enough credit for the amazing work they did. It's the party of our dreams and it's truly just like walking into a magical fairy tale!
Party Vendors
Event Planner/Styling, Decor Concept Designing & Props: Partylicious – Sanu Vitanachy
Cake Structure: Melshika Weerasinghe
Theme Items: Concept by Partylicious, crafted by Shaziya Kamil
Photography: The Picture Poets
What's your favorite detail in this Tinkerbell Fairy Garden Party? Let us know in the comments below.
Plan a magical Tinkerbell Fairy Garden Party of your own with these party supplies and decorations:
(Amazon Affiliate Links)