Adorable Fancy Nancy Party
How sweet is this Adorable Fancy Nancy Party?! Any little fan would be over the moon with this oh so fancy birthday celebration!
If you have a little girl who adores all things fancy, than this Adorable Fancy Nancy Party by ADAL Kreation will be the perfect way to celebrate their big day! With all of this gorgeous decor and fancy desserts, your sweet girl will think that she woke up in a fairy tale, designed just for her. With French-inspired cookies, a gorgeous Eiffel Tower balloon decoration, and of course, Fancy Nancy, herself, there was nothing missing from this sweet Fancy Nancy Tea Party!
Check out these adorable tea party ideas:
Fancy Nancy Party Ideas
Awesome Eiffel Tower Balloon Decoration
Beautiful pastel Fancy Nancy Birthday Cake
Perfect Fancy Nancy Cookies
Pretty Pink Heart Chairs
Purse Party Favors
Fun Photo Booth
Fancy Nancy Party Supplies and Decorations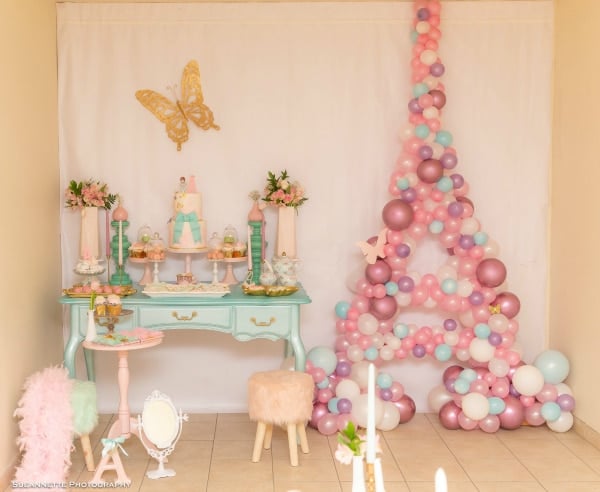 What an absolutely adorable Fancy Nancy Party Theme. How gorgeous is that dessert table?! Talk about beautifully French-inspired items, especially the balloon decoration! We just love how it was shaped like the Eiffel Tower. MP Balloons Decor did an amazing job creating this balloon masterpiece!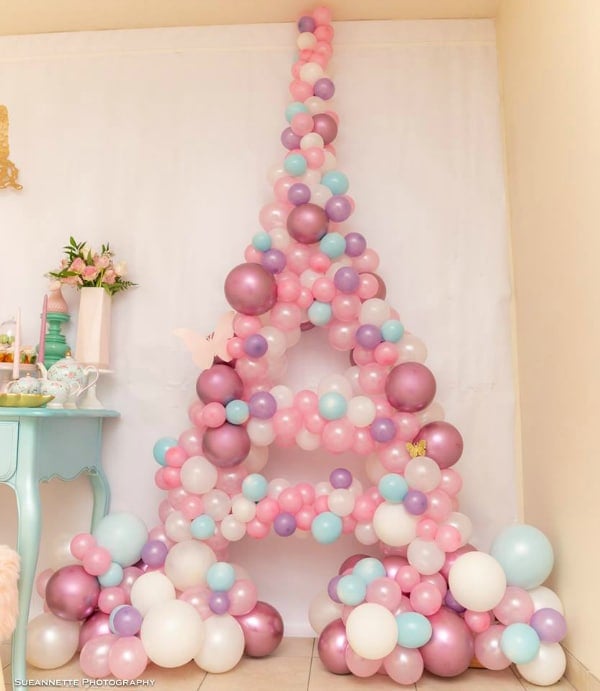 Every single balloon was perfectly place to create the most amazing Eiffel Tower, that also was in the shape of the letter "A", in honor of the birthday girl! All of the colors fit together perfectly and this Adorable Fancy Nancy Party definitely got off on the right foot!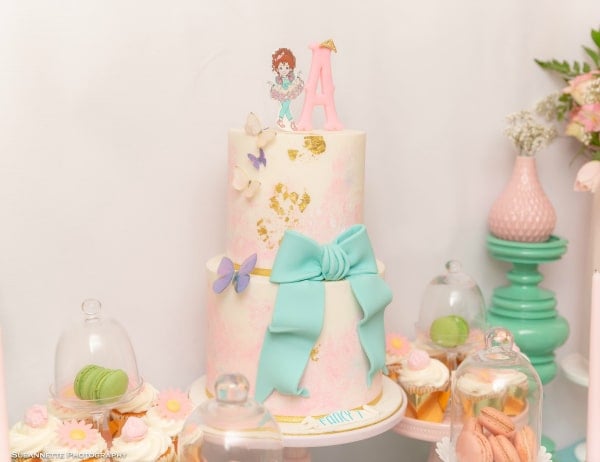 Can we talk about this incredible Fancy Nancy Birthday Cake for a minute? Just look at the amazing detail. Sweet Little Sweets went out of their way to create an incredibly sweet cake, complete with a butterfly found here and there. We just love the fancy ribbon that was made out of fondant, as well. It's perfect!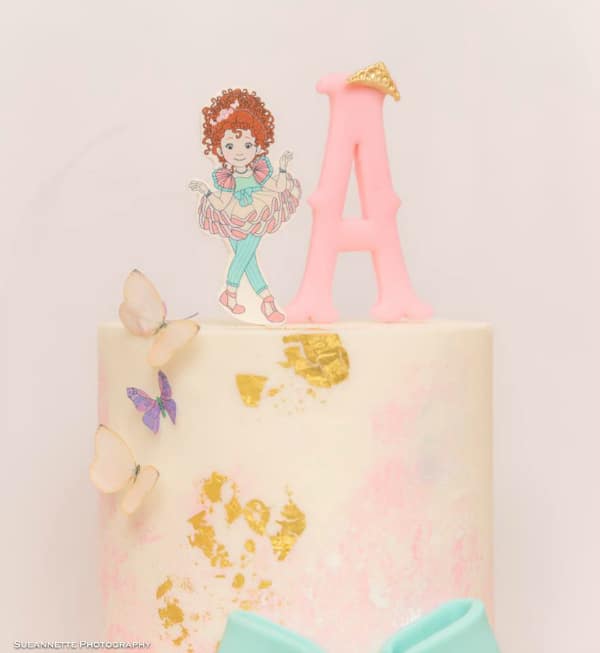 Fancy Nancy, herself, adorned the top of this amazing Fancy Nancy Cake, along with the letter "A", in honor of the birthday girl. Someone sure looks like she is ready to have a good time at a birthday celebration inspired by her!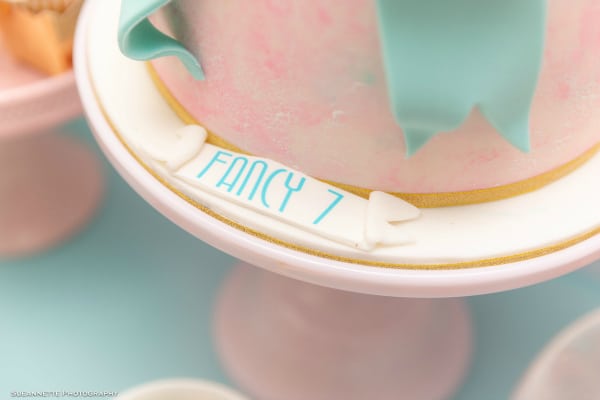 The Fancy Nancy Birthday Cake even showed just how fancy this birthday girl was with all of the special details that were added around the cake. It's just beautiful! It sure is fancy being 7!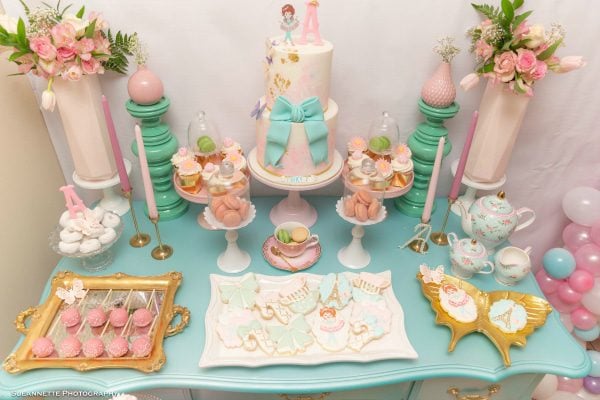 ADAL Kreation did an amazing job styling this Fancy Nancy Themed Party and all of the decor on the dessert table is simply fantastic! We love how the fun colors are accented with gold items. Because what is more fancy than gold, right?!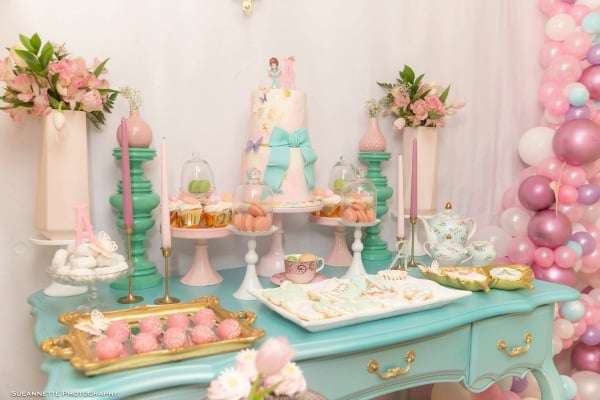 We are in LOVE with this blue and gold table that showcased the cake and desserts. What a perfectly unique addition to this Fancy Nancy Party Theme. The colors are absolutely fancy and fun for a Fancy Nancy Party.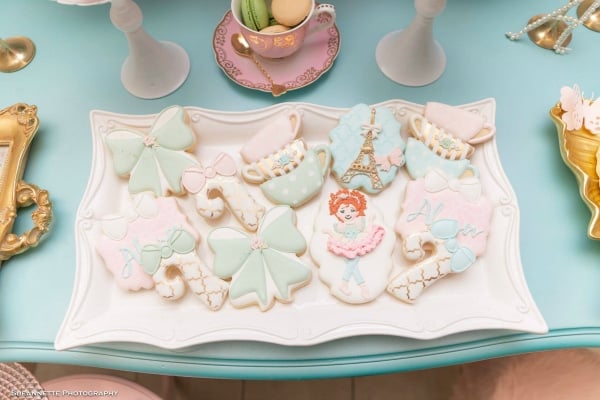 The amazing sugar cookies were created by Brenda's Sweet Treats and every single one is a little piece of perfection! They may just be too fancy to eat! We love how this Fancy Nancy Tea Party Table includes tea cup cookies too. And the pastel colors look great and match the entire celebration.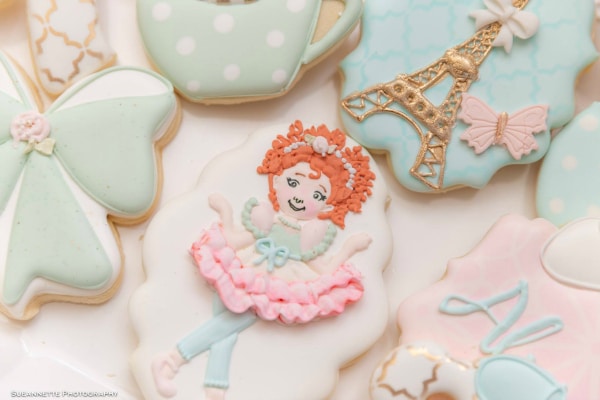 Just look at that amazing detail on sweet Fancy Nancy!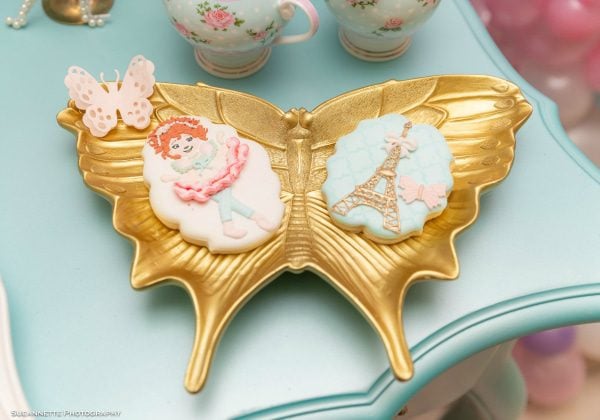 We just love this gold-plated butterfly serving tray. It couldn't have been any more perfect in this Adorable Fancy Nancy Party! With the addition of the delicious cookies, especially Miss Fancy Nancy, herself, along with the awesome Eiffel Tower, the event couldn't have been any more gorgeous!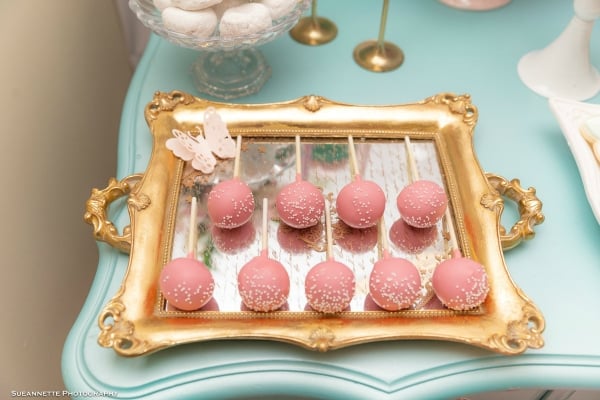 Did someone say Fancy Cake Cake Pops? Because we just love how the fanciness got taken up a notch by serving them on a gold-plated mirror serving tray! Nothing but elegance, class and beauty for this Fancy Nancy Party Theme!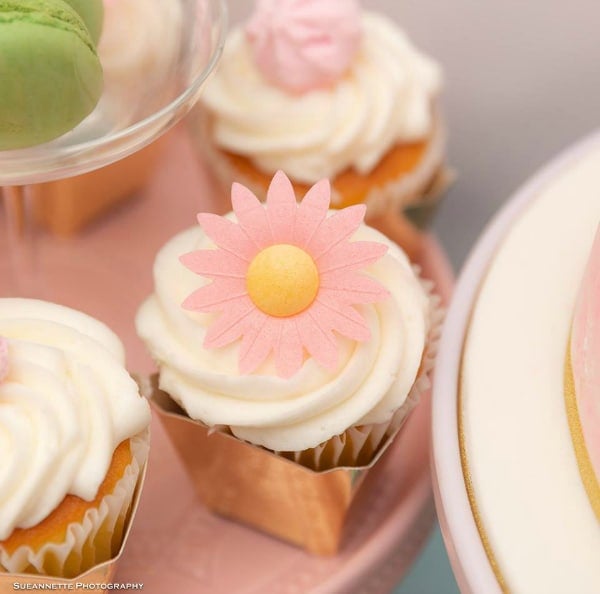 These adorable cupcakes are just perfect! Not only do they look delicious, but the sweet pink flower on the top makes them all kinds of fancy for a Fancy Nancy Birthday Party! On top of that, they were all served in individual gold-colored boxes, which made it even easier for everyone to grab one for the road.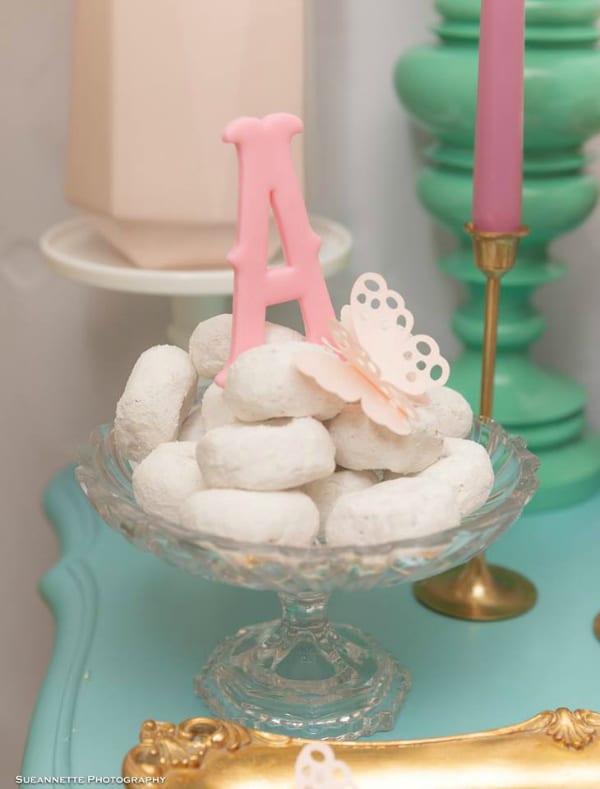 Fancy Nancy Party Food was definitely not in short supply! There were all kinds of goodies that everyone was able to enjoy from the dessert table. We are guessing that most of the guests found their way back to this amazing sweets table more than once!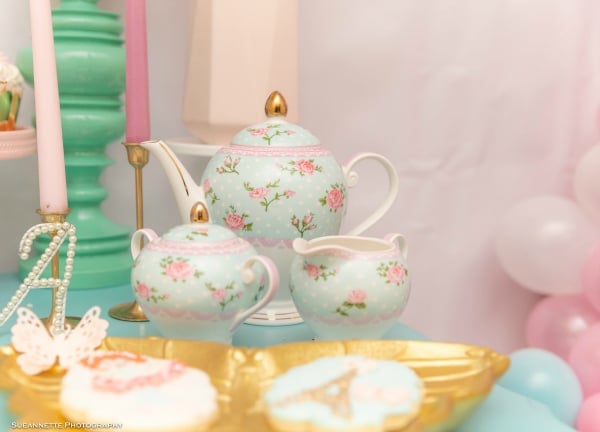 Of course, any decent Fancy Nancy Birthday Celebration has to include a Fancy Nancy Tea Party! All of the tea party essentials were found for everyone to enjoy. And we can't believe how perfect the pattern of this tea set is for the entire Fancy Nancy Party Theme. It couldn't have been more perfect!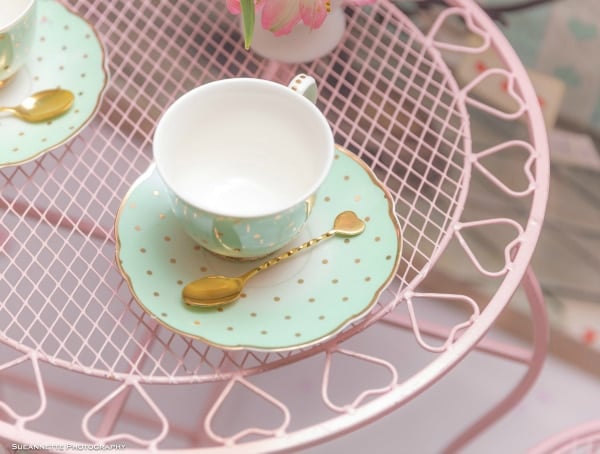 Tea cups and saucers, along with the perfect spoons were found on tables for everyone to indulge in. What a gorgeous set-up. We're definitely feeling the fancy vibe!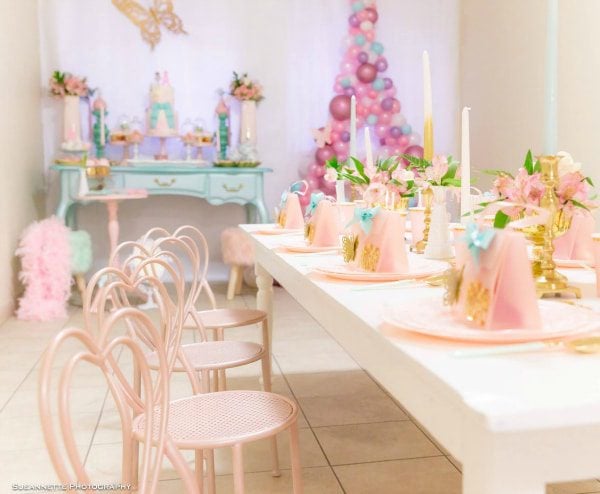 Just look at this perfectly decorated party table for everyone to enjoy their food at! Each and every place setting is a sight to behold and we are in love with the sweet princess heart chairs that all of the Fancy Nancy Birthday Party guests were able to enjoy.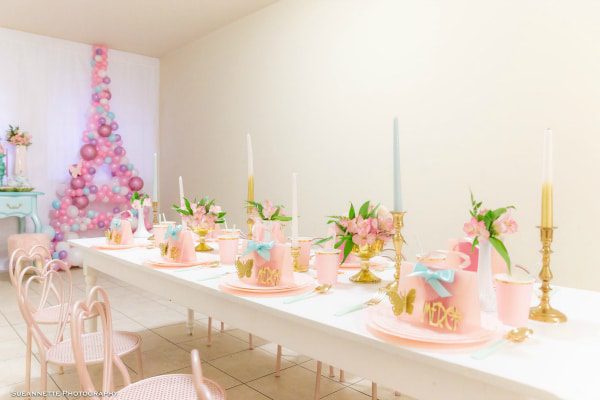 Fancy Nancy Party Decorations are in full force in this stunning image from the Adorable Fancy Nancy Party! Long, tapered golden candle sticks, along with gorgeous flowers in gold vases were used as centerpieces. We're betting that each and every guest felt like a million bucks sitting at this fancy table!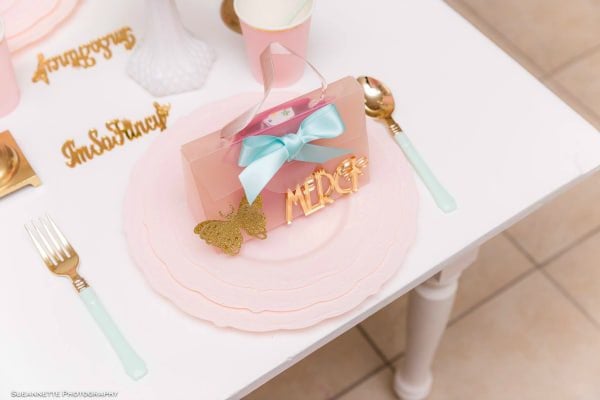 Every guest had a personalized table setting with their name, awaiting their arrival. And of course, a sweet butterfly was there to say hello once they sat down!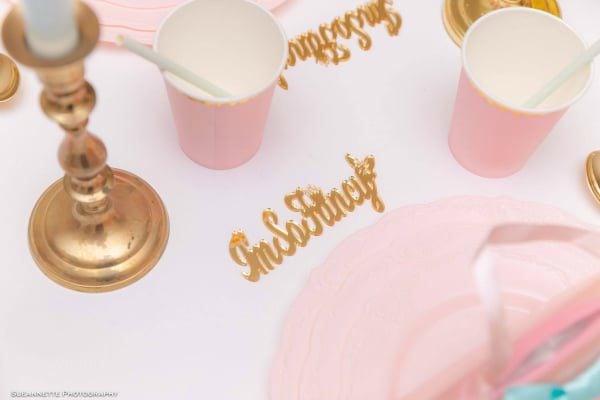 This Fancy Nancy Birthday Party didn't lack a thing when it came to the details. Gold "I'm So Fancy" party confetti was also seen at each place setting. How perfect!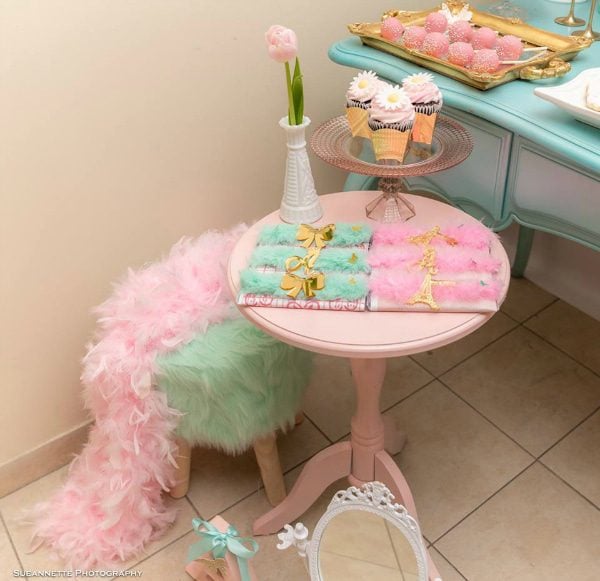 Now, how adorable (and fancy) do these Fancy Nancy Party Favors look?! Every guest got their own fancy chocolate bar to take home, complete with fuzzies and personalized tags. We just want to cuddle up in all of those soft feathers!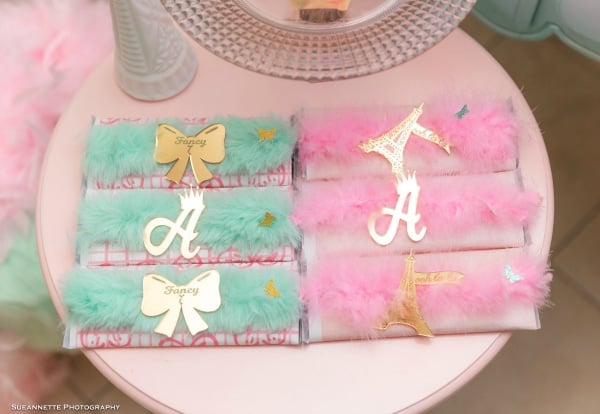 These are by far the fanciest chocolate bars we've ever seen! We're sure all of the girls couldn't wait to add this to their Fancy Nancy Purse Favors!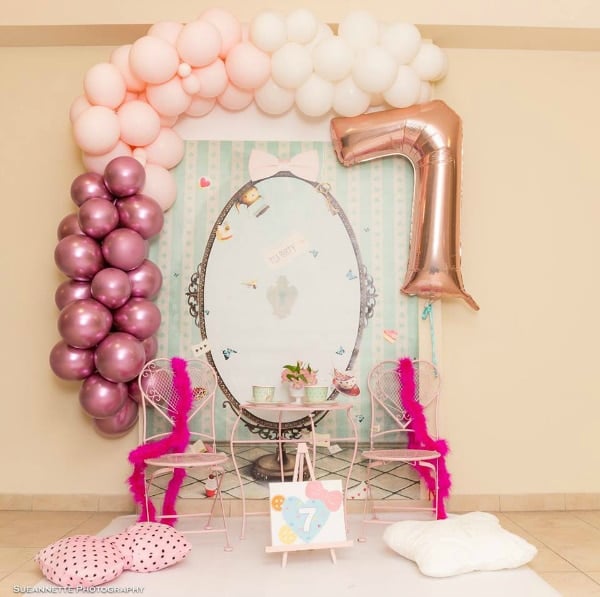 One of the sweetest Fancy Nancy Birthday Ideas from this exquisite celebration is the addition of this fun photo booth! We're betting that all of the fancy girls at this birthday celebration couldn't wait to huddle up together to show off their fancy sides!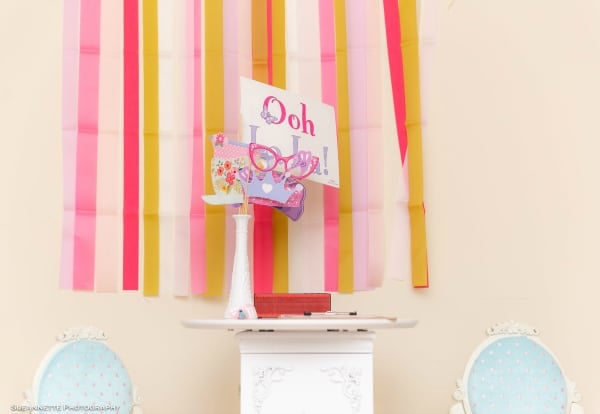 Fancy Nancy Themed Photo Booth P rops were on-hand for everyone to strike a pose for the cameras.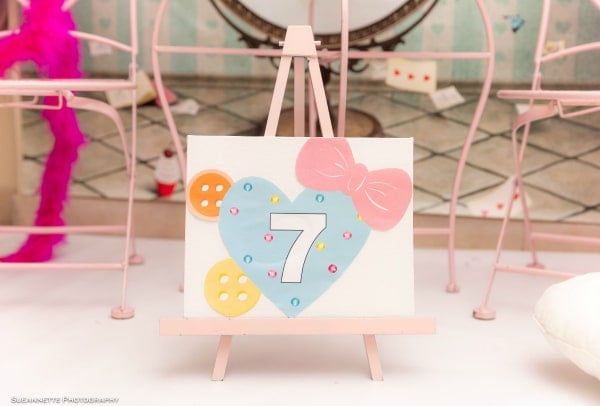 We can't think of any better way to spend a 7th birthday party than by celebrating with an Adorable Fancy Nancy Party like this one! What an incredible way to ring in a new year and we bet this sweet girl is going to remember this special party for years to come!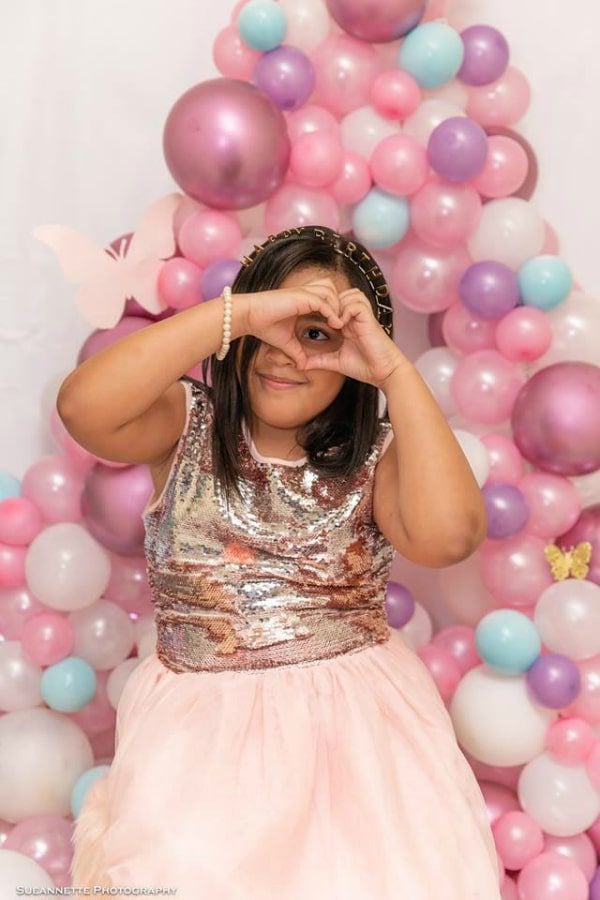 We're betting little Miss "A" had quite a fantastic time at this Adorable Fancy Nancy Party! She even had on a fancy dress to wear to her big celebration. If your little girl is obsessed with Fancy Nancy, you will find all of the Fancy Nancy Party Ideas you need right here to make your child's birthday party unforgettable!
Vendors & Credits
Event Design / Stylist / Favor Boxes: ADAL Kreation
Cake: Sweet Little Sweets
Sugar Cookies: Brenda's Sweet Treats
Eiffel Tower Balloon Decoration: MP Balloons Decor
Acrylic Place Cards and Tags: @mysentiments_cutting
Graphic Design: @gbz
Kid Chairs and Table: Petite Seats
Photography: Sueannette Photography
What's your favorite detail in this Adorable Fancy Nancy Party? Let us know in the comments below.
For more party ideas, follow us on Instagram @prettymyparty and Pinterest and join us in our private Facebook group.