Pastel Wonder Woman Party
Celebrate your little super hero with this fun Pastel Wonder Woman Party for their birthday!
This Pastel Wonder Woman Party by Ms. Lane Events is every little girl's idea of a good time! A Wonder Woman Themed Party is such a great way to get everyone involved. Who doesn't love a fun first birthday party to celebrate the big milestone of a sweet little Superwoman! From the amazing Wonder Woman cake to all of the gorgeous decorations on the dessert table, we're ready to dig into this fun Wonder Woman Themed Party and enjoy all of the pastel yumminess!
Talk about an amazing job with the styling and making sure everything was in the perfect place. It's a dream come to life and everything that was used was the perfect addition to each and every aspect of the party. Who runs the world? Girls!
Wonder Woman Party Ideas
Amazing Pastel Wonder Woman Cake
Adorable Wonder Woman Cake Pops
Personalized ONEder Woman Banner
Large Wonder Woman Balloon
Lighted Wonder Woman Party Decorations
Wonder Woman Themed 1st Birthday Sign with Birthday Girl Favorites
Wonder Woman Cupcake Toppers
Wonder Woman Cookies
Wonder Woman Headband Pie Toppers
Wonder Woman Party Printables
Wonder Woman Themed Goody Bags
Check out these other girl superhero parties: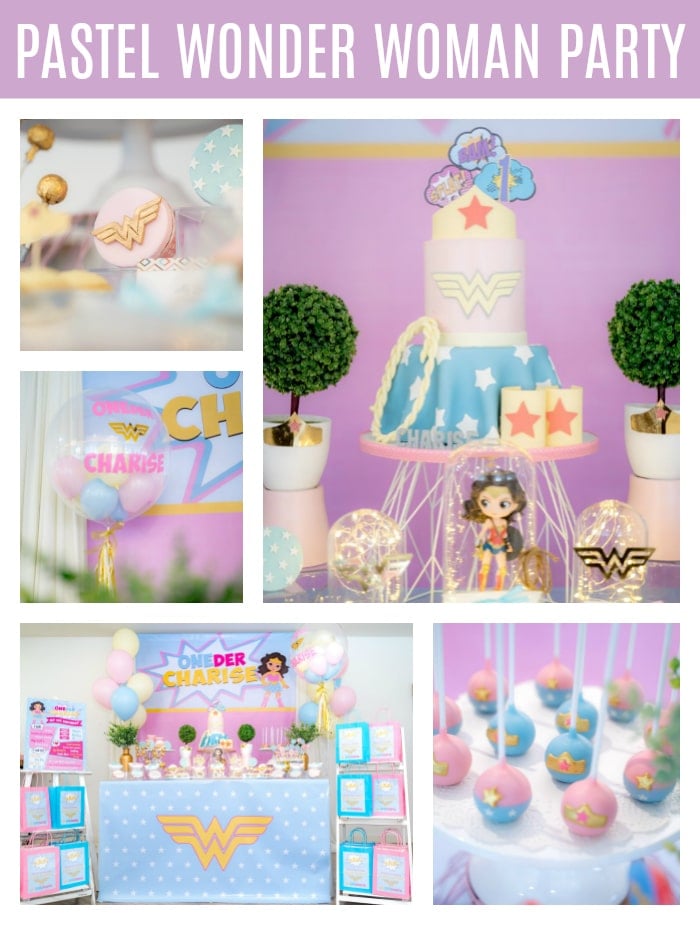 Wonder Woman Party Supplies and Decorations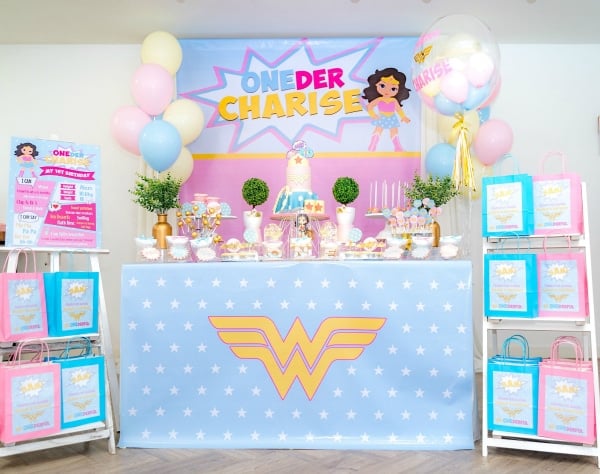 Just look at this Wonder Woman Party dessert table! The tablescape is EVERYTHING! This is the perfect backdrop for a first birthday. Just look at Wonder Woman looking down on all of those delicious treats! What a lucky girl and these amazing Wonder Woman Party Ideas would work for many ages!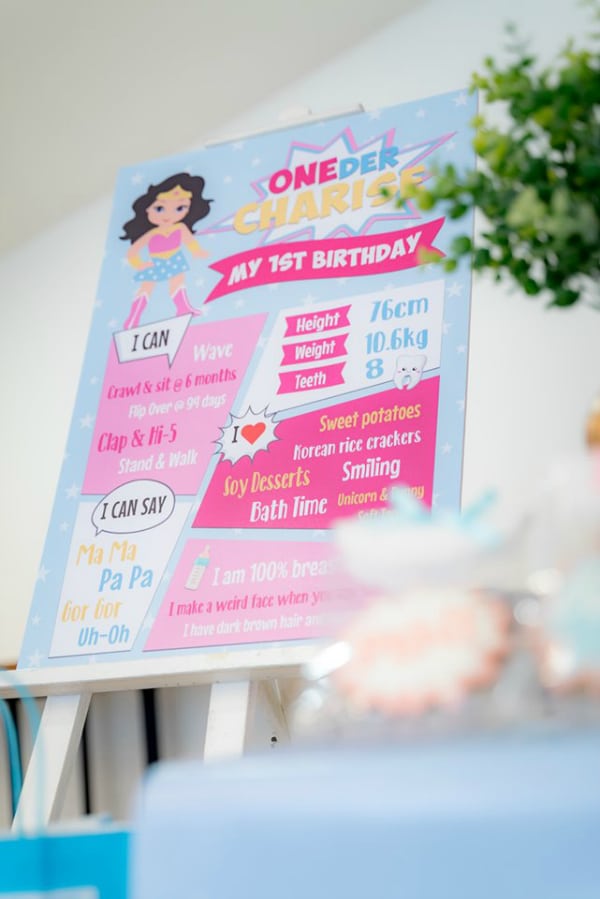 One of our favorite things about first birthdays are the information signs that give all of the up-to-date tidbits of the birthday girl. This one doesn't disappoint and it's the perfect birthday decoration with Wonder Woman sitting right on top! We always love that these party signs can be used as a great memento to hang in a bedroom to remember that special first birthday!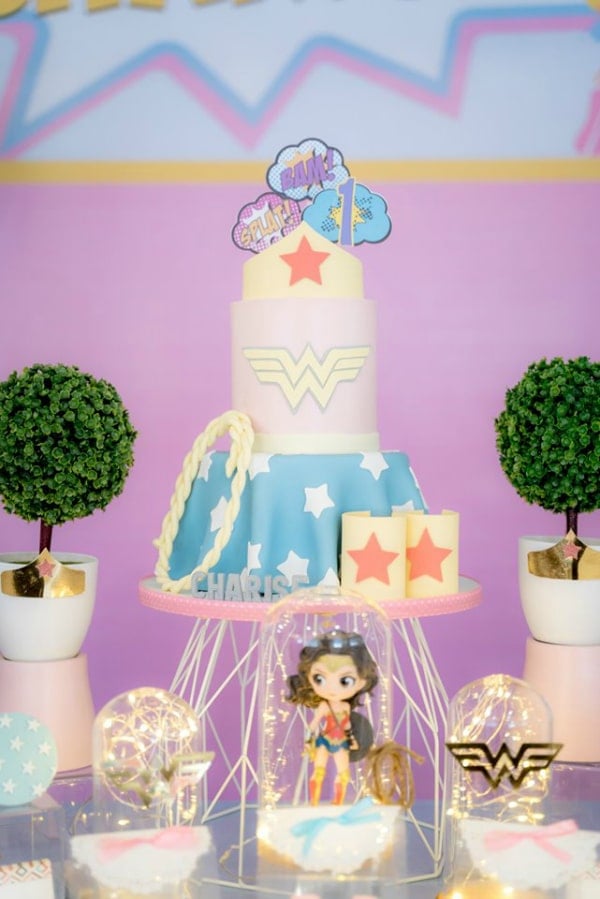 Look at this cake! A Wonder Woman Party isn't complete without a fantastic Wonder Woman cake like this! We love this multi-level creation and it's so cute how the bottom layer uses fondant to create a cape-like quality. A perfect crown adorns the top with some cake toppers to finish the look. The lovely pastel colors keep everything sweet for a first birthday celebration!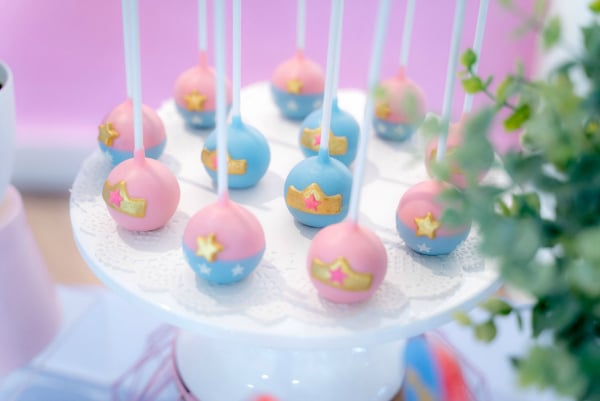 Cake pops are always a hit at any birthday celebration! The Wonder Woman crown or a great Wonder Woman star were placed on each cake pop, with the pastel pink and blue colors. The Wonder Woman Party Ideas just keep on coming and they definitely don't disappoint!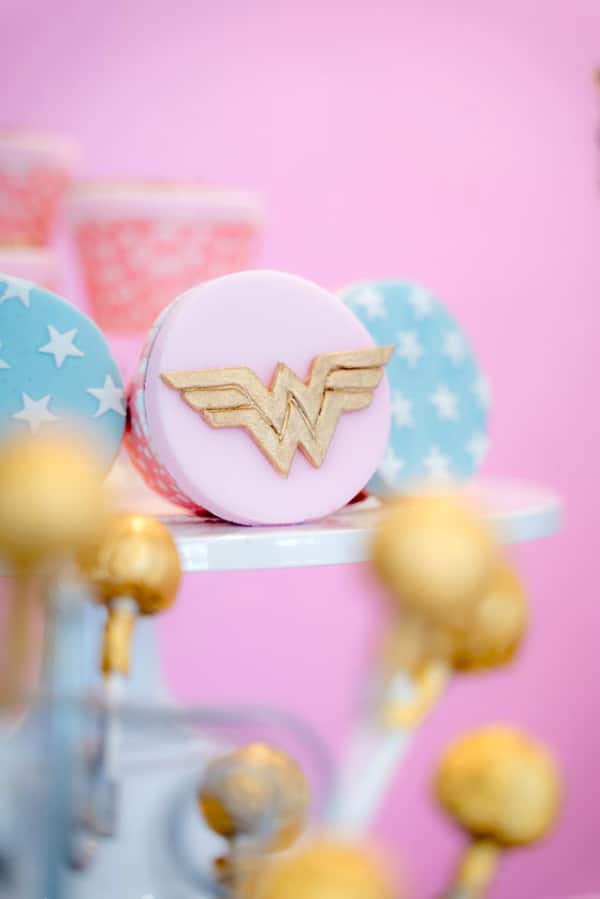 Birthday desserts were in lovely form for the Wonder Woman Birthday Party! Just look at this lovely treat, with the perfect Wonder Woman logo on it. We bet that everyone was pretty excited to get their hands on all of the goodies that were on the dessert table. We sure would be!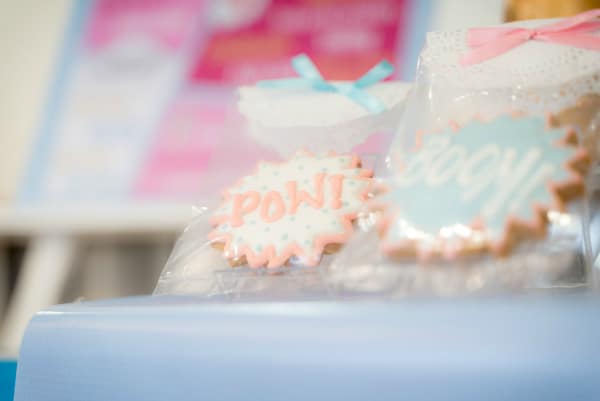 Just look at these amazing decorated cookies! We love when decorated cookies are wrapped up individually in cellophane. They make amazing party favors that everyone is able to take home and enjoy whenever they want. It is also a great Wonder Woman Party DIY idea that you can do yourself to help make things more economical. It's the best of both worlds!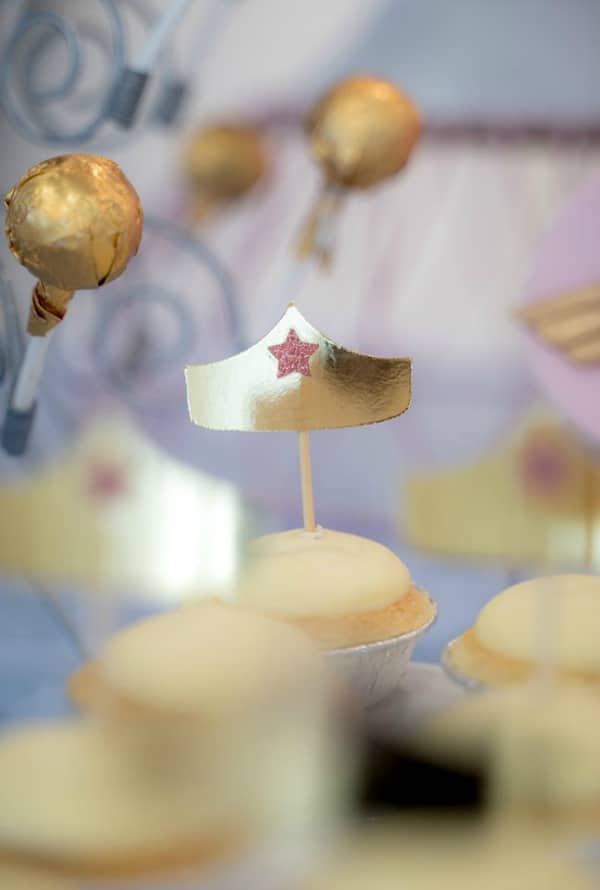 These mini cakes are so adorable! Just look at those amazing Wonder Woman cake toppers that are in each cupcake. All of the amazing desserts double as wonderful birthday decorations, as well. What a great way to utilize all of the amazing Wonder Woman Party Ideas that are found for the big day!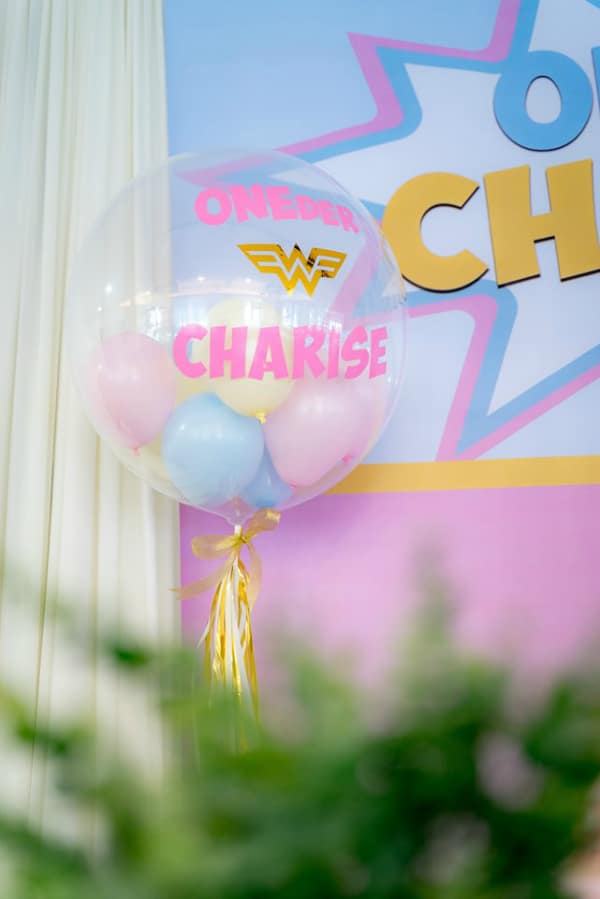 Just look at this awesome balloon that was used as a Wonder Woman Party Decoration. Pastel balloons are inside of the main Wonder Woman balloon and we love it! What a fun and unique party decoration that looked great. We also love the golden tassels that liven up the decorations, as well. Gold accents around pastels really work well together!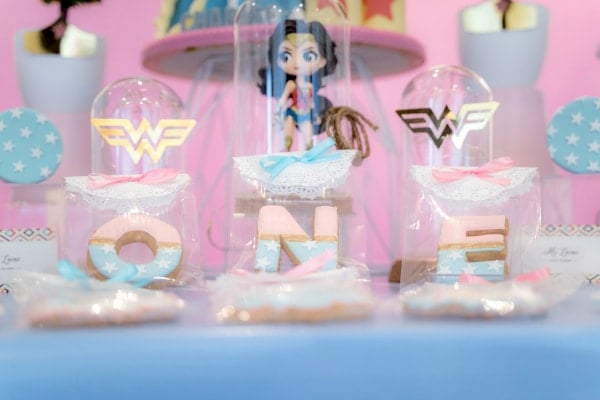 And there is the woman of the hour, Wonder Woman, herself! Centered between two bright gold Wonder Woman logos, safe and sound from all her enemies in a glass pod, she is ready to have some major fun for this little girl's big first birthday celebration!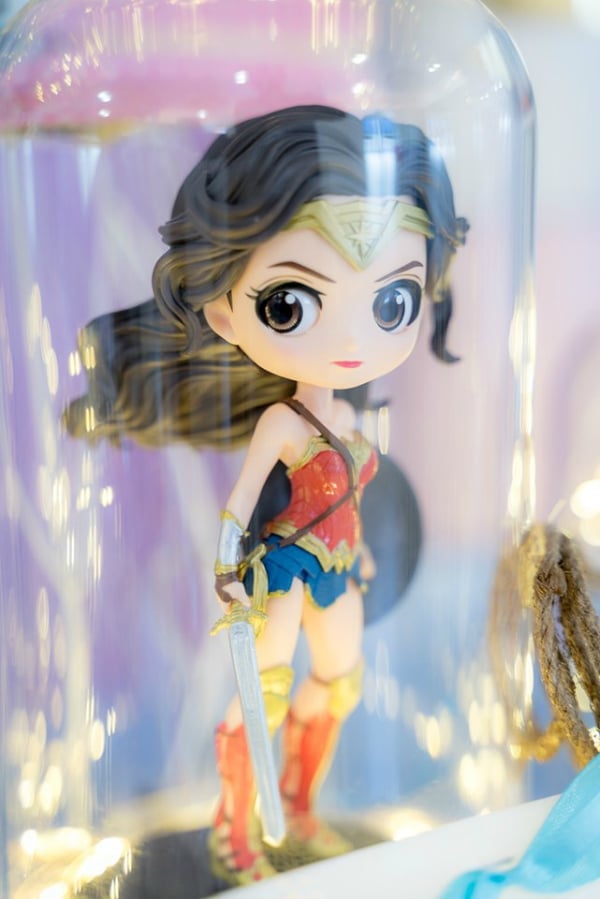 Doesn't she look fierce?! No Wonder Woman Themed Party would be complete without the lady herself front and center on the dessert table! What a great decoration that the birthday girl is able to take home with her and enjoy for years to come. It's a great memento from the big day and we're sure she's going to love playing with it, even if she doesn't have many memories from the day itself. She'll have lots of pictures and loved ones sharing how fun the Wonder Woman Party was!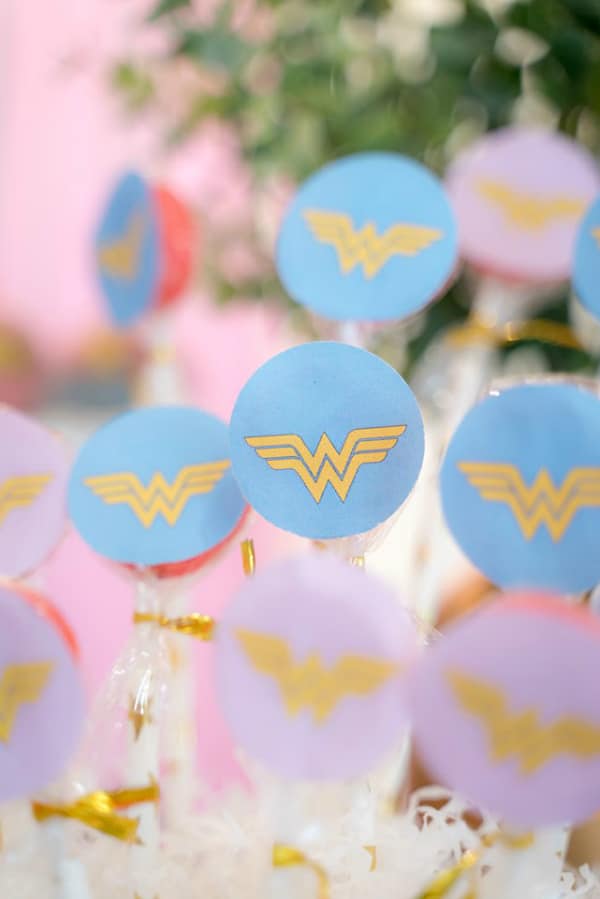 What kind of party decorations would this Wonder Woman party have if not for these incredible logo tags that were found on all of the party favors?! We love the pastel colors of them, split between blue and pink. Again, gold bows were used in order to brighten up the party and it was the perfect accent color. Everyone loved their gift to take home and enjoy!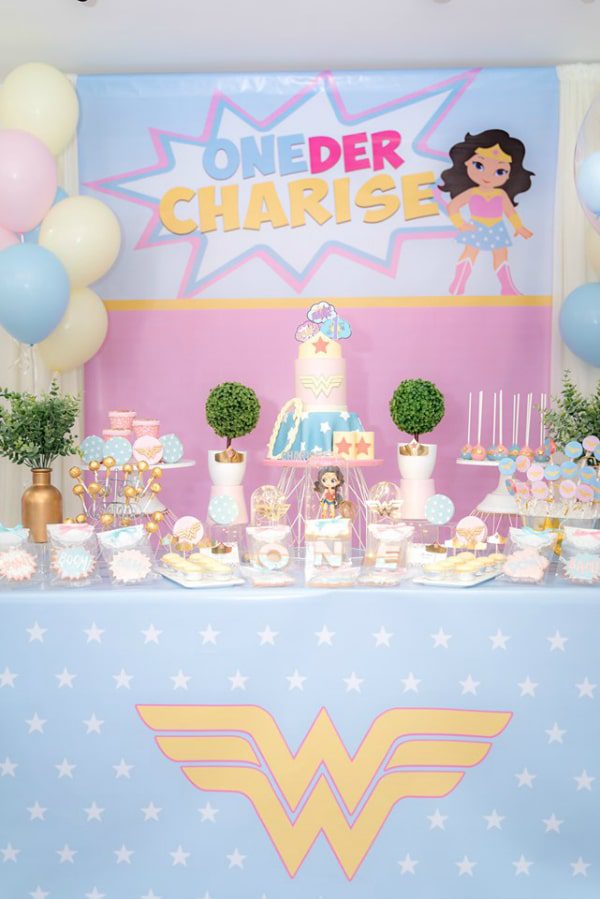 This was one lucky birthday girl to enjoy such a fantastic Wonder Woman Themed Party. Everything was top notch and we really enjoy the fresh greens on the table, including the matching topiaries on each side of the birthday cake. It really makes everything pop and is a great addition to break up the pastel colors a bit. We bet all of the kids who were there loved everything about this special birthday and Ms. Lane Events did an outstanding job from one end of the birthday celebration to the other! Enjoy!
Vendors & Resources
Party Styling: Ms. Lane Events
What's your favorite detail in this Pastel Wonder Woman Party? Let us know in the comments below.
For more party ideas, follow us on Instagram @prettymyparty and Pinterest and join us in our private Facebook group.