Modern Girls Superhero Party
Any little girl would love to have a Modern Girls Superhero Party and this four-year-old was no different! Especially when superheroes show up to your party!
When you have a little girl who adores superheroes, it's only natural to throw a Modern Girls Superhero Party! How fun! Girl Superhero party ideas can be a little more challenging for a lot of reasons, so it's great to see a girls theme come together for this supergirl birthday! We just love all of the touches that were exciting to ALL of the little party guests, not just the birthday girl!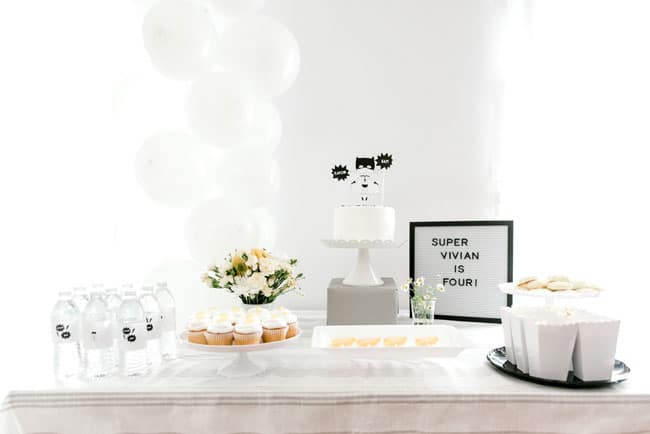 Cerise Photography styled the event for her own daughter and wanted to create something that was modern, along with many elements that were handmade with love. The birthday girl isn't too much into pink and frilly things, so it was important to create something that was feminine, without being super "girly". A little girl who is true to her own style is the best, right?!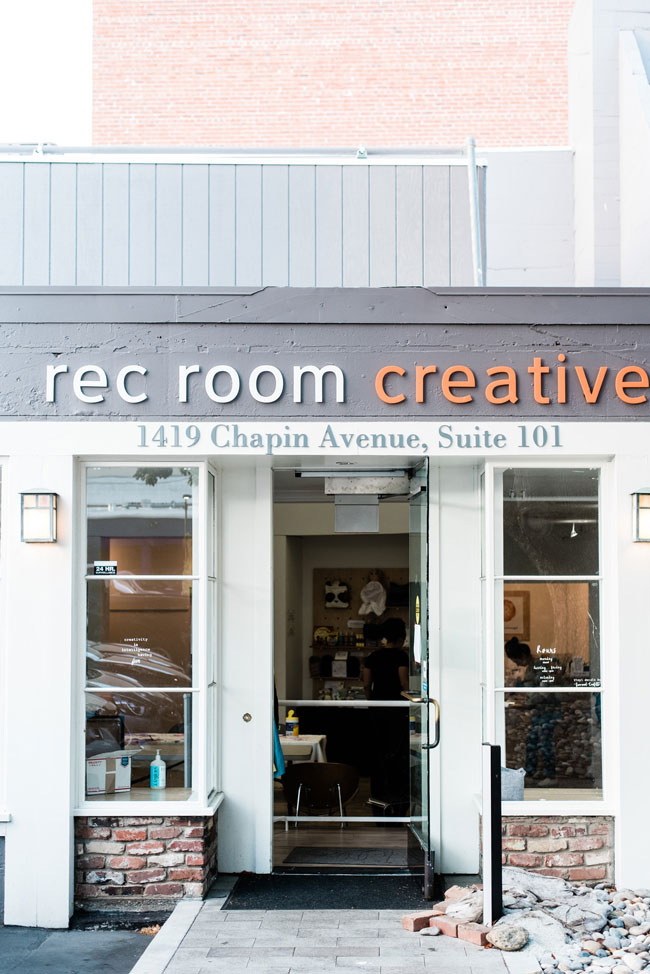 The venue, Rec Room Creative, is a wonderful woman-owned business in California that has a strong emphasis on charity work. It was the perfect place to have a girl-inspired superhero party with easy areas to include all of the great superhero party ideas that this mom had in mind for her daughter's birthday!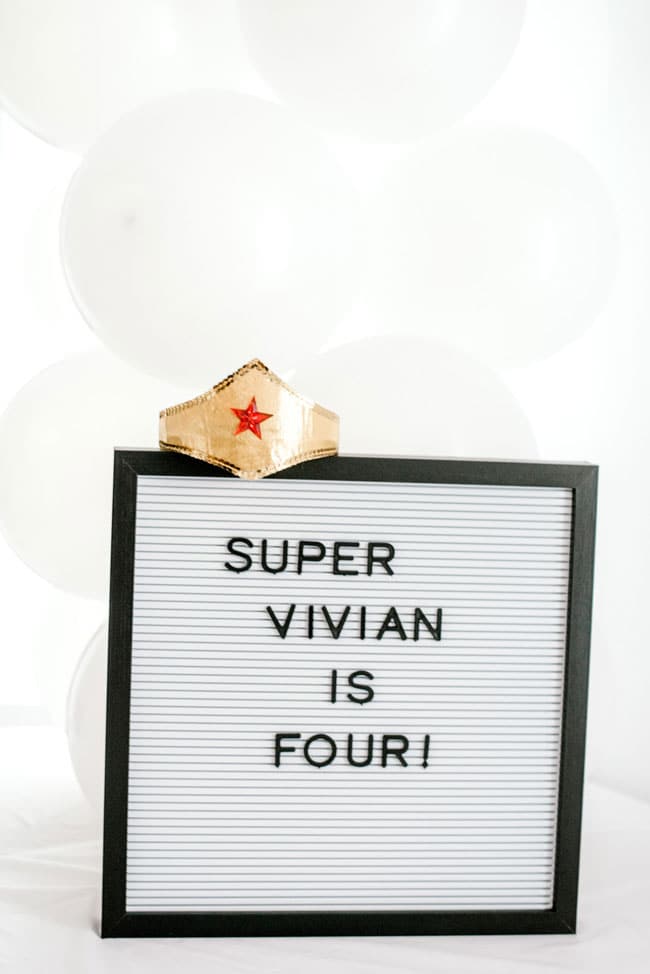 We just love the simplicity of some of the decor, while being completely stylish! Sometimes less is more and everyone was able to see exactly what they were walking into when they entered this Girl Superhero Party – complete with a superhero crown!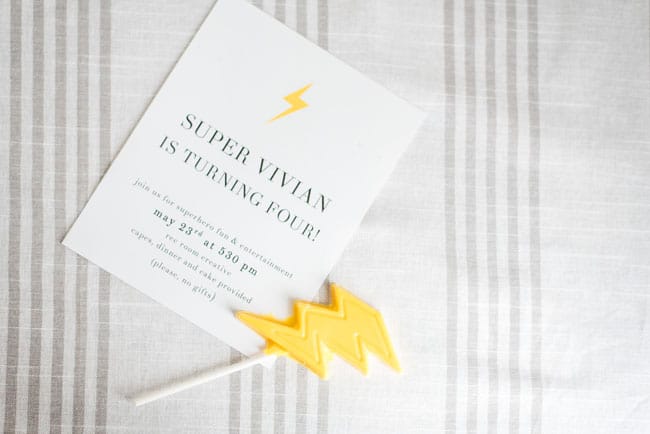 Invitations were simplistic, yet adorable. We love the simple lightning flash that signifies a true superhero is in their midst and ready to celebrate a great birthday! These are great girl superhero party invitations!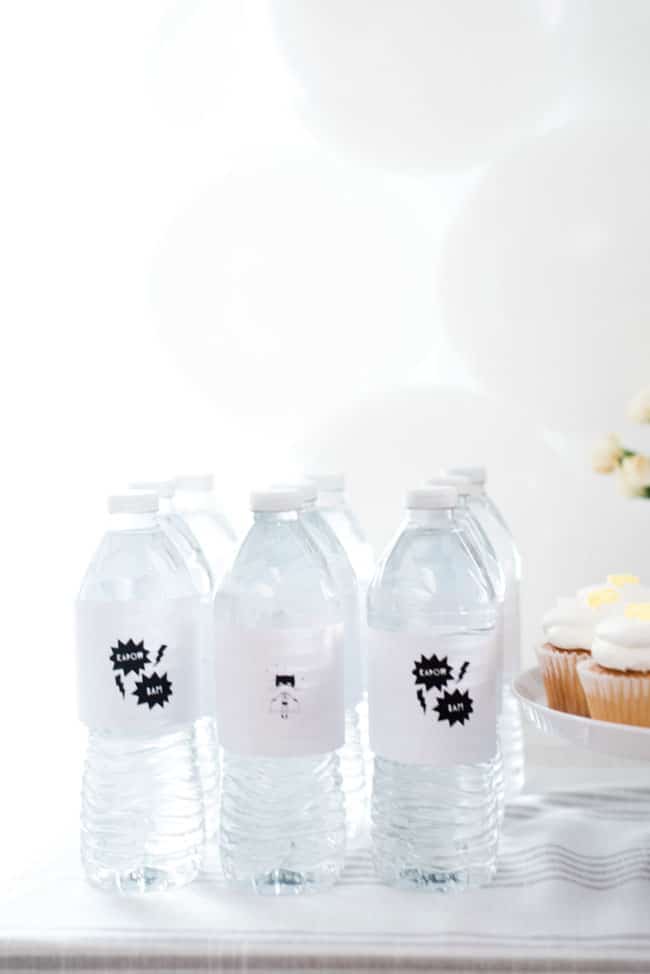 A great Etsy shop, Little Print Shop UK, provided many of the printables that were used around the superhero girl birthday party, including these water bottle labels. How cute are the little girls on the water bottles?!
Superhero capes and masks were provided to all children who were in attendance, who absolutely loved being made into a "superhero" for the afternoon! How fun for all of the kids, along with the birthday girl, to really feel special and in costume for the Superhero girl birthday party. Boys and girls alike were absolutely thrilled with dressing up!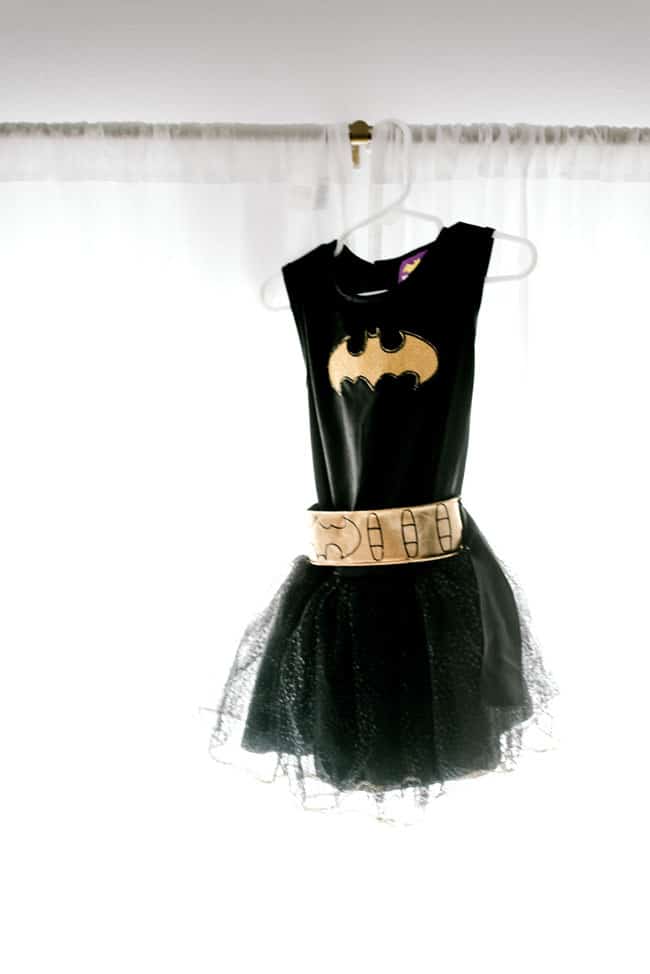 The birthday girl got her very own special "Wonder Woman Batgirl" costume, which she clearly was very delighted to wear! Superhero girls are especially magical and putting on that costume, along with her headband, made her into the greatest superhero of the day!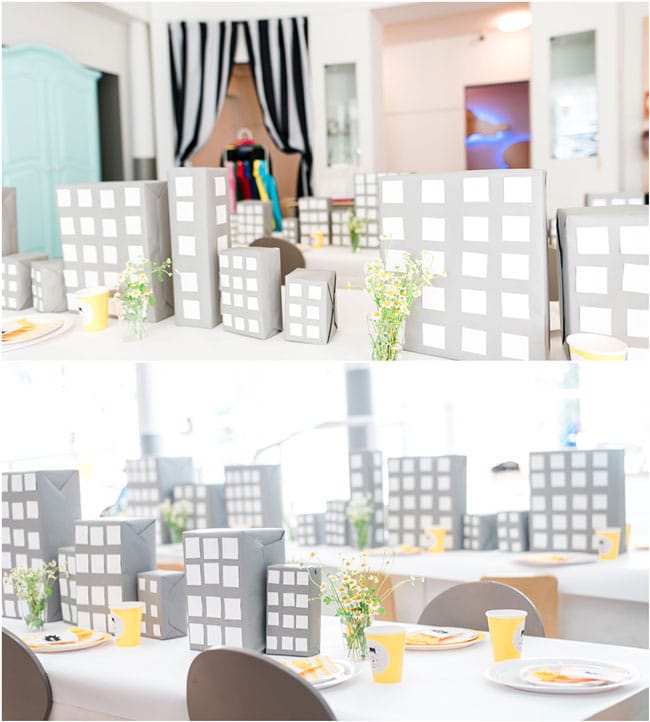 The skyscraper centerpieces were made of boxes wrapped in bulletin board paper, covered with squares that were hand punched. What a fun, modern, look to add to the girly superhero party. Adding splashes of yellow color to the event brightened things up, without making it too "girly", pink or frilly for the birthday girl. This is an incredible DIY project that turned out absolutely amazing!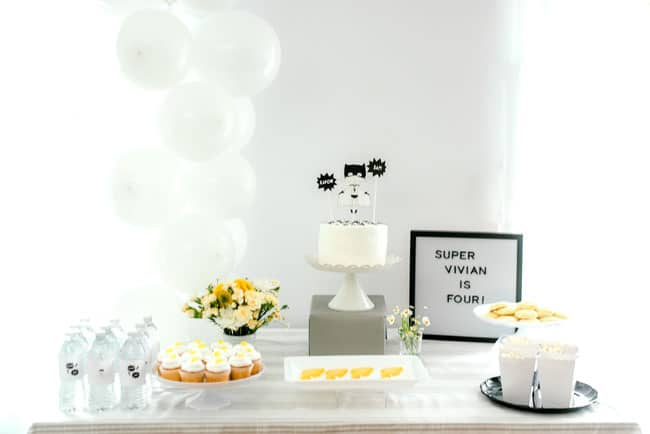 Florals were all from Trader Joe's and arranged by mom, which looked fantastic! There were also "Flash" lollipops using chocolate molds that were found on the dessert table, as well. What a great dessert table that didn't cost a fortune to create! We love being able to be frugal, yet totally fancy for a birthday party celebration!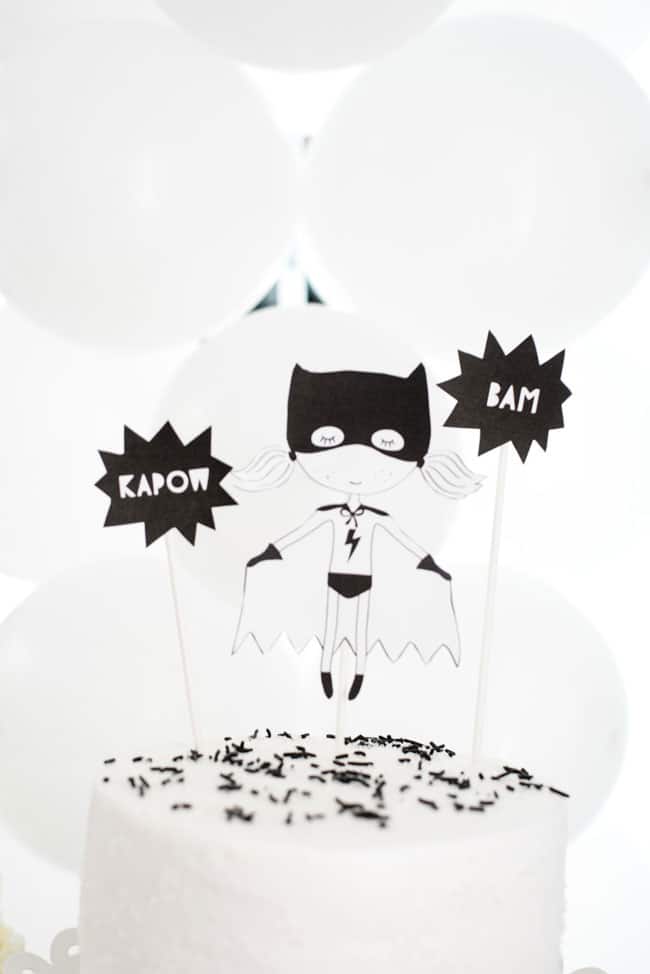 Believe it or not, this cute superhero girl cake was simply from the supermarket! Mom created toppers using prints she downloaded from the Etsy shop, Little Print Shop UK! They created so many wonderful items that were used as superhero girl party supplies!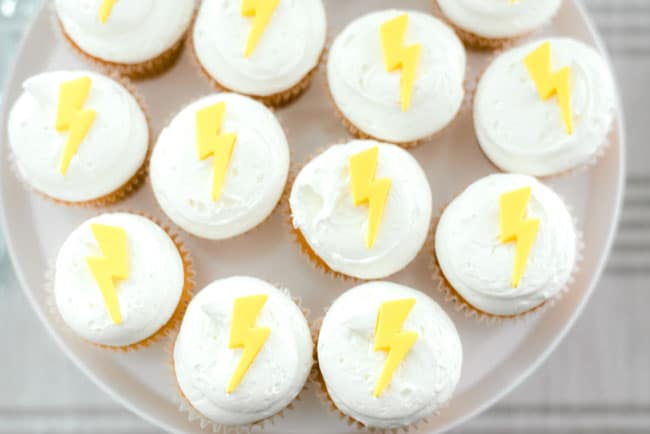 These cute cupcakes were also from the supermarket, which were adorned with toppers mom purchased at the craft store. We love all of the great DIY Girl Superhero party ideas that were used to create this amazing birthday party! What a lucky little girl!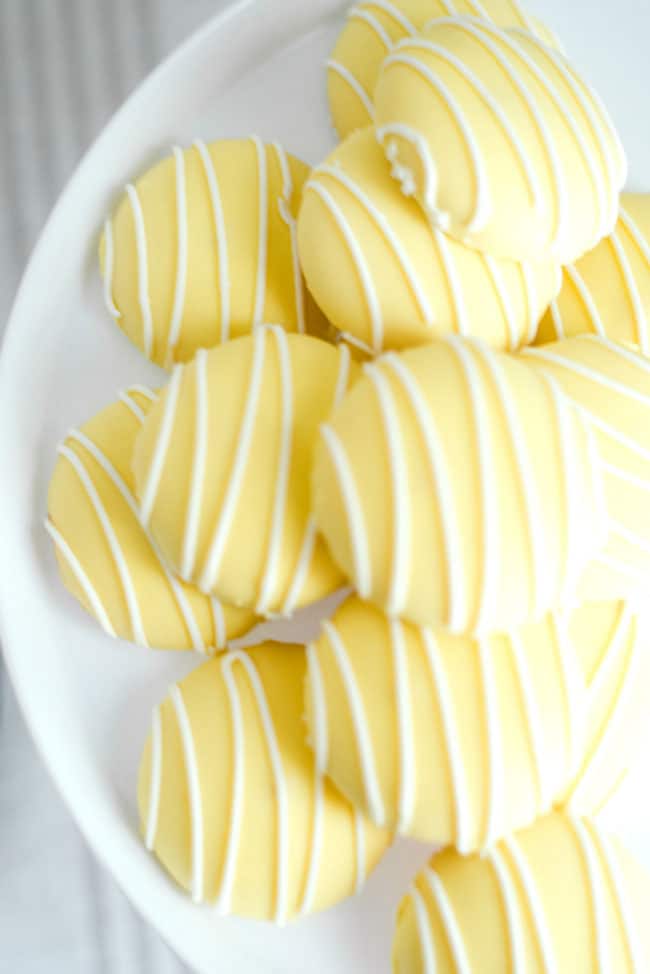 Yum! These fun cookies were a great addition, with the pop of yellow color looking great by the yellow flowers that were placed on the desert table. How fun!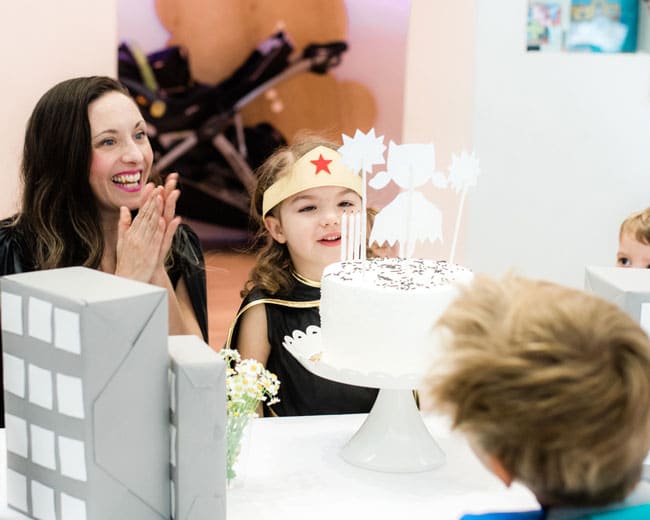 Pretty soon it was time for the candles to be blown out, but it was even more special with the real Batgirl by the birthday girl's side! What an amazing surprise that was an absolute hit at the supergirl birthday party. What could get better than having a real, live superhero there?!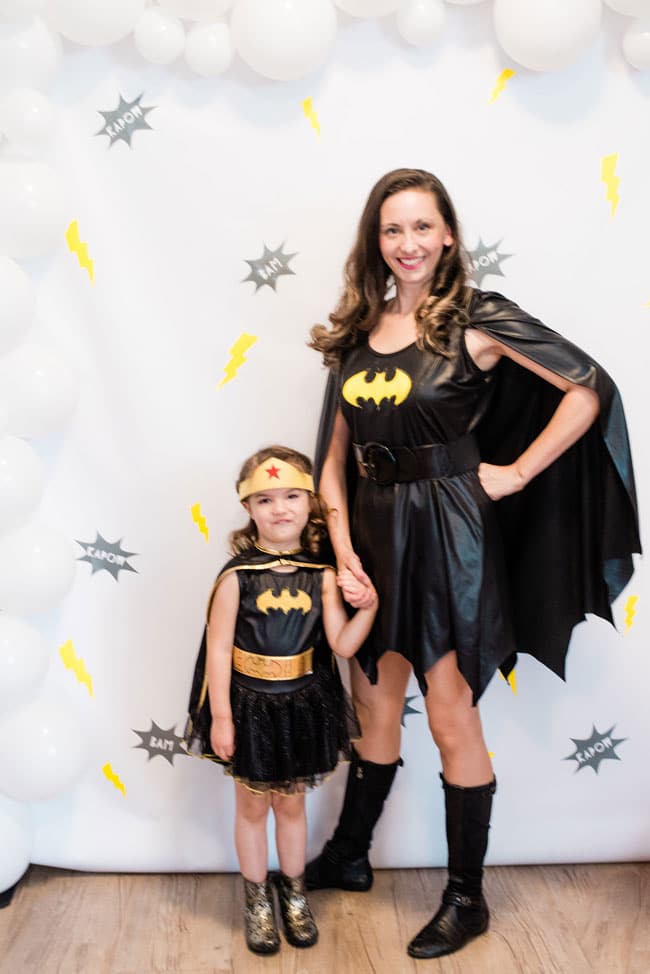 The birthday girl loved dressing up in her "Wonder Woman Batgirl" costume, with Batgirl making a special appearance to be right by her side.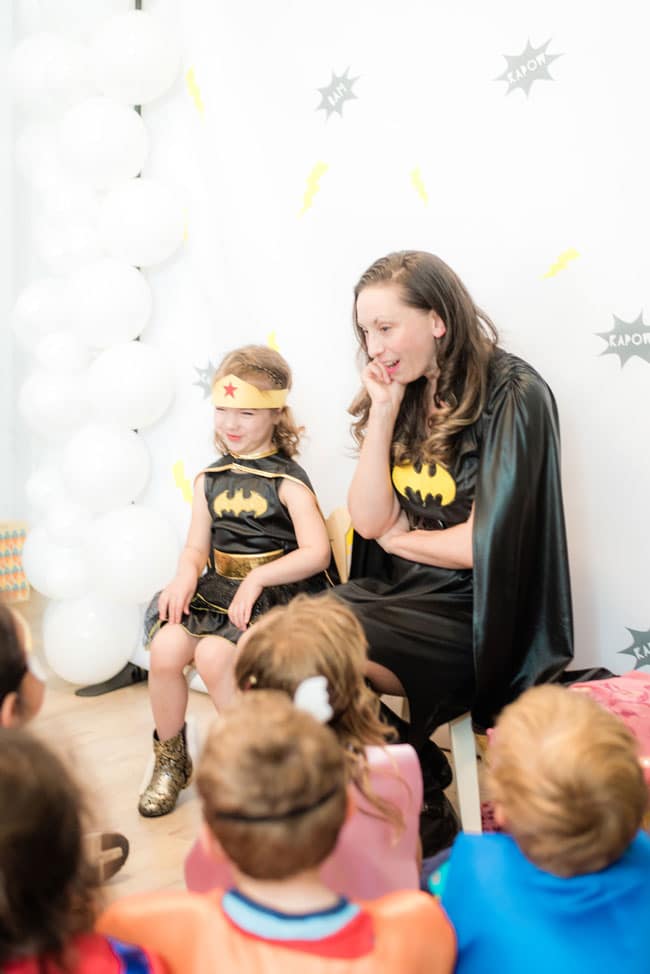 The kids were enthralled with all things Batgirl as she sat down to have a conversation with them about superheroes and birthdays! Just look at how proud that sweet birthday girl is to have her very own superhero by her side for her supergirl birthday party!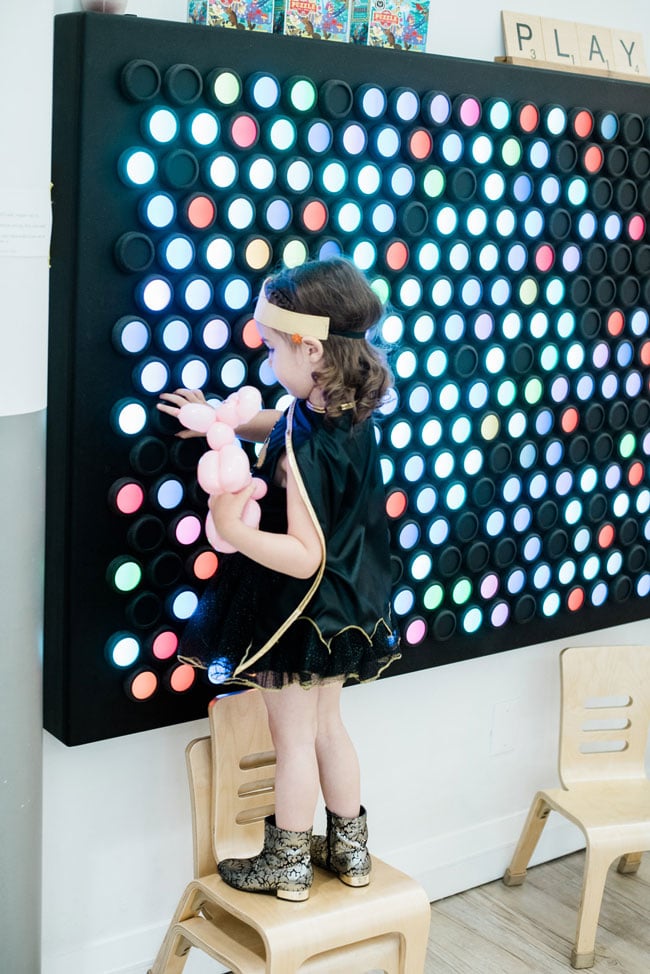 Fun games were available for the birthday guests to play with, as well. It was quite an eventful afternoon with many adventures that were fit for superheroes of any age!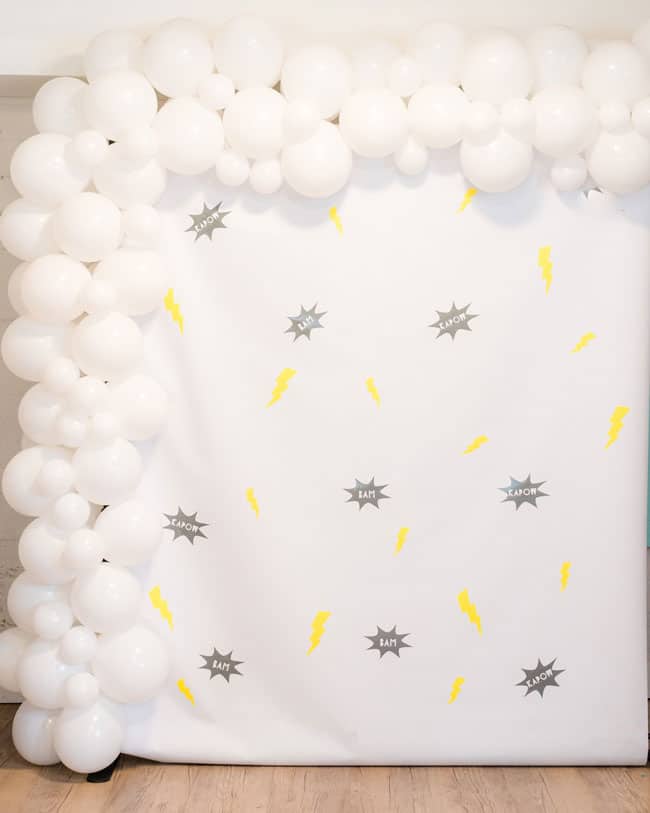 The incredible balloon and vinyl backdrop for pictures was created by Fun and Confetti, who did such an amazing job! What a perfect place for all of the birthday guests to take all of those special photos that will be treasured for a lifetime! It added the perfect touch to all of the party decor that was used around the Girl Superhero Party!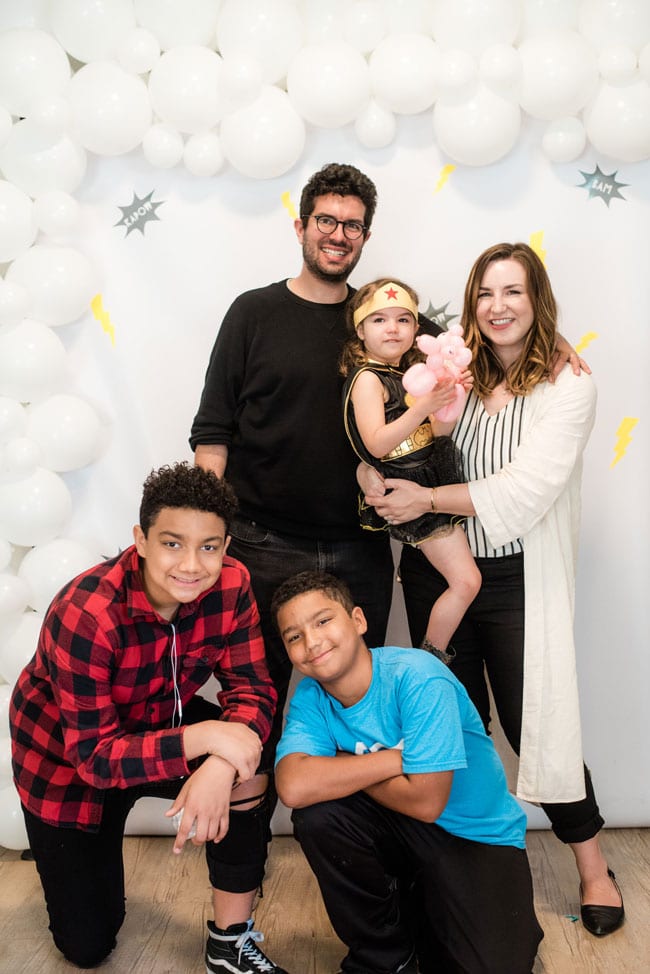 The whole family got in on the action and everyone had a blast! We love birthday parties like this where all of the siblings are as excited as the birthday girl or boy! After all, older siblings are just like superheroes to their little siblings, especially little sisters!
Nothing is better than turning four and this little superhero girl birthday party was a hit with kids and adults, alike! How could you not absolutely love being visited by big superheroes and playing with your awesome friends all afternoon?! This theme was a big hit and we absolutely adore it for a girls birthday party!
Vendors & Credits