Spirit Horse Themed Birthday Party
Everyone will be horsing around at this pink and blue Spirit Riding Free Birthday Party!
If your little one is a fan of Lucky and Spirit in Netflix's Spirit Riding Free, they will absolutely LOVE this Spirit Horse Themed Birthday Party! This adorable horse-themed party features the best Spirit horse party decorations, balloons, party supplies, tableware, party favors, food, DIY ideas, and much more! Tara from Spot of Tea Designs styled this super adorable party and you can easily follow her lead and throw your little girl the horse party of her dreams. Also, check out the tutorial on how to make your very own DIY Horse Shoe Party Backdrop HERE.
For anyone who loves horses, this girly Spirit Riding Free Party Theme is the perfect way to celebrate a birthday. Keep the kids entertained by having a pony decorating station, pin the tail on the pony, pony cookie decorating, coloring station, and more. Fun horse themed party games and activities will have all of the kids busy for a fun-filled afternoon at your horse themed birthday party.
Spirit Horse Themed Party Ideas
Adorable Spirit Riding Free birthday invitations
Large blue horseshoe backdrop with birthday girl's new age and name banner
Pink tissue paper tassel banner
Large horse balloon
Horse toy decorations
Spirit Riding Free table cover
Spirit Riding Free party plates, cups, napkins and party hats
DIY horse cupcakes using Nutter Butter Cookies, Mini Nilla Wafer Cookies and icing
Horse lollipops
DIY lollipop display
Pink and blue party desserts
Pony decorating station for the kids
Spirit Riding Free themed party favors: stickers, bracelets and tattoos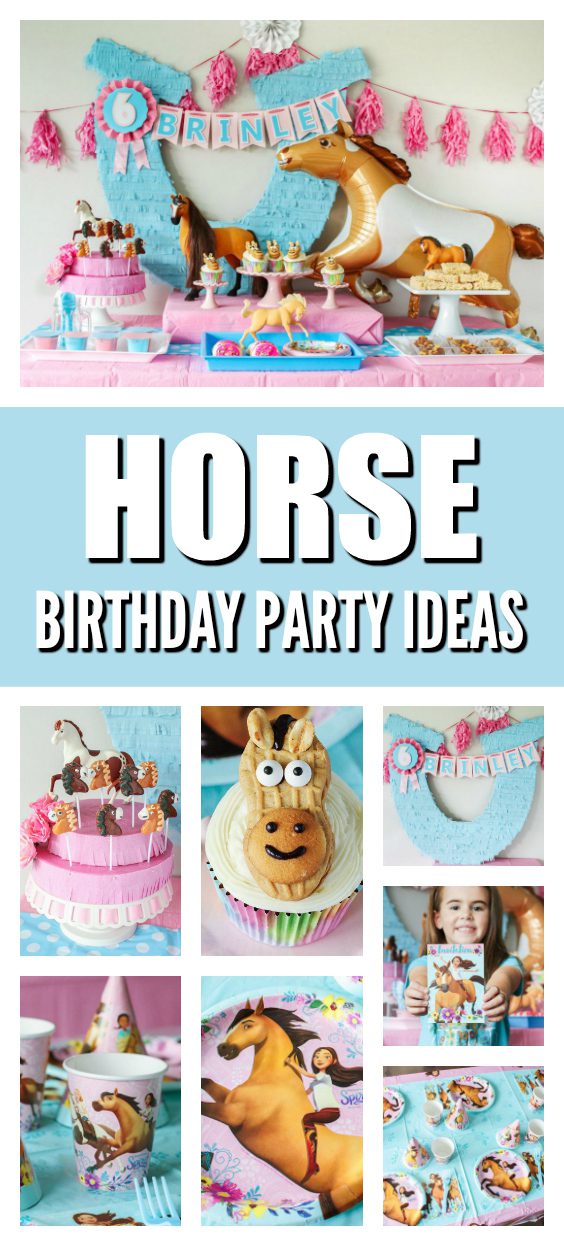 Horse Themed Birthday Party Supplies and Decorations:
See more horse themed birthday parties here:
What a fun party for any horse-loving girl! If your little girl loves horses, consider a horse themed birthday party like this one inspired by Spirit Riding Free. Add pink and blue party decorations like this party or change it up based on your little one's favorite colors.
Our favorite details are the DIY horseshoe backdrop and the adorable DIY horse Nutter Butter cupcakes! What's your favorite details in this Spirit Horse Themed Birthday Party? Let us know in the comments below!
For more birthday party ideas for girls, follow us on Instagram @prettymyparty and Pinterest and join us in our private Facebook group.
Party Vendors
Party Styling and DIY Decor and Food: Tara from Spot of Tea Designs
Party Supplies and Decorations: Birthday In A Box