Enchanted Fairy 1st Birthday Party
An Enchanted Fairy 1st Birthday Party is the perfect way to celebrate your little girl's milestone!
This Enchanted Fairy 1st Birthday Party from Partylicious of Sri Lanka is as sweet as a pleasant dream!
Every little girl dreams of having a Fairy Birthday Party at some point and while this 1st birthday girl probably won't remember all of the details, she is going to have the most amazing pictures to look back on for an entire lifetime!
What a whimsical way to spend a first birthday with family and loved ones!
Fairy Party Ideas
Customized Dessert Table Backdrop With Gorgeous Florals and Gold Fairy and Star Decorations
Gorgeous Pink and Gold Fairy Birthday Cake
Pretty Pink and Gold Desserts Including Cupcakes, Cookies, Chocolate Covered Oreos, Cake Popsicles, and MORE!
Glittery Gold Table Cover and Pink Tulle Chair Covers With Gold Glitter Stars
ONE Table For Party Favors
Lighted Marquee Letter Decorations
Gold Dessert Table and Pedestals
Beautiful Gold Cake and Dessert Stands Adorned With Crystals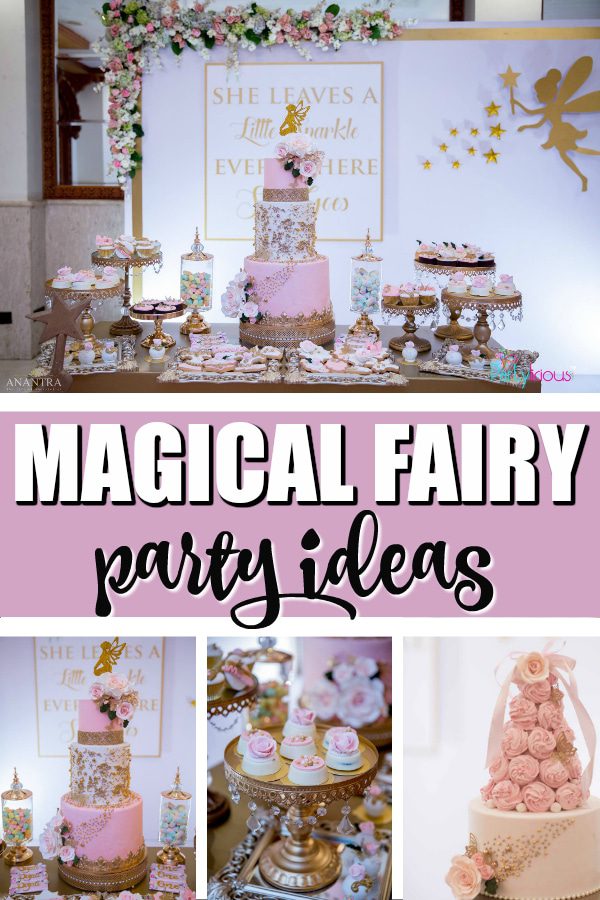 Fairy Party Supplies and Decorations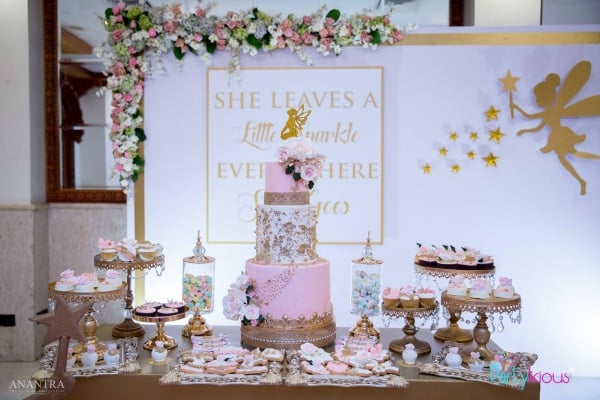 This Garden Fairy Party Theme is absolutely exquisite. Just look at this amazing dessert table that everyone couldn't help but admire from the second they walked into the Fairy Birthday Party!
All of the details and dessert food that was available had everyone's mouth watering. It looks like it was sprinkled with the perfect amount of Fairy Dust!
Partylicious did an amazing job with the concept, designing, planning and styling.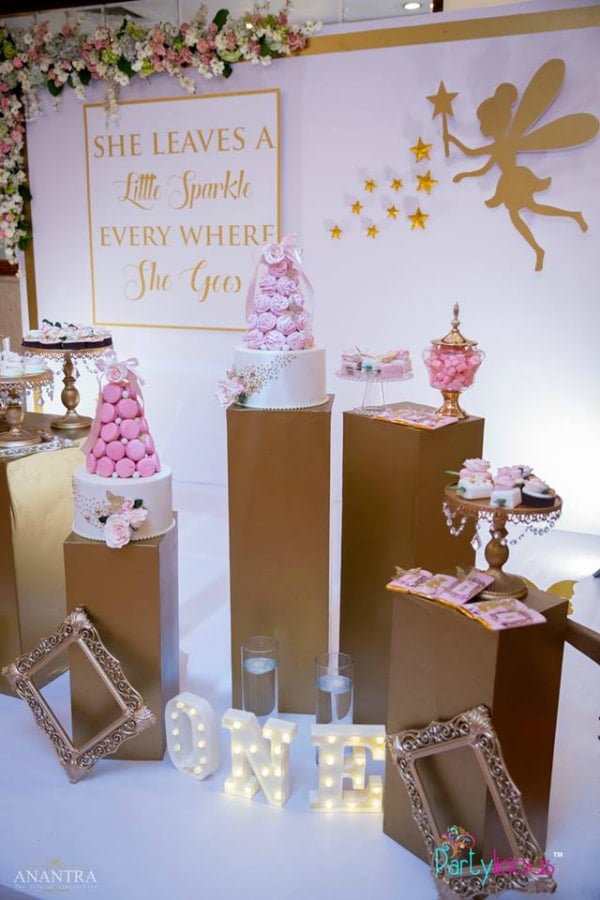 This gorgeous Pink Fairy backdrop is breathtaking and is sure to make any birthday girl feel like a fairy princess!
With the pink, white and lighted backgrounds and Fairy Party Decorations, it looks like a dream! And we can't forget the gorgeous golden Tinkerbell that is sparkling her fairy dust all over this fun party.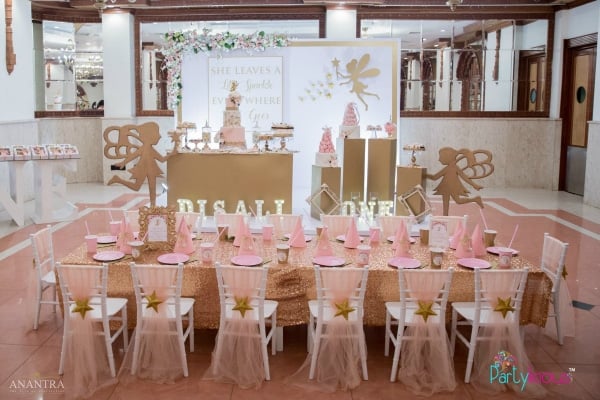 Nothing was left out of this event, even these gorgeous pink chair covers. We just love the sheer nature of the fabric, which truly feels like a whimsical enchanted garden.
The chairs were also decorated with glittery gold stars which all of the girls loved!
Who wouldn't love to be a part of this incredible Fairy Birthday Party?!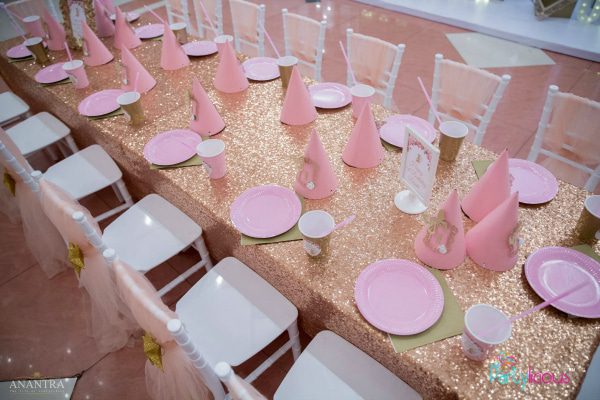 All of the guests got to enjoy a perfect Fairy Party Menu, which included fun Fairy Party Supplies like party hats that were embellished with Fairy Party Decorations! We also are in love with this sparkling gold tablecloth! What a fun table!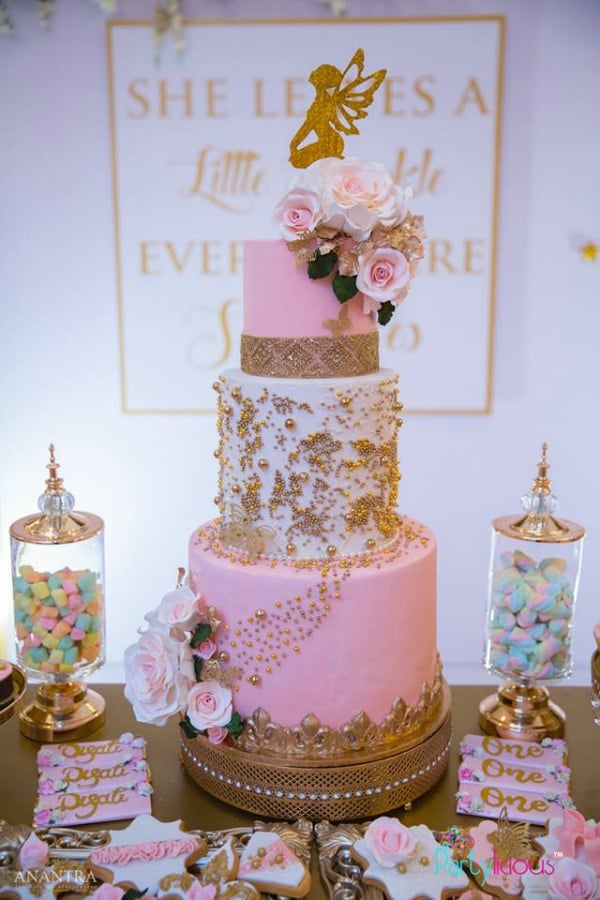 Look at this magical Fairy Birthday Party cake! From the top to the bottom, it was full of magic and fairy dust.
We love the beautiful flowers that were painstakingly created from frosting that look completely life like!
And all of the gold accents on the pink cake are the perfect addition.
From the gold crown decor on the bottom of the cake, to the gorgeous gold fairy that adorned the top of the cake, it couldn't have been any better!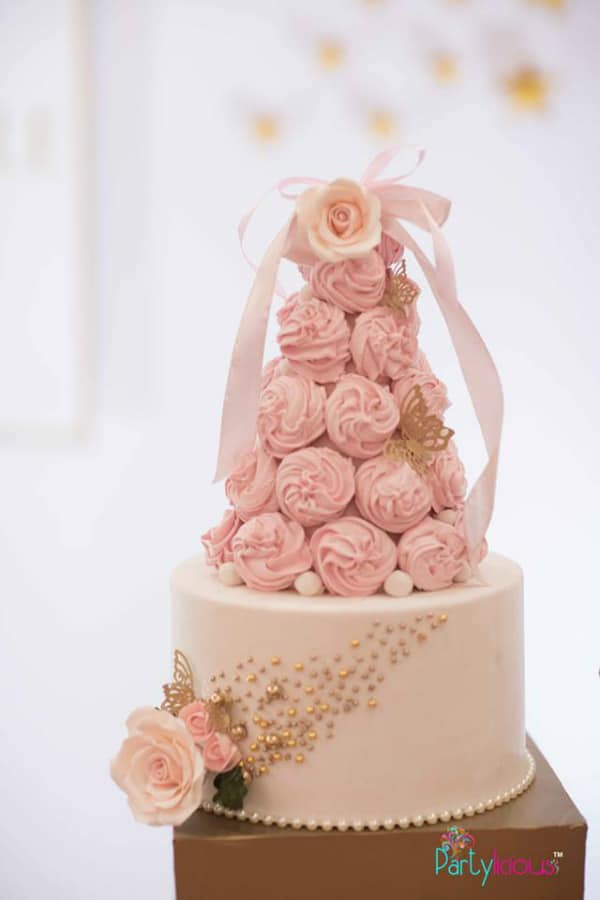 Additional cakes were found at the Fairy Birthday Party, as well.
This Pink Fairy 1st Birthday Cake is exquisite with Fairies and butterflies, along with gold decor strategically placed in the perfect spots.
The Fairy Party Food doesn't get much better than this!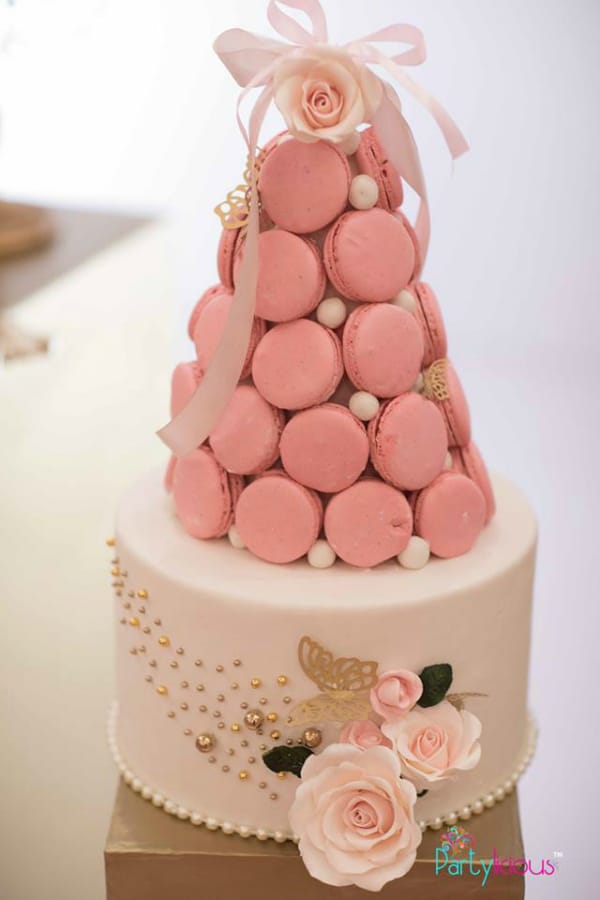 Yet another Enchanted Fairy Birthday Party was created for all of the guests to enjoy. We love this one, as it was adorned with macaroons, as well!
It was double the enjoyment and these additional cakes were amazing Fairy Party Ideas!
The pink and gold theme was found everywhere throughout the Fairy Themed Birthday Party and we just can't get enough of it.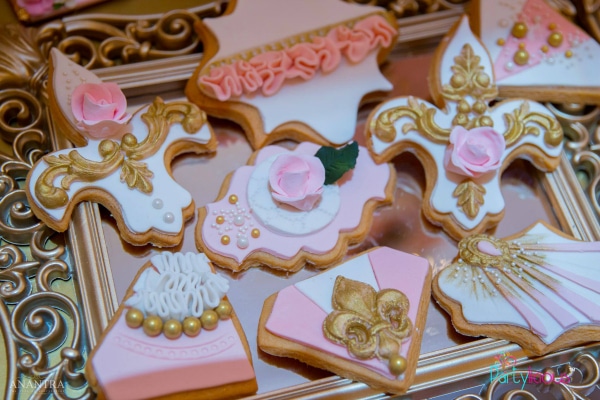 The detail that was created in all of the fairy cookies that were found in this Garden Fairy Party Theme is absolutely unbelievable! Just look at how all of the colors come together perfectly.
All of the desserts were so breathtaking it was almost too bad that they were going to get eaten up! But, who could resist?!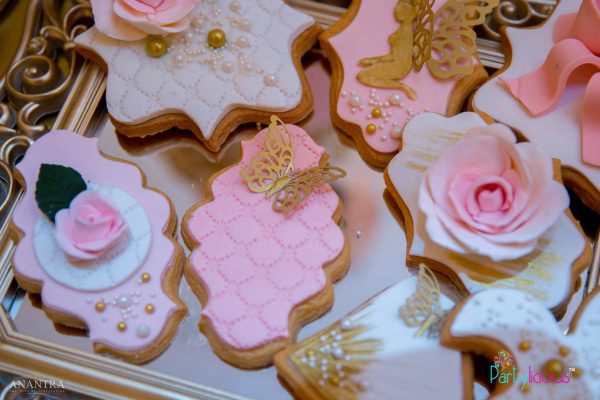 More gorgeous Fairy Birthday Party cookies were available, with golden Fairies and butterflies found resting on various cookies. Tinkerbell would be proud!
The detail that was implemented with this amazing fairy dessert was absolutely gorgeous.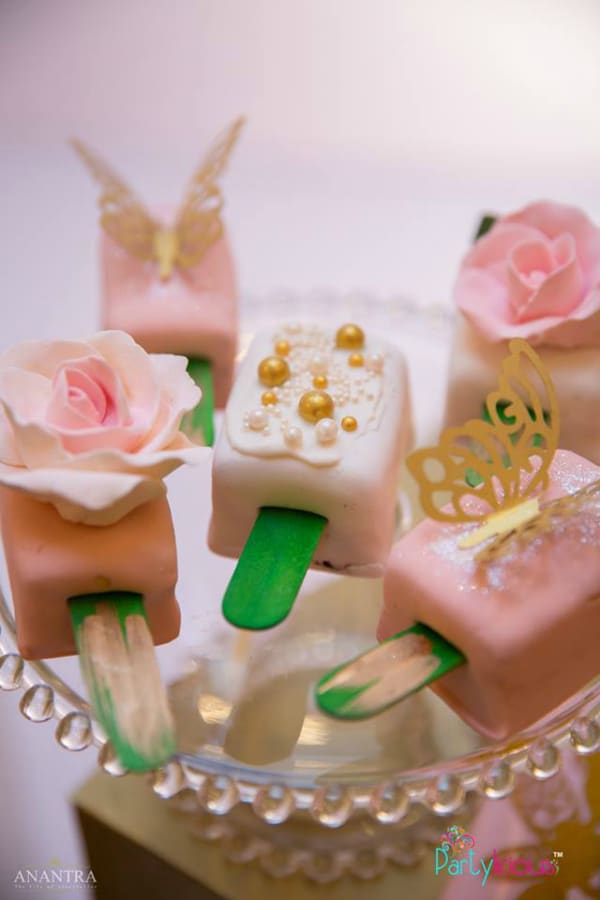 How fun are these delicious Enchanted Fairy 1st Birthday Party desserts?!
We love how the popsicle sticks are used to serve the desserts, but especially how the sticks are given a green hue, similar to what you may find in a fairy garden.
What a great way to break up the pink and gold theme, while creating the perfect dessert for the occasion!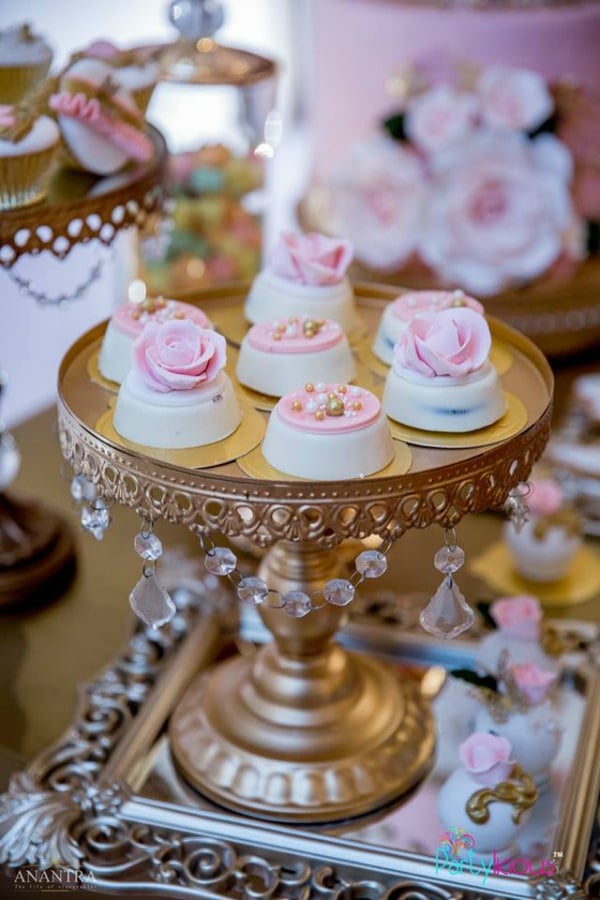 Who doesn't love chocolate covered Oreos? We sure do, but we love them even more when they are decorated as beautifully as these!
Gorgeous pink flowers adorned most of the Oreos, while other pink and gold decorations were found on others.
There was also a great gold cake stand that was used for holding the desserts with sparkly crystals found on the stand, as well.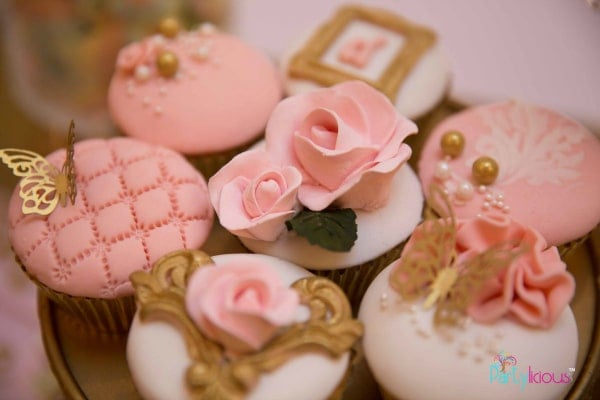 What would a Fairy Birthday Party be without some delicious cupcakes?! These magical fairy party cupcakes were seriously on-point with the way that they were decorated.
Like the additional desserts that are found around the Fairy Themed Party, all of the details were gorgeous with pink and gold accents.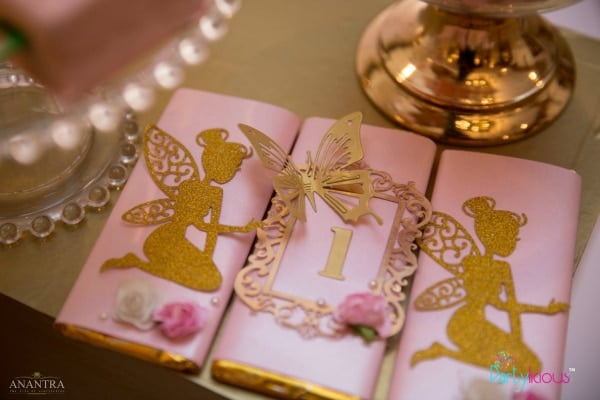 A Fairy Party Menu wouldn't be complete without fairy chocolate bars that were used as Fairy Party Favors!
We love the golden Tinkerbell silhouettes that are found on the candy bars, which will remind everyone of the great Fairy Birthday Party they were at for this sweet little birthday girl!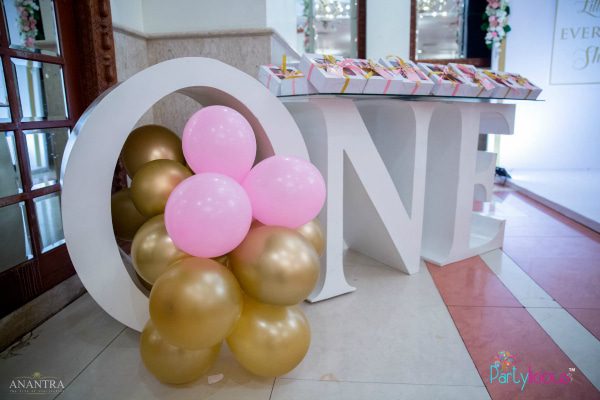 Additional Fairy Party Decorations were found around this Enchanted Garden, including these fun pink and gold balloons.
We love the big letters that were used for the birthday girl's age, as well. What great Fairy Party Ideas that were found around the 1st birthday celebration.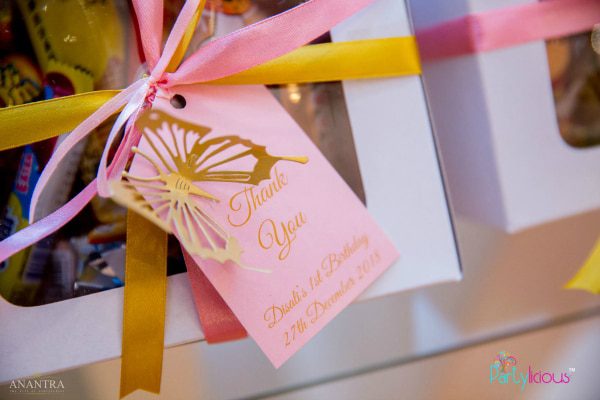 Fairy Party Favors were found on the ONE table for the party guests, which included yummy boxes full of candy.
What adorable fairy party tags that were used to thank everyone for attending the celebration, as well. And of course, gold butterflies were found all over the party favor area!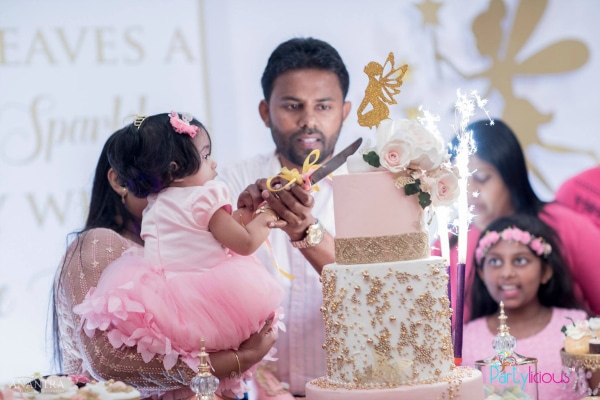 Look at this gorgeous Fairy Party Dress that the birthday girl is wearing. We just can't get enough of the cuteness in this pink fairy celebration!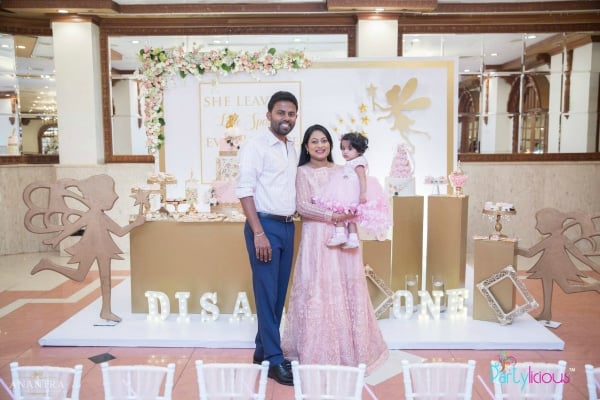 This Fairy Birthday Party is a once in a lifetime event that the guests will remember for years to come!
We can't get over how gorgeous the pictures are for this Fairy Themed Party, so we can only imagine how impressive it was in person! Happy birthday!
Vendors & Credits
Event Concept, Designing, Planning and Styling: Partylicious – Sanu Vitanach
Cake Structure: Melshika Weerasinghe
Chocolate Wrappers, Hats and Tags: Shaziya Kamil
Event Photography: Anantra
What's your favorite detail in this Enchanted Fairy 1st Birthday Party? Let us know in the comments below!
For more party ideas, follow us on Instagram @prettymyparty and Pinterest and join us in our private Facebook group
Shop these Fairy Party Supplies:
(Amazon affiliate)