A gorgeous Boho Chic Baby Shower is the thing of dreams when you're preparing to welcome your little one. What an amazing event!
This beautiful Boho Chic Baby Shower from Fairweather Photography of the UK was a styled photo shoot that brought together some amazing industry professionals.
The group wanted to put together a baby shower party that would provide mothers-to-be with beautiful, original and unique inspiration for a Boho Chic Baby Shower. And they did an incredible job!
The entire shoot was put together by wedding and baby specialists, along with event styling professionals who wanted to create a luxurious, unique and beautiful baby shower party that is full of ideas and styling inspiration. We think they hit the mark perfectly!
Boho Chic Baby Shower Ideas
Wooden Oh Baby Sign
Jeweled and Glitter Makeup
Mint Green, White and Peach Balloon Garland Over the Cake Table
Beautiful Cake Table With A Gold Cake Sign
Vintage White Tables
Gold Hula Hoop Wreath Greenery Decor and Gold Cake Sign
Three-Tiered Pastel Watercolor Baby Shower Cake
Another Three Tiered Cake With Gold Design on Second Layer and Greenery Decor
Fabric Streamer Photo Backdrop With Flowers and Greenery and a Gold Hello Baby Sign
Blue Wicker Chair For the Momma-To-Be
White, Gold and Sliver Balloon Garland Decoration on Wicker Room Divider
Large Gold Hula Hoop Wreath With White Dream Catcher Decorations
A Beautiful Grazing Station
Boho Chic Baby Shower Decorations
Check out these Boho Chic Parties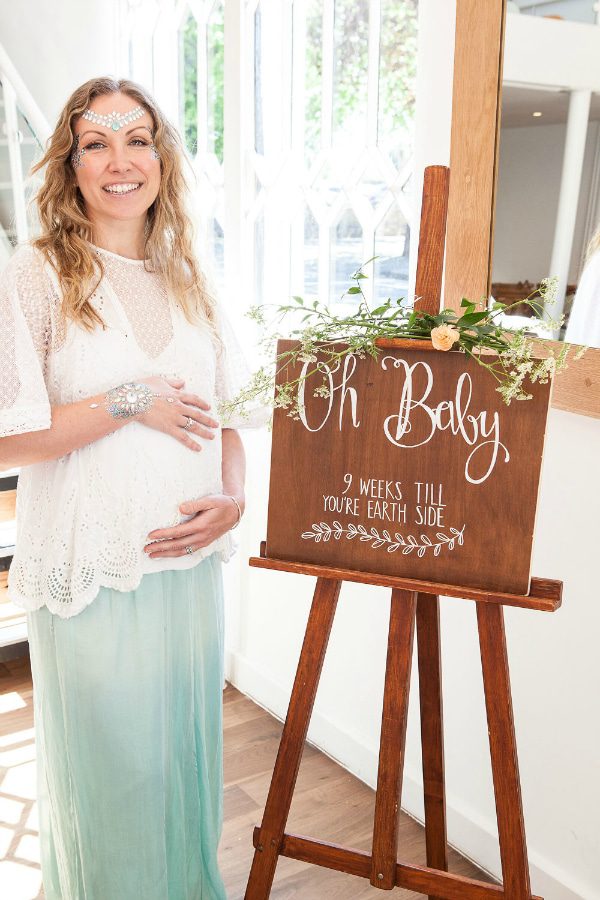 When it comes time to incorporating all of the elements guests and hosts of a Boho Chic Baby Shower would want,
Fairweather Photography
got it all right with this concept!
Two
corners were originally set up, including a mint and peach area with a beautiful peacock chair, ribbon backdrop and a cake corner.
On the mezzanine area of The Old Parish Rooms, there was a boho green and gold area, with cake table, grazing table and a giant hoop backdrop. Everything was absolutely lovely!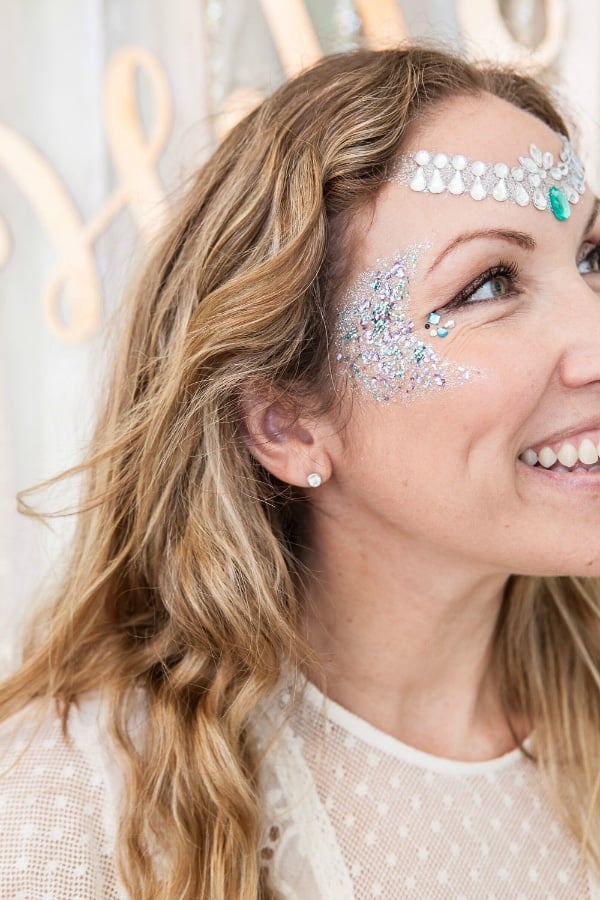 We love the bohemian chic vibe that our mom-to-be was sporting, including the fun glitter make-up and jewels, which was provided by Luna Glitter Bar. What a fun addition to this Baby Shower Theme!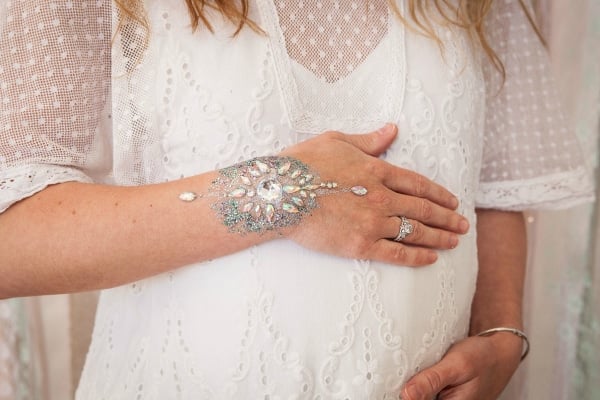 Sweet Boho Baby Shower Ideas were found sprinkled all around this event that would be wonderful at any Baby Shower Theme. We love the dress that Mom was wearing, as well, which kept things bohemian chic.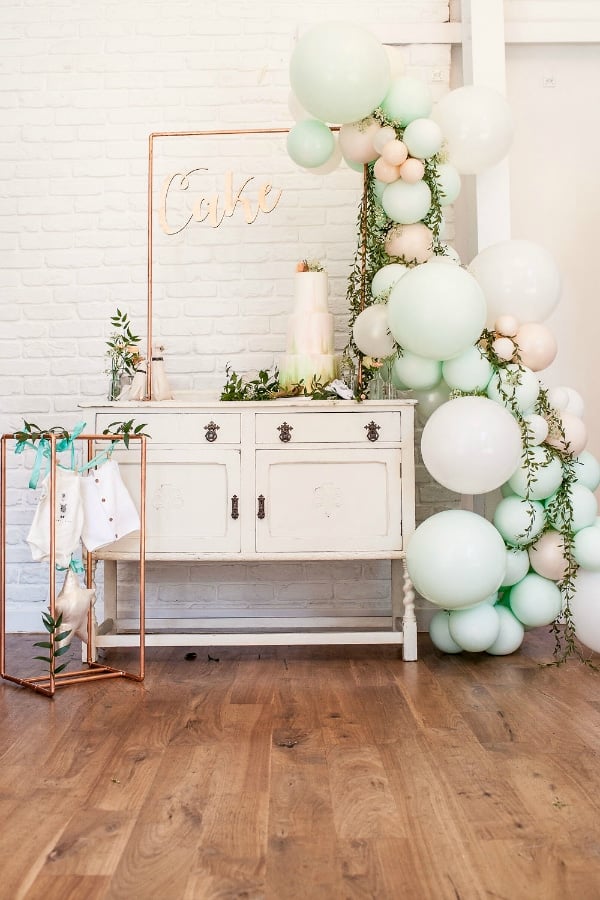 Rock The Day Styling seemed like the ideal partner and everything around the event turned out gorgeous!
They handmade most of their Boho Baby Shower Decorations and also had a huge stock of carefully sourced vintage and boho props.
We just love the backdrops they used, which worked with the theme perfectly. And how about the amazing balloon arches and balloon decorations provided by Fable & Moon. They are so whimsical!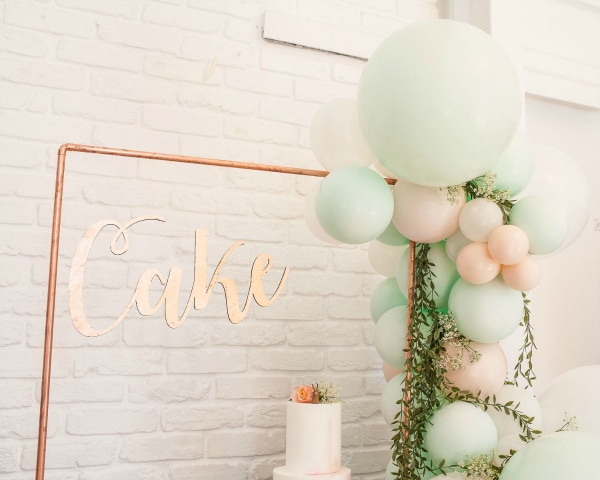 A 3-tiered cake, beautiful gifts, such as handmade children's soft toys and baby clothes, along with gorgeous backdrops and decor made everything about this Boho Chic Baby Shower dreamy!
The greenery that was wrapped around the balloon arches was such a beautiful addition.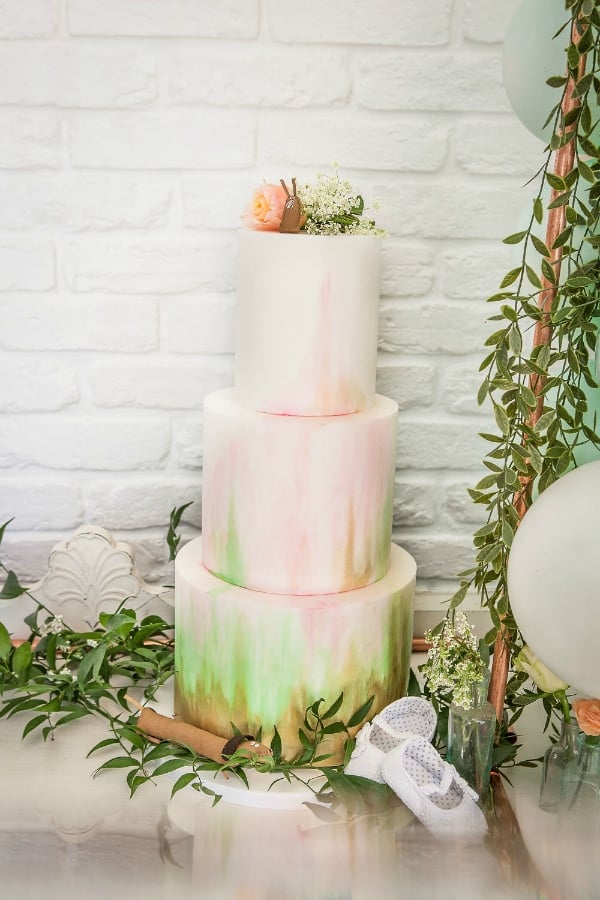 The gorgeous pastel watercolor cake was provided by Cookie Delicious. What a wonderful centerpiece for the Boho Baby Shower Dessert Table.
It's perfect and we love how the greenery surrounds it with the baby shoes right on the bottom. Gorgeous!
Tables and backdrops were decorated with florals, greenery and stunning balloon arches, which are the perfect location for people to take pictures and get a photo with the beautiful mom-to-be.
This would be a great DIY Boho Baby Shower Idea, as well! So whimsical and romantic!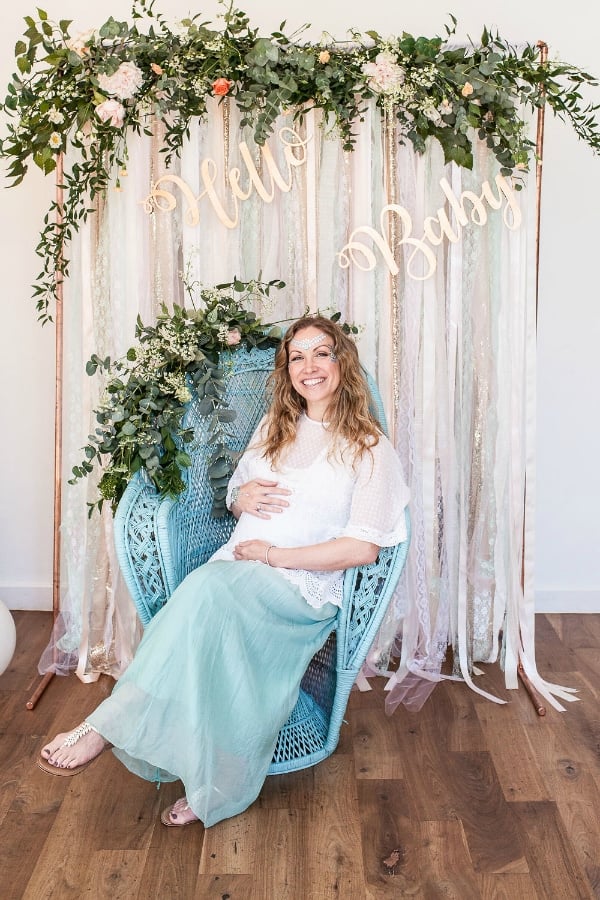 The mother-to-be model was following the boho feel and style of the day and Luna Glitter Bar dressed her in goddess-like glitter make up.
This is such a fun activity that would be so perfect for parties and generally well-received by the host and guests.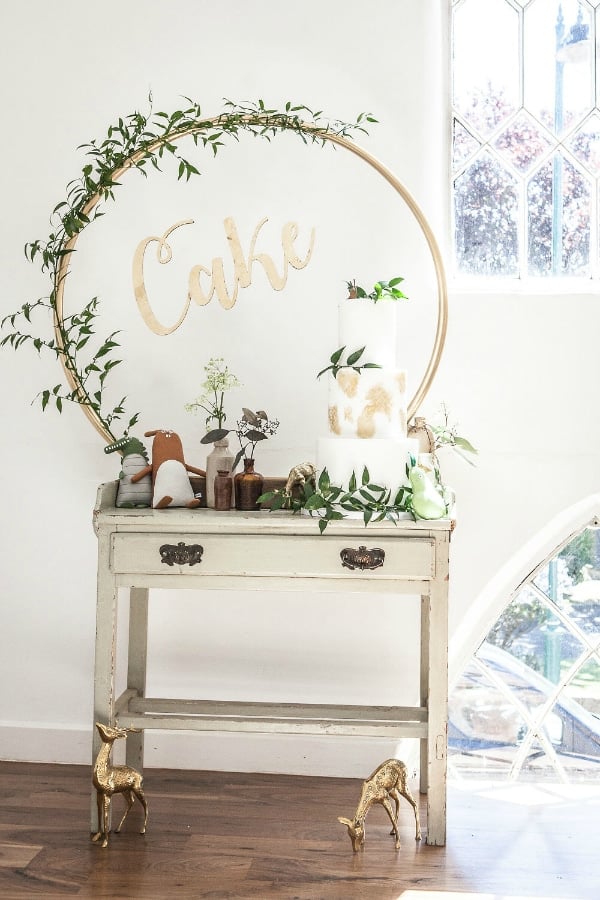 This Boho Baby Shower Dessert Table is minimalistic and gorgeous, with a wonderful cake and sweet baby toy decorations.
We love how the hoop and gold accessories add a bit of glam to the Boho Chic Baby Shower. It's the perfect backdrop!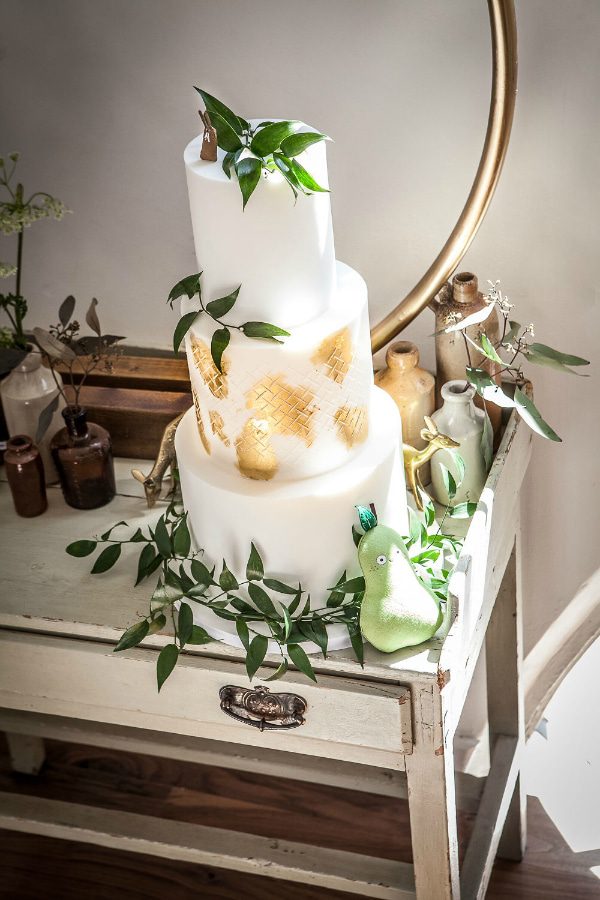 A second Bohemian Baby Shower cake was created, which was just as stunning. We love magnificent 3-tier cake creations that are so glamorous, yet simple. And the white rustic table that was used for the cake was the perfect addition to add to the shabby chic vibe of the event.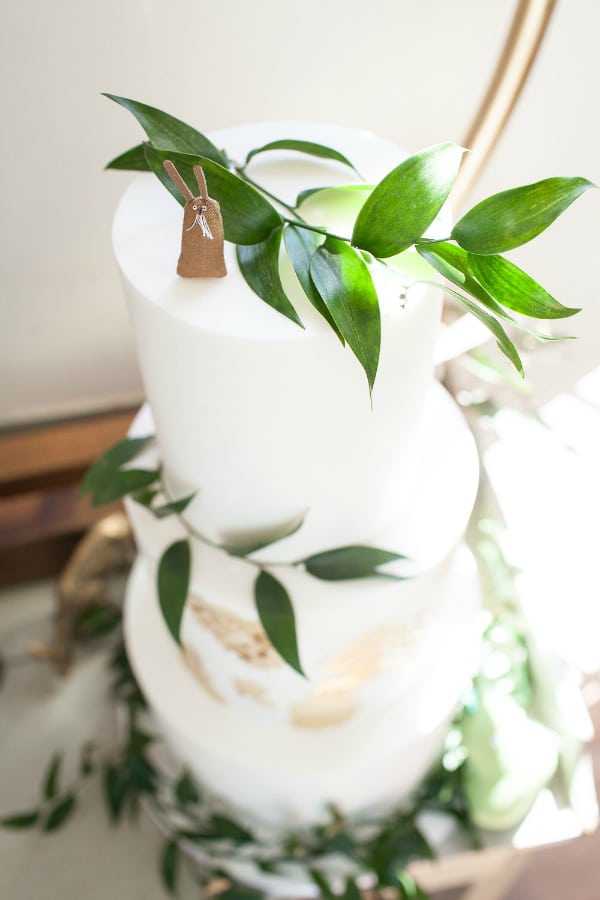 How adorable, yet simple, is this sweet Boho Baby Shower Cake Topper?! These little handmade baby toys are just the cutest things ever!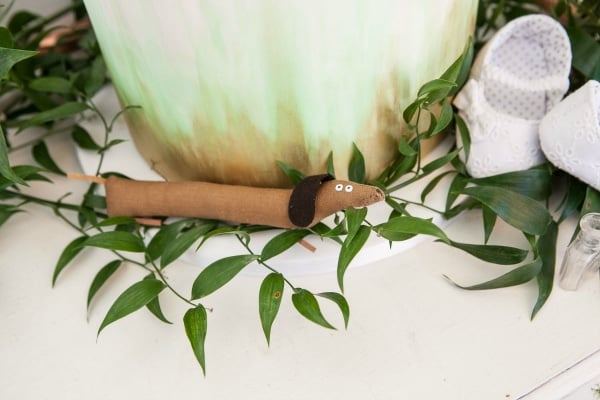 All of the Baby Shower Decorations were perfectly laid out for this sweet Boho Chic Baby Shower.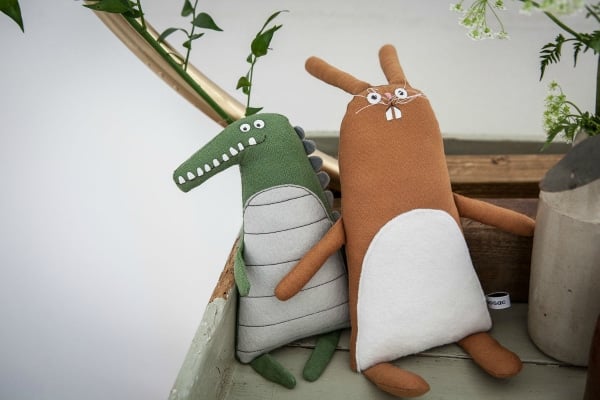 These two cuties had front and center access to everything that was going on during the styled shoot for this Boho Baby Shower!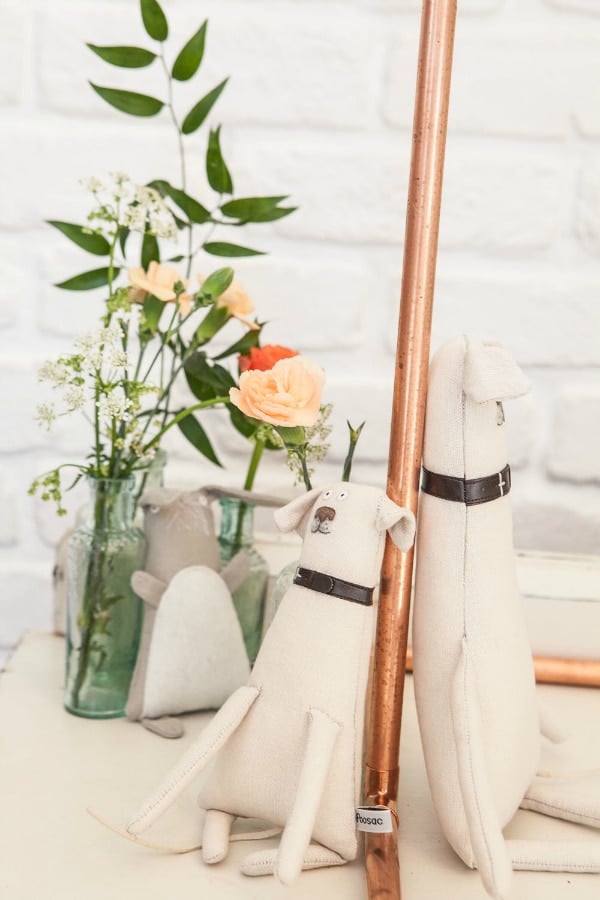 How can you beat this sweet Baby Shower Decor? It feels like you're walking into a baby's room with the best styling around!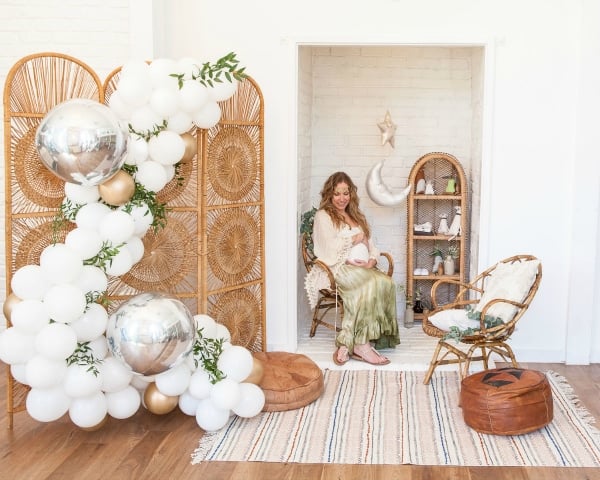 The Boho Chic Baby Shower also incorporated a 'baby corner' with vintage bamboo chairs, nursery shelves and room divider.
What an amazing concept that was brought to life perfectly! We love this bohemian chic vibe and the cascading balloons are absolutely incredible!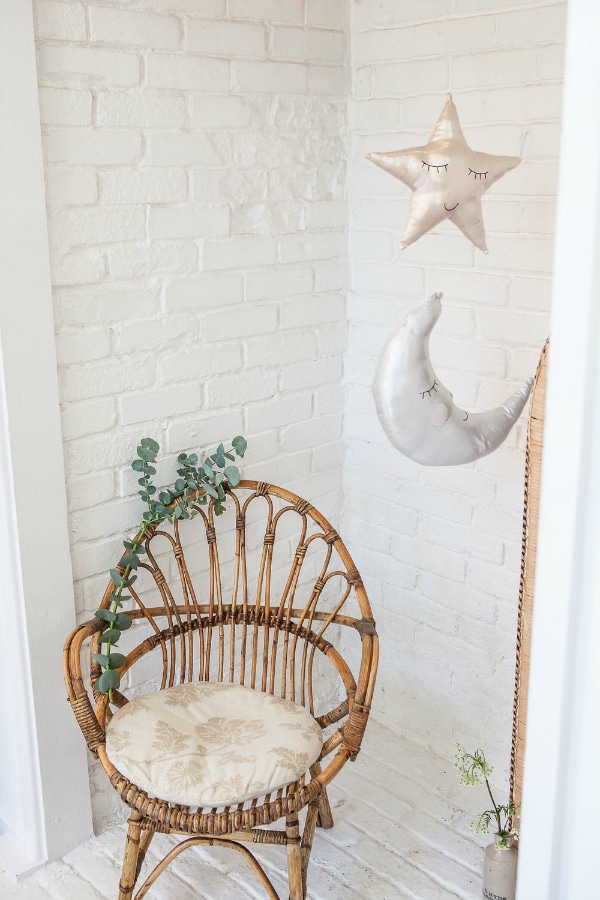 A mom-to-be would certainly be comfortable relaxing in this chair and chatting with her baby shower guests during the event. And the sweet moon and stars balloons are the perfect addition to add to the whimsical day.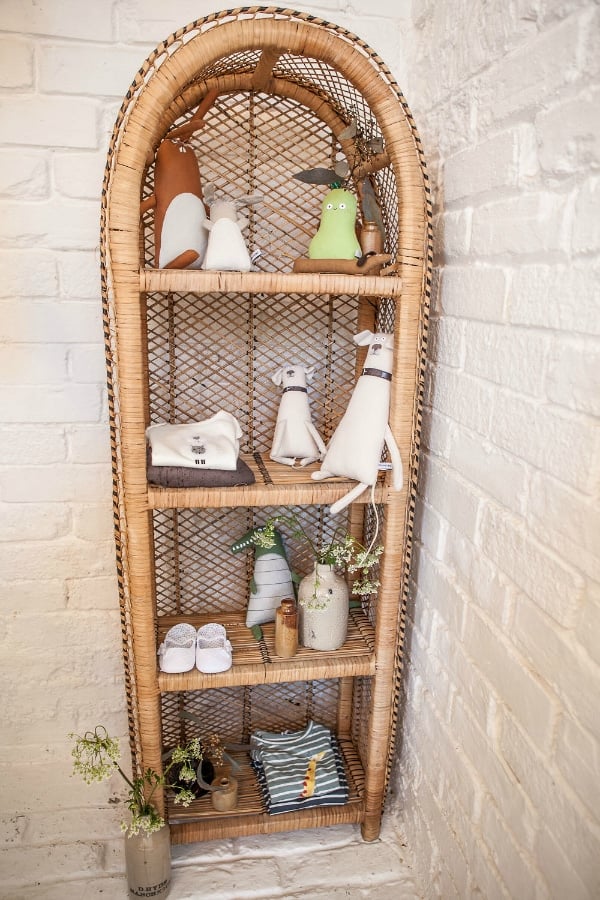 Boho Chic Baby Shower Decor was perfectly curated around the styled shoot and the wicker pieces really made it perfect. We just love it!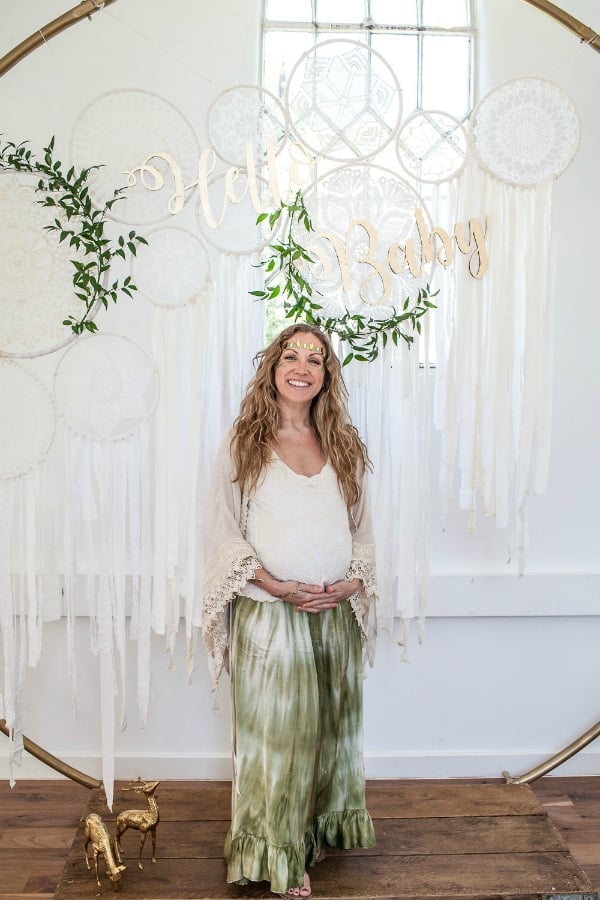 A giant hula hoop with dreamcatchers hanging from it was installed on the mezzanine, making it a perfect picture area for guests to take photos at the Bohemian Baby Shower.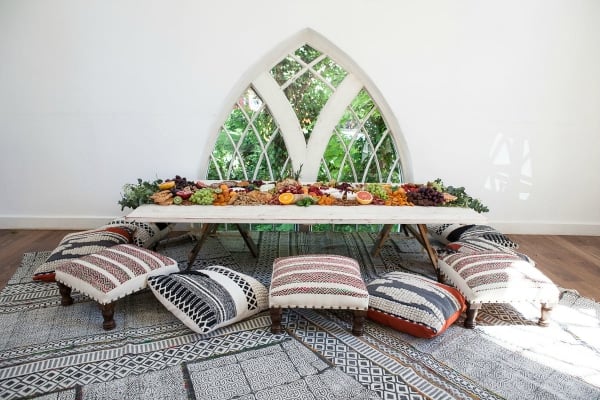 A beautiful, mouthwatering grazing table was displayed on a white distressed table placed among rugs and scattered cushions from Anthology Vintage Hire.
This set up just screams bohemian chic and is so beautiful with the colorful grazing table set against the white background and gorgeous window!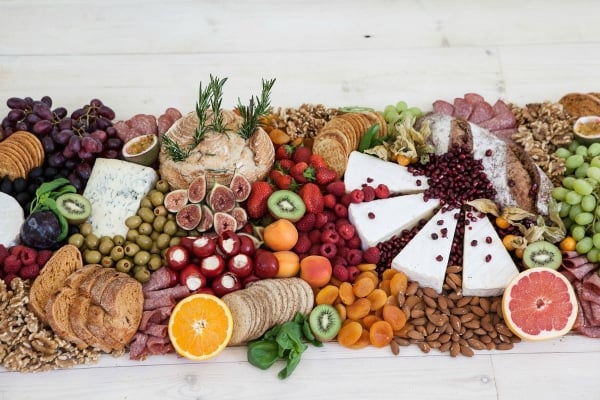 Just look at this amazing grazing table from Berry & Brie! What a great food idea for guests at an event like this, that keeps everything simple, yet completely off-the-charts! What a spread that we're sure any guest would go nuts over! It has everything!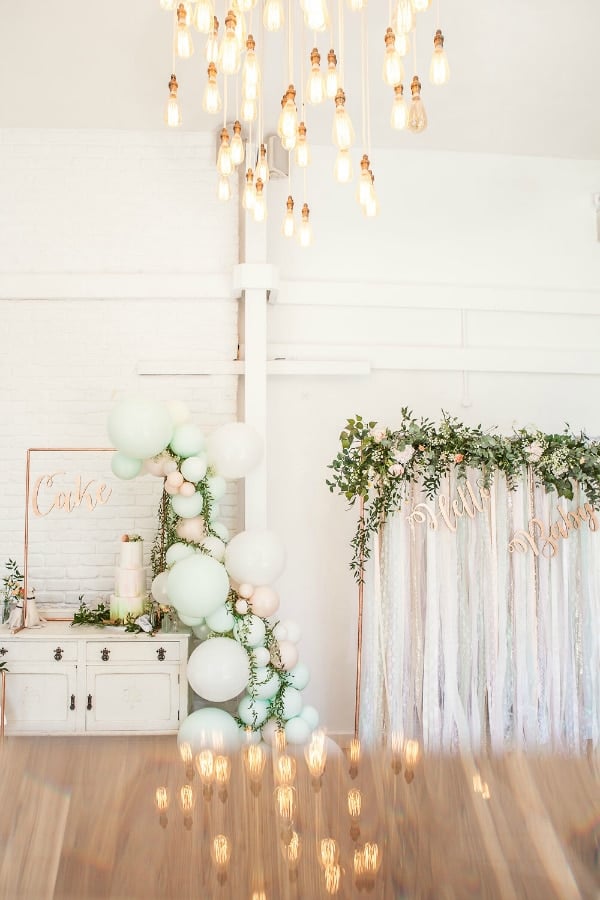 Boho Baby Shower Ideas were definitely not in short supply for this amazing event. Everything is perfectly shabby chic and the colors and styling were impeccable!
If you are looking for the perfect boho chic baby shower party ideas, this event will give you the inspiration you are looking for.
Vendors & Credits
Concept & Photography: Fairweather Photography
Planning, Flowers, Styling, Props: Rock The Day Styling
Balloon Arches & Balloon Decorations: Fable & Moon
Glitter Make-Up: Luna Glitter Bar
Grazing Table: Berry & Brie
Table & Cushions: Anthology Vintage Hire
Cake: Cookie Delicious
Venue: The Old Parish Rooms
What's your favorite details in this Boho Chic Baby Shower? Let us know in the comments below!
For more party ideas, follow us on Instagram @prettymyparty and Pinterest and join us in our private Facebook group.