A Modern Boho Baby Shower is a fun way to keep the baby's gender unknown, while celebrating with loved ones.
This Modern Boho Baby Shower was a long awaited celebration for the owners of Jonah and Lindsay Photography + Film. This couple is the epitome of future-parent goals, with constant smiles and positivity being the cornerstone of their lives. But after struggling through infertility for years, they were ready to celebrate their upcoming bundle of joy and share in the excitement of welcoming their first child.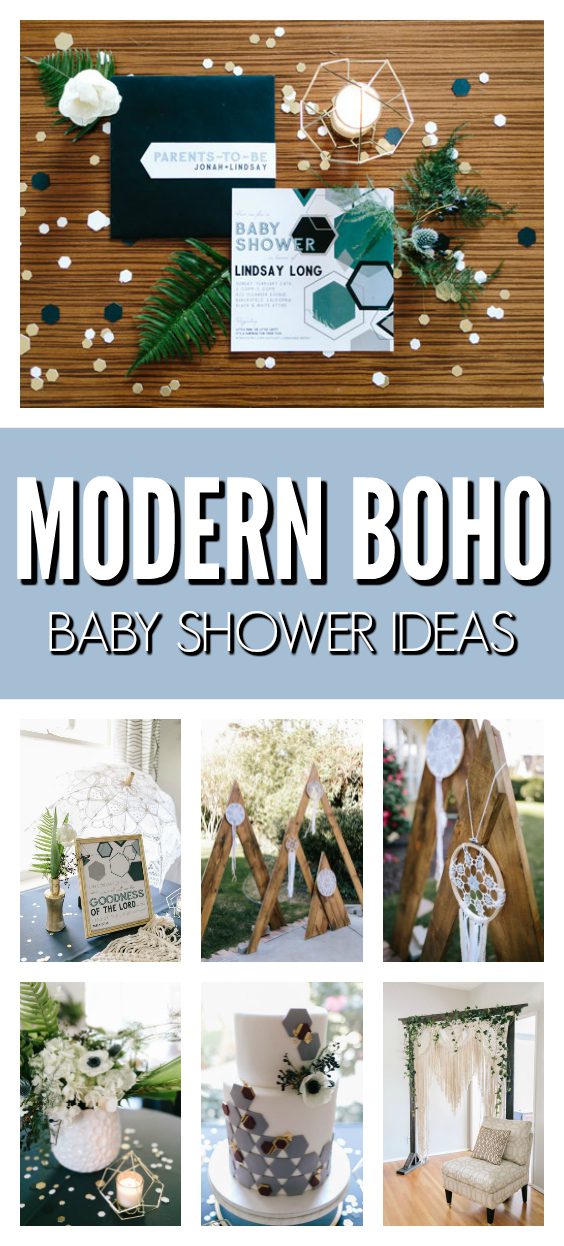 Fairy Godmother a Wedding & Event Company did a wonderful job designing this gender neutral celebration, as the parents-to-be really wanted to keep the baby's sex a surprise. That meant traditional blue and pink went out the window! Instead, they opted for a style that matched their personal likings. The mom-to-be described her style as mid-century modern, mixed with flower child. She loves neutral tones and monochromatic colors, which was a dream to style!
That meant this Modern Boho Baby Shower featured asymmetrical floral arrangements from House of Flowers Bakersfield. There were also geometric tea lights, a bohemian macrame backdrop and custom hexagon confetti. GhilaDolci Bakery also created an exquisite cake, along with other baked goods, that perfectly captured the style the couple was aiming for.
Matinae Design Studio created stunning shower invitations with the color palette of white, forest, grey, black, and gold as the focal point. The couple's favorite Bible verse was displayed throughout the shower and guests were also able to write endearing notes for the family, as well. Needless to say, this baby is already so loved!
Modern Boho Baby Shower Ideas
Gorgeous gender neutral color palette with rustic earth tones
Geometric inspired boho themed cake
Boho chic table decor and dreamcatchers found throughout the Boho Baby Shower at home
Incredible florals with asymmetrical arrangements
Beautiful shower invitations incorporating the boho theme and geometric prints
Delicious dessert table with cookies, cupcakes and other treats
Tribal inspired decor with simple earthy greenery
DIY bohemian decorations
Woodland outdoor backdrop with neutral macrame hangings
Gorgeous flowers and plants used for centerpieces
Flowing boho baby shower dress for the mom-to-be
Matching printables with quotes and inspiration found throughout the shower
Parent advice corner with cards for guests to fill out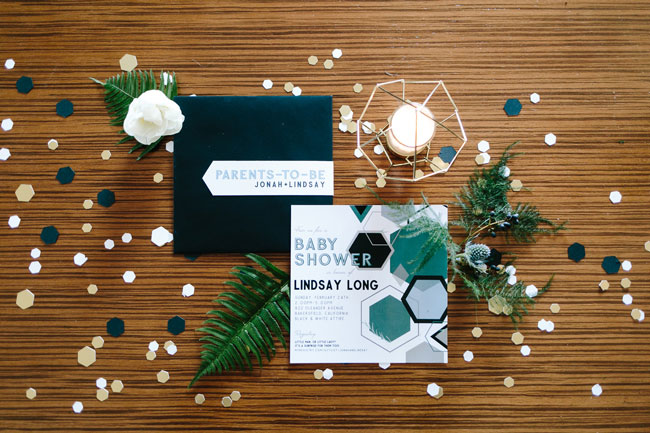 Modern Boho Baby Shower Supplies and Decorations:
See more Baby Shower ideas here:
There are so many gorgeous parts of this Modern Boho Baby Shower that we love, it's hard to pick our favorites. But the incredible cake that was created has to be one. We just love the geometric design that was used with the complementary colors and florals to set it off. What an incredible dessert table that was a beautiful focal point for the event. The color palette for the baby shower was unique and gorgeous, veering away from a traditional baby shower theme. We love it and it suits these parents-to-be perfectly!
What are your favorite details of this stunning baby shower? Let us know in the comments below!
For more baby shower ideas, follow us on Instagram @prettymyparty and Pinterest and join us in our private Facebook group.
Party Vendors
Venue: The Oleander House
Invitation Designer: Matinae Design Studio
DIY or Handmade Goods Designer: Roots Co. and Nanette Art & Design
Beauty: The Beautiful Life
Hair Stylist: Leticia Garza
Linens and Coverings: Walker Lewis Rents
Photographers: Theresa Wooner Photography and Jonah and Lindsay Photography + Film