Winter Wonderland Baby Shower
Everyone will have an icy good time at this Winter Wonderland Baby Shower!
An incredible Winter Wonderland Baby Shower was designed by Unique Rose Events and Designs, who did not disappoint with the gorgeous decor and elegant centerpieces. It would take anyone's breath away, walking into such a beautiful room.
This little baby was welcomed by their loved ones with only the best at an exquisitely planned Winter Wonderland Baby Shower Theme. Everything felt like a winter dream, with vivid and dramatic styling. Snowflakes were found all around, with glitter and bright decorations found at the baby shower for this little guy. What whimsical and glamorous decoration ideas!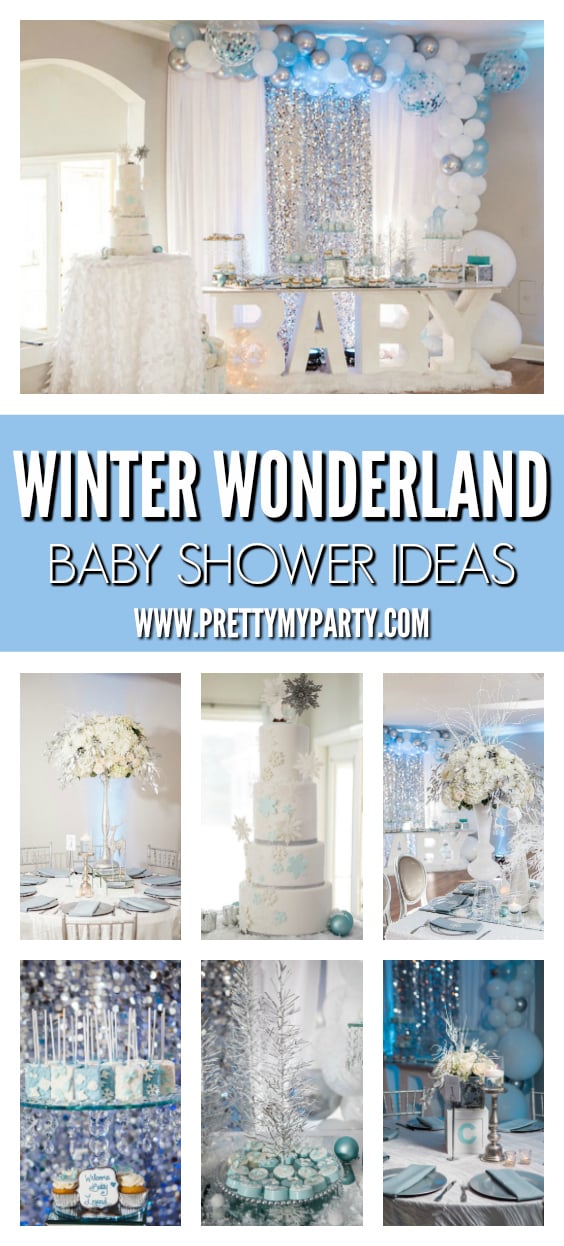 Guests were all asked to wear white, which only added to the bold and modern look of the ballroom at Cha'le Gardens. Along with the white, blue and silver color palette, it was a stunning representation of a Winter Wonderland Themed Baby Shower. It was like walking into a fairytale that took all of the guests' breath away upon arrival. Everything was gorgeous and the epitome of luxury.
The Party Divas provided many of the equipment rentals that were used, adding to the edgy look of the winter wonderland theme. What a unique representation and everything was perfectly placed at every area of the Winter Wonderland Baby Shower.
And what about that absolutely gorgeous dessert table?! Delicias by Jenn did an incredible job with the cake that was designed and adorned with snowflakes, adding to the elegant vibe of the baby shower. Crystals, glassware, snowflakes and snow-covered trees completed the unique look of the dessert table, along with a sequined backdrop that took everyone's breath away! Did you see the B-A-B-Y letters that were placed under the dessert table to act as the table holder? We just love it!
The parents-to-be also were able to enjoy themselves at their own special and private table during the dinner portion of the event. What a lovely time for them to look around and reflect on all of the love that they have surrounding them, as well as how much is about to change once their little boy arrives. We love this idea!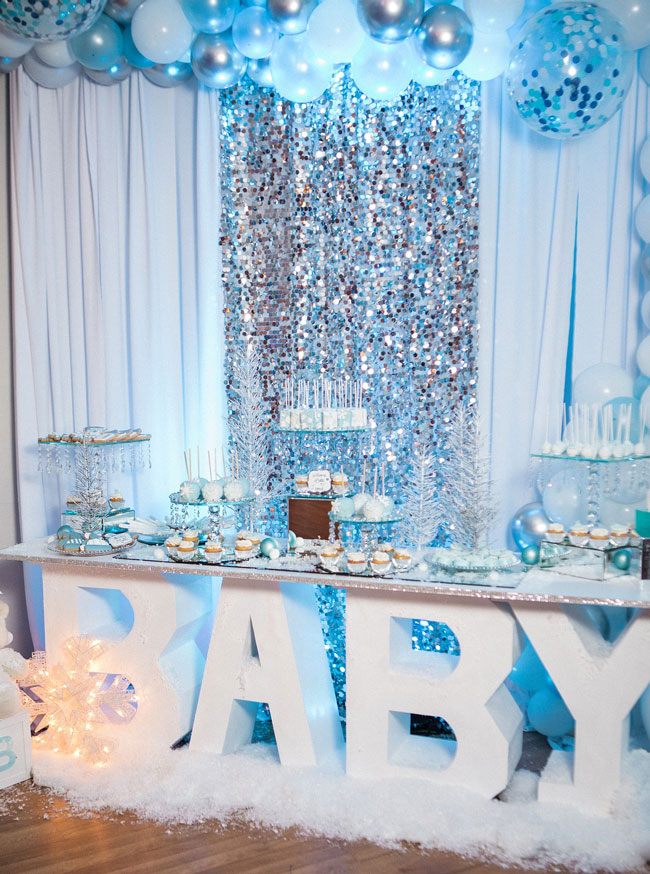 Winter Wonderland Baby Shower Ideas
Elegant silver sequined dessert table backdrop
Blue, white and silver balloon arch over the dessert table
Breathtaking multi-tiered baby shower cake with snowflake topper
Well-balanced color scheme of blue, silver and white
Large floral centerpieces on guest tables
Gorgeous table decorations including crystals, candles, ornaments, reindeer and vases in white tones
Elegant high-backed his and hers chairs at private table
Lovely banner behind parents' table of baby's last name
Incredible table settings with individual snowflake cookies for favors
Delicious desserts, including cupcakes, cookies, Rice Krispie pops, chocolate covered Oreos and apples
Unique winter wonderland decor throughout event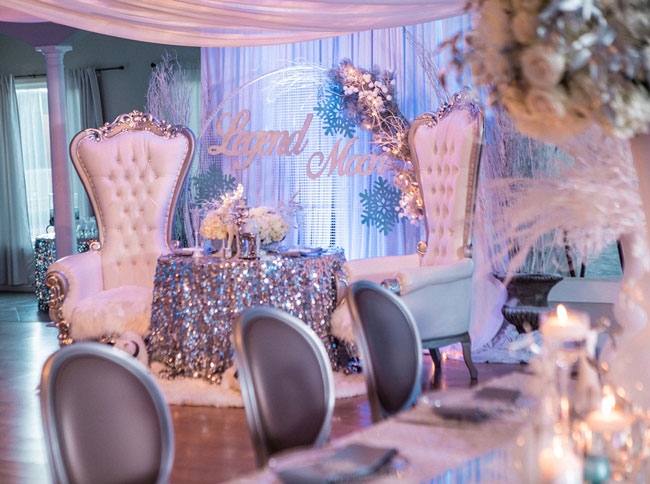 Winter Wonderland Baby Shower Supplies and Decorations:
See more winter wonderland party ideas:
It is simply impossible to choose just one favorite detail in this amazing Winter Wonderland Baby Shower. Everything was so beautiful and elegant, it was perfect for the welcoming of a little prince into this great family. We definitely love the idea of the parents-to-be having their own private table to enjoy themselves at during the course of the event, along with the gorgeous dessert table with the unique "table leg" letters! What an incredible idea! And those exquisite floral arrangements that served as centerpieces on the guest tables? They were absolutely breathtaking and added to the winter wonderland theme perfectly.
How about you? What are your favorite details? Let us know in the comments below!
For more ideas, follow us on Instagram @prettymyparty and Pinterest and join us in our private Facebook group.
Party Vendors