Bird Themed 1st Birthday Party
If you're looking for a 1st birthday party theme, check out this sweet tweet bird theme!
This super adorable Bird Themed 1st Birthday Party from Neli D Arts, of Sri Lanka, features a pretty color palette of blues, pinks, purples and greens. What made this bird themed birthday party so special was the amount of love that went into each detail. We just adore the DIY bird balloons and paper lantern decorations, along with other cute bird theme decor. What a sweet theme for a first birthday party!
Bird Themed 1st Birthday Party Ideas
Personalized backdrop with birds, flowers and bunting
Happy Birthday Banner
DIY bird balloons
DIY bird lantern party decorations
Bird house table centerpieces
Bird cage cupcake holder
Bird's nest doughnuts
Bird house welcome sign
Beautiful paper flowers and butterfly decor
Pretty birthday cake with bird cage topper
Desserts: Cupcakes, cookies and chocolate bars
Cute bird themed cupcake toppers
First year photo display
Bird themed first year poster sign
Pin the eye on the bird game
DIY bird themed favor bags
Beautiful pink birthday dress, shoes and hair accessories for the birthday girl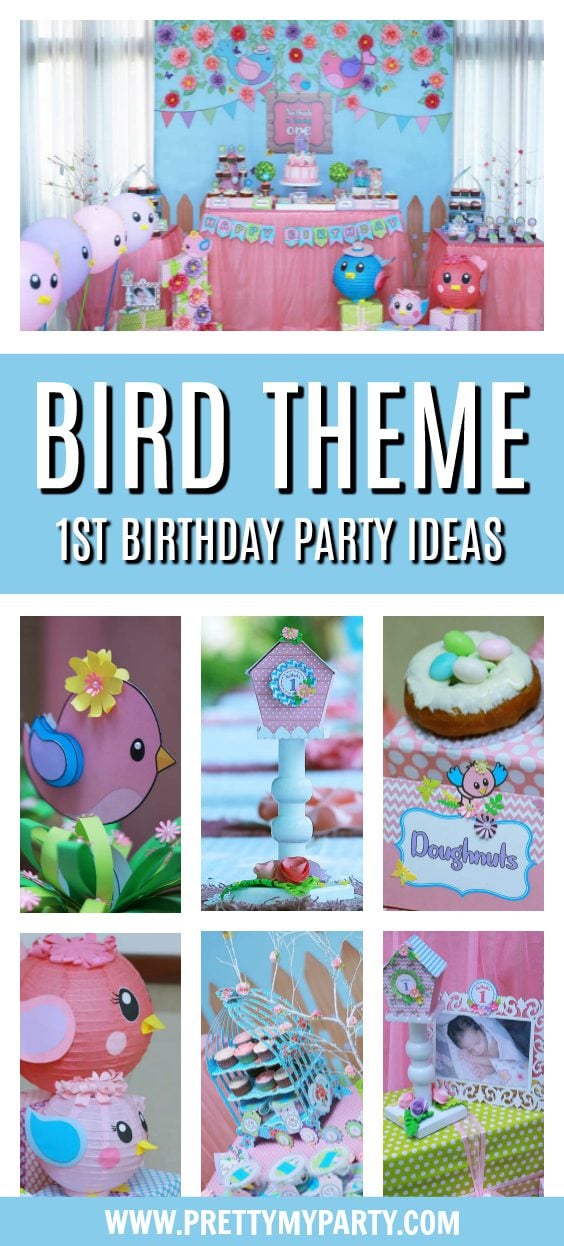 Bird 1st Birthday Party Supplies:
See more first birthday party ideas:
What a "sweet – tweet" 1st birthday for a special little girl! It looks like she a blast at her bird themed party! What's your favorite details in this bird themed 1st birthday party? Let us know in the comments below.
For more ideas, follow us on Instagram @prettymyparty and Pinterest and join us in our private Facebook group.
Party Vendors
Party Styling: Neli D Arts