This colorful Sesame Street Party is everything a 4-year-old dreams of and more!
This colorful DIY Sesame Street Party was so much FUN! And we just love that it was a major DIY hit at the family's home that everyone absolutely adored. Mom and Dad really hit this one out of the park!
What better way to celebrate a special 4th birthday than with all of these fun primary colors found in a Sesame Street Theme Party?! This little guy's dad is active duty military, so it was important to both his parents to make this a special, yet simple birthday party. And the easy ideas that were implemented would make it ideal for anyone to throw a Sesame Street Party!
Mom and dad spent many days and nights leading up to the DIY Sesame Street Party with a Circuit in hand, printing the cut-outs off and painting lots of props. Thanks to places like Party City, Michael's, Hobby Lobby where they purchased a lot of their decorations and supplies, they pulled off the perfect DIY birthday celebration. We think they did an absolutely amazing job! Dad even customized the birthday boy's Sesame Street T-shirt, himself. What dedication!
Oh and that cake from Beltmarys' Cakes, along with the those cookies and desserts from Giant Food, tasted exactly the way they look – delicious! Emily-Melissa Photography also did a fantastic job capturing all of the special moments that were a part of this Sesame Street Birthday Party.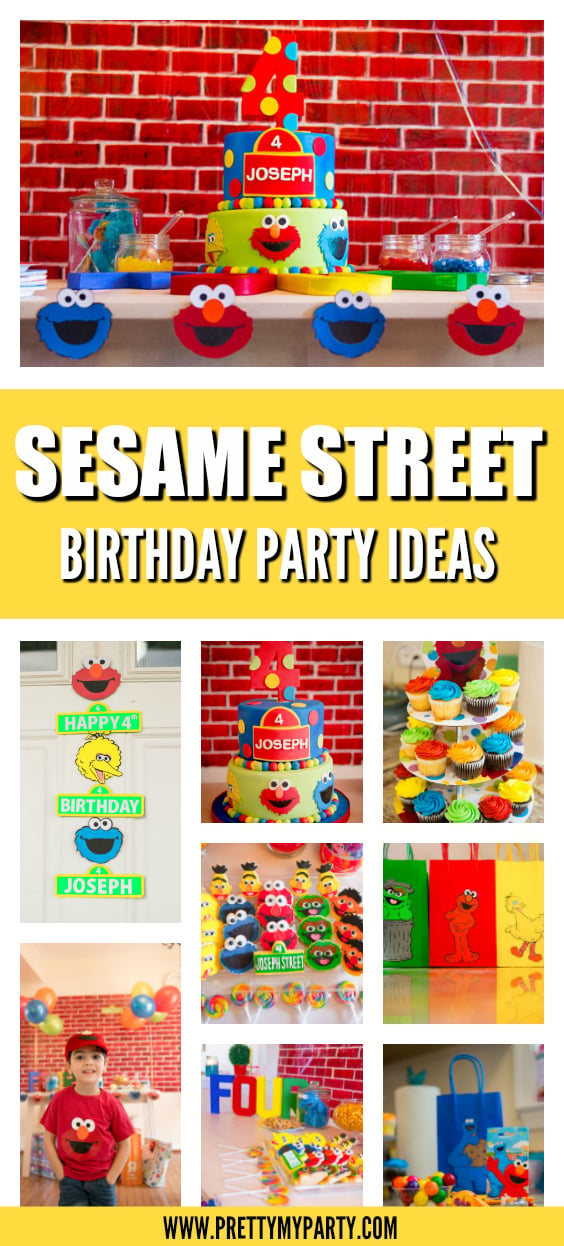 Sesame Street Party Ideas
Sesame Street Brick Backdrop
Sesame Street Character cutouts, such as Cookie Monster, Big Bird, Elmo, Dorothy, Abby Cadabby, Burt and Ernie
Primary colors used from Front Porch Balloons to amazing Dessert Table Decorations
Bright and Colorful Birthday Cake
Amazing Sesame Street Character Cookies
Simple Cupcakes with Primary Color Frosting on Elmo Cupcake Holder
Fun DIY Lamp Post and Signs Outside to Welcome Guests to Sesame Street
Bright, Homemade Birthday Shirt and Hat for the Birthday Boy's Outfit
Simple DIY Party Bags for Kids to Enjoy with Treats and Trinkets Inside
Fun Homemade Banners Hung on Dessert Table and used for Decor
Sesame Street Themed Plates and Napkins
Fun Painting Letters Kid's Activity
Simple Indoor Games for Kids
Colorful Party Supplies to Complement Color Scheme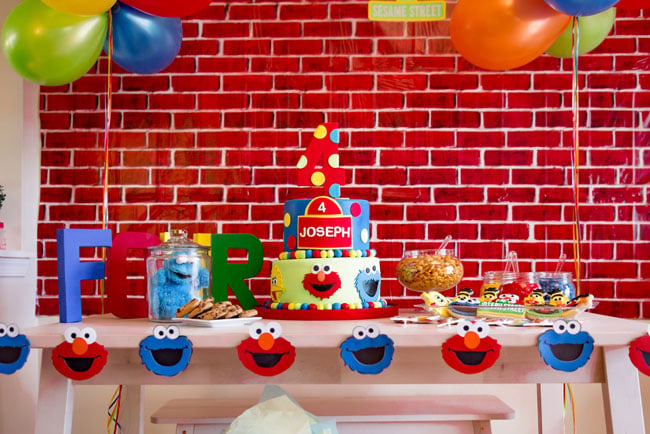 Sesame Street Birthday Party Supplies and Decorations: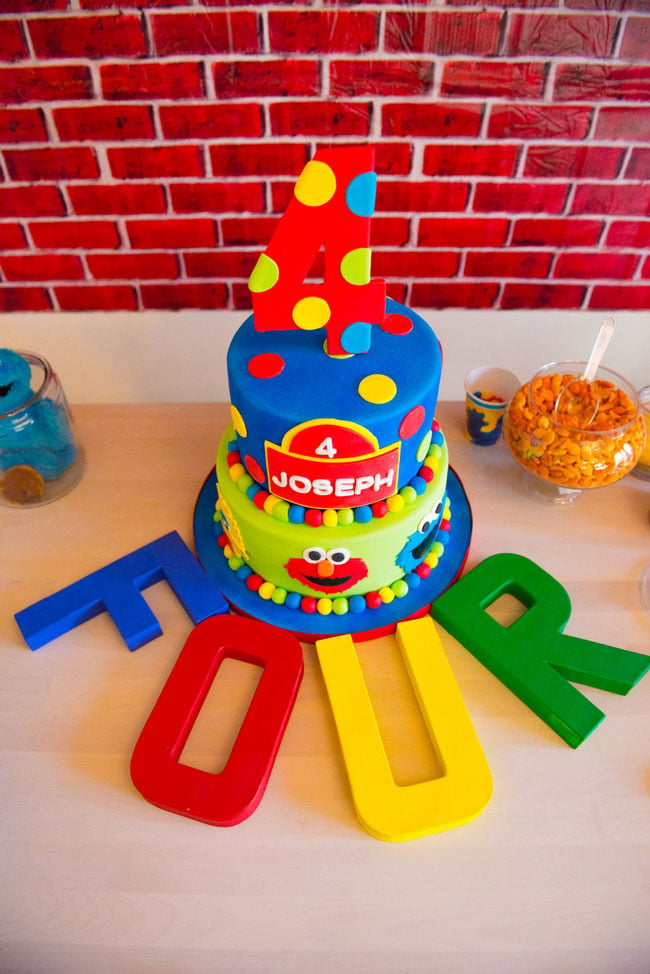 More Sesame Street themed birthday party ideas:
From the second guests walked up to the front door of the family's home, they knew they were in for some fun with the amazing explosion of primary colors! Everybody loves our neighborhood friends Elmo, Cookie Monster, Big Bird, Burt and Ernie! Mom and Dad did an incredible job bringing these fun characters to life for their son's 4th birthday. It's hard to pick just one favorite detail at this incredible DIY Sesame Street Party, but we'd have to go with the amazing birthday cake and gorgeous dessert table. The treats were kept simple, yet it was bright, fun and screamed party time!
How about you? What are your favorite details? Let us know in the comments below!
For more ideas, follow us on Instagram @prettymyparty and Pinterest and join us in our private Facebook group.
Party Vendors