Cookie Monster Party Ideas
Does your little one adore Cookie Monster? This adorable, cookie-loving character from the show Sesame Street is definitely a crowd favorite!
If you're planning to throw a Cookie Monster themed party for your child's special day, there are plenty of Cookie Monster Party Ideas around. From the best blue and white party decorations to cute character birthday invitations, balloons, centerpieces and party favors, you'll find tons of inspiration for your Cookie Monster party theme here.
Pressed for time or on a tight budget? No worries! There are also a lot of DIY Cookie Monster party ideas here. From simple party game ideas and food ideas to homemade party treats and accessories, you've got everything you need for your Cookie Monster party planning right here.
Eager to get started? Break out the milk and cookies, sit back, and check out these awesome Cookie Monster birthday party ideas.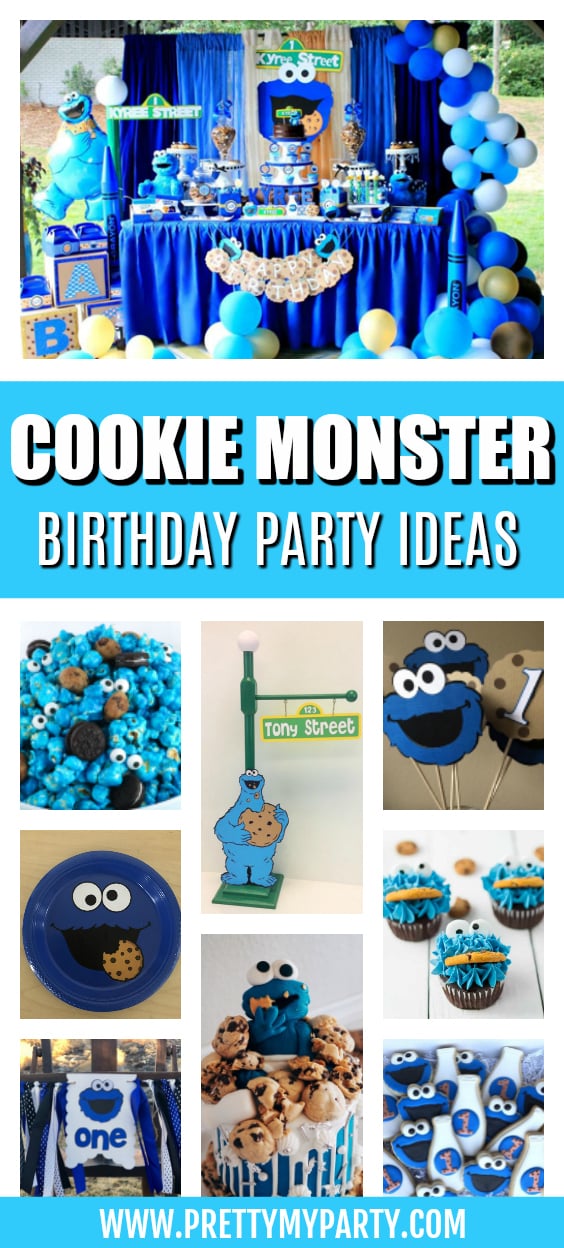 Cookie Monster Party Supplies and Decorations:
See more party ideas here: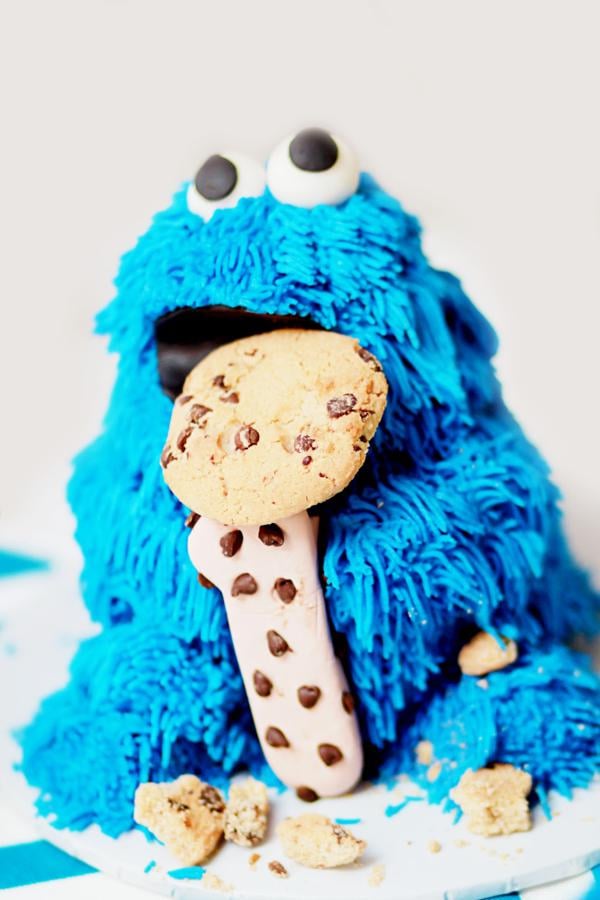 Cookie Monster Birthday Cake: How cute is this fuzzy Cookie Monster birthday cake? He's even munching on an adorable number-1 shaped cookie! This cake is perfect if you're looking for some Cookie Monster 1st birthday party ideas.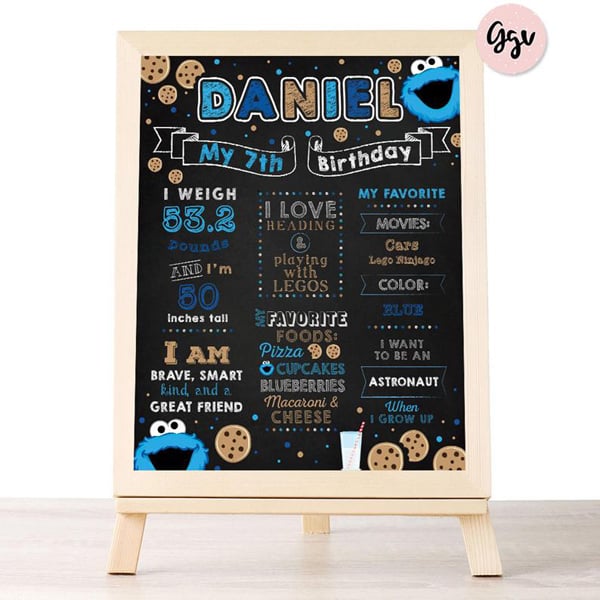 Cookie Monster 1st Birthday Chalkboard Poster: This chalkboard poster is just plain wonderful; just look at the adorable chalk drawings! Aside from the awesome typography and design, we also love how this poster showcases many fun facts about the birthday boy! Make sure to keep this in mind when you're in need of Cookie Monster party ideas for a boy.
Cookie Monster Sesame Street Table Centerpiece: This little lamp post centerpiece featuring our dear cookie muncher is the perfect decoration for your birthday table. It's definitely going to look cool when surrounded by delicious food and gorgeous desserts.
Cookie Monster Cookies: Nothing says Cookie Monster quite like milk and cookies. These cute sugar cookies are absolutely perfect for this type of party!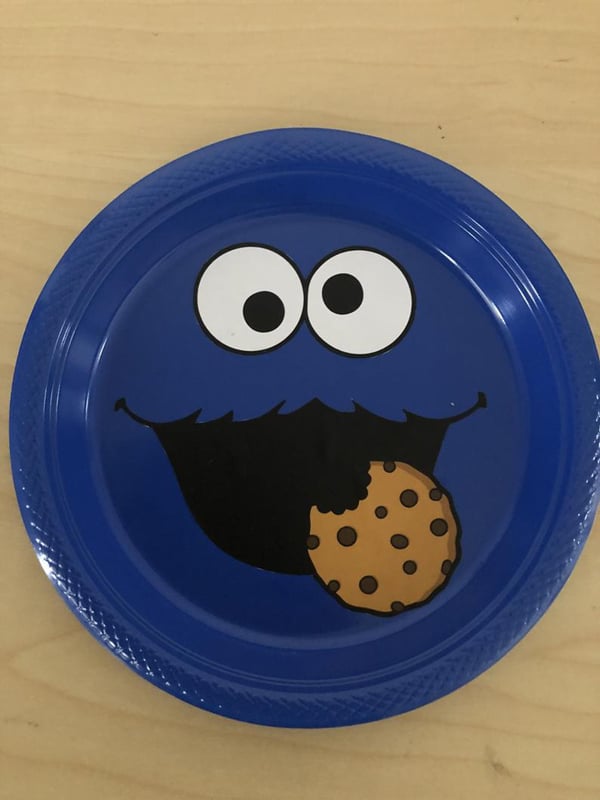 Cookie Monster Party Plate: If you add these blue Cookie Monster party plates to your party setup, it's going to be a hundred times cooler. Find matching cups and your party table will be all set!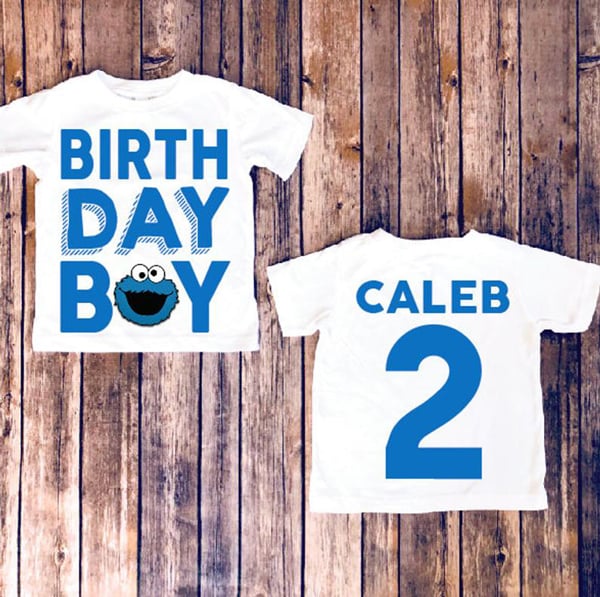 Personalized Birthday Boy Shirt: Make your child's birthday party more memorable with a personalized Cookie Monster birthday shirt! You can even have a custom Cookie Monster onesie for your one-year old as his Cookie Monster 1st birthday outfit. Also, if you've got the budget for it, you can even have some personalized shirts printed for all your little guests!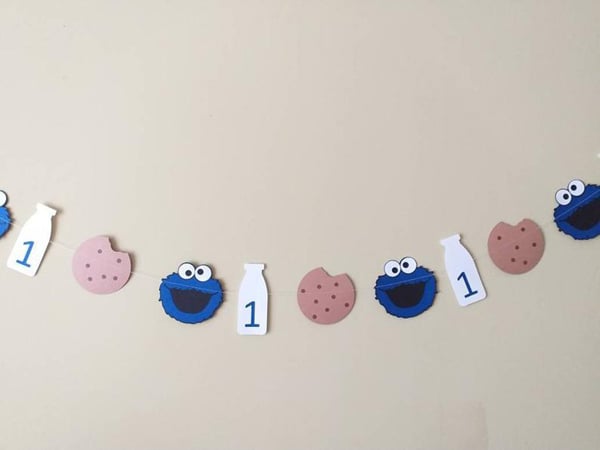 1st Birthday Cookies and Milk Banner: A simple string banner to decorate your walls can make a big difference! This banner alternates Cookie Monster's face with some milk and cookie cutouts to make it more diverse and exciting!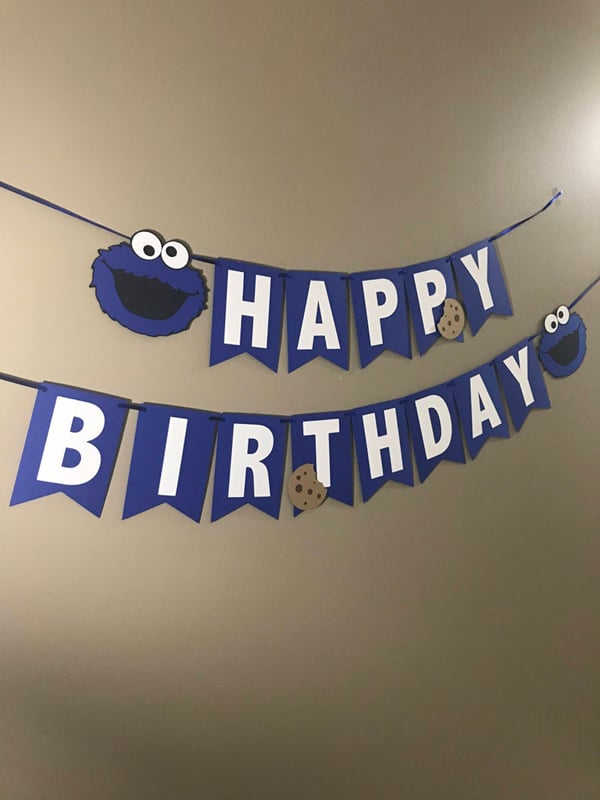 Happy Birthday Banner: What a lovely banner for a lovely birthday boy or girl! You can purchase this ready-made or try your hand at making one yourself using some cardstock, Cookie Monster printables and a nice, blue-ribbon to tie them all together. You can even make some party hats using your printables if you're up for it!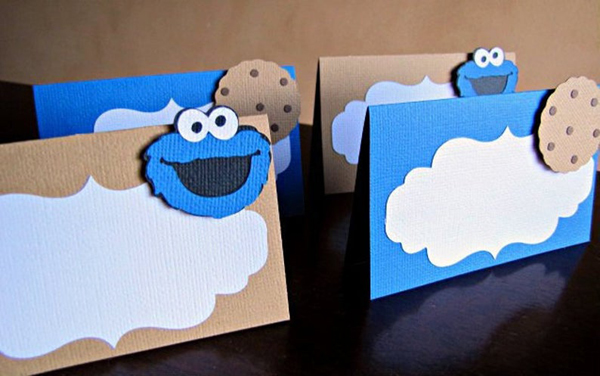 Food Tent Cards: Thought of some super fun and creative names for your themed party foods? Make sure your guests know what they're eating with these Cookie Monster themed food tent cards! These are super easy to make, so have fun creating them!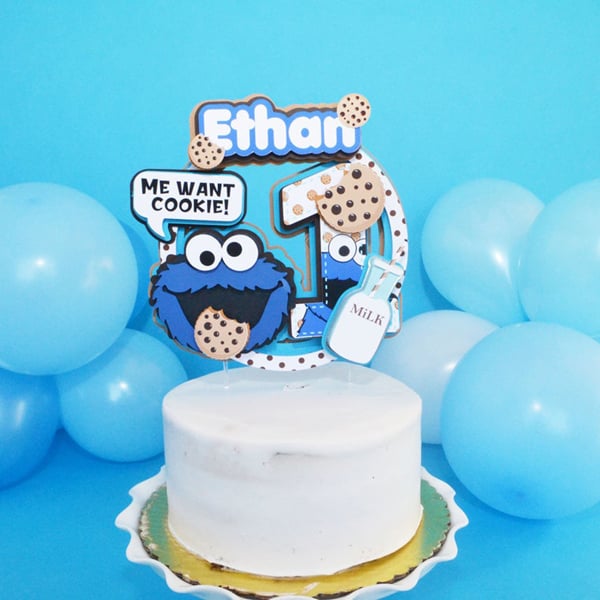 Cake Topper: You can turn any regular cake from the shops into the perfect Cookie Monster cake for your party with an awesome cake topper like this one! You can try to find a really good ready-made one online or have one custom-made to make your kid's birthday cake more impressive. You can also keep your custom cake topper as a souvenir for this special occasion.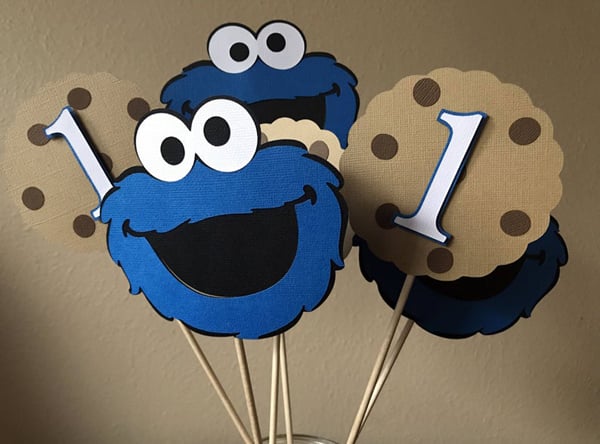 Table Centerpiece: Looking for other party items that will make your theme pop? How about these table centerpieces? You can easily make them at home too by downloading some Cookie Monster printables.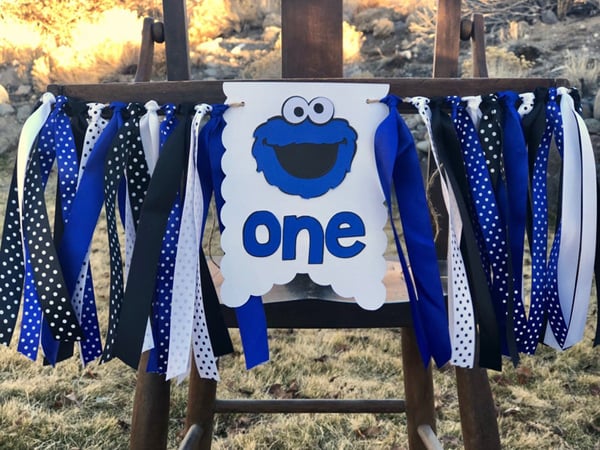 High Chair Banner: Check out this cute birthday banner for a high chair! It's a great way to make your little tyke's throne a lot more festive.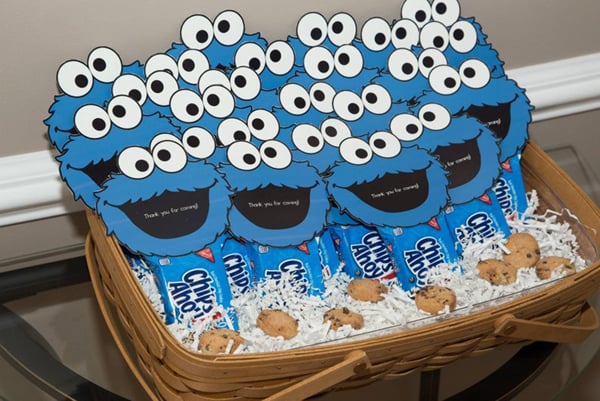 Cookie Party Favors: Add some Cookie Monster cutouts to bags of chocolate chip cookies and you've got yourself a nice and simple treat for your party bags.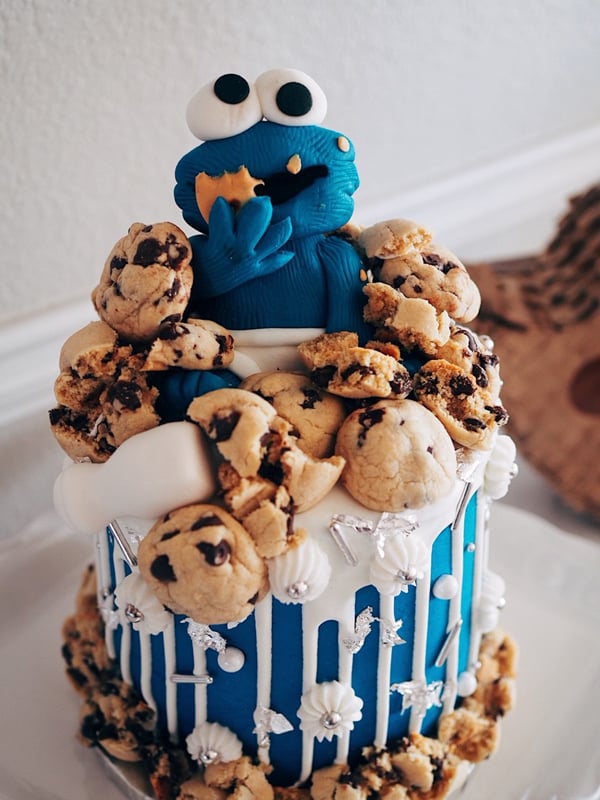 Cookie Monster Cake: What a beautiful little cake! This one features an adorable little Cookie Monster surrounded by the thing he loves most of all – cookies! The white decorations on this cake add a nice feminine touch which is perfect if you're throwing a birthday party for your little princess!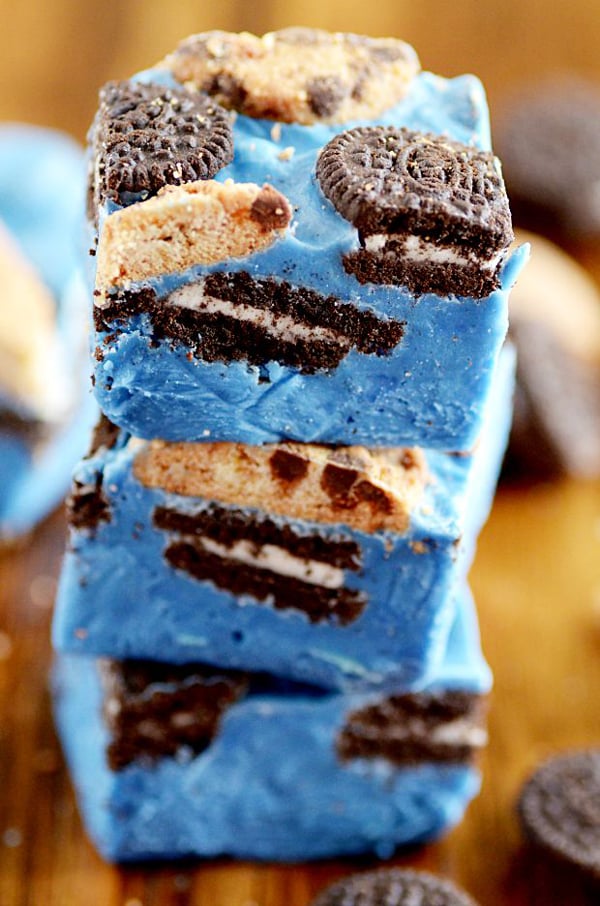 Cookie Monster Fudge: Om nom nom, this looks super delish! The secret to the lovely blue color? Candy melts! Of course, you can't make a Cookie Monster fudge without adding some delicious cookies too.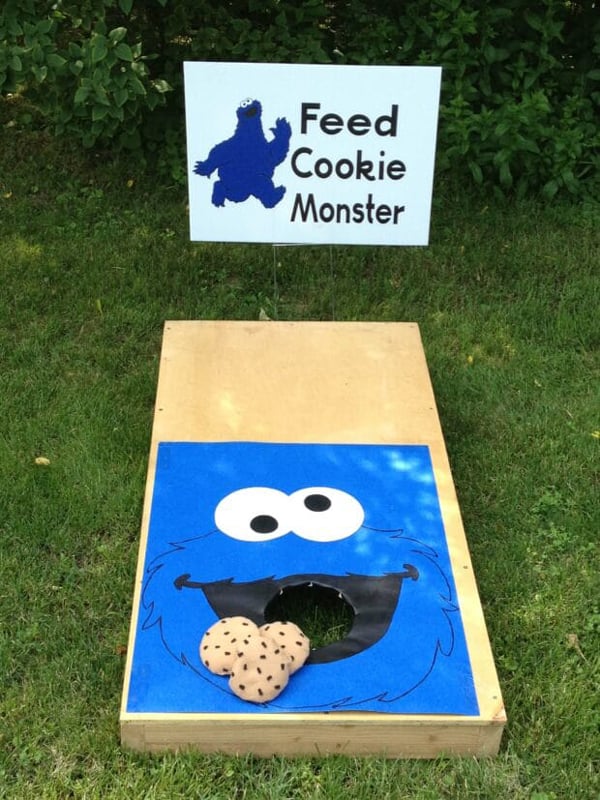 Cornhole Game: Looking for a fun and simple game for your party? How about this Cookie Monster cornhole game? This fun Feed Cookie Monster game will definitely be a great time for all of your party guests!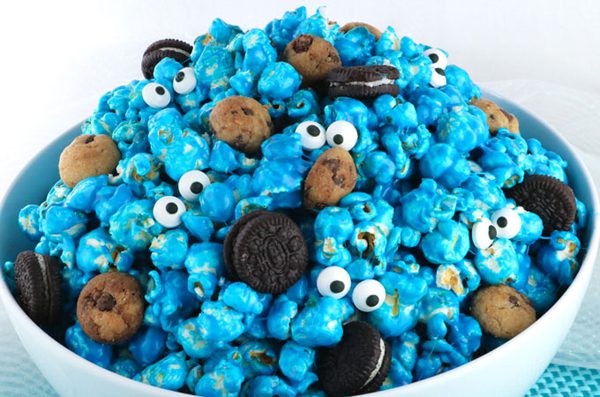 Cookie Monster Popcorn: Get creative with your desserts with this cookie and popcorn cookie monster bowl. This is super easy to do and is perfect if you're looking to add variety to your party's sweets selection.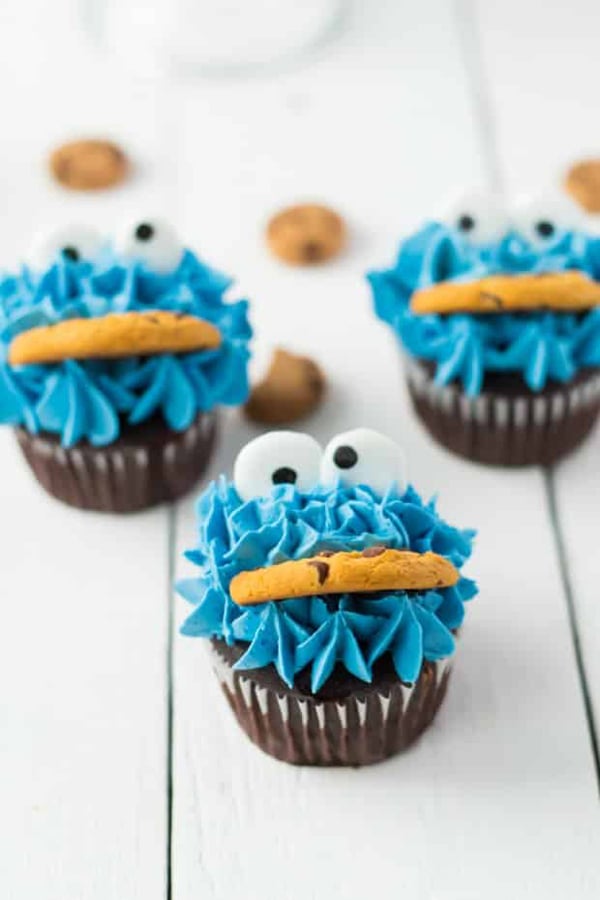 Cupcakes: These simple but cute cupcakes are perfect if you're looking for easy-to-DIY desserts for your party. For tons of fun, ask your kids to help you out.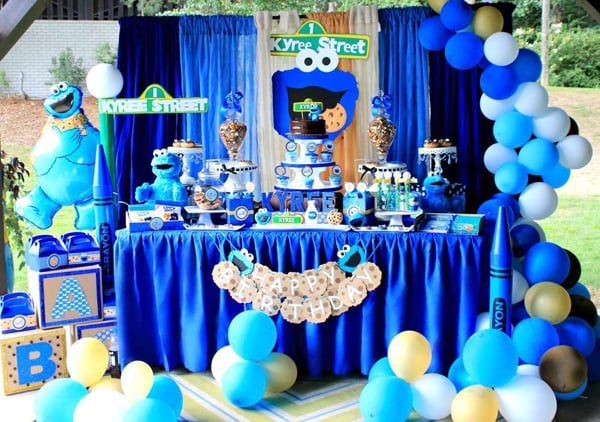 Dessert Table: What a gorgeous party table! Nobody in this party is going to be blue with such a beautiful spread of yummy desserts and an awesome Cookie Monster backdrop and other fun party items.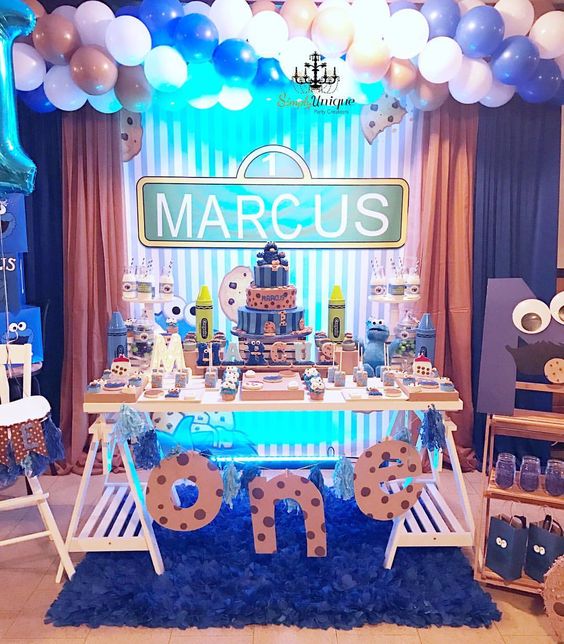 Dessert Table: This dessert table spread for a Cookie Monster themed first birthday party is absolutely stunning! We're sure all the little guests "om nom nom-ed" their way through all the delicious sweets and yummy candy on this table!
Which of these ideas for a cookie monster birthday party would you like for your own Cookie Monster themed party? Whatever ideas you adopt from the list above, you'll surely have a spectacular celebration.
For more ideas, follow us on Instagram @prettymyparty and Pinterest and join us in our private Facebook group.