Watermelon 1st Birthday Party
This baby is one in a melon! So a Watermelon 1st Birthday Theme was the perfect way to celebrate!
This SWEET Watermelon 1st Birthday Party, styled by Events by Sa of Sri Lanka, features the most colorful and fun watermelon party ideas ever! Everything from the incredible birthday cake and desserts to the decorations and favor bags were just as sweet as can be! There are so many cute and creative watermelon party theme ideas that you can incorporate into your party. The watermelon theme is perfect for any age and gender too! You can even turn your watermelon themed party into a tutti frutti party. Sky's the limit when you're planning your child's birthday party!
Watermelon 1st Birthday Party Ideas
Adorable Watermelon 1st Birthday Cake
You're One In A Melon Sign
Watermelon Lollipops
Watermelon Cookies
Watermelon Cupcake Toppers
Watermelon Cake Pops
Watermelon Pudding Desserts
Red and Green Party Supplies and Decorations
Cute Party Favor Bags
Watermelon Themed Dessert and Cake Stands
Awesome red and green balloon garland
Watermelon Themed Dessert Table Backdrop and Pedestals
Red and Green Tulle High Chair Skirt Decoration
Watermelon Themed Number 1 Prop Decoration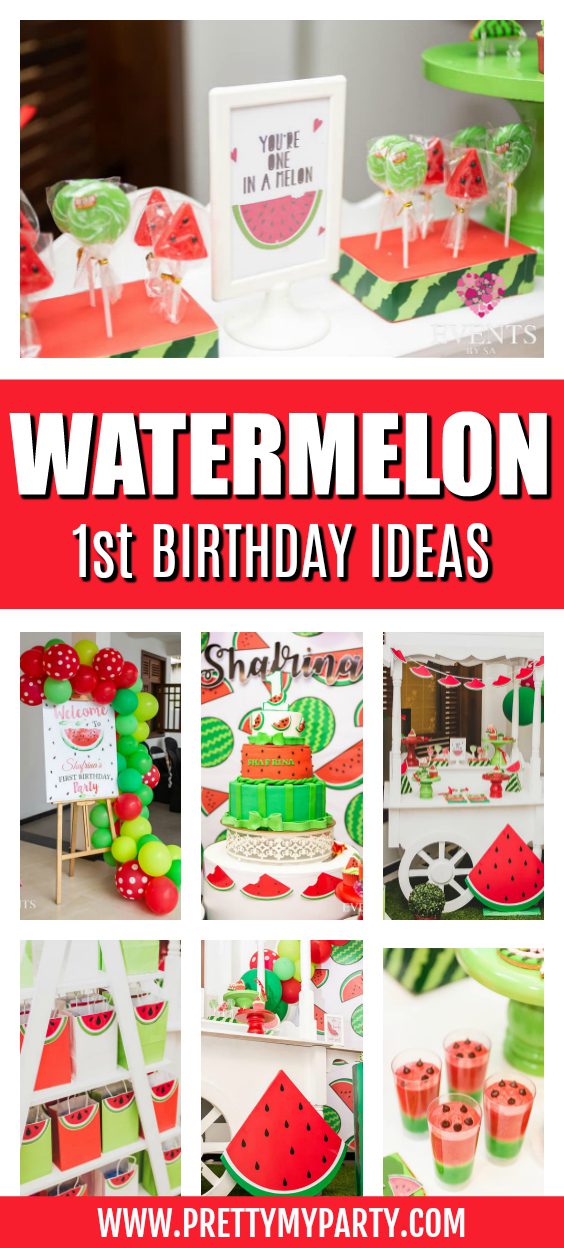 Watermelon 1st Birthday Party Supplies:
See more party ideas for girls: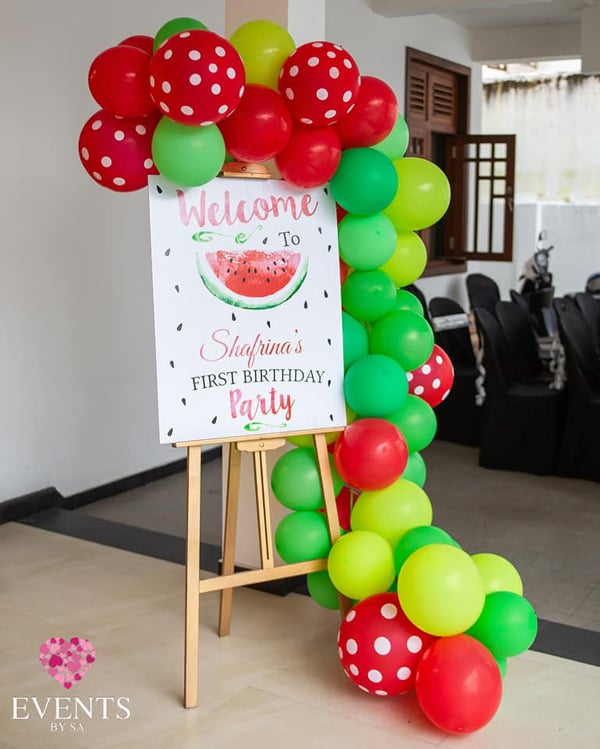 A One In A Melon Watermelon Party Theme is not only perfect for a first birthday party, but it's also great for any age or summer party!
What's your favorite details in this Watermelon 1st Birthday Party? Let us know in the comments below!
For more ideas, follow us on Instagram @prettymyparty and Pinterest and join us in our private Facebook group.
Party Vendors
Cake: Sugar Layers
Cupcakes, Cookies and Cake Pops: Buns & Muffins
Themed Crafts (cut outs, buntings, prints, goody bags) – Concept by
Events by Sa
, Crafted by Waruni Wijesinghe.